Greetings and salutations everyone and welcome to another blog here on BlueCollarBlueShirts.com. How about those first place New York Rangers?
Prior to getting into the meat and potatoes of this New York Rangers Mid-Season Report Card/manifesto – yes, I'm keenly aware that the Rangers are now two games into their second half of the season. With 43 games played, the Rangers are now through 52.4% of their schedule. So if you're a stickler for the facts, welcome to the "New York Rangers at the 52.4% Mark of the Season Report Card Blog!"
While we all know that the Rangers have played in more games than both the Penguins and Hurricanes, the two teams that are currently trying to knock the Blueshirts off of their first place perch; nevertheless, with 43 games down, and 39 to go, the club presently sports a record of 28-11-4.
I won't rehash too many of my previous opinions tonight, but while I predicted that these 2021-22 Rangers would be very good – I also didn't expect the team to be flirting with a Presidents' Trophy either.
Truth be told, finishing first overall in the league is a very realistic possibility for the boys in Rangers blue. (And I say this with the assumption that Chris Drury won't be idle by the time the trade deadline expires.)
When you're a first place team, obviously, there are many positive reasons for that. Accordingly, you're going to see many high marks in this "Mid-Season Report Card," where need I remind you, isn't anything official. These are just my grades from what I've seen with my own two eyes. You're 100% allowed to disagree with me, as this is all in good fun.
I think what impresses me the most thus far this season, is that when you look at the entire roster itself, for a team with six alternate captains – this type of team leadership has proved to be successful. Of course, the playoffs will determine how great not only the leadership is, but the team itself as well.
And while a successful hockey team is a sum of their parts – there are many players on the team that are all having career-best seasons as well. (I'll shed light on these players during my Mid-Season Thoughts.)
At this time, and to illustrate this point, I want to share a graphic that I used numerous times last season:
When you look at the 2021 season as a whole, and as stated in this space repeatedly – it was one of the most unique seasons in all of Rangers history.
Even if you take the pandemic out of the equation (which was the biggest reason why the 2021 season was so unique in the first place), the Rangers had a sick relationship with "Murphy's Law," where anything that could go wrong, did go wrong.
In most cases, these negative events were news stories that even a prolific fiction writer, akin to Steve Vagistat with his made-up charts, couldn't conjure up while being hopped up on hallucinogens – whether it be psychedelic mushrooms or LSD.
Whether it was the Tony DeAngelo exile, the Panarin battle with Putin, the firings of both the general manager and team president with just two games left in the season, the Tom Wilson incident, the written wrath of the owner, or something else – not only were these stories extremely peculiar and odd singularly to themselves; but for all of these stories to happen within a time-span of just four months was equally as nutty. In fact, it was unprecedented.
Fast-forward one year from the start of the 2021 season, the Rangers have dropped all of the negativity like a bad habit – or like the aftermath of a "Trouba Train" hit.
Behind new general manager and team president Chris Drury, where the new Rangers head honcho quickly fired head coach David Quinn in his first move as boss, and then soon replaced DQ with Gerard Gallant; the Rangers have become one of the most impressive stories in all of the NHL.
---
What really catches my eye (from an individual perspective), is that last season, Adam Fox was your no-doubt-about-it winner of the Steven McDonald Extra Effort Award, the Frank Boucher Trophy, and in addition, #23 was also named as the team's MVP. For an encore, Fox won the Norris Trophy too – a year-end accolade that's usually exclusive for players on playoff teams.
This season (or at least at the 52.4% mark), you can make a case for a bunch of different Rangers for all of these team-specific/exclusive awards.
The Steven McDonald Extra Effort Award, usually designed to award hard-working heroes of the team, has many worthy candidates, including Adam Fox, CZAR IGOR, Mika Zibanejad, Artemi Panarin, Ryan Lindgren, Barclay Goodrow, and Jacob Trouba. However, it's my opinion that Chris Kreider, the perceived true leader (and captain) of this team, is the favorite for this prestigious award.
The Frank Boucher Trophy, which honors the most popular Ranger on the team, is similar to the Steven McDonald Extra Effort Award. However, since rewarding the biggest fan favorite is the aim of the trophy, not only can you include the candidates for the SMEAA here, but you can also add a player like a Ryan Reaves to the mix too.
In my opinion (and since I revived this trophy, with the blessing of the Boucher family, an award that dates back to 1952 – I'm pretty much the judge, jury and executioner of this award – or at least for the time being, as I'd like to open up voting this season, where all of you readers will then decide the winner), I think CZAR IGOR is the odds-on favorite. After all, the Frank Boucher Trophy is here to pay respect to the biggest fan favorite on the team, and every game whenever CZAR IGOR is in net – it's his name that is shouted and chanted the loudest.
As already mentioned, Adam Fox made a clean sweep of every team-exclusive individual award last season, including MVP. This season, there will be "challengers" who could deny Fox of winning two straight Ranger MVP awards – a good problem to have.
Aside from Fox, both Kreider and CZAR IGOR have strong cases for MVP of the team. And should Zibanejad and Panarin kick it up a notch, these two could also challenge Fox, Kreider, and Igor for team MVP as well – where yet again, is another good problem to have.
Of course, you'd like to see both Kaapo Kakko and Alexis Lafreniere contend for this MVP award, but that won't be happening this season. Let's hope that happens in the seasons to come, with fingers-crossed, the 2022-23 season being their first as candidates for team MVP.
---
A few more words before giving you my grading criteria for the 2021-22 Mid-Season Report Card.
On November 30th, 2021, after 21 games played (the quarter-mark of the season), I released my "2021-22 Quarter-Pole Report Card." You can read that blog here: https://bluecollarblueshirts.com/113021/
For this report card at the 52.4% mark of the season, I am going to share with you what I wrote back on the last day of November 2021 in italics.
Following my quarter-mark thoughts, I'll then give you my current grades and Mid-Season thoughts.
By doing this, you can read my opinions from then-to-now.
In addition, you will also see my opinions on the players that progressed and the players who regressed.
Even better, you can see who maintained their A+ grades, where spoiler alert – Adam Fox, Chris Kreider and Igor Shestyorkin did just that.
---
Before doling out the grades, let me give you the usual criteria that I use whenever I do one of these report cards:
— Grades are given out based on production, playing to their role on the team and to the contract of a player. For example, I expect less from a fourth line player, in someone like a Kevin Rooney. On the other hand, I expect a lot out of a first line player like a Mika Zibanejad. After all, we are playing in a salary cap world, where teams are constantly giving up quality players, even players they drafted, to compete.
— To ignore the salary cap hit of a player would be foolish, which is why they are considered in these grades.
Keep in mind, to me, the salary cap hit is a stat that belongs on the back of a hockey card, here in this new era.
When it comes to building NHL rosters, GM's look at cap hits first. They aren't worried about Corsi's or whatever nerd stat Valiquette has pulled out of his ass this week.
In addition, I always laugh whenever I see some "analyst" or "expert" predict Ranger doom, based on "expected goal" stats. I don't care about five-vs-five numbers as opposed to special team numbers either. The stat that means the most above all is wins – where the word "wins" doesn't need that silly word of "expected" in front of it. I only talk about reality.
— Players who have played less than ten games with the team, players who have been traded, players who have been injured, and players who were sent down to Hartford, are all listed in the "Incomplete" section.
Lastly, and perhaps most important – these grades are just my opinion only. Don't get bent out of shape about them. This is just my way of assessing the current roster at this moment in the season. And if any grade is egregious, I'm sure you will let me know!
At this time, here are my grades at the 50% 52.4% mark of the season!
---
FORWARDS:
FILIP CHYTIL
Mid-Season Report Card Grade: D-
What I said at the 25% mark of the season:
Grade: C

With 17 games played, Chytil is sitting on two goals and two assists, where if he was 100% healthy, you'd have to think his numbers would be much better than that. Also damning Chytil's grade at this time, is his 42.3% faceoff percentage. A poor number.

As like any of these poor grades on this report card, don't look at this as an indictment of Chytil, or me writing him off. There is plenty of time to improve.

However, and as talked about all season (and in seasons' prior), I think Chytil may be injury-prone. He has the ability to get hot and become extremely noticeable, only to receive some sort of injury, thus sending him back to the bottom of the ladder, where once returning, he's forced to climb up the rungs slowly – rather than returning to a peak level.

Like most, I'm not sure what Chytil's future is. Is he a third line center? (Goodrow may be more suitable for this role, especially come playoff time, despite the success the new third and fourth lines are having.) Or is Chytil a winger? We'll find out – as only Gallant can answer that question.
---
Mid-Season Thoughts:
Chytil has remarkably maintained his mediocre pace, where many of my previous comments still ring true.
Since the 25% mark of the season, Chytil, who had two goals and two assists at the time, has added two more goals and five more assists to his numbers, for a whopping total of eleven points. Just as "impressive," is his poor faceoff percentage, once at 42.3%, is now at 42.4%. You can't make that up.
At the quarter-mark of the season, I wondered if Chytil had issues with staying healthy. As I write these words, he's currently out of action with an injury, an injury that's only been described as "day-to-day."
And heck, as I said on 11/30/21, we still don't know if Chytil is a winger or a center, as since that date – Gallant has tried him out at both positions.
Admittedly, #72 has had his most success as a winger, but that was also because of the team's COVID issues, where as a result, Chytil got to play with the top six.
Chytil, who perhaps his biggest value on the team is one as a role-player, hasn't done much to earn that label.
For your consideration: Morgan Barron, another center (and who came straight out of the AHL), has a faceoff percentage of 64.5% after seven games played. If Chytil is going to do little offensively, and even less defensively – you would have to think that Barron has more worth than Chytil as one of the team's bottom six centers.
I still maintain that Chytil gets moved prior to the deadline. While I could be wrong (it's happened before), I just don't see how an unreliable player can help this team come playoff time.
---
JULIEN GAUTHIER 
Mid-Season Report Card Grade: C

What I said at the 25% mark of the season:
Grade: B-

Gauthier has six games less under his belt than Chytil, but also has the same four points to his name (1 goal, 3 assists).

Admittedly, this grade wouldn't be as high as it is, if it weren't for the injury to Sammy Blais, which then created a major opportunity for #15 in blue.

After being a healthy scratch at the beginning of the season; ever since the Blais injury, Gauthier has kicked it up a notch – not bad for someone who many thought would be exposed to Seattle during the off-season. (Hand up – I was one of them.)

Where you once wondered where Gauthier fits in, the new third line winger has been impressive. Keep it going.
---
Mid-Season Thoughts:
After eleven games, the power forward had one goal and three assists. After 24 games, Gauthier still has those three assists, but has added two more goals to his numbers. In other words, in his last thirteen games, Gauthier only has two points.
If anyone has been snake-bitten offensively this season, it's Gauthier. No one can deny his ability to get to the net, but while there – very rarely does he finish.
Put it this way – of all Ranger forwards, Gauthier has the second-worst shooting percentage on the team at a paltry 5.9%. The only one worse than him? Filip Chytil, at 5.3%.
Whereas Chytil has just been awful, Gauthier does get a ton of chances and these numbers reflect that.
Gauthier has bounced in-and-out of the line-up all season, where primarily, he plays on the third line.
Stupidly coined as the "Kid Line" by several ignorant members of the Rangers beat; Lafreniere/Chytil/Gauthier had a few games together, but rarely provided much offense. Gauthier's game is to create scoring, but while the opportunities are there, his shooting percentage tells you the story of his season thus far.
Funny enough, on Wednesday, 1/26, Gallant pretty much confirmed that Gauthier would get a shot with Mika and Kreider in the Rangers next game (Thursday, in Columbus).
---
BARCLAY GOODROW
Mid-Season Report Card Grade: A-
What I said at the 25% mark of the season:
Grade: B+

Much was made about Goodrow's huge deal during the off-season, but in his first twenty games with the Rangers, the "Swiss army knife" has been just that – slotting in with all four lines at various points. Even better, #21's work on the penalty kill.

And stop me if you knew this already – Goodrow is sitting on nine points right now (3 goals, 6 assists), good for sixth overall on the team. Not bad for a guy who spends most of his time as one of the bottom six forwards. (Admittedly, two of his goals are of the ENG variety – but hey, they all count and empty net goals close out games. I rather have an ENG than sweat out the final minute of a game.)

Also important? Goodrow's ability to draw penalties. Just ask Brendan Gallagher!
---
Mid-Season Thoughts:
Did you know that Barclay Goodrow's best season, from a statistical perspective, was the 2019-20 season, where he scored eight goals and added sixteen assists? This season, he's already matched his career-high in goals with eight. He's also sitting on ten assists too.
In other words, by the end of the season, Gallant's Swiss army knife/"jack-of-all-trades" player will have finished with his most impressive numbers yet. Let's hope he pulls a Patrick Maroon too – and wins his third consecutive Stanley Cup!
Perhaps more impressive than all of that? Goodrow's eight goals has him fifth-best on the team in the scoring department. Not too shabby.
That said, Goodrow's game isn't to be an offensive wizard, but anytime you can get production out of a player like #21 in Rangers blue, it's a good thing.
In Year One of his six-year deal, the soon-to-be 29 year-old has been better than advertised.
---
DRYDEN HUNT 
Mid-Season Report Card Grade: B-
What I said at the 25% mark of the season:
Grade: B-

I know some may look at this grade and say "What the Father Fink?"; but again, keep in mind the role that Hunt has with the team.

Originally on the fourth line, since the Blais injury, Hunt has found himself on the top line, making the most of his opportunity where he now has two goals and two assists. While who knows how long Hunt's time on the first line will last, his physical presence does complement Kreider and Zibanejad.

Like many on this team, Hunt has shown no hesitation whenever needing to defend his teammates – a trait that is well-appreciated.
---
Mid-Season Thoughts:
Hunt, in 38 games this season, has 3 goals and 5 assists. These numbers are only disappointing because he's received so much time in the top six this season. However, he does provide "pop" while lined-up with Zibanejad and Kreider.
Hunt is probably a better fit for the bottom six, where I assume he will be, following whatever moves Chris Drury makes at the NHL Trade Deadline.
While not "bad" or anything like that, Hunt has been serviceable. However, he can't be on the Rangers top line once the playoffs start. The Rangers will get better use out of him as a grinder-type, should he be with the team at the start of the postseason.
---
KAAPO KAKKO
Mid-Season Report Card Grade: C-

What I said at the 25% mark of the season:
Grade: B

At the bakers' dozen mark of the season, the second overall draft pick of the 2019 NHL Draft looked to be trending downwards, especially after missing several games due to an upper-body injury.

While many were wondering if Kakko deserved to be on the second line (where many fans were tossing the word "bust" around too); #24, who was the best Ranger during the preseason (for whatever that's worth), has turned it on as of late.

After previously being held pointless for a long stretch at the start of the season, Kakko now has three goals and three assists. Additionally, his offensive presence has notably been on display.

More impressive – Kakko's focus on his defensive game, something that many didn't expect to see out of the young Finn.
---
Mid-Season Thoughts:
Arguably the best Ranger of the preseason, Kaapo Kakko has been anything but that this season.
And just like he was at the 25% mark of the season; the 2019 second overall pick is now back on the IR, where it's assumed that he won't be back until after the All Star Game.
Kakko, who had three goals at the 25% mark of the season, has only added two more since – and both in the same game, in a game against the terrible Arizona Coyotes.
While Kakko has served a purpose defensively this season; as we all know, you don't draft a forward with your second overall pick, with the hopes of that player turning into the second coming of Jesper Fast either.
As noted repeatedly during the game review blogs this season; the only silver lining in Kakko's disappointing season thus far, is that it will help the Rangers this off-season, when they deal with Kakko's agent on his new contract – assuming the Rangers are interested.
It should also be stated that Kakko primarily plays with Artemi Panarin and Ryan Strome, two players who have racked up the points this year. In other words, you can't say that Kakko isn't getting a chance. He's just been underwhelming.
---
CHRIS KREIDER
Mid-Season Report Card Grade: A+

What I said at the 25% mark of the season:
Grade: A+

What other grade could I give to the man who many wanted to see as Rangers captain at the start of this season?

With a whopping 15 goals (ten more than anyone else on the team), CK20 is enjoying a career season. All we can do is hope that Kreider not only surpasses 30 goals (a number that has alluded him his entire career) – but smashes that number too.

And it's not just the goals.

Kreider is a valuable piece of future Rangers success, where he spends time not only on the PP1 unit, but now on the first penalty kill unit too.

Even with his impressive numbers, a lot of what Kreider does isn't in any of the box score recaps either.

Between all of his screens, winning puck battles, and creating havoc for opposing defenses; Kreider is the most complete, and by far, forward on this team today. And he probably should be captain too – that is, unless you're waiting for Adam Fox to get the "C".
---
Mid-Season Thoughts:
Whatever Chris Kreider does for the rest of the season, this much will remain true – he will have set his career-high in goals, as he currently has 30 to his name, two more than his previous career-best of 28.
It should also be noted that Kreider picked up 53 points in the 2016-17 season, his career-high. He's currently sitting on 43 points.
Barring an injury, a Teenage Mutant Ninja Turtle variant of COVID, or an alien invasion – not only will Kreider most likely smash his career-best of 53 points, he may even score 53 goals too!
Enjoying a career renaissance of sorts, Kreider is not only a team leader in the locker-room, but he's a leader on the ice too. His 30 goals lead the team. Second-best? Mika Zibanejad, who has half of Kreider's production, with fifteen goals.
At the mid-mark of the season, Kreider leads the NHL in goals scored. Because of that, as of this writing, Kreider deserves serious attention as a Hart Trophy (league MVP) candidate.
It should also be noted that CK20 has changed his game a bit, where of course playing with Adam Fox helps him tremendously. However, now playing the role of "Phil Esposito," meaning that Kreider often camps in front of the net and cashes in on a lot of loose change; this is a role that Kreider should continue to enjoy during the latter years of his new contract.
Simply stated – you don't need speed whenever using your frame to screen a goalie and when looking for tips, deflections and rebounds.
And I haven't even mentioned Kreider's latest weapon to his arsenal yet either – his successful work on the team's penalty kill – one of the best in all of the league.
---
ALEXIS LAFRENIERE
Mid-Season Report Card Grade: C-
What I said at the 25% mark of the season:
Grade: B-

How does one assess a #1 overall draft pick, playing under unprecedented circumstances – a situation I've discussed plenty of times already on this site?

#13 in blue has had a yo-yo season thus far, where after starting on the team's top line, he was bumped down to the third line (and one game on the fourth line – just ask Mollie Walker), where he's now currently enjoying his most success.

With five goals this season, Lafreniere is tied with Artemi Panarin and Kevin Rooney (of all people) for the second-most amount of goals on the team. Perhaps even better, Lafreniere also joins Reaves and Tinordi with most fights on the team too, with one! And a great one at that – a win against a lowly Islander!

As Alain Vigneault likes to say, it's all a "pro-cess" for Lafreniere; where in theory, and from what we've seen, he'll only get better with time and experience.
---
Mid-Season Thoughts:
Lafreniere, very much like Kaapo Kakko, hasn't exactly lived up to expectations – at least not yet. And if I'm going to factor in cap-hits into these grades, I also have to consider draft status as too. After all, if Lafreniere wasn't the first overall pick of the 2020 NHL Draft, he may have been in Hartford right now.
Funny enough, in his 41 games played, Lafreniere is fifth-best on the team in goals scored, with eight. However, there have been way too many games this season, where the number one overall pick doesn't even record a shot on goal.
Even worse, is #13's new affinity for taking bone-headed penalties.
I still think Lafreniere gets a pass in Year 2, but like Kakko, come Year 3, there will be a lot of disappointment if he doesn't score more goals.
It's telling that Gallant's desire is to use Lafreniere in the top six, but due to poor results, the wonder-kid has spent the bulk of his time on the third line, where admittedly, playing with Chytil and Gauthier does him no favors.
At the same time, when playing with the best four forwards on the team (Mika, Kreider, Panarin and Strome), it's not like Lafreniere had excelled either.
In one last comparison to Kakko, the player he's most often compared to – there has to come a point in time where fans (and the team) aren't celebrating Lafreniere goals like it's a New Years Eve party. Rather than scoring like a unicorn, sooner-than-later, Lafreniere will have to live to his Secretariat expectations. However, that doesn't have to happen this season either.
---
GREG McKEGG
Mid-Season Report Card Grade: B-
What I said at the 25% mark of the season:
Grade: C+

McKegg qualifies for this list with eight games played, and about 8,000 miles traveled too this season, between all of his Hartford-to-New York (and vice-versa) bouncing around.

McKegg is without a point this season, but it was never his role to pace the team in scoring either – as from day one of his second run with the Rangers, his job is as a fill-in/thirteenth forward/grinding type.

McKegg has pretty much been serviceable in his role with the Rangers, where when this team makes the playoffs, he'll most likely be a "Black Ace".
---
Mid-Season Thoughts:
Due to injuries and COVID, McKegg, originally designated for the Wolfpack at the start of the season, has now played in 23 of the Rangers' first 43 games. He should remain with the team for the rest of the campaign.
In his role as fourth-line checker, McKegg has been more than serviceable with the tasks he's asked to do. He's also killing penalties as well.
And heck, McKegg recently scored his first goal of the season as well. In the same time, and with more games played (and ice time too) – Kakko only has one more goal than "The Kegger."
McKegg has provided "The Turk" with one less thing to think about, as the great-nephew of Lou Fontinato has done everything, and more, than what's expected from him. He's also quickly formed a nice chemistry with Ryan Reaves and Kevin Rooney too.
---
ARTEMI PANARIN
Mid-Season Report Card Grade: B+
What I said at the 25% mark of the season:
Grade: B-

This was a tough grade to figure out. Feel free to dispute me.

On one hand, Panarin leads the team in points (21, tied with Fox); but on the other hand, "The Breadman" has been deficient in other areas, including goal scoring and on defense – a new wrinkle that no one expected.

Plus, with a salary cap hit of $11.6M (especially when you consider that Panarin doesn't play on the penalty kill like all of the other fat cats on this team) – his one power-play goal scored thus far is disappointing.

When Panarin is on, no one is better offensively. However, unlike his first season in New York, we haven't seen Panarin at his best this season. It does feel like his 21 points are a quiet collection, for as strange as that may sound.

Hurting Panarin's grade in my eyes, is his defensive ability and being turnover prone; where both of these areas were abundantly apparent in nearly every Rangers loss this season, including the home-opener.
---
Mid-Season Thoughts:
I'm still as conflicted on Panarin as I was at the quarter-mark of the season.
Panarin (34 assists and 45 points) is second-best only to Adam Fox (39 assists and 46 points) in the assists and points categories. However, it also feels like Panarin could have many more points to the already strong numbers he has. (And keep in mind, I do factor in cap hits in my grading as well.)
His defensive issues have continued to plague him this season, where his baked turnovers are extremely apparent. Thankfully, his comrade CZAR IGOR is there more times than not, whenever he's needed to bail "The Breadman" out.
While in no way am I suggesting that Panarin is disappointing or anything as severe/ludicrous as that; at the same time, you'd like to see Panarin shoot the puck more. Very often, whether he doesn't want to be selfish or for whatever other reason; rather than sniping the puck himself, he'll feed a third-pair defenseman for a shot instead.
Panarin's numbers are there, but this isn't the best version of #10 that we've seen in a Rangers uniform either. I think that will soon change, especially whenever the Rangers add a winger that can produce on his line.
---
RYAN REAVES
Mid-Season Report Card Grade: B+
What I said at the 25% mark of the season:
Grade: B

Despite the chart geeks and the other people who don't know hockey hating this guy from day one; the relatively cheap ($1.75M) Reaves has fit like a glove for the Rangers.

After two injuries at the onset of the season, Reaves has returned at full-force, where he's part of the Rangers most successful fourth line since the Vigneault era. More importantly? Reaves' role as a locker room leader, where he's a positive force and influence on the Rangers youth.

And hey, when you pick up two huge assists in a win over the hated Islanders, you gotta love the guy!
---
Mid-Season Thoughts:
"The Grim Reaver," in his first year of a two-year commitment with the Rangers, has been more than advertised. On some nights, he's a sandpaper type, where he leads the team in hits. On other nights, he's a complete game-changer, as was evident in a recent game against Toronto.
If there's anything that's really impressed me about Reaves, it's his discipline.
I know many fans thought Reaves would spend most of his time in the penalty box this season, but he only has 24 PIM – one more than Alexis Lafreniere, and nearly forty less than Jacob Trouba (63).
And of course, the bulk of Reaves' PIM come from fighting majors (Trouba too), rather than from stick infractions.
While no one expects Reaves to become the second coming of Bobby Hull, he does have nine points this season, which are just bonus points for the team themselves.
Between his "RELEASE US SHESTY" and the other things he does as a leader on this team; Reaves, the elder NHL statesman of the club, has been a tremendous positive influence on his younger teammates – something that I expect will continue once the Rangers enter the playoffs.
---
KEVIN ROONEY
Mid-Season Report Card Grade: A
What I said at the 25% mark of the season:
Grade: A

I know you might spit out your drink when you see the letter A attached to Rooney here; but using my criteria, #17 in blue surely deserves it.

Here are some quick (and REAL) stats about the Rangers fourth line centerman:

Rooney's five goals has him second-best on the team. His 50.7% faceoff percentage is also tops on the team. And let's not forget that Rooney is also a valuable cog of the Rangers penalty kill as well.

And like Reaves and his two assists, Rooney's two goals over the Islanders gets a round of applause out of me!
---
Mid-Season Thoughts:
I'm sticking with the "A" grade for "Loony" Kevin Rooney, as the $800K center remains as the best depth signing that previous general manager Jeff Gorton had ever made.
Forty games in, the check-line center, and a signature component of the Rangers penalty kill as well; has six goals and four assists.
You can see that #17 has also gained the trust of Gallant too, as Rooney is now averaging nearly 14 minutes a game too (13:53 TOI). And yes, a reason why Rooney averages more ice time than his fourth line pals is because of his work on the penalty kill.
Rooney is a "roster stew" type of a player. This means that while he'll never put the team on his back, he will be valuable come playoff time, when you need physicality and hard work to win.
---
RYAN STROME
Mid-Season Report Card Grade: B
What I said at the 25% mark of the season:
Grade B-

Like Panarin, this was another tough grade to figure out; where I could see how some fans may think Strome deserves a grade with the letter C (perhaps with a minus) next to his name.

Similar to others, Strome has had a yo-yo season, where perhaps his stint on the COVID-19 list has effected him a bit. However, the second line centerman does have 14 points. In addition, he's helped Kakko get going too, which is something that shouldn't be ignored either.

Hurting Strome the most is his lousy faceoff percentage of 41.6%. Also hurting Strome is a ton of missed chances, but it does feel whenever Strome scores, it's always a huge goal. And again, I can't stress enough how Strome has assisted on every Kakko goal this season too.

What boosts Strome a bit, is that his winger, Artemi Panarin, loves him. With Breadman's 21 points, where Strome is often involved, we can see the value in #16.

Perhaps making Strome even more valuable, despite the Rangers winning games in his absence? Just imagine if he missed a large amount of games. The Rangers, who certainly need center depth, would struggle long-term without him.
---
Mid-Season Thoughts:
All Ryan Strome does is rack up points, yet some Ranger fans will never stop their incessant, and now boring, demands to have the soon-to-be free agent center out of town.
And for the silly talking point of "Strome only picks up points because he plays with Panarin" – well that couldn't be any further from the truth, as was evident when Panarin missed a chunk of games at the turn of the New Year.
Strome is fourth-best on the team in goals (9) and assists (32). He's also fifth-best in points, as he trails only the brand-name players on the team in this statistic. (Fox, Panarin, Kreider and Mika.)
Of note, with these numbers, Strome is on pace to smash his career-highs (2019-20 season) in both the assists (41) and points (59) departments.
What I said at the quarter-mark still applies for Strome, as if he's to ever miss any amount of time, the Rangers would be screwed. While Goodrow would most likely take over as 2C of the team in this event, the Rangers would be significantly weakened throughout the line-up without Strome.
Also true? Strome's faceoff numbers need to improve (45.1%) and there are many times where he misses open nets or overpasses himself out of a scoring chance. Even with these flaws, Strome has been reliable and a positive contributor to the team's offense.
---
MIKA ZIBANEJAD
Mid-Season Report Card Grade: B
What I said at the 25% mark of the season:
GRADE: D+

Before you go nuts here; keep in mind, this only reflects his first 20 games of the season, and like last season, Mika has plenty of time to beef up his numbers. However this time around, he won't be playing lowly teams like the Flyers, the Devils and the Sabres eight times this season.

For a center considered to be elite (as was evident by his new $8.5M per season salary, which goes into effect next season), #93's issues at the dot remain. Against other elite centers, Zibanejad has been dominated at the circle, but due to some weaker competition, he's been able to boost his overall faceoff percentage to a more respectable 48.1% – which isn't exactly the best number in the world either.

Most concerning for Zibanejad are his four goals. He must score more. With all the power-play time he receives (where he nearly plays the full two minutes), two PPGs is a disappointing stat. Even more disappointing is his Scott Norwood act on the power-play, where the bulk of his shots go high and wide.

If there's anything to rave about the center of the present and future, it's his work defensively and on the penalty kill – where on the PK, more times than not, he averages over one clear per kill. (I don't know if there is an analytic for that, this is me using my tired-and-true eye-test!)

At the same time, there's this:

First line center, Mika Zibanejad, has 402 minutes played (20:05 avg. TOI). He has four goals in that time.

Fourth line center, Kevin Rooney, has 270 minutes played (13:21 avg. TOI). Rooney has five goals – and unlike his counterpart, #17 doesn't play on the power-play. That's an indictment!
---
Mid-Season Thoughts:
The only reason why Zibanejad's grade isn't higher here is because of the slow start he had at the top of the season. Should he continue to play like the way he's been playing for the last two months – his grade will significantly increase, come Final Report Card time.
Through his first 21 games, Zibanejad had four goals. He now has fifteen – second-best only to Chris Kreider.
And as we've seen a lot of lately, Zibanejad has become stronger on the power-play, especially whenever he's camped out in the spot that's known today as "Ovi's Office."
While Panarin and Zibanejad have been considered the Rangers 1-2 punch ever since the Broadway arrival of #10; it's been Kreider and Zibanejad as the Rangers power-duo this season. Whether it's their work on the first line or on the first power-play unit, these two are 1-2 on the team in PPG's this season. (Kreider has 15, Mika has 8.)
(And let's not forget that unlike Panarin, both Kreider and Mika play on the penalty kill unit too.)
In more news from the land of positivity, #93 has also boosted his face-off percentage into the winning column, as he has now won 51.8% of all draws taken. In addition, his work defensively, especially on the penalty kill, has been impressive.
We all know that Mika can be streaky and we're seeing the good streak now. We can only hope this continues – especially in the playoffs, where the Rangers will need their three-zone centerman to be at his best.
---
DEFENSEMEN:
ADAM FOX
Mid-Season Report Card Grade: A+

What I said at the 25% mark of the season:
Grade A+

What can I say about Adam Fox that you don't already know? I've heard that Fox's analytical numbers aren't the best from the mooks who shout that garbage out – but I don't care about that – the eye-test tells me all I need to know. Fox, once again, is the best defenseman in the league.

Fox's 21 points not only ties him with Panarin for most assists on the team; but his 21 points also has him as the top scoring defenseman in all of the league as well. And then there is the whole, you know, defensive aspect to his game too – where Fox constantly and consistently shuts down the best players of the league.

A three-zone and three-way player, Fox paces all Rangers in minutes played per game, with 24:45 in all. Second-best, Jacob Trouba (making eight times as much as Fox this season), averages 22:38. And unlike Fox, who plays on the team's first power-play and penalty kill units – Trouba only plays on the second special team units.

It's scary to think that not only is Fox better this season than he was last season, but that he hasn't even peaked yet either! And really, all Fox needs to do is what he did last season, but as is evident – he continues to improve his game. Watch out NHL!

This may be a stretch (especially with the league favoring offensive players for this award), but Fox may very well one day find himself in consideration for a Hart Trophy, while adding to his Norris Trophy bids. (And yeah, I know the Hart is pretty much McDavid's to lose, and I'm not denying that. I'm just saying Fox could be nominated.)
---
Mid-Season Thoughts:
Again, what else can I say about Adam Fox that you don't already know?
Fox's 39 assists and 46 points paces the team, as the 2021 Norris Trophy winner, in 43 games played, is averaging over a point-per-game.
And while the Norris Trophy is usually given out to offensive-defensemen, no one can discount what Fox brings defensively either, as he's constantly breaking up scoring plays game-in and game-out.
The only thing stopping Fox from winning two straight Norris Trophies is Cale Makar. Maybe Victor Hedman too. At the very least, just as he was last year, Fox will be one of the top three nominees for the award this season.
Just to think – we haven't even seen Fox in his peak and prime years yet.
---
LIBOR HAJEK
Mid-Season Report Card Grade: B-
Rearguard Libor Hajek didn't play once during the Rangers first 21 games of the season. However, following team injuries, personal issues and COVID; Hajek finally made his 2021-22 season debut, where he's now currently played in ten games.
Outside of one bad game (in Vegas, where the team as a whole didn't play well in), Hajek has been serviceable. Despite what you may read on social media, #25 has also broken up some scoring chances too.
If there's one thing that should be mentioned, it's that unlike Vitali Kravtsov, Hajek, who also wanted to be with the team from day one this season; accepted his fate without a complaint. In fact, after spending most of the season in the press-box, he also accepted a conditioning assignment in Hartford too.
Hajek's one assist and -6 rating won't jump out at you (where his bad plus/minus stat is really the result of that Vegas game and some time with Nemeth too), but he's been decent during his limited action. Of course, is he the answer for the Rangers revolving door known as the third-pair of defensemen? Probably not.
---
RYAN LINDGREN
Mid-Season Report Card Grade: B+
What I said at the 25% mark of the season:
Grade: B+

Like peanut butter and jelly, Lindgren and Fox complement each other perfectly. While Fox can sure as hell handle himself defensively; #55's strong defensive play allows Fox to roam around much more so offensively.

As a defensive-defenseman, Lindgren has a respectable four points, backed behind two goals and two assists. While he isn't an offensive threat, Lindgren makes up for that on the back end (as he is supposed to do), as he's one of the team's best penalty killers.

Lindgren, prior to all of the grit and sandpaper added to this roster during this past off-season; remains as one of the team's best hard-nosed players, never refusing to block a puck or lay the body.
---
Mid-Season Thoughts:
The omega to Fox's alpha; #55 remains as the team's top left side defenseman.
Lindgren has been consistent on both sides of the ice this season. Heck, in his first 21 games, he had two goals and two assists. He now has four goals and four assists.
The bulk of what Lindgren does will never show up in a box score, but that's why the eye-test rules all.
A true warrior for the Rangers, Lindgren is also third-best on the team in blocked shots (84), only trailing Trouba (97) and Fox (90).
Rarely one to miss a shift (just look at how he rebounded after the Lemieux cheap-shot), Lindgren has excelled in his "heart-and-soul" role.
---
NILS LUNDKVIST
Mid-Season Report Card Grade: C+
What I said at the 25% mark of the season:
Grade: B-

Some may say that Lundkvist deserves a higher grade. Some may say he deserves a lower grade. To me, I think a B- is fitting, considering the grading criteria that I use.

What hurts #27, through no fault of his own, were these insane expectations that over-zealous European Ranger fans bestowed upon him. Not helping matters either, was when the Rangers pretty much guaranteed him a roster spot – despite Zac Jones having the better training camp/preseason.

It's a transition for Lundkvist, who is hoped to replace the offensive production that Tony DeAngelo once provided. Fifteen games in, as he's been scratched five times in favor of Tinordi; Lundkvist only has two assists, which to be fair – the Swede isn't getting power-play time yet, as opposed to his days in the inferior SHL.

Let me reiterate – it's a transition (both professionally and personally), and Lundkvist has only played in 15 games. I wouldn't sweat anything yet – even if the popular reaction is an overreaction, whenever stopping on the streets (and often ill-informed) of Rangerstown, USA.
---
Mid-Season Thoughts:
I've talked a lot about Nils Lundkvist lately, where instead of repeating everything I said at the time of his demotion to Hartford, I'd urge you to check the archives of this site instead.
I never felt that Lundkvist should've began his North American career at the NHL level. After 25 NHL games played, Drury has come to that same opinion.
In his "unofficial" rookie year (or at least at the time of this report card), Lundkvist has one goal and three assists. However, I still think it's unfair to rush judgement on him, although it's obvious that he's not ready for the NHL level – yet.
And with the team in trade-talks, and with Braden Schneider and Zac Jones around; there is a probability, forever as strong or as weak as it is, that we may have seen the last of the Swede in the #27 jersey lace up his skates as a Ranger. We'll see.
---
K'ANDRE MILLER
Mid-Season Report Card Grade: C-

What I said at the 25% mark of the season:
Grade: C+

I would've went lower here, but again I go back to the criteria used, where Miller is only a $925K cap hit. Plus, he's only in his second season. Miller, like Lafreniere, has never experienced a non-COVID season in the NHL. Despite that, fans have crazy expectations for #79.

That said, Miller, along with partner Jacob Trouba, has been a mess defensively during many games this season.

I'll say it again during the Trouba segment, but if it wasn't for CZAR IGOR, Miller's plus/minus number of +3 would be in the negative territory, and very much so at that.

Food for thought? Just imagine the plus/minus stats of the Rangers second pair, had Georgiev played in all twenty games this season. Actually – perish that thought!

Miller has shown us offensive glimpses at times (who can forget his end-to-end goal, where head coach Gerard Gallant then joked about converting Miller to his natural position as a left winger); but unlike last season, where he earned the "PRAYING MANTIS" moniker, Miller has been anything but.

Like most of the younger guys on the team, I wouldn't worry about Miller too much just yet, but I also don't mind people clamoring for Zac Jones either.
---
Mid-Season Thoughts:
Just like several of the young players on this team, Miller, now in his second season, isn't all there yet.
If there is anything that concerns me about #79, it's that I still don't know what he does well. What's his biggest strength?
At the start of his rookie season, Miller's stick-checking ability and long reach seemed to be his best attributes, but we haven't seen these skills showcased regularly this season.
Miller, who does have two goals and seven assists, was thought to be the better offensive player of he and Trouba, but it's the veteran who is currently, and significantly, out-playing the sophomore LD. (And as Trouba should!)
Think about this – if Braden Schneider was a southpaw defenseman, who would be team's second LD right now?
And I know I've said this 978678676969869 times before; but just like you, I'd love to see Miller use his massive frame like Trouba does. However, you're born with that desire. It's tough to teach the physical aspect of the game to Miller, where physicality, and as mentioned before, is a big part of the playoffs. It's either in you or it's not.
---
PATRIK NEMETH
Mid-Season Report Card Grade: D+
What I said at the 25% mark of the season:
Grade: C

I went in-depth on #12 a few blogs back, but yeah, he was signed here to help acclimate Lundkvist to the league. Why else would the Rangers sign the native Swede, when they could've signed any other veteran defenseman, promoted Jones, or retained the well-liked Brendan Smith on the cheap instead?

Twenty games in, Nemeth, who plays less than the top four defenseman and the forwards; has the worst plus/minus number on the team, at -6. Of course, being on the penalty kill hurts his plus/minus numbers, at least in theory.

I don't think Nemeth has been that bad as some people make him out to be, but it's not like he's that great either. "Serviceable" is a word, where again, I do believe his biggest reason for being here is Nils Lundkvist.
---
Mid-Season Thoughts:
I don't want to kick a guy while he's down (Nemeth, for the second time this season, is currently out for "personal issues," issues that haven't been made public yet), but yeah – he's having a tough season.
During the past 21 games, it's usually Nemeth and/or his partner on the ice for many goals allowed, where in a lot of these cases – he's either behind the net or pushing an opponent into his goaltender.
While Nemeth does have a three-year deal, where he was also asked to help get Lundkvist going prior to signing it; if Nils is in Hartford, and if Nemeth is struggling too – what purpose does he serve with the Rangers at the moment?
---
JACOB TROUBA
Mid-Season Report Card Grade: A-

What I said at the 25% mark of the season:
Grade: C-


This was another tough grade to come up with.

Perhaps friend of the blog, Eddie G. of "The Blueshirt Underground Show", would've expected me to go lower. You may also think that Trouba deserves a better grade, but with the salary cap a large part of this grading criteria, and with the $925K Adam Fox being an A+ – I think a C- sums up Trouba's first twenty games.

When I think of the 27 year old, I often think of this – "what does Trouba do well?" What does he bring that no one else brings? The NYR beat will lead you to believe that it's leadership, but you can find much better leaders for $8M a season – as the Rangers have done already with Kreider, Strome, Reaves and others.

As I was writing this report card up, I was shocked to see that Trouba had a plus/minus stat of +5. That just tells me the eye-test is all that matters, as CZAR IGOR has covered up a ton of Trouba's mistakes.

It's always going to be the contract, regarding my opinions on Trouba, just like this grade is. For $8M, you're not getting your monies worth. Can anyone really argue that?
---
Mid-Season Thoughts:
WHAT. A. TURNAROUND!
While Adam Fox will always be the cornerstone and top athlete of Rangers defensemen; during the past 21+ games, we've seen the best games of Jacob Trouba's Rangers tenure yet. All we can hope is that Trouba can remain at this level from this point on and beyond.
After all, now that we've seen this version of Trouba, who wants to go back to the old one?!?!?
Trouba, where his scoring was never his biggest strength, now has eight goals and thirteen assists. His eight goals leads all Rangers defensemen. His assists and point totals are only topped by Fox.
More impressive (or at least for me) – Trouba also has two Gordie Howe Hat Tricks this season!
The light-bulb has gone off for #8. While I would like to see him play angry all the time, and as mentioned 78967868689678968969 times before – when Jacob Trouba is pissed-off, no one is better.
Now a productive part of the offense, it's Trouba's brute strength, domination and hitting that's really stood out.
Trouba is tops on the team in blocks (97) and his 123 hits are only second-best to Ryan Reaves (150). But the hits that Trouba lays upon opponents – watch out!
I've been very hard on Trouba during the bulk of his tenure with the Rangers, because he never played like an $8M player. I can't say that after seeing his last 21+ games. All I can say is I hope this version of Trouba is around during the playoffs. (And I think we'll see it!)
---
GOALIES:
IGOR SHESTYORKIN
Mid-Season Report Card Grade: A+
What I said at the 25% mark of the season:
Grade: A+
I mean really, what other grade could I give here, unless I wanted to go A+++?

#31, in the first season of his new contract, is earning every penny, where as mentioned, he's putting forth a resume worthy of the Vezina. And there's no reason to think that CZAR IGOR will slow down anytime soon.

Igor, with eleven wins (would probably have at least one more at this time, if it weren't for the two postponements), is second in the league in goaltender wins, one shy of one of my favorite's (Jim S. will remind you of this) – Cam Talbot.

However, once we hit the 82 game mark of the season, I wouldn't be shocked to see CZAR IGOR lead the league in wins either.

Do you know what's really crazy about Igor through these first twenty games of the season? He only has one shutout, but has a butt-load of games where he only gave up one goal, where during every single one of these one-goal allowed games, it was a fluke play or some pretty shoddy defense that led to said goal.

Very easily, CZAR IGOR could be sitting on 5+ shutouts right now. Blame Trouba and Miller!
---
Mid-Season Thoughts:
Not only is CZAR IGOR in talks for the '22 Vezina, he's also in talks for the Hart Trophy too.
Igor, who does have 20 wins this season (sixth-best in the league), would have had more, had he not been injured for several weeks, and had he not had a stint with the omicron.
Along with his 20-4-2 record, Igor is currently second-best in the NHL in the goals allowed average department (2.07), where he only trails Frederik Anderson (2.06). However, Shestyorkin's save percentage of .937 is tops in the league, where second-best Anderson has a save percentage of .927.
And like Adam Fox – we probably haven't even seen the best of CZAR IGOR yet. Hell, we haven't seen him in the playoffs yet either!
While I still think that "the best goalie in the NHL" label is Andrei Vasilevskiy's to lose – I also think that it will be CZAR IGOR who will take it away from him. And had omicron not interfered with the Olympics, it's very likely that both Vasilevskiy and Shestyorkin would've represented Russia at the '22 Chinese Games.
---
ALEXANDAR GEORGIEV
Mid-Season Report Card Grade: B-
What I said at the 25% mark of the season:
GRADE: D-

Some may say that Georgiev deserves a grade of F+ or worse; but when you truly examine the goals Georgiev gives up, I'd reckon to say that 85% of them are the result of the "high quality shot" variety. However, as a top five salaried back-up in the league – Georgiev's numbers are atrocious.

Again, both #31 and #40 play in front of the same team, but it should be mentioned that Georgiev has played against weaker competition; while Igor has played against the better teams on the schedule.

That said, here are the black-and-white stats:

CZAR IGOR: 11-3-2, a .933 save percentage and a GAA of 2.22.

Alexandar Georgiev: 2-1-1, a .858 save percentage and a GAA of 4.08.

Obviously, there is a major disparity here.

While there should be a disparity between a starter and a back-up; for $2.4M+, Georgiev's numbers are reminiscent to a back-up goaltender from the 1980's – and a goaltender that only played against those Oilers teams from that decade.

I've written a lot about Georgiev's woes from this season, and you're all aware about his problems. To simply summarize here – Georgiev needs to get better or he will be out.
---
Mid-Season Thoughts:
Alexandar Georgiev became the goalie we all know that he could be ever since December 3rd, 2021 – which was the date when CZAR IGOR injured his groin in a game against the Sharks.
Just like many goalies before him, Georgiev's game improved dramatically once receiving more playing time.
Georgiev, who would rather be a 1A, rather than a 1B or a back-up goalie, has continued to play well ever since Shestyorkin's return.
After the Rangers first 21 games, Georgiev's stat line was 2-1-1, a .858 save percentage and a GAA of 4.08.
After the Rangers first 43 games, Georgiev's stat line now reads as 7-6, a .902 save percentage and a GAA of 2.92.
Obviously, Georgiev's numbers have improved, where it should also be mentioned that he had to play against a lot of top competition too, including Carolina, Tampa Bay and other top playoff-bound teams.
(This explains why his win-loss record hasn't improved as tremendously as his GAA and save percentage numbers did. Also not helping his win-loss record was that he was the goalie who was in net during the Rangers worst battles with COVID; where the team was forced to dress a line-up full of AHLers.)
I don't think it will shock anyone if Georgiev, a soon-to-be free agent, is elsewhere next season. However, the third-longest tenured Ranger on the team (only Mika and Kreider were here before him) has recovered from his wretched start this season.
---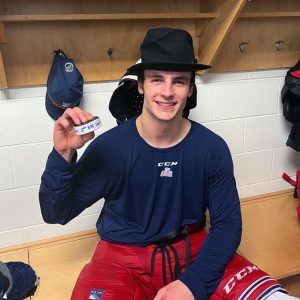 INCOMPLETES:
Sammy Blais, after fourteen games, was off to a hot start, where he was getting time on the top Rangers line. P.K. Slewban ruined that. Slewban also robbed a player from future earnings in a contract year. Just a tough situation for Blais.
Defenseman Jarred Tinordi, who played in five games of the Rangers first 21; has since cleared waivers and is now on the taxi-squad. I always felt like he was a "one-and-done" Ranger anyway.
The AHLers, or "The Wolfpack Line," in Timothy Gettinger, Johnny Brodzinski and Morgan Barron, all played well during their limited time with the varsity club. Of the three, it seems like Morgan Barron has the best chance to remain with the Rangers, as #47 is still with the club as of this writing.
Anthony Greco, the Queens native who played in one game for the team, also had a strong performance. However, it's highly unlikely that he breaks into the Rangers line-up this season.
Conversely, blue-liner Braden Schneider has broken into the Rangers line-up, and where he will most likely remain for the rest of the season and beyond.
Another d-man, Zac Jones, had a shot with the team because of omicron, but unlike his preseason, never truly stood out. With the Rangers most likely in the market for a defenseman for their playoff push, there's a chance that Jones is involved in some sort of trade package.
It's just tough to see both Jones and Lundkvist, two defensemen who pretty much play the same type of a game, both having long-term futures with the Rangers right now.
When it comes to the goaltenders, Keith Kinkaid looked sharp in his one game, where he only gave up two goals during his victory in net. The less said about Adam Huska the better – where to be fair, he was thrown to the wolves in a game against Colorado, following a long Rangers road-trip.
---
I know this went long tonight, but I hope you enjoyed this look at the team at the 52.4% mark of the season!
PLUGS time!
---
On Tuesday night, "The Blueshirt Underground Show" returned with a new episode. To watch it, click the play button below:
---
Also on Tuesday night, "2 Guys 1 Cup" returned with their latest episode. To listen, click the link below:
Episode 33 is now up!
Hank night, who will be at the ceremony? Our thoughts on the past 4 games, Laf/Byfield, and much more! #NYR https://t.co/CSF4LXzNO0

— 2 Guys 1 Cup Podcast (@2G1CRangers) January 26, 2022
---
The hardcover version of my book, available now at Amazon.com
The first plug of tonight's blog – the mandatory plug for my new book, "The New York Rangers Rink of Honor and the Rafters of Madison Square Garden".
As mentioned previously, the book is now available in hardcover, in paperback and in Kindle formats. To purchase a copy of the book, visit this link:
https://www.amazon.com/Rangers-Rafters-Madison-Square-Garden-ebook/dp/B09CM5N2WD
For those still looking for signed paperback versions of the book, I have re-ordered more copies. I now have 2 signed copies for sale at $25 a pop (includes shipping price) through me directly. Here is all the information on that:
---
Here are my last few blogs, in case you missed them:
---
---
---
If you haven't already, subscribe to this blog for the next update:
---
Up next: the Rangers travel to Columbus, Ohio, for a divisional game with the Blue Jackets. 24 hours after that, it's Henrik Lundqvist night at M$G. The ceremony will be held at 7PM, an hour prior to the scheduled 8PM puck drop between the Rangers and the Mats Zuccarello & Cam Talbot led Minnesota Wild.
There were also a press conference with Gerard Gallant on Wednesday, where the head coach spoke for over nine minutes. However, there wasn't any true "breaking news" from the press conference. I'll have more on it tomorrow, during the news segment of the NYR/CBJ game review blog.
As always here, thanks for reading and…
LET'S GO RANGERS!
Sean McCaffrey
BULLSMC@aol.com
@NYCTHEMIC on Tweeter