Greetings and salutations everyone and welcome to another blog here on BlueCollarBlueShirts.com. BRU-TAL!
Our beloved New York Rangers, after turning in a listless performance on Tuesday night against the Minnesota Wild, continued their losing ways just two nights later – where they were "embarrassed" by the St. Louis Blues to a tune of 6-2.
The Rangers never had a chance during this tilt – or should I say that CZAR IGOR never had a chance with this team in front of him.
I put the word "embarrassed" in quotes here, because for the first time this season – that's the word that head coach Gerard Gallant used when describing the loss. (His post-game interview is featured at the end of this manifesto.)
---
If you're new here, I guess I should tell you that I'm very optimistic, and remain "glass half-full," when writing about these 2021-22 Rangers.
After all, I predicted that the team would be a playoff contender this season, and despite this one loss, where yep, it was the worst loss of the season – my faith remains unchanged.
Needless to say – one bad loss won't deter me!
If you're a regular reader here, then you already know that I rarely agree with M$GN analyst Steve Valiquette, and very often, use him for comedic relief on these blogs. I don't think I have to explain all of this again!
And contrary to popular opinion – I don't hate the guy. In fact, he's very fan-friendly and genuinely a nice guy. And in an attempt to be fair to him – to a younger generation, he's the bee's knees'. He's just not for me – at least not this version of him.
I just don't think he's any good as an on-air talent, especially when analytics first became his way to boost his bank account.
That said, I thought he was good at the start of his broadcasting career – when he just talked hockey, rather than bombarding us with 786786789678968 useless stats a game – stats that never factor in the human element.
Furthermore, if the option of having Henrik Lundqvist full-time on these broadcasts can become a reality – I'd rather hear from him than hear from his back-up. I much rather hear from the guy who did it, rather than from the guy who watched him do it.
This long-winded preamble is my way of saying, that imagine my shock and surprise, when during the post-game show that aired following this contest – that Mr. Clear-Sighted Clairol Analytics pretty much said word-for-word what was on my mind.
Once in a while, an eye-test fan like myself, and the self-proclaimed king of analytics, can see "eye-to-eye." (Just don't tell him that.)
What I'm about to say next pretty much echoed what Vally said after the game, where I want to be "clear-sighted" with you – these were already my opinions before Vally said them on-air.
---
Again, let me be clear – this was the ABSOLUTE WORST LOSS of the season. There's no denying that.
Some fans, and/or you readers, may tell me about the four games with the Flames and the Avalanche – but in my eyes, I think you can "explain away" those losses.
As said following those four losses, and even after them – you could blame the schedule, COVID-19, and a not-so-ready Adam Huska in net. And even if you don't embrace excuses – the Flames and Avalanche are both currently in first-place in their own respective divisions.
At the end of the day – losing to a top team isn't the end of the world, nor something to get upset about.
However, if you're upset about this loss to the Blues, I get it. I'm not too happy about it myself!
That said, I always try to approach these game reviews with the "big picture" in mind. I also try not to overreact to any singular big win or loss either.
(Much easier said than done, as admittedly – I do go into rah-rah mode after a scintillating and exciting victory. But hey, I'm just a fan – I should be busting out the pom-poms after big wins!)
If there's anything that truly bothers me about this loss, it is that for the second game in a row, the Rangers were a "slump-buster." They were a feel-good opponent for a team that desperately needed a win. That needs to end.
Just like how the Minnesota Wild were struggling before defeating the Rangers on Tuesday; prior to this game on Thursday night, the Blues were on their own schneid too:
Entering this game, the Blues were on a four-game losing streak, where during their last three games, they dropped decisions to three awful teams in the Islanders, Devils and Senators.
And just like the Rangers, the Blues are also in second-place in their own division. They are also trying to maintain a home ice advantage for the first round of the 2022 Stanley Cup Playoffs.
During the Blues' losing streak, they had only scored seven goals in those four games. Tonight, they scored six, and if it weren't the iron – they very easily could've hit double-digits.
Throughout the broadcast, Sam Rosen and Joe Micheletti (and Steve Valiquette too), kept on hammering the point home that the Blues were hungry and desperate. In a way, the M$GN crew tried to sell that the recent frustration of the Blues powered their way through the Rangers. I found that stuff to be hogwash and poppycock, because after all – the Rangers were in the same exact boat.
The Rangers, much like the Blues, had suffered an embarrassing loss during their last game played. They too, like the Blues, are jockeying for position in the standings. So while it's true that the Blues had some extra motivation – what's also true is that the Rangers should've had that same exact drive. They didn't.
Even worse was that the Blues were without Pavel Buchnevich tonight, who is currently in concussion protocol – after suffering a cheap shot from Austin Watson, during the Blues' last game against the Senators.
In other words, the Blues were without their number one star who had a grudge to bear.
Then again, after seeing Buchnevich meet-up with the Rangers during their pregame skate on Thursday morning; I still don't think that Buchnevich, much like his fans (or is it "stans?"), is over the trade.
The optimist perspective? Buchnevich still yearns for the Rangers, despite his great year in St. Louis.
---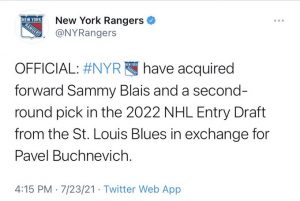 I totally understand if you're at your wits' end and pulling your hair out after this loss. However, before jumping off of the bridge, consider the following:
(This is also what Vally said, while using different words than me, during the post-game show.)
— This was game 58. It took 58 games for the Rangers to have their worst loss of the season. And why was this loss so bad? It was because you've seen this team play so well all-season long. Don't forget that. That's why you're pissed – you've seen much better from this group.
— While I'm not trying to make excuses, the facts are the facts – the Rangers are still banged-up. Kakko is out. Rooney remains out. Even a reliable penalty killer like McKegg is out. In-steed, we're seeing the likes of Brodzinski and Gettinger – players who won't be on this roster come playoff time. We're also enduring the Dryden Hunt on the second line experiment, due to a lack of better options. (Unless you want Goodrow there, which then weakens the bottom six.)
— We're still biding our time to the March 21st NHL Trade Deadline. To go crazy about a team that's not healthy, nor at their best – well that's just silly to me.
I have no way of knowing this, and this is a prediction and not a spoiler – but I think general manager Chris Drury will wait right until the last second to make his moves, where presumably, the cost for rentals will then be cheaper – especially when teams start to fade out of playoff contention.
I know it's excruciating to watch these patch-work Rangers get decimated, but with every fiber in my being, I still believe this – help is on the way.
That said, I just don't know who specifically that help will be – but I do believe Drury will eventually make moves that positively impacts this team's performance.
---
Before pressing on and getting to the main event, which is the GAME REVIEW; a quick note.
Everything you're about to read next, up until the line-up segment, was written before this game took place. I had some free time earlier this afternoon, and banged out a few things.
As you know, rather than posting 7867868678967896 articles for clicks, I rather just post one big-ass blog and call it a day. Read at your own leisure I say! (I'll never put ads on this site either, but I will ask you to buy my book!)
I tell you this, because Alexandar Georgiev wound up playing tonight, in relief of CZAR IGOR.
So while I was wrong about Georgiev never playing for the Rangers again, I still have this going for me – "I don't think we'll ever see Georgiev start a game for the Rangers!"
Something else that I was correct about? Julien Gauthier can't buy a goal. I suppose that even Gene Carr is having a laugh about this too!
Let's roll.
---
Just a follow up on my thoughts from Tuesday night, in regards to Alexandar Georgiev.
"THE BULGARIAN BEAST," as noted on previous blogs, hasn't done many post-game interviews after losses this season. To his credit, Georgiev faced the heat and talked to the media following the Rangers 5-2 loss to the Minnesota Wild.
Here's the interview:
---
I share this interview, because what Georgiev said, and how he said it – pretty much confirmed what I said on Tuesday night.
Maybe I'm being a bit too dramatic, but if you watch this interview, Georgiev reiterates that he needs more playing time – playing time that he just won't get with the Rangers.
I don't want to suggest that Georgiev is a bad teammate or anything of that nature; but this latest interview is just another reminder that Georgiev has his eyes set on a starting goaltender gig.
In a way, this interview kind of reminded me of Henrik Lundqvist during his final years, where he had no problem calling out the team in front of him after a bad loss.
For a comparison, just watch CZAR IGOR interviews, even after his rare losses.
While yes, he speaks Russian (and uses a translator too), what he says and how he says it, is the complete opposite of what Georgiev did on Tuesday night.
During his short stint thus far on Broadway, Igor is always very complimentary of the team in front of him – even if he's lying through his teeth. He never throws the team under the bus, a team that's cost him at least a dozen shutouts by my estimation. (And a team that lessened his historic stats tonight.)
Again, maybe I'm overselling this, and looking too deep in order to sell my own narrative. That's fair. However, I just got the impression that Georgiev is pretty much checked out.
No joke, I have watched this interview three times over already, and after each viewing, I feel even stronger in what I wrote on Tuesday night – I think we've seen Georgiev's last start as a New York Ranger. (And if you disagree, that's fine too – I'm just telling you my opinion!)
And while following up on things said from last blog, here's this graphic for your consideration:
As you can see here, Julien Gauthier ranks dead-last not only among all forwards, but among all full-time skaters too, in the shooting percentage statistic. To be honest, I'm surprised that his shooting percentage is 4.9% – I thought it was even lower than that.
On to the NEWS segment.
---
Following the loss to the Wild, the team flew out to St. Louis on Tuesday night. On Wednesday morning, the team practiced, where it was reported that Gallant, while keeping his composure, bag-skated the team a bit, following a drill that he thought wasn't going well.
After the practice, Gallant met with the media:
---
Not much came out of "The Turk's" chat with the beat, although Gallant confirmed that Sammy Blais has been hanging around the team ever since they arrived in Minnesota.
While Blais is nowhere near ready to return (Gallant said that he wasn't even sure if Blais was skating yet); the head coach said that Blais, and general manager Chris Drury, have been speaking, where Gallant also said that Drury was the one who gave Blais the a-okay to hang around the team.
Blais, who hasn't been skating, was seen at the last two practices, where he was passing pucks and hanging out with his teammates. As Gallant said, this is a way for Blais to get out of the house, hang around his friends, and break up the nothingness of sitting home and waiting to heal.
This all sounded like a temporary thing since the Rangers are currently playing near where Blais calls home. In any event, it was nice to see Blais reconnect with the team, after his season was robbed away from him by P.K. Slewban.
As far as anything else, Gallant, who has added the phrase "he works hard, he competes hard" to his repertoire; praised several of his players, including Morgan Barron, who the head coach said he'd like to work back into the line-up soon.
Gallant also mentioned that just because a young player doesn't play, it doesn't mean that he's down on that player – it just means that it's all part of the development process.
In another interview conducted on Wednesday, Ryan Reaves spoke to the media. Reaves, who is usually the most entertaining, and the most honest Ranger too, made a few telling remarks:
---
To go back to the Georgiev stuff, Reaves showered heavy praise upon CZAR IGOR.
While not saying Georgiev's name (nor using #40's name in a comparison), Reaves said how #31 always gives the Rangers a chance to win games and how the team feels inspired when playing in front of him.
At the end of the interview, Reaves brought up how his father, Willard Reaves (a former CFLer, and who also received three games of NFL action during the late 1980s), was running for office in Manitoba.
To read about Willard's political aspirations, his campaign website can be found here: https://willardreaves.ca/
Since I have no life, I checked out Willard's site, and then found myself in a Google/Wikipedia/YouTube rabbit-hole, where I then found this page: https://en.wikipedia.org/wiki/Bass_Reeves
Maybe some of you knew this already (but I didn't know this until Wednesday), is that Ryan Reaves is the great-great-great-grandson of Bass Reeves, a Bass Reeves who was the first black United States Marshall west of the Mississippi River, where he spent most of his days in Arkansas and in Oklahoma.
(Over the years, "Reeves" became "Reaves" – a fact that #75 talked about when he first found out about this relation two years ago, following Willard doing a DNA ancestry test.)
Bass Reeves had an extraordinary life, where he was kind of like a black Wyatt Earp, although Reeves obviously had more to overcome than Earp ever did. (Reeves, unlike Earp, was a slave prior to the Civil War.) And also unlike Earp – Reeves didn't dabble with nefarious activity either.
Perhaps crazier than all of that? Reeves was forced to arrest his own son after a murder charge.
For regular readers of this website, you already know about my affinity for hockey history. I'm also a huge fan of American history, especially stuff from the "Wild Wild West," where I always tend finding myself watching western movies from any era.
I'm like Doc Brown from "Back to the Future III" – I can't get enough about the days of saloons!
After pursuing through Bass Reeves' Wikipedia page, I didn't realize that many Hollywood projects (and the "Red Dead Redemption" game), were based on Reeves.
According to Wikipedia (and other websites too), there's currently an Amazon movie in the works on the life of Reeves. Looking forward to it!
Until that movie comes out, an entertaining, although somewhat fictionalized, movie on Reeves' start in law enforcement is worth your time – "Hell on the Border," which was released in 2019.
(There's another movie on Bass Reeves, entitled "Bass Reeves," an independent movie which was released in 2010. While the story is good; the acting, the production, and the fact that they used the wrong era of clothing is all abundantly apparent.)
The more you know!
From history to comedy, let's continue this magic carpet ride.
---
Very often on this site, I bring up the low cost of Islander tickets. I do this for several reasons, including that I enjoy seeing the Rangers on the road, I want knowledge when it comes to comparing prices of Ranger ducats to the prices of opposing teams, and because yep – I hate the Islanders too!
(And after a Rangers' loss like tonight, why not kick the Islanders around a bit?)
While the Rangers were out in St. Louis on Thursday night; the Islanders were hosting a divisional rival at the IBS Arena on the same night, as the orange-and-blue played the Columbus Blue Jackets.
For all of the pomp and circumstance about the Islanders latest home, their 78566785676758th arena in a span of five-years – you could've attended Thursday's game at the IBS Arena for six bucks:
It's at the point where the Islanders may have to start offering free gasoline, in order to entice fans to attend their games.
Seriously – $6! That's a steal for a hockey fan, especially considering that the IBS Arena is a great venue to catch a game in. Plus, put it this way – the cost of a beer at the IBS Arena is $18! A beer costs three times as much as a ticket!
It gets even better for fans looking to attend hockey games on the cheap; as if you look at the rest of the Islanders home schedule, you can find $6 tickets for every game except one – when the Rangers have their "home" game there.
Get a load of this:
As stated, right now, you can find tickets to every other hockey game played at the IBS Arena for $6. Heck, there are even some games where tickets go for $5 too!
When the Rangers return to Elmont on April 21st, not only are ticket costs inflated (due to Ranger fans flooding the building), but the price of parking is nearly ten times as much as the cost as one of these $5 tickets!
Put it this way – you can buy tickets to ten Islander games (where the Rangers aren't the opponent) for $50.
Conversely, you can use that same $50, and park your car at one of the parking lots at the IBS Arena – parking lots where the smell of horseshit will penetrate your nose with all of the force of a Ryan Reaves hit or a Bass Reeves' arrest!
That's hockey Suzyn.
Back to the Rangers, and a more serious topic at that.
---
Before getting into the line-up, I just wanted to plug an event. I know I could've put this in the PLUGS segment, but for those who just scroll on by the plugs – I wanted to give this event some prominence in this space.
From the Ronald McDonald Charity House, a charity that Rod Gilbert worked hand-in-hand with during the majority of his adult life:
Date: Friday March 11th
Time: 6pm – 9pm
Location: The Lighthouse & Sky Rink at Pier 61, Chelsea Piers, New York, NY 10011

Ronald McDonald House New York (RMH-NY) and the New York Rangers once again team up to host the 28th Annual Skate with the Greats.

Please join us as RMH-NY will remember and pay a Special Memorial Tribute to Hockey legend and New York Rangers Hall of Famer #7, Rod Gilbert.

For 27 years, Rod had co-founded, championed, and hosted our annual "Skate with the Greats" event alongside his fellow New York Rangers hockey legends and alumni, while raising awareness and millions of dollars to support our families and children who are battling pediatric cancer.

Plans are underway to provide our guests with that special fun and excitement experience to include many of your New York Rangers Greats such as Brian Leetch, Ron Duguay, Nick Fotiu, Adam Graves, Ron Greschner, Tom Laidlaw, Stephane Matteau, and others.

Special highlights will include Ice Skating, Honorary NY Rangers Jersey presentation, autographs, silent & Live auctions, and much more. It's truly an event for both your business associates as well as the whole family, especially any hockey fan, young or old.

Please note, this event will require masks and proof of vaccination upon entry. 
For more information, visit the website at: https://www.rmh-newyork.org/blogs/events/2022skate
And while on the topic of legendary Ranger alumni who have since left us, I'd like to make mention that today marked the third anniversary of the passing of #3 himself, Harry Howell. RIP.
---
Finally, before getting into the GAME REVIEW, Gallant's pregame interview from Thursday:
---
Gallant didn't say much, outside of confirming that CZAR IGOR would be in net.
A new narrative that's out there (where admittedly, there is something to it), is that Adam Fox is playing a lot of minutes. Gallant said that he's aware of all the minutes that Fox is playing – but there's also a reason why #23 is the reigning Norris winner.
Larry Brooks, both in the New York Post and "Up in the Blue Seats" (link for the podcast located in the PLUGS segment), feels that Fox hasn't been the same player since his injury. I feel that once the season is over, then we'll hear about whatever Fox's injury was/is, as opposed to the bland description of "upper-body injury."
Brooks, who usually is spot-on, championed that perhaps Fox shouldn't play on every penalty kill. After he said that on "Up in the Blue Seats," Duguay opined that maybe #23 should only play on penalty kills during key moments and during the third period.
Of course, since the Rangers really don't blow anyone out – it will be tough for Gallant to cherry pick when and when not to use Fox on the penalty kill, in an attempt to limit his minutes, should that be the action the head coach decides to take.
Just something to keep an eye on, as we march to the end of the regular season.
---
Here's what "The Turk" went with for this Micheletti homecoming game:
FIRST LINE: Kreider/Mika/Lafreniere
SECOND LINE: Panarin/Strome/Hunt
THIRD LINE: Gettinger/Chytil/Gauthier
FOURTH LINE: Goodrow/Brodzinski/Reaves
Defensively, we had this:
FIRST D-PAIR: Lindgren/Fox
SECOND D-PAIR: Miller/Trouba
THIRD D-PAIR: Nemeth/Schneider
And in net, CZAR IGOR
---
BOX SCORE time.
The following information and graphics come from the new world-wide leader in NHL coverage, ESPN.com:
SCORING:
PENALTIES:
TEAM STATS:
GOALIES:
| | | | | | | | | | | |
| --- | --- | --- | --- | --- | --- | --- | --- | --- | --- | --- |
| SA | GA | SV | SV% | ESSV | PPSV | SHSV | SOSA | SOS | TOI | PIM |
| 29 | 2 | 27 | .931 | 21 | 2 | 4 | 0 | 0 | 59:00 | 0 |
| | | | | | | | | | | |
| --- | --- | --- | --- | --- | --- | --- | --- | --- | --- | --- |
| SA | GA | SV | SV% | ESSV | PPSV | SHSV | SOSA | SOS | TOI | PIM |
| 18 | 2 | 16 | .889 | 16 | 0 | 0 | 0 | 0 | 39:45 | 0 |
| 17 | 4 | 13 | .765 | 8 | 0 | 5 | 0 | 0 | 20:04 | 0 |
---
Maybe the M$GN pregame show should go back to airing clips of Ryan Reaves belting out, "(Insert goalie here) RELEASE US!" – because for the second game in a row after omitting this clip, the Rangers got pummeled.
With no Henrik Lundqvist in-studio tonight, I thought this broadcast was doomed. Instead, it wasn't that bad, or so I feel!
Vagistat opened up the broadcast by saying, "the Blues will be hungrier tonight." Of course, I didn't want to hear such tomfoolery, but the seven-foot goof would be proven correct.
After Giannone and Vally lamented over the Rangers' poor performance against Minnesota; the duo then raved about CZAR IGOR and Mika Zibanejad. Sadly, these predictions didn't work out in favor of the Rangers tonight.
It was announced that Ryan Martin, Drury's hire and his assistant general manager, is now the general manager of TEAM USA for the upcoming IIHF Worlds Tournament. Hopefully, that team can do better than DQ's squad did during the 2022 Olympic games.
After showing us the lines for once (a good thing), Vally told us more stories from his epic and legendary NHL career of 46 games. You'd think he would've run out of material by now, but you'd be wrong.
After talking about the goalie match-up between CZAR IGOR and Ville Husso, we went to Sam and Joe, who just like Steve and John – raved about CZAR IGOR and Mika Zibanejad. Jinx? Nah!
Let's blow through this game review.
---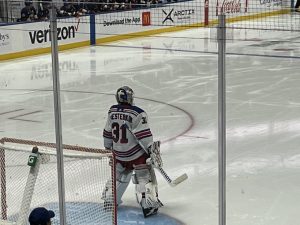 What's a nice way to put this? Hmmm. How about this – "this game was Father Fink'd the second when the puck was dropped."
Igor opened up the game with two quick saves, where after both of them, he was bumped, which then led to two separate scrums.
In something positive, it was nice to see K'Andre Miller, who has been more physical as of late, getting into the face of Ryan O'Reilly.
After Miller tried a homerun pass to Kreider, a pass that Husso broke up; Igor was forced to make another big save, where fortunately, the Blues didn't capitalize on the empty net afforded on the rebound.
Up next were three consecutive Ranger penalties, where at the the 4:31 mark, Lindgren was boxed for a phantom hooking call on Robert Thomas. During a Ranger penalty kill where Igor was the top PKer, Jonny Brodzinski was then boxed, after sailing a puck over the glass during an act of desperation.
This gave the Blues a two-man advantage for 1:07, where to their credit, the Rangers survived.
Once returned to full-strength with 12:35 remaining, Igor had made four saves on the penalty kill. However, the Blues were also out-shooting the Rangers 9-0. They'd soon make it 10-0 – before the Rangers got their first SOG at the nine minute mark of the period (Mika-to-Kreider attempt).
With 11:55 remaining, Lindgren was off to the penalty box again, after a blatant trip committed on Alexei Toropchenko – a call that could not be debated.
Once again, the Rangers penalty kill came up big again, where instead of Igor doing all of the heavy lifting, it was Mika Zibanejad. (It was during this penalty kill where the Rangers got their first SOG of the game.)
Now back at full-strength, the Blues kept pressing the issue, as the Rangers looked "offensive offensively."
In what may have been a game-changer; with 8:45 to go, Strome and Hunt had a two vs one odd-man rush, which was a mirror image of the one they had against Minnesota. However, this time, Hunt couldn't bury the puck, as Husso made a FABULOUS save – even if there was some luck behind it. That said, Hunt should've buried this puck. He didn't.
And had Hunt buried this puck like he was supposed to; the Rangers, who did have some sort of momentum after killing three penalties already, would've also then taken a 1-0 lead. "Coulda, woulda, shoulda."
Following another one of those classic Chytil and Gauthier plays, where they do everything but score; the disastrous duo coughed up the puck. Immediately following the turnover, the Blues marched up the ice, and both Kyrou and Thomas got behind the Rangers defense. Painful to watch.
More painful than that? Watching Thomas score on what was basically a two vs zero chance, in what had to be his easiest even-strength goal of the season.
1-0, bad guys, with 6:55 remaining.
It gets worse, and I won't even bring up again how Hunt should've had a goal, and how Gauthier and Chytil flub 767867867896 chances per game.
After another defensive zone faceoff loss by the Rangers; Brandon Saad (who could've had a hat trick tonight), went to Gretzky's office and found Ivan Barbashev all alone in the slot. The Blues centerman, untouched and unmolested, easily beat Shestyorkin. 2-0, bad guys, as this goal was scored just 35 seconds after Thomas' tally.
The pain was never-ending.
Following Panarin missing during an easy scoring chance; the Blues, who had no trouble owning the puck on this night, had a long possession in the Rangers d-zone. With no clear to speak of, Thomas scored again. 3-0, bad guys.
On this goal, the Rangers were gassed, Thomas got the puck in the slot, and then roofed it past Igor.
Call me an Igor sympathizer, and I am – but none of these three goals were on him.
You know I don't care about that "HIGH DANGER" stuff, because after all, hockey players have been scoring this way since the league first began in 1917; but yeah – three easy goals for the Blues here, goals that were on the Rangers defense, and not on the '22 Vezina and Hart winner himself.
And I have no clue if this is true, but let's go with it anyway – this had to be the first time in NHL history, where a team killed three penalties, including a 5 x 3 penalty, and then gave up three straight goals. More times than not, after a strong bout of penalty killing, you're the one who gets the goal. Not tonight, not tonight.
With 2:12 remaining in a game that was slipping away, the Rangers received a slight reprieve, after Robert Bortuzzo held Goodrow's stick with 2:12 remaining.
Up next? CZAR IGOR's first assist of the season:
beautiful dish from Foxy! pic.twitter.com/i7qsIhKkYb

— Rangers on MSG (@RangersMSGN) March 11, 2022
---
3-1, bad guys, where yep – I wish the Rangers won this game so I could be doing back-flips (maybe that's not physically possible for me – that damn beer gut) about this assist.
On the goal, CZAR IGOR got the puck to Fox, and #23, who didn't look tired or "beat-up," as many would lead you to believe; skated the puck into the zone, made a move, and then found Ryan Strome for the PPG.
In what was funny, Strome, rather than shooting right away at an unsuspecting goalie; #16 took his time, and sent a mini-slap-shot towards the direction of Husso. Had he missed, people would've been groaning.
Now, with 1:23 to go, you were hoping that the Rangers would comeback, just as they did the last time these two teams squared off. Again, so much for that.
With thirty ticks remaining, CZAR IGOR stopped comrade Vladimir Tarasenko on a one vs one.
During the save, CZAR IGOR did a snowman, where he thought that he had the puck under him. He did, but the referees, instead of blowing the whistle, then allowed Tarasenko to kick the puck out and play continued. Igor was irate about this, and as the Rangers were getting the puck out of the zone – #31 gave an official an earful.
After twenty minutes, 3-1 bad guys, where at least the Rangers were perfect on special teams. (PK 3-3, PP 1-1.)
---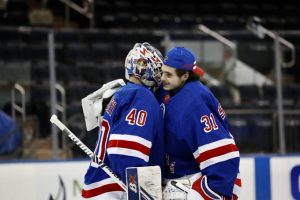 At 3-1, bad guys, to open the middle frame, and following Igor's assist; you thought (or at least I did) that the Rangers would mount their comeback. Instead, like a bad Mexican donkey show featuring an unfortunate soul looking to make money the hard way – the Rangers got mounted themselves.
After losing another faceoff, just fifteen seconds into the period, Ryan O'Reilly scored, where again, he was untouched. Mika, in a rare gaffe, also fell down during this, which then left ROR wide-open for the easy goal.
4-1 bad guys.
Right after the goal, Gallant pulled Igor in favor of Georgiev.
---
At the time, my number one concern was Igor's health, especially knowing his history with groin injuries. Increasing my fears was that Igor didn't go to the bench, as instead, he skated right to the locker room. He'd eventually return to the Rangers' bench, so my fears would soon be alleviated.
(And to be clear – Igor isn't injured, and expect him to start on Saturday in Dallas.)
In other words, while I don't think Igor was pissed at Gallant – he was pissed off at the game. Once he calmed down, he returned, where need I remind you – I wouldn't have pinned any of these four goals on the CZAR.
As far as the decision to pull Igor goes, while I wasn't a fan of it – I understood it.
The Rangers looked like dog shit, and rather than allowing Igor to get pummeled (and decrease his historic stats too), Gallant, knowing that his team didn't have it on this night, and akin to a good cornerman of a fighter – threw in the towel and lived to fight for another day.
While I tried to remain optimistic; the second you saw Georgiev skate to the net, you knew that Gallant was done coaching this game. It was something that Gallant admitted to after the game. (His post-game interview will appear at the end of this blog.)
Of note: this was the first time that CZAR IGOR was pulled from a game for a performance/scoreboard issue.
Prior to his pull, he only left games for concussion spotters and injury issues.
And again, this pull had nothing to do with Igor – this was Gallant conceding this contest and looking ahead to Dallas on Saturday.
---
About a minute after Georgiev took over, Saad missed a vacated net. Georgiev got a break here.
Trying to comeback, Fox then had the puck. On his first shot, it was blocked by a Blue. On his second shot, Gauthier blocked Fox's shot, and for good measure, whiffed on a rebound so badly, that he broke his stick. I've seen enough of Gauthier for one season.
As I was wondering if the Blues were Igor's kryptonite, just as the Bell Centre in Montreal once was for Lundqvist; Panarin, who is having a perplexing season, got the puck. Instead of taking a shot while wide-open, he looped around Husso's net and forced a puck to Trouba – a turnover.
It was also around this time where we saw that Sammy Blais was hanging out with Libor Hajek and Morgan Barron in the press box. Rosen remarked that the Rangers miss Blais. I would concur.
The misery continued.
The Rangers committed a penalty with about 13:30 left in the period, where for the next ninety seconds or so, the Blues enjoyed a lengthy 6×5 delayed penalty attack.
The Rangers couldn't sniff the puck here at all, even if Georgiev did make one save – a rebound in favor of the Blues.
As the Rangers became statues on ice, Jake Walman was left wide-open. Bang. 5-1, bad guys and with 12:53 remaining. Making matters worse, was that Georgiev fell on his ass when trying to make this save, which somewhat describes his season thus far.
Just 38 seconds later, the Blues scored again. 6-1.
On this goal, Perron flung the rubber at Georgiev and Nemeth deflected it into his own net. It happens, as this game was pure "Murphy's Law" – anything that could go wrong did go wrong.
With 10:40 remaining, Gauthier drew a penalty. After a lot of uncertainty and a turnover to boot out of Panarin; with just one second remaining on the man-advantage, Chytil drew a slashing call on Faulk.
This second power-play (third of the game) would be successful, as Artemi Panarin found K'Andre Miller streaking to the net for the PPG. 6-2, bad guys, and with 7:37 to go in the second period.
This 6-2 score would hold up as the final.
For the remainder of this game, I can tell you that the Rangers never gave up. Husso and the Blues were just better.
Schneider, Mika, Kreider, Panarin, and Trouba would all try to find the Rangers' third goal during the next five minutes of play.
Georgiev, after his two goals allowed, buckled down, where to his credit, he made some great saves, including one on ROR and another on Saad, which was a pure robbery save. Saad, once again, would then miss on an easy chance.
With three seconds remaining, Chytil had another breakaway, but you know how that goes.
6-2 after forty minutes.
---
As you couldn't believe there was another period of this dreck; to open up the period, Gauthier had a breakaway. He was stopped – aka, the norm.
Seriously, what do you have less faith in these days? Gauthier scoring on a breakaway or Georgiev making a save on an opponent while on a breakaway?
Again, while I wouldn't question the Rangers desire in this game, as they didn't give up in my eyes; this period was just an agonizing way of spending twenty minutes. We even saw a shot of a dejected CZAR IGOR on the bench, who looked like someone had told him that he'd have to serve in Putin's army.
Georgiev, who as mentioned, did make some good saves, also got some luck too – as both ROR and Saad hit iron in this period.
Panarin, who will make your head spin this season as you try to figure out how to accurately assess him; found himself wide-open, and a foot away, from Husso. Down four goals, you'd think he'd shoot it. Instead, he passed the puck to the blue line to Miller, who wasn't able to get a SOG. Even if Panarin didn't think he'd score, he could've at least tried a puck-on-pads play to Hunt, who was right there for a rebound opportunity.
As we hit ten minutes remaining, I was reminded that Hunt had previously fought Niko Mikkola at the 4:52 mark of the second period, a fight that I didn't mention earlier since Mikkola easily disposed of Hunt in seconds.
Ever the optimist, I was thinking that perhaps in garbage time, #29 could get a goal and an assist for the Gordie Howe Hat Trick! When you're thinking like that, you know it was a bad game!
With 5:29 to go, Lafreniere and Perron went at it, where both were tossed to the box for two minutes.
During the two minutes of foreplay, Georgiev made three stellar saves, so I guess that's something. Georgiev would later stop Tarasenko with one minute remaining.
6-2, bad guys, your final from the Arch city.
---
Here's Gallant after the game:
---
For the first time this season, Gallant used both the "s" word (soft) and the "e" word (embarrassing). He had every right to do just that.
I think it was Valiquette who first said this a while back; but the word "soft" is a trigger word for players. It's also a word that you don't want to see parroted from fans, the media and others. However, with Gallant saying this – it will now open up the doors for critics of this team to do the same.
In fact, I can confirm as much. As I was writing this blog, I was tagged in several tweets from Ranger fans, who all used the word "soft."
I won't call the Rangers soft. Instead, I'll use the "d-word," as in disappointing.
This should've been two points in the bucket. While I understand that no team goes 82-0, you don't want to see your team play the role of "slump-buster" in two consecutive games either.
The Rangers haven't lost three games in regulation all season. They'll try to avoid that this Saturday with the Dallas Stars – a team, much like Minnesota and St. Louis, who are also jockeying for a playoff spot in the Central Division.
PLUGS time!
---
On Thursday morning, Ron Duguay and company returned with a new episode of "Up in the Blue Seats." For the first time on the show, Duguay discussed his relationship with Sarah Palin – where he said that his new squeeze gets better accommodations in Las Vegas than he does!
At the time of the recording, Duguay was in Vegas for a Bernie Nicholls charity game. Duguay also talked about hanging out with members of both the NHL and Rangers alumni in "Sin City" too.
In addition, Duguay, who has been very vocal in his criticism of Alexandar Georgiev, talked about #40, where the former #10 said that he doesn't envision the Bulgarian as an NHL starting goalie. To Duguay's credit, he's been saying that for a while.
To listen, click the link below:
— Ron Duguay (@RonDuguay10) March 10, 2022
---
The hardcover version of my book, available now at Amazon.com
The first plug of tonight's blog – the mandatory plug for my new book, "The New York Rangers Rink of Honor and the Rafters of Madison Square Garden".
As mentioned previously, the book is now available in hardcover, in paperback and in Kindle formats. To purchase a copy of the book, visit this link:
https://www.amazon.com/Rangers-Rafters-Madison-Square-Garden-ebook/dp/B09CM5N2WD
For those still looking for signed paperback versions of the book, I have re-ordered more copies. I now have 2 signed copies for sale at $25 a pop (includes shipping price) through me directly. Here is all the information on that:
---
Here are my last few blogs, in case you missed them:
---
---
---
If you haven't already, subscribe to this blog for the next update:
---
Up next: the Rangers try to avenge their home-opener loss to the Dallas Stars on Saturday night, in their fourth and final game of this road-trip.
Needless to say – the Rangers would most certainly like to come out victorious in this game, especially after these last two games and with a long flight home ahead.
As always here, thanks for reading and…
LET'S GO RANGERS!
Sean McCaffrey
BULLSMC@aol.com