Greetings and salutations everyone and welcome to another blog here on BlueCollarBlueShirts.com. Keep the faith!
Following the NHL Trade Deadline of 2022, where we saw much hoopla, parade planning, fanfare, and yours truly beating his chest like King Kong jacked up on banana-flavored steroids; the "New Look" Rangers were decimated on Tuesday night, by a final score of 7-4.
This was ugly.
Going into this game, I predicted a blow-out. I nailed that prediction – although I didn't think it would be the Devils doing the huffing, puffing and blowing Rangerstown down.
That said, this game wasn't all bad. Unfortunately, 34 minutes were bad – where 14 of these minutes from the second period quickly destroyed all of the positive vibes and feelings that the Rangers had created.
The Rangers looked motivated and full of life in the first twenty minutes of the game, when they quickly raced out to a 2-0 lead. The three new players (more on them later tonight) were all contributing. The wonder-kid, Alexis Lafreniere, was responsible for the first Rangers' goal of the contest. By the third period, he was benched.
We'll dive into the second period during the GAME REVIEW segment; but following a first period of lollipops and rainbows for the Rangers – the Rangers just completely collapsed during the second period.
The Rangers, who took a 2-0 lead into the second period, kept the motor running for the first six minutes of the middle stanza. However, once again, horrendous officiating reared its head in, officiating which then led to the Devils first goal.
The Rangers would never overcome it.
However, even with the heads of these officials reeking like the unwashed and dirty asshole of P.K. Slewban – that doesn't excuse the Rangers for giving up five consecutive goals in the second period, enroute to the Devils 7-4 win.
---
I've said this before, even as recent as last week, and I'll say it again – I hate blaming the officials for losses. At the same time, you can't ignore how terrible they've been during these last four Ranger games.
I won't reprint everything I've written before (as you can read my last four blogs for all of that), but needless to say – once again we saw these referees swing a scoring play (or two) tonight.
That said, I do want to make this clear too – I'm not blaming the officials for this loss, as I did with the loss to the Islanders.
Similar to the Rangers of the David Quinn era, these officials have become "consistently inconsistent."
What's goalie interference one night isn't goalie interference the next night. The same applies to the refs blowing or not blowing the whistle during a goaltender's freeze – as we saw yet again tonight.
And even when the referees apologize for their mistakes, as they did on Sunday night to Gerard Gallant – it doesn't matter. They just continue to err and err again, without the risk and/or fear of being fined, suspended or "re-trained."
It's at the point where all of these sports books, you know, the never-ending parade of gambling outfits that you're bombarded with, and forced to endure whenever watching these broadcasts; should start taking action on this prop bet:
Will an NHL official swing a playoff series?
Yes: -100000000000000000000000000000000000000000
No: +100000000000000000000000000000000000000000
---
If you're a regular reader of these blogs, then you know the following already – I don't overreact to any one win or loss, but if I do, I only overreact to big wins!
Am I disappointed in this loss? Of course, I think you know that.
However, what truly bothers me, like an itch on your back that you can't reach; is that after every loss, my social media feed is blown up with, "THEY SUCK," "GALLANT DOESN'T KNOW WHAT HE'S DOING," "THIS GUY SHOULD'VE PLAYED," "PLAYER X BLOWS," and "THEY AREN'T ANY GOOD!"
Then, when the Rangers win their next game (which I think they'll once again accomplish this Friday night, in a four-point game with the Penguins); these same people go right back to their parade planning.
(I also highly detest another sect of the fan base, the people who salivate whenever one of their negative narratives ring true, and for as temporary as that may be. I can understand being that way when the team is having a losing season, but these 2021-22 Rangers deserve better.)
Even Sieve Vagistat, the resident ANALyst on the M$GN, was doing the same thing tonight – where he's now become a contagious disease to younger viewers, younger viewers who don't know anything else and just parrot his opinions.
And I'll spare you from another rant on Vagistat here, outside of saying that he's flip-flopped on his opinions on this team all season long, while yours truly has been telling you that they'd be good from day one. One loss, even for as bad as it was tonight, doesn't deter my faith at all!
---
What's so unfortunate about this loss, is that for at least the first 26 minutes or so of this affair, the Rangers were playing really well.
I'll get into this in just a bit during the NEWS segment; but for all of the concern about team chemistry, gelling, and the new players transitioning to a new team – well it all looked like it was much ado about nothing.
Then the final 34 minutes happened, where now all of these concerns may be somewhat valid.
At the same time, and because I'm always "glass half-full" on this site, I must ask you this:
Wouldn't you rather the team get their kinks out NOW, rather than during the playoffs?
In other words, while yes, the Rangers had a grenade of a game tonight, and while yes, the Rangers had their absolute worst period of the season during this game too – like a sacrifice fly in baseball, this out may have been for the greater good.
If anything, this game was a wake-up call.
You can't sit back on leads, you can't rest on your laurels, and every team is a threat on any given night.
And while this loss will sting for a bit (and even worse, the Rangers will have to wait three days before they can get the bad taste from this game out of their mouths); come Friday night, the Rangers, as they've been doing all season long, can once again reclaim second-place in the division, after dropping to third-place tonight.
One more time – Beat Pittsburgh.
A win over the Penguins will make this loss to the Devils feel like a distant memory.
Let's now get into the NEWS segment, followed by everything else, including the main event – the GAME REVIEW.
---
After a busy NHL trade deadline (check out last night's blog for more), the Rangers took a morning skate prior to tonight's tilt with the Devils.
As you'd imagine, there was a lot of stuff to talk about.
What I thought was cool, was how the Rangers presented their newest trio together, rather than having three separate interviews. In a way, it creates chemistry immediately, although it should be stated that Motte and Copp have been friends for a while, and like Frank Vatrano – are part of the "Tree of Trouba."
Here's Copp, Motte and Braun (sounds like a law firm):
---
I usually print transcripts of interviews such as these when I can, but I think you owe it to yourself to watch this chat with your own two eyes.
In other words, it's easy enough to type up a transcript; but when reading what was said in just black-and-white, you lose the inflection, tone and emotion of what was truly said.
As you can imagine, I was thrilled with this short six minute meeting of the minds.
When it comes to my immediate takeaways from what was said, I came away with this:
— Andrew Copp won me over instantly! He seems to have a good sense of humor. He also made a few ball-breaking comments regarding Jacob Trouba, a #8 who has been his friend ever since Copp was ten years old. As talked about several times on this site in the past, I liked Drury's decision of loading up the locker room with Trouba's pals – as it can only help team chemistry and not hurt it.
— Justin Braun, now the second-oldest player on this roster (Reaves is the eldest), sounded like a captain. Let me be clear – I'm not saying Braun should be captain, nor am I saying that he should become the next alternate captain of the team's 8967867896786967967896796 players who wear the "A" on their sweater – I'm just saying he spoke like a true leader.
— Tyler Motte, along with Copp and Braun, all said the right things – they were excited to get to work and make a playoff push. All three men also sounded very "coachable" and preached the values of being team-players, where all of them said that they'll do whatever Gallant thinks is best.
— Specifically, Braun said he doesn't care what side of the defense he has to play on for Gallant. While Copp would prefer playing at the center position, he said he'll play the wing or wherever else Gallant asks him to play. Motte said he doesn't care what line he's on, and he too, will do whatever "The Turk" thinks is best.
And yes, this is all a "honeymoon period," but really, you couldn't have asked for better responses from this trio.
Following #61, #18 and #64 speaking to the media, it was "Turk Time."
Here's Gallant's media interview:
---
I know, I know, I know – I have never said one negative word about Gerard Gallant ever since he arrived to New York. Spoiler alert: that streak continues tonight!
Have there been times where Gallant has flat-out lied, put out misinformation, reversed his proclamations and has held back? Sure, but all coaches do this. He's not the first bench boss to do this, and he won't be the last. All head coaches have to navigate tricky waters in the best way that they see fit.
(Specifically, and in regards to the above; prior to the season's commencement, Gallant said that he'd name a team captain. Instead, he named six alternate captains. Gallant also said that he'd never announce his starting goaltender ever again, but he's gone back on that so many times that I can't even be bothered to count. However, in the grand scheme of things – all of this is meaningless and let's face it – Gallant has pressed every button accurately thus far this season.)
I bring this up only to say that I have found Gallant to have been 100% honest and truthful about 95% of the time, where when it comes to the other 5%, it means nothing. Anyone with a brain can understand Gallant's methods.
After I saw Gallant's interview from Tuesday morning – I thought it was his most truthful interview of the season. It also pumped me up a bit too!
Gallant pretty much confirmed all of my thoughts from last night's blog. Better than that, not only did he say "it's all about winning" several times – he also mentioned three of my favorite words too – "The Stanley Cup."
"The Turk," after confirming that all three of his newest toys would be playing against the Devils; then said it will be tough for other players on this team that have contributed this season.
While not mentioning anyone by name; obviously, these names are Jonny Brodzinksi, Greg McKegg, and Julien Gauthier. To a lesser extent, it also means Libor Hajek too. (Gallant did bring up Braden Schneider's name, and more on that in just a minute.)
This is where Gallant first mentioned that it's all about winning, where he also said for the players that will now become healthy scratches – they will have to continue to work hard and be ready for their number to be called.
Gallant also brought up what I said last night, in regards to having "black aces" during a playoff run. While not using that "black aces" phrase verbatim; Gallant preached the value of having 27 players for the Stanley Cup playoffs.
In what had me belting out "HELL YEAH" after hearing it; Gallant said he would've been extremely disappointed in general manager Chris Drury, had the man in the big chair been idle during the trade deadline. (Obviously, Gallant knew these moves were coming, as I'm sure Drury talked to his head coach prior to making these deals.)
And let me be crystal-clear – this was Gallant speaking highly of his boss. This was Gallant thanking Drury. Nothing more, nothing less.
Gallant said that he wasn't too worried about impacting the team's chemistry, where as an example, he brought up his days of coaching the Canadian national team during IIHF Worlds Tournaments. Gallant said while there would be a transition period, he thinks it will be a quick one, where he mentioned that all three players are already familiar with his systems.
In what was pretty funny, Gallant also said that while he didn't know any of these players personally yet, he had a one-on-one conversation with Copp, where he said he'd like to use his newest forward on the PP2 unit. Gallant said he told Copp (and I'm paraphrasing here), "you'll only play twelve seconds, but you'll get some time."
Gallant laughed when he said this, as this was clearly the head coach's way of praising his lethal PP1 unit.
As far as the line-up goes, Gallant said there will be some tinkering as he figures everything out.
Also of note, Gallant, who dressed Braun over Schneider tonight, said this had nothing to do with #45's play. The head coach also praised his youngest player by name.
(I also thought it was wise to start Braun over Schneider tonight, since Braun has been in this division for a while, and in turn, knows how the Devils' play better than Schneider does.)
Really, and I think this will be the case all season – Gallant will dress the best line-up based on the opponent. And should the Rangers clinch home ice, I think that's when you'll see top players receiving games off, in preparation for the playoffs.
Unfortunately, and as I saw tonight – Ranger fans will now second-guess Gallant's line-up after every loss.
I told ya previously – we live in an instant gratification and "what have you done for me lately?" society!
---
Here's what "The Turk" went with for this "Bobby Holik Memorial" game:
FIRST LINE: Kreider/Mika/Lafreniere
SECOND LINE: Panarin/Strome/Vatrano
THIRD LINE: Copp/Chytil/Brodzinski
FOURTH LINE: Motte/Goodrow/Reaves
Defensively, we had this:
FIRST D-PAIR: Lindgren/Fox
SECOND D-PAIR: Miller/Trouba
THIRD D-PAIR: Nemeth/Braun
And in net, CZAR IGOR
---
BOX SCORE time.
The following information and graphics come from the new world-wide leader in NHL coverage, ESPN.com:
SCORING:
PENALTIES:
TEAM STATS:
GOALIES:
| | | | | | | | | | | |
| --- | --- | --- | --- | --- | --- | --- | --- | --- | --- | --- |
| SA | GA | SV | SV% | ESSV | PPSV | SHSV | SOSA | SOS | TOI | PIM |
| 35 | 4 | 31 | .886 | 29 | 1 | 1 | 0 | 0 | 60:00 | 0 |
| | | | | | | | | | | |
| --- | --- | --- | --- | --- | --- | --- | --- | --- | --- | --- |
| SA | GA | SV | SV% | ESSV | PPSV | SHSV | SOSA | SOS | TOI | PIM |
| 7 | 2 | 5 | .714 | 5 | 0 | 0 | 0 | 0 | 19:33 | 0 |
| 24 | 5 | 19 | .792 | 18 | 0 | 1 | 0 | 0 | 40:00 | 0 |
---
To open up the broadcast, we saw a shot of a little kid with a sign that pretty much said, "GEORGIEV, GIVE ME A STICK, A PUCK, YOUR DNA, YOUR FIRST BORN, I LOVE YOU!" I didn't think we'd see fans asking Georgiev for equipment just two weeks ago, but here we are!
In addition, I'm glad to see a little kid with this sign, rather than the strange men who litter the glass during pregame warm-ups, akin to New Year's Eve confetti in Times Square.
The trio on the panel then talked about all of the trades that Drury made on Monday, where spoiler – everyone on the panel liked the trades. (And while I don't think anyone has panned any of Drury's deadline moves; had Drury made a bad trade, it's not like any of these three would've said so anyway!)
Lundqvist was especially excited by all of the trades, where he said that these 2021-22 Rangers earned these reinforcements.
After a segment on CZAR IGOR, and another one on the "Trouba Tree" (my phrase, not theirs); we then went to the Bud Light Bar, where unfortunately, we didn't get the "Ask Lundqvist" segment this go-around.
(As noted on this site in the past – I think the M$GN should make these segments into a 30-60 minute weekly show. I know I'd watch it. And I'm sure an "Ask Lundqvist" show would do better ratings than all of the never-ending JB Smoove shows on the network too.)
For whatever reason, Vally then started to show us highlights of the Devils. Not one mention of P.K. Slewban, and how Goodrow dropped him last game.
Worth noting? With Lundqvist on the panel, Vagistat couldn't plug his useless fake numbers company tonight – a trend whenever eye-test Lundqvist is around. We need more of #30, and less of his back-up, on the air.
When Sam and Joe came on the air, as they often do (and as they did so tonight), they raved about the Rangers opponent. By the end of the game, they got what they deserved with all of their Devil worship – a Rangers loss. Ugh.
Sometimes, whenever I hear Sam and Joe go on-and-on about the opponent, I feel like they're trying to get fired – akin to George "Body-Suit Man" Costanza driving around the Yankees' parking lot with the World Series trophy attached to his tail-pipe.
I just wish that they would take this same energy when waxing poetic about the opponent, and then praise the Rangers instead.
Let's blow through this GAME REVIEW.
---
In what was practically another home game for the Rangers, we heard loud "LET'S GO RANGERS" chants for the first 26 minutes or so of this game.
At one point, the chants were so loud, that I thought the M$GN and the Devils were going to offer those free "LIMITED EDITION" (you know, so rare that they've only been pushing them on us for the last six months) Henrik Lundqvist bobbleheads to anyone who would buy Devil season tickets.
Trouba, who I expected to have a big game tonight, due all of his friends now on the team; started the game off with a boom, as he floored Nico Hischier with a thunderous (and clean) hit.
Early into the game, during Copp's first shift, P.K. Slewban took a dive. The refs didn't bite for the embellishment, nor called it either. They'd continue to ignore multiple Devil infractions all game.
With 15:59 to go, Lafreniere, who I thought had a good game (more on that in a bit), and as he's been doing a lot of lately; won a puck battle with Hischier and then forced a Devils turnover.
The Rangers definitely had more spunk than their rivals in the first five minutes of the game, where they didn't allow the Devils to have a shot on goal during this time. That would soon change, to say the least!
As we approached 13:30 remaining, former Ranger Mason Geersten (remember when everyone wanted him to play against the Capitals last season?) started to agitate Ryan Reaves. This would play into the game later on.
With 13:15 to go, Igor made his first two saves of the game, including a flashy glove save on Slewban.
During the Rangers next possession, this happened:
MIKA MARCH CONTINUES 🙌 pic.twitter.com/GeKQ7GM4qK

— Rangers on MSG (@RangersMSGN) March 22, 2022
---
1-0, GOOD GUYS, following an easy goal for Mika Zibanejad.
This goal was all Alexis Lafreniere.
On a rush, Lafreniere put a shot on goal, followed-up on Daws' save, grabbed his own rebound, and then put a shot on the side of Daws' net. Lafreniere then stuck with the play, and while on the backboards, pushed the puck to Kreider, and then the unofficial captain of the team found Zibanejad, camped all alone in front of Daws, for the first tally of the contest.
At the time, you had to love this goal, as it was a pure first line goal, a goal where the 2020 #1st overall pick created pretty much single-handedly – where I know sticklers will now tell me, "it can't be single-handedly if Kreider assisted on Mika's goal!"
Alas, I think you get my point though!
Now up 1-0, and with the second line now on the ice; Panarin, as he's often done this season, had a GOOD LOOK at Daws. Instead of shooting at the struggling goalie, the Breadman forced a pass to Vatrano – another baked turnover for #10.
(As I was putting the finishing touches on this write-up, someone told me that according to the box score, Panarin wasn't credited with any turnovers. This tells me how important the eye-test truly is.)
This turnover led to a Devils 2 x 1 attack, where fortunately for CZAR IGOR and the Rangers too; Sharangovich opted not to shoot, got caught and then Siegenthaler threw an innocent puck towards #31.
The Devils would soon learn from the errors of their ways here. The Rangers would not, as the "away" team would continue to force cross ice passes for turnovers all game.
The new bottom six played well early on, as they had long stretches of zone time. Even if they didn't score, they were grinding the Devils down.
With 10:07 to go, Zibanejad was busted for high-sticking Siegenthaler – a legit penalty.
It's sad that it's come to the point where I have to describe penalties as legit or phantom on this site – but that's what these last four games has forced me to do.
The new look penalty kill, including one where Mika was in the box for, came up with a strong effort here. Copp cleared a puck which then led to a Fox and Goodrow odd-man rush, but Daws would stop #21.
Motte would also come up with a big clear, after he forced a turnover. Miller would make the final clear of the PK, with a swooping lift of the puck.
As we hit 6:40 remaining; Geersten blatantly tripped Chytil. No call. I guess there was a reason why the Devils wore their ugly black-and-white jerseys – as the "home" team color-coordinated their clothing with the officials. The two teams in matching colors would sure have a field day in the second period.
Thirty seconds later, the Devils iced the puck.
In a rare instance, and with the roles reversed; this time, it were the Rangers winning an o-zone faceoff draw in their opponent's zone and then quickly scoring:
FOXY from ZIBANEJAD & COPP 🚨 pic.twitter.com/QCYXeaCooJ

— Rangers on MSG (@RangersMSGN) March 22, 2022
---
2-0, GOOD GUYS!
For Adam Fox, this was his tenth goal of the season.
The 2021 Norris winner and Jacob Trouba are now the first pair of Ranger rearguards to score ten goals in a season since the days of Dan Girardi and Michal Roszival from the 2007-08 season. (This was also the Cadillac Trivia question and answer too.)
Better than that? Copp, brought to the club not because of his friendship with Trouba; but because of his ability to win battles at the dot too, picked up his first assist/point as a Ranger.
It was Copp who won the draw and Mika who found Fox for the goal.
In addition, and as a result of this goal, this meant that #93 had already recorded a two-point game.
The Rangers kept firing away at Daws, but to his credit, the Devils' goaltender was able to limit the bleeding, where ultimately, he held the Rangers to two goals during this first frame.
By the end of the period, we remained at 2-0, GOOD GUYS, and where CZAR IGOR had eleven saves.
While the Rangers rolled, their turnovers were noticeable too. However, as he usually does, Igor bailed his teammates out. He wouldn't be able to do so in the second period.
And before continuing on, as I'm soon about to press the "fast-forward" button when recapping the final forty minutes of this game; needless to say, I wish this game ended after the first period.
Unfortunately, that's how the Rangers played out the remainder of this tilt.
---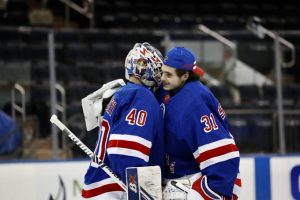 I know that after bad losses, which this game was, that you don't want to re-live the misery. I'll try to limit the pain for you next, but since I'm "True Blue" – I like to treat every game, win or lose, equally. (I know – that sounds deranged.)
After Lundqvist and Valiquette were back-flipping, hand-slapping and going bonkers over the first period (and I was doing the same, so it wasn't just them); up next was the worst period of the season.
The Rangers had two quick scoring chances to start the period, but Daws stopped Miller at the 28 second mark, and then right after, Siegenthaler denied Strome of a goal, after being set-up perfectly by Fox.
Since you know that I "live tweet" these games, and then use Twitter as my notebook when typing up these manifestos; here's what I said before dark times arrived:
Braun and Nemeth stop Boqvist from getting to Igor. This game is the complete opposite from the Carolina game. #NYR have been in the Devils' zone for what feels like 75% of the game thus far. 17:40 to go in 2P.

— BlueCollarBlueShirts (@NYCTheMiC) March 23, 2022
---
Oops.
But hey, if I tell you when I'm right on something, it's also my belief that in the same vein, I should tell you when I'm wrong too!
The Rangers turnovers were racking up at an alarming rate, but CZAR IGOR was able to stomp them out. Lafreniere would also bail out his team on another.
Five minutes into the second period, and after Nemeth shut down the player who was once promised free drinks for life in NYC (Jimmy Vesey); and as was the case during the first five minutes of the first – the Devils had no SOG.
Everything changed with 12:48 remaining.
---
Following another Rangers turnover, the Devils got all up in Igor's face. However, Igor froze a shot off of the stick of Bratt. No whistle, which was just infuriating – especially after seeing what happened to Chytil in Carolina, and after seeing what happened to Igor in Tampa.
Instead of blowing a whistle, where again, need I remind you of the Chytil play from Sunday – Ryan Graves poked a puck in.
2-1, good guys.
Was this the turning point of the game? I'd say so, but I'd also reiterate that the Rangers still had a one-goal lead, despite these stumbling buffoons in Foot Locker shirts on ice.
In other words, while I think the refs messed up again – you can't blame them for this loss, even if they pushed the snowball down the hill.
Just a minute and eighteen seconds later, at the 8:30 mark of the period, Slewban scored. 2-2.
On this goal, a legit goal, Slewban slapped home the puck from the point. Igor was screened during this, by what felt like four different players, and from both teams alike.
As it looked like Igor was starting to settle down, where he stopped both Tatar and Susan Sarandon's favorite member of the alumni (Vesey); Slewban broke up a Chytil-to-Miller attempt.
After the defensive play, and a Rangers turnover too; Graves took a shot at Igor and the rebound popped onto the blade of an all-alone and untouched Dawson Mercer. 3-2, bad guys, with 7:20 to go.
A two-goal lead was now a one-goal deficit, due to porous defense and turnovers.
With 6:52 to go, Bratt skated into Igor. No goalie interference call. Five seconds later, Tatar scored. 4-2 bad guys, on a goal that should've never happened, as Bratt should've been bagged for a penalty.
With 6:28 remaining, Geersten, who as mentioned, was chirping at Reaves a lot tonight, drew #75 for a crosscheck. Nineteen seconds later, Bratt scored. 5-2, bad guys, or so we thought.
Following this Devils' PPG, Gallant challenged the goal for an offside. I believe he's undefeated with his challenge usages this season, and he would win this one too.
And yep, while this review benefited the Rangers – I hate these offside reviews, where a goal is called back because a player was within a hair of being offside. That's pretty much what happened here, although perhaps you could've called interference during this play as well.
With the goal being erased, the Rangers would survive the remaining 1:41 left on the Devils' man-advantage, and when I say the word "survive" – I mean it. The Rangers wouldn't touch the puck until there were only twelve seconds remaining on this kill.
After Panarin was tripped (no call) and after Vesey interfered with Igor (no call); with just 1:53 remaining, Sharangovich rifled a puck past Igor. Of all the goals allowed, this is the one that Igor should've stopped, and as we've seen him do 999/1000 times before.
5-2, bad guys.
As the horn finally went off, a horn which mercifully signaled the end of the second period, Devils 5 – Rangers 2.
The Rangers completely unraveled, where I also don't think they connected on two consecutive passes during these twenty minutes. Brutal.
---
Down by three, and with his team doing his goalie no favors; Gallant pulled Igor for the second time this season. Georgiev then relieved the '22 Vezina winner.
(And after the last few games, where Igor's great numbers have taken a hit, I'm not so sure about the Hart Trophy anymore. I know these bad losses aren't on him, but he's going to have really turn it up in order to win the Hart. When it comes to the Vezina – I still think he has a firm grip of that.)
There was a lot going on to open this third period.
Not only did you have a goalie switch, but Lafreniere, Reaves and Hunt were also stapled to the bench. Copp was promoted to the first line, Goodrow was promoted to the second line, and then Gallant rolled out three lines until the game became completely out of hand.
There was also a Panarin injury mixed-in here too, where he went to the locker room, came back, and then when the game was out of reach, he was benched too.
After the game, since the media is obsessed with Lafreniere, he was the main topic of conversation.
This time, Gallant didn't say, "give the kid a break Mollie!"
For what it's worth, Gallant said his benching of Lafreniere wasn't performance related, and that he wanted to give his other players a shot and then see what they could do.
And I want to add the following – I get why benching Lafreniere is a story. I don't deny that at all. You have to ask Gallant about this.
In fact, I thought #13 was playing well and didn't deserve to benched at all.
That said, there's a reason why Gallant is the head coach, while I'm just home typing up these blogs that rival the size of the Magna Carta.
Maybe Gallant wants to see what Copp can do on the first line. Maybe during a blowout, Gallant wanted to test who he perceives to be his top players.
Let's face it – come the playoffs, in a tight one-goal game, sometimes NHL head coaches will only rotate nine forwards on the ice. This is not a new thing at all. Perhaps down by three, and wanting to see how his top players would respond – this is why Gallant employed this strategy.
I guess I'm different from most fans and the media (in fact, I know I am!); but rather than trying to see things through Gallant's eyes, you know, a head coach that's put forth a Jack Adams' worthy season during this 2021-22 campaign – most people want to kick the guy after a bad game. That's not me.
Furthermore, if you were one of these mooks who screamed "FIRE DQ" after every game last season; while I thought that stuff was stupid, at least that's somewhat understandable, since DQ didn't have the track record.
(Also stupid, which is why I'm not going to run with it – the fact that whenever Henrik Lundqvist is on these broadcasts, it feels like the Rangers always blow a two-goal lead. I'll shut up now!)
Gallant has the track record. In other words – "give Gallant a break Mollie!"
Long story short – I thought Lafreniere was playing well and didn't deserve to be benched – but I also can understand Gallant's logic when doing so. Not everything is black-and-white. There are shades of gray mixed-in too. That's all.
---
Let's breeze through the rest of this.
At the 3:46 mark of the period, the Rangers scored on their first shot on goal of the final frame; as Ryan Strome deflected a wrist shot from his favorite winger, Artemi Panarin. During Panarin's wrister, Goodrow had Daws screened.
5-3, bad guys, and it felt like the comeback was mounting.
Nearly two minutes later, Chytil streaked towards Daws, but was denied. After all, like a menstrual cycle, Chytil only scores once a month and he already hit his quota for March.
With 12:07 to go, Sharangovich left his feet, and while it may have been accidental, collided with Panarin. No call.
Who was called was Ryan Strome, for an unsportsmanlike conduct, for retaliating and defending his teammate.
This is when Panarin went to the locker room, but he'd soon return.
In what could've been 5-4; late into the penalty kill, Mika and Kreider had a two vs one odd-man rush. Rather than shooting at an empty net, CK20 was unselfish once again, and opted to feed Mika. Turnover.
This then led to a Devils two vs one odd-man rush, where at the end of it, Jack Hughes scored the easiest goal of his life, on Georgiev's vacated net.
6-3, bad guys. What a swing of events.
I won't say anything bad about Kreider here, despite many others doing so. He's had a great season.
I will say, if he was more selfish, he'd have fifty goals by now. (Just saying that tells you how amazing his season has been.)
However, as the unofficial team captain, he's always trying to take care of his teammates, rather than putting himself first. I get it, even if it can be frustrating at times. (And it's easy to be unselfish when you have a guaranteed contract too – you don't need to pad your numbers.)
Seventy seconds after Hughes' PPG, he scored another, a backhander while both teams were at even-strength. 7-3, bad guys, and with 9:14 remaining.
While I know he came into this game ice-cold, this was a shot Georgiev should've stopped – not that it mattered at this point anyway.
With 5:28 remaining, the Rangers only had four shots on goal – not the best strategy when trying to make a go of it.
Also at this time, following a long delayed penalty attack, which was ended after Strome carelessly passed a puck to a Devil; the Rangers finally received their first power-play of the game. It should've been their sixth, but you know – these refs suck.
Following Vesey's hook of Vatrano, just 24 seconds into the power-play, Kreider scored goal #42. Of note, Fox picked up an assist, his 54th of the season, where his 54 assists leads the league by a defenseman.
Also assisting on the goal was Copp, who played on this PP1 unit instead of Panarin. That meant that Copp not only picked up an assist on his first PP shift as a Ranger, but he also scored his second point of the game too.
So if you're looking for a silver lining here – the Rangers had some good individual milestones tonight. At least they had that going for them.
7-4, bad guys.
7-4, your final.
Forget it, figure it out at practice and beat the Penguins on Friday.
PLUGS time!
---
On Monday evening, "2 Guys, 1 Cup" returned with a new podcast episode, where they gave their thoughts on the NHL Trade Deadline. To listen to the show, click the link below:
Trade Deadline Show! Shawn and Roc jump on at 2pm to give the final hour before the deadline and reactions to all the days trades and where the rangers stand. Also some quick break downs on the 2 game road trip to Tampa and Carolina! #NYR #TradeCentre https://t.co/CSF4LXzNO0

— 2 Guys 1 Cup Podcast (@2G1CRangers) March 21, 2022
---
On late Monday night, "The Blueshirt Underground Show" returned, where they too, recapped the latest in all of Rangerstown, USA. To watch the show, click the play button below:
---
The hardcover version of my book, available now at Amazon.com
The first plug of tonight's blog – the mandatory plug for my new book, "The New York Rangers Rink of Honor and the Rafters of Madison Square Garden".
As mentioned previously, the book is now available in hardcover, in paperback and in Kindle formats. To purchase a copy of the book, visit this link:
https://www.amazon.com/Rangers-Rafters-Madison-Square-Garden-ebook/dp/B09CM5N2WD
For those still looking for signed paperback versions of the book, I have re-ordered more copies. I now have 2 signed copies for sale at $25 a pop (includes shipping price) through me directly. Here is all the information on that:
---
Here are my last few blogs, in case you missed them:
---
---
---
If you haven't already, subscribe to this blog for the next update:
---
Up next: the Rangers will try to regain second place from the Pittsburgh Penguins on Friday night.
As always here, thanks for reading and…
LET'S GO RANGERS!
Sean McCaffrey
BULLSMC@aol.com