Greetings and salutations everyone and welcome to another blog here on BlueCollarBlueShirts.com. A rare off-day blog, as the Rangers prepare for a big Friday night game against the Pittsburgh Penguins.
(And yep – by posting this blog today, it will lessen the word count for tomorrow! Plus – I was sick of that "Devil Dogs" photo as the top story of this site too!)
Let's get right into it.
---
Following the uninspiring loss to the New Jersey Devils on Tuesday night; on Wednesday, the team took off for a day of rest. Prior to this off-day, the Rangers had played three games during the past four nights.
For the newest Rangers, Frank Vatrano, Andrew Copp, Tyler Motte and Justin Braun – it was also a day for them to figure out their living arrangements and to adjust to their new city, an adjustment which takes time.
It was also a day for Gallant to figure out his line-up, as he tries to sort out all of the Rangers' newest toys.
And while I'll never have a problem with what Gallant does; I do think that I have a good read on him. After all, on Wednesday night, I tweeted this out:
I will trust in Turk no matter what he does, but I got a feeling Copp skates with Panarin and Strome tomorrow. #nyr

— BlueCollarBlueShirts (@NYCTheMiC) March 24, 2022
---
On Thursday morning, at 11:00AM, the Rangers reconvened for practice, where yep – Andrew Copp took reps with Panarin and Strome.
Head coach Gerard Gallant also gave us a preview of what was to come on Friday against Pittsburgh, when he put these lines together:
FIRST LINE: Kreider/Zibanejad/Vatrano
SECOND LINE: Panarin/Strome/Copp
THIRD LINE: Lafreniere/Chytil/Goodrow
FOURTH LINE: Motte/Brodzinski/Hunt
In addition, Gallant had Gauthier, McKegg and Reaves skate together, where as of this writing, it looks like these three will be scratched tomorrow. (Of course, this is all subject to change.)
Defensively at practice, Gallant used the same defensive pairings from Tuesday night's game with the Devils. Braden Schneider rotated in with the starting six defensemen, while Libor Hajek was out with an illness.
---
While I know that Alexis Lafreniere's perceived demotion to the third line was the top story of Rangerstown, USA on Thursday; to me, the biggest story was that Panarin was out there and is healthy.
Prior to Thursday's practice, some speculated and wondered if Panarin was hurt, especially since the inexperienced members of the Rangers beat didn't even ask Gallant about "The Breadman" following the loss to the Devils. I made mention of this last blog.
(And for what it's worth, the reporters didn't even ask Gallant about Panarin on Thursday either, and for whatever reason. It would've only taken two seconds for Gallant to say, "he's fine.")
For whatever reason, these reporters (and maybe it's because they are so young and don't know any better), are completely obsessed with Lafreniere.
It's like these reporters aren't familiar with the stories of other French-Canadians, including Jean Beliveau and Guy Lafleur – where in fact, that is the case. Outside of Larry Brooks, none of these reporters know their hockey history and only live in the now, while ignoring events which preceded them.
(And while I know that they have to live in the now; had they looked back at history, they would see that Lafreniere wasn't the first player to have his minutes slashed, nor will he be the last. And that's assuming if Lafreniere's minutes will be slashed anyway! Furthermore, with a playoff push ahead, more times than not – head coaches always rely on veterans over inexperience.)
When it first broke that Alexis Lafreniere had been "demoted" to the third line on Thursday, many fans (and media members) had a mental breakdown. I just don't get these insane overreactions, because after all – lines change game-by-game, head coaches can change lines in-game, and none of this stuff is permanent.
Sometimes, I think we see these crazy overreactions, only because there is nothing else to talk about.
In my opinion, I just see Gallant using these next few games to play around with his line-up, as he tries to get a feel of what will and what won't work. It's better to tinker now than during the playoffs.
In addition, and as we saw with Ryan Reaves at Thursday's practice – I think Gallant is also trying to give players days off whenever he can, in order to keep these guys fresh for the playoffs.
If there's one thing that I think a lot of people are forgetting about, it's that none of these guys have played a full 82-game season during these past two pandemic-plagued seasons. There's no harm in scratching guys, in preparation for the playoffs.
Just food for thought.
---
It never ceases to amaze me that whenever Gerard Gallant, you know the former Jack Adams' winner, and who is currently in contention for the 2022 version of the award too; does something that a lot of fans don't agree with, how he then automatically "SUCKS," and "DOESN'T KNOW WHAT HE'S DOING!"
I'm more in line to trust in Gallant than to trust the conspiracy theories that float around social media, such as, "HE HATES LAFRENIERE!"
Again, to hammer a point that I've repeated multiple times during the last few blogs – we live in an instant gratification and "what have you done for me lately?" society.
I know that there are about 786789668689689782742834703270 NHL general managers and head coaches on social media; but last I checked, none of them are around this team every day, nor possess inside information neither, like Gallant presently does.
If Lafreniere has to play a few games on the third line, big deal. And spoiler alert: most NHL head coaches prefer veterans in critical minutes during playoff games too. We see this every season and this season is no different.
Furthermore, and I made mention of this on Tuesday night too – Gallant rolled out three lines during the third period in the game against the Devils. You'll see coaches shortening their benches during the playoffs.
It shouldn't be forgotten that whatever the line-up is today, tomorrow, or the day after that – it doesn't mean that will be the final line-up come playoff time either.
As Gallant has said all season – "ONE GAME AT A TIME."
Have faith Ranger fans – Gallant knows what he's doing, and if he scratches and/or demotes your favorite player, it's not the end of the world.
(And just wait until Kaapo Kakko comes back and he starts out on the third line too! All Copp needs to do is ace this audition, where I do think that Panarin/Strome/Copp could be the Rangers' second line once the 2022 Stanley Cup Playoffs commence. And if it's not? I'm fine with that too. In Gallant We Trust!)
If I'm driving at anything – I think that many people always try to make a mountain out of a molehill.
Speaking of the animal kingdom (where I'm using the word "molehill" to make this not-so-smooth transition), in other news from Thursday, we had this:
The New York Rangers organization is really high on Jeff Staple. You might be asking yourself, "who is Jeff Staple – is he a prospect?" I know I did just that on Thursday, where I found out information about him here: https://www.nhl.com/rangers/fans/jeff-staple
Listen, I'm no fashion plate. My closet and dresser drawers are full of t-shirts, denim jeans and pairs of underwear that may have perhaps seen better days. However, and with that said, I do wonder if there truly is a market for "designer" Rangers apparel, featuring some designer that probably 99% of the fan base has never heard of.
I think we're all familiar with Michael Jordan and his "Jordan" brand. I'd reckon to say there are only a handful of people who are familiar with this Staple character.
Rather than focusing their energies on you know, building a museum, erecting a statue of a player, and/or retiring jersey numbers of their Hall of Fame Legends; the Rangers are currently promoting gear with a flying rat infused into their logo.
From what I gathered, Jeff Staple really loves pigeons – where the word "pigeon" in NHL circles is usually bantered about in a negative manner, while chirping on the ice.
Maybe this is a generational thing.
After all, in the 1990s, I really enjoyed my "bubble" Rangers' Starter jacket. I also liked my Starter Ranger hats, where more times than not, those hats were a tad bit "busy." I suppose that fans from a generation before mine may have not had the same affinity for Starter apparel as I once did.
However, at least the Starter brand didn't mess around with the Rangers logo. I just don't see the appeal of having a diseased pigeon intertwined with a logo that's been around for nearly a hundred years. Let the Islanders do that!
Since I care about such trivial nonsense like this, I'm interested to see how this pigeon merchandise sells. I can't profess to know everyone's preferences, but I just I don't see a market for this high-end and insanely marked-up merchandise.
And in the interest of being fair, when the New York Yankees first started selling different colored hats (where Fred Durst of "Limp Bizkit" once made the red Yankee hat famous), I didn't see the appeal in that either. Today, every team in sports has 7678689686868 different colored hats and swag, and it was the Yankees who first brought this successful idea to the masses.
---
Following Rangers' practice from Thursday, and all of the Staple promotion too; Gallant met with the media.
Here's his press conference:
---
Gallant pretty much said what I thought – he's taking this time now to figure out his line-up and who slots where.
On Lafreniere, Gallant said that he wanted to give his young star some time at his natural position, at left wing.
"The Turk," and as he always does; quickly shut down the negative line of questioning regarding one of his players, where this time, he was forced to stop talk about CZAR IGOR struggling. Gallant said the team has had some bad games and he has no issues with Igor.
(To even question Igor's ability is idiotic to me, especially if you actually watched these games and not just read charts full of hieroglyphics.)
While speaking about his '22 Vezina winner, Gallant reiterated that for the remainder of the season, he'd be doing what he's been doing all season long – rotating his goalies – where neither one of them will play games on back-to-back nights, where Gallant said verbatim, "there's no need to."
Gallant also repeated what he first said after the deadline – you need 27 players to win a Stanley Cup and how everyone wants to play. Not everyone will, and with all the new faces in the locker room – his job is tougher, as he tries to figure everything out.
If there were two words that Gallant said which stood out, it were two words that I have been preaching on this site – "winning" and "patience."
When it comes to any real takeaway I had from Gallant's chat from Thursday, it was this – he's still the right man for the job. Trust in Turk!
---
Also speaking to the media on Thursday was Jacob Trouba, a man who couldn't stop smiling during his entire interview:
---
The first seed of "The Tree of Trouba" was obviously happy with the newest faces in Rangerstown, USA, where he raved about his buddies. Number eight also said that Frank Vatrano is out of his guest room and that Andrew Copp is in. (There was no word if Trouba also provides a Continental breakfast for his guests! However, I do think he provides free WiFi!)
Trouba also said that Rangers general manager Chris Drury didn't ask him about Copp, and joked how he didn't want to be accused of tampering.
As far as Copp's future with the Rangers, Trouba said that sales pitch can come later, during the off-season. (Where again, he said this jokingly and with a huge beaming grin on his face.)
Trouba added how he and his buddies all traveled to practice together, as they all reminisced about their past and talked about the irony of their current situation.
Trouba also mentioned how practices have been crowded lately, and that it's all about winning. Trouba, whose ice-time is not threatened, said that it's going to be tough for some guys, but at the end of the day – the goal remains the same. (WE WANT THE CUP!)
Also talking to the media on Thursday was Barclay Goodrow:
---
Goodrow, like Trouba and Gallant, also talked about the new players on the roster, where he said it had to be good for them to get a full practice under their belts.
Goodrow also talked about his past, where he talked about what it was like when he was first traded to Tampa Bay, where he said the biggest challenge was experiencing a major lifestyle change.
Goodrow added that it's tough being traded and what it's like adapting to a new city.
Goodrow also made mention of how it's important to make the transition easy for the latest "New Look Rangers." (My quote, not his.)
As far as playing time goes, Goodrow said it's good to have competition and to be pushed.
While Goodrow's place in the line-up may change, as he's Gallant's "Swiss Army Knife" player; he should still remain a regular in the line-up.
---
With eighteen games remaining in the season, the Rangers will see the Penguins twice in their next three contests.
A split would be ideal. Winning both of these games would be best. (Thank you Captain Obvious!)
Sandwiched in-between these pair of home-away games, is a Sunday game with the Sabres, where obviously, the Rangers can't fall into that "trap."
Currently, the Rangers are three points back of second-place in the division, to these Penguins of Pittsburgh, but the Blueshirts also have a game in-hand too.
These two "four-point" games with the Penguins will help to determine who gets home-ice in the first round of the playoffs.
And should the Rangers win their next three games – they could also chase Carolina for first place in the division too. Presently, the Canes have a five-point lead over the Rangers.
Following the two games with the Penguins and the Sabres; the Rangers will play three non-playoff teams, in the Islanders, Flyers and Devils. All three of these teams, despite their status as cellar-dwellers of the Metropolitan division, always play the Rangers tough.
While the Flyers are a mess, the Islanders and Devils are better than what their records would suggest. In addition, for these two losing teams, a game against the Rangers is their own personal Stanley Cup. They want to play spoiler.
Of Pittsburgh and Carolina, the two teams that the Rangers are chasing in the division, the Rangers have more home games remaining than both of these division leaders.
In other words – if the Rangers can protect home ice (twelve home games, as opposed to six road games), they have as good of a shot as any, of not only opening up the playoffs at M$G – but of winning the division too.
LGR!
PLUGS time!
---
The hardcover version of my book, available now at Amazon.com
The first plug of tonight's blog – the mandatory plug for my new book, "The New York Rangers Rink of Honor and the Rafters of Madison Square Garden".
As mentioned previously, the book is now available in hardcover, in paperback and in Kindle formats. To purchase a copy of the book, visit this link:
https://www.amazon.com/Rangers-Rafters-Madison-Square-Garden-ebook/dp/B09CM5N2WD
For those still looking for signed paperback versions of the book, I have re-ordered more copies. I now have 2 signed copies for sale at $25 a pop (includes shipping price) through me directly. Here is all the information on that:
---
Here are my last few blogs, in case you missed them:
---
---
---
If you haven't already, subscribe to this blog for the next update:
---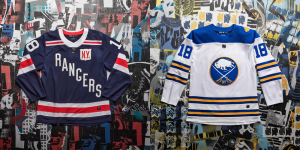 Up next: two home games with the Penguins and Sabres.
Of note, Sunday's game with Buffalo has an unorthodox and unusual puck drop of 5PM.
As always here, thanks for reading and…
LET'S GO RANGERS!
Sean McCaffrey
BULLSMC@aol.com