"I thought early on they got hemmed in their end quite a bit. I didn't think they were responsible defensively, but I thought they played better in the second and third. We are in a position where it's all about winning and we want to win hockey games and that is kind of where we are at. We need everybody playing in all three zones if we are going to have a chance night in and out." – Rangers head coach David Quinn, on 4/1/21, moments after the Rangers 3-2 overtime win over the last place Buffalo Sabres.
For the younger millennial reporters that cover the Rangers beat, reporters who try to satisfy a young and dumb generation on social media; (and beg for a dollar a month, as if they were Sally Struthers) despite the Rangers win, during DQ's post-game press conference, these reporters harped on the minutes DQ doled out, rather than talking about the win itself. It just felt like these reporters were looking for a story that truly wasn't there. And if you watched DQ's post-game interview, you can tell that all of the negative energy is getting to him a bit. In fact, it felt like DQ wanted to jump through his "ZOOM" screen and backhand Vince Mercogliano, as if DQ were John McEnroe!
Of note, to watch the full DQ post-game interview, click the play button below. While this isn't exactly Brooks vs Torts, it sounded like DQ wanted to wipe the floor with Vince Mercogliano. You tell me:
---
They've gotta find a way to continue to have confidence and play well. The best way to create confidence for yourself is to have good shifts. I thought in the second and third period there were some good shifts and we've gotta continue to move forward with them and continue to get better and that is what they have to do. I know people talk about the young players and development and all those things, but it's the NHL and right now we sit here three points out of a playoff spot. They will be part of it, they are part of it, they had a huge goal tonight and I know everyone looks at the minutes and make a big deal out of that, but not everybody is going to get the minutes that everybody wants them to have, there are just not enough minutes in the game and that is just the way it is." – DQ, again on 4/1/21.
I thought this was a perfect answer from DQ, when asked about his TOI for his young players. Again, and as I'll reiterate later on tonight, the head coach is responsible to all twenty players dressed and not just one. After all, for a team that wants to make the playoffs, who has been more successful this season – Colin Blackwell or Alexis Lafreniere? For everyone who wants these young forwards to play 20 minutes a night, should it be at the expense of the playoff hopes of Fox, Lindgren, Miller, Shestyorkin and others? I don't think so.
---
"We are gonna ride anybody that gives us a chance to win and if he keeps playing the way he is, we will ride him. It's that simple, and there really is no other way to look at it. He's played very well lately and he's earning opportunities to play again." – DQ, one more time on 4/1/21, as he continues to flip-flop over his opinion on his goaltenders – a common occurrence this season.
---
Greetings and salutations everyone and welcome to another blog here on BlueCollarBlueShirts.com. Thank the hockey gods that this game is now over.
If you're a regular reader of these blogs, know me from social media or know me personally, you're probably aware of what I'm going to say here – the Rangers had to win this game. No ifs, ands or buts about it. To the credit of the Rangers, they handled business against Buffalo on Thursday night, escaping with a 3-2 overtime victory. However, to say anything was truly impressive about this game would be lying. Really, the Rangers are just fortunate that giving up a loser's point to the Sabres won't effect them in the standings.
In a game that was a "one-shot" game for the entire 60 minutes of regulation and into the overtime period; once again, the Rangers not only played down to the level of the competition – they almost sank under the level of competition too. Yes, the Sabres snapped their 18 game losing streak on Wednesday night against the Flyers, but that being said, that also meant that the Sabres lost their last 18 out of 19 games. The Rangers were this-close of making the Sabres losers in 18 out of their last 20 games played and almost gave the Sabres a rare two-game winning streak.
If the Rangers won this type of game against Pittsburgh, Boston, Washington or the Islanders, four teams which currently own playoff berths in the Mass Mutual, My Shiney Hiney, Ramrod, Peckerwood, Blue Chew, Vally is a Doofus East division, that's one thing. However, to just make it by the skin of their teeth over this Sabres team is nothing to be proud about.
If the Rangers were a playoff team, and going through the trials and tribulations of a regular 82 game season; you'd chalk this game up as just one of those "win and move on" type of games. While admittedly, that's probably what the Rangers will do as a result of this win; there is still some cause for concern, as a lot of the negative things we've seen out of the Rangers this season were once again glaring, and obviously glaring at that, tonight.
---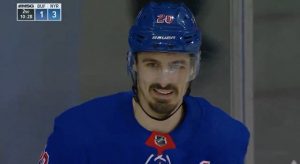 Let me be clear here. It's not my intent to bash Chris Kreider here at all. Far from it. I'm on record and still have the opinion that extending Kreider was a good idea. However, earlier in this season, Kreider was a barely a factor. In this game, Kreider had one measly SOG and spent nearly eight minutes on the ice during four separate failed Ranger power-plays. Kreider, and the power-play all together, have been issues all season long. Against a better team, it's highly likely that this power outage would've led to a loss. You just can't go 0-3, 0-4 and 0-5 on every power-play, game in and game out.
Despite the high Rangers SOG total, the Rangers had about 40 or so other shot attempts, with a majority of those shots being high and wide, rather than being blocked and/or deflected. And as DQ would also say in his post-game interview, the Rangers probably could've put 60+ SOG tonight. There was just too much passing and had Mika Zibanejad not scored in the final seconds of the extra period, there would be a ton of belly-aching and loud roars from the "FIRE DQ" crew right now. Sadly, even with the win, the "FIRE DQ" crew has throttled up to high speed, whining about TOI, rather than talking about win. I don't care – I want the playoffs and that's the dream I'll cling on to until that dream is no longer possible.
Often when talking about games this season, and usually after a Rangers loss; I bring up the old adage of "good teams find ways to win, bad teams find ways to lose." I'm not so sure that's what happened here. Yes, the Rangers have found a ton of different ways to lose this season, but I don't think the Rangers found a way to win tonight. I think if anything, they got a lucky break in their own defensive zone, after Adam Fox made a play and got the puck up ice to Artemi Panarin. And let's face it, three vs three hockey really isn't an indicator of anything either. It's a crap-shoot.
If there has been anything consistent about the Rangers as of late, it's their poor showing and starts to games. I'll get more into this in the game recap portion of the blog, but needless to say, ever since DQ came back behind the bench, the Rangers just have these god awful starts. Fortunately in this game, the Rangers would land the final blow, but in no way and in no how, did it come easy.
---
There is a ton of stuff to get into tonight. Aside from this game review/recap, I also have a Ron Duguay "Up in the Blue Seats" podcast recap for you, a podcast that also featured a lengthy interview with Sam Rosen. As I always say during these podcast reviews, the Larry Brooks segment was most interesting, especially after tonight. I'll get more into this as we continue, but the topic of time on ice remains a huge one from the aspiring know-it-all head coaches in Rangerstown, USA. In fact, I thought Brooks did a great job in his defense of David Quinn.
For those looking to skip the podcast review and get right into the game review/recap, scroll to the picture of Brendan Lemieux.
Let's rock and roll, as this blog is going to be super-long tonight. Up first, the PLUGS segment.
Here are my last few blogs in case you missed them:
---
---
---
On Thursday morning and prior to tonight's game, Ron Duguay and company released their latest episode of "Up in the Blue Seats". To listen to the podcast, click the links below:
Up In The Blue Seats Podcast: @RonDuguay10 & @MollieeWalkerr talk lineup changes with @NYP_Brooksie & are joined by longtime Rangers MSG Network play-by-play voice Sam Rosen

Apple: https://t.co/3AKDeDA8Gz
Spotify: https://t.co/77yslnvKO8 pic.twitter.com/YfLpAeWx2X

— New York Post (@nypost) April 1, 2021
Let's get right into the recap of this episode, as there were a lot of Rangers news items discussed on the show.
---
Mollie Walker kicks off the show, saying "the Rangers have been the ultimate third period team as of late." Well that's an understatement. Walker then previews everything we'll hear on the show today.
After another MANSCAPED ad on this program, we got the familiar introductory music, followed by the voice of producer Jake Brown, who like Walker, also previews what's on tap for this episode. Brown, as usual, asks us to rate and review the show. Done and done.
Ron Duguay opens up the show by saying that head coach David Quinn and Igor Shestyorkin are back. Duguay then says, "sadly for some Ranger fans, Brendan Lemieux is no longer with the team." As discussed on previous "Up in the Blue Seats" recaps on this site, Duguay was a big fan of Lemieux's and wanted to see Lemieux get more minutes. Duguay says with Lemieux gone, it now opens up extra minutes for other players, mentioning Colin Blackwell by name. Duguay also mentions that Adam Fox continues to tear up the league and is getting a lot of attention league-wide.
Duguay, as Walker and Brown previously just did, brings up how Sam Rosen is the featured guest of today's episode. Duguay asks Walker what she thinks of Sam Rosen. Walker replies with "my childhood." I talked about this a few blogs back, but I wonder how many fans just know Rosen as this old man who makes a million mistakes per game on the air, and not as a Hall of Fame institution of the Rangers. (Refer to that blog for more on this topic in-depth, which I think was 4-5 blogs ago. In short, in this age of social media/technology/iPhones, where all your mistakes are featured on social media within seconds, these last few seasons haven't been kind to Rosen. Whatever the case, Rosen will always be a legend and he will be severely missed whenever he calls it a career.)
Walker talks more about Sam Rosen and his iconic voice. Walker then talks about the Rangers last three games since the last time these guys recorded, where the Rangers went 1-2 in that time. Walker finds these recent outings "encouraging". The starts of these games haven't been encouraging at all, at least not in my opinion! Walker pretty much says this herself, saying the Rangers are waiting for the third period to decide games. (Where admittedly, is where the majority of hockey games are decided!)
Walker and Duguay start praising Blackwell. Duguay mentions Blackwell's age and says this is a big crossroads for his career. Duguay says Blackwell is extremely serious and isn't screwing around. Duguay says he appreciates Blackwell's style of game and how DQ has to play him.
Duguay goes back to Lemieux, asking Walker if she feels if the Rangers took a morale hit with that trade. Walker doesn't think so, but says she feels that the team knows that they lost a major factor in their line-up. Walker says she was caught off-guard about the trade, but agrees with DQ – the Rangers have a logjam with their wingers. Walker says Lemieux has "pest energy", where no other player on the Rangers possesses that trait. Walker says she understands the move though and brings up what Ryan Lindgren said, regarding how it opens up an opportunity for Lindgren to get even more physical than he usually is. (Of course, as I've been saying, you don't want Lindgren taking five minute penalties, or any penalties in general, and for all the obvious reasons.)
Duguay feels the Rangers have been kind of flat since the Lemieux trade. Well that's true, especially with their starts. Duguay feels the Rangers need to address the physicality issue and says how all championship teams have a guy who can bang. (As I always say, just look at the recent champs in St. Louis and Tampa & how Patrick Maroon wound up being that missing piece of the puzzle, where this was more evident in Tampa than with St. Louis.) Duguay says the Rangers need to win these next two games with Buffalo. Duguay says someone needs to do the Rangers a favor and knock off Boston. (Duguay, like yours truly, is in the "we want the playoffs" camp.)
Walker runs down the standings and how the Rangers need a lot of things to break right in order to make the playoffs. Jake Brown then comes out of nowhere, and makes everyone laugh, by asking, "are the Sabres drunk before games?" Prior to tonight's game with the Rangers, I said on social media how I was hoping that the Sabres would get hammered after their win over Philadelphia on Wednesday and be hungover for tonight's game! Needless to say, the Sabres didn't look hungover at all tonight!
Brown wants to know how do you lose 18 games in a row? Brown then wonders – are the Sabres hanging out with "Double Shots Only" Ron, which is a nickname for Duguay and a callback to previous episodes. Brown says the Rangers better win every game against the Sabres. Brown, who admits he's not much of an NHL guy, is just bewildered about the Sabres losing streak, and really, even for most hardcore NHL fans, no one could've predicted an 18 game losing streak out of the Sabres either.
This then takes us to the Larry Brooks segment of the show.
Walker asks Brooks about his recent column, where Brooks opined that Blackwell has "made" DQ's job harder. Brooks get into winning and the now vs developing young players and giving them ice time. Brooks brings up DQ's recent quote, where he said that you have to be accountable to every player in the locker room and not just to one player. (Hmmm, amazing how I said this earlier during the season! And really, this is common sense stuff – you can't just push one player that's not doing well, at the expense of 19 other players that are playing well.)
Brooks says in a perfect world, you'd love to play Lafreniere and Kakko 20+ minutes a game, give Gauthier more minutes and work Kravtsov into the line-up. Brooks says at the same time, the Rangers have veterans on the roster and are paying out high salaries to some players, so you also want to be playing winning hockey too. Brooks says you just can't sit veterans who are playing well, just so you can give out extra minutes to young players who aren't performing. Brooks says Blackwell is a great example here, because there are games where Blackwell is noticeable on every shift, while the kids aren't. Brooks says it's tough to find a balance when doling out minutes, especially when trying to win.
Brooks says it's hard to justify sitting Blackwell or any other veteran that's playing well, when you're trying to win games. It would be much easier to sit these guys if they weren't playing well or if the kids were playing up to the level of expectations. Walker then asks Brooks, when is it time to prioritize giving the kids more minutes over the veterans who are playing well? Brooks replies with, "how do you do that?" Brooks replies with another question, saying should DQ knock Panarin's minutes down, so Lafreniere and Kakko can get more ice time? Brooks continues this path of questioning during this response, by also asking, should DQ take minutes away from Mika, in order to give Chytil more ice time?
Brooks says he'd like to see the second power-play unit get more ice time. Brooks says the PP1 unit stays out on the ice way too long, where it feels like they are on the ice for 1:40+ during every power-play. Well he's right on that. Brooks thinks if the PP2 unit got more work, a unit that is made up of younger guys, it would help balance out the ice time.
Duguay says the Rangers are still trying to win games and make a playoff push. Duguay says the Rangers still need an energy line and to provide a spark. Duguay then spins this into asking Brooks about the Lemieux trade. Brooks says the Rangers could use a player that can "bang" in their top six. Brooks says it can't only be the bottom six forwards providing spark. Brooks says the team needs "more fiber" at the top. Brooks says this will be a challenge for Jeff Gorton during the off-season. Brooks says the Rangers are "homogenous", meaning that most of these guys all possess the same skill-set. Brooks wonders how do you fit in a tough guy type into this top six?
Duguay asks Brooks about the trade-deadline. Duguay says CZAR IGOR remains strong, while the back-up goalies are questionable. Duguay wonders if the Rangers are close to the playoff cut-line at the deadline, if they'd look for back-up goaltending help. Brooks says he doesn't see a trade happening, mentioning Georgiev's contract. Brooks says he doesn't think there's much interest around the league for Georgiev either.
Brooks says at the end of the day, he thinks the playoff chances for the Rangers are unrealistic and that's why he hopes the Rangers don't make any moves at the deadline that would make them buyers. Brooks, like all of us, and how Duguay and Walker previously did, brings up the Bruins, their three games in hand over the Rangers and the fact that the Bruins still have six more games left with the Sabres, as reasons why the Rangers won't make the playoffs this season.
Brooks says this season has been tough for Georgiev and that he thinks that Georgiev will get a start soon. Of course, this goes against the stuff Brooks previously said, where he said that he thought Igor should go 8-10 games in a row. Brooks feels that Georgiev needs some positive games, in an attempt to turn his season around.
Walker then asks Brooks for his thoughts on the Tim Peel incident. Brooks thinks the NHL officiating system is broken and mentions how he has no respect for the person in charge of it. SHOTS FIRED. Brooks says the concept of "make-up" calls have been around forever and everyone knows it. Brooks says he doesn't blame Tim Peel, but what happened here was that Peel got caught. Brooks refers back to a recent article he wrote, when the league wanted small market teams to still be alive late in the season and how the officials tried to swing games with calls. Brooks says the 1995-1996 Florida Panthers are a perfect example of this. This then wraps up the Brooks segment.
With 22+ minutes remaining on the podcast, Sam Rosen joins the show. Walker gives him a great introduction and mentions how Sam Rosen and her father once attended the same Jewish Temple. Rosen comes in with a joke, saying that if he ever has laryngitis, he'll let Walker sub in and burst out "It's a Power-Play Goal!" during a broadcast. "Oh Mollie, that power-play goal was FABULOUS, absolutely fabulous Mollie!"
Walker says there aren't many people out there who have been there, and as up close, as Rosen has been for both the careers of Brian Leetch and Adam Fox. Yep, we're doing the Leetch and Fox comparisons here. Rosen says it's unfair to compare Fox to Leetch. THANK YOU SAM! Even Sam, for all of his follies and gaffes over the recent seasons, knows it's silly to compare Fox to Leetch!
Rosen explains and quickly recaps Leetch's legendary HOF career and says that Fox isn't Leetch, but how Fox is "Leetch-like". Rosen says Fox has been phenomenal and has great vision with the puck. Rosen says it's tough to be an NHLer and how Fox has been an eye-opener. Rosen calls Fox essential.
Duguay says he's known Rosen since the 1980's. Duguay asks Rosen what it's like calling a playoff game. Rosen says he's a fan and you can never take that out of him. Rosen brings up his days of youth and how he used to attend Ranger games at MSGIII. Rosen says he'll always be a Rangers fan and how he lives and dies with this team. Rosen says he's also a professional and how he has a job to do too. Rosen says JD was a major influence on him and how JD instilled a certain guideline into him. Rosen says JD taught him how to withhold your fandom when calling games, even if everyone knows who you are rooting for. Rosen then spins this into how this leads to national gigs and calling games for a broader audience.
Walker asks Rosen for his thoughts on Lafreniere. Rosen says it's way too early to tell what Lafreniere will be. Rosen says you can't call Lafreniere a "bust" and it will take a few seasons to determine if that word will be applicable. Rosen basically says everything that's already been said by everyone – he's young, transitioning into a new league, the pandemic, no preseason, etc. Rosen said it's unfair to compare Lafreniere to guys like Crosby, Lemieux and McDavid. (All centers for what it's worth, as opposed to Lafreniere who is a winger.) Rosen said all Lafreniere needs is time, saying it could even take three years for it all to come together.
Duguay asks Rosen who are some of his favorite players that he's interacted with at a personal level. Rosen said there have been many, mentioning Duguay first. Rosen also adds Phil Esposito and Marcel Dionne as two of his favorites. Rosen says it's tough creating bonds with the European and Russian Rangers, due to the language barrier, but says he sees great personalities in Panarin and Buchnevich. Rosen said each team and era had their own personalities, mentioning Mark Messier, Adam Graves, Alexei Kovalev, Chris Kreider, Mika Zibanejad, Henrik Lundqvist and others.
Walker asks Rosen what has been his most memorable moment when covering the Rangers. Rosen obviously says it's the 1994 Stanley Cup Final. Rosen said he also had fun with the 1979 team, the Herb Brooks era and when Mark Messier first arrived to New York. Rosen said he's also enjoyed interacting with players from different backgrounds and countries. Rosen also mentions how much he's enjoyed traveling to various places in the world too.
Duguay brings up Rosen's famous quote of "and this one will last a life time." Who knew how accurate he was going to be with that quote? Ugh! Let's hope for another one of those quotes in the future!
Duguay asks Rosen about Game 7 of the 1994 Stanley Cup Final. Rosen said that quote was natural and wasn't anything that he had prepared. Rosen recalls how the Rangers were up 3-1 in the series and what happened in Game 5. Rosen said prior to Game 5, he had some thoughts in his head of what he was going to say, with the thinking that the Rangers were going to close out the Canucks. Rosen then brings up how the Rangers lost both Game 5 and Game 6 and how the nerves kicked in for Game 7. Rosen then recounts the final seconds of Game 7. Rosen said all the icings led to his "and the waiting is over" line and how everything he said at the end of the broadcast was purely organic.
Brown jumps in and mentions how Rosen also calls NFL games too. Brown says Vin Scully called games until he was 88. Brown asks Rosen how much longer will Rosen continue to call games. Rosen says he doesn't know, but as long as he has good health, he'll keep going. Rosen says he loves what he does and he looks forward to every game. Rosen said the Rangers have always been great to him. Rosen added whatever the Rangers and MSG ask him to do, he'll do it. Rosen says as long as they keep on letting him into the building, he'll keep calling games. This then wraps up the show.
---
As usual, I thought this was another solid episode of "Up in the Blue Seats". The Sam Rosen interview was really well done. As I'll soon get into, Brooks didn't bring up what he reported today regarding the Lemieux trade, so I'm assuming that this podcast was recorded before Brooks logged his report. I guess it's hard to get in too in-depth on the Lemieux trade, but today's episode got into everything regarding that trade as best as they could.
If there was any "omission" from today's episode, there wasn't any mention of Kris Knoblauch. I would've liked to hear what Duguay and Brooks thought about Knoblauch vs DQ a bit. That said, all in all, another enjoyable 45 or so minutes out of the "Up in the Blue Seats" crew.
Let's get into the rest of the news.
---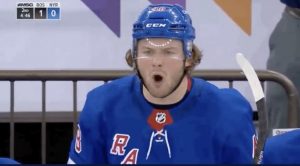 The "Up in the Blue Seats" podcast dropped on the morning of 4/1. Later in the afternoon, Larry Brooks had more regarding the Rangers trade of Brendan Lemieux. You can read Larry's article here: https://nypost.com/2021/04/01/brendan-lemieux-requested-trade-before-rangers-dealt-him-to-kings/
According to Brooks, who I do 100% believe here, (while some of his opinions can be wacky, his reporting of the news is always accurate), it was Brendan Lemieux who requested to be traded away from the Rangers, rather than the Rangers trading him for the sake of trading him. As the article states, Brendan Lemieux, who just turned 25 years old, realizes the current situation of the Blueshirts. Lemieux knows that with the Rangers, he'll always be pigeon-holed as a fourth liner, where he may have received less minutes had he stayed.
At an age where you really need to start motoring to get bigger paydays, Brendan and father Claude wanted Lemieux to get a chance to play more meaningful minutes than he was getting with the Rangers. With guys like Vitali Kravtsov, Morgan Barron and Mason Geersten all expected to get looks eventually, Lemieux saw the writing on the wall. Who knows, had Lemieux stayed, he may have been exposed during the Seattle expansion draft too. (And it would've made sense for the Rangers to do so, due to Lemieux's contract during a period of time where the cap will remain flat for years.)
For Lemieux fans like myself, Jen E. and TEN O'CLOCK TOMMY, this news does make this trade easier to accept. The Rangers accommodated Lemieux, even if this may have been a case of "quitting before getting fired", if that makes sense to you.
Whatever the event, all the best to Brendan Lemieux moving forward, but Father Fink the LA Kings.
---
There were three minor news items going into this game. Here they are, in no order of importance:
— Brett Howden is now off of the COVID-19 list and can return whenever the Rangers see fit.
— Vitali Kravtsov, waiting and chomping at the bit, didn't play. I'm conflicted on this, but I guess I do side with NYR on this. On one hand, what are we waiting for? The Sabres stink and going into this game, this would've been a perfect opportunity to give Kravtsov some time and see what he has. On the other hand, DQ usually runs the same line-up after big wins, in an attempt to reward his players. DQ has always done this, while as head coach of the Rangers, sans the return of a major player like Panarin or Mika. (That said, DQ did keep DeAngelo scratched after benching him.) While I think you have to take a look and see what you have with a first round pick from three years ago, I also understand that you want to win and don't want to change anything after a big win over a first place team. I know I am talking out of both sides of my mouth here, but this just goes to show you that the head coaching position, and determining the line-up, is never easy.
— As mentioned, DQ went with the same line-up in this game, where both prior and after the game, DQ said he's going to ride CZAR IGOR the whole way, providing Igor continues to rise to the occasion.
With that said, as a reminder, here was your line-up for this 3-2 OT win over the Sabres:
Gambling segment time!
Here's what I said before the game:
Season over-under record: a season low 5 games under .500 at 14-19-2. OUCH! These third periods have killed me lately!!!

CZAR IGOR v Tokarski tonight. #nyr have never been a bigger favorite this season.

I'm going with the UNDER & a IGOR SO. I'm also parlaying the under w/a win! pic.twitter.com/beQF2k12i2

— BlueCollarBlueShirts (@NYCTheMiC) April 1, 2021
With a total of five goals, the UNDER hit. I snap my losing streak and now improve to 15-19-2 on the season. Even better, the parlay hit too. I didn't get my CZAR IGOR shutout, but as has been the trend, Igor gave up a goal early and clamped down the rest of the way. Of course, for the first time in a while, Igor gave up a late goal, another goal which you couldn't pin on him, with 3.6 seconds left, as the end result of a Sabres 6 x 5 attack.
BOX SCORE time.
The following information and graphics come from the new world-wide leader in NHL coverage, in ESPN.com.
SCORING:
PENALTIES:
GOALTENDERS:
| | | | | | | | | | | |
| --- | --- | --- | --- | --- | --- | --- | --- | --- | --- | --- |
| SA | GA | SV | SV% | ESSV | PPSV | SHSV | SOSA | SOS | TOI | PIM |
| 23 | 2 | 21 | .913 | 20 | 0 | 1 | 0 | 0 | 64:26 | 0 |
| | | | | | | | | | | |
| --- | --- | --- | --- | --- | --- | --- | --- | --- | --- | --- |
| SA | GA | SV | SV% | ESSV | PPSV | SHSV | SOSA | SOS | TOI | PIM |
| 47 | 3 | 44 | .936 | 33 | 1 | 10 | 0 | 0 | 62:39 | 0 |
TEAM STATS: (If you skip this section usually, take a real look at this. It's insane that the Rangers needed OT to win this. It's even crazier that the Rangers just didn't blow the Sabres out of the water too.)
---
Originally, I was going to do an "April Fool's" bit here, where I just praised Vally during this MSGN broadcast recap portion of the blog. However, I wrote one sentence praising the 7 foot "Glitterman", and I just felt sick to my stomach. As talked about last blog (and I'll have more on this at the end of this one) I had to put down my 18.5 year old cat on Wednesday. Praising Vally almost hurt as much as it did to put down my buddy Boogie. (And as said last blog, I always use humor in times of misery.)
What I also found to be funny, at the top of the pregame show, John Giannone said Vally was MSGN's "resident April's Fool." I don't think he needed the word "April" here.
The pregame show, outside of Vally correctly flourishing praise upon CZAR IGOR, Ryan Strome and Adam Fox, and with high remarks; was still nauseating. Vally worked in three plugs for his useless analytical company, talking about stats that had nothing to do with a pregame analysis or regarding this game in particular.
Again, and not to do the Barry Horowitz stuff here, but who was more accurate once again tonight, Vally and his silly fake news junk stats or me, when I said this prior to the game:
Key to the game (non fake news stats edition): Don't play down to the level of competition! Race out to a lead and smother these guys. Sabres probably partied a bit last night, come out hot and no more SLOW STARTS!!!!! #NYR

— BlueCollarBlueShirts (@NYCTheMiC) April 1, 2021
What happened? All of Vally's expected shots and high danger chances wound up being worthless, as the Rangers had 47 shots tonight, as opposed to Buffalo's 23 shots. It took a lucky OT goal to beat Buffalo.
When it comes to what I said, the Rangers did play down to the level of competition. The Rangers didn't race out to a lead. The Rangers didn't come out hot. The Rangers had another slow start. All of this stuff hurt the Rangers all game long and really, they almost blew this game.
One more win for the EYE-TEST!
If there was ever a segment, that probably made every fan that's 40 years of age or over, just roll their eyes and wonder what happened to this game, Vally and Giannone spent five minutes talking about Twitter emojis. Can you imagine Phil Esposito, Bill Chadwick, Jim Gordon, Win Elliot or Marv Albert talking about this junk? While I admit this was entertaining a bit, and that you need to have something for everyone (young people watch these broadcasts too) if there was ever a sign of the times, it was this segment. In addition, I would've paid COLD HARD CASH to see Sam Rosen host this segment. "OH JOE, IT'S AN EGGPLANT EMOJI JOE!" "THAT MEANS HE HAS A FABULOUS COCK SAM! AN ABSOLUTELY FABULOUS SCHLONG SAM! AND THOSE SQUIRTS OF WATER? THAT MEANS HIS EJACULATIONS ARE JUST SIMPLY FABULOUS!"
Lastly while on this horrible bit, I wonder how Sam and Joe would've explained the rainbow and poo emojis next to Valiquette's name?
I have too much free time on my hands.
In two trends that ran throughout the broadcast, as usual, everyone was pushing Adam Fox for the Norris. In addition, everyone was scoreboard watching, with the Boston Bruins being the focus. More on that later on.
Enough of the BS, and let's finally get to the game review!
---
Let's get this out of the way first – Dustin Tokarski, the former Montreal Canadien during the 2014 Stanley Cup Playoffs and ex-Ranger; and a Dustin Tokarski, that previous to this season, hadn't started an NHL game in nearly five years, was pretty much lights out tonight. He was the first star of the game and it was deserved. And really, is anyone shocked? The Rangers have this weird little habit of turning every third string and back-up goalie in this league into the second coming of Terry Sawchuk.
With the Mika line on the ice, the Sabres would take the opening face-off. Of note, the Sabres have "Labatt Blue Light" ads on their boards – my favorite light beer. One of these days, I'll get out to Buffalo for a game. (I was supposed to go there last season, but as you know, that pesky pandemic happened.)
As I was beating my chest like King Kong in that new HBO MAX "Godzilla vs Kong" movie, in regards of my prediction of CZAR IGOR getting his first shut-out; just 2:06 into the game, Rasmus Asplund scored. 1-0 bad guys and another poor start for the Rangers.
On this goal, and with the Rangers third Kid line and Hajek/Smith pairing on the ice, Igor made two quick saves on the Sabres, and with everyone coming into Igor's paint, Asplund scored. This puck may have been deflected a bit by Gauthier too, but it was hard to tell. It was one of those mass scramble type of goals, where you couldn't really see what happened until the referee signaled good goal.
Thankfully, and as has been the case since Igor came back from injury, he would hold the opposition off of the board for the next 55+ minutes, that is, until the Sabres found an equalizer with 3.6 seconds left in regulation.
---
Sam and Joe, despite the Rangers losing, went into their reverse jinx stuff mode here, where they practically begged Taylor Hall to score and did the "OLD FRIEND" stuff regarding Steven Fogarty.
In what would become a trend all game and let me put this in CAPS LOCK AND BOLD PRINT TO EMPHASIZE THIS – KAAPO KAKKO OWNED THE MIDDLE OF THE ICE IN THIS GAME. THERE WAS NOT ONE INSTANCE OF KAKKO SHYING AWAY FROM THE MIDDLE AT ALL. And for you TOI crybabies, Kakko played 18:29 tonight, which I believe is a career high for him. Fire DQ though, am I doing this right?!?!
I know Kakko has had multiple two goal games in his career, but you could argue this was his best 60 minute performance of his career. He was all over the place tonight, and in a good way and on both sides of the puck. He finished with six shots on goal and all of them were from the middle or near the paint. He also was breaking up plays defensively too. If there was ever a game where it felt like Kakko "has seen the light", it's this one.
While Tokarski was impressive tonight, there were several instances in this game where he was dry humping the ice like Vally making sweet love to a blow-up doll made out of an apple pie chart. Early on here, Tokarski lost his stick, but despite having two cracks at him, the Rangers didn't capitalize. In game that looked like the Sabres were just having their way with the Rangers in, the Sabres almost made it 2-0 early, on a play similar to the play that led to the Asplund goal. Thankfully, Igor said "nyet nyet."
Seven minutes into the game, Igor made another big save, this time on Montour. Very quickly, it looked like the Rangers were playing down to the level of their competition and turning the Sabres into world-beaters. It's just amazing how the Rangers usually have their way with the Caps, but play these close one-goal games with the Sabres.
In another Barry Horowitz/"slap on the back" moment, I was the first person to get the Cadillac Trivia question correct! This one was a gimmie question though, as it was something like, "what two Rangers defensemen picked up more points in the month of March during a season than Adam Fox?" The answers were obviously Brian Leetch and Brad Park. I mean really, who else could've it been? James Patrick? Sergei Zubov? Doug Harvey? Ching Johnson?
In a game where it felt like the Rangers would need another four goal third period to win, nine minutes into the game, the Sabres were out-shooting the Rangers 9-4. During this time, Chytil rang one off the crossbar, but he'd find his seventh goal of the season later on.
With ten minutes to go in the period, Micheletti started rambling on about how the Sabres coaching staff has changed things up and inspired this team. Sam Rosen replied with "yeah, okay", as you could just see Rosen rolling his eyes at Jumpin' Joe. Unfortunately, as a Rangers fan, outside of what CZAR IGOR was doing, this would be one of the highlights of the period.
After Igor and Tokarski traded saves, Mittelstadt intercepted one of those long Panarin passes, which more times than not, seem to be intercepted. I know it's blasphemous and sacrilege to criticize Panarin, but to every observer of this team, you know Panarin has been prone to turnovers this season.
In the Rangers best scoring chance of the period, Tokarski fell down after stopping Brendan Smith. With Tokarski basically inviting Hajek into his hole like an eager prostitute looking to pay the rent, Hajek went for a one-handed shot at the empty net, a shot that went wide. This was sad and funny at the same time.
After a major save made by Igor on Taylor Hall, the Rangers would just fall down on the ice and had a hard go of it, when trying to make three consecutive passes in a row. I have no way of knowing this, but it felt like there must've been bad ice in Buffalo tonight, as these guys were continually falling down like a St. Patrick's Day drunk.
Phillip Di Giuseppe, who just played his way out of the line-up tonight, in the event that the Rangers want to take a look at Kravtsov on Saturday; received a perfect pass from Adam Fox, while on the right side of Tokarski. PDG couldn't finish here and this chance was blown. However, PDG would make a bigger mistake a few minutes after this "Craig's List" Missed Connection.
With 2:26 remaining, Mittlestadt was sent to the box, receiving a roughing call after going after Colin Blackwell. After the penalty, Dahlin shoved PDG into Tokarski's net, but no call. Rather than a 5 x 3 NYR power-play, we had the traditional 5 x 4 power-play, a power-play that was an absolute failure tonight, despite logging 10 shots on goal and having more shot attempts blocked or going wide.
The Sabres would deny the Rangers power-play here. Of note, the PP2 unit received about 50 seconds worth of time here, which feels like a season-high. It would also be the most amount of time they received in this game, during the four NYR PP's.
With 12.8 seconds left, Igor made a desperate save against Okposo. Then, with 3.6 seconds to go, PDG took a stupid penalty at the Sabres blue line, where he slashed Ristolainen. Do I have to explain why taking a penalty in your own offensive zone, and with 3.6 seconds remaining in a period, is a dumb penalty?
1-0 after twenty minutes, and in a period that was really all Sabres.
---
After our usual comment of "SECOND PERIOD, WHAT DO YOU LOOK FOR HERE JOE?", <a PPG ya daft prick> the Sabres opened up the second period with 1:56 of power-play time.
Of note, prior to this, during the intermission segment, without fail, not only did Vally question Igor for giving up a goal, where Vally also had the audacity of comparing himself to Igor; Vally once again talked about his legendary 46 game career. It never ends. I swear he's just trolling at this point. I've never seen someone who accomplished so little talk about themselves so much.
In another failed offensive opportunity, Rooney and Blackwell had a 2 vs 0 odd-man rush while short-handed. While it's hard to jump on anyone for playing well and creating a chance while short-handed, Blackwell and the Rangers should've scored here. Eventually, the Rangers would get their kill here.
As the game progressed, and in another game where Igor was carrying the load and you were just waiting for the rest of the team to wake up, Trouba put a SOG. In fact, Trouba set his own season-high for shots on goal in this game, with four. You'd like to see more of this, rather than those high and wide Scott Norwood shots he's known for. Unfortunately, with Tokarski again weiner down on the ice, Chytil couldn't score on a vacated net.
Up next would be the craziest play that I've seen in some time. Words can't describe it with justice, so let's go to the video tape:
Lol pic.twitter.com/0idDfUTb7j

— Nick Alberga (@thegoldenmuzzy) April 2, 2021
After these soccer moves from Jeff Skinner, where he even attempted a soccer one-timer, immediately after, and on the other end of the ice, THE STROMINATOR set up Colin Blackwell for a goal. 1-1, with 13:20 remaining. The Rangers were finally on the board, capitalizing on the Sabres allowing them to hang in there.
As a result of Strome's assist, the @NYRSTATSINFO account tweeted out the following:
Ryan Strome extended his point streak to 11 games and his assist streak to 10 games. His 10-game assist streak is tied for the 2nd-longest assist streak by a Ranger in franchise history, as well as tied for the longest assist streak by a Rangers forward in franchise history
Of note, Strome can have the longest assist streak to himself, with an assist on Saturday. The current Rangers point streak is 15, held by Brian Leetch.
After the Blackwell goal, the Rangers pretty much took over the game, where unfortunately, they turned Tokarski into a one-game Vezina candidate.
This was also the point of the game, where for the fourth time this season, Sam Rosen reminded us that K'Andre Miller and Colin Miller aren't related. I feel I can do a 10K word bit on just this alone. "OH JOE, SHANNON HOGAN AND HULK HOGAN AREN'T RELATED." "PARDON ME SAM, BUT SHANNON HOGAN'S FAT ASS IS FABULOUS." "OH JOE, ADAM FOX AND MICHAEL J. FOX ARE OF NO RELATION." "SAM, PARKINSON'S IS JUST FABULOUS!" You get the point.
With 5:05 remaining, and after Igor and Tokarski traded more saves; the previously mentioned Colin Miller tripped Ryan Strome, as Strome was streaking to the net. Strome should've got a penalty shot here, and this was something Sam and Joe were adamant about too. However, this just turned into another Rangers two minute power-play of nothing.
Tokarksi once again came up big. In fact, with a minute to go in the period, the SOG in this period were Rangers 14, Sabres 2.
In another example of over-passing, with under a minute to go, Fox found Panarin all alone with Tokarski. Rather than shooting, Panarin forced a pass to Strome, which led to a turnover. As Micheletti said Panarin needs to shoot more, Rosen responded his usual "MOOOOOOOOOOO." (Damn you Jim S. of "BSU" for pointing this out to me! I can't unhear it!)
1-1 after forty minutes, and in a game where the Rangers failure to convert on their power-play was a major factor between them being tied and having a lead.
---
Come the third period, and in a game that would've ended any shot of the playoffs with a loss; the Rangers didn't make it easy on themselves or on their fans.
Right away, Buchnevich would go high and wide on a shot, a shot so bad, that Micheletti went into HEEL MICHELETTI MODE, where he berated Buchnevich for not putting the puck on net. 2:23 into the period, the barely noticeable Lafreniere took a shot on goal, his first and last shot on goal in this game. Again, when it comes to the TOI stuff, Lafreniere played 8:11 while Blackwell played 13:44. With the team trying to win games, I would defy you to explain to me how Lafreniere is better than Blackwell right now.
After a split-legged save from Igor, Micheletti did his act where he wondered if Igor was hurt. He wasn't.
In more over-passing, Fox tried to feed Kakko, only for the Sabres to pull a Jon Taffer and SHUT IT DOWN. Right after, Fox whipped a shot from the blue line, that Tokarski barely handled, and with an eager Kakko looking for the rebound right from Tokarski's door-step. Again, Kakko had no problems owning the paint tonight.
6:17 into the period, this happened:
Fil Chytil for the LEAD!

Great work by Gauthier to dig that puck out 👏 pic.twitter.com/XuzZpRDgYD

— Rangers on MSG (@RangersMSGN) April 2, 2021
2-1, GOOD GUYS!
On the goal, as everyone was moaning about Gauthier missing another wide-open net afforded to the Rangers by Tokarski, Chytil flipped a puck top shelf for the goal. And hey, great work from the third line here too. It's nice to see the Rangers get contributions from everyone.
7:39 into the period, KAKKO, who once again drove to the middle, drew a holding penalty on Ristolainen. On this power-play, the Rangers took six shots on goal, with Tokarski stopping all of them. With 19 seconds remaining on the power-play, like an outfielder pitching in a depressing 14-1 baseball game, the PP2 unit came on. Ultimately, the Sabres, behind Tokarski, got their kill.
For some reason, in crunch time and with under 10 minutes to go in a razor-thin 2-1 game; Sam Rosen started babbling about Buffalo's attendance and cardboard cut-out fans, as that had anything to do with the current situation on the ice.
With 6:05 to go, Fogarty drop kicked Igor in his legs. In turn, Fogarty was boxed for goaltender's interference. Once again, for the second time after taking the lead, the Rangers would get a power-play, in an effort to seal the deal and close these assholes out. However, once again, the Rangers would take a ton of shots on this power-play but would fail to get the insurance goal. And in one more "once again" here, the PP2 unit came on late, with 13 seconds to go on this particular power-play. LET'S PUT THIS IN BOLD AND CAPSLOCK PRINT: THE RANGERS HAD TWO CHANCES TO GO UP 3-1 WITH TWO LATE POWER-PLAYS, BUT COULDN'T BEAT A THIRD STRING GOALTENDER.
With 2:21 to go, Buffalo called a time-out. Forty seconds later, the Sabres pulled Tokarski. The Rangers would ice the puck twice here, but Mika would win both face-offs. Then, with 20 seconds left, in what didn't seem like a big deal at the time, Dahlin blocked an easy Kreider ENG. Had Kreider scored here, that's ballgame. Instead, Dahlin kept the Sabres on life support.
The Rangers would take one more icing here, where with 14.6 seconds left, and with Mika winning the two previous face-offs, Mika would lose this one when it mattered the most. With 3.6 seconds to go, Tage Thompson scored on a shot that Igor didn't even see coming. That's right, not only did the Sabres tie the game up with 3.6 seconds to go, the Sabres now have more 6×5 goals this season than the Rangers. Seriously, that is truly unacceptable.
At 2-2, the final 3.6 seconds ran off. We were going to OT.
---
The Rangers would win the first face-off of overtime, where behind Mika, Panarin and Fox, the Rangers pretty much controlled the puck for the first 90 seconds. I said on Twitter, that the Rangers needed Lafreniere deja-vu magic here, but Lafreniere didn't receive any ice time during the OT. (Lafreniere's first goal this season was an OT GWG over these same loser Sabres.)
At the half-way mark of overtime, the Rangers pretty much had the puck the whole time. With Trouba, Buchnevich and Blackwell on the ice, Trouba made a bad turnover, but Igor was able to hold down the fort.
With 63 seconds remaining, Igor made a big boy save on Taylor Hall. I really thought Hall was going to score, considering the fact that Sam and Joe were willing Hall into scoring and after how orgasmic Rosen sounded after Thompson scored the tying goal late in the third.
In what was pretty funny, sad and damning at the same time, Micheletti said he's never seen a 3 v 3 OT period, where neither team had scoring chances or tried to win. He wasn't wrong.
Fortunately, as this game looked to be headed towards a shoot-out, Mika ended it:
.@MikaZibanejad WINS IT IN OT FOR THE RANGERS.

GREAT BACK AND FORTH WITH @artemiypanarin pic.twitter.com/kqZL9Jo1i0

— Rangers on MSG (@RangersMSGN) April 2, 2021
3-2, Rangers, your final. Praise the hockey gods.
On this goal, Fox aka the team's MVP, makes a great play on the back end, gets the puck to Panarin and the Rangers 1-2 punch finished off a goaltender who had one of the best games of his career. I can't stress this point enough – had the Rangers blown this game, you would've seen more blood, agony and destruction than one of those "Expendables" movies.
This is not a win to hang your hat on. This is a win that you buy a lotto ticket afterwards.
Let me take a brief personal life update here, and then go home.
---
I know I talked about this last blog and on social media since, but in an update from my last blog, I did have to put down my buddy Boogie aka "THE BOOGIEMAN", on Wednesday. His cancer and tumor, which started underneath his tongue, which also prevented him from eating, just ravaged and savaged his body. For a cat that usually weighed in at 18 pounds, his cancer took him down to 4.5 pounds. I probably could've put him down sooner, but I tried every medication and steroid possible. I was even hand-feeding him for a while. Nothing took.
I can't lie – it's rough. He's the fourth cat I've had to put down in less than four years, as all of my cats had long lives, with three of them making it to 17+ years of age. In fact, as I write these words, it's weird for me, as this is the first blog I've written in 7+ years, without Boogie sitting on the chair next to me and/or on my desk. Of the cats I've had, he's the only one that would sit next to me the entire time as I wrote. And at the end of the day, I've been fortunate to have four cats who had personalities that rivaled and even surpassed the personalities of some dogs.
In what was really weird, was Thursday morning, when for the first time in over ten years, I woke up at my house and didn't jump out of bed and feed/give water to the cats. I mean, I did jump out of bed, but for the first time, realized I didn't have to. Old habits die hard – like the Rangers shooting wide on the power-play!
While I know many of you are pet people, I also know many of you lost people during the pandemic. I'm talking about a cat here, but while I'm not like Al Pacino at the end of "Godfather III", it still just sucks. As all you animal lovers know, only time will help. At least these Ranger games and blogs are a distraction for me.
On Wednesday, when I posted about Boogie's passing on social media, I got a ton of feedback from you guys. On Twitter, on Facebook, texts, messages the comments section, emails, etc. Thanks for all of that. It does help.
It sounds stupid, but I'm dedicating this blog and this Rangers win to the BOOGIEMAN, a cat who had a more successful life than the Rangers power-play!
Thanks again for all the correspondence about this. I did/do appreciate it.
---
Up next for the Rangers, a rematch with these same Sabres on Saturday night. You know I hate the "MUST-WIN" stuff unless it's mathematically applicable, but yeah, the Rangers have to win this game.
If you haven't already, subscribe to this blog for the next update:
---
I'm still in the "WE WANT THE PLAYOFF TENT" camp, so yes, I'm scoreboard watching. The Rangers are now three points out of a playoff spot, where yes, the Bruins have three games in hand. While it once looked like Pittsburgh would be the team to chase, that seems impossible now. The Rangers are going to need to handle their own business and hope for Boston to slide a bit.
And I know I've said this before, but wouldn't it be amazing Suzyn if the Rangers somehow snuck into the playoffs and drew the Caps in the first round?
I'll be back Saturday night, with a Rangers/Sabres game review.
Stay FABULOUS my friends.
RIP BOOGIEMAN
Until then, and as always here, thanks for reading and…
LET'S GO RANGERS!
Sean McCaffrey
BULLSMC@aol.com
@NYCTHEMIC on Tweeter