"I think it was our match up against them the last two games, but also I think it's how they've been playing lately. They are a good hockey team that wants to turn things around, so we knew that their intensity and compete level were going to be very high and it was. I thought we were ready for it and weathered the storm the first 5-10 minutes and after that, I thought we played very well." – Acting Rangers head coach Kris Knoblauch, on 3/27/21, moments after the Rangers 2-1 matinee loss to the Philadelphia Flyers. Contrary to what Knoblauch said, the Rangers didn't play well enough.
---
"Absolutely not, I had some time with him in Hartford, I know how good Igor can be. I saw him last year. Sometimes it can be hard coming back from injury and some time off, but with Shesty, that guy never surprises me." – Kris Knoblauch, also on 3/27/21, while responding to a question regarding if he was surprised with Igor showing no signs of rust since returning.
---
Greetings and salutations everyone and welcome back to another blog here on BlueCollarBlueShirts.com. Ugh. Make that a double ugh. Hell, make it a triple ugh.
On Saturday afternoon, and with the Rangers riding the good vibes of a three-game win streak; the same old "one step forward, two steps back" Rangers returned, dropping a 2-1 decision to the Philadelphia Flyers. This loss was crushing for several reasons. Not only did the Rangers drop another winnable and one-goal game, the Rangers also fell back to sixth place in the standings. Even worse, the Bruins and the Penguins won their games on Saturday, meaning the Rangers, rather than keeping pace, pretty much lost a "four point game". (And as noted on this site: I'm all about the playoffs. Kakko having a good Corsi number is the very least of my concerns.)
While I've been rah-rah about the Rangers and hoping for a nice playoff push; as stated weeks ago, when the Rangers dropped those two crucial games to the Penguins, it seemed highly unlikely that the Rangers would make the playoffs this season. Of course, while it would've been nice to make the playoffs, the ultimate goal this season was to get the kids going and to help their development. That said, it's been the young Rangers defensemen in Adam Fox, Ryan Lindgren and K'Andre Miller shining the brightest, while Kaapo Kakko and Alexis Lafreniere consistently struggle. And really, with the way the young defensmen have played this season, I'd enjoy them getting playoff experience.
There are no moral victories after this game. There's no silver lining at all. The Rangers flat-out choked. The Rangers had NUMEROUS chances to win this game, yet allowed Flyers goaltender Brian Elliott, a Brian Elliott who looks like he's 55 years old and waiting for an AARP card; escape this game with only one goal allowed. Even worse, the Rangers pissed away another strong performance from CZAR IGOR, a CZAR IGOR who made 35 saves off of 37 shots faced. It should also be noted, of those 35 saves, I'd venture to guess that a dozen of them were just game-changing saves too. Without question, Igor kept the Rangers alive all game.
As mentioned last blog, I had a family commitment today, so this blog won't be as long as usual. We'll return with "regular programming" after tomorrow's Rangers/Capitals game, another matinee game with an ungodly 12PM start. In other words – prepare for the Joel Osteen pregame show tomorrow, as this NYR/Caps game will air on NBC.
After today's 2-1 loss to the Flyers, I had a family party, where upon returning home, I wanted to watch the UFC PPV. As I start this blog, it's 8:45PM now, and I'm hoping to wrap this up by 10PM. Originally, I was just going to skip doing a blog tonight, but with the trade of Brendan Lemieux, I felt obligated to get something up.
Sorry to "short-change" you tonight, but family comes first and this game left a sour taste in my mouth anyway.
Of course, before getting into everything – the PLUGS segment. Here are my last few blogs in case you missed them:
---
---
---
Prior to the game, the only news we had was that Knoblauch was going to remain behind the bench. David Quinn is expected back tomorrow, which makes the trade of Lemieux somewhat suspicious. I'll get into all of the Lemieux stuff after I breeze through the game recap/review.
Line-up wise, the Rangers returned on Saturday with the same line-up from the previous two games. As a refresher, here who were on the ice on Saturday afternoon:
Gambling segment time. Here's what I said before the game:
Season over-under record: 14-16-2.
Philly's goaltending isn't going to heal itself in 36 hours. Rangers and the OVER. Even better you can shop around and get this at -6. #nyr pic.twitter.com/P7RnctCkLs

— BlueCollarBlueShirts (@NYCTheMiC) March 27, 2021
Well I was dead wrong all around. My record now drops to 14-17-2.
Box score time. The following information and graphics comes from the new world-wide leader in NHL coverage, in ESPN.com:
SCORING:
PENALTIES:
GOALIES:
| | | | | | | | | | | |
| --- | --- | --- | --- | --- | --- | --- | --- | --- | --- | --- |
| SA | GA | SV | SV% | ESSV | PPSV | SHSV | SOSA | SOS | TOI | PIM |
| 25 | 1 | 24 | .960 | 19 | 1 | 4 | 0 | 0 | 59:54 | 0 |
| | | | | | | | | | | |
| --- | --- | --- | --- | --- | --- | --- | --- | --- | --- | --- |
| SA | GA | SV | SV% | ESSV | PPSV | SHSV | SOSA | SOS | TOI | PIM |
| 37 | 2 | 35 | .946 | 30 | 2 | 3 | 0 | 0 | 58:33 | 0 |
TEAM STATS: (Once again during a Rangers loss, special teams and face-offs doomed the Rangers.)
---
Let's do a "The Good, The Bad and The Ugly" style of recap today, as I'm pressed for time.
Up first, the MSG pregame show.
Prior to today's game, Vally tweeted this out, regarding the Rangers 8-3 victory over these same Flyers on Thursday night:
AKA: my worthless stats mean shit. Eye test will always be stronger than the shit Vally slings. #nyr pic.twitter.com/yLkI3FG1Xa

— BlueCollarBlueShirts (@NYCTheMiC) March 26, 2021
This is pretty much Vally admitting that his expected stats mean nothing and provide no indication of how a game will play out.
MSG PREGAME SHOW:
The Good: Jumpin' Joe Micheletti pushing Adam Fox for Norris consideration. Unfortunately, most of these year-end awards are given to players on playoff teams. That doesn't mean that there aren't any exceptions, but if the Rangers don't make the playoffs, unfortunately, fair or unfair, it will hurt Fox's chances of being considered.
The Bad: John Giannone asking Vally if scoring goals helps teams win games. No joke, he actually asked this.
The Ugly: Every Vally segment. The guy was going on-and-on about expected stats for nearly thirty minutes, where he actually worked in three plugs for his own shitty analytic company along the way. The man has no shame. This is where you missed a Ron Duguay or a Ryan Callahan type, in order to talk about the human emotion and the blood feud between the Rangers and Flyers. Vally didn't even bring up the Sam Morin/Lemieux stuff, although Giannone did mention it in passing as the show was going home. For good measure, during one of the intermissions, without fail, Vally mentioned his legendary 46 game career again, as that had anything to do with today's game.
---
Before getting into the first period, let me make a statement here that applies for each period – CZAR IGOR was phenomenal, making 17 saves in the first period alone. Seriously, this could've very easily been a 4-1, 5-1 or 6-1 win for Philadelphia. Igor was lights out, where you couldn't really pin either goal allowed on him. (Certainly not the first goal allowed. You could maybe debate about the game winning goal, especially since this was Morin's first goal of the season. However, debating if the game winning goal was on Igor or not isn't really the story here.)
In two games back with the Rangers, and in games both against the Flyers, Igor has now made 76 saves off of 81 shots. In what is now an alarming trend, after the Rangers allowed their most shots on goal of the season on Thursday night, with 44 shots on goal; in today's game, the Rangers gave up 37 shots. As I said on Thursday's blog, if you want to give up 44 shots and score 8 goals, that's great. However and obviously, there's no way to sustain that. Today, the Rangers only got one goal off of 25 shots.
There are multiple reasons to explain today's loss and really, Brian Elliott isn't one of them. The Rangers didn't shoot enough and when they did, a lot of it came from the perimeter. Trouba is still trying to set a record for most shot attempts to hit the glass and boards in one season. Even with a truncated 56 game season, I think he'll shatter that record.
The power-play, after scoring on their first try; had a decent showing in their second attempt, but in their final two tries, the NYR PP1 unit just did the pass to nowhere game. In addition, after having about 78678967896789568956865879 breakaways and odd-man rushes in the two previous games against the Flyers, the Rangers didn't have one odd-man rush today. The Rangers had only one breakaway in this game, and it was by Adam Fox while the Rangers were short-handed. Once getting to the net, he pulled a Trouba. (High and wide. That said, this is a rarity for Fox and he remains the team's MVP. Trouba shooting wide is as common as an old man with a busted prostate taking 500 pisses from midnight-to-6AM.)
FIRST PERIOD
The Good: CZAR IGOR, as previously mentioned. The Rangers, after Igor made about 10 saves, would take advantage of a stupid, and I mean stupid, penalty committed by Travis Konecny. Konecny shoved Mika to the ice after a whistle and while in front of CZAR IGOR. As a result, on the power-play, Adam Fox, who continues to rack assists, made a good pass to Ryan Strome. Ryan Strome then made a better pass, finding Mika Zibanejad's blade in Elliott's paint. It doesn't come much easier than that, as the Rangers took a 1-0 lead in a period that the Flyers were dominating prior to Konecny's penalty.
The Bad: Kaapo Kakko had two chances in this period, especially during one play with Ryan Strome, but unlike his two goal game from two games ago, Kakko has since reverted to making love on the ads that are located on the side boards. If you're too scared to go to the middle, at least shoot the puck and allow a teammate to go for a rebound.
Chris Kreider and Alexis Lafreniere were barely noticeable in this period. The two finished with 0 SOG for the game.
The Ugly: The Rangers, despite their PPG, just allowed the Flyers to dictate the pace and dominate them. 17 SOG is inexcusable. Jacob Trouba continued his act of shooting the puck everywhere but towards the net. The Rangers also failed to capitalize on a play where Elliott left his net towards the end of the period, where a late goal would've made the score 2-0 and took some wind out of the sails of the Flyers.
---
SECOND PERIOD
The Good: Igor, again, as he made 12 saves in this period. Defensively, despite giving up a ton of shots, both second year man Ryan Lindgren and rookie K'Andre Miller continued to break up scoring chances and potential odd-man rushes. Adam Fox, who continues to do something impressive every game, almost scored, where admittedly, Elliott would make his best save of the game.
The Bad: Offensively, despite being drafted #2 and #1 overall and respectively; second year man Kaapo Kakko and rookie Alexis Lafreniere continued to create no scoring chances, finishing with two shots on goal combined. Artemi Panarin, the best skilled player on this team, over-passed himself out of some scoring opportunities. The Rangers also failed to score on two different power-plays, where one extra PPG could've swung this game for the Rangers. The second power-play of this period was especially bad.
The Ugly: Too many penalties. After Kreider tripped Hayes, Rooney then tripped Gostisbehere, giving the Flyers 1:17 of a 5×3 attack. While the Rangers did kill the first penalty, Nolan "Ryan" Patrick scored with just three seconds remaining on the Rooney penalty. With Igor just motoring and carrying the Rangers, these two back-to-back penalties gave the Flyers some life. Previous to this Flyers PPG, Flyer fans booed their team out of the building twice.
Even Uglier: The Rangers at the dot. Zibanejad finished with 3 wins and 11 losses. Ryan Strome finished with 8 wins and 13 losses. Rooney finished with 1 win and 4 losses. Filip Chytil finished with 4 wins and 5 losses. In other words, every Flyers center beat every Rangers center in head-to-head face-off percentage. Despite what some analytical geek like Steve Vagistat may tell you, winning face-offs are important, especially face-offs in the other team's d-zone after an icing.
With the Flyers PPG, the score was 1-1 going into the third.
---
THIRD PERIOD
The Good: Trouba got two rare SOG in this period, but neither shot was that impressive. Igor remained strong.
The Bad: With ten or so minutes remaining in the game, and with the score still at 1-1, the Rangers failed on their power-play. A PPG would've changed this game tremendously.
The Absolute Father Finkin' Ugly: After some poor play and miscommunication from the Rangers fourth line, Sam Moron Morin beat Igor Shestyorkin with 4:27 to go in the game; a Sam Morin that should've been suspended. And really, if the NHL is only going to fine a player for pulling hair and smashing someone's face into the ice, more players should do this to send a message. Of course, if it was Sidney Crosby getting his hair pulled and face-washed into the ice, Morin would've got a 10+ game suspension.
Sad But True: It took forever for the Rangers to get the puck, while trying to get the extra attacker on. Igor wouldn't go to the bench until there were 1:24 remaining in regulation. The Rangers, who don't have one 6 x 5 goal this season looked miserable here, unless you want to praise Adam Fox for making three saves. While that's great and fun for Fox, that's not great for a Rangers team needing a goal. The Rangers wouldn't regain possession of the puck until there were 26 seconds remaining and would then go off-side. A face-off out of the zone with 5.4 seconds left in the game sealed the deal.
---
Going into this game, in Philadelphia, there have been talks of AV being fired, akin to the stuff that the "FIRE DQ" crew does daily. While I don't expect blow-outs every game, the Rangers missed out on a huge chance of giving the Flyers a KO punch and derailing their season. Instead, AV is enjoying his Big League Chew gum right now and lives to coach another day. As I said at the top of this blog, the Rangers didn't just stub their toe with this loss, they broke the whole damn foot.
Lemieux time.
---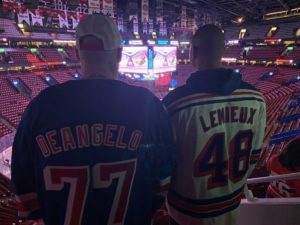 As noted, I had a family party today. The second I returned home and walked through my door, I got a call from my dad who I just left 15 minutes earlier. Once I pressed that green "accept call" button on my phone, and with the thinking that maybe my dad misplaced something at the party, my dad opened the call with – "Did you hear the news? Lemieux traded!" That's right, my 70 year-old dad had the scoop before I did!
While I didn't question my dad's comments, as he scrolls through all these Ranger pages and sports news websites all the time; I was thinking that maybe he read some rumor on Facebook or something. After putting him on speaker phone, I went to the Rangers Twitter page, where I saw it was official:
I wouldn't consider this to be a "MAJOR" trade, but that being said, it is a notable and a "wow" type of trade. Prior to the trade, there was no inkling of Lemieux being moved. Had there been, Lemieux wouldn't have played in today's loss to the Flyers.
Usually, whenever a major or notable trade happens, I try to look at it from both sides and cover what both teams are saying. As of this writing, the LA Kings have not said anything, as they haven't posted a comment on Twitter or on their official website.
Before getting into the Ranger end of things, the only thing I can think of, in regards to the Kings going after Lemieux, is that they want grit and toughness for a playoff push. The Kings are currently five points out of a playoff spot and with two games in hand of the fourth place St. Louis Blues. Unless you're one of these morons who believe games are played on a spreadsheet and not on the ice; every Stanley Cup contending team has tough and gritty players on their roster. As you may know, the Kings are no stranger to this idea. (Father Fink 2014.)
Of course, with a current two-year deal in effect, it could be argued that the Kings may want Lemieux as a forward to expose to Seattle as well.
From a Rangers side of things, here's the team's press release on the trade, courtesy of: https://www.nhl.com/rangers/news/rangers-acquire-fourth-round-pick-in-2021-nhl-entry-draft/c-322982550
The New York Rangers announced today that the team has acquired a fourth-round pick in the 2021 NHL Entry Draft from the Los Angeles Kings in exchange for Brendan Lemieux. The pick the Blueshirts acquired is Los Angeles' own fourth-round pick.

The Rangers now have nine picks in the 2021 NHL Entry Draft, including six picks in the first four rounds and three picks in the fourth round.

Lemieux skated in 109 games with the Rangers over parts of three seasons (2018-19 – 2020-21), registering 11 goals and 20 assists for 31 points, along with 214 penalty minutes.
---
My initial first second reaction to this trade was that I hated it. For what it's worth, my dad, who has been watching this team for over 60+ years, was way more accepting of it than me. And really, I think my dad's opinion is the popular opinion right now.
As far as why I immediately hated this trade, for starters, ever since 2014, I hate anything that has to do with the LA Kings. Lemieux going there, rational or irrational, just makes me sick. I also didn't like this trade because while the Rangers do have guys like Ryan Lindgren and the expiring contract of Brendan Smith on the roster, two guys that like Lemieux, provide grit and toughness; the Rangers are now without a forward that can scrap. The Rangers basically threw their sandpaper fourth line away with this deal. Of course, the Rangers do have options.
A lot of fans and writers are saying this Lemieux move opens up a spot for Vitali Kravtsov. To me, that doesn't make any sense. Lemieux and Kravtsov are two completely different players. Kravtsov should, at the very least, be a Top 9 forward. Lemieux is a fourth line grinder. Keeping Lemieux on the roster wouldn't stonewall Kravtsov. As I've said repeatedly on past blogs, once Kravtsov debuts, he will most likely take playing time away from Julien Gauthier, Colin Blackwell and Phillip DiGiuseppe. In other words, there's no way I believe that this is a "Lemieux for Kravtsov" roster swap.
That being said, Julien Gauthier, who also at the very least should be a third line winger, could be moved to the fourth line. However, playing on the fourth line is not the same thing as playing in the top nine. If this is the route the Rangers go down, it's not like Gauthier, who has been begging for more playing time as it is, is going to start potting goals left and right with guys like Brett Howden, Kevin Rooney and Colin Blackwell.
I like/liked Lemieux. I really did. I know he's a target of younger fans and of the chart geek community, and that's because these turds think that all four lines should be full of skill-set guys. They don't grasp the concept of needing "roster stew", meaning that you need different type of players to fill different roles. It's why they hate Howden so much. They don't understand that Howden is just a fourth line checking center and a penalty killer. He's not going to score goals – he's filling a role.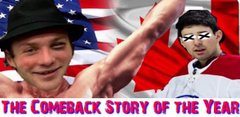 As I let some time pass by, took some deep breaths and now look ahead; if this is a move that opens up a spot for either Morgan Barron or Mason Geersten – then I get it. You're getting younger on the fourth line and for less money. Geersten would be the player that would fit Lemieux's role the best, but it's questionable if Geersten is ready for the big league. With a glutton of wingers, if the Rangers are to call up center Morgan Barron, you can always put Howden and/or Rooney on the wing. At the end of the day, I just don't see this as a move that's 100% directly related to Kravtsov.
I do find it ironic that this move was made before DQ-19 makes his expected return on Sunday. I've seen some fans do the conspiracy theory stuff and mention how Lemieux was DeAngelo's best friend on the team. (Prior to the DeAngelo drama, the two were travel partners.) I don't buy that stuff at all, but I guess it is fun to talk about if that's what you want to do.
If there is anything to the DeAngelo stuff, it's the fact that the Rangers just keep moving on from guys that show how much they hate losing. I love the fighting spirit out of TDA and Lemieux. I am a fan of these guys because they are excited after wins and are extremely pissed-off after losses. I can't say that about everyone on this roster.
What I don't want to see, and what I don't expect to see, is this being a move to keep guys like PDG, Rooney or Blackwell going. All three of those players are older than Lemieux and while Blackwell has had some great games this season, Blackwell doesn't bring what Lemieux brings to the table. While Kravtsov will 100% join the roster, even as soon as Sunday; so should either Barron or Geersten – especially once the Rangers are mathematically eliminated from the playoffs. And after today's game, the Rangers should be preparing their gravestone for this 2021 season. (Yes, that's how crushing this loss was, where really, maybe it helped influence the Rangers to make this trade in the first place.)
I wish all the best for Brendan Lemieux, the player, moving forward. I thought that far too often, he got a bad rap from both Ranger fans and NHL officials alike. It seems that at the end of any game, if Lemieux did anything, it was a 10 minute game misconduct. There were also games where if Lemieux didn't say excuse me after farting, it was a major penalty. And as I said earlier, about that dirty cheap scumbag Sam Morin; had Morin did what he did to Lemieux to Crosby, Morin wouldn't have played on Saturday afternoon.
It should be mentioned, that outside of re-signing Ryan Strome, Jeff Gorton didn't really hit a homerun this off-season; outside of having Alexis Lafreniere fall into his lap. And while I don't blame Gorton for Lafreniere's slow start, I do blame Jeff Gorton for signing Jack Johnson. I do blame Jeff Gorton (and DQ-19) for the DeAngelo drama. I do blame Jeff Gorton for this Lemieux trade.
I understand that the salary cap and the NHL were in unprecedented times during this past off-season. I understand that some players haven't performed to expectations all-season, and that includes Mika Zibanejad, who just was horrible offensively in the first half of the season. However, for Jeff Gorton, he's now moved on from two of the RFA's he qualified this summer. What does he have to show for himself? Colin Blackwell and Keith Kinkaid? Maybe Anthony Bitetto? Kevin Rooney? Of those five players, do you see any of them lasting with the Rangers beyond this season? Just sayin'.
---
If you haven't already, subscribe to this blog for the next update:
---
See you tomorrow, where I'll get more in-depth in whatever news is going on.
It should also be mentioned before I go home here, is that Kris Knoblauch did a wonderful job in his six games behind the bench. Even with this depressing loss, DQ's seat will remain hot and he will be challenged by many if things get worse.
Stay FABULOUS my friends.
Until then, and as always here, thanks for reading and…
LET'S GO RANGERS!
Sean McCaffrey
BULLSMC@aol.com
@NYCTHEMIC on Tweeter