"It was a funny game. I'll tell you that because I just thought we were very opportunistic, our PP was very good, it was just a funny game and we found a way to win tonight. I think that if you talk to our guys, we realize we are going to have to play better than that to win consistently. That being said, it's hard to win in this league and I was certainly happy with the two points and our goalie made some big saves and we were just very opportunistic." – Rangers head coach David Quinn, on 4/6/21, moments after the Rangers 8-4 smacking of the Penguins.
---
"We've all talked about how special a player he is turning into and how he continues to do things with the puck that a lot of guys in this league can't do. The thing I always said that makes him different, I think it is that when you got a guy who can do things with the puck, the way he defends and how smart he is defensively and how he uses his body and how hard he competes, that is what makes him an elite player. He makes everybody out there better, we all know that and it's amazing how fast it's happened for him in his career." -DQ, also on 4/6/21, when talking about Adam Fox.
Fox hasn't even finished his sophomore campaign yet, but now it feels routine that he's just an elite NHL player and where the praise is becoming redundant, and I mean that in a good way if that makes sense to you. You're more shocked if Fox is held pointless or makes a defensive gaffe, rather than putting up another multi-point game. This is a rare and a great feeling to have as a Rangers fan. I expect a ton of #23 jerseys inside of M$G next season.
---
"That goal they scored in the second was big. They did a really good job of getting above the puck, they made smart decisions and were patient offensively which we didn't have a lot of tonight and it was good to see them get rewarded for going about it that way. Those guys are starting to play well and it was good to see them get rewarded." – DQ, one more time on 4/6/21, when talking about the recently reunited original "Kid Line", of Lafreniere/Chytil/Kakko. Previous to reuniting tonight, both Julien Gauthier and Vitali Kravtsov played on this line, which is the Rangers third line.
---
Greetings and salutations everyone and welcome to another blog here on BlueCollarBlueShirts.com. Well, that was much better than Saturday night! In addition, I would like to thank my five-years old niece Cayleigh, for her contribution to this site tonight, as she came up with the word "pooish", a word that certainly describes these Penguins from Tuesday night!
After one of their worst losses of the season on Saturday night to the historically bad Buffalo Sabres, the Rangers rebounded from that loss on Tuesday night, doubling up the Penguins at M$G, by a final score of 8-4. As the final score would suggest, there's a lot to unpack here.
In fact, let's get the PLUGS segment of this blog out of the way first, because if you missed last night's manifesto where Jeff Gorton was the featured topic, I also covered all of the drama regarding Quinn's line-up decisions from Monday. Needless to say, while I wasn't as dramatic as the "FIRE DQ" crew about DQ's decisions, I did have a bone to pick regarding Phillip Di Giuseppe being in the line-up rather than Julien Gauthier. (That being said, every Top 9 forward on the Rangers scored tonight, while the fourth line went pointless and all finished up tonight's ass-kicking affair with a plus/minus stat of -1.)
Anyway, here are my most recent blogs in case you missed them:
---
---
---
I'll open up tonight's blog by saying this – as someone who has been accused of being a "filthy DQ apologist" (I relish in this, and admittedly will sing the praises of DQ to the moon, just to get a rise out of the "FIRE DQ" crew, a fact that my buddy Derek F. of NewYorkPuck.com has quickly figured out) you're going to get a very pro-DQ blog tonight. And really, unless you're just looking to have your opinion of "DQ SUCKS" being proven right, you have to give DQ a ton of credit tonight. After all, if you're one of these people who blame DQ after every loss and for every fart and cough, then in the same vein, you have to give DQ credit for a bounce back response like this 8-4 victory was. In other words, what's fair is fair and you can't just pick and choose here.
DQ, who has been using the word "playoffs" in all of his conversations with the media, where DQ has used the word "playoffs" as frequently as Joe Micheletti uses the word "fabulous"; shook up his lines tonight, very much to the dismay of many Ranger fans. What happened next? Every Top 9 forward scored, where seven of the nine forwards all had multi-point games. The Rangers power-play, usually atrocious more times than not, had one of their best games of the season, going 3-3 overall. While on the topic of special teams, the Rangers penalty kill also scored a short-handed goal too. Hell, CZAR IGOR even put a shot on goal tonight!
This win was as good as any. While the 9-0 win over the Flyers will always be the most memorable, to beat this Pittsburgh Penguins team by a final of 8-4 is just truly impressive. This game was also a big "Father Fink You" to the chart nerds and analytical geeks, as this was another example of "games are played on the ice, and not on Vally's computer."
I mean, try to figure this out. In the Rangers last two games with the lowly last place Sabres, the Rangers only mustered up four regulation goals in six periods played. In tonight's 8-4 win, the Rangers doubled-up their production from their two games in Buffalo, in just this one game, against a playoff bound Pittsburgh Penguins team. That's hockey Suzyn!
Sure, the players are the ones that have to make these wins happen. However, DQ did push all the right buttons, did all of his line-up scrambling and put his players in an opportunity to succeed. And for those nimrods who constantly obsess over TOI (time on ice) stats, DQ satisfied you in that department too.
Outside of Phillip Di Giuseppe, who was the team's 12th forward tonight and who played 9:25 overall; every other forward played 11:03 or more. For those people who have tears in their eyes the size of water balloons when shrieking, "LET THE KIDS PLAY", Kakko played 14:43. Chytil played 14:46. Lafreniere played 14:52. And outside of Lafreniere, who did score a goal, both Kakko and Chytil had multi-point games too.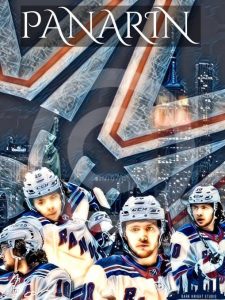 I said this was a complete and a team-wide victory tonight, because there is no other way to describe this win. The Fat Cats produced. The Kid Line produced. Adam Fox, where just praising Fox is becoming old hat at this point, continued his Norris Trophy bound season, with another multi-point game, behind his one goal and two assists, where both of his assists took place during the power-play that he's been quarterbacking for some time now. And oh yeah – Fox had a short-handed goal too. I mean really, what CAN'T he do? I'm really crossing my fingers right now, as I hope to see Fox (and Panarin) in the 2021 Stanley Cup Playoffs. Just get in, and who knows what could happen?
In what has been a rarity for the Rangers of late, it were the Rangers carrying CZAR IGOR to victory, rather than the other way around. While Igor did make 41 saves tonight; another game of 40+ saves for him, Igor also gave up four goals, where two of them were definitely on him and would've been magnified had the Rangers lost this game.
A game like this is why fans should be rooting for the playoffs, rather than lazily and whining about DQ's job or how the kids need to play more. I know I've gotten into all of this stuff before, but really, there are different ways to develop young players, and it's not always about ice time.
One point that I haven't seen anyone bring up, but which I'll bring up now, is the locker room stall situation. Who is sitting next to who? Is Panarin imparting advice to his fellow comrade into the newest Ranger, in Vitali Kravtsov? Is Kreider pumping up Alexis Lafreniere? Is Mika sitting next to Chytil and discussing play from a center's point-of-view? There's a lot of little things that goes into developing players, and just shouting – "LET THE KIDS PLAY" is lazy, pedestrian and really, inaccurate. After all, all good things come to those who wait.
Of course, that's some of the good stuff about tonight's game. Let's now go into "Debbie Downer" mode, which I'll try to breeze through as fast as possible!
---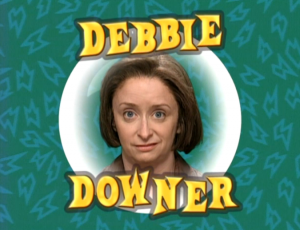 Buzzkill time and I apologize in advance!
At the end of the day, this was only one win. You can enjoy it now, but as we've seen all season from these "Find-A-New-Way-To-Lose" Rangers, and a team that personifies the old adage of "One Step Forward, Two Steps Back"; the Rangers have a major issue with consistency. Furthermore, these Rangers only have two three-game winning streaks this season, where wins over the Sabres were included in both of them. For the Rangers to make any run at the playoffs, the Rangers are going to need to rip off a major winning streak here, and that includes beating the Penguins again on Thursday and sweeping the Islanders over the weekend.
If there is any consistency to these 2021 Rangers, it is that more times than not, after a bad loss, the team usually recovers and rebounds with a big win. It's probably why the Vegas odd-makers had the Rangers as a favorite tonight. I know that Malkin was out for the Penguins, but even so, after a loss to the Sabres, you'd have to have some pretty big balls to put any significant coin on the Rangers prior to this game tonight.
Another fact here is this – yes, as fans, an 8-4 win is great. However, you can't honestly say this was the game-plan tonight and that DQ drew up a touchdown and a two point conversion play as a way to win this game. And unfortunately, you can't "carry over" goals to the next game, as the scoreboard will be wiped clean come Thursday night. If the Rangers need to work on anything, it is their ability to protect leads and win the one-goal/one-shot games.
I mean, just look at the four Penguins goals tonight. Two of their goals were scored within a minute of the Rangers scoring. A third goal was scored within two minutes of the Rangers scoring. Then, on the fourth and final goal of the game, the Penguins got an easy goal, over a team that was pretty much in celebration mode. While that goal doesn't matter, it does hurt Igor's numbers. In addition, the Rangers also took penalties after scoring goals.
If there is one singular focus this team needs, it's to play a full 60 minute game. Like another adage, the Rangers "have to act like they've been there before." One goal shouldn't mean the Rangers ease up on the gas. It feels that many times after the Rangers score, they give their opponent a chance right away, whether it's giving up a goal immediately or taking a needless penalty. The Rangers must go in Nicky Santoro, of the movie "Casino", vice-grip mode, when they have a lead. Even in the close games, more often than not, the Rangers let the other team hang around for too long and it usually comes back and bites them in the ass.
The real takeaway I want you to get out of all of this is the following – this is just one game, but this needs to be the start of something big, rather than falling into old habits. If the Rangers lose a one goal game on Thursday, I wouldn't be shocked. If the Rangers can put forth a 60 minute effort, knock off the Pens again and then use that momentum to wipe their asses with the Islanders, then I'll be shocked. That would be a true turning point, at a time of the season where the Rangers need to get on the winning track.
Okay, that's out of my system! Let's get into everything else about this game and into the game review/recap!
---
GAMBLING segment time. Here's what I said before the game:
Season over-under record: 16-19-2

You can shop around & get this line for -6 or -6.5. Jarry v Igor tonight. No Malkin for Pitt, but even so, #nyr as a favorite in this game is just beyond wacky to me, even if NYR usually play well after a bad loss. I'm taking the under on -6.5. pic.twitter.com/KhjVRPpS0H

— BlueCollarBlueShirts (@NYCTheMiC) April 6, 2021
Well that was a swing and a miss. However, I'll take this loss, as I always will, after a Rangers win! With a total of 12 goals scored, this game doubled-up the over-under line. My record now drops to 16-20-2 on the season.
Speaking of gambling, MSGN seems like they are dipping their toes into the gambling pool. Of course, while every broadcast features 76797347384373847 gambling ads already, including segments where John Giannone cheerily advises fans to depart their green bills from their wallets, the MSGN now has a new app, where if you can nail some pregame predictions, you can win $1000.
For right now, it is free and won't cost you anything to sign up for the app. However, this is how these gambling outfits and operations start out. I'm sure by next season, especially when sports gambling becomes legal in New York, that you will then be able to risk real money on this app, like a Fanduel or DraftKings app. If you don't see this coming, then your name may as well be Tristan Jarry, a Jarry who was torched for four goals in the first period tonight!
For what it's worth, here were my pregame picks, picks that won't win me the $1000:
As I'll soon get into on the other side of the BOX score segment, Steve Valiquette was correct, in his first pick of the season and while plugging this new MSGN app, when he predicted that Colin Blackwell would score the first Rangers goal. The second Blackwell scored, I knew Vally would amp up the "doucheage" big-time. That was the worst part of this game!
Speaking of tonight's box score, let's get into it!
The following information and graphics come from the new world-wide leader in NHL coverage, in ESPN.com.
SCORING:
PENALTIES: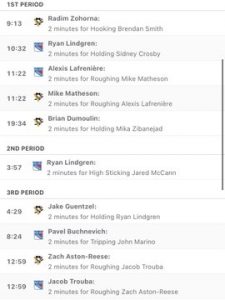 GOALIES:
| | | | | | | | | | | |
| --- | --- | --- | --- | --- | --- | --- | --- | --- | --- | --- |
| SA | GA | SV | SV% | ESSV | PPSV | SHSV | SOSA | SOS | TOI | PIM |
| 45 | 4 | 41 | .911 | 35 | 1 | 5 | 0 | 0 | 59:53 | 0 |
| | | | | | | | | | | |
| --- | --- | --- | --- | --- | --- | --- | --- | --- | --- | --- |
| SA | GA | SV | SV% | ESSV | PPSV | SHSV | SOSA | SOS | TOI | PIM |
| 11 | 4 | 7 | .636 | 6 | 0 | 1 | 0 | 0 | 20:00 | 0 |
| 14 | 4 | 10 | .714 | 7 | 2 | 1 | 0 | 0 | 40:00 | 0 |
TEAM STATS:
---
This was slightly a different pregame show than most, because as mentioned, DQ and his lines were brought up right away. Vally and Giannone also had to plug the previously mentioned new MSGN gambling app too. In what was somewhat funny to me, especially knowing what Sam Rosen would later say on the broadcast, is it me or does the music that accompanies the clips/highlight reel segments sound like stock porno music? It sounds like that old music from those "scramble-vision" channels from the 1990's.
With things to plug, (outside of whatever he does at the "Ramrod" – I KID, I KID, I'm trying to make you laugh here, have a sense of humor!) Vally didn't get a chance to bombard us with the never-ending fake news stats as he usually does. Of course, what I've been saying for a while rang true tonight – the Rangers needed a hot start. Needless to say, they didn't just get a hot start, they got a California wildfire start, as the Rangers just burned through the porous Pittsburgh defense and made them pay on nearly every opportunity afforded.
It was also during the pregame show where Vally would make his accurate prediction on Blackwell scoring the first goal of the game. While it didn't go down as Vally said it would, I must tip my cap to him, as he was right. You know that pains me to say that! (I kid again, or am I?!?!)
If there was anything bothersome tonight, it was Beavis and Micheletti-head, (Heh-Heh Joe, the Penguins need to score. Heh-Heh, I said score!) as Rosen and Micheletti would not stop pumping the tires of the Penguins all game. After the Rangers jumped to a big lead, Micheletti kept yammering and hammering his point of how the Rangers needed more than four goals to win this game. Ironically, he'd be right about that, but truth be told, that was because the game was way out of hand by the time the Penguins scored their fourth goal. I just wish Micheletti would root for the Rangers in the same way he used to root for this team when he was collecting Lundqvist's hair for his hair doll.
Admittedly, I do enjoy "HEEL MICHELETTI", especially when he goes off when the team is playing bad. However, I don't need the cheerleading and pom-pom routine when talking about the other team.
---
Up front here – with a total of 12 goals scored tonight, with 8 of them being Ranger goals, I can't include every clip of every goal tonight, or else this blog would take forever to load. To watch every Ranger goal, either watch the replay of this game or visit the @RangersMSGN Twitter account, the official gif/clip account of NYR.
With the Rangers using the same defensive pairs as DQ has recently been using, and with CZAR IGOR looking to knock off Tristan Jarry, a Jarry who was 3-0 against the Rangers prior to this game; Mika would win the opening draw of this game, which was a rare win at the dot for Mika over Sidney Crosby. (Crosby finished the game 16-7 at the dot tonight.)
Right away, Micheletti went into HEEL MICHELETTI MODE, burying the Rangers first line for not doing anything in the two games against Buffalo. (Mika did score the GWG in the first game, but that was a 3 v 3 goal.)
In the opening minute, and in plays that made you go, "oh no, not again", the Rangers would blow two scoring chances. Mika would overpass a streaking Lindgren, where had the pass connected, it would've been Lindgren's first goal of the season, or so I would presume. Buchnevich would then get a clean look, but at the last second, Crosby made a play, thus denying "Captain Happy". Instead of 1-0 here, once again, the Rangers were squandering chances, chances that you thought would bite them. Of course, that's not what happened, as just 1:35 into the game, and with the reunited second line of Panarin/Strome/Blackwell on the ice, this took place:
Blackwell was READY for this moment, what a play, what a shot 😮😮😮 pic.twitter.com/tzYBb4tV6Q

— Rangers on MSG (@RangersMSGN) April 6, 2021
1-0, GOOD GUYS, just like that!
This goal was the definition of a fluke goal, but hey, they all count and really, this goal happened because the Rangers were doing the right thing – going to the net.
On this goal, Blackwell was trying to pass it to a streaking Strome. As Blackwell made the pass, the puck bounced off of a Penguins defenseman and right past Jarry. Sometimes it's better to be lucky than to be good! Right after, the line went to the bench, and then the excellent MSGN camera crew caught Blackwell saying – "I was trying to pass it!" Whatever the event, this was Blackwell's tenth goal of the season (no one predicted this at the start of the season) and DQ's decision to return Blackwell to the second line had already paid off.
Of note, even with Blackwell trying to set up Strome, both Panarin and Trouba got assists here. More impressively, of the eight Ranger goals tonight, seven of them featured a secondary assist. TEAMWORK!
As Sam and Joe were rooting on the Penguins, at around the five minute mark of the period, Buchnevich lazily gave the puck up near center ice, rather than shooting it or dumping it in. Fortunately, CZAR IGOR would bail Buchnevich out, as Igor made a save on a Sceviour shot, a shot right from Igor's paint. On the next Penguins possession, Igor would come up big again, this time denying Rodrigues during a two-on-one Penguins odd-man rush. In other words, Igor made two big saves here, which protected the Rangers one-goal lead.
Prior to the Rangers making it 2-0, if things broke right for Lindgren, he could've had a hat-trick in the first eight minutes of this game. As mentioned, Mika over-passed him in the first minute. After the Blackwell goal, Lindgren then hit a post. Then, with the Rangers on a two-on-one and with Lindgren open on the doorstep to the right of Jarry; Buchnevich opted to shoot than pass. Jarry would make the save here, but with Mika trailing, Mika slammed home the rebound, just 7:28 into the period, to give the Rangers a quick 2-0 lead. 2-0, GOOD GUYS! Due to this being a rebound goal off of a rush, this would be the "Lone Ranger" goal of the game, that didn't feature a secondary assist. (Not that it matters, just talking about quirky facts here.)
With 10:47 remaining, Radim Zohorna hooked Brendan Smith, a Brendan Smith who constantly and continually draws penalties. 45 seconds later, Artemi Panarin pulled a Lee Harvey Oswald and sniped Tristan Jarry:
How did you know?? I was seriously craving some BREAD!🍞🍞🍞 pic.twitter.com/ycf0LA9sOD

— Rangers on MSG (@RangersMSGN) April 6, 2021
3-0, GOOD GUYS, and we weren't even ten minutes down yet!
On this goal, as I said last year, as I said in the off-season, as I said last night in the Jeff Gorton blog and as I'm saying tonight – this is another reason why Artemi Panarin is perhaps the greatest free agent signing in the history of the New York Rangers. How this puck went in I do not know, outside of knowing that Panarin is pretty damn good at this hockey thing.
Of note, with Fox making another one of his dart passes to Panarin on the power-play, Fox got an assist here, thus pushing his assist streak in consecutive games to 11. He's now three shy of the franchise record of 14 games, which is held by the greatest defenseman in Rangers history, in a one Brian Leetch. Not too shabby.
After the goal, Pittsburgh took a timeout, where perhaps someone talked to the referees, because after this third Rangers goal, the officiating favored Pittsburgh for the rest of the game, despite the Rangers getting two more power-plays.
With 9:28 remaining, Ryan Lindgren was boxed for holding Crosby while behind Igor's net. While the officiating would get bad, this was a legit call and not a superstar call for Crosby.
Six seconds into the power-play, and after Mika lost another d-zone face-off, Jared McCann scored from deep, while Igor was screened. Tough to hang Igor here, but this was a long range goal, and a puck that also had a "seeing eye". 3-1, good guys.
With 8:38 remaining, Lafreniere and Matheson had a little shoving match after a whistle as the result of Jarry stopping Miller. In something that only seems to be called against the Rangers, Lafreniere was boxed here – FOR DEFENDING HIMSELF. Ridiculous. Anyway, this gave us two minutes of four on four foreplay, where the Penguins were starting to heat up a bit.
As you can imagine, while there is never a good time to take a penalty, the Lindgren penalty and the Penguins PPG as a result of it, helped wake the Penguins up a bit. However, Lindgren would then save a goal, as after Igor gave up a rebound to Crosby, Lindgren swooped in and tossed the puck up ice, before Crosby could slam the easy rebound puck home.
As the teams returned to full-strength, McCann came shy of making this a one-goal game, while on a Penguins odd-man rush. The Penguins would then have a long shift in the Rangers d-zone, which was only extended after a lazy, but most likely fatigued play, out of Kaako. Fortunately, the Rangers would survive all of this. In addition, Mika would be hooked to the ground here, but no call.
However, with 25.6 seconds to go in the period, the officials did notice Dumoulin holding Zibanejad, thus giving the Rangers their second power-play of the game. Strome, as McCann previously did, scored just seconds into the Rangers power-play, thus preventing one of those wraparound period power-plays:
I didn't know I needed Strome and Panarin together forever but now I will fight anyone who tries to take them away from me. pic.twitter.com/08RHjSsIxl

— Rangers on MSG (@RangersMSGN) April 6, 2021
4-1, GOOD GUYS, and with 17 seconds remaining!
This is when the Rangers power-play is at its best – when Fox and/or Panarin are making cross-ice passes and when Kreider is screening the goaltender, allowing a Ranger to shoot the puck at a Helen Keller goaltender. In this case, Strome capitalized here. And hey, for all that talk about the PP2 unit needing more time, here is the PP1 unit picking up two PPG's in one period. That feels like a franchise record these days!
After twenty minutes, Rangers 4 – Penguins 1. Shockingly, it was the Penguins who dominated the SOG stat, as they out-shot the Rangers 19-11 in this period, meaning that Igor had 18 saves at this point and that this was a tough night out for Tristan Jarry and his fantasy hockey owners!
---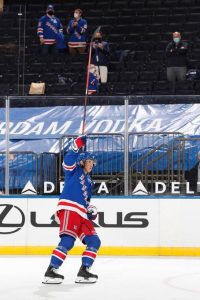 After our regular comment of "SECOND PERIOD, WHAT DO YOU LOOK FOR HERE JOE?" <We need more goals from our beloved Penguins Sam!>, we were told that the Penguins made a change in net, as Casey DeSmith was now in goal. No matter for the Rangers, as just like Jarry, the Rangers would eventually hang a four spot on DeSmith too.
The Rangers did get into their conservative act a bit here, as it took them about four minutes into this period to put a shot on goal. The Rangers have been prone to sit on leads, but they'd later get away from this "prevent defense."
After Rodrigues knocked the net off the moorings, the Penguins won another face-off, where in turn, Lindgren took another penalty, this time for high-sticking McCann. Of note, McCann had a hell of a game for his losing team tonight.
This penalty kill belonged to CZAR IGOR, as he would make four timely saves during this. In addition, "THE PRAYING MANTIS", in a one young K'Andre Miller, broke up a play that would've most likely led to a Penguins tap-in goal.
After the kill, and with the Rangers still up by a field goal, Micheletti started critiquing Panarin for passing too much. While I don't think Micheletti was necessarily wrong here, it's hard to critique a guy who had a three-point first period.
As the period progressed, CZAR IGOR tried to make a home-run pass, which failed to connect, but because of this "Craigslist" missed connection, the puck hit Casey DeSmith in his pads. Yep – a shot on goal for the CZAR. One of these days, not only will we get the first ever career shut-out from CZAR IGOR, we'll get his first goal too! And had DeSmith been sleeping here, who knows?
After Fox tried to set up Kreider in a play that didn't land, we had a whistle. Fox, who had been on the ice, was breathing a bit heavy. In a quote that shows you my immaturity level, Sam Rosen said, "Fox is bent over, but he loves to play." I cackled as if I was in sixth grade here. I'm sure Vally smiled too.
As we hit the half-way mark of the period/game, the Rangers had only put two SOG on DeSmith. Two minutes later, this happened:
Lafreniere and the Kids Line puts this one in! (with a little help from the Pens 🐧) pic.twitter.com/iOvat9Exi5

— Rangers on MSG (@RangersMSGN) April 7, 2021
5-1, GOOD GUYS, as Alexis Lafreniere finished DeSmith after allowing a rebound to Kakko! With this goal, everyone in the top nine now had a point. Impressive!
Sixteen seconds later, and after another lost face-off, Mike Matheson scored. This goal is all on Igor, as he should've had this one. 5-2, good guys.
After a failed odd-man rush, this time from Mika and Buchnevich, which saw Mika pass backwards rather than shooting or going for a puck on pads play; Miller started skating back to defend, where had he waited a second longer, he would've had a chance to score. Of course, you can't knock a defenseman for doing his job and going back to play D. This was just some puck luck for the Pens here.
As we closed out the period, Mika got tackled and held again, and right in front of an official. No call. Disgraceful.
After forty minutes, we remained Rangers 5 – Penguins 2, and where the Penguins continued to extend their lead in the SOG department, leading the Rangers by a tally of 31-18.
---
With the Rangers possessing the "dreaded three goal lead", all that was left to do was Mortal Kombat the Penguins – FINISH THEM!
After the Penguins got away with more penalties, Panarin and Strome went on a two-on-one, where Panarin found the post. Had this went in, it would've been game over at this point and just more points in the bread basket.
4:29 into the period, Guentzel was busted for tripping Lindgren while in the Rangers d-zone. The Rangers would get their third power-play of the game.
The PP1 once again played admirably here, but just couldn't connect. In a rare showing, with 45 seconds remaining on the power-play rather than 20 or less seconds remaining, the PP1 unit changed and the PP2 unit came on. As the power-play was nearing its expiration, at the 6:10 mark of the period, Trouba blasted a shot from the blue line and Kakko deftly deflected the puck home. 6-2, GOOD GUYS and not only a power-play goal for Kakko, but a rare PP2 PPG! I think the appropriate quote here is – "OH BABY!"
At this point in the game, while I didn't expect an apology or admission of guilt, it would've been nice if the "FIRE DQ" people could just say something positive about David Quinn. Everything DQ did worked out tonight. Do you need to stick to your guns so bad, that you can't be happy about your favorite team succeeding? At least when Henrik Lundqvist played well (the few rare times he played well during his final years and with that contract that I hated) I'd admit when he played well. In the same vein, you DQ haters need to give a round of applause for DQ tonight!
Up 6-2, all that was left to do was run out the clock. However, the two teams weren't done scoring yet, as each team would score two more goals.
After another defensive zone face-off loss, Guentzel scored with 11:56 to go. Another goal given up after the Rangers had scored. 6-3, good guys.
Then, after ignoring two penalties committed against Mika, Buchnevich was boxed with 11:36 remaining, for tripping John Marino. While the Penguins were on their power-play, Lindgren would be tripped, but no call. However, Lindgren's partner would get sweet revenge, as with three seconds remaining on the Penguins power-play, Adam Fox scored while short-handed! 7-3, GOOD GUYS. Really, is there anything Fox can't do? And one more time – if Trouba is worth $8M a season, what will Fox be worth come contract time? If I'm Jeff Gorton, I'm trying to re-sign Fox now, before the price becomes astronomical.
19 seconds later, Pavel Buchnevich joined the party, dissecting DeSmith after receiving a perfect cross-ice pass from Filip Chytil. 8-3, GOOD GUYS, as we surpassed the ten minute mark of the period.
With 7:01 to go, Aston-Reese and Trouba were boxed after a brief scuffle. Nothing of note took place during this four-on-four foreplay, and once the teams returned to full strength and as we surpassed the FOXWOODS moment of the game, Igor made his 40th save of the game. With eight goals for, Igor's 40 saves (and because of the four goals he allowed as well) will be lost in the hoopla of this win.
With the game out of reach, Micheletti, who has Vally standing right next to him in the studio on most nights, started plugging Steve Valiquette's goaltending school, a school that hasn't produced a name goalie to date. I also have to share this joke from @JAGD94, when he said, "I heard they serve swiss cheese sandwiches at that school!"
With only 84 seconds remaining, and with the Rangers in celebration mode, the Penguins received an odd-man rush/broken play goal, with Dumoulin beating Igor. 8-4. That fourth goal kind of hurts, just for Igor's personal statistics more than anything else.
As the final horn blared, 8-4 was your final, as somehow, this Rangers team struggled against Buffalo but were world beaters against Pittsburgh tonight. Of course, Pittsburgh had goaltending issues tonight, but even so, the Rangers converted on chances where they didn't convert on numerous chances in the two games against the Sabres.
---
All in all, a great win tonight, but a great win that won't mean shit in the short-term, if the Rangers can't handle business again on Thursday night against these same Penguins of Pittsburgh. As said, this has to be the start of something and not the slip-and-slide BS we've been accustomed to.
The Rangers needed this win, a win that kept them in pace in the playoff standings. With the Bruins beating the Flyers 4-2 tonight, the Rangers do jump to fifth place in the standings, but still remain five points back of a Boston team that has two games in hand on them. For the Rangers, it would've been better if AV and the boys handled the Bruins.
While everyone is rightfully scoreboard and standing watching, the bottom line is that the Rangers need to handle their own business. If they can, good things will come. If they can't, then watching what Boston does will be a moot point.
If you haven't already, subscribe to this blog for the next update:
---
I'll be back Thursday night, looking at the eighth and final game of this season series with the Penguins, a series the Penguins now lead five games to two. I can't believe we're at that point in the season, where season series' across the league are now wrapping up.
If you haven't already, check out the Jeff Gorton blog. I have received some good feedback from you guys on the good old AOL email account.
Big win tonight!
Stay FABULOUS my friends.
Until then, and as always here, thanks for reading and…
LET'S GO RANGERS!
Sean McCaffrey
BULLSMC@aol.com
@NYCTHEMIC on Tweeter