"I just did my job. After the first two goals, I removed myself from that moment and continued to do my job – shot by shot, save by save." – Igor Shestyorkin, on 3/30/21, moments after the Rangers 5-2 victory over the Capitals. After giving up two early goals within the first five minutes of this game, goals which could not be pinned on him, Igor would shut out the Capitals the rest of the way.
---
"We have to be a little more ready when the puck drops. There were two great third periods the last two nights." – Rangers head coach David Quinn, also on 3/30/21, after the Rangers win. In back-to-back games, the Rangers have now scored four goals during the third period. If only the Rangers can treat every period like it was the third period!
---
"Yes, it sounds simple, doesn't it? But it's hard to do consistently because not just our team, players at this level, there is an awful lot of things, because they are talented. They try to do a little too much from time to time, but at this level, the simple things are going to be the foundation of creating offense and when we do those simple things our talent takes over and we are a lot more productive offensively." – DQ, again on 3/30/21, when talking about Kaapo Kakko going to the middle. In this game, after running away from the middle all game, in the third period, Kakko would score his fifth goal of the season – right in the middle and on the paint of Capitals goaltender Vitek Vanecek. Off the top of my head, I believe all five of Kakko's goals this season have come in the paint or within two feet of the paint. GOOD THINGS HAPPEN WHEN YOU GO TO THE NET!
---
Greetings and salutations everyone and welcome to another blog here on BlueCollarBlueShirts.com. It's always nice to be on the right side of a game, during a "one step forward, two steps back" type of season.
On Tuesday night, at the "World's Most Famous COVID-19 Free Arena", the Rangers pumped the brakes on their recent losing streak, knocking off the first place Washington Capitals by a final score of 5-2. While the final score may suggest that the Rangers kicked the snot out of the Caps and imposed their will all over the Caps as well; truth be told, that wouldn't be accurate. In fact, that statement couldn't be any further from the truth.
In what was another slow start for the Rangers and another game where the Rangers didn't play a full sixty minutes in; the Rangers, who often find new ways to lose, in a rarity for them this season, found a rare way to win. It doesn't happen often, but it was nice to see the Washington Capitals find a way to lose tonight!
The Washington Capitals pretty much dominated this game throughout the first forty minutes of action. Similar to Sunday's game between these two teams, the Rangers had long droughts of game time without shots on goal. While the Rangers didn't go over 18 minutes again without a SOG, it took them a long time to get their first shot on goal in this game. In addition, the Rangers only put six shots on goal in the second period. However, just like Sunday's matinee game, the Rangers exploded for four goals in the third period, where unlike last time, the Capitals couldn't pot one goal. In fact, the Capitals would ultimately finish this game with no goals for 55+ minutes, as a result of the stellar play from CZAR IGOR.
When you look at the box score or the final score of this game, you'll see 5-2 and think that the Rangers played a great game. The fact of the matter is that CZAR IGOR played a great game while the Rangers played a great third period. For Rangerstown, USA, sans a late Filip Chytil breakaway goal scored in the first period; it was basically forty minutes of gloom and doom, until the Rangers really turned it on in the final stanza. This game felt like a role-reversal of many Rangers games from this season (especially against Pittsburgh) where this time, after being out-played and out-dominated for the majority of the game, it were the Rangers bringing the fire in crunch time.
To just look ahead a bit here, and without a shadow of a doubt, this was a great win for the Rangers. They are now 4-2 against the first place Capitals this season, with the final two games of this season series to be played at M$G. In addition, the Rangers are the only team to have a winning record against the Capitals this season. Go figure. And as they say, "that's hockey Suzyn."
However, and to be a REALIST here, rather than being labeled as a pessimist – this win will mean nothing if the Rangers aren't on a three game winning streak, come 9:45PM on Saturday 4/3.
As you may know, moving forward, up next for the Rangers are two games in Buffalo, against a Buffalo Sabres squad that is losing at a historic rate. In fact, Buffalo has lost their last 18 games. To compound matters, the Sabres play Wednesday night against Philly, meaning that the Rangers will catch the Sabres on the second half of back-to-back games on Thursday night.
Needless to say, even if the Sabres snap their losing ways against Philly on Wednesday, (something every Ranger fan should be rooting for) it will be flat-out embarrassing if the Rangers don't sweep the Sabres in this two-game set.
Of course, I'm getting ahead of myself, as there is plenty of good stuff to talk about tonight.
---
You guys know I can't stand Steve Valiquette, the broadcaster. (I know some people think I HATE him, but as noted on past blogs, a lot of what I say here is for comedic effect. That said, I don't like him as an analyst, but as a human being, I don't think he's a bad guy, nor does he effect my life!) With that being stated, I thought Vally said two decent things on this broadcast, two things that I thought which were accurate tonight. First, during the second intermission, Vally said if the Rangers came back and won this game, it would all be because of CZAR IGOR. That was my opinion too, so yeah, that's why Vally was right here! (What an ego I have!)
Secondly, and really, perhaps more importantly – Vally said something like "What else can we say about Adam Fox? All we do is talk about this guy and the plays he makes." Vally was dead-on the money here, even if this opinion about Fox's greatness is not an opinion anymore – it's a fact.
It's funny, I've been doing this fan blog/site for over seven years. In that time, which is where social media and its users have grown exponentially, I've seen fans and writers of the Rangers argue about everything and anything. There is never a 100% agreement on a topic/player/situation across the board. Hell, that's why so many of the younger fans of this franchise aren't a fan of mine – they didn't like my opinions on Lundqvist. While many of you agreed with me on the old topic of Henrik Lundqvist, we were in the minority with that opinion, which over time, was proven to be correct.
I don't care what the topic is. Michael Del Zotto. Rick Nash. Mats Zuccarello. John Tortorella. Alain Vigneault. David Quinn. The back-up goaltender. Heck, you can even add Brendan Lemieux here. Outside of maybe Jack Johnson, where even then, you had people like me and others saying, "it's a low risk/high reward deal, not an end of the world transaction" – there's never been a topic that every Rangers fan has universally agreed on, that is until now.
I don't care where you go. Whether it's talking shit at your local bar, Facebook, Twitter, Snapchat, Grindr, Tik-Tok, Plenty of Fish, J-Date, the Pony Express or a chat with Miss Cleo, it doesn't matter. If you're young, old, a chart geek, an eye-test fan, black, white, straight, gay, Christian, Muslim, it doesn't matter.
The bottom line is this – at the end of the day, no matter where you go, what your background is and what your level of fandom is, this much is true – for the first time since 1994, Adam Fox is 100% universally praised by all fans, as not only one of the best Rangers of this team, but as a candidate for the Norris Trophy as well. There is not one Ranger fan out there, no matter how negative they may be, that will have anything bad to say about Adam Fox. Fox has "healed" the fan base!
With an elite style of play, there is NO ONE, and I mean NO ONE, questioning the ability of Adam Fox right now. The only thing you have to question with Fox is stuff I've been saying for a while now – "if Jacob Trouba is worth $8M a year, what the hell is Fox going to be worth?" And if you're Fox's agent, you must be drooling at the mouth and will have that Trouba contract in your hand, come negotiation time.
(As noted on past blogs, I think Fox will give the Rangers a "hometown discount", but the Rangers are still going to have to pony up the bucks for him. If I were NYR, come Fox's next contract renewal, which will take place in the Summer of 2022; I'd give him the money and the years then, in an attempt to not have to pay major boffo bucks after his RFA status expires.)
Put it this way – even I'm agreeing with Steve Valiquette! Adam Fox is elite, and as mentioned on past blogs, he's my candidate for Team MVP, the Steven McDonald Award and the Frank Boucher Fan Trophy. He's also my candidate for the Norris, Victor Hedman be damned!
---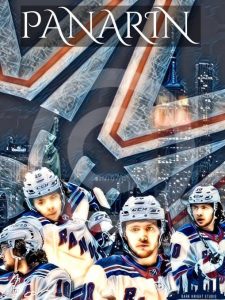 There's a lot to get into tonight, but before running the usual segments here, I have to reiterate this point one more time – this was a great win that will induce a lot of positive vibes. However, if the Rangers go down their normal path of "one step forward, two steps back", this win will quickly be forgotten about. They just can't lose to Buffalo. To put on the pressure, if the Flyers beat the Sabres on Wednesday, the Rangers CAN NOT, and I can't stress this enough, CAN NOT, be the team to end the Sabres losing streak.
Moving along.
Let's get the PLUGS segment out of the way.
Here are my last few blogs in case you missed them:
---
---
---
I'm always honest and up front with you on this site. During Sunday's blog, and even on social media prior to today's game, I said "if DQ runs out the same line-up on Tuesday as he did on Sunday, that tells me the Rangers are giving up." I'll own my bad take here, but let me give you some defense of it as well.
To give myself an "out" here, this wasn't exactly the same line-up, as CZAR IGOR was in net instead of Keith Kinkaid! Of note, Keith Kinkaid was tweeting all game, in his support of his team. With Kinkaid's tweets now noted, I believe that Kinkaid becomes the first Ranger to tweet during a game from the press box. I thought that was nice wrinkle to this game and it was nice to see Kinkaid support his teammates. As a fan, I supported and enjoyed that.
That said, this wasn't a bell-to-bell, wire-to-wire victory for the Rangers either. The Capitals imploded in the third period. The Rangers exploded in the same time frame.
For development purposes, you can say that Kakko had an up-and-down game, where his positives outweighed his negatives. The Rangers young top pair of defensemen, as usual, and really, I don't think we need to point this out anymore since it's a given; in Adam Fox and Ryan Lindgren, were once again lights out. Chytil scored a nice breakaway goal as well, as a result of a turnover he forced.
However, when you look at the line-up, what are the Rangers doing with Phillip Di Giuseppe? Nothing against PDG, but really, with the playoffs no longer an issue, despite the Rangers trying to cling to that dream, there's just no point in keeping Vitali Kravtsov in protective bubble wrap. There's no reason to keep Rooney going, when you have a center in Morgan Barron to look at. And if you're looking to see what you have with tough guy Mason Geersten, you may as well give him a shot too.
I don't want to come off like I'm singling out PDG, because that's not my intent. But really, is PDG going to be here next season? Yeah, the Rangers got an uplifting victory tonight, but the Rangers had their chance to handle business in the first 34 games of the season. They didn't. It's now time to see what you got, in an attempt to get a head-start on the 2021-2022 season. And I'll say this here, if DQ doesn't make the playoffs next season, providing that he's still here; then you can do all your FIRE DQ stuff.
So um yeah – long story short here, no NEWS in the news segment tonight, outside of the fact that Brett Howden still remains on the NHL's COVID-19 list, where we now have to assume that he has the virus. I also want to add this too – even though I have a sick and warped sense of humor (this will be on display in the final segment of this blog) I don't find rooting for Howden to be sick or to die to be funny at all.
---
Gambling segment time, where a Pavel Buchnevich empty-netter ruined my bet!
Here's what I said before the game:
Season over-under record: 14-18-2
Igor v Vanecek (expected). I'm going with the UNDER, where I expect defense to be stressed by #nyr. pic.twitter.com/7xi9ars4Hn

— BlueCollarBlueShirts (@NYCTheMiC) March 30, 2021
Just like the game previous, a hellacious third period shot my bet to shit! I'm now a season low five games under .500, at 14-19-2. If I ever get to ten games under .500, I will have to retire this bit!
Box score time!
The following information and graphics come from the new world-wide leader in NHL coverage, in ESPN.com.
SCORING:
PENALTIES:
GOALIES:
| | | | | | | | | | | |
| --- | --- | --- | --- | --- | --- | --- | --- | --- | --- | --- |
| SA | GA | SV | SV% | ESSV | PPSV | SHSV | SOSA | SOS | TOI | PIM |
| 32 | 2 | 30 | .938 | 24 | 1 | 5 | 0 | 0 | 59:45 | 0 |
| | | | | | | | | | | |
| --- | --- | --- | --- | --- | --- | --- | --- | --- | --- | --- |
| SA | GA | SV | SV% | ESSV | PPSV | SHSV | SOSA | SOS | TOI | PIM |
| 26 | 4 | 22 | .846 | 20 | 0 | 2 | 0 | 0 | 58:32 | 0 |
TEAM STATS:
---
The MSGN pregame show remains atrocious. While I understand Giannone's optimism about talking about the Rangers and the playoff cut-line, towards the end of the pregame show, he actually asked Vally – "should the Rangers not spend time in their own [defensive] zone?" This would be like asking a football coach – "should your team try to score touchdowns or should you go three and out every drive?"
After Vally went on and on about expected stats, as usual, Vally said nothing about the HUMAN element or what could happen in the game, outside of admiring Ovechkin's red "rocket". I mean really, he needed charts to explain how Ovechkin is good at hockey. Open your eyes, the eye test works!
Of note, I said this before the game:
Want some analysis – let's see if these bozos bring this up: Smith challenged Wilson to a fight in Wilson's first game back. Wilson didn't oblige. On Sun, Wilson took two tripping penalties against Smith, as he was all over him. HUMAN factor & nothing a chart will show you. #NYR

— BlueCollarBlueShirts (@NYCTheMiC) March 30, 2021
As you'll soon see, towards the end of this affair, Brendan Smith's cross check on TJ Oshie would set Tom Wilson off, which not only led to Wilson's removal from this game, but gave us a memorable moment between Ryan Lindgren and Ovechkin. However, since Smith vs Wilson can't be described while using a chart, Vally ignored this stuff and went into all of his "HIGH DANGER CHANCES" rhetoric, where once again, the team with the better "HIGH DANGER CHANCES" lost. These stats are meaningless, similar to Vally's contributions on the broadcast.
If you get anything out of what I'm saying here, if Vally wants to do the analytical stuff until the cows come home, so be it. At least mention the human element as well. That's where I find Vally to be really lacking and why I believe the Rangers need a second ex-player (preferably a player that had success, like a Ron Duguay or Ryan Callahan) in the studio. Most of Vally's nonsense would be better suited on a podcast and not during the broadcast of an Original Six team with a storied history.
Once Sam and Joe took center-stage at 7PM, similar to Vally and Giannone, these two just kept on talking about the Capitals. It felt like this was Washington's home broadcast and not the Rangers home broadcast.
In what seemed like something silly to me, even for as meaningless as it is; Micheletti named Colin Blackwell as his player to watch, during his pregame "TACO BELL TAKE" segment. Is that where we are at? We have to focus on a fourth liner as a key to the game?
Again, and I hate to do the Barry Horowitz gimmick and pat myself on the back here, this is what I said while Micheletti was yammering on:
Taco Bell Take is get the fourth line forward going, not Kakko, not Lafreniere. Also ignored? Panarin not having a point in the last two games. #NYR

— BlueCollarBlueShirts (@NYCTheMiC) March 30, 2021
Once the game was over, Blackwell had 0 points. Panarin had a three-point game and was named the number one star. Kakko got a goal. Lafreniere almost had one.
And if you're a regular reader here, this is not the first, second, third or 100th time where my pregame stuff wound up being more accurate than the stuff these two ex-players gave you. I'm not saying I know more about the game than them, but if I can predict and give out more accurate "keys to the game" than them, I would have to think that something is wrong. How is some boozing jack-off from Long Island more on point than these two ex-players? NEXT!
---
After listening to Sam, Joe, Giannone and Vally praise the Capitals for 30+ minutes, Ryan Strome's line took the ice, where they took control of the puck after the opening face-off. In what would be a sign of things to come, once the Capitals took control of the puck, they passed the puck effortlessly, as if they were grown men playing "keep-away" against toddlers. Igor would then make his first clean save of the game.
Just 1:42 into the period, and while in the Capitals d-zone, Kevin Rooney held Nick Jensen and ultimately sent Jensen into the boards. That's two nasty crashes into the boards for Jensen, and in as many games.
With Sam and Joe on their hands and knees and begging for a Capitals power-play goal, the Caps did just that, as TJ Oshie, after receiving a pass from Nicklas Backstrom, burned CZAR IGOR just 2:23 into the game. 1-0, bad guys.
On the goal, Backstrom fed Oshie in the slot, and with Trouba playing that "El Matador" ole defense, Oshie had a clean shot. I saw some people saying Igor should've stopped this, but really, the other team is paid to play hockey too, it was a great shot from a great area and Oshie is a great hockey player. (In addition, I doubt those Igor doubters are doubting him now.)
Around two minutes later, and just 4:22 into the game, Nick Dowd scored a fluky goal, pushing the Caps lead to 2-0. This was a tough one and something you couldn't pin Igor for. On this goal, there was a mass of humanity in front of Igor's net and somehow, the puck trickled in. The refs had to review this one and to their credit, they made the correct call on the ice. Initially, there also looked to be goaltender interference, but it was Hajek pushing a Capital into Igor. In either event, a good goal for the Caps and another bad start for the Rangers. That said – this would be the final Capitals goal of the game.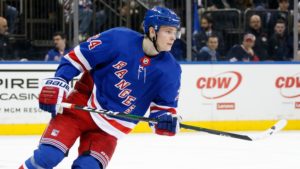 Down 2-0 early, on the Rangers next possession, Kakko found himself with the puck and all alone in the middle of the ice. Perhaps realizing where he was, Kakko immediately skated to the boards and fired a shot wide. I know I wasn't the only one who threw their hands up in the air over this play, but thankfully, Kakko would redeem himself later on. Of course, if it were up to me and if I were the coach of this team, I'd sit Kakko down and review all five of his goals from this season, as all of them have come from the middle of the ice. Maybe he needs this reminder and confidence booster. These shots from the boards don't work.
With the Rangers looking listless, this period became the CZAR IGOR show, as he made high quality save after high quality save. Nothing was easy here. Really, the Caps could've had a 4-0, 5-0 lead within the first 15 minutes of this game, but to CZAR IGOR's credit, he said NYET NYET BITCHES! (I don't think he really said that. He may have said, "in Mother Russia, we do not give up bad goal.")
Igor continued his epic stretch of saves, as after Nick Dowd turned and burned Miller after a great move, Igor denied Dowd from his door-step. After this, at the 8:33 mark of the period, the Rangers got their first shot on goal. MSG responded with a "Bronx Cheer" here, as the SOG stat now read, Caps 9 – Rangers 1.
After Igor denied another Caps goal, during what felt like an endless barrage of Caps odd-man rushes; Vanecek would make his best save of the game here, as he committed a robbery on PDG while PDG looked for a goal from Vanecek's blue paint. On the next Caps possession, Igor would deny his buddy Alex Ovechkin with a monster save. (The two practiced with each other during the last off-season, at a rink down in Florida.)
With 7:31 remaining in the period, the Rangers got a temporary reprieve, as the Caps took one of those infamous "too many men on the ice" penalties. This was huge, as this stopped the Caps momentum.
The PP1 unit for the Rangers would stay on the ice for the full two minutes here and maintained possession of the puck once the power-play was over. However, despite numerous chances, the Caps PK and "old friend" Carl Hagelin fended the Rangers off.
As we got under five minutes to go, Filip Chytil breathed some life into the Rangers:
🚨Chytil brings us within 1 on the breakaway🚨 pic.twitter.com/0AF5VTPgQs

— Rangers on MSG (@RangersMSGN) March 30, 2021
On this goal, this was all Filip Chytil. Chytil forced a turnover on Orlov, streaked down the ice, made a move on Vanecek and easily deposited the puck into the back of the net. 2-1, bad guys. And really, one more time – if it weren't for Igor, this wouldn't have been a one-goal game at this point.
Also of note? For all the talk about Georgiev and breakaway goals allowed this season, the Rangers went 2-2 on breakaways today, with both Chytil and Panarin scoring this way.
As the Rangers found some mojo as a result of the Chytil goal, Panarin would then set up Kakko for a one-timer that Kakko promptly fanned on. As said, thankfully Kakko redeemed himself later, or this would be another game where Kakko had an "0-fer" with all of his chances.
With 41.8 seconds to go in the period, Chara slashed Strome, giving the Rangers their second power-play of the game. Before the final horn went off, Panarin rang one off the iron, where the puck took a bounce for the Caps, as Kreider was right there looking to slam home a rebound.
After one period, we remained 2-1, bad guys. Impressively, after the Caps raced out to a 9-0 SOG advantage, the SOG in this period read as Caps 11 – Rangers 10, as the Rangers kicked up the jets a bit.
---
After our regular comment of "SECOND PERIOD, WHAT DO YOU LOOK FOR HERE JOE?" <a PPG, ya son-of-a-bitch!> the Caps took the opening draw. Of note, MSGN were plugging some raffle, where you can win a Kakko signed stick and jersey. (This is how MSGN & NYR get your contact information.) When MSGN ran this raffle ad, I said this – "MSGN are plugging a raffle for a free Kaapo Kakko stick and jersey. If you win, the package will be delivered high and wide of your mailbox." Luckily, this "reverse jinx" worked out – as Kakko would later tie the game, albeit not in this period.
With the Rangers having a 1:19 power-play attack to open the period, the Caps immediately cleared the puck three times. Have I ever mentioned how riled up I get when I see Carl Hagelin on the ice? EMERSON FATHER FINKIN' ETEM! (Long-time reader Zap will get a kick out of this!)
As the Rangers continued to flail and fail in this period, HEEL MICHELETTI re-emerged. Micheletti went off about the bad Rangers power-play, where in a hilarious moment, Sam Rosen said "HMMM-HMMM", as if he were a sassy southern woman agreeing with her girlfriend about some cheating louse.
I also have to say here, that Sam Rosen did his "MOOING" sound about 5 times in this game, in responses to various comments out of Micheletti. It was Jim S., of "The BSU Show", who pointed out Rosen's "Moo's" out first, and ever since he pointed that out, I can't stop hearing it! (Of everyone in Rangerstown, USA, I think Jim & I are the most obsessed with these broadcasts. It's a sickness, I know. However, with yours truly being a silly blogger and Jim never taking himself seriously with his podcasts – Sam and Joe are easy targets for comedic relief.)
Micheletti would then go off yet again, after Buchnevich failed to shoot while wide-open. Instead of shooting, Buchnevich over-passed to Mika and the play went nowhere. Micheletti pretty much did his best ode to Bill Chadwick impression here, screaming out – "SHOOT THE PUCK BUCHIE!"
After the refs failed to call a blatant trip committed by Dillon on Gauthier, with 13:28 to go in this period, Brendan Smith was visibly frustrated with himself, after not being able to convert after two scoring chances. Smith, like Kakko, would later redeem himself.
With this period being kind of a mess, for some reason, Sam and Joe started praising Jeff Gorton. I have had several of you readers asking me to go nuts and to do a 10K word manifesto on Gorton. Maybe I'll do that next weekend, when the Rangers have two days off.
In Lafreniere's best scoring chance of the game, and as we neared the mid-point mark of the period/game, Lafreniere went for a shot. Vanecek made a good save. Lafreniere then tried to push the rebound to Chytil, but it looked like Chytil wasn't ready for it. This was another great save for Vanecek, as previous to this, he made a FABULOUS save on Colin Blackwell.
With 7:16 to go in the period, PDG tripped Backstrom. This led to Igor's finest moments in a game full of fine moments from the CZAR.
During this Capitals power-play, CZAR IGOR made six tremendous saves. In comparison, the Rangers only had six shots on goal during this period. Again, Igor put the Rangers on his back here, like a 2011 Henrik Lundqvist or a 1994 Mike Richter. (Or a 1940 Davey Kerr!) After CZAR IGOR killed this Caps power-play, Sam Rosen just started babbling about nothing, where you had to wonder if he was coherent.
As the period approached its end, CZAR IGOR continued to deny all comers. On the Rangers last rush of the period, Kakko lost the puck while in the middle (I admittedly groaned again) and Trouba, to his credit, put a rare SOG for him.
Here's what I said at the end of the period, as my hat-trick of predictions would ring true:
2-1 Caps after twenty. #NYR had plenty of chances. Another four goal 3rd period will help! Igor keeping the Rangers in there.

— BlueCollarBlueShirts (@NYCTheMiC) March 31, 2021
I've been doing pretty well with my pregame and in-game predictions this season. It's just a shame my over-under predictions have shat the bed this season!
---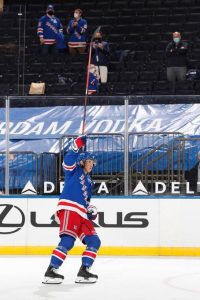 For some reason, DQ put out his fourth line against the Caps first line to start the period. This was questionable to me, as the first line Caps would eventually have a long offensive possession on their second shift of the period, against this Rangers fourth line.
With Kakko back on the ice, he once again got a case of the heebie-jeebies while in the middle. He'd shut me up (or prove my point) at the 4:10 mark of the period:
Heck of a pass from Panarin on the Kakko goal pic.twitter.com/r29eWauHcV

— Rangers on MSG (@RangersMSGN) March 31, 2021
2-2, after a great pass from Ryan "The STROMINATOR" Strome to Kaako! Kakko was beaming here, and really, I just hope he learns from this. KEEP GOING TO THE NET YOUNG MAN!
Two minutes and change later, we had a FOX TROT goal! ("Fox Trot" credit goes to @JAGD94 .)
Here's Fox, with his second highlight reel goal of the season: (His first highlight reel goal being that coast-to-coast goal from a few games back.)
Fox 👀👀👀 pic.twitter.com/930SJ2Hlus

— Rangers on MSG (@RangersMSGN) March 31, 2021

3-2, GOOD GUYS!
While Lindgren and Panarin get assists on this goal, this is pretty much all Fox, skating to Vanecek and putting a puck, and shooting while backhanded, into the top shelf of the net. As Rosen said – "OH BABY!"
With 13 minutes and change remaining in regulation, it was up to these Rangers to do something they've had issues with all season – close out and maintain the lead. With CZAR IGOR in net, they would.
After Carlson broke up a Rangers odd-man rush, on the other end, Igor continued his fantastic streak of saves, which created a huge "EE-GORE" chant at M$G. Have I ever mentioned on this site that I was the first person to start a real "EE-GORE" chant inside of M$G during a preseason game last season? Man, my ego is insane tonight!
With ten minutes remaining in the game, the Caps would have another long shift in the Rangers d-zone ("Is this a good thing?" – John Giannone) but your Norris Trophy candidate, in Adam Fox, would get rid of the puck.
Keith Kinkaid, who was enjoying himself at this point, had more fun at Twitter:
Emoji Master has spoken #NYR pic.twitter.com/1je6XeMljl

— Keith Kinkaid (@Blockaid1) March 31, 2021
As this game continued, and I know there is a recency bias, you felt like you were watching one of Igor's best games as an NHLer. While I know there have been better games, this truly felt like a game that Igor flat-out stole, despite the Rangers eventually scoring five straight goals.
After Backstrom hit a post, Brendan Smith found Panarin with this Hail Mary and "how did that connect?" type of pass:
The reaction to this Panarin goal has me feelin' some type of way pic.twitter.com/UxSsP96sMv

— Rangers on MSG (@RangersMSGN) March 31, 2021
4-2, GOOD GUYS, as the Rangers got their insurance goal with 4:19 remaining in regulation.
With 2:05 remaining, Vanecek took a seat, as the Caps put on the extra attacker. After a Rangers icing, the Caps took a desperate timeout, with 1:37 remaining. Then, with 1:10 to go, Brendan Smith took an ill-advised penalty, crushing Oshie with a cross-check. The only good thing to come out of this, is that with the Caps now on the power-play, and the Rangers nursing a two-goal lead, the Rangers could just the ice the puck at will.
With 34.9 seconds remaining, Pavel Buchnevich iced the game after a bomb at the empty net. 5-2, GOOD GUYS. However, Buchnevich's goal will be forgotten, as after the goal, the Caps, who were still mad after the Smith cross-check, went nuts, with both Ovechkin and Wilson challenging the Rangers:
Caps chirping after that 5th goal pic.twitter.com/F8GuAfhX6v

— Rangers on MSG (@RangersMSGN) March 31, 2021
Tom Wilson would get booted out of the game after this. Even better, was Ryan Lindgren telling Ovechkin to "SHUT UP". Very quickly, I think Ryan Lindgren is becoming a player that you love to hate around the league and a player that you love if he's on your team. He's not exactly there yet, but he's approaching the level of a Brad Marchand, a Wayne Simmonds and a Tom Wilson.
As the final horn went off, Rangers 5 – Craps 2. A great comeback victory for the Rangers, but you still have to have some concern about the way the Rangers started this game.
---
Great win for the Rangers, which did help take some of the sting out of my bad day.
Like many of you, (and I have had conversations with a lot of you readers) I'm a huge animal guy. Unfortunately, it looks like I will have to put down my fourth cat in as many years, (3 of my cats made it to 17+, while one, after a brain tumor, had to be put down at 11 years old) as my pal Boogie, who is 18.5 years old, has a massive tumor under his tongue, which prevents him from eating. I've done everything I could for him, from shots, medication, steroids, hand feeding him and everything else you can think of. Unfortunately, his cancer is spreading, and bearing a miracle at the vet's office tomorrow, I'll have to make the decision that every pet owner tries to avoid.
While all pet owners come to this point, and as this is the absolute worst part of having a pet, as you know, this is never easy. I'm hoping for a "third period comeback" here, but Boogie is now down to 5 pounds (his usual weight was 18 pounds) and after doing everything we could for the last month, it seems like there is no way to fight this cancer. I'm just fortunate that he had a long life.
During this pandemic, I'm sure many of you readers bonded with your pets more than you would've, had life been normal. For the last year or so, my buddy Boogie would sit in the chair next to my computer and just watch me type out these manifestos. During games, he sits on the couch next to me, as I'm sure many of your animals do as well. As I type these words out, he's sitting in his chair next to me, where I feel this is the final time this will happen.
While I know tomorrow is probably the end and I'm accepting of it, as 18.5+ years is way over the average age of a cat, it's going to be tough not having him around.
I guess in a sick type of way, this is my way of saying no blog tomorrow and like you all do – cherish your pets while they are around. You never know when the day will come, where you have to do the right thing, no matter how much it sucks. I also tell you this, because if I start sounding pissed-off (more-so than usual) in the near-future, this will be why.
Putting a pet down is worse than Trouba on the power-play. It's also worse than the Sabres. (I will always try to find humor during a bad time, always!)
For those looking for more humor, on 3/29/21, "The Blueshirt Underground Show" returned with another live and interactive show. Is it me, or are more Ranger podcasts trying to bite off BSU a bit, with YouTube shows and all that ilk? Like this blog you're reading, BSU is always original, and never duplicated.
To watch their latest episode, click the link below:
If you haven't already, subscribe to this blog for the next update:
---
I'll be back Thursday night, with a Rangers/Sabres game review.
Stay FABULOUS my friends.
Until then, and as always here, thanks for reading and…
LET'S GO RANGERS!
Sean McCaffrey
BULLSMC@aol.com
@NYCTHEMIC on Tweeter