Greetings and salutations everyone and welcome to another blog here on BlueCollarBlueShirts.com. WOW!
Off puck drop, I have a million (bad) jokes and one-liners racing around my mind – and as if I were the Rangers toying around in the Devils' d-zone!
(And I'll probably work in all of them tonight – especially during the GAME REVIEW!)
In other words, my current excitement level and heart-rate is akin to a Newark junkie hopped up on the crack cocaine that's abundantly shared just outside of "The (Crack) Rock" – where the Devils call home!
And after a loss that the Devils suffered tonight, their second in as many games played – they may need some narcotics too – but of the mind-erasing variety!
"OH JOE, LSD JOE! I'M SEEING COLORS JOE! AND IT'S ANOTHER POWER-PLAY GOAL FOR CHRIS KREIDER JOE!"
---
On April 20th, a date that's celebrated by the ganja/Cheech & Chong community – the Rangers absolutely smoked the Devils during Game 2.
(Another bad joke? On April 20th, the birthday of Adolf Hitler – the Rangers may have created a similar fate for their opponents as the Fuhrer's – a gun shot to the head!)
While it's true that at least two more games will be played during this best-of-seven series; that "s-word," as in "sweep," and as talked about two nights ago – is getting a lot of traction right now!
And while Gerard Gallant's mantra of "ONE GAME AT A TIME" still rings true; now up 2-0, where both of the Rangers' victories took place at their home/time-share in New Jersey, as if it were a summer rental at the Jersey Shore – and very much like George Constanza once possessed – the Blueshirts have all of "THE HAND" going into Saturday night's Game 3 at M$G.
It's now up to the Rangers to take this proverbial hand – and continue their smacking & slapping around of the Devils.
My prediction?
The Blueshirts will have red hands – after Game 4 – during their handshake line at M$G!
---
Prior to the first game of this series, I said that I was "concerned" (but not "scared"), and where I also thought that overall – the Rangers had the most pressure to win this round – while the Devils had the most pressure to win the first two games.
(Heck – and blogs don't lie – I even said that had the Rangers fell into an 0-2 hole – that despite this potential circumstance of an all-out peril – I thought they'd overcome it! And no – I didn't think that the Devils were capable of doing the same!)
I also said that I liked that the Rangers were starting this series on the road – and where all they really needed to do was split in New Jersey.
Instead of splitting, the Blueshirts have now pummeled the Devil Dogs in both games, by a cumulative total of 10-2!
(And just imagine if this was a total-goals series, just like the playoff rounds & Finals of nearly 100-years ago!)
If you were to tell me, that prior to the first puck drop of this series, that the Rangers would destroy and decimate the Devils during Games 1 & 2 – then I would've thought that you were crazy.
Furthermore, the only two goals that the Devils have mustered up during this series have been of no consequence.
One goal was a penalty shot – scored with less than three-minutes remaining – and when the Rangers were already up 4-0.
Tonight's lone Devils' goal had more impact – but not by much.
A fluky power-play goal scored put the home team up by one score at the time – only to then give up five unanswered strikes to the ROAD WARRIOR RANGERS.
What shouldn't be lost (and there will be a lot lost around the streets of Rangerstown, USA – only because there are so many different and positive things to talk about/focus on), is the fact that not only did the Blueshirts whoop the red-and-black ten ways to Sunday (or maybe I should say Saturday night, when Game 3 will be played) – but they also took every advantage imaginable.
The Devils are in a world of hurt – where their frustration, desperation and inability to have an answer for the Rangers was clearly evident.
While the officials were only slightly better than the Devils tonight (more on this during the GAME REVIEW); Lindy Ruff's team fell apart during the final frame – and when trying to make a comeback from a 3-1 deficit – they completely unraveled like a Newark crack hooker at the sight of a $100 bill.
(I told you that I had a lot of bad jokes tonight – but on Thursday night – no joke was bigger than the Devils themselves!)
A ton of penalties ensued once the "BLUESHIRTS BLOWOUT" party was on – and where you could see that the Devils were not only physically damaged – but were mentally damaged too – as their psyches had been ripped apart – as if they were a piece of loose-leaf paper.
While these two wins have been complete team-efforts, and where it's hard to truly single out any "Lone Ranger" as the cause for the Devils' demise; perhaps it's the longest-tenured Ranger, the one who continues to add to his franchise-highs of most postseason and power-play goals – CHRISTOPHER JAMES KREIDER – who has created more headaches for the Newark residents than any other Blueshirt.
---
Following being massacred on Tuesday night; you had to expect the Devils to have some sort of response at the early onset/stages of Game 2.
That's kind of what happened – at least at the faceoff circle.
At the 9:46 mark of the game, the first of many questionable penalties was assessed to Niko Mikkola, for "cross-checking" Nathan Bastian. In reality, the Devil was full-steam ahead at the Finnish d-man, and all #77 could do was put out his stick, in order to protect himself/brace for contact.
The Rangers' PK, which went 4-4 during Game 1, and didn't allow one SOG either; almost made it 5-5, but with just two seconds remaining on the Devils' power-play, Erik Haula, perhaps the most frustrated player of this gaggle of Devil derelicts, scored a loose change goal.
1-0, bad guys – and the last time that the Devils would ever see the back of CZAR IGOR's net too.
The Rangers were able to survive the rest of the home team's attack – and then had one more questionable – the most questionable of the lot – penalty assessed against them – but we'll get more into Wes McCauley's hatred for Adam Fox during the GAME REVIEW.
Despite the Devils up 1-0 on the scoreboard; entering the second period, and maybe this is just me – but you never felt that the Rangers were out of it.
In fact, I 100% expected a Blueshirts' comeback (but not the blowout that followed – admittedly, I thought this would be a razor-thin margin of victory) – and just because Gallant's Gang always seems to find-a-way when it matters.
A Vladimir Tarasenko snipe soon tied the game. After that, Kreider, who scored two power-play goals during Game 1 – matched that performance – and continued to add to his franchise-history postseason totals.
3-1, GOOD GUYS – and where the Devils are completely lost when trying to come up with an answer when asked this question – "How do you stop Chris Kreider and the Rangers' power-play?"
Come the final frame, and after enduring an initial (and final) Devils' push; Patrick Kane, you know, a Ranger that many fans have doubted (and who for the record – had two assists to his name at the time) – said "GAME OVER," following his breakaway goal.
4-1, GOOD GUYS.
For good measure, Kaapo Kakko easily disposed of Devils' netminder, Vitek Vanecek, following a one-timed pass from Filip Chytil.
5-1, GOOD GUYS.
Following the Rangers' mutilation and annihilation of the Devils – that's when the frustration for Ruff's team reached its climax – a climax that was noisier (and perhaps wetter) than Sam Rosen celebrating tonight's Cadillac Trivia answer – where it was Joe Micheletti who had picked up eleven assists in eleven playoff games played.
Up next was a constant parade to the penalty box – and where many players – from both teams – were tossed from the contest.
For the final 6:22; twelve players had their nights concluded – and where there was a lot of empty space on both benches – just like the net that Vanecek manned – a net that now needs changing – following the ten Ranger goals scored during the past 48-hours.
("HOLY DASHES BATMAN!")
I haven't watched any of the post-game interviews yet, but I can only imagine what's being said right now.
From the Rangers' end of things – keep on rollin', don't get cocky, and two wins doesn't mean guaranteed entry into the second round.
From the Devils' end of things – "I need a change of underwear."
And prior to all of other segments from tonight's manifesto – my closing thoughts of this monologue:
Going into this series, Gallant sure downplayed the "e-word" that I previously discussed on this site – "experience."
When you look at these two games, and especially the third period from tonight's tilt – the Rangers' experience (and maturity) was certainly on display.
The Rangers, who entered this game with a combined 885 playoff games under their belts, were far superior than their opponents, who entered this game with a grand total of 445 postseason affairs.
I know that many thought (yours truly included) that the Devils would try to take advantage of their speed, and perhaps were a tad identical to the 2022 postseason Rangers.
As of now? Nothing could be further from the truth.
For the Rangers?
Do it two more times, put the Devils six-feet under, and then await the winner of the Canes/Islanders series.
At this time, let's get into all of the pregame news & notes, followed by a gigantic GAME REVIEW!
---
Following the big win from Tuesday, a day later, Wednesday – the Rangers held an optional practice – and in news that came off as somewhat as a surprise – the practice was well-attended.
Only Mika Zibanejad and Tyler Motte were MIA, while everyone else participated. (And don't take this news to be any sort or form of criticism either!)
While nothing of note went down during the 1PM skate in Newark, NJ; I thought it was telling that practically the entire team had showed up for the extra ice time.
In my mind, I just figured that after a physical game, including the 23 shots that the Rangers blocked too, that they'd be resting up.
The hearts of champions!
Once the practice concluded, Gallant fulfilled his daily media requirements.
Here was Wednesday's "TURK TALK":
---
Gallant didn't really say much, nor did he have to say anything either.
"THE TURK" did hit his famous quote, "One Game at a Time," before preaching the obvious – Game One was only one game, his team must continue to work hard, his team can play better and other such "coach-speak" and cliches.
After tonight?
I'd reckon to say that he was 100% right on the money – as he usually is.
---
A day later, Thursday, Game Day; the team held a morning skate – where both Zibanejad and Motte partook in.
Once concluded, Gallant spoke to the media one last time prior to the puck drop of Game 2:
---
Again – there wasn't much for "THE TURK" to say.
However, and at the same time – repetitive questions and answers is a positive thing – because it means that everything is going well.
I'd expect the same on Friday afternoon and Saturday morning too.
Everyone knows the goal – and now, following last year – maybe they know how to reach it too.
---
Here was the Rangers' line-up from Thursday night, their second game of this 2023 postseason:
FIRST LINE: Kreider/Mika/Kane
SECOND LINE: Panarin/Trocheck/Tarasenko
THIRD LINE: Lafreniere/Chytil/Kakko
FOURTH LINE: Vesey/Goodrow/Motte
FIRST PAIR: Lindgren/Fox
SECOND PAIR: Miller/Trouba
THIRD PAIR: Mikkola/Schneider
STARTING GOALIE: CZAR IGOR
BACK-UP GOALIE: THE HALAKNESS MONSTER
DAY-TO-DAY: Nobody! Praise the Hockey Gods!
PRESS BOX: Ben Harpur, Jake Leschyshyn, Louis Domingue, Libor Hajek and Jonny Brodzinski.
---
BOX SCORE time.
The following graphics and information come from ESPN.com:
SCORING:
PENALTIES (Take a deep breath!):
GOALIES:
| | | | | | | | | | | |
| --- | --- | --- | --- | --- | --- | --- | --- | --- | --- | --- |
| SA | GA | SV | SV% | ESSV | PPSV | SHSV | SOSA | SOS | TOI | PIM |
| 30 | 5 | 25 | .833 | 16 | 8 | 1 | 0 | 0 | 60:00 | 0 |
| | | | | | | | | | | |
| --- | --- | --- | --- | --- | --- | --- | --- | --- | --- | --- |
| SA | GA | SV | SV% | ESSV | PPSV | SHSV | SOSA | SOS | TOI | PIM |
| 23 | 1 | 22 | .957 | 19 | 3 | 0 | 0 | 0 | 60:00 | 0 |
---
THREE STARS:
---
Outside of the self-serving and smug Sieve Vagistat; I thought that the M$GN, with Lundqvist back in-studio, had another stellar broadcast.
(Of note: Dave Maloney is still absent, following the passing of his mother. Again, RIP to Virginia Maloney.)
However, since Vagistat was there, and with all of his fake news stats that never apply to these games to boot; unlike the Rangers – the M$GN did have a weak link tonight – in the form of their seven-foot doofus with the cheap suit and bad CVS hair dye.
Since I don't want to bring anyone down, I'll skip all of the Vagistat speaking parts from the pregame show; but as you know – he remains the drizzling shits.
I also feel bad for Lundqvist, especially since "THE KING OF COMMENTARY" is saddled with this guy once again, now during his post-playing days career.
---
Prior to tonight's game, I tweeted the following:
My elementary and obvious #NYR v #NJD Game 2 pregame thoughts:
— Keep it up
— Devils will come out hot
— This will be a close game
— Special Teams Swing Games and NYR has to keep rolling – and limit the o-zone penalties (duh) too
— CZAR IGOR SHUTOUT!

— BlueCollarBlueShirts (@NYCTheMiC) April 20, 2023
---
Come 7PM, when the M$GN pregame show began – Lundqvist pretty much said what I said above – except for the CZAR IGOR SHUTOUT part – and let's face it – I wasn't that far off with that pregame prediction either!
(But no need to mention that I predict a shutout for #31 prior to every game!)
Obviously, while I'm a hockey fan – Lundqvist is a hockey man – and in turn – can provide much better insight and playing experiences than I (and Vagistat for that matter) can!
To begin the broadcast, Lundqvist said, "It's been weeks of build up. You left everything out there. It's only one game, but tonight is a very important game for the Devils. That's why we struggled a lot during [my] Game 2's."
Lundqvist didn't mention that the team was built very differently during his days – for better or for worse – but his point resonated either way.
On his former teammate, Adam Fox, Lundqvist said, "I'm just so fascinated with him. He's so calm. He amazes me. His demeanor remains the same. The Devils had no answers for him."
The only one who had an answer for the 2021 Norris Trophy winner tonight was NHL official Wes McCauley – who had officiated Game 1 between the Leafs and Lightning on Tuesday night.
During that game, the Leafs were throttled, 7-3 – which I believe was their tenth straight playoff loss with McCauley on the ice.
(Without McCauley, the Leafs won Game 2 of their series on Thursday night, 7-2.)
I bring up McCauley for one reason only – he was the only black stain of this game – at least from a Rangers' perspective.
And the reason why McCauley was sent to this series?
The following article and news received league-wide attention:
https://thehockeywriters.com/wes-mccauley-conflict-of-interest-maple-leafs-lightning-2023-playoffs/
---
You can read the whole story from TheHockeyWriters.com, but in short, it's being accused/alleged that McCauley has an anti-bias with the Leafs, due to his past and personal relationships.
But don't fret Leaf fans – McCauley can be biased against anyone – and as Fox & Rangers' fans found out tonight.
After talking about Fox, Lundqvist brought up how the original Broadway Hat winner from Game 1, CZAR IGOR, and as received from Mikkola, "re-gifted" the hat and then gave it to Lindgren. (Check out the video on the Rangers' YouTube page if you haven't already seen it.)
It was brought up that Lundqvist once "re-gifted" the hat too – to John Giannone, from the Projects in Boonton.
(The other analyst on the panel, the worst Rangers' goalie of this century, had no experience in this department.)
Game 1's Broadway Hat winner was then interviewed.
Michelle Gingras, between-the-benches, talked to Lindgren and double-nickel told her: "Everyone was chipping in, playing the right way. Everyone did their part. We need to do the same tonight. Fox plays the same way every game, it follows through to the entire locker room. We know the Devils will come out flying, but we'll do what we'll keep doing."
And that's what happened – where as mentioned – the Rangers did it even better during this second go-around.
While the Rangers' line-up remained the same tonight; the panel then brought up that Devils' bench boss, Lindy Ruff, had a made a ton of changes for Game 2.
Here's how one of the Devil beat reporters, Amanda Stein, known for having the best penmanship ("OH YOU'RE SEXIST, YOU SHOULD SAY PENPERSONSHIP!") in the league, covered it:
Changes for #NJDevils in Game 2:

▫️Smith in, Siegenthaler out
▫️Sharangovich in, Boqvist out
▫️Meier moved to Hischier's wing
🥅 Vanecek (Schmid) pic.twitter.com/oyTBlMBhow

— Amanda Stein (@amandacstein) April 20, 2023
---
While the M$GN crew didn't get too deep about the changes, only to mention it; here was my response:
We'll see how it works out, but Lindy Ruff making four line-up changes (but not in net), sounds like panic. #NYR

— BlueCollarBlueShirts (@NYCTheMiC) April 20, 2023
---
Your favorite blogger, like most things, was 100% correct again!
(What an ego! But the archives of this site don't lie! I'll put my predictions/opinions/track record against anyone else!)
And to look past this game – what does Ruff now do for an encore?
Following this game, he has skated two line-ups that were absolutely manhandled.
What's left to do besides change the goalie?
Maybe he can ask Christopher Lloyd and Michael J. Fox for a Delorean and then bring back the prime years of Martin Brodeur, Scott Stevens and Ken Daneyko?
As of right now – defensively – and from the blue line to the net – the Devils just have no answers for these 2023 Rangers.
But as I always like to say whenever discussing the struggles of another team – that's not my problem!
---
Come 7:30PM, we went to our favorite befuddled duo, Sam Rosen and Joe Micheletti, where once again – they were fantastic tonight – and I never even thought of changing the channel to the TNT/TBS broadcast.
I know I say this a lot, but since this site always gains new eyeballs – if I ever bury/say something negative about someone, then with the same energy & passion – I want to praise that person when they do something that I deem to be positive.
Sam and Joe have been great during these playoffs.
All of my fears, about these two ranting and raving about Jack Hughes all series, have vanished.
Of course, it helps that the Rangers have made Hughes (and his teammates) non-factors too!
However, Sam & Joe didn't know that the Blueshirts would blow-out this dumpy Devils' team – so in other words – they have been pleasant to listen to – and have quelled all concerns about them citing love poems, odes to the red-and-black.
Finally, before getting into the GAME REVIEW, and to go back to what I just said –  I thought that K'Andre Miller was horrible during Game One – and the Rangers' weakest link too.
Tonight, during Game Two?
He, along with everyone else, was amazing.
No foolin' – THERE WAS NOT ONE WEAK LINK ON THE RANGERS TONIGHT.
Furthermore – EVEN IF YOU WANTED TO FIND SOMETHING NEGATIVE TO TALK ABOUT TONIGHT (besides McCauley) – YOU WOULDN'T HAVE FOUND ANYTHING TO TALK ABOUT.
This was a twenty-man team-effort – and where you could've gave everyone a star and a Broadway Hat following it.
Simply stated – the Rangers outed the Devils in every way imaginable – out-coached, out-played, out-scored, out-hit – you name it – the Blueshirts did it.
And if the previous 4,000 words weren't enough for you, then at this time, enjoy the GAME REVIEW!
---
FIRST PERIOD:
As mentioned earlier – you knew the Devils would come out with some fight to start – and that's what happened.
However, they only punched in one goal during this "Battle of the Hudson," and that was that.
If there was anything truly alarming during the first fifteen minutes or so, then it was the Rangers' inability to win faceoffs; where once again, Zibanejad had a rough go of it (at one point he was 0-6, but finished 9-13, 40.9%).
At one point, Gallant went with Kreider at the circle (1-2, 33%).
In fact, not one Ranger finished better than 50% tonight (Chytil, with a 5-5 showing and Goodrow's 4-4 performance, were the only centers to finish even) – and this stunted the team early.
I bring this up, because if you believe the morons who reside in the ANALytical community – then they will tell you that faceoffs don't matter.
It wasn't until the Rangers started winning draws when the scoring soon followed (second period).
Due to the Rangers' lack of success at the dots during the first period – the Devils kept on icing the puck, where during the first nine minutes, they had iced the puck seven times – which also slowed down the pace of the game – where funny enough – benefits the Blueshirts more than the Redshirts.
In a harbinger of what was to come, and as we'd see all game – following Zibanejad's first faceoff loss – just 22-seconds into the game – we saw some CAPTAIN-on-CAPTAIN violence – as Trouba had leveled Nico Hischier with a big hit.
This then led to our first of many scrums (this game was about 986789676879% more physical than Game 1), where the Rangers' team leaders got the best of the Devils' team leaders – as Trouba and Kreider easily took care of Hischier and Meier.
It's tough to really say that any Rangers' line was better than the other three – as I thought that all four lines played to their roles and successfully did their jobs.
However, early in, the second line generated more chances than anyone (and maybe – at least when compared to the bottom-six – that's what they are designed to do).
Just forty seconds in, a Panarin-Tarasenko-Trocheck tic-tac-toe try was denied by Vanecek.
In what was an intense start; at the 1:20 mark, Mikkola laid some wood on Miles Wood – and once forcing the turnover – shot wide while in the other end of the ice.
Following the two fourth lines exchanging big hits; the crowd, which again, felt like 70% Devil fans, 30% Ranger fans, was at a fever-pitch – and where the "LET'S GO DEVILS" chants drowned out the "LGR" chants – something that wouldn't remain the case during the third period!
As each team continued to hit anything that moved, including Lindgren, who was on both ends of it; with 16:08 to go, Panarin had a GOOD LOOK at Vanecek, but Trocheck, alone in the slot, had a better look. However, the pass from "THE BREADMAN" caught NONNA'S BAMBINO off-guard – so rather than a SOG from the center – he dished the puck to Tarasenko – a puck that just hit the side of the net rather than going inside of it.
Tarasenko's accuracy would be rectified during the second period!
I'll say it once so it doesn't get redundant – but the Rangers' defense arguably played their best game of the season tonight.
While there weren't that many breakaways or odd-man rushes afforded; when there were – there was always a defenseman back to break up the play, and as Mikkola did to Bratt, with 15:30 remaining.
Forty seconds later, the Rangers' third line and first-pair created some offense – and following a save on Chytil – we had another scrum – which all began when Kakko was cross-checked.
As the Devils' played the theme song of STONE COLD STEVE AUSTIN, as fists and sticks were flying all over the place – the officials decided to say "GAME ON;" rather than assess any penalties.
Keep this in mind for later – and where to their credit – I thought the officials got this right.
This is playoff hockey – LET THEM PLAY – and no one watches a game to watch the black-and-white stripes. (Including the Devils' alternate jerseys!)
However, just seven seconds after this lengthy scrum; "OLD FRIEND" Brendan Smith, on the faceoff that ensued, took the first of what felt like a 789678966789 penalties tonight, when he roughed/tackled/tripped Tyler Motte.
Once again, the Rangers' power-play was amazing tonight. While they didn't score here (no one bats 1.000 on PP's); they had their chances.
Vanecek stopped Kane, Kreider just missed, a Panarin shot hit the crossbar after VV initially got his glove on it, Mika was denied by the goalie, and that was that.
No goal – but you have to appreciate the effort.
Once Smith came out of the box (and where the Rangers' were losing the faceoff stat, 0-10); Goodrow, who in a way, first became the physical presence (but much better) that Smith once was for the Rangers – got a hold of Smith – and let him have it – both verbally and physically.
While Smith and Goodrow were never teammates; keep this in mind for later too!
Down to 11:16 remaining, Trouba, who as mentioned during my Final Report Card blog, has already elevated himself as a hell of a captain; made a hell of a defensive play himself, when he soccer kicked a puck out of the zone, thus negating a Devils' attack.
With 10:22 remaining, Mikkola had Tarasenko wide-open – but decided to put a puck on net himself.
I had no problem with this – as this play happened so fast that #77 may have not even seen #91 – and I always appreciate the "shoot-first" mentality – a mentality that the pair of former Blues-turned-Blueshirts both possess.
However, just eight-seconds later, Mikkola was boxed for that questionable "interference" penalty as mentioned at the top of this blog.
I just don't get it – if someone is skating into you – are you just supposed to take it like a bitch Devil?
The Rangers' PK did their thing again and every Devils' entry was either denied or whistled down for offside.
However, just as you thought that the PK was going to go 5-5 in the series; the Blueshirts had two chances to clear during the final seconds, but the Devils were able to keep the puck at the blue line during both occasions.
This then set-up Haula for his loose change/helter-skelter power-play goal with 8:16 to go.
1-0, bad guys.
And even had this held up as the game winning goal (HA!); you couldn't knock the PK here. The other team is paid to score too – and they got a puck-luck break on this tally.
However, now up 1-0, this is when Devil fans first did their song-song mocking of Shestyorkin's first name. That sure worked out well for these douchebags.
CZAR IGOR would never see a puck in the back of his net again.
As mentioned during my Game 1 recap; I thought the official statisticians were off again tonight.
As we approached six-minutes remaining – I counted three big hits from Schneider. These were the only hits accredited to his name in the box score tonight – and where I felt he doubled that total – and that's not yours truly doing some home-cookin' either.
(Heck, I rarely cook to begin with – but I do make magic happen with my toaster oven whenever there's some ELLIOS PIZZA inside of it!)
If one thing was apparent, then it was that Vanecek was shaky – as a lot of rebounds were afforded, and as was the case for Kreider, Fox and Panarin – but no rebound goal was afforded either.
Following another Schneider hit, this time on Bratt, with 4:50 to go; the Devils had one of their rare odd-man rushes from this game – where CZAR IGOR stopped Hughes again – and where the Devils' biggest star was denied on all six of his tries tonight.
Come 3:09 remaining, Lafreniere, during a mad scramble in front of Vanecek, went two inches above the crossbar.
In a response, the Devils iced the puck for what I believe was the tenth time during this period.
Down to 41.3 seconds remaining, Bastian cross-checked Lindgren from behind, an o-zone penalty, and one that was assessed as boarding.
Lindgren, as you'd suspect, wasn't happy about this and then let a few four-letter words fly.
With the period winding down, Vanecek made his best save yet on Kane. Mika crashed the net and as the final horn went off, everyone on the ice had another scrum, as the Devils took exception to the aggressiveness of DJ MIKA.
This is also when McCauley tried to swing the game:
Adam Fox takes a roughing penalty at the end of the first and is clearly very, very unhappy about the call#NYR pic.twitter.com/K3gI5zq4fQ

— Hockey Daily 365 l NHL Highlights (@HockeyDaily365) April 21, 2023
---
To recap, we had already seen a bunch of scrums (and as we'd see a ton more during the next forty minutes); and during all of them – no penalties were called.
On this scrum, McCauley decided that BIG BAD ADAM FOX, the Bob Probert of his generation, had to go to the sin bin.
And if you listen – you can hear this little weasel in the Foot Locker employee shirt, scream like a bitch, "FOX, YOU GO TO THE BOX!"
This was complete bullshit – and another example of incompetence from these officials – NHL referees who have already swung playoff games during this postseason – but we can talk about the Islanders' Game 2 loss to the Canes at another time.
If you watch the replay, then you'll see John Marino cross-checking Zibanejad in the back (a penalty in any other world); where in turn, Fox grabbed the Devils' d-man off of Mika's back.
But yeah – Fox "roughed" Marino.
Bottom line?
There was no consistency from McCauley and company again.
You can't let every scrum go and then arbitrarily call a penalty whenever you want. Either it has to be off-setting penalties or none at all.
And in a way – since McCauley and his pals were so bad at their jobs – this then led to the fireworks that we'd later see during the third period.
And had someone been injured as a result?
That would've fallen onto the shoulders of these piss-poor officials.
---
1-0, bad guys, after twenty minutes.
Here's what I said at the time:
1-0, bad guys, after 20. 1P Thoughts:
— My old cliche – "Special Teams Swing Games." Devils PK 2-2, PP 1-1. #NYR 0-2 PP, 0-1 PK.
— You can't call that penalty on Fox.
— SOG 13-9, Hits 17-13; FOs 18-11 NJD, where NYR won a few faceoffs late to make it respectable.
— LGR

— BlueCollarBlueShirts (@NYCTheMiC) April 21, 2023
---
SECOND PERIOD:
The Rangers not only destroyed and decimated the Devils during these middle twenty minutes – but they demoralized them too.
And you know what they say about pain – physical pain hurts – but it's only temporary.
Just ask Ryan Lindgren!
Mental pain is much more lasting (and deeper to boot) – and the Devils will have nightmares tonight.
Just ask every single Devil that took the ice tonight!
Heck, ask Lindy Ruff too – where once again – you're hearing that "FIRE LINDY" chatter – or should I say chatter that's MUSIC to my ears!
---
With 1:20 of foreplay time, followed by a Devils' 40-second power-play; the score remained the same – and where CZAR IGOR's first save of the period on Hughes – just three-seconds in – was the biggest.
At around the four-minute mark, and now at full-strength; the Rangers found their flow.
Lafreniere was creating turnovers in the neutral zone, and soon thereafter, with 15:25 to go – Vanecek robbed Kane for the second time. He wouldn't be so lucky later on!
As the two goalies traded saves on Schneider and Hughes with 14:40 remaining – the tide would soon change.
With 14:07 remaining, Tarasenko entered the chat:
THE TARASENK-SHOW CONTINUES!

1-1 #NoQuitInNY pic.twitter.com/wfnatLpHM2

— x – Rangers on MSG (@RangersMSGN) April 21, 2023
---
1-1!
Again – I'll wait until the off-season to further examine this topic – but c'mon – if there's a way – then Rangers' g.m., Chris Drury, has to bring #91 back.
(Just keep on giving Tarasenko's family free tickets to the Knicks – as they've already been to several games and seem to enjoy it!)
This was another all-out rip from VLADDY DADDY – and where Vanecek, again – found out who his Russian "BABA" (papa) was tonight!
In real-time, I said the following, where keep in mind – no one wanted Patrick Kane as a New York Ranger (besides #88 himself) more than me – but this is also a case of two conflicting things being true:
I thought it was going to be Kane that would have to be MSL – it's Tarasenko #NYR

— BlueCollarBlueShirts (@NYCTheMiC) April 21, 2023
---
By the end of the night?
Both Kane and Tarasenko continued their cases as the Rangers' 2014 version of Martin St. Louis – the best possible argument that I can imagine!
Who wants a slam-dunk winner? I want an intense competition for this distinction! And we're getting it!
And yes, that's way too many exclamation marks! Who am I, Jake Jarmel? (Another "Seinfeld" reference – and where David Puddy, noted Devils' fan, can eat shit too!)
This was the beginning of the end for the lowly Devil dipshits.
Down to 12:25 remaining, Kreider almost scored, following a backboard pass from Mikkola. While he didn't score here, CK20 wasn't left undetermined.
With 11:44 remaining, Wood took another Devils' o-zone penalty, this time for tripping Panarin.
For whatever reason (and maybe my eyes are deceiving me in my now old age of nearly 41-years-old); but this was called as slashing.
(I bring this up because while perhaps you could've called multiple infractions on several of these penalties – the most obvious were never called. Talk about karma for all of my "Senile Sam" remarks – and where I may need "cheaters/peepers" too!)
However, the end result was still the same – a Rangers' power-play.
Cliche time – "third time's a charm."
To their credit, the Devils stunted the Rangers' man-advantage here – but only for a minute or so.
When the Rangers finally set-up, the following:
Kreider. In front. Power Play Goal.

3 phrases that are pretty familiar these days.
Rangers lead 2-1 now! #NoQuitInNY pic.twitter.com/nzlU0dLpLZ

— x – Rangers on MSG (@RangersMSGN) April 21, 2023
---
2-1, GOOD GUYS, as Chris Kreider continues to make Rangers' history!
(And I already believe that there will never be another Ranger to ever wear #20 again. Should the Rangers win the Cup during Kreider's tenure – and as I think they will this year – then you can take that opinion to the bank!)
This was Kane's best moment as a Ranger, one he'd later top – but needless to say – this was also Kane's best game as a Blueshirt too.
And some MORONS thought that Kane was "washed-up."
As said on this site – just wait until the playoffs.
While it's only one game; I do feel vindicated!
But as stated so many times before – the regular season was an exercise – and like many – you can only judge Kane by whatever he does during the playoffs.
And I'm liking his grade thus far!
On this goal, Kane ripped a shot from the slot, and as the former Blackhawk would later say, he found the best tip-man in the league!
And as my buddy, "BIG OLAF S.," said to me following this goal (I wish I could take credit for this one-liner but I don't steal jokes, nor opinions) – Kreider, if he wasn't a hockey player – then he could've had a hell of a life as a bartender – as he makes his money off of tips!
Following the go-ahead goal, and what would result as the game-winner too; with 8:32 to go, Trouba was boxed for interference.
I thought this was another bad call – as once again, here was a player bracing for contact, and as the captain did, when Meier was marching towards him.
This isn't the NBA – where flopping, via charging calls, is awarded.
But whatever the case, and should you think this call was legit – it was a good penalty for Trouba to take – as the Devils were swarming the Rangers at the time.
The heralded PK units did their thing again – and didn't allow one SOG during these two minutes.
By the end of it – Trouba had a jack-in-the-box try himself – but one that Vanecek was able to survive.
As the game progressed; while everyone was noticeable – so were Panarin and Miller – two players prone to turnovers all season – but where you didn't see any of that during this match. Both players were extremely strong tonight – and on both sides of the puck.
Down to 5:22 remaining, CZAR IGOR, again – great tonight – but not tested much – and kudos to the team in front of him; stopped Bratt during a mini breakaway.
Come 4:41 remaining, Zibanejad drew Meier for tripping as he was about to go on a breakaway. This was a good penalty for the Swiss Devil to take, as without it – Mika most likely would've broke his now seven-game goal drought.
However, this penalty only prolonged the Jersey pain, as just 41-seconds later – HELLO CHRISTOPHER JAMES KREIDER:
Kreider – 2
Devils – 1

Rangers lead 3-1 now. IT'S A POWER PLAY GOAL! #NoQuitInNY pic.twitter.com/tDj7jBMgpM

— x – Rangers on MSG (@RangersMSGN) April 21, 2023
---
3-1, GOOD GUYS!
Your assists? Kane, his third of the series, and Fox, his sixth of the series.
For #23, he now has more assists than any other Ranger defenseman during the first two games of a playoff series – a nice little factoid that covers a time-span of only 97-years!
And arguably? He hasn't even hit his prime years yet.
OH BABY!
The Devils did try to wake up a bit during the final minutes of this period – but they weren't beating CZAR IGOR.
We remained at 3-1, GOOD GUYS, after two periods – and where the Devils had lost the plot, due to their increasing number of penalties and non-stop icings.
Here's what I said at the time:
3-1, GOOD GUYS, after 40. 2P Thoughts:
— CHRISTOPHER JAMES KREIDER
— Hell of a game for the "rentals" too – who I hope become "permanent property!"
— SPECIAL TEAMS SWING GAMES!
— SOG 23-14, Hits 31-14 #NYR; FOs 24-20 NJD
— Go figure – Igor is no longer the main story!

— BlueCollarBlueShirts (@NYCTheMiC) April 21, 2023
---
THIRD PERIOD:
Following Sam Rosen having an all-out orgasm after Micheletti being named as the answer of the trivia question; just seventeen-seconds in, Hischier was stopped, and on the rebound – Meier hit the post.
To the Devils' credit – it was cute that they tried – but they looked like boys against men.
The Devils largely dominated the first five-minutes of this period, and where the Rangers were lured into their trap – by engaging in a track meet.
The Blueshirts would soon knock that off.
Come 13:26 remaining, ball game:
The steal. The hustle. The move. The finish.

Welcome back to the playoffs, Showtime! 🤩
4-1 Rangers #NoQuitInNY pic.twitter.com/SVX7XrPx5C

— x – Rangers on MSG (@RangersMSGN) April 21, 2023
---
4-1, GOOD GUYS – and Kane's first playoff goal as a New York Ranger.
And who knows?
Perhaps in the future, and then, with the benefit of hindsight – this first Blueshirt SHOWTIME goal may one day be remembered as the start of Kane's legacy in the Big Apple.
Either way – hip or no hip injury – Kane showed everyone why he's a three-time Cup champ – and a first-ballot HOFer too!
Kane created a turnover, stalled, stalled, and stalled, made a deke and then backhanded the rubber past Vanecek.
This is when Devil fans first started to hit the exits – and most likely – then found their cars on milk crates in crime-laden Newark!
As I remarked on Twitter at the time, "It's so quiet at The Rock again that not only can you hear a fentanyl deal going down in Newark, but that you can also hear Devil season ticket holders sobbing that they didn't sell their tickets to Ranger fans tonight too!"
However, as Devil fans were hoping for their safe exits home; Ranger fans brought the noise and the funk – as the rest of this game felt like a June parade.
But of course, this game wasn't over yet.
Heck, even Barclay Goodrow was still blocking shots, and as he did with 10:30 remaining on Hughes.
Down to 9:13 remaining, this is when the Devils completely unraveled.
Severson slashed Kakko, which put the Rangers on the power-play again.
Scoring a fifth goal wasn't the mission here – burning time off of the clock was.
While Gallant did go with his first PP unit; the Devils were able to survive.
However, with three-seconds remaining, and with the home team a man-down; Trocheck almost scored.
This then led to another scrum – where following a long scrum where Trocheck & Haula went at it, while Lafreniere & Bahl did the same – no penalties were assessed.
Apparently, only Fox was worthy of being penalized during post-whistle theatrics.
And in a way, with hindsight, you can also say that this is when the officials lost control over the game – no debate required.
Following the no-calls, and just eighteen-seconds returned to full-strength play, Kakko put the cherry on top:
Anotha one! 😎

5-1 #NoQuitInNY pic.twitter.com/bBXAaB7l7y

— x – Rangers on MSG (@RangersMSGN) April 21, 2023
---
5-1, GOOD GUYS!
However, just fifteen-seconds following the no-doubt about it, this game is over, goal; McLeod attacked Schneider from behind, and in turn, we had a fight – a brawl full of heavy right-hands – and where only the fans were the winner.
Check out the PENALTIES segment for everything; but this then led to players, from both sides, being tossed from this game left-and-right.
Eighteen-seconds after this, where eight players had already had their nights ended (and where funny enough – Trocheck & Smith – two players who were on the Canes last season – were exchanging four-letter pleasantries with one another); Meier sneak-attacked Fox – and he was tossed from the game too.
For whatever reason, Fox, despite being the victim – was also tossed for defending himself.
Can you imagine these officials as Supreme Court justices?
"Sorry Ms. Harvey Weinstein victim – you're going to jail too!"
Had the final result not already been determined – then you would've been absolutely livid over this.
The officials were just trying to get to triple zeroes – but in the process, where they already had lost control due to their boneheaded work – started to kick everyone and anyone out of the game – where at one point – it felt like Sam Rosen would have to lace up the skates!
Down to 2:38 remaining, Haula, who looked like he was crying on the Devils' bench prior to this; slashed Trouba – our last penalty of the game.
How did the crowd respond?
With loud chants of both "IGOR" and "DEVILS SUCK!"
Home-ice advantage folks!
5-1, GOOD GUYS, your final – and now with a chance to close the series on M$G ice – following one of the most dominant playoff wins of recent Rangers' history – which had already happened just two nights prior!
Here's my favorite coach and yours, "THE TURK," following the game – where of course, he remained cool, calm and collected – and never let the monumental win change his approach to the series:
---
I have to give it up for both Gallant and his players – none of them seem phased about this giant win.
Me? I could walk through walls right now – especially with a few whiskies in me!
And go figure:
Of the sixteen teams currently in the playoffs, only two of them have a chance to sweep their first-round opponent – the Rangers – and perhaps their second-round opponent – the Hurricanes.
Of all eight series – it are the two Metropolitan teams who can bust out the broom.
You know the deal – I hate, hate and did I say HATE, the Islanders.
However, with both the Rangers & Canes up 2-0 – it wouldn't be the worst thing in the world if the Islanders, who did break Teravainen's hand during Game 2 (and Carolina is already without Svechnikov for the rest of the season), leveled that series.
While the "rust vs rest" debate will still remain, and yes – I'm under the assumption that the Rangers can now make quick work of the Devils too (I know – I shouldn't think like that – but that's me, a fan, saying this, where the players and the head coach aren't saying this) – it would be a major positive should the Blueshirts win Games 3 & 4 at M$G.
Do I really need to break it all down?
Just look at all of the Game 7's from previous years of recent Rangers' history – and how the team later got burnt out during the latter rounds.
A sweep – no matter what – is a good thing.
I'll take the rest over rust!
And especially with "THE TURK" as head coach.
---
While I know that I'm doing a lot of celebrating tonight (can you blame me?); the Rangers still have fourteen more wins to attain.
The Rangers and Devils meet again on Saturday night (8PM on ESPN) for Game 3.
Win that – then yeah, go ahead – get those brooms ready.
Despite the present lowly state of the Devils – I also wouldn't say that this series is over just yet.
For whatever reason, and despite whatever the numbers may tell you – the Rangers, during this Gallant era, usually have more success during big games on the road than at home.
The Devils will be at their most desperate during these next two games – and may feature a new goalie in net too.
It's up to the Rangers to treat that guy, whether it be Blackwood or Schmid, just as they did Vanecek.
It's funny – going into this series – I thought that the Blueshirts would win in seven-games.
Now?
Should that be the case – then a lot of bad would've transpired.
The Rangers will have a light practice on Friday, back in Tarrytown, prior to Saturday night.
Unless something major happens; I'll see ya Saturday night – and hopefully with the Rangers within one-game of closing out!
Until then, LGR, and you know what's next…
PLUGS TIME! (Buy a book and support my playoff ticket and beer funds! After all, I don't run ads on this site!)
---
My first plug of tonight's blog – the mandatory plug for my book, "The New York Rangers Rink of Honor and the Rafters of Madison Square Garden."
As mentioned previously, the book is now available in hardcover, in paperback and in Kindle formats. To purchase a copy of the book, visit this link:
https://www.amazon.com/Rangers-Rafters-Madison-Square-Garden-ebook/dp/B09CM5N2WD
For those still looking for signed paperback versions of the book, I have re-ordered more copies. I now have a few signed copies for sale at $25 a pop (includes shipping price) through me directly. Here is all the information on that:
---
My four-volume set of books, "One Game at a Time – A Season to Remember," is a game-by-game recount of the Rangers 2021-22 campaign.
My second title as an author, "One Game at a Time – A Season to Remember," is now available in eBook, paperback and hardcover formats.
To obtain signed copies, visit: https://bluecollarblueshirts.com/onegamebook/
To purchase all four volumes on Amazon, visit: Amazon.com – "One Game at a Time."
---
The greatest volume-set of books on Rangers' history today!
"Tricks of the Trade – A Century-Long Journey Through Every Trade Made In New York Rangers' History," a four-volume set of books that meticulously covers every trade made in franchise history, is now on sale.
All four volumes of the title can be purchased on Amazon.com and are presented in three different formats – eBook, paperback and hardcover.
To purchase Volume I: Conn Smythe (1926) – Craig Patrick (1986), visit Amazon.com
To purchase Volume II: Phil Esposito (1986) – Neil Smith (2000), visit Amazon.com
To purchase Volume III: Glen Sather (2000-2015), visit Amazon.com
To purchase Volume IV: Jeff Gorton (2015) – Chris Drury (2022), visit Amazon.com
To purchase signed copies of all four volumes, visit https://bluecollarblueshirts.com/tricksofthetrade/
---
Here are my last few blogs, in case you missed them:
---
---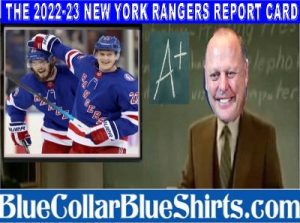 ---
If you haven't already, subscribe to this blog for the next update:
---
Don't forget to order my recently released four-volume set of books, "Tricks of the Trade!"
If you don't order through me, all four volumes are now available on Amazon.com
For more details, check out: https://bluecollarblueshirts.com/tricksofthetrade/
Thanks for reading.
LET'S GO RANGERS!
Sean McCaffrey
BULLSMC@aol.com
@NYCTHEMIC on the Tweeter machine