Greetings and salutations everyone and welcome to another blog here on BlueCollarBlueShirts.com. Down, but not out.
Off puck drop, I must admit – I stared at my glowing white computer monitor for nearly 45-minutes following the Rangers' 3-1 Game 4 loss to the Devils.
Even now, as I type these words – I don't even know where to begin.
Since I have regularly preached my glass half-full optimism onto you guys & gals ever since this new regime took over; let's start with the good news first – and then follow that up with a whole lot of bad news.
The Good News? The following:
— The series, one that the Rangers once led 2-0, where their two victories took place on the road, is now tied. In other words, and I know this is a hell of a reach – they aren't trailing.
— Through four games played, it has been the road team that has won every single game. This series, now a Best-of-Three, will see Game 5 played in Newark, and if need be, a Game 7 too.
— Furthermore, when you take a look at the rest of the first-round – it are the road teams that are winning the majority of these games. (And I don't have an explanation on why that is, but only to say that there is no such thing as a "home-ice" advantage anymore – something that the Rangers made crystal-clear to us tonight.)
— As opposed to this time last year, when the Rangers conquered the Pittsburgh Penguins in a seven-game first-round series (and where overtime was needed to win that Game 7) – there were questions about CZAR IGOR. While some may look to scapegoat him tonight (more on this to come); his play is not the biggest issue – in fact, far from it.
— While there was a bad NO CALL tonight, when Devils' captain, Nico Hischier, barreled over CZAR IGOR; the officiating had nothing to do with this loss. This defeat was all on the Rangers themselves.
— Gerard Gallant ripped the team during his post-game "TURK TALK," one that I have included for you below. The last time when the Rangers' bench boss ripped his team? The Rangers came out and steamrolled the Tampa Bay Lighting, in their final test of the regular season.
And sadly, that wraps up the "GOOD NEWS" portion of tonight's manifesto.
---
The Bad News?
Ugh, let's count the ways:
— The Rangers' FAT CATS aren't scoring. While both Mika and Panarin have looked good defensively; they are paid the biggest of bucks to score goals. (And don't forget that "THE BREADMAN" is the highest-paid winger in the league too.) Through four games played, neither have found twine – which is even more alarming considering the fact that the Devils have had a rookie goaltender in their net during the previous two – a pair of games at M$G – and with eight separate power-plays to boot.
— Following a pair of five-goal explosions on the road; since that time, in over six periods played, the Rangers have only scored two goals. No matter the era – one goal for isn't going to cut it.
— The third line, who had their coming out party at this time last season, and much like the FAT CATS – have missed more nets than they've hit. There were plenty of times where Lafreniere, Kakko and Chytil could've gave the Rangers some life – but on all of their chances – they missed the net. But to be fair – they are a complementary line, and where it's up to the top-six, namely Zibanejad and Panarin, the highest-paid forwards on this team, to do the heavy lifting.
— The Devils may have found a way to stop the Rangers – by stopping Adam Fox. During the first two games of the series, Fox picked up six-points. In Games 3 & 4, the 2023 Norris Trophy Finalist finished without a point.
— All of the pressure, once fully on the shoulders of the Devils, is now squarely on the Rangers.
— Even should the Rangers prevail in this series (as I think they will); they blew it. What could've been over in four or five games will now take either six or seven games, which means that once again – the Blueshirts will have to survive a long and grueling series, rather than resting & relaxing, in-between series'.
— The power-play, following their wretched 0-5 performance from Game 3, finished 0-3 tonight. Should you count the power-play going 0-2 during the latter stages of Game 2, when the Rangers comfortably held a big lead and weren't really trying to score; the Blueshirts power-play is now 0-fer during their last ten tries.
— It got so bad tonight that fans were even booing the team – despite being down by only one goal. They knew what the end result was going to be – long before it became a reality.
Part of the reason for the "BLUE BOO BIRDS?" Perhaps the following:
Monday night at M$G – no face value tix available. Get in price at $369+ or spend $8,500+ like a schmuck! #nyr pic.twitter.com/YbWIHqVsu1

— BlueCollarBlueShirts (@NYCTheMiC) April 24, 2023
---
When fans are spending nearly $400 just to get into M$G for the worst seat in the house (and then tack on an extra $100-$200 between food, drinks, swag, travel and everything else), and once there, only see one goal scored; then despite the team's overwhelming success from the past two seasons – it's easy to understand why fans feel like they have to revolt.
After all – ALL SALES ARE FINAL. NO REFUNDS!
---
While we'll get into everything tonight during the GAME REVIEW; just a few general thoughts before proceeding:
— I saw a lot of fans & readers blame CZAR IGOR for this loss. However, in my eyes, this isn't the Lundqvist Era – where the majority of the salary cap dollars were spent on goaltending and defense. In other words, what I said earlier – this loss is all about the lack of scoring from the FAT CATS.
(And this isn't a knock on Lundqvist, so please don't take it that way. All I'm saying is that it was up to Lundqvist to largely win games during his era – and the same can't be said for CZAR IGOR – who has a much better team in front of him than #30 ever did during the peak of his powers. Can anyone really debate otherwise?)
— Bottom line? It's very hard to win a playoff game by a final score of 1-0 – a score we haven't seen once during these 2023 Stanley Cup Playoffs – much less during 99.9% of all post-season games played during the salary cap era.
(But I do remember Lundqvist's 1-0, Game 6, Eastern Conference Final shutout, in 2014, against the Canadiens – and had the Rangers won the Stanley Cup that year – not only would have the trajectory of this site been extremely different – but then Dominic Moore would've been remembered in the same vein as Stephane Matteau.)
— It's just amazing how Jekyll and Hyde this team can be, where more times than not, and as previously mentioned on this site – the Rangers seem to play better on the road than at home. Whether it are distractions, young toddlers or whatever else that's possibly going on at home; perhaps Gallant's Gang should spend the rest of the series in a Newark hotel room. After all, they did score ten goals following their three nights spent there.
— Outside of the "FAT CATS" shitting their respective litter boxes; for the next 72-hours, or whatever the time will be by the time that you read these words, which is prior to puck drop of Game 5 – I think the top story in the mean streets of Rangerstown, USA will be in regards to Gerard Gallant – and specifically – what he said during his fiery post-game interview.
---
I forgot where I first read this (I want to say it was Larry Brooks, when talking about John Tortorella during the "Black & Blueshirt" era of Rangers), but it's true – once the head coach rips the team – then it gives everyone – fans, media, the popcorn vendor, whoever – to all do the same.
And for a team that just blew a 2-0 series lead, which will now draw comparisons to what happened during the 2022 Eastern Conference Final – you can understand the frustration – and where for the people who rarely overreact (present company included) – the concern level has now reached an all-time high – a level that can only be calmed by a prevailing Game 5 victory.
But until Thursday night?
The fear is real – and if cigarette smoking was able to be promoted in the same fashion that gambling is, where we always see 789567567785786576 gambling sponsors plugged on every broadcast – then these tobacco companies would make a fortune from Blueshirt chain-smokers right now.
At this time, let's get into all of the pregame news & notes, and then get right into it – the GAME REVIEW.
---
Following the Rangers' overtime loss from Saturday night, a day later, Sunday, the team had the day off.
While the team wasn't required to hit the ice, Gerard Gallant was forced to speak to the media.
Here was Sunday's "TURK TALK":
---
As I've been saying for a while now on this site – there's really not much for Gallant to say right now.
(And what a difference one game makes – as there's a lot being said about him, and his post-game interview, at the moment.)
The head coach said that he wanted to give his team the day off, especially since Saturday's game started late (8:15PM) and also ended later than anticipated, due to the overtime.
Gallant also reiterated what he said following Game 3 – he thought his team played well – but the team got fancy at points and the power-play had an off-night.
Gallant also said that Devils' goalie, Akira Schmid, played well.
While it's my opinion (and the opinion of others too) that Schmid wasn't really tested that much – at the same time – the Rangers' bench boss isn't going to give his opponents any bulletin-board material either – the right course of action.
On Panarin being visibly frustrated following the Rangers' fifth-and-final power-play of the game, "THE TURK" said all of his scorers get upset whenever the puck doesn't go into the net – and that's why he's the coach – as it's up to him to keep their confidence levels up.
(And now? He has a lot of coaching to do.)
Come Monday, the team held a morning skate.
Here was Monday's "TURK TALK" following the practice:
---
Again – not much for the head coach to say. Drop the puck!
---
Here was the Rangers' line-up from Monday night, their fourth game of this 2023 postseason:
FIRST LINE: Kreider/Mika/Kane
SECOND LINE: Panarin/Trocheck/Tarasenko
THIRD LINE: Lafreniere/Chytil/Kakko
FOURTH LINE: Vesey/Goodrow/Motte
FIRST PAIR: Lindgren/Fox
SECOND PAIR: Miller/Trouba
THIRD PAIR: Mikkola/Schneider
STARTING GOALIE: CZAR IGOR
BACK-UP GOALIE: THE HALAKNESS MONSTER
DAY-TO-DAY: Nobody! Praise the Hockey Gods!
PRESS BOX: Ben Harpur, Jake Leschyshyn, Louis Domingue, Libor Hajek and Jonny Brodzinski.
---
BOX SCORE time.
The following graphics and information come from ESPN.com:
SCORING:
PENALTIES: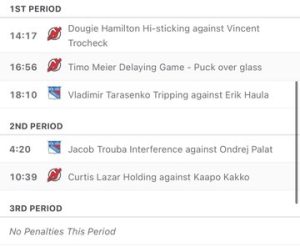 TEAM STATS:
GOALIES:
| | | | | | | | | | | |
| --- | --- | --- | --- | --- | --- | --- | --- | --- | --- | --- |
| SA | GA | SV | SV% | ESSV | PPSV | SHSV | SOSA | SOS | TOI | PIM |
| 23 | 1 | 22 | .957 | 18 | 4 | 0 | 0 | 0 | 60:00 | 0 |
| | | | | | | | | | | |
| --- | --- | --- | --- | --- | --- | --- | --- | --- | --- | --- |
| SA | GA | SV | SV% | ESSV | PPSV | SHSV | SOSA | SOS | TOI | PIM |
| 22 | 2 | 20 | .909 | 18 | 2 | 0 | 0 | 0 | 58:32 | 0 |
---
Prior to the miserable M$GN pregame show commencing; I was engaged in several debates, amongst fellow Ranger fans, about the importance and prestige of The Who's "Baba O'Riley," commonly referred to as "Teenage Wasteland" – as that's the team's pump-up song prior to puck drop.
And yes, go figure – a British band's top hit from 1971 is the Blueshirts' current anthem of today!
While I know that all of this is silly, and has nothing to do with anything; prior to puck drop tonight, the Rangers' social media pages were plastered with lyrics from "Baba O'Riley."
Whether it was "OUT HERE IN THE FIELDS," "SALLY TAKE MY HAND," or the one that everyone knows the best, "TEENAGE WASTELAND;" all of these lyrics were proudly boasted by the twenty-something-year-old derelicts who run the official Rangers' Facebook, Twitter, Instagram, MySpace, AOL 2.5 CD-ROM, GRINDR, etc, accounts.
After tonight, and considering that the Rangers have never won a Stanley Cup with the song that Roger Daltrey and Pete Townshend made famous; nor have had much success with during home games at M$G neither – maybe it's time for a new song.
Perhaps some BIG BAND song, from the Tex Rickard era, would be suffice?
After all – the Rangers won two Stanley Cups (1928 and 1933) when BIG BAND music was at its peak!
While I'm fully aware that these opinions and statements may come off as sacrilege to some, and while I'm also aware that pregame music has nothing to do with winning or losing; but if you believe in superstition, juju and karma – then am I wrong?
Come Game 6 at M$G – shake it up. Find a new song.
Leave "Baba O'Riley" in the fields – and in a permanent wasteland. It just ain't working right now!
And find a new analyst for the M$GN too – as Sieve Vagistat remains the drizzling shits – and has no business being on an Original Six broadcast – especially one featuring a playoff contest.
(After all – is there any other broadcast in the league, national or regional, that features a back-up goalie of fifty games played or less on their broadcasts? I'll save you some time – the answer is a big fat NO.)
---
If you're a regular reader of this site, then you know this following statement is true:
I don't watch the M$GN pregame show if Vagistat is there by himself. I'll only suffer through him if Lundqvist is also there.
For the first time since the debut of "THE KING OF COMMENTARY," which began last season; I had to turn off the pregame show half-way in.
Vagistat was that bad – and where you have to wonder what kind of blackmail that he has on M$GN President, Jeff Filippi.
Anytime Lundqvist said anything tonight, there was that smug and feckless moron, Vagistat, to horn-in – and then talk about nothing that had to do with the game, such as HIGH DANGER chances, 84.2% of this happening, 43.5% of that happening, my made-up charts say this, my made-up graphs say that, SHOTS OFF THE RUSH, and other such useless information.
You see, Vagistat has no playoff experience, which goes along with his magical 46-game NHL career – so he isn't qualified to talk about postseason hockey – unless you're interested in if Lundqvist preferred sugar or splenda in his pregame coffee.
(But of course, Lundqvist is there – and can tell you himself how he took his coffee!)
However, Vagistat remains determined, and continues to talk over Lundqvist – you know, a former franchise goalie, a future HOFer, and a guy who started-and-played in 130 playoff games.
But yeah – who wants to hear from a person who did it? GIVE ME ANALYTICS AND CHARTS!
No joke, before Lundqvist could even finish making his points on Kreider's play, CZAR IGOR buckling-down, Kane being the X-Factor of the power-play and other such useful information; each and every single time, there was the seven-foot jackass to cut him off, where at one point, and I'm not making this up, the egotistical Vagistat actually said, "WELCOME TO MY MIND!"
If that wasn't bad enough, then try this on for size:
Vagistat praised Dougie Hamilton's Game 3 OT GWG no less than three times, praised Devils' back-up goalie, Akira Schmid, and then reminded us that he knew Benoit Allaire.
I'm sure that every Ranger fan wanted to hear this junk from this seven-foot pile of poop.
And this all took place within the first fifteen minutes of the broadcast – and that was enough for me.
At 7PM, two things took place.
One, the Rangers, who entered this game as a -160 favorite (and that was the line at 6:30PM) – jumped up to -175.
When I saw this, I thought that maybe someone on the Devils was injured – but that was never the case. I'm under the assumption that someone placed a heavy wager on the home-team, thus swinging the odds.
And like the Rangers themselves – this alleged gambler lost big-time too.
Two, Sam Rosen & Joe Micheletti entered our living rooms – where to their credit (and even following his score) – they didn't go on-and-on about Jack Hughes.
Instead, they went on about Schmid, where to be fair, the adoration and idolization wasn't as bad as it was for Sabres' goaltender, "OH JOE, DEVON LEVI, JOE!"
Again – I don't see what's the big deal about Schmid.
Similar to Game 3 – the Rangers barely challenged him during Game 4.
When you break it all down, the Devils have done a great job of limiting the quality shots on goal and the Blueshirts just aren't getting to the net. In turn, Schmid hasn't done much, outside of putting in his post-game UBER EATS order.
But that didn't stop Sam, Joe and Vagistat – as all three talked about Schmid as if he was the second coming of Ken Dryden.
(And as admitted on this site numerous times before – yes, I get even more salty & cranky about the broadcast whenever the Rangers lose. I just don't want to hear about the greatness of the opponent – and I think most of you are in the same boat.)
If there was any opinion and/or comment that was 100% on the money, then it was when Micheletti said, "the Rangers' top stars need to start scoring," as a graphic of Zibanejad and Panarin were shown to us – and with their zero goals attached to it.
M$GN can rerun this same graphic on Thursday night.
SAD!
Get out an alcoholic beverage, or perhaps a fentanyl patch too, as we recap this horrid affair from Monday night.
GAME REVIEW time.
---
FIRST PERIOD:
Following another rousing rendition of the National Anthem, as sung by the now famous baritone, John Brancy – and where Garden patrons didn't try to drown him out or interfere by chanting over him either; each team received an odd-man rush – and within the first twenty seconds of action.
Kane had a breakaway and missed, while the Devils, on a two-vs-one, also missed the net.
While this game, akin to Game 3, didn't see the same levels of physicality that we saw during Game 2; at just the one-minute mark, Tarasenko did lay a heavy hit on Hamilton.
As Sam and Joe reminded us that Meier hadn't scored a goal in the series; no less than a second later, with 18:11 remaining, the biggest wuss of Game 3 missed the net while wide-open.
Up next featured some wild action – and action that the Devils would ultimately capitalize on.
As Mikkola was trying to clear a puck while in the Rangers' d-zone, Haula forced a turnover. CZAR IGOR then stopped a Meier shot, and on the rebound, Mikkola then stripped Meier of the puck. This then led to a two-vs-one odd-man rush the other way, where both Kakko and Lafreniere were stopped. On a rebound afforded by Schmid, Jonas "Brendan Smith Who?" Siegenthaler desperately threw the puck up ice – to an awaiting Jack Hughes.
On his breakaway, Hughes, for the third time this series, beat CZAR IGOR on this one-vs-one opportunity.
1-0, bad guys, at just the 2:50 mark of the game – and a goal that immediately quieted down the once rowdy M$G.
Had the pair of Ranger third-liners scored on their great opportunity – then who knows? The tone of this GAME REVIEW/blog may have been very different.
But that's not what happened, as instead – the Rangers had to chase this goal for an elongated amount of time.
And of note – these two saves from Schmid were really the only tough saves that he had to make all game – or at least for the next forty plus minutes or so.
By the time the eight-minute mark had hit, Tarasenko had a soft backhander stopped, and that was really it.
The SOG stat at the time read Devils 4, Rangers 3, and where Hughes had recorded 75% of the road team's SOG – and just as many as the eighteen Blueshirts on ice had.
Out of our first TV timeout, where John Giannone has become a pitchman for DOOR-DASH (if I was the head of marketing for a major company, then I think I could find a better candidate to sell my product – but then again, DOOR-DASH found a better sponsor than Bud Light recently did – heyo!); Kane and Bratt exchanged turnovers, while Hamilton snuffed out a Tarasenko scoring chance with 11:58 to go.
Thirty seconds later, the first of many freshly baked Panarin cross-ice turnovers.
I know that some people like to bust out the compass and refer to these turnovers as "east-west" – but in my eyes – because of the distance – it's "cross-ice" turnovers for me.
After all, Panarin isn't passing the puck just three-feet over, in an east-west fashion. He's passing from one side of the boards to the other – and these passes never connect.
But whatever you want to call these turnovers – this new nagging wrinkle to Panarin's game, one that started this season, but had gone the way of the dodo bird during the first three playoff games – this was all back during Game 4.
Chytil, who didn't receive much work at the faceoff circle tonight (two of five, 40%), won a d-zone draw with 10:06 remaining. It's nice to see the Czech have success at the dots – and as he's had all series – as his faceoff work is considered as his biggest weakness.
With 8:40 remaining, Gallant showed no fear, as he regularly matched up his fourth line against the Devils' top line, where speaking of Hughes and company – following the ice-breaker goal from the 2019 first-overall pick – anytime that he touched the puck – he was vociferously booed by the Garden Faithful.
In a way, and especially should the Devils win this series – Hughes will become another top villain of Rangers' history – and where's already hearing boos that Sidney Crosby, Tony DeAngelo, and others have been accustomed to in recent seasons.
With 6:53 remaining, and as the two teams played a conservative brand of hockey; Trouba hit Hughes at the blue line (just not a TROO TROO TRAIN hit – but one that garnered cheers), but Hischier was able to get to CZAR IGOR – a save for #31 in home team blue.
After that, and no less than a minute later; Panarin had all day to shoot, opted not to, and passed the puck to Trouba. The captain's shot was blocked, and once retrieving the rebound – ATURNOVER PANARIN – one that the Devils wouldn't benefit from, as Haula shot wide at CZAR IGOR.
Come 5:43 remaining – what you thought at the time would be a momentum-changer – as Trocheck drew Hamilton for high-sticking.
Prior to this power-play, the Rangers didn't have much o-zone time, much less any sort of a sustained attack.
A power-play goal would've changed all of that – but as you already know – no dice.
A Mika-to-Panarin one-timer was stopped, Fox was blocked, Fox was stopped while Kreider was screening Schimd, and by the time the PP2 unit came on – Tarasenko had to make a dive at the blue line, bench-side, to prevent a Devils' odd-man rush short-handed attempt.
In turn, the power-play was now 0-1.
Despite this failure, the Rangers would get a quick chance to redeem themselves, as with 3:04 remaining, Meier, who had previously fell down (and just like Game 3 – the ice at M$G was horrible – as players from both sides fell down while untouched – and pucks took bad hops too), had put the puck over the glass.
Just as was the case during Game 3 – each Rangers' power-play was worse than the one that had preceded it.
Zibanejad looked at his least confident here, as he was juggling passes and just looked off.
Following an empty-handed outing from the PP1 unit, the PP2 unit came on – and boom – with 47-seconds left on the power-play and 1:50 in the period – we had some foreplay – as Tarasenko was boxed for an o-zone penalty, following his trip of Haula.
In other words, the Rangers had two power-plays – two chances to tie the game – and couldn't do anything with it.
(And I'll never understand how the ANALytical community, the one that Vagistat leads, DOESN'T consider a power-play as a "scoring chance." All power-plays should be scoring chances – unless you're up big and just trying to burn two minutes off of the clock!)
Following the 4 x 4, where no scoring was to be had; Igor stopped Hamilton while Miller blocked a shot.
As we hit the final horn of this period, and with the Devils up 1-0 – you could feel it – nerves were already at an all-time high.
Here's what I said at the time:
1-0, bad guys, after 20. 1P Thoughts:
— #NYR aren't challenging Schimd at all
— PP is an issue – and where maybe it's time to put 91 out there with PP1
— SOG 10-8, Hits 9-7 NYR; FOs 10-7 NJD
— A nice hit on Hughes could change stuff – he's going to the hole like MJ23
LGR

— BlueCollarBlueShirts (@NYCTheMiC) April 24, 2023
---
SECOND PERIOD:
Much of the same.
In fact, following this period, and this game in general – maybe Trouba should modernize what he previously did this season, when he threw his helmet – and in an homage to Nick Fotiu – toss that Father Finkin' thing into the Blue Seats.
What I'm getting at here is that the Rangers looked devoid of all offensive activity – outside of offending their fans.
And as said earlier – maybe the Blueshirts should spend the rest of this series in New Jersey – because I can't think of any other variable (outside of Schmid – who is really a non-factor) that has changed.
As I was wondering if the NHL would amend their rules, and allow this series to be determined by TOTAL GOALS, as was the case during the league's early years; Trocheck won the first draw of the period and the Blueshirts then killed the final ten seconds of the Devils' power-play.
Just fifty-seconds later, Trouba broke up a Hughes & Haula 2 x 1 odd-man rush.
And that noise you heard at the time?
18,006 people biting their finger-nails, and leaving their discarded nails all over the floor – as if they were peanut shells at a baseball game.
With 17:15 remaining, the Rangers' third line had a decent shift – but yep, you know it – couldn't put the puck in the net.
Following the temporary sign of life; Hughes, against these same third-liners, got behind them and almost poked a puck past CZAR IGOR – a puck that the goalie had to freeze.
Down to 15:40 remaining, there was the captain again breaking up a Devils' odd-man rush, this time of the 3 x 2 variety; but during the road team's second wave of attack – Trouba was boxed for "interfering" with Ondrej Palat.
Similar to the bad officiating that we saw from Game 3, and on calls that negatively impacted both teams – this wasn't a penalty – as Trouba was bracing himself for contact.
I just don't get it. Do the officials want players to get run over and to not protect themselves?
Then again – we got that answer later on – but more on Nico "THE F&*$ING CLOWN" Hischier, as nicknamed by Trocheck, in just a bit.
This Devils' power-play felt never-ending, as they spent nearly the entire two-minutes in the Rangers' d-zone.
With 16-seconds remaining on the man-down, and with all of his penalty killers gasping for air; CZAR IGOR came up with a save, a freeze – and a much needed change for his skaters.
To the fans' credit, they woke up a bit after this penalty kill, but once again, it was CZAR IGOR who had to make the saves – and as he did on Hischier with 12:23 remaining.
With 11:30 remaining – Tarasenko recorded the Rangers' second SOG of the period – which just goes to show you – Schmid wasn't challenged much, if at all.
A minute later, and with Zibanejad obviously struggling – this is when Gallant flip-flopped his top two centers, as Trocheck & Mika changed lines.
This move would eventually pan out – at least for Trocheck.
With 9:21 remaining, Kakko drew Lazar for holding.
The old cliche, "third time's a charm," didn't ring true.
While I guess that you can say that taking a penalty on your own power-play was worse than what we saw here (and as we saw on the previous Rangers' power-play) – I'm not sure if that's true in this case.
The PP1 unit couldn't set up once, and after an uneventful 1:10, where the Devils pinned the Rangers to the boards and cleared the puck three times – that was it for them.
The PP2 unit wasn't much better – and by the end of it – they watched Haula miss the net on an all-day breakaway.
0-3 tonight, 0-5 in Game 3 and now 0-fer their last ten.
Yuck – and where one PPG scored during the two home games of this series would've changed everything.
I guess you have to tip your hat to the Devils' PKers, who have found a way to stop the Rangers' biggest strength from Games 1 & 2 – because it's not the goalie who is being peppered and keeping the Blueshirts off of the board.
And yep – following this miserable man-advantage – this is when the "BLUE BOO BIRDS" came out – as the boos were deafening.
With 6:20 remaining, Vesey forechecked and fought off two Devils – but had no one with him to help him out.
M$G's response? "POTVIN SUCKS!"
Really? Did anyone think that a chant directed to an Islander from forty years ago was going to swing this game in the Rangers' favor?
They may as well have done "THE WAVE."
As we hit 4:00 remaining – a chance blown.
CZAR IGOR made a perfect homerun pass to Kakko. The Finn then dished the puck to a wide-open Lafreniere – and the first-overall pick of 2020, who isn't having a series like the player drafted in the same spot from just one-year prior than him – missed a vacated net.
Sam Rosen could've scored on this play. Lafreniere could not.
After that miss, we had a mini-delay, as a piece of the glass, much like the hearts of Rangers' fans, was broken.
Sam and Joe used this time to talk about the greatness of Hughes – but I guess to be fair – they didn't have much else to work with.
Now with 3:00 remaining, Kane made a bunch of moves and almost caught Schmid off-guard with a backhander, but a Devils' d-man was right there to get the rebound the hell out of dodge.
Two minutes later, Chytil went wide – despite no Devil defender in-sight.
With eleven-seconds remaining, CZAR IGOR made his final save of the period and that was that.
1-0, bad guys through two periods – and where at the time – the Rangers had only scored one goal during the previous 110 minutes of hockey on home ice.
Not good.
Here's what I said at the time:
1-0, bad guys, after 40. 2P Thoughts:
— #NYR went from averaging 5G per to only scoring 1 in the 5+ periods since.
— SCHMID HAS A SHUTOUT GOING – say it Sam!
— SOG 16-all, Hits 18-16 NYR, FOs 19-12 NJD
— It's a "Fat Cat Wasteland" – one of these $$$ guys needs to step up

— BlueCollarBlueShirts (@NYCTheMiC) April 25, 2023
---
THIRD PERIOD:
I won't prolong the pain any further than I need to – but I do want to mention the following:
— Ranger fans, despite seeing their team down by one, and where this squad has made many comebacks this season, had thrown in the towel.
— A reader, Eric P., when referring to the third line, said, "They should call them the Virgin line… because they never score!"
— As milk-carton pictures were floating around all over the place – and with Zibanejad's face featured more than other Ranger – this picture also popped-up:
Let's bullet-point the rest of this game:
— Sam Rosen never muttered the word "SHUTOUT," in regards to Schmid. I did – and maybe this "wish into existence" was the difference. Then again, I also wished the Rangers to win this game – and that didn't come to be.
— Ugh.
— I thought it was telling that Gallant kept Zibanejad away from the Devils' top-six whenever he could. Not exactly a vote of confidence – and where it should be Ruff trying to find advantages – and not Gallant – but "THE TURK" has no other choice, since once again, Mika, who does always struggle during the beginning of each regular season (take away his two goals against Detroit, during a Rangers' 8-2 blowout – then he didn't have one goal to his name through the first 25% of the season), continues to struggle during the early games of the first-round.
— Gallant started his third line. His new first line would later score.
— Just 1:42 in, and following a Devils' icing; Trocheck won the draw, Kane fired a shot at Schmid, Kreider's backhander was denied – and then BOOM – NONNA'S BAMBINO scored on the rebound.
— 1-1 – and where I won't lie – I thought all of the fun, games, stress and bullshit was finally over with – and that the Rangers would protect home ice, en route to a 3-1 series lead.
— Ugh.
— The Rangers never scored again.
— Of course, "THE RANGERS' WAY" (trademark still pending) returned – as right after the goal – CZAR IGOR had to stop Hughes – the newest "Rangers' Killer" in the land.
— Panarin kept turning over the puck, and with 15:20 remaining, Tarasenko bailed him out by forcing one on his own.
— Right after that, Panarin and Trocheck had a 2 x 1 odd-man rush – and Panarin opted to pass again – which then led to Trocheck going wide.
— Another odd-man rush/breakaway miss.
— Ugh.
— As we hit 14:00 remaining – you could feel it in your bones – as M$G was cheering every Devils' offside and icing – plays that the Rangers could never do much good with.
— Ugh.
— With 11:38 remaining, and following many Rangers' chances that had missed the net – Siegenthaler scored.
— 2-1, bad guys – and the game winning goal to boot.
— Ugh.
— If you are to ever blame CZAR IGOR for a goal allowed during these playoffs, then this was the one. The Devils' d-man rattled a puck off of the far post – and the puck then took a fortunate bounce for him. This is one that CZAR IGOR should've stopped – but again – one goal for isn't going to cut it.
— But yep, it's the Devils' rookie goalie (of course), who is now 2-0 over the 2022 Vezina Trophy winner. Facts are facts – and where Schmid's stats are superior than Shestyorkin's too.
— Ugh.
— Following the goal – Hischier bowled over CZAR IGOR. The officials immediately blew the whistle – BUT NO PENALTY WAS CALLED.
— Put it this way: Had the Devils scored on this play – then goalie interference would've been called, thus negating such said hypothetical goal. But since CZAR IGOR made the save prior to the massive collision – NO CALL.
— Trocheck was irate during this, as twice, he screamed "F*&%ING CLOWN" at Hischier.
— But again – no Rangers' power-play – where let's face it – it would've came up empty-handed anyway.
— Ugh.
— Once returned, and after Jim Ramsey gave his approval on CZAR IGOR staying in; Kane led the Rangers with a 3 x 2 attack into the Devils' zone – then lost possession of the puck.
— Ugh.
— Now under ten-minutes remaining, a bevy of turnovers, including a pass from Miller to Kane that #88 would've never received, as there was a ton of traffic.
— With 7:00 left on the clock, someone told Schmid to wake-up, and as he did, when he stopped a long-distance flutter shot from Fox.
— Fifty-seconds later – Haula tackled and tripped Trouba while the Rangers' were attacking. No call – not that it mattered.
— At the two-minute warning, the Devils iced the puck. As he's done all season during these situations, Gallant pulled his goalie and immediately went with the extra attacker – rather than waiting to win the faceoff before having his net-minder take a seat.
— Zibanejad (4 of 11, 36.4%), did win the most important faceoff the game – but much like the power-play – with an extra skater in their favor – the Rangers did nothing.
— In fact, it looked like the Devils had the extra skater on – as the Rangers were playing defense – and not offense.
— With 36-seconds remaining – Palat, after several Devil chances, finally said "game over," as he scored into the empty net.
— 3-1, bad guys
— 3-1 bad guys, your final.
A once 2-0 series, featuring identical back-to-back 5-1 Ranger victories, is now leveled at 2-2; following these two Devil wins that were pretty much 2-1 Blueshirt defeats.
TURK TIME – as this interview is the lede story of Rangerstown, USA:
---
Since Adam Rotter has already transcribed this interview, let's use his transcript of this telling post-game chat, courtesy of https://nyrangersnews.com/2023/04/24/what-gerard-gallant-said-after-the-loss-in-game-4-3/#more-198357 :
Did you feel that there wasn't enough desperation to get where they needed to be on the ice:
"I agree 100%. Very disappointing."
---
What is your assessment on the overall effort:
"Not good, not even close to good enough."
---
Was it surprising that you didn't get as many pucks and bodies to the net as you wanted:
"Well, it definitely wasn't good enough, we've seen that. It was better the last game. We asked for something and sometimes when you ask it doesn't happen, but it was real disappointing to watch that."
---
On needing to play like Games 1 and 2:
"They were perfect games and we said that and talked about that. We come home, big crowd and the overtime game was a good hockey game, could have went either way – but tonight was a close hockey game, but we didn't show up, we didn't play hard enough, didn't compete hard enough. All we did was yap at the linesman for getting thrown out of the faceoffs. A lot of bad things tonight."
---
On the second NJ goal:
"On the rush, we left too much of a gap there, but they made a good play and made a good shot, it wasn't a bad goal, it was a great shot off the post, but the rush shouldn't have happened like that."
---
Are you talking about working harder offensively:
"Offensively not competing and doing the right things and the neutral zone, too. The first two games we chipped some pucks and got the pressure coming across. Tonight our weak-side winger was a little bit lazy, stayed on the other side of the ice and watched the play instead of supporting it and how many times did you see us whipping pucks across and them picking them off in the middle. Just the same old, that when you look like you're tired or a little bit lazy, that is what happens. We didn't have the support in the neutral zone like we usually do."
---
On switching Zibanejad and Trocheck:
"Trying to get something going, wake something up."
---
Did you see the desperation after the Devils went up 2-1:
"Didn't see it, didn't see it."
---
On the PP:
"That was the only time that they really competed, I thought. Not all the time, on loose pucks we lost those battles, but when we had a chance to move it around and get some shots I thought we did a decent job with that, but again, all the loose puck battles and reaching with hands instead of bumping people, we didn't show up well enough to win a hockey game. Even though it was close we didn't show up well enough to win."
---
Is it tough that your top guys weren't the ones leading the way:
"That was the difference, yep, definitely."
---
As mentioned – we've seen Gallant get fired-up before, and since he doesn't make a habit of it, which means that when he does call out his team, it means something – his team usually takes his words to heart.
We'll see how much heart the Rangers have on Thursday night, now during a pivotal Game 5 in Newark.
Following two-games, the word "SWEEP" echoed throughout the streets of Rangerstown, USA.
Two-games later – the Rangers are at the risk of losing four-straight themselves.
However, I do go back to what I said at the start of this series – Rangers in 7.
That said, this is true too – the Rangers blew it.
Similar to the 2022 ECF; the Rangers had a chance to take a commanding 3-0 series lead.
I don't have to remind you of what happened last year.
The stakes for these Rangers, despite this being the first-round, are even higher this year.
A series loss would set the franchise back.
A series win, and everything is back on track.
However, and as said earlier – the Rangers could've put this series away early. Instead, they'll now have to do what they always do – win a long series – and run the risk of burning themselves out (and injuries incurred) in the process.
A Game 5 victory will relieve some of the anxiety and pain.
I don't have to tell you what happens should the Rangers lose that game – nor do I want to think this way.
For the next two days, off-days, there will be a lot of GLOOM and DOOM – and where some people will go back to questioning Gallant's status as head coach – you know – something that wasn't going down following the first two games.
Win-or-lose – I don't know how you can blame the head coach.
It's up to Panarin and Zibanejad to earn their money.
Gallant can only do so much – he's not the one forcing turnovers, missing nets, etc.
See ya Thursday night – pending something huge breaking between now and Game 5.
PLUGS TIME! (Buy a book and support my playoff ticket and beer funds! After all, I don't run ads on this site!)
---
My first plug of tonight's blog – the mandatory plug for my book, "The New York Rangers Rink of Honor and the Rafters of Madison Square Garden."
As mentioned previously, the book is now available in hardcover, in paperback and in Kindle formats. To purchase a copy of the book, visit this link:
https://www.amazon.com/Rangers-Rafters-Madison-Square-Garden-ebook/dp/B09CM5N2WD
For those still looking for signed paperback versions of the book, I have re-ordered more copies. I now have a few signed copies for sale at $25 a pop (includes shipping price) through me directly. Here is all the information on that:
---
My four-volume set of books, "One Game at a Time – A Season to Remember," is a game-by-game recount of the Rangers 2021-22 campaign.
My second title as an author, "One Game at a Time – A Season to Remember," is now available in eBook, paperback and hardcover formats.
To obtain signed copies, visit: https://bluecollarblueshirts.com/onegamebook/
To purchase all four volumes on Amazon, visit: Amazon.com – "One Game at a Time."
---
The greatest volume-set of books on Rangers' history today!
"Tricks of the Trade – A Century-Long Journey Through Every Trade Made In New York Rangers' History," a four-volume set of books that meticulously covers every trade made in franchise history, is now on sale.
All four volumes of the title can be purchased on Amazon.com and are presented in three different formats – eBook, paperback and hardcover.
To purchase Volume I: Conn Smythe (1926) – Craig Patrick (1986), visit Amazon.com
To purchase Volume II: Phil Esposito (1986) – Neil Smith (2000), visit Amazon.com
To purchase Volume III: Glen Sather (2000-2015), visit Amazon.com
To purchase Volume IV: Jeff Gorton (2015) – Chris Drury (2022), visit Amazon.com
To purchase signed copies of all four volumes, visit https://bluecollarblueshirts.com/tricksofthetrade/
---
Here are my last few blogs, in case you missed them:
---
---
---
If you haven't already, subscribe to this blog for the next update:
---
Don't forget to order my recently released four-volume set of books, "Tricks of the Trade!"
If you don't order through me, all four volumes are now available on Amazon.com
For more details, check out: https://bluecollarblueshirts.com/tricksofthetrade/
Thanks for reading.
LET'S GO RANGERS!
Sean McCaffrey
BULLSMC@aol.com
@NYCTHEMIC on the Tweeter machine