Greetings and salutations everyone and welcome to another blog here on BlueCollarBlueShirts.com. Just like how they drew it up – am I right?
Programming note: there are a ton of media files/clips/pics included during tonight's blog. Allow a few seconds for this write-up to load properly – it's worth it! And I promise you – no ads and no spyware!

The New York Rangers, who on Friday night, faced elimination for the second time during this series; the team from the Big Apple once again staved off the idea of trading in hockey sticks for golf clubs, and for the second consecutive game in a row – knocked off the Steel City Pittsburgh Penguins by a final score of 5-3.
For CZAR IGOR and company – it was their first road win of the series. A MUST needed win at that.
In addition, the Rangers have now regained home-ice advantage for their biggest game of their 2021-22 season.
Following their Game Six triumph; the Rangers have now forced upon us the two best words that any hockey fan wants to hear during the playoffs – "GAME SEVEN!"
(Worth noting? This first round of these 2022 Stanley Cup Playoffs have produced five separate Game 7's. What a great time to be alive!)
---
As you may be aware (and despite my status as an author), I am a blogger – and not an accredited reporter. (More important than that? I'm a FAN.)
Unlike the clueless media (sans Larry Brooks) who cover this team – I have skin in the game. A lot of skin at that, including a beer belly that was exponentially expanded tonight – as I drank about ten beers in an effort to calm myself down on Friday, where many suds were consumed during a wretched Rangers' first period.
This is my way of saying that I don't know where to start tonight.
(I also apologize in advance if this recap comes off as scatter-brained. Akin to an early 1990s Jessie Spano – "I'm so excited!")
---
As I've been saying during every single one of these playoff game review blogs – I have a million-and-one thoughts racing around my head right now.
Presently, as I type these words to you; I feel more relief than excitement, which to be fair – is to be expected as a fan of the Rangers.
After all, this franchise only has four Stanley Cup victories to their name during their 95 years of existence, where only one of them has taken place during the last 82 years. (And I know why the number is so low – hell, I wrote a book about it!)
As noted about 87678966789696896 times this season – I have adopted a "glass half-full" mentality, a mentality that was tested many times on Friday night – especially during the first twenty minutes of this game.
Let's call a spade a spade here and state what this game truly was – a non-sixty minute affair, where the Rangers scored a fluke game-winning goal against a third-string goalie, and with just 1:28 remaining in regulation.
And yes – let us both be proud and happy about the win – but to say this was a "GOOD WIN" would be the words of a downright liar.
Need proof?
If you have no fear, you can just check my underwear that's currently in the washing machine, as not only was this victory of the heart-attack variety – but it was a shart-inducing win too!
After all, until Andrew Copp scored an empty net goal with just seconds remaining – the Rangers never had this game locked down.
---
If you read last night's blog, and as you'll soon see during the NEWS segment of tonight's manifesto – the Rangers had every advantage in the world going into this game. A loss would've been a catastrophic.
Gone for the Penguins were Sidney Crosby, Brian Doumulin, Rakell, Rakell: "The Musical," and Tristan Jarry.
In were third-string goaltender Louie Domingue and a bunch of other nobodies that Pens' head coach Mike Sullivan would've rather done without.
Conversely, not only was Ryan Lindgren back again for the Rangers tonight, but so was Tyler Motte.
And after being named as both a Vezina and Hart Trophy finalist this week – the Rangers, or so you would think, have a far superior goalie in net with CZAR IGOR – a CZAR IGOR, that at least statistically, hasn't given the Blueshirts the perceived advantage in net while matched against the Pens' third-stringer.
As noted a few times during this series, and as I'm saying again – while CZAR IGOR hasn't been "bad" or anything like that – he just hasn't been superhuman on the road ("on the road" being the key phrase) either.
That's also a compliment paid to the Russian goaltender.
What I'm getting at here is that CZAR IGOR has been so fantastic this season, that we now expect him to stop every shot that he sees.
Now, and even as his biggest fan – my own five-hole clenches whenever Pittsburgh shoots the puck – which is not the best feeling to have.
---
I know that the disparity among NHL goaltenders is closer than it has ever been; as constantly, we're seeing back-ups and third-stringers play admirably as this new era advances – but god damn pals and gals – the Rangers were forty minutes away from turning Louie Domingue into Cinderella tonight.
And really, no matter what happens during Game Seven – Domingue has played well throughout these first six games of this series.
You can't knock him – especially when you consider how poor Tristan Jarry was last year during this point in time.
In other words – Domingue has been much better for the Penguins during these 2022 Stanley Cup Playoffs than Jarry was during the 2021 Stanley Cup Playoffs.
---
Going into this game, I expected the Penguins to kick it up a notch, not only because they were playing in front of their hometown crowd – but because I thought they'd try to rally around their fallen captain, #87 himself, Sidney Crosby.
And that's what they did.
Furthermore, the Rangers are now only down one player (Barclay Goodrow), while the Pens have a hospital-ward worthy list of injuries.
While Goodrow means a lot for the Rangers – there would have been no excuse for the Blueshirts had they pissed this game away, where truthfully – the piss was flowing like Niagra Falls after the first period.
The Rangers, full of many monikers, gimmicky catch-phrases and nicknames this season; did it again during Game Six, as "The Comeback Kids," and one of the most resilient teams in all of franchise history, "Found a New Way to Win."
For Gallant, who has preached "ONE GAME AT A TIME" all season long; lives to fight for another day, where the Rangers will host the Penguins during a "DO-OR-DIE" Game Seven on Sunday night.
However, during this Game Seven go-round, which is scheduled for 7PM Sunday night at M$G – the Penguins, and for the first time this series – will now join the Rangers under these "WIN OR GO HOME" circumstances.
And for a Rangers team that has had so many storybook moments and ironies this season – how ironic is it that Gallant, and just a few weeks back, once clinching home ice for this first-round tilt, said, "I don't care about home ice – except for a Game Seven."
---
While we'll get into everything during the GAME REVIEW; it should be noted here that it were the Ranger superstars (sans Panarin and Trouba) that lifted the Rangers to victory tonight.
However, that's not a knock on the third line of Lafreniere/Chytil/Kakko at all, as truth be told – I thought they were the most consistent Rangers' line of the game – even if they didn't score tonight as they have done during the previous five games of this series.
However, on this night, it were the FAT CATS that did the heavy lifting.
After a questionable goal allowed to Jeff Carter early into the game (I say questionable, as I saw goalie interference here – something that I'll get into during the GAME REVIEW); there were no questions about the Penguins' second goal, a pure rip of a one-timer from Bryan Rust.
Down 2-0, where the Rangers just looked baffled and also did their best Terry Schiavo impression; it was Ryan Lindgren who eventually woke up the Blueshirts Beast.
After #55 goaded Evan Rodrigues into a penalty at the five minute mark of the middle stanza; just five seconds into the Rangers' PP, Mika Zibanejad finally scored his first goal of the series. Seventy-six seconds later, Mika tied the game at 2-2.
The Rangers, who didn't squander their power-play chances tonight; then scored a second power-play goal during this second period, after a long-distance pass out of #31 himself, a feed to Zibanejad, where Chris Kreider, aka "CK52," then buried a rebound for the go-ahead goal.
Now up 3-2, and has been the case all series – the Rangers didn't hold this one-goal lead for very long.
Three minutes following Kreider's power-play goal; Trouba then made a god awful turnover near his own blue line, which then allowed Evgeni Malkin to go on a breakaway – a one-on-one chance that the long-time Penguin capitalized on. 3-3.
Tied going into third period, CZAR IGOR replicated his magic from 48 hours prior and once again – shut out the Penguins during crunch time.
During the final frame, which felt like the longest twenty minutes in all of hockey history (yes – there is a recency bias in that statement); the Rangers then scored a fluke goal which then put them ahead 4-3.
As of this writing, some media outlets are crediting Kreider with this goal. (In my eyes, it was his goal.) Some media outlets (including M$GN) are claiming that the puck caught a minuscule piece of Zibanejad.
Whatever the case, I don't care – this puck, shot off of the stick of Kreider, held up the game winner.
Just as they did during Game Five – the Rangers sealed the deal once the Pens' net was vacated for the extra attacker – where this time, it was Andrew Copp who scored the empty netter for the win.
While this game had to be exciting for anyone who didn't have a rooting interest – this game was anything but that for Ranger fans.
I feel like the Blueshirts were lucky to win it, but hey – a win is a win and that's all that counts.
This was a nerve-wracking, rabbit foot clenching, chain-smoking, finger-nail chewing win, where all of these negative habits will only become worse come Sunday night.
During that game, a game where the Penguins may get some of their regulars back – it would be nice if the Rangers can take a lead, and more important than that – HOLD A LEAD.
Six games into the playoffs and my heart feels like Chris Farley during his final hours.
At this time, let's get into all of the pregame news and interviews, and then into the main event – the GAME REVIEW.
---
On Thursday night, I covered all of the off-day news. You can find that blog here: https://bluecollarblueshirts.com/51222/
Come Friday, it was all about one player – Sidney Crosby.
During the Penguins' pregame skate on Friday morning, it was revealed that Sidney Crosby wasn't participating.
While starting goalie Tristan Jarry continues his attempt in making his comeback and practiced with the team; here was the line-up that Pens' bench boss, Mike Sullivan, used during the practice:
Here's how the lines look without Crosby:

Guentzel-Malkin-Rust
Heinen-Rodrigues-Kapanen
Zucker-Carter-McGinn
Boyle-Blueger-O'Connor
(Rakell did not take rushes)

The D-pairs are the same without Dumoulin:
Matheson-Letang
Pettersson-Marino
Friedman-Ruhwedel

— Pens Inside Scoop (@PensInsideScoop) May 13, 2022
---
Once the practice concluded, Sullivan talked to the media, where he stated that Crosby would not play during Game Six:
Coach Sullivan on Sidney Crosby's status: "He skated this morning with Ty Hennes. He will not play tonight."

— Pittsburgh Penguins (@penguins) May 13, 2022
---
At the time, despite Sullivan adamantly stating that Crosby would not play; I did have my doubts – and just like many of you did too.
All I could think of was Crosby having his own Willis Reed moment in front of his fans from the Steel City.
Thankfully, for my sake and the Rangers' – that's not what happened.
Betting lines also reflected this hypothetical theory.
The line, which saw the Rangers open up as a -120 favorite, only jumped to -125 prior to puck drop.
You'd have to think that if these 9678669676698 NHL gambling sponsors 100% believed that Crosby would not play, then the line would have jumped more than just five points.
In any event, Crosby or no Crosby – the Rangers had to handle their end. NO EXCUSES.
---
At this time, I want to share an email with you that I received from a former minor-league hockey player and a person that still works in the game today.
For what it's worth, I've been talking to this guy for years – so this isn't just some random email that I received out of the blue, as we've been exchanging emails for years:
As I write these words, I'm trying to confirm what's stated here. That said, this guy has always been on the up-and-up with me. Furthermore – he has no reason/incentive to make any of this up either.
If Crosby does have a concussion (as is currently suspected, and as ESPN's Emily Kaplan reported on Friday afternoon) – perhaps his outdated helmet is part of it. Just food for thought and a great point to bring up too.
And to be clear, we are not talking about a physical helmet that's twenty years old.
We're talking about the technology of the helmet, which does shock me a bit if true – as you'd think a player with a history with concussions would want the most updated stuff.
Perhaps these newer helmets don't fit right on him – but again, and to be clear – I'm just sharing this with you and haven't confirmed this story myself.
(I do have Ranger "SAUCES," but I don't have any Pittsburgh sources.)
---
While Pittsburgh was trying to figure out how to replace Sidney Crosby, or at the very least – figure out a winning game-plan; the Rangers also practiced and spoke to the media on Friday morning.
We didn't get much of anything new here. After all, Gallant just spoke on Thursday, and more important than that – talk is cheap.
During his pregame presser, "The Turk" said that Motte would be available, but at the same time, teased returning to a line-up of 11F/7D again.
At the end of the day – Gallant returned to a line-up of the orthodox 12F/6D variety.
Here's the head coach:
---
Here's what "The Turk" ultimately went with for this "Derick Brassard" tribute game:
FIRST LINE: Kreider/Zibanejad/Vatrano
SECOND LINE: Panarin/Strome/Copp
THIRD LINE: Lafreniere/Chytil/Kakko
FOURTH LINE: Motte/Rooney/Reaves
Defensively, we had this:
FIRST D-PAIR: Miller/Trouba
SECOND D-PAIR: Lindgren/Fox
THIRD D-PAIR: Braun/Schneider
And in net, CZAR IGOR.
---
BOX SCORE time.
The following information and graphics come from the new world-wide leader in NHL coverage, ESPN.com:
SCORING:
PENALTIES:
TEAM STATS:
GOALIES:
| | | | | | | | | | | |
| --- | --- | --- | --- | --- | --- | --- | --- | --- | --- | --- |
| SA | GA | SV | SV% | ESSV | PPSV | SHSV | SOSA | SOS | TOI | PIM |
| 37 | 4 | 33 | .892 | 27 | 4 | 2 | 0 | 0 | 59:12 | 0 |
| | | | | | | | | | | |
| --- | --- | --- | --- | --- | --- | --- | --- | --- | --- | --- |
| SA | GA | SV | SV% | ESSV | PPSV | SHSV | SOSA | SOS | TOI | PIM |
| 34 | 3 | 31 | .912 | 26 | 0 | 5 | 0 | 0 | 60:00 | 0 |
---
After personally being wired for most of Friday; come 6:30PM, the M$GN pregame show began.
Of note, Dave Maloney has missed the last two games. He sounded like shit during Game Four, so I'm assuming he has some sort of ailment.
Once the M$GN showed us a shot of the players taking the ice for their pregame warm-ups, two things were confirmed, two things that fell in the Rangers favor – there would be no Willis Reed moment for Sidney Crosby. Even better, Tyler Motte would be making his Rangers' playoff debut.
Sieve Vagistat remained brutal tonight, where in his first few words, he talked about how Motte could be a "GRINDR," where I'm sure the worst back-up goalie of the Lundqvist Era is familiar with the app associated with that word.
After stating that Igor is "silent but deadly;" the legendary goalie of 46 career games started coming up with nicknames for the third line, where he said he thought the "LOTTERY LINE" was his favorite.
(And how is Igor silent? He's a freakin' nominee for both the Vezina and Hart trophies!)
I don't know about you, but in a MUST WIN game for the Rangers – I don't give two shits about nicknames and pet names.
However, if you want to do that stuff now, and with the off-day on Saturday – be my guest. I was just too pumped up and focused on the task at hand to be worried about line monikers.
While Vagistat credited the "LOTTERY LINE" nickname to some Twitter user; at the same time, he didn't use my ANALYTICAL chart that I posted on Twitter:
After enduring Vagistat's never-ending bullshit babble; we finally got to hear from someone who has done it before, and many times at that, in Henrik Lundqvist.
Once again, my opinions/thoughts/feelings were "in simpatico" with #30.
Lundqvist said that he thought that Domingue had played a hell of a series – numbers be damned.
(Read my Game Five recap for more on this – as the stats these two goalies are posting doesn't truly reflect how good they've been. Until the waning moments of Game Six – Domingue hadn't given up a "bad" goal yet.)
"THE KING" of all M$GN analysts then compared Ryan Lindgren to his former teammate, #5 himself, Dan Girardi.
A lot of people have said this before, when comparing Lindgren to Girardi – but it was nice to hear Lundqvist say it. And wouldn't you know it – Lindgren kicked off tonight's comeback victory too.
After Lundqvist, who is always brutally honest with his eye-test opinions (both refreshing and a pleasure to hear), said that the Rangers must win a faceoff; we finally went to Sam and Joe, who like the Swede, brought up how big Lindgren was during Game Five. The announcers then talked about the Rangers' faceoff woes too.
Sam and Joe, who admittedly, I do like to use for comedic relief on these blogs – have been tremendous all series.
Once again, I thought they had another strong call tonight, where their candidness is appreciated. They haven't held back once.
Rosen, prior to puck drop, said what I said – Crosby or no Crosby, the Penguins were going to be a tough out and the Rangers couldn't treat his absence as a "gimmie" or cake-walk game.
After a "TACO BELL TAKE" which was focused on CZAR IGOR; we then went to center ice, where right away – Penguin fans started trolling Igor again. I hope these losers are still singing his name right now!
GAME REVIEW time!
---
FIRST PERIOD:
Right before puck drop, and outside of thinking about all of the advantages that the Rangers had heading into this game – I was reminded of what both Eddie G. and Jim S., hosts of "The Blueshirt Underground Show," and readers of this site/podcasters/hardcore fans/Kings of Rangers' YouTube, had said on Thursday night, during their "Patreon Exclusive" Game Five Recap/Game Six Preview episode.
Both said the obvious – the Rangers had to shoot the damn puck, where both felt that the Rangers had to put forty shots on goal in order to win this game.
In all, the Rangers put 38 SOG, where a two goal margin of error is good enough for me.
Jim S. also brought up the topic of superstitions, where he pretty much admitted that he was the Wade Boggs of Ranger fans. (No baseball player was more superstitious than Boggs, in a sport full of superstitious players.)
In my own superstition, at least for this series, and beginning once the Rangers went down 3-1; I had my Martin St. Louis jersey clenched in my non-drinking hand. It paid off. I'll be squeezing the shit out of that jersey again on Sunday night!
---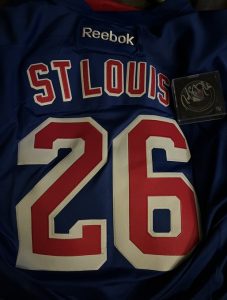 The first twenty minutes of this game was like trying to make a joke at a children's burn ward – tough and uncomfortable.
As the Rangers' problems at the dot carried over into this game (only Filip Chytil, and surprisingly at that, finished with a winning faceoff percentage tonight, at 62.5%); just fifteen seconds into the action, CZAR IGOR was forced to make a huge save on Jake Guentzel.
As my friend/neighbor/road-trip pal, TEN O'CLOCK TOMMY remarked from my fart-filled couch – "imagine if that went in?"
I'm glad that's all that was – something to imagine, and not a reality!
During Trouba's first shift, which took place at the fifty second mark; the Pittsburgh crowd diverted their attention from CZAR IGOR and then let number eight hear it.
I don't know if the crowd rattled Trouba tonight, but this much is known – this was his worst game of the series.
The Penguins, the far superior team of this period, challenged Igor constantly.
The Rangers' third pair of defensemen, who like Trouba and Panarin, also had a tough outing tonight; this pair had one of their best shifts 2:10 in, when Justin Braun fought off a Pens' forecheck. (And to be clear – I don't expect much out of Braun and Schneider. I do expect a lot out of Trouba and Panarin.)
As Micheletti was shrieking about the Rangers not getting shots on goal (he was right), Panarin then fumbled a puck while in the Pens' slot.
At the 4:30 mark, Lindgren prevented Jeff Carter from going on a breakaway.
Following this, the Rangers' first line came on, where they had a near three minute shift, a shift full of multiple icings and repeated faceoff losses.
You know it's bad, when just six-to-seven minutes into the game, the hometown color analyst (Micheletti) says: "If Mika Zibanejad can ever win a faceoff…"
With 12:50 remaining, the first line was finally able to get their change, after Vatrano got the puck out of the Rangers' d-zone.
With 11:27 to go, Lindgren was hurting, where he fell down and was accidentally booted in the head. No call, where to be fair – the Penguin offender did try to get out of the way of this unintended contact.
What wasn't fair was a phantom penalty assessed to Kevin Rooney, a #17 who took a two minute time-out for interfering with Brock McGinn.
The Rangers' PK was phenomenal here, where both Lindgren and Copp really stood out.
In fact, the Rangers' penalty kill would record two shots on goal during this, where at the time – was half of the Rangers' SOG production.
As the Rangers' third line, and Alexis Lafreniere in particular, continued to play well; for whatever reason, both Zibanejad and Panarin wouldn't even look at Domingue.
With 6:09 to go, at least Kreider tried to test the third-stringer – an easy save for Domingue.
Then, with 5:48 remaining, this happened:
Jeff Carter: Big time goal scorer. 👏#StanleyCup | #LetsGoPens pic.twitter.com/MZLQnVulbt

— Sportsnet (@Sportsnet) May 13, 2022
---
1-0, bad guys, a goal for Jeff Carter.
In real-time, I didn't even care about this goal, because to me it was obvious – Brock McGinn interfered with CZAR IGOR, when he bumped #31 right before the goal was scored.
However, I did care seconds later, as not only did the officials not bother to review this (as opposed to how they did during Chytil's third period goal during Game One) – but Gallant didn't even bother to challenge this goal either!
I hate to sound like a Crosby here (crybaby bitch), but really, this much is a fact – the officials were quick to review Chytil's goal from Game One, but didn't bother to give this one a second glance.
That said, and I know that maybe he didn't want to risk losing his timeout, where a challenge loss would've put the Pens' on a power-play (and especially with the officials giving every 50/50 call to the Penguins during this series) – but I thought this goal merited a challenge out "The Turk." And I say that as an ardent supporter of Gallant.
Ninety-six seconds later, Rust scored a no-doubt about it one-timer. 2-0, bad guys.
For what it's worth, I thought that Igor was interfered on the first Pens' goal and that the Rangers' defense did him no favors on the second.
I only bring this up, because I saw people on social media saying that CZAR IGOR should've been pulled for Georgiev at this time. I did NOT share that opinion.
During the final five minutes of the period, there was one sequence where Domingue flopped around all over the place, but the Rangers' second line never challenged him. That would be the Rangers' best chance of the period.
2-0, bad guys, after a deflating first period.
Here were my "real-time" first period thoughts, opinions which I posted on Tweeter:
2-0 bad guys after 20. 1P Thoughts:
— Embarrassing, pathetic & putrid.
— I want to know why Gallant didn't challenge goal one.
— Mika and Panarin are doing nothing.
— SOG 12-12, Hits 8-7 Pens, FO's 8-7 #NYR – very misleading
— Third line can't be your best line.
— LGR

— BlueCollarBlueShirts (@NYCTheMiC) May 13, 2022
---
Fortunately, the second period saw the Rangers complete a full 180.
---
SECOND PERIOD:
As all of Rangerstown, USA, and the M$GN analysts too, lamented over the Ranger troubles – I never counted them out. After all, they've came back more times than not this season, and I wasn't willing to throw in the towel just yet.
That said, it didn't look good – but soon enough, the Rangers were able to turn the tables on their injured foes.
As Strome won the opening faceoff of the period; Micheletti remarked that Brian Boyle, after a hit on Trouba during the first period, hadn't returned to the game.
As I told TEN O'CLOCK TOMMY at the time – how many advantages did the Rangers need in order to win this game? The whole entire Penguins' team to come down with COVID?
As Mika continued to lose every faceoff imaginable known to man; 1:01 in, Domingue stopped #93's breakaway back-handed try. (Keep this in mind for later.)
With 17:35 to go, both Lafreniere and Kakko tried to razzle-dazzle Domingue, but the third-stringer wouldn't be fooled.
As the period progressed, Copp kept losing faceoffs, where at one point he was 0-7. He won four of thirteen overall – not good. (And yep – this is where you miss Goodrow – a #21 who could return to the team should the Rangers win Game Seven.)
After the officials ignored an elbow from Guentzel on Trouba; five minutes in, we had the turning point of the game, when Lindgren drew Rodrigues for a high-stick while the Pens were attacking.
Five seconds into the Rangers' power-play, Mika Zibanejad entered the chat:
MIKA MAGIC! IT'S A POWER PLAY GOAL!! pic.twitter.com/vKVC7FR37p

— x – Rangers on MSG (@RangersMSGN) May 14, 2022
---
2-1, bad guys – the Rangers were right back in this!
On this goal, two rarities took place – one, the Rangers won an o-zone faceoff. Two, they shot the puck. GOOD THINGS HAPPEN WHEN YOU WIN DRAWS AND SHOOT THE PUCK!
CZAR IGOR, perhaps a tad shaky and letting the pressure getting to him a bit; #31 soon stopped Rust with 14:12 to go, but following the save – he looked behind himself and into his own net. He didn't know he had the puck/save. The pro-Pens crowd immediately took notice of this and started mocking him again.
Following Igor's fortunate save, Mika struck again and with 13:39 to go:
MIKA TIES IT!!! #NoQuitInNY pic.twitter.com/shmH4VOCJY

— x – Rangers on MSG (@RangersMSGN) May 14, 2022
---
2-2! The Rangers shite start had been erased! (This is also when my downstairs neighbor went all broom on ceiling on yours truly and TEN O'CLOCK TOMMY, as we were going nuts.)
Now tied, with thirteen minutes to go, Domingue denied Kakko.
As everyone and their mother were laughing about Mika finally showing up, while all being happy to see #93 show us all up (for once this series); the Pens put forth an offensive flurry on Igor – a flurry that the Hart and Vezina finalist survived.
In another turning point of the game; the Rangers would soon find themselves on a 5 x 3 penalty kill.
For the second game in a row – they'd kill off this Pens' two-man advantage.
With 11:59 to go, Zibanejad was boxed for a delay of game, as he put a puck over the glass. Fifty-three seconds later, Rooney blatantly tripped Guentzel. In turn, the Pens' had a 1:07 5 x 3 power-play.
Once Rooney went to the box, Sullivan used his time-out. I thought this was a wise decision, but it would come back to hurt him later on.
CZAR IGOR, who was lights out during this PK, including when he made a deflection save on Guentzel; then saw Copp and Lindgren shut down the Pen's power-play too.
Once Mika returned to the ice, he had a jack-in-the-box breakaway chance. As everyone stood up, Mika hit the crossbar on this short-handed try. (Keep this play in mind for later too.)
Now back to full strength; the Rangers' second line had a few chances, but couldn't find the go-ahead goal.
However, with 7:03 to go, Carrie Mathison high-sticked Vatrano, an infraction which drew blood.
For some reason, the officials reviewed this, where I don't know what the hell they were looking for. In any event, the Rangers now had a four minute power-play (double minor assessed to the "Homeland" star) to work with.
They'd make Pittsburgh pay for their crimes.
During a play that looks much much much better since the Rangers won (it would be tough to be happy about this had the Rangers lost); CZAR IGOR RECORDED HIS FIRST PLAYOFF ASSIST OF HIS CAREER:
SHESTY WITH THE 🛸 KREIDER WITH THE FINISH! pic.twitter.com/RbaIkdK7zP

— x – Rangers on MSG (@RangersMSGN) May 14, 2022
---
CZAR IGOR, who probably could've had a dozen assists during the regular season after all of his homerun passes (the Rangers could never bury the puck following these passes full of wizardry); finally got the first playoff assist of his career here.
On this play, Igor dialed a puck up the middle to Zibanejad. After Domingue made the initial save on #93, Chris Freakin' Kreider, King of the Rebound, was right there.
3-2, GOOD GUYS and with 6:12 remaining.
The Rangers, whose power-play still looked hot, couldn't come up with an insurance goal on the back-end of Carrie Mathison's two-bagger.
At 4:09 remaining, we returned to full-strength. Then, with 3:24 to go, Trouba turned over the puck, and future Hall of Famer, Evgeni Malkin, soon made this a tied game again. 3-3.
With three minutes remaining, and prior to a faceoff; Jason Zucker tripped Vatrano. Vatrano fell down. For some reason, both men were penalized. I guess falling down after being tripped earns you two minutes in the box these days.
During the two minutes worth of foreplay, each team received GRADE A HIGH DANGER chances, where Rust somehow went wide during an odd-man rush, followed up by Panarin doing his turnover act.
Once back to full strength, the period wound down to triple zeroes.
3-3 after forty minutes.
Here were my second period thoughts at the time:
3-3 after 40. 2P Thoughts:
— Took five games, but Mika has finally shown up. Panarin has not.
— Igor needs to have a superhuman third period.
— PK has been fantastic.
— Trouba's turnovers have been a killer.
— SOG 30-26 #NYR, Hits 18-13, FO's 20-16 Pens
— WTP, WTG
LGR

— BlueCollarBlueShirts (@NYCTheMiC) May 14, 2022
---
THIRD PERIOD:
With one of the biggest cliches in hockey on your mind, "WIN THE PERIOD, WIN THE GAME" – the Rangers did just that. It wasn't pretty, but who cares about that? All that matters is the win!
Prior to this win however; was this now viral clip, which took place earlier in the game, after Mika's missed breakaway:
Chris Kreider. Not an iPad guy. pic.twitter.com/uqCYWwc5d5

— Spinorama 🔄 Hockey (@spinohockey) May 14, 2022
---
I loved this, and let me count the ways:
— Here's Chris Kreider, the unofficial captain of the team, telling Mika to forget it and move on.
— Kreider wasn't being a dick here – he was pretty much telling Mika not to let this bother him.
— Here's "CK52," team leader, not allowing a play to eat his center alive. Positive reinforcement!
Following the game, Kreider, on this iPad wreckage, said:
"He was looking at the breakaway and I heard him start second guessing his move. I didn't really like that."
That's captain material my friends.
---
This third period was more conservative than a GOP convention, where not many SOG were to be had.
If there was anything to truly note here, aside from the goals; it was that the Penguins would constantly ice the puck and then stall, stall and stall again after each icing. The officials never gave them a delay of penalty during any of these multiple offenses.
After the two goalies traded five or six saves each, and in a period where defense was at a premium; with 1:28 remaining, the Rangers' first line came up with the game winning goal:
CHRIS KREIDER!!!!!!!! #NOQUITINNY pic.twitter.com/6UkBVTcuKd

— x – Rangers on MSG (@RangersMSGN) May 14, 2022
---
4-3, GOOD GUYS, where I don't give a Father Fink who scored!
As noted earlier, I thought Kreider had this goal, but others credited Mika for the goal.
(For what it's worth, despite M$GN awarding the goal to Mika, NHL.com gave the goal to Kreider. This is probably something for the league to sort out on Saturday, where we'll find out then if Mika gets a playoff hat trick or not – where again – who cares?)
On the goal itself, Domingue, as if he were a volleyball player setting up a serve; "pop-flied" the puck into his own net. The puck took a fortunate Rangers' bounce during this hectic sequence, the first Rangers' good bounce of the series, for what turned out to be the game winning tally!
The Rangers, now 88 seconds away from forcing a Game Seven, received another break.
Since Sullivan used his timeout during the Pens' 5 x 3 power-play (and you know what I say if you can't score during these chances – you don't deserve to win); he couldn't slow the game down and set up his 6 x 5 attack.
The Penguins, to their credit, pressured Igor here, but during these most important 88 seconds of the game – Igor said NYET NYET every time.
With 27 seconds remaining, Copp confirmed that there would be a Game Seven, following his empty net goal.
5-3, GOOD GUYS, 5-3, YOUR FINAL!
And yep – I thought that the Rangers were going to win this game – but I didn't think it would be this difficult.
Here's Double G after the game:
---
Here's the dynamic duo's post-game interview:
---
Again, and at the risk of sounding negative – I don't know if the Rangers win this game had Crosby played tonight. Ditto Jarry.
That said, that's something for Penguin fans to worry about, and not me.
I will say this though – Sullivan's ice birds won't go down without a fight.
It would be nice if the Rangers can take a lead during Game Seven and then not allow the Penguins to instill fear in us.
Zibanejad and Kreider, now off of their best games of the series – MUST, MUST and did I say MUST yet – follow up on this.
I'm not too concerned about another "FAT CAT" in Jacob Trouba. Aside from tonight, he's been fine.
I am concerned about Artemi Panarin, who has been a ghost during this series.
Yeah, "The Breadman" has a bunch of secondary assists, but he hasn't been a factor at all in this series.
That's not good for your $11.6M man. Let's hope he has saved his best for the last game of this series.
As far as anything else that I haven't mentioned yet? Adam Fox had four assists tonight.
While some of his assists were admittedly fugazi (secondary and an empty net apple), this quartet of helpers is a nice accomplishment for Mr. Norris.
And as I write these words, the start time for Game Seven is now official.
The Rangers and Penguins will do battle one final time this season, starting at 7PM on Sunday.
The winner of this series will then play the winner of the Boston/Carolina series, another series that has gone to seven games.
Personally, I'll be watching the Bruins vs Canes on Saturday, where I'm rooting for the B's.
Yeah, one game at a time and blah blah blah – but should the Rangers pull off the comeback – I think the Bruins provide the least path of resistance in the Blueshirts' attempt to reach the Eastern Conference Final.
Either way, this much I can tell you – LGR!
PLUGS TIME.
---
My first plug of tonight's blog – the mandatory plug for my book, "The New York Rangers Rink of Honor and the Rafters of Madison Square Garden".
As mentioned previously, the book is now available in hardcover, in paperback and in Kindle formats. To purchase a copy of the book, visit this link:
https://www.amazon.com/Rangers-Rafters-Madison-Square-Garden-ebook/dp/B09CM5N2WD
For those still looking for signed paperback versions of the book, I have re-ordered more copies. I now have a few signed copies for sale at $25 a pop (includes shipping price) through me directly. Here is all the information on that:
---
Here are my last few blogs, in case you missed them:
---
---
If you haven't already, subscribe to this blog for the next update:
---
Up next: Game Seven, Sunday night at M$G. KEEP THE FAITH!
As always here, thanks for reading and…
LET'S GO RANGERS!
Sean McCaffrey
BULLSMC@aol.com