Greetings and salutations everyone and welcome to another blog here on BlueCollarBlueShirts.com. What a turn of events!
As I write these words immediately following the Rangers' 5-3 Game Five victory, a win that narrowed the Penguins' edge in the series to 3-2 – I'm still shaking like Michael J. Fox on a rickety roller-coaster. (And yes, I know I've used this joke before – but that's how I feel, as my stomach still remains in knots!)
Akin to the Rangers' Game Four loss (and really for that matter – any game from this 2021-22 season) – I have about a million thoughts running around my mind, as if I had just ingested a hundred pound bag of bath salts.
It doesn't matter what phrase you want to use right now.
Whether it be "DO OR DIE," "WIN THE PERIOD, WIN THE GAME," "MUST WIN," "WIN OR GO HOME," etc; at the end of the day, the Rangers did what they had to do on Wednesday night – WIN.
They'll now have to do it again on Friday night, when they travel to the Steel City for Game Six.
As you'd imagine – the fans in Pittsburgh won't be friendly to CZAR IGOR on that night.
If you thought the heckling of the 2022 Vezina winner was bad during Games Three and Four – it will only be much worse during Game Six. Both Igor, and his teammates, will have to overcome it.
And should the Rangers once again fend off elimination on Friday, and force a Game Seven on Sunday night – we'll then find out how important home ice truly is.
---
There are so many ways to break down this game.
Yes, I've been pushing my "glass half-full" mentality on you all season; but even I can't bury my head in the sand after Game Five – which was a heart-attack inducing victory, rather than of the calm "walk-in-the-park" variety.
Game Five was a tale of two games, although one central theme ran throughout the duration of the sixty minute affair – both Mika Zibanejad and Artemi Panarin can't buy a goal these days – and not even on the power-play neither.
I know I've said it all series, I know everyone else has said it all series, and I know your mother has said it too; but one more time for the people in the back – it are the INEXPERIENCED AND YOUNG players who are doing all of the heavy lifting for the Blueshirts, with these four (along with Filip Chytil too – check out last night's blog for more on this) shining the brightest:
In a game that had all the vibes of a funeral for a young child who didn't deserve it; by the half-way point of the contest, the Penguins had raced out to a 2-0 lead.
The letter "M" in M$G may as well have stood for the word "morgue," as the Garden Faithful were at a loss for words. At one point, I think Joe Micheletti left the booth to buy the Rangers a mass card.
The Rangers, for the first thirty minutes of this match, didn't play with any sort of desperation at all. There was no killer instinct whatsoever.
It just felt like they were content with allowing the officials, and the Pens' top line too, to dominate them in a five-game set.
Then, in the turning point of the game, Jacob Trouba laid out Sidney Crosby:
Jacob Trouba, who's delivered more than his share of dubious hits since leaving friendly Manitoba, elbowed Sid in the head. That's why Crosby left the game.pic.twitter.com/xl3XaxcUzx

— Dejan Kovacevic (@Dejan_Kovacevic) May 12, 2022
---
While this play may have deserved a penalty (slow motion makes this play look worse, and for what it's worth – Crosby had his head down too); it was such a bang-bang deal, where I don't think that Trouba's intent was to elbow the concussion-prone Crosby right in the melon.
That said, and knowing this league – I wouldn't be surprised to hear if Trouba gets a call from the league tomorrow. However, that's something to talk about on Thursday.
Plus, it's not like #8 has a reputation for being dirty – he has a reputation for clean and hard hits.
Furthermore? If you're not going to suspend Jeff Carter for running over CZAR IGOR at the end of Game Two – how can you suspend Trouba here? Just food for thought.
---
I know I've brought the following up on this site about 9786786767899696 times before this season; but while I rarely agree with the analytical based Sieve Vagistat of the M$GN – I usually tend to agree with the eye-test based Henrik Lundqvist.
My first take following the Rangers' win? This:
Don't want to be downer, but yeah – losing Crosby most certainly helped #NYR . I don't root for injuries but I hope I don't see him again for the rest of these playoffs lol

— BlueCollarBlueShirts (@NYCTheMiC) May 12, 2022
---
Once returned to the M$GN studio for the post-game show – Henrik Lundqvist said the exact same thing.
Both of us are correct.
Once Crosby left the game during the middle of the second period, the tide would turn. The Penguins were a completely different team without one of the greatest players of all-time on the ice.
The Rangers would then score three quick goals within a time-span of 2:42, where not only did they erase the Penguins' two-goal lead – but they took the lead themselves.
However, the lead would only last for all of thirteen seconds, as Jake Guentzel single-handedly tied the game, on a play where you could blame CZAR IGOR for the goal allowed – a rare occurrence during this 2021-22 season.
Knotted up at 3-3, and now entering the third period with the often-cited mantra of "WIN THE PERIOD, WIN THE GAME;" the Rangers' top six continued to flutter, where you can't make any excuses for the first line.
A Filip Chytil power-play goal, a second unit power-play goal at that; would hold up as the game winner – following #72's offensive awareness when he successfully battled for a loose puck.
This 4-3 goal was scored at just the 2:53 mark of the final frame.
Despite numerous chances to seal the deal, the Rangers' top six couldn't find a way.
You can only imagine what would've happened, had Crosby not been eliminated from this game – a Penguins' captain that has been the best player of this series, as #87 has turned back the clock to the days of his glory years.
As much as I love rooting against him, this much is true – Crosby remains as one of the best players in all of the league today, hands-down, no questions asked.
He's also made Zibanejad look foolish, something that I hate to admit.
---
As the Rangers' third line continued to excel, and once again, were the best trio of Ranger forwards on the ice (I hate the "Kids' Line" moniker, because as mentioned 976789686789689 times in the past – there have been about 7867867896796 "Kids' Line" nicknames throughout NHL history); another new hero emerged – the returning Ryan Lindgren.
(Remember when the analytical losers once said that the Rangers should've traded Lindgren? What utter shite!)
In his first game back since receiving injuries during Game One, the triple overtime game – #55 was an absolute beast.
Lindgren could do no wrong on this night. It felt like he could turn water into wine during this game, as the "resurrection" of Lindgren lifted the team.
Here's a hot take – Ryan Lindgren may be a tad better than Patrik Nemeth!
(And if you can't tell – I'm saying this to be funny, as everyone knows that Lindgren blows away Nemeth!)
Double nickel, alongside partner Adam Fox (and as it always should be), was blocking shots, laying the body, involved in scrums, and put it all on the line. WARRIOR.
And for good measure, Lindgren scored an empty net goal with just fifteen seconds remaining, which then allowed Ranger fans to exhale a big breath of relief.
As noted on this site throughout this series; while I do have my gripes with the way these games have been officiated, conversely – I can't blame injuries at all.
Yes, losing both Lindgren and Barclay Goodrow has sucked for the Rangers. However, need I remind you, and for the billionth time, that the Penguins have a third string goalie going head-to-head with the 2022 Vezina winner?
(As my dad first quipped to me today – what would've happened had the Rangers been forced to start either Keith Kinkaid or Adam Huska in net? Perish the thought!)
Do I also need to remind you that the Penguins are still without a top six forward in Rakell, Rakell: The Musical, and a top blue liner too, in Brian Dumoulin?
That out of the way, this much is true – Ryan Lindgren was a huge factor in the Rangers' Game Five win.
I'm not so sure if the Rangers win this game without him – especially since such an absence would have led to a penalty and turnover prone Patrik Nemeth appearance.
(As I'll soon get into, Gallant dressed a line-up of eleven forwards and seven defensemen tonight – an unorthodox line-up dressed as an insurance policy, in the event that Lindgren went down. Lindgren would miss a few minutes during this game, and in turn, Nemeth, the seventh defenseman, played sixteen seconds in all – sixteen seconds that forced the buttholes of Ranger fans to immensely pucker up.)
---
While the Rangers' top six remain as headcases; the complete opposite is true of Alexis Lafreniere, Filip Chytil and Kaapo Kakko, where arguably – the 2020 first overall pick is the best Rangers' skater of the series.
This third line, a trio that played less than five games together during the regular season, have been absolutely electric. Without them, we could be talking about a four-game Penguins' sweep.
Kakko picked up an assist tonight. Lafreniere picked up a tying goal and an assist too. The much criticized Filip Chytil, who has turned it on once the regular season became the postseason, wound up scoring a game winning power-play goal.
And it's just not the pretty plays and the points.
Shift in and shift out, this triad are getting scoring chances and also holding up their end defensively.
While Panarin (who at one point in this game had racked up over ninety consecutive minutes in this series without a SOG), and Zibanejad (no goals during these five playoff games) continue to struggle – it's the line that everyone worried about entering this series, an under 23 crowd, who continues to fuel the Blueshirts.
I really can't shower enough praise upon this third line. The Rangers would be dead in the water without them.
---
During these five games, we've seen the box scores/stats of the two goaltenders, Louie Domingue and CZAR IGOR, take a beating. That said, I don't think their numbers are a true portrayal of the way they have played.
For the first half of this game, Domingue racked up a casual fifteen saves or so – where he wasn't challenged at all.
CZAR IGOR, who once again gave up three goals or more, and just barely finished tonight's contest with a save percentage over .900 (.906), wasn't at his best tonight – but he was at his best when had to be during crunch time.
It's also why the Rangers' third line deserves so much respect.
After back-to-back elite and historic performances during this series in Games One and Two; whether it was the triple overtime game or getting hit at the end of Game Two – while CZAR IGOR has played well, at the same time, we've seen him play better.
And I say that as a day one CZAR IGOR fan, and where I'll also save you from my "Greatest Hits" and stories from 2017 tonight!
While temporarily looking ahead – Game Six, and just as it will be for most of these Rangers – will be the biggest game of CZAR IGOR's career.
(And should he falter early, I don't think that Gallant will wait for the start of a period to insert Alexandar Georgiev in net. However, let's not even think like that!)
Win-less on the road; during Game Six, #31 must put forth another Vezina worthy performance in front of an irate, loud and hostile Pittsburgh crowd – especially if the Rangers' top six continue to come out flat.
And should Sidney Crosby now join the walking wounded in Pittsburgh – they'll be NO EXCUSES for the Rangers.
The Rangers MUST WIN Game Six and force the two most loved words in all of hockey upon us – "GAME SEVEN!"
---
I covered all of the news from Monday last night, where just like Tuesday's "Turk Talk" – talk is cheap.
However, since it's tradition here, I have Gallant's pregame press conference for you below – where outside of once again teasing a line up of eleven forwards and seven defensemen – there wasn't much said. The talking would have to be done on the ice.
Here's Double G:
---
Here's what "The Turk" went with for this "Nick Beverley" tribute game:
FIRST LINE: Kreider/Zibanejad/Vatrano
SECOND LINE: Panarin/Strome/Copp
THIRD LINE: Lafreniere/Chytil/Kakko
FOURTH LINE: Rooney/Reaves (Lafreniere was the one who was double-shifted the most, as he skated with the two extra forwards.)
Defensively, we had this:
FIRST D-PAIR: Miller/Trouba
SECOND D-PAIR: Lindgren/Fox
THIRD D-PAIR: Braun/Schneider
SEVENTH DEFENSEMAN: Nemeth
And in net, CZAR IGOR.
BOX SCORE time.
The following information and graphics come from the new world-wide leader in NHL coverage, ESPN.com:
SCORING:
PENALTIES: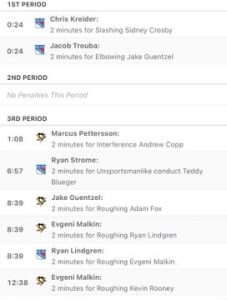 TEAM STATS: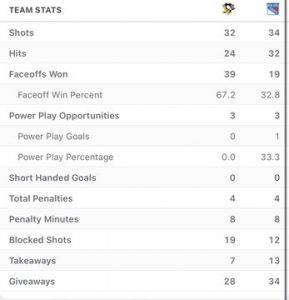 GOALIES:
| | | | | | | | | | | |
| --- | --- | --- | --- | --- | --- | --- | --- | --- | --- | --- |
| SA | GA | SV | SV% | ESSV | PPSV | SHSV | SOSA | SOS | TOI | PIM |
| 33 | 4 | 29 | .879 | 25 | 0 | 4 | 0 | 0 | 58:52 | 0 |
| | | | | | | | | | | |
| --- | --- | --- | --- | --- | --- | --- | --- | --- | --- | --- |
| SA | GA | SV | SV% | ESSV | PPSV | SHSV | SOSA | SOS | TOI | PIM |
| 32 | 3 | 29 | .906 | 24 | 2 | 3 | 0 | 0 | 60:00 | 0 |
---
The M$GN pregame show began with the customary opening shot of Ryan Reaves belting out, "SHESTY RELEASE US!" Like a silly near forty year old fan boy – I get goosebumps every time!
Once to the studio, Giannone brought up how legacies are made during do-or-die games, where he also mentioned that one guy on the panel knows a thing or two about this. And he wasn't talking about Sieve Vagistat, whose hard-hitting opening analysis was, "this game will be decided based on performances."
You don't say.
Lundqvist (where I still can't believe that our opinions have been aligned all season – who knew?), then said that he thought that the Rangers had to open up hot, and then maintain their compete level throughout the second and third periods.
I thought both of us were right with this take, but as we'd soon see – that's not what happened in this game.
As M$GN confirmed that Gallant would be using a 11F/7D line-up; we then saw a fan hold up a sign that said (and use your best fugazi Italian accent when reading this) – "#93, DON'T MIKA ME CRY!"
If it wasn't for the third line tonight – we'd all be crying right now.
Vagistat, to his credit, then repeated my often-used opinion/sentence/take – "it's great if the third line is your best line, but that's not what's best for the Rangers." He, like me, was calling out the top six when saying this.
Once arriving at 7PM, Sam and Joe stated the most obvious – this was the biggest game of the season.
GAME REVIEW time!
---
FIRST PERIOD:
The first period inspired feelings of pain, anger and despair – as the Rangers didn't do much of anything.
While the third line, K'Andre Miller and Ryan Lindgren stood out (and Schneider, now Nemeth-less and paired with Braun too) – it's tough to find praise for the team's highest paid players, players who need to step up during these big games/moments.
After Mika won the first faceoff of the game, his first of seven (he went 7 of 22 at the dot tonight for a pathetic losing percentage of 31.8%, as faceoffs have doomed the Rangers all series); the officials wasted no time in giving the Penguins an early advantage.
(And oh – regarding faceoffs? The Rangers were more than doubled-up at the dot tonight, as the Penguins won 39 faceoffs to the Rangers' paltry number of 19 faceoff wins. And these numbers include a Penguins team that were without Crosby for half of the game too. Somehow, and someway – the Rangers have to figure out how to win a freakin' faceoff – especially zone faceoffs.)
Just 24 seconds into the game (this has to be an NHL record), the Penguins received a 5 x 3 power-play.
After it was alleged that Trouba had elbowed Guentzel near the penalty box, these inept officials, after listening to their hero Sidney Crosby – also decided to bang Kreider for a slashing call too.
Again – I've never seen a 5 x 3 power-play at the 24 second mark of a playoff game before.
The Rangers' PK, led by Copp and Lindgren, were strong during this. In fact, CZAR IGOR only had to make one save, a tough swooping glove save, and with just 38 seconds remaining on the man-down. Copp would then get the final clear of the penalty kill.
And yep, you know what I always say – if you can't score on a 5 x 3 power-play or a during a five minute power-play – then you don't deserve to win. (I know my buddy Geo always says this too! And to be fair, I believe Vagistat always says this too.)
The Rangers, who brought the hits during this period (but not the SOG against a third-string goalie), saw Lafreniere and Trouba lay back-to-back hits once returned to full strength.
Within the first four minutes of this game, Lindgren, part of the successful kill, also had a blocked shot and a hit on his ledger.
After CZAR IGOR stopped Kapanen with 14:32 to go; Trouba made a horrible turnover, where he gave up the puck on a platter to Letang. Trouba's partner, K'Andre Miller, a #79 who is arguably the best Rangers' d-man of this series; then bailed out his partner and blocked Letang's attempt at Igor.
At the seven minute mark of the period – the Rangers finally put their first shot on goal – a Domingue save on Lafreniere.
As we approached the ten minute mark, this much was obvious – the Rangers' top six were baffled.
Even worse, this sextet refused to shoot the puck, with Artemi Panarin as the biggest offender. (After not putting a SOG during Game Four – he'd eventually finish tonight's game with five SOG, five shots that were all denied by third string Domingue.)
With it extremely noticeable that the third line was Gallant's best line; this is when we saw Lafreniere receiving double-shifts with Rooney and Reaves.
Following a Domingue save on Lindgren; CZAR IGOR then stopped McGinn twice – first on his initial shot and then on his rebound.
As Mika continued to lose every faceoff imaginable; with 9:32 to go, Guentzel struck first.
On this goal, Guentzel, who pretty much had his way here, put two shots on goal – two saves for Igor.
On the third try, Guentzel, from behind Igor's net/trapezoid area, then put the puck off of Igor's skate for the deflected goal.
1-0 bad guys.
This goal was horrid to allow.
Not only did the Rangers' defense just watch Guentzel; but Igor didn't hug the post which then allowed Guentzel to shoot for his skate for the goal.
While not a "puck luck" goal, as this play/goal scoring attempt was Guentzel's intent – this is now the third or fourth goal of this series that Igor has allowed by coming out of his net too much. It's also another goal that the Rangers' defense got caught puck-watching on too. (It was also another goal allowed to the Pens' top line.)
Following Guentzel's bank-job; the Rangers picked it up a little bit and then started shooting more. However, all of their shots were coming from the top of the zone, rather than from five feet or less away. In other words – Domingue was never challenged.
Around 5:42 to go, Sam Rosen observed Sidney Crosby crying to an official. Rosen: "No one works the officials better than Crosby." The Hall of Fame announcer was correct in his assessment.
With 5:05 remaining, Panarin, who just refused to shoot, then forced a puck to Strome while two Penguins were hanging on him. Another baked turnover.
After Domingue stopped Vatrano, #77 got into it with Letang, as the two exchanged some four-letter words.
As Domingue and Igor exchanged saves (Strome and Letang); with 1:37 to go, Domingue stopped a meek backhanded attempt from Mika.
Once the horn went off to signal the end of the first, we remained at 1-0 bad guys.
Here's what I said at the time:
1-0, bad guys, after 20. 1P Thoughts:
— They aren't playing like their season is on the line.
— SOG 11-10, Hits 19-8 #NYR , F/O 10-7 Pens. These stats are misleading. Domingue hasn't been tested once.
— #10 90+ consecutive minutes without a SOG. #93 has a weak backhander.

— BlueCollarBlueShirts (@NYCTheMiC) May 11, 2022
---
SECOND PERIOD:
Prior to the Rangers' goal-scoring outburst; you could hear Sam Rosen release gas from the booth. It was that quiet.
To further explain how dead and morose this game was looking; usually, when watching these games at home with my friend/neighbor/road-trip buddy TEN O'CLOCK TOMMY – both of us watch these games with our asses hanging off of the couch.
Until Adam Fox scored, we were slouched back in misery, and ready to accept the inevitable.
At one point, I remarked, "I guess I can go back to working on my volume set of books now." Spoiler alert: I've never been happier to be wrong!
Following both Henrik Lundqvist and Joe Micheletti calling out the Rangers' top six and their superstars (they were correct while doing so); the second period began, where for the first ten minutes or so – it felt like Domingue could've left the net and then enjoyed a five-course meal at some random NYC steakhouse – the pork and broccoli be damned.
After a long Pens' shift in the Rangers' d-zone, Letang sent a puck into the netting with 17:16 to go. A minute later, Carrie Mathison hit the post. At the time – who knew how big that would turn out to be?
The officials, once again terrible tonight, ignored a Carter slash on Panarin with 15:50 remaining. Just a minute later, they ignored Rodrigues holding Lafreniere's stick too. Making matters worse, is when a Penguin attacked Chytil in the head – no call, which I guess makes up for the no call on Trouba's hit on Crosby.
With 12:02 to go, the Rangers received a double-whammy of bad news. Not only did Ryan Lindgren go to the locker room, but the Penguins then went on a two vs one odd-man rush, where Letang easily beat CZAR IGOR on a one-timer, following a pass from Malkin.
2-0 bad guys, where seemingly – there was no hope in sight.
As the Rangers couldn't find a way to challenge Domingue; with 8:24 to go, the Pens' net-minder easily turned away a shot from Braun. It was also around this time where Nemeth received his sixteen seconds of fame.
With 6:32 to go, all you wanted to do was throw your hands in the air and cry.
Then, with 5:43 to go, and in a complete 180 of what happened with 12:02 to go – the Rangers received a double whammy of good news themselves.
Not only was Crosby going to the tunnel – but Lindgren was returning from it too.
Turning point.
With 4:49 remaining, Adam Fox halved the Penguins' lead:
FOX CUTS IT IN HALF! pic.twitter.com/X54TJCibs6

— x – Rangers on MSG (@RangersMSGN) May 12, 2022
---
2-1, bad guys, as the 2021 Norris winner lasered a puck past a Strome-screened-Domingue. (Another example of why I think the stats/numbers of these goalies is misleading – they've been better than what their stats would suggest.)
Just ninety seconds later, and with a rejuvenated M$G crowd behind them; it was Lafreniere's turn to strike:
LAF GET HIS 2ND CAREER PLAYOFF GOAL pic.twitter.com/gaId3dB1gM

— x – Rangers on MSG (@RangersMSGN) May 12, 2022
---
2-2, as once again, a member of the third line did it again.
But wait K-Mart shoppers – there's more!
62 seconds after #13's tally, Trouba then put the Rangers ahead with 2:07 remaining of the middle stanza:
TROU TROU 🚂 pic.twitter.com/LQWntAYcSX

— x – Rangers on MSG (@RangersMSGN) May 12, 2022
---
3-2, GOOD GUYS!
On this play, Panarin slammed a puck so hard and wide to kingdom come, but there was Trouba to keep the puck alive. The leader of "TROUBA'Z TREEHOUSE" then stayed with the puck, made a move, and then deposited a backhanded shot right through the stinky five-hole of Domingue!
This go-ahead goal celebration would unfortunately be short-lived.
After another faceoff loss, one of the biggest Ranger killers of all-time, Jake Guentzel, capitalized on a CZAR IGOR turnover. After Igor's missed connection, Guentzel kept with a play and found Igor all alone from the slot.
3-3 and with 1:54 remaining. That's how the score would remain once reaching the period's conclusion.
Here's what I said after the second period:
3-3 after 40. 2P Thoughts:
— Gotta score before Crosby returns
— Gotta stop blowing leads in seconds
— No PP's for #NYR
— SOG 23-16, Hits 28-18 R; FO's 25-14 Pens
— Paging Mika, Paging Panarin. You're up.
— Third line killing it.
— Win the period, win the game!!!!

— BlueCollarBlueShirts (@NYCTheMiC) May 12, 2022
---
THIRD PERIOD:
With asses clenching, and with fingernails being chewed – the final frame began.
Once confirmed that Crosby's night was over – the Penguins soon had two great chances to score, and within the first fifty seconds at that.
At just the 68 second mark; Copp drew this thing called a penalty.
It's been so long that I forgot what a Penguins' penalty was – especially since these events are as rare as Haley's Comet.
With Pettersson now in the box after his high-stick on Copp; the Rangers' PP1 unit took the ice. After Mika lost the faceoff, and after another turnover out of Panarin; the PP2 unit soon came on.
As it looked like the Rangers were going to come out of this opportunity empty-handed; with seventeen seconds remaining on the man-advantage, this happened:
1st CAREER PLAYOFF GOAL ✅ pic.twitter.com/rW7DaqoEIh

— x – Rangers on MSG (@RangersMSGN) May 12, 2022
---
4-3, GOOD GUYS!!!!!
Just as you thought that the Rangers were going to blow another power-play in this series (Game Three, ugh), after Vatrano lost the puck, Chytil stayed with it and then made Domingue pay.
And needless to say – this goal was much needed.
Now with a lead, and because the Rangers never make anything easy – the Penguins would continue to harass IGOR right to the final horn.
In what could've been a big-time insurance goal, and right after Chytil's tally too; the Rangers' first line had a 3 x 1 odd-man rush, where Domingue made a big balls save on Kreider. This save was more about Domingue and less about Kreider failing to score.
After a quartet of saves out of CZAR IGOR; with fifteen minutes remaining, Panarin whiffed on a one-timer.
During one sequence at this period of time, Carter cross-checked Lindgren and Rodrigues tripped Fox. No call on either offense. The blind mice on the ice were then treated to overwhelmingly loud chants of "ASSHOLE, ASSHOLE, ASSHOLE!"
After Igor froze a puck off of the blade of Kapanen with 12:03 to go; both teams had a huge scrum, where somehow, only Ryan Strome was penalized. A freebie call for the Penguins – aka the usual.
Despite this bullshit call, the Rangers' penalty kill would stand tall.
With nineteen seconds left on the Rangers' PK; we had another scrum, where the officials were at least consistent here, as the end result were two minute timeouts for Lindgren, Guentzel and Malkin – a hell of a trade off for the Rangers – especially considering that Crosby was done for the night.
After the brief flirtation of foreplay hockey, and following a Rangers' power-play where Panarin got off three shots, but couldn't beat a third-stringer on any of them; with 9:20 to go, we returned to full strength.
A minute later, CZAR IGOR stopped Carrie Mathison, where in a response, we heard the familiar and welcomed chants of "IGOR, IGOR, IGOR!"
With 7:22 to go, and following another odd-man rush save for #31; Malkin cowardly attacked Rooney. The Rangers now had another chance to find the insurance goal with this power-play.
The Rangers power-play, where the first unit can't buy a goal these days; couldn't secure a two-goal lead during these two minutes.
As we entered FOXWOODS FINAL FIVE territory, Igor came up with another pair of saves.
With 3:20 to go, Lindgren was tripped but no call.
Now under three minutes to go, the third line absolutely killed it here, where they spent 45 ticks in the Pens' d-zone.
After Lindgren continued his beast-mode game; with 90 seconds remaining – Domingue took a seat.
With 68 ticks to go, Sullivan took a timeout, as Ranger fans prepared for the longest minute of this postseason.
The Penguins were relentless here, where again I remind you – thank the hockey gods that Crosby wasn't out there.
After a sustained Penguins' attack; Lindgren flipped a puck from out of the zone, a puck that took a fortunate Rangers bounce, and a puck that slowly made its way to the back of the Penguins' empty net with just 15 ticks remaining.
5-3, GOOD GUYS.
I think it's safe to say that Lindgren made a difference in this game! WELCOME BACK!
5-3, GOOD GUYS, YOUR FINAL!
Let the Penguins', and their media too, tears flow.
Already, Pens' bench boss Mike Sullivan is crying about poor little Sidney Crosby, a #87 who has no problems throwing around guys and intentionally elbowing people himself. I still maintain that Trouba's elbow was accidental/unintended.
And yep – fans of the Pens will have their energies focused on getting CZAR IGOR off of his game during Game Six. Igor better be ready. NO EXCUSES!
And oh yeah, in case you're wondering – CZAR IGOR will start Game Six.
Here's Gallant on the first, of hopefully three, season-saving wins:
---
Two wins down, two wins to go.
And if Crosby has a concussion and is done for the series – there will be no excuses for the Rangers to not win this series.
(Sullivan, after the game, said that Crosby was being evaluated. I guess we'll find out more tomorrow and we'll 100% know come Friday.)
LGFNR!
PLUGS TIME.
---
My first plug of tonight's blog – the mandatory plug for my book, "The New York Rangers Rink of Honor and the Rafters of Madison Square Garden".
As mentioned previously, the book is now available in hardcover, in paperback and in Kindle formats. To purchase a copy of the book, visit this link:
https://www.amazon.com/Rangers-Rafters-Madison-Square-Garden-ebook/dp/B09CM5N2WD
For those still looking for signed paperback versions of the book, I have re-ordered more copies. I now have a few signed copies for sale at $25 a pop (includes shipping price) through me directly. Here is all the information on that:
---
Here are my last few blogs, in case you missed them:
---
---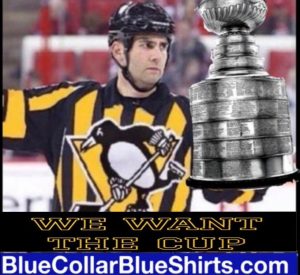 ---
If you haven't already, subscribe to this blog for the next update:
---
Up next: Game 6, Friday night in Pittsburgh.
I'm so glad I am not writing epitaph of this season tonight too!
As always here, thanks for reading and…
LET'S GO RANGERS!
Sean McCaffrey
BULLSMC@aol.com