Greetings and salutations everyone and welcome to another blog here on BlueCollarBlueShirts.com. My heart still feels like Artie Lange's after competing in a Spartan race! Bust out the paddles!
How do I even start tonight's manifesto?
Here's one way – "LET'S GO RANGERS!"
Here's another – "WE WANT THE CUP!"
---
As mentioned a few times during these past two weeks – the thoughts in my head are moving at a pace of a mile a minute, and because of that overwhelming excitement – I don't know how to properly address everything – a good problem to have!
Let's start with some insanity, where the most insane thing off of the ice were the prices of these Game Seven tickets:
I bring up the exorbitant ticket costs for Ranger playoff tickets here for one reason, and for one reason only – if you spent this boffo money in order to attend tonight's game – then you didn't enjoy your purchase until Panarin baked his overtime game winning goal.
Prior to Panarin's walk-off winner – this game was a miserable and brutal affair, where for long stretches of time, and once again during this series – the "M" in "Madison $quare Garden" stood for the word "morgue."
However, come 10:05PM EST, and akin to hitting a jackpot on a slot – the $800+ investment finally paid off, where every Ranger fan in-attendance was going bonkers, as if they were "Price is Right" contestants hopped up on crystal meth.
For your hard-earned money, you got your one big thrill at the end of the night, where for anyone who attended this game – you sure got your monies worth!
(Personally? I kept my $800 in my bank account and enjoyed my free beer at home, much needed beer at that!)
---
Unless you're both a sadist and a masochist (where if you are, you must've really enjoyed yourself tonight) – this game was pure torture to watch. And I say that as a diehard fan, where admittedly, my heart may have stopped routinely throughout this match.
While we're all pleased with the final result (where these 2021-22 New York Rangers, who set a franchise record for most comeback wins during a regular season, and then had their biggest comeback victory of the season on Sunday night); with just six minutes remaining in regulation, this much was clear – things looked very bleak for the Blueshirts.
The Rangers, who admittedly did a pretty good job of shutting down the returning Sidney Crosby and his linemates Bryan Rust and Jake Guentzel (at least five vs five); a lot things which plagued the Blueshirts earlier in this series returned during Game Seven.
Among the events that haunted the Rangers during Game Seven, which had burnt them during their three losses of this series, were the following:
— An obviously injured Artemi Panarin, who is nowhere close to being at his best.
— A loose defense, where once again, team leader Jacob Trouba had a poor outing.
— A lifeless power-play, which went 0-3 during regulation time. The power-play also gave up a goal too.
— A penalty kill that had trouble, as the Penguins' man-advantage unit struck twice.
— For the fourth time this series, a video review on a scoring play that went Pittsburgh's way.
— Multiple missed no-calls, including a hold and interference on Mika Zibanejad with just thirty seconds or so remaining.
— Lack of shots on goal, which in turn, gave a Penguins' goalie an easy night out.
Come 10:05PM, all of that was forgotten, as a result of Panarin's overtime goal.
At this time, let me do my "Barry Horowitz" self-pat on the back deal here, and inform you that I predicted it:
Of note, and as I'll get into at the end of this blog – Gerard Gallant, who I have been in-tune with all season, said the exact same thing about Panarin during his post-game press conference.
"The Turk," an eye-test guy like yours truly, said that he felt that it would be #10 who would bake the Rangers into the second round!
As noted, there was a lot of dreck and wretchedness during this game. However, we can forget about all of that for now. After all, the Rangers won – so there is no reason to harp on the negativity.
Once again, it were the returning Rangers who were the best skaters of the game. I'm specifically talking about both Tyler Motte and Ryan Lindgren, two players who were consistently excellent throughout the duration of this game.
K'Andre Miller, after a poor Game Six, bounced back, and had a stellar performance, including when he tied the game during the second period.
Alexis Lafreniere, whose name misses the box score more times than not (which is why the eye-test rules all), was once again strong.
While #13 didn't get an assist on Mika Zibanejad's late third period goal, a goal which then knotted the game 3-3 with just 5:45 remaining in regulation; he kept a puck alive in the Pens' d-zone which then led to this season-saving tally.
Arguably, Lafreniere was the best Rangers' skater of the series – where I don't think that I'll get much push-back on that opinion.
And then there was CZAR IGOR, who once again, worked his name into the record books.
---
As a result of the Rangers' 4-3 Game Seven overtime victory; they have now come back to win a series while down 3-1 for the third time in all of franchise history.
As you're already probably aware of, the other two times were in 2014 against these same Penguins from Pittsburgh and in 2015 against the Washington Capitals.
CZAR IGOR, who made 255 saves in the series (and just to think – he pretty much missed an entire game, as he only played in three periods combined during Games Three and Four), is now the franchise leader for most saves recorded during a playoff series.
For a franchise full of Hall of Fame and legendary goalies (and yes, CZAR IGOR is also a product of his era, due to the length of this series, and because saves/shots on goal stats only go back to the 1955-56 season, when the NHL first began recording them) – it's CZAR IGOR that continues to bump names such as Dave Kerr, Chuck Rayner, Gump Worsley, Eddie Giacomin, John Vanbiesbrouck, Mike Richter and Henrik Lundqvist from the Rangers' record books.
And let's not forget – during his first ever playoff game, CZAR IGOR recorded 79 saves – another Rangers' record. (Second-best all-time in league history too.)
Is that not enough for you? How about this:
Igor Shesterkin became the fourth goaltender in Rangers history to win a Game 7, joining Henrik Lundqvist (6x), Mike Richter (2x) and John Vanbiesbrouck (1x). Shesterkin is now the youngest Rangers goaltender to win his first career Game 7 (26 years, 136 days).

— NYR Stats & Info (@NYRStatsInfo) May 16, 2022
---
Let me be clear about what I'm about to say next – this is not a knock on Henrik Lundqvist.
That stated, let me now say this – we're now officially experiencing the CZAR IGOR era, just as Lundqvist once created his own era, following the Rangers' "Core 4 of '94" era.
Yes, and without a doubt – CZAR IGOR just had one of the most epic and historic regular seasons of all-time, a season which earned him nominations for both the Vezina and Hart Trophies; but that being said – legacies and reputations are made during the playoffs – and NOT during the regular season.
CZAR IGOR's legacy and reputation is now being built during these 2022 Stanley Cup Playoffs:
— Franchise leader in most saves recorded during a playoff game? Check.
— Franchise leader in most saves recorded during a playoff series? Check.
— Undefeated in Game Seven action? Check.
— An overtime victory? Check, check, and check!
---
I brought up what my dad said to me recently just last week, and let me repeat it one more time here – where would the Rangers be, if it were they, and not the Penguins, who had to play with their third string goalie during the majority of this series? Perish the thought!
The Penguins ultimately went with three different goalies during this series, where only the injured Craig DeSmith came out of it undefeated (a no-decision).
After going flawless during the multiple overtimes during Game One, where he made seventeen saves in total; third string goalie Louie Domingue came this-close of etching out his own Cinderella story.
And heck – since he didn't play tonight – maybe he still has that tale to tell. I won't knock him. I thought he stepped up big-time.
The Penguins, in their do-or-die Game Seven with the Rangers, started the returning Tristan Jarry to net, a number one goalie who was completely awful at this time last year. (Many believe, if it weren't for him, the Penguins would've defeated the Islanders during their 2021 first-round series.)
For the second season in a row – Jarry and the Penguins were knocked off by a New York team during the first-round of a Stanley Cup Playoff series, where in addition – this was the Pens' fourth consecutive first-round series loss.
While we can talk about what the Penguins will do this off-season at a later time; this much is known – Mike Sullivan's job isn't guaranteed for next season and the team from the Steel City may have to undergo their own mini-rebuild themselves.
Then again, with Sidney Crosby still competing at a high-level – it's tough to rip this team down to the studs.
However, that's a problem for Penguin fans and not for yours truly!
---
There will be a lot of talk about this series, and from both sides of the coin.
For the Penguins, they will still be cursing out Jacob Trouba for the rest of their lives, as he's now become their own version of Denis Potvin. They'll also bring up the multiple injuries they incurred during the bulk of this series.
For the Rangers, they will now take a deep breath of relief, and thank the hockey gods that they were able to overcome both horrid officiating and weak performances from their top guns.
Until Game Six of this series, it was the third line, the Lafreniere/Chytil/Kakko line, that did most of the heavy lifting.
After all, if the highest-paid players were at their best – this series would've never went seven games in the first place.
If you're a "glass half-full" fan like me, then maybe you're also thinking what I'm thinking – what time like the present for the Rangers' "FAT CATS" to get on the ball?
If Chris Kreider, Mika Zibanejad, Jacob Trouba and Artemi Panarin can return to their peak levels (where admittedly, Kreider's name really doesn't belong here) – then watch out Carolina – a Hurricanes team that I'll look at once we get to the end of the GAME REVIEW.
---
I know I'm all over the place, as I try to contain my excitement and present some sort of readable tome for you – so bear with me. After all, it's not every day that you're proven right about all of your opinions this season, especially following a Game Seven overtime victory.
One of these opinions? This one, my favorite one, and one that I've repeated about 97867896896789696 times this season:
There's a lot to get into tonight and I'll try to hit all of it.
While I predicted the Rangers to win this series (a sweep – I missed on that prediction!); never in my wildest dreams did I ever think that the Rangers would go into a 3-1 hole, come back from multiple deficits during Game's Five, Six and Seven, and then go onto close the series during a Game Seven overtime.
That said, I did tell you that these 2021-22 Rangers were special!
At this time, let's get into all of the pregame news and interviews, and then into the main event – the GAME REVIEW.
---
On Saturday, both teams held optional skates/practices. Since the Rangers have nearly everyone back sans Barclay Goodrow, who wasn't expected for Game Seven anyway – all eyes were on Mike Sullivan's crew.
At the Penguins' practice, Sidney Crosby, Tristan Jarry and Rakell, Rakell: The Musical were all on the ice.
Following the practice, Sullivan spoke to the media, where he said the following:
Coach Sullivan on the status of Crosby, Jarry, and Rakell for tomorrow: "We'll take each day as it comes. I'm not going to speculate at this point. They're obviously on the ice. That's encouraging. They're making progress." pic.twitter.com/FgaHcDLxju

— Pittsburgh Penguins (@penguins) May 14, 2022
---
Over in New York, Gallant also spoke to the media after his team's optional practice.
Here's Saturday's edition of "TURK TALK":
---
When it comes to Gallant, he once again said what you'd expect him to say – the Rangers had to play their game, avoid a slow start if possible (although Gallant also added that all that he cares about is the final result – and he's most certainly happy about the final result tonight!), and that his team/staff can't be concerned about who plays for Pittsburgh.
Gallant also mentioned that he expected both Crosby and Jarry to play, but he wouldn't allow that to phase him:
"Their coaching staff will worry about that. It doesn't matter to us who is in their net. We are very comfortable with our net and that is all you worry about. You can't worry about the other team. Obviously, when we have our coaching meetings we look at that and possibility here and there, but we spend most of our time on our team."
As far as anything else, and as I've been saying ever since the result of Game Four – talk is cheap. It's all about results on the ice.
---
Once the practices and media interviews wrapped up; later on Saturday, we had our first of three Game Seven's, where the Carolina Hurricanes knocked off the Boston Bruins by a final score of 3-2. At the time, that told us that should the Rangers win their Game Seven – then the boys in blue would see a lot of familiar faces in Carolina red.
In other Game Seven results, the Toronto Maple Leafs did what they always do at this time of year – choke and lose.
I believe that of every North American city, it's only in Toronto where the Leafs fall in the Spring.
As a result of Tampa Bay's 2-1 victory over the analytical based Canadian franchise, they will now match up against the Florida Panthers, in a rematch of last year's Sunshine State series. That series should be nasty.
Finally, in the last Game Seven of Saturday night, the Edmonton Oilers imposed their will on the Los Angeles Kings, where they shut-out the black-and-silver by a final score of 2-0.
As a result, the Oilers awaited the winner of Sunday night's Game Seven between the Stars and Flames, where most hockey fans were rooting for Calgary to win, because of all the bad blood between the "Battle of Alberta" teams.
And yep, that's what happened, as the Flames, just like the Rangers, won a Game Seven in overtime themselves. Let the "BATTLE OF ALBERTA" begin!
---
On Sunday, in another NHL "cat-and-mouse" game, where for some reason (and as mentioned many times before in this space), the league's 89789678678786796796 gambling partners are okay with this – Mike Sullivan wouldn't reveal anything about his line-up during his pregame interview – outside of the fact that Brian Boyle is "week-to-week." Now, Boyle has plenty of time to recover!
That said, as a Ranger fan – you can't complain about this.
Gerard Gallant has done the same thing all season, and just as many NHL head coaches do. These "chess matches" are just part of the game – for better or for worse.
When it came to Crosby, Jarry and Rakell, all Sullivan said were the three words that we often hear around this time of year – "game time decisions." All three would play tonight.
If there is anything to truly note here, it is that with ESPN's Emily Kaplan reporting that Sidney Crosby had a concussion on Friday – then what is the league doing here?
I don't want to have another lengthy debate/conversation about concussions, but yeah – while everyone heals differently, at the same time, and with Crosby's history – there's no way he should've been playing less than a week later.
In a different era, Crosby, and others like him, would be told to put some dirt on it and man-up. And that's what NHL players did back then. (The same applies for NFLers and pro wrestlers too.)
Of course, with what we now know today about concussions and CTE – while I understand the magnitude of a Game Seven, is it worth risking becoming a vegetable later on in life?
After all, at the present time – there is no vaccine or pill for CTE. (Modern science is working on things right now, but again, a topic for another time.)
However, and as previously stated – the Rangers could only focus on themselves.
---
Here's what "The Turk" ultimately went with for this "Jaromir Jagr" tribute game, where he used the same line-up as he did during Game Six. (I'd also expect him to use this line up for Game One against Carolina, unless Barclay Goodrow is able to return):
FIRST LINE: Kreider/Zibanejad/Vatrano
SECOND LINE: Panarin/Strome/Copp
THIRD LINE: Lafreniere/Chytil/Kakko
FOURTH LINE: Motte/Rooney/Reaves
Defensively, we had this:
FIRST D-PAIR: Miller/Trouba
SECOND D-PAIR: Lindgren/Fox
THIRD D-PAIR: Braun/Schneider
And in net, CZAR IGOR.
---
BOX SCORE time.
The following information and graphics come from the new world-wide leader in NHL coverage, ESPN.com:
SCORING:
PENALTIES:
TEAM STATS:
GOALIES:
| | | | | | | | | | | |
| --- | --- | --- | --- | --- | --- | --- | --- | --- | --- | --- |
| SA | GA | SV | SV% | ESSV | PPSV | SHSV | SOSA | SOS | TOI | PIM |
| 30 | 4 | 26 | .867 | 20 | 1 | 5 | 0 | 0 | 63:57 | 0 |
| | | | | | | | | | | |
| --- | --- | --- | --- | --- | --- | --- | --- | --- | --- | --- |
| SA | GA | SV | SV% | ESSV | PPSV | SHSV | SOSA | SOS | TOI | PIM |
| 45 | 3 | 42 | .933 | 33 | 1 | 8 | 0 | 0 | 63:44 | 0 |
---
After rubbing the nameplate of my Martin St. Louis jersey; yours truly and my buddy TEN O'CLOCK TOMMY prepared for hell and turned on the M$GN pregame show.
Of note, this was the last M$GN broadcast of the season.
I believe that Sam Rosen will now move to the radio, while Joe Micheletti will call games on national television.
Also of note, Sieve Vagistat, John Giannone and Henrik Lundqvist will have pregame and post-game shows on the M$GN throughout the remainder of these 2022 Stanley Cup Playoffs.
For some reason, Giannone said his co-hosts know all about Game Sevens. Well one of them did, but at the same time – I can't profess to know anything about Vagistat's X-Box HUT team on NHL 22.
While I do like to use Vagistat for comedy on these blogs, I thought he was fairly accurate with most of his stuff tonight, where if you also noticed – with Henrik Lundqvist around, we didn't have one analytical segment, nor any plugs for Vagistat's fake news number company neither, during this first-round. A godsend!
After Lundqvist brought up that the Rangers have been playing with pressure during these last two games, where he also said that tonight's game was pretty much their "third Game Seven;" Vagistat astutely pointed out how bad the officiating has been this series, even going on to say, "I hope these officials don't impact this game."
Sadly, the officials did impact this game.
However, I'm happy to report that for the first time in NHL history, the Rangers became the first team to defeat two teams on the ice at the same time during a seven-game series!
Vagistat made another great point, one that would play out throughout the game, when he said, "the Rangers have to shut down Rust and Guentzel and then make Crosby feel like he's playing all by himself."
That's exactly what happened, at least when it comes to five vs five play.
As the M$GN panel reported that the Penguins would have their full line-up back, sans Brian Boyle, I said the following on the Tweeter machine:
Jarry last played on April 14th. FWIW, I thought Domingue has been good this series. You know what the narrative will be in Pittsburgh should #NYR win.

— BlueCollarBlueShirts (@NYCTheMiC) May 15, 2022
---
I haven't checked yet, but I do wonder if Penguin fans are blaming Sullivan for going with an ice-cold Jarry over Domingue? Of course, hindsight is always 20-20.
As Lundqvist remarked, "the Rangers have to have a solid defensive structure in front of Igor" (that never happened tonight); Giannone then told us that the first goal of the game would probably determine the winner.
While Giannone would later be proven correct, he was only technically correct – as after scoring the first goal tonight – the Rangers would then be on their heels all game and chasing an equalizer late during the third period.
Once 7PM hit, we went to Sam and Joe for the last time this season, where both of them dressed up as Captain Obvious and expertly stated – "the Penguins line-up tonight is better than the line-up they had during Game Six."
When it comes to that take, I think the professional response is this one – "No shit Sherlock!"
GAME REVIEW time.
---
FIRST PERIOD:
While stress levels were at an all-time high entering this game; at one point, you were able to relax – albeit only temporarily.
Mika Zibanejad, who had some rough nights at the dot during this series, had his best game at the circle during Game Seven.
All in all, #93 won 18 out of 25 faceoffs tonight, for a whopping winning percentage of 72% – the game's high.
And while Crosby may have not been at 100% – it's still a feather in Mika's cap that he was able to dominate the Hall of Famer during this pivotal and crucial Game Seven.
After Mika defeated Crosby at the dot during the game's first faceoff; Jarry then stopped a Kreider backhanded try at just the 28 second mark.
Following the save, M$G tried to replicate the PPG Arena and then trolled the road goalie with loud sing-song chants of "JARRY! JARRY! JARRY!" – where admittedly, these chants never reached the decibel levels of the "IGOR, IGOR, IGOR" chants in Shitsburgh.
At the two minute mark, K'Andre Miller and Jacob Trouba, who were kind of "Jekyll and Hyde" tonight, where Trouba was more "Hydish" than "Jekyllish;" were on the ice.
Following a brutal turnover out of #79, #8 got back and broke up a Pens' two vs one odd-man rush. Thirty seconds after that, Igor made his first of many fantastic saves throughout the game, when he stopped Kris Letang.
After Braun forced Malkin into a turnover at the four minute mark, Igor then stopped new nemesis Jeff Carter. For good measure, Reaves hit Carter too – his first and only hit of the game.
(Trouba led the team in hits tonight with eight, while Tyler Motte logged five.)
At the seven minute mark, we saw that IGOR had come to play.
After what felt like a million saves (it was three in a time-span of five seconds or so); CZAR IGOR denied a ferocious Penguins attack, with Evan Rodrigues leading the charge.
For good measure, Igor made another big ball save thereafter:
IGOR! IGOR! IGOR! pic.twitter.com/e04QpaNQpq

— x – Rangers on MSG (@RangersMSGN) May 15, 2022
---
Following these incredible saves, the Rangers used the momentum gained and scored the first goal of the game:
1-1 after 1

1st period thoughts? pic.twitter.com/Yzpk81ue5D

— x – Rangers on MSG (@RangersMSGN) May 15, 2022
---
1-0, GOOD GUYS, as Mika Zibanejad set up Chris Kreider for a perfect one-timer!
With the goal, Kreider (29 postseason goals) is now tied with Mark Messier for second-best in all of franchise history.
As stated once this postseason began – I think Kreider will break the Rangers' postseason/playoff goal record… THIS SEASON. Only Rod Gilbert (34) has more.
Now up 1-0, and also being able to breathe a bit; M$G chanted Igor's name, where they only stopped their praise in order to jeer Jarry.
At the 8:04 mark, Igor was called upon again, where he made a FABULOUS save on the returning Crosby.
After Jarry stopped Chytil for the second time; with 9:52 to go, Panarin shot wide, got the puck back and then Jarry stopped The Breadman's second attempt.
Following the save, we had our first of many ice issues, akin to all of the stoppages to repair the ice during Game Five. The M$G crew must do a better job with maintaining the ice, which has been an on-going issue since 1926.
With 8:55 to go, "The Breadman," who until his game winning goal looked like "The Beer Man," as he looked like a beer-leaguer playing against pros; #10 slashed Carrie Mathison as the Pens' d-man was going towards Igor.
Needless to say, this was a bad penalty – especially since the not-fleet-of-foot Mathison burnt Panarin on this play.
The Rangers penalty kill looked excellent here, where both Ryan Lindgren and Tyler Motte did all of the heavy lifting and clearing.
Right after the kill, Pettersson found iron. Whew.
On the next Rangers' possession, Andrew Copp was blatantly tripped, a trip which was so bad and obvious that even Sam Rosen called this infraction out. However, no call from the bird brained and ice bird supporting officials.
As Filip Chytil kept motoring, as it's obvious that postseason Chytil blows away regular season Chytil; with 5:12 to go, the Pens had another two vs one odd-man rush, where this time, #55 broke it up.
A minute later, CZAR IGOR stopped Crosby, but #87 wasn't having it and started his attacking and whacking. Lindgren wasn't having it either and quickly ripped Crosby away from Igor and took him down. This then led to a big scrum, where at the end of it, both Strome and Rust took off-setting two-minute minors.
(Another great thing during this? Chris Kreider telling Rust to go "Father Fink" himself!)
Tyler Motte, who again, was superb tonight; soon broke up a Pens' one-timer, which as a result, allowed the Rangers to go on the attack.
However, with 3:32 to go, Trouba took one of the worst high-sticking penalties that you'll ever see, which was even worse when you consider that this took place in the Pens' d-zone, when he caught Carrie Mathison high. Mathison was bleeding and you couldn't blame the officials here – a double-minor for Trouba.
The Rangers would kill off the Penguins' 4 x 3 power-play, a man-advantage that lasted 1:19, where Lindgren, Copp and Motte all looked strong.
With the first half of Trouba's double-minor killed; we then had the more traditional 5 x 4 power-play, where the Rangers did their best to fight off the Penguins.
However, with 1:09 remaining, Heinen snuck a puck past Igor, where in real-time, it looked like Fox had swiped the puck before it had crossed the goal line. The officials thought so too, said no goal, and then allowed play to continue on.
As the Penguins were screaming bloody murder; twenty seconds after the no-call, Toronto horned in.
Good goal for Heinen, where upon replay, it was obvious that he had scored and Fox had just got there a moment too late.
1-1.
Come the period's conclusion, I said the following on the Tweeter:
1-1 after 20. 1P Thoughts:
— Stop taking shit penalties. Officials have been fine. Igor has been better.
— SOG 13-8 Pens, Hits 7-6 #NYR, FO's tied at 10
— Pens 1-3 on the PP, Rangers not one PP – the usual
— Paging Panarin, paging Panarin.
— Motte/Lindgren = aces.

— BlueCollarBlueShirts (@NYCTheMiC) May 15, 2022
---
SECOND PERIOD:
As assholes puckered throughout Rangerstown, USA; as the Penguins were easily the better team of the first twenty minutes – the game resumed with Mika Zibanejad winning the first draw of the middle stanza.
The Penguins continued to press the issue, where just 39 seconds in, CZAR IGOR made three saves on Guentzel – one on his initial shot and two on his rebound attempts. This felt reminiscent to a play during Game Six, where Guentzel finally scored on his third try. Not tonight.
As the Rangers had major problems getting possession of the puck, much less getting shots on goal too; the Rangers' fourth line, who had a stellar showing tonight, drew a penalty with 16:52 to go, when Mathison interfered with Rooney.
The Rangers had what felt like a zillion chances during this power-play, where either Jarry came up with a big save or the Blueshirts just shot wide. In any event, a good-lookin' power-play, but not one that produced a goal.
After another strong shift out the fourth line, and another Jarry save on Panarin too – as #10, during his five shots on goal during regulation couldn't get the goaltender to crack; Jarry then stopped Copp with 12:18 to go.
With 11:39 remaining, Trouba whiffed, Panarin was blocked and Miller was stopped.
After Sam and Joe reminded us for the 786786789689768796768969th time that Crosby was okay, especially after a blocking a shot; with 10:17 to go, Kakko went to the box for a delay of game penalty, after airmailing a puck over the glass.
With 9:42 remaining, we had the officials swing another goal of this series.
After kicking a puck to himself, where all Fox and Lindgren could do was watch; Guentzel high-sticked a puck past Igor. Igor, Gallant and the Rangers all screamed foul.
On replay, it was clear as day – Guentzel high-sticked the puck into the net.
No matter, since the officials ruled a good goal on the ice and then made it stand ten minutes later after the lengthy review.
Why the officials even bothered to review this goal I don't know, because after all – every 50/50 call/play, and 100% of all video reviews during this series too, have gone in Pittsburgh's favor.
That's not sour grapes – that's a fact.
2-1 bad guys after the referee's power-play goal (assist Guentzel).
65 seconds later, K'Andre Miller said "PUCK DON'T LIE," when he scored the first playoff goal of his career:
WE'RE TIED!!! #NOQUITINNY pic.twitter.com/pPP4NzrR35

— x – Rangers on MSG (@RangersMSGN) May 16, 2022
---
2-2!
On this goal, Miller fired a puck from long distance, and for the third time this series – Carrie Mathison kicked a puck into his own net! GOOD THINGS HAPPEN WHEN YOU SHOOT THE PUCK!
To be honest – I'm surprised that the officials didn't overturn this goal for Mathison's kick – that's how biased they've been during this series.
The Penguins didn't let this goal allowed bother them, as they then spent the next two minutes in the Rangers' d-zone, where the fourth line and second d-pair soon became gassed. However, CZAR IGOR bailed them all out, after stopping Rakell, Rakell: The Musical, and with 5:49 remaining.
The Rangers' first line tried to get the go-ahead goal with 4:36 left on the clock, when they crashed Jarry. No goal, but Trouba was cross-checked by Rust. In turn, the Rangers were back on the power-play and now had a chance to find the 3-2 goal. They didn't. Instead, the Penguins would get the go-ahead goal.
During a Rangers' power-play where they never looked sure while shooting, and where both Panarin and Mika went high and wide during multiple opportunities; with one second remaining on the man-advantage, it was the Pens' PK that scored.
On this play, Trouba couldn't get a puck cleanly into the zone, Chytil then made a bad turnover, and Rodrigues soon capitalized on his gift-wrapped breakaway with 2:36 remaining.
3-2, bad guys, and a goal that completely silenced M$G.
That's how the score would hold up after forty minutes of action, where I said this at the time:
3-2 bad guys after 40. 2P Thoughts:
— Playing two teams again
— Special teams aren't special
— Panarin & Trouba doing #NYR no favors
— SOG 29-19 Pens; Hits 14-11, FO's 21-17 NYR
— NYR PP 0-2, PK 2-4, killer.
— Refs have swung another one goal game again.
— LGR

— BlueCollarBlueShirts (@NYCTheMiC) May 16, 2022
---
Let me say the following before going into the third period and bonus frame.
I never counted the Rangers out. Not once.
As noted 789678678967896789686 times this season – they never give up and come back more times than not.
However, like Vagistat, like Lundqvist and like everyone else rooting for this team – my stomach was in knots.
Yes, the Penguins were the better team at the time – but I know the Rangers' history during third periods from this season.
The only thing that concerned me were the officials.
At the time, they were already ignoring Pittsburgh penalties and they had already given the Penguins another goal during a one-goal game.
In other words – I didn't think that the Penguins, all by themselves, could protect their lead. I thought the officials had a good chance of doing so. And the officials did their best when trying to protect the Pens' lead.
---
THIRD PERIOD:
Simply stated – this was not a good third period for the Rangers, but for a team that has earned the moniker "FIND A WAY" all season; once again, they did just that.
To show you how bad this period was, CZAR IGOR had to be perfect, where he made fourteen saves in all.
And prior to Mika Zibanejad's tying goal, the Rangers only had four shots on goal at the time.
Following Crosby's faceoff win, Miller soon stopped #87 from making this a two-goal deficit.
Panarin, who was just awful during regulation, then lost a foot-race for the second time in this game to a Pens' defenseman, as Marino beat out #10 which then led to a Rangers' icing.
Making matters worse, was Panarin immediately turning over the puck, which then forced CZAR IGOR to make a big time save on Rakell with 18:55 to go.
With 14:36 remaining, Lafreniere recorded the first Rangers' SOG of the period, an easy save for Jarry.
Prior to this shot, the Rangers were just chasing the Penguins around, where the home team could never get control of the puck.
It was also around this time when Gallant feverishly started to change his lines. This move would soon pay off.
As Jarry made two saves on Trouba and Lindgren – you could hear a mouse fart at M$G.
Not making things better was when with 11:52 remaining, Panarin high-sticked Letang, and while the Rangers were attacking. This blatant penalty took place behind Jarry's net.
In a play that you would've been thinking about for the next month had the Rangers not won; Tyler Motte went on a breakaway while on the PK – the best save Jarry would make during this contest.
Immediately following the save; Igor had to come up with a big save himself, when he stoned Crosby.
With 10:32 remaining, and with 41 ticks on the Pens' PP too; Pittsburgh's man-advantage was negated when Carter tripped Mika.
Once the foreplay wrapped up, the Rangers spent the next 1:19 doing their pass-pass-pass act – which is another way of saying that they didn't put a SOG during this.
Now returned to full-strength and with 8:31 to go; Gallant kept on changing his lines where it felt like he was picking names out of a hat, as we saw lines put together that we've never seen once this season – as opposed to just putting Panarin with Mika and Kreider – and as we've seen so many times before.
The Rangers, down a goal and now with just 6:30 remaining on their season, had only four SOG during this period.
Not helping matters was when Fox, while all alone with Jarry, didn't shoot the puck at him, as he turned over the puck after an ill-advised pass.
As Gallant continued to tinker with his lines; he soon put a line of Lafreniere, Mika and Copp on the ice. That would become a winning formula:
MIKA MAGIC #NoQuitInNY pic.twitter.com/3BaRDjMKnA

— x – Rangers on MSG (@RangersMSGN) May 16, 2022
---
3-3!!!!
With just 5:45 remaining, Mika wasted no time on a broken/busted play and blew a puck right by Jarry. It wasn't pretty – but who cares – they all count the same!
Now tied, M$G finally woke up, as what once felt like a funeral now felt like an upcoming celebration.
As the two goalies exchanged saves; Lafreniere was tripped with 3:27 to go. No call. M$G screamed out "ASSHOLE" towards the yellow-and-black striped officials. Then, at the two minute warning, Fox was tripped too, but the officials weren't having it.
The officials, hellbent on giving this game to Pittsburgh; then found their whistle as both Kreider and Mika attacked Jarry with 1:01 to go. With a loose puck in front of Jarry, and with Kreider going in for the rebound – the officials frantically blew their whistle, in their successful attempt to dead the Rangers' attack.
Thirty seconds later, Mika Zibanejad was assaulted in the trapezoid to the left of Jarry. Despite an official watching this, no call.
3-3 after sixty. Up next: overtime.
---
Following eighteen intermission minutes where Ranger fans did all of their superstitions, prayed to the hockey gods, and struggled to find oxygen; the bonus frame commenced.
Immediately into the overtime, Trouba broke up a Pens' odd-man rush.
Then, just 2:55 into the overtime, K'Andre Miller forced a Pittsburgh turnover and went haywire towards Jarry.
McGinn held Miller so badly and blatantly here – that not even these biased officials could ignore this one.
While I thought that Miller had drawn a penalty shot during this play, perhaps it was better that the Rangers 0-3 power-play, now due for a goal, got the chance.
Gallant, as he's done many times before during these situations; took his timeout in order to set up a scoring play. And as he's done so many times before – it worked.
As every Ranger fan was griping and moaning about Panarin's horrid game; the Breadman redeemed himself at the 4:55 mark of the overtime:
BREADMAN SENDS THE PENGUINS HOME

(via @RangersMSGN) pic.twitter.com/dWX5Srytt3

— Rangers Videos (@SNYRangers) May 16, 2022
---
4-3, GOOD GUYS, 4-3 YOUR FINAL, AFTER PANARIN'S POWER-PLAY GOAL WITH JUST NINE TICKS LEFT ON THE MAN-ADVANTAGE!
Needless to say, no one needed this goal more than the $11.6M man, who moving forward – we can only hope builds off of this goal.
That stated, and while they won't admit it while they are still playing – it's obvious that Panarin isn't at 100% after receiving an injury during the final week of the regular season.
It's now 1:30AM as I type these words and I'm still shaking.
This wasn't a roller-coaster of a game. Instead, it was like sky jumping without a parachute, only for Superman to save you when one foot away from the pavement. In this case, it was Panarin starring in the role of Clark Kent.
---
Here's Double G. after the game, where the Rangers' head coach wanted to enjoy this win, before talking about Carolina:
---
In a word, I'm "ecstatic" right now.
No joke, once the Penguins made the game 3-2, I don't think that "TEN O'CLOCK TOMMY" and I spoke more than ten words to each other, outside of grumbling and weakly sounding out caveman "ugh" noises.
We had a lot to say after Panarin's winner though!
---
Moving ahead, I'll do a Carolina/Rangers preview either on Monday or Tuesday.
However, I do want to say this – for a Rangers team that's overachieved all season, you have to be happy with this season.
Whatever happens next with these heavily-favorite Hurricanes; this season is a success.
The Rangers won a round and under extremely difficult circumstances, a round where the officials also did their best to give to the opposition.
The Canes are expected to get Frederik Andersen back in net, but he's been out for a month – just like Jarry was tonight.
Obviously, with all of the ex-Rangers in Carolina, they'll have an extra chip on their shoulder. However, and as the Rangers have proved all season – they're a tough out and you can't count 'em out either.
And it will be up to M$G, during Games Three and Four, to match the noise that the Canes' home crowd will bring during the first two games of this series – where believe it or not, the team from Raleigh currently plays in front of the loudest crowd in all of the league.
However, we can talk about all of that on Monday or Tuesday.
For now, let's savor this win and belt from the rooftops – "LET'S GO RANGERS!"
PLUGS TIME.
---
My first plug of tonight's blog – the mandatory plug for my book, "The New York Rangers Rink of Honor and the Rafters of Madison Square Garden".
As mentioned previously, the book is now available in hardcover, in paperback and in Kindle formats. To purchase a copy of the book, visit this link:
https://www.amazon.com/Rangers-Rafters-Madison-Square-Garden-ebook/dp/B09CM5N2WD
For those still looking for signed paperback versions of the book, I have re-ordered more copies. I now have a few signed copies for sale at $25 a pop (includes shipping price) through me directly. Here is all the information on that:
---
Here are my last few blogs, in case you missed them:
---
---
---
If you haven't already, subscribe to this blog for the next update:
---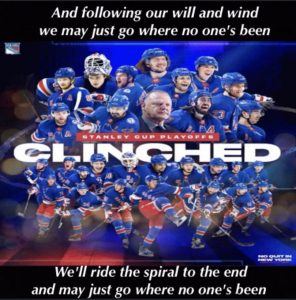 Up next: Game One, Rangers and Canes, Wednesday night at 8PM on ESPN. I'll have the full series schedule for you on the next blog. For now, enjoy the 48 hours of peace!
As always here, thanks for reading and…
LET'S GO RANGERS!
Sean McCaffrey
BULLSMC@aol.com