Greetings and salutations everyone and welcome to another blog here on BlueCollarBlueShirts.com. Buckle up – there will be a GAME SEVEN!
The New York Rangers, who should just accept the obvious, and place a heart defibrillation company logo on their helmets rather than their Square Space or Chase insignias that currently sits atop of their heads; the Blueshirts, aka "The Kings of the Comeback," did it again on Saturday night.
And spoiler, not a spoiler, alert: I'm going to have a blast recapping Game Six!
---
As as result of the Rangers' 5-2 Game Six win over the Hurricanes; the comeback kids, and from the city that never sleeps – the Blueshirts now find themselves in the position to win another Game Seven during these playoffs.
As John Davidson once made famous – "OH BABY!"
Win Game Seven and the Rangers will then host the Tampa Bay Lightning, on Wednesday night, during Game One of the Eastern Conference Final.
However, before getting there – I'll pump the brakes. I don't want to "touch the money" before the check clears.
After all, as Gerard Gallant always says – "ONE GAME AT A TIME!"
---
Come 8PM Monday night, Game Seven of this series – the Rangers won't be on home ice as they were during their thrilling 4-3 Game Seven overtime win over the Pittsburgh Penguins from round one. Instead, they'll have to break all of the trends, superstitions, and whatever else you want to come up with here – and win Game Seven on the road.
And if you don't know this already – the Rangers, the only team to force a Game Seven during the second-round of these 2022 Stanley Cup Playoffs – our beloved Blueshirts will accept this mission on Memorial Day in Raleigh, North Carolina.
That's when we'll really see the fireworks from this '22 MDW.
Since the Rangers and the Hurricanes are the only two remaining teams of this second round; and just like Saturday night – puck drop is scheduled for 8PM – rather than the traditional time of 7PM. Set your watches accordingly.
But more on that, and anything else future-related for that matter, at the end of this blog.
For right now, it's all about celebrating Game Six, where yep – I'm excited, elated, ecstatic, still full of nervous gas, and now looking forward to getting into every minute of this monumental Big Apple victory!
LET'S GO RANGERS!
---
I don't even know where to begin – a good problem to have!
Once again, I'm in a scattered-brain state of euphoria following a big-time Rangers' conquest; but I'll try my best when trying to present something both readable and entertaining!
To start, I guess I'll begin with something that I said on social media on Saturday, something that I posted hours prior to puck drop:
Whatever happens tonight, this was still the best season since 2014-15, a complete 180 from the most drama filled season ever in franchise history (2021) & an awful lot to be proud of. Now extend it! #nyr #NoQuitInNY

— BlueCollarBlueShirts (@NYCTheMiC) May 28, 2022
---
I truly meant what I said here.
Had the Rangers lost Game Six (and even if they should lose Game Seven on Monday – PERISH THE THOUGHT); I'm fully content with what I've seen this season.
I know I've brought this up before on this site, but yeah – last season was the most drama-filled season in all of Rangers' history, a history that encompasses 95 years worth of hockey.
That time even includes the era of American Prohibition, the Great Depression, World War II, two different Dark Ages, Glen Sather and a lockout.
While I predicted that the Rangers would do well this season and make a strong playoff run too (blogs and tweets don't lie, and I know I've shared all of this stuff in the past – so I won't do it again now); just let it all sink in – the Rangers are one win away from the Eastern Conference Final.
Again – just think where this team was at this time last season as opposed to now. And again – ONE WIN AWAY FROM THE FREAKIN' CONFERENCE FINAL!
For all of my optimism, hopes, dreams and everything else under the sun – now that this is all a reality – I'm still stunned.
One win away from the ECF. Four wins away from the Stanley Cup Final. Nine more wins in total to do it all.
One more time – the Rangers are ONLY ONE WIN AWAY from their attempt in avenging their 2015 Eastern Conference Final loss to the Tampa Bay Lightning.
And after what we saw on Saturday night at M$G – who dares to pick against the Rangers right now – especially with the team at 100% health?
(Unless you want to get technical, and talk about the injuries of Panarin, Fox, Lindgren, etc. What I'm truly getting at here – at this time, Gallant can choose anyone from his roster to play with. All hands on deck!)
---
There is a ton of positivity, good vibes and players to talk about tonight. I hope to cover everything in one shot!
However, perhaps no story from tonight's game was bigger than the return of Barclay Goodrow.
Without a shadow of a doubt, the Rangers' biggest weakness during these 2022 Stanley Cup Playoffs has been at the faceoff circle, where zone faceoffs have been their biggest Achilles' heel.
If you aren't aware of this already – the Rangers are the worst team of these '22 playoffs at the dots.
Enter the returning Barclay Goodrow, who had the best faceoff winning percentage of all Ranger centers tonight, where he finished Game Six with a success rate of 50%. (Seven of fourteen wins.)
While going 50-50 at the dot may not sound impressive; that number is a huge improvement over whatever both Ryan Strome and Mika Zibanejad are doing these days. Ditto Kevin Rooney, who was a healthy scratch tonight due to Goodrow's return.
Furthermore, Goodrow was a huge upgrade not only at the dots on either end of the ice; but he was a major addition to a Ranger penalty kill that ultimately went 3-3 – good for 100%.
And yep, you know the deal here. I'm an EYE TEST guy – and not an ANALytical loser – you know, the charts and graphs nerds that bitched and moaned when general manager Chris Drury first traded for #21, and then gave him a six-year deal afterwards – and which took place during the previous off-season.
I have no way of knowing this with 100% certainty, but I'd imagine that Goodrow is not at 100% health right now.
Perhaps similar to Ryan McDonagh during the 2015 Stanley Cup Playoffs, his ankle may be frozen and protected.
(To be clear – I am speculating on this, but I do believe that he rushed his return in order to help the team during a "DO OR DIE" situation. In other words – he wanted to be there tonight, even if he wasn't physically at 100%.)
Similar to the returns of both Tyler Motte and Ryan Lindgren during the final games of round one; there was Barclay Goodrow tonight, a #21 in blue who helped propel the team to victory during a MUST WIN situation.
In his 13:16 worth of ice time, he helped shut down the Canes, was a wonder on special teams, and for the first time in a long time – you didn't have your asshole sucked into your back teeth whenever the Rangers' had a d-zone draw.
Nothing against Kevin Rooney, who has been serviceable for the Rangers, not only during the regular season, but during the postseason too – at the same time, let's also answer the following question – why was Barclay Goodrow acquired during the summer of 2021? The answer – for the Stanley Cup Playoffs of 2022.
The Carolina Hurricanes should be afraid right now. Very afraid.
The Rangers' biggest weakness is no longer what it once was.
---
CZAR IGOR Shestyorkin, who has done nothing but set both Ranger franchise and NHL records during this 2022 postseason during his thirteen games of action; #31 entered the record books once again on Saturday night:
Igor Shesterkin is the fifth goaltender in NHL history to record multiple assists in a playoff game:

Pekka Rinne (NSH) – 2017/04/15@ CHI
Jose Theodore (MTL) – 2004/04/11vs BOS
Tom Barrasso (PIT) – 1993/04/20vs NJD
Grant Fuhr (EDM) – 1991/04/22vs LAK

— NYR Stats & Info (@NYRStatsInfo) May 29, 2022
---
CZAR IGOR, credited with two assists tonight (both secondary); the '22 Vezina winner now joins four other NHL goalies with multi-point playoff games.
And while I don't want to get into the Igor v. Lundqvist stuff (a natural comparison, as Lundqvist once was to Richter, and dating further back than that – Kerr v. Rayner, Rayner v. Worsley, Worsley v. Giacomin, etc); "The King," in 130 playoff games played, finished his postseason career with only one assist during that time.
CZAR IGOR now has three.
In thirteen career playoff games, CZAR IGOR now has triple the amount of assists as Lundqvist finished with – and in just one-tenth of the time to boot!
CZAR!
CZAR IGOR, who is pretty much setting record-after-record with each playoff game played; #31 will now try to remain undefeated during Game Seven's. He's currently 1-0.
While there are many lede stories to choose from tonight; what shouldn't be forgotten is this – CZAR IGOR's fifteen saves during the first period, where many of them were game-changers.
Even with the Rangers' 2-0 lead at the time; without these stops, this game could have been tied, or worse than that – found the Rangers trailing.
---
At this time, let's get into all of the pregame news and interviews, and then into the main event – the GAME REVIEW, where I'll have much more to say about this epic victory during that segment!
---
On Friday, the day after the Rangers' Game Five loss, the team took the day off.
Despite his team being off, head coach Gerard Gallant fulfilled his daily media requirement.
Here was Friday's "TURK TALK":
---
If you're a regular reader of this site, then you probably know what I'm going to say next – "talk is cheap."
Gallant said everything that you'd expect him to say.
"The Turk" talked about how his team has faced adversity all season, and how more times than not – they have overcame all of it.
If there was anything "interesting" to come out of the press conference, it was when Gallant was asked about Panarin and his lack of production.
Gallant wouldn't feed into the negative line of questioning, and said that his group succeeds as one, and at the same time, also fails as one.
In other words, Gallant wasn't going to play the "blame game" with his players – the right decision. His team has been there for him all season and there's no point in slamming anyone.
And if you haven't deduced this by now – Gallant knows more about hockey than the arts-and-crafts charts-and-graphs experts on Twitter.
---
A day later, Saturday, both Gallant and Fox spoke to the media one last time prior to puck drop.
Both men said the same things – the Rangers had to win Game Six.
And that's what they did.
Of note, while I was personally tipped off about this – the media had no clue that Barclay Goodrow was going to return tonight.
(And if you're wondering – since I'm just a blogger and not a reporter – more times than not, I keep what I hear to myself, as I don't want to betray anyone's trust. However, when I get the green light, I'll then break stuff – and if you're a regular reader here, then you know that I'm batting 1.000. I don't make up stories like others!)
Another "L" for the beat, a beat that didn't even think to ask Gallant about a potential #21 return.
---
Here's what "The Turk" ultimately went with for this "Norm Maciver" tribute game:
FIRST LINE: Kreider/Zibanejad/Vatrano
SECOND LINE: Panarin/Strome/Copp
THIRD LINE: Lafreniere/Chytil/Kakko
FOURTH LINE: Motte/Goodrow/Reaves
Defensively, we had this:
FIRST D-PAIR: Miller/Trouba
SECOND D-PAIR: Lindgren/Fox
THIRD D-PAIR: Braun/Schneider
And in net, CZAR IGOR.
---
BOX SCORE time.
The following information and graphics come from the new world-wide leader in NHL coverage, ESPN.com:
SCORING:
PENALTIES:
GOALIES:
| | | | | | | | | | | |
| --- | --- | --- | --- | --- | --- | --- | --- | --- | --- | --- |
| SA | GA | SV | SV% | ESSV | PPSV | SHSV | SOSA | SOS | TOI | PIM |
| 12 | 2 | 10 | .833 | 10 | 0 | 0 | 0 | 0 | 36:36 | 0 |
| 13 | 3 | 10 | .769 | 10 | 0 | 0 | 0 | 0 | 23:24 | 0 |
| | | | | | | | | | | |
| --- | --- | --- | --- | --- | --- | --- | --- | --- | --- | --- |
| SA | GA | SV | SV% | ESSV | PPSV | SHSV | SOSA | SOS | TOI | PIM |
| 39 | 2 | 37 | .949 | 30 | 2 | 5 | 0 | 0 | 59:27 | 2 |
---
Since I have two televisions in my man cave – I tuned into both ESPN and the M$GN at 7:30PM, where I then watched both pregame shows with my trusted confidant/friend/neighbor/road-trip buddy, TEN O'CLOCK TOMMY!
Just seconds into the ESPN pregame show, it was noted that Barclay Goodrow was on the ice taking pregame line-rushes. It took ten minutes for the M$GN to figure that one out.
John Giannone immediately opened up with what I also thought was weird; when Gallant said that the team was "tired" and "fatigued" during Game Five.
Like Giannone, I was perplexed about this.
After all, the Hurricanes, just like the Rangers, played a seven-game set during round one. Gallant's Gang is also younger than Brind'Amour's brood, so for me – I don't accept the "we were tired" excuse.
Lundqvist, during his opening remarks, basically said the akin of – "all that crap is forgotten and goes away tonight."
He'd be proven correct.
Sieve Vagistat, who remains absolutely useless on these broadcasts – unless you're a fan of cheerleaders, as he basically looks up to Lundqvist like a 1960s teenager idolizing John, Paul, Ringo and George; the legendary goalie of 46 games then gave us this hard-hitting remark – "whoever plays harder should win."
As Vagistat continued to say nothing of value; I was also watching Mark Messier and Chris Chelios on ESPN and thought of this – imagine Messier and Lundqvist together inside of the M$GN studio?
Sign me up for that.
Dave Maloney, who I usually do I enjoy, was somewhat in repeat mode again, where he praised Kreider, Fox and Lindgren. All that was missing was talk about Drury's deadline and then this would've been a 100% carbon copy of everything that's been said before during this round.
(And it's not like that Maloney was wrong here, far from it – it's just that we've heard all of this many times already.)
Once M$GN figured out that Goodrow was back; the crew then talked about Gallant's lines, where Lundqvist beamed about Goodrow in a "head-and-shoulders" type of a way (pun intended); where #30 opined that not only can Goodrow score – but he does all of the little things that helps a hockey team win.
Vagistat's response? "HANK, I KNOW SOME GOALIE COACH IN TAMPA AND HE TOLD ME THAT GOODROW WAS A PLAYOFF PLAYER. CAN YOU SIGN A PUCK FOR ME AND TELL PEOPLE THAT YOU KNOW ME?"
In other words – the seven-foot jackass couldn't figure out that Goodrow was a playoff player with his own two eyes.
If there was anything of value that came out Vagistat's chart-hole, it was what I've been routinely saying during these playoffs – Alexis Lafreniere has been the most consistent forward for the team.
And oh, I should mention this here – I think I muted about fifty Twitter accounts tonight, friends included, who whined about Gallant's lines to me.
So if you bitched to me about this, and didn't get a response out of me – now you know why.
Seriously, if you're still questioning Gallant at this point, you're a moron. I can't waste my time with such foolishness.
As we started to creep closer to 7PM, here was my physical state at the time:
How I've felt all day and right now, a photo essay. LGR! #nyr #NoQuitInNY pic.twitter.com/f3smgAqKct

— BlueCollarBlueShirts (@NYCTheMiC) May 28, 2022
---
As far as anything else, and just like Henrik Lundqvist; come 7PM, both Messier and Chelios picked the Rangers to win Game Six.
Messier had the best bit of the three, when he said – "I can't guarantee anything since I'm not playing, but I think the Rangers not only win tonight – but they win Game Seven too."
After we got our regular shot of Reaves belting out, "SHESTY, RELEASE US," we finally went to puck drop.
GAME REVIEW TIME!
---
FIRST PERIOD:
Gallant elected to start his fourth line tonight, where at the time, I said this:
Fourth line starts – they will win the faceoff #nyr https://t.co/xbLKKcUMss

— BlueCollarBlueShirts (@NYCTheMiC) May 29, 2022
---
And that's exactly what happened, as Goodrow, who didn't look like Mika stricken with malaria whenever he sees Jordan Staal in front of him, won the opening draw.
Also of note? This:
Prior to the draw, including right before the national anthem and during the opening minutes of this game – we had loud chants of "IGOR, IGOR, IGOR" – as M$G knew where their bread was buttered – with the Russian wearing the #31 jersey, and not "The Breadman" in the #10 jersey.
---
Just 25 seconds into this frame; CZAR IGOR made his first of fifteen saves of the first period, where he kicked it all off by denying Jesper Fast.
The Rangers would soon recover, where Tony DeAngelo blocked a Copp shot and then Raanta denied Copp's second try at the 1:55 mark.
A minute later, with the Rangers' third line reunited; Chytil had a shot blocked. Kakko kept the rebound alive – but nothing yet.
At the 4:20 mark, it was Mika and Kreider's turn, but Seth Jarvis smoked out their one-timer try.
Now down to 13:40 remaining, Miller prevented Staal from going on a breakaway. Up next was perhaps the turning point of the game.
During a crazy sequence that finished up with 12:38 to go; Raanta made a great save on Goodrow. On the other end, CZAR IGOR made his best save of the game, when he stoned Sebastion Asshole's (nickname credit: Roc of "2 Guys, 1 Cup") breakaway try.
As we all know, breakaways have been a weakness for Igor during this series – just not tonight. And hopefully not during Game Seven either!
Following this game-changing save; Tyler Motte grabbed a loose puck and made Raanta look foolish:
Motter opens up the scoring!

(via @NYRangers) pic.twitter.com/atDYV6Oli8

— Rangers Videos (@SNYRangers) May 29, 2022
---
1-0, GOOD GUYS!
On this goal, Motte's second of the postseason; he flung a puck at Raanta, #32 let it bounce off of him, and fortunately for the Rangers – then behind him.
This was a bad goal for Raanta to allow, his softest yet of the series too – but hey – that's not my problem! I'll let a Cane blogger cry about this one!
With M$G booming, and on the faceoff that followed the Apple Sauce goal; Copp was stopped twice – where Raanta made a really good save, somewhat redeeming himself in the process, on #18's second try for Ranger goal number two.
As the second line continued to attack Raanta; the Finn was able to temporarily limit the Canes' deficit to one.
As Mika continued to lose every zone faceoff known to man; Raanta stopped a Fox wrap-around attempt, then a shot from the left circle out of #23 too.
My poor buddy Mike, who bet on Fox to have one shot on goal or less tonight. However, he doesn't care – all that matters is the win! The right attitude to have!
Now down to 10:45 remaining; the Rangers' received a chance to extend their lead, when during an offensive zone faceoff win for the Blueshirts'; one-time Ranger Brendan Smith caught Lafreniere up high.
Thirty-four seconds later, and after two Carolina clears too; this happened:
MIKA MAY MADNESS!

(via @RangersMSGN) pic.twitter.com/zykVG2VSt4

— Rangers Videos (@SNYRangers) May 29, 2022
---
2-0, GOOD GUYS!
On this goal, Fox, who was coming up ice after a Canes' clear; the 2021 Norris Winner found Zibanejad. Zibanejad rocketed the puck by Raanta, and boom – 2-0 just like that, a much needed 2-0 lead to say the least!
For whatever reason, the officials took a long time to restart the game. I guess they wanted to give Rod Brind'Amour, and his Paulie Walnuts inspired hair, a chance to review. No dice.
With Raanta looking shakier than Michael J. Fox on a wooden roller-coaster built during the 1800s; with 9:19 to go, we had our first mocking "RAAN-TAA" chants of the series. It may have gotten to him..
As we approached the latter stages of the period, all I could think of was what I've been saying on both social media and on this site all season – the Rangers have these hot first periods, but after them – they are also very prone to disastrous second periods.
Rather than waiting until the middle frame; instead, the Rangers ran out of gas during the second half of the first period – where if it wasn't for CZAR IGOR – the Rangers don't head into the locker room up 2-0.
With 7:12 to go, Trouba took a bad penalty, when he tripped Andrei Svechnikov while behind Igor's net.
Now on the penalty kill, Copp killed 22 seconds single-handedly, following an intercept.
As has been the case all series, and as it was on Saturday night too; anytime Carolina's power-play quarterback, Tony DeAngelo, touched the puck – the boos were on.
Once again the boos would get to him – although it got to him once the game was out of hand.
With loud boos and chants of "TONY SUCKS" echoing around M$G; TDA lost a puck, Igor stopped Double T., Lindgren prevented a tap-in goal with a blocked shot, Fox blocked DeAngelo and for good measure – CZAR IGOR made a swooping BESSIE (cow/glove) save on DeAngelo.
Better than that? Brady Skjei then went offside with seven seconds left on the Canes' man-advantage, which then allowed the Rangers to escape these two minutes of hairiness and scariness.
Igor wasn't done yet. Far from it.
Once hitting the fifteen minute mark; CZAR IGOR somehow stopped Neiderreiter from one foot away. Right after that, he stopped Domi too, in back-to-back to saves that were just absolutely phenomenal.
CZAR IGOR, in CHEAT CODE MODE, then made two more saves – where all of these Carolina shots were coming from so close, that CZAR IGOR could smell what the Canes had for their pregame meal.
Finally, the Rangers would get their offense going again; but with 3:30 to go, Raanta, now settled down, stopped both Trouba and Panarin.
Now under two minutes to go; Fox broke up a Canes' two vs one odd-man rush; while Raanta stopped Mika on the other end.
The Rangers, who never make it easy on their fans, then survived the final minute of the period – where yep, you guessed it – Igor continued his shutout.
Here's what I said at the time, following the 2-0 first period:
2-0, GOOD GUYS after 20. 1P thoughts:
— Igor, Igor, Igor
— #NYR look good, but Igor is the reason for the lead
— Raanta started shaky, settled down. Good for Motte to sneak one by and for Mika to get the PPG.
— SOG 15-12, FO's 15-6 CAR; Hits 13-10 Rangers
— KEEP IT UP!

— BlueCollarBlueShirts (@NYCTheMiC) May 29, 2022
---
SECOND PERIOD:
Up 2-0, you felt good – but you also knew how bad these second periods have been.
While the Rangers would remain up by two goals by the end of this middle frame; there were a lot of reasons to be nervous too.
Also of note, and probably something that you'll only see mentioned on this site – the Garden was half-empty as Staal beat Goodrow on the opening draw of the period. The reason why? Long bathroom lines.
A $98767867867896 billion dollar building, and a venue that seemingly only has four bathrooms.
I hate to say it – but you never see this in the newer arenas – including the IBS Arena at Belmont.
Seriously, there are only two bathrooms in the 400s/Blueseats section, where only one toilet and urinal can be found in each of them.
At least the Rangers' have built a DJ booth for some Macbook Musician. Ugh!
---
At the three minute mark of the period, Lafreniere and Chytil had an odd-man rush, where #13 found the Czech wide-open with a picture-perfect pass. Chytil didn't even hit the net.
However, before you could complain about Chytil depositing a puck near the East River; on the same shift, #72 then immediately redeemed himself:
CHYTIL HEAT 🔥

(via @NYRangers) pic.twitter.com/CydzMzH00g

— Rangers Videos (@SNYRangers) May 29, 2022
---
3-0, GOOD GUYS!
At the 3:24 mark, Fox got the puck to Chytil and the Czech center buried it past Raanta.
It was also at this time where Raanta was pulled for a third-string goalie, the Russian Pytor Kochetkov.
And maybe I'm speculating here, but this goalie swap also told me this – Frederik Andersen won't be ready for Game Seven.
While I could be wrong (it's happened before – believe it or not!); there was no reason to pull Raanta here – except only for this – to get him fresh as possible for Game Seven.
Yes, the first goal that Raanta gave up to Motte was soft; but the Mika goal was a PPG rip and this Chytil goal was the end result of an odd-man rush/porous Carolina defense.
You can blame Raanta for the first goal – but goals number two and three? Not at all.
And had the Canes been trailing this series 3-2? I don't think Raanta would've been pulled here.
---
Now up 3-0 and with Brind'Amour waving the white flag a bit; the Rangers continued to add to the palpitation and heart murmurs across the mean streets of Rangerstown, USA.
Following the Rangers' first line going on a 3 x 2 odd-man rush, which led to no SOG; Brady Skjei, with 14:55 to go, flicked an innocent enough looking wrister at CZAR IGOR.
3-1.
I thought this goal was soft, but really – how can anyone knock Igor? I know I won't!
That said, there was a chance that Igor was screened here too.
But yeah, we've seen Igor make all these tremendous saves all season, including in this game, and for this "blah" shot to go in – I won't lie – the "dreaded three goal lead" stuff was on the back of my mind at the time.
The Rangers would regain their three-goal lead, just 1:42 later:
10/10, no notes 💪

(via @NYRangers) pic.twitter.com/IEI8o3kagd

— Rangers Videos (@SNYRangers) May 29, 2022
---
4-1, GOOD GUYS, as the result of a bad goal allowed by Kochetkov!
On this goal, Chytil flung a simple backhander towards the net, and it found the top shelf.
Also on this goal? CZAR IGOR picked up his second assist of the game.
At the time, this also meant that CZAR IGOR had as many points in this series as Panarin did.
Come 11:23 remaining, Lindgren tried to slam one home from the paint but was denied. We then had our first scrum of the game, where the word "scrum" is a bit of an exaggeration. We'd later see full blown scrums, multiple scrums at that, during the third period.
As DeAngelo continued to hear it, and heard it hard, from the Garden Faithful; TDA then turned the puck over and Andrew Copp, who had five really GOOD LOOKS tonight, was then stopped by the rookie netminder.
Now down to 9:31 to go, and with the Canes' surging; Igor froze a puck, and as Aho tried to get cute; Chytil gave him a love-tap cross-check, similar to the one that Svechnikov gave to Kreider earlier during this series.
On both of these plays – no call was made, which is good – as it tells you that the officiating is consistent.
After seeing that Mariano Rivera was in the house, and how ironic was that – considering all of the saves that CZAR IGOR made; Reaves leveled Martinook with 8:45 to go.
The crowd, who spent most of this game chanting derogatory things at DeAngelo while praising CZAR IGOR; at this moment, temporarily belted out "REAVO! REAVO! REAVO!"
Since nothing is ever easy; with 7:13 to go, CZAR IGOR stopped Skjei, but on the rebound, Vinny Trocheck bounced a puck off of Lindgren, a puck which then went through Igor's legs.
4-2.
And yep Part I: the second Canes' deflection goal off of Lindgren too.
And yep Part II: that's not an indictment or criticism of #55 – it's just to say that the Canes have had some puck luck during this series.
Immediately after the goal, Kreider was boxed for hooking Jarvis.
Once again, the Rangers got stellar goaltending out of Igor during this PK, while Motte also saved a goal.
Now back to full strength; Chytil went wide, just as he did earlier, and then had another chance, where Kochetkov stopped #72's mini-breakaway attempt – and hat trick too.
As we hit the final minutes of the period; the Canes had nearly three minutes of attack time, where they hacked and whacked towards Igor – but could never strike within one.
Come 2:18 remaining, Igor said enough of this and checked Jarvis – an interference penalty for the Rangers' goaltender who was all over the box score tonight. (Kakko would serve this penalty.)
Goodrow, Miller and Fox came up big during crunch time here, and as a result – the Rangers' penalty kill remained flawless.
Here's what I said after forty minutes of action:
4-2, GOOD GUYS, after 40. 2P Thoughts:
— IGOR, IGOR, IGOR
— Chytil, Chytil, Chytil? It's true!
— SOG 27-19, FO's 21-14 CAR; Hits 27-17 #NYR
— #NoQuitinNY Special Teams 4-4 – 1 PPG, 3 Kills
— Don't give up 3 goals, win the game!
— Goody got it.
— LG F'N R!!!!

— BlueCollarBlueShirts (@NYCTheMiC) May 29, 2022
---
THIRD PERIOD:
The Rangers tried to play it conservatively at the start of the final frame; but Carolina, and as has been the case during all of their road losses – once again embraced the sore loser role.
The third period was a penalty laden affair, with eight penalties in all.
There could have been even more, including a Reaves vs Smith fight at the end of the game, a brawl that was soon broken up by the officials before it could even begin. (Kudos to the officials too – there is no reason for a fight after the final horn.)
Following an early Canes' attack against the Rangers' second line; the Blueshirts' third line came on and then killed nearly a minute's worth of time in the Carolina d-zone.
With 16:05 to go, we had our first penalty of the period, a double-minor at that, following Slavin's high-stick on Chris Kreider.
A minute later, Panarin took a horrible penalty himself, when he hooked Aho while the Rangers' were attacking.
Not to be outdone; just 65 seconds later, Game One hero, Ian Cole, interfered with Andrew Copp.
The end result was that the Rangers' were awarded 55 seconds of a 5 x 3 power-play.
With 12:17 to go, and after first missing the net by a country mile; Panarin regained the puck and scored.
5-2, GOOD GUYS!
---
Earlier during this blog, I gave Panarin an asterisk for this goal. Why? For these reasons:
— This was a 5 x 3 PPG.
— The Rangers were up by two goals.
— The Canes had a third stringer in net.
---
Listen, I'm not trying to knock and/or "shit" on Panarin. Just like anything else – I'm saying what it is.
I'm happy that he scored. However, you also have to consider all of the factors when this goal was scored.
In other words – I pray to the hockey gods that he can tear it up during Game Seven.
An "A-Rod" 5 x 3 PPG against a third-string goalie isn't anything to do back-flips leg kicks about.
If there's anything I'm trying to get across here, it's this: I hope this goal gets Panarin off of the schneid.
Now let's see him help lift the Rangers during Game Seven!
To rely on Filip Chytil to carry you isn't the best move – and that's not me discrediting him at all. We just need to see the FAT CATS dine when the season is on the line!
---
Now up by three goals again – this is when Carolina acted like crybaby assholes.
As you can see from the PENALTIES graphic depicted above; up next were never-ending infractions that just prolonged the final result.
With 9:38 to go, Miller tripped Kotkaniemi. DeAngelo then prevented his team from getting a power-play, when he acted like an idiot with CZAR IGOR.
DeAngelo is done at M$G for this season.
This much is true, and as predicted when this series first began – Ranger fans got into his head. To say otherwise would be lying.
TDA, the leading scorer for the Canes during round one – only has one point in this series – a meaningless secondary assist during the Canes' Game Five blowout. Brendan Smith has been a bigger factor for the Canes.
Let that sink in.
---
From this point on, the rest of this game featured ESPN talking about Game Seven. So now I'll do the same here, with some rapid-fire bullet-points:
— In case you aren't aware already (and you'd have to be living under a rock if that's the case) – the Canes are 7-0 at home during these '22 Playoffs, while also going 0-6 on the road.
— Simply put – the Rangers must kill that trend on Monday. And if you believe in the law of averages – the Canes are due for a home loss.
— A returning Andersen, Raanta or Kochetkov, it don't matter – the Rangers will go into Game 7 with the advantage in net. However, they can't allow the Hurricanes to do what they did during Game 5 – duh.
— Outside of that Game Five in Raleigh, the Rangers were the better team during the first two games of this series – but the Kakko miss and a terrible power-play found them on the wrong end of the scoreboard following both Games One and Two.
— For Kakko, and the Rangers' power-play on the road – Game Seven is a chance for redemption.
— If the Rangers lose Game Seven – you'll hear about Kakko's miss from Game One and all of the power-play failures from Game Two all summer. Instead, let's hope that the Rangers win – as the team lifts themselves up from adversity again.
— The Canes were rattled at the end of this game – just like they were at the end of Game Four. However, just like the Rangers during Game Six, who 180'd after a bad performance; the Canes also 180'd after their pair of road losses.
— It's hard to explain why these two teams haven't had much success on the road, outside of saying that home ice means a lot. However, and from stuff off of the desk of Captain Obvious – the Rangers, who have "FOUND A WAY" all season, must find one more way – and do whatever they did tonight on Monday.
— And yep – I know that's easier said than done, but as I've bellowed out all season – "WHY NOT THE RANGERS?"
---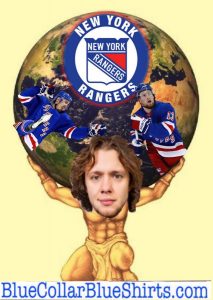 5-2, GOOD GUYS – YOUR FINAL from M$G.
The two best words in all of sports now awaits us – "GAME SEVEN!"
Here's your favorite coach and mine, Gerard Gallant, after knotting up the series:
---
WHAT A WIN!
Time permitting, I may try to come back with a Game Seven preview blog, but outside of covering interviews – I think you all know the deal and the stakes at hand.
BELIEVE!
PLUGS TIME.
---
My first plug of tonight's blog – the mandatory plug for my book, "The New York Rangers Rink of Honor and the Rafters of Madison Square Garden".
As mentioned previously, the book is now available in hardcover, in paperback and in Kindle formats. To purchase a copy of the book, visit this link:
https://www.amazon.com/Rangers-Rafters-Madison-Square-Garden-ebook/dp/B09CM5N2WD
For those still looking for signed paperback versions of the book, I have re-ordered more copies. I now have a few signed copies for sale at $25 a pop (includes shipping price) through me directly. Here is all the information on that:
---
Here are my last few blogs, in case you missed them:
---
---
---
If you haven't already, subscribe to this blog for the next update:
---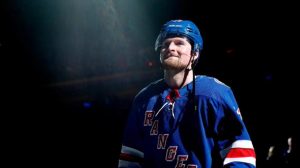 Up next: Game Seven, Monday night in Raleigh, with a puck drop of 8PM.
Should you be enjoying the Memorial Day weekend – the real fireworks will begin once all of the BBQ's have been concluded.
LET'S GO RANGERS!
Sean McCaffrey
BULLSMC@aol.com