Greetings and salutations everyone and welcome to another blog here on BlueCollarBlueShirts.com. At least Glen Sather remains safe!
I'm sure that every Blueshirt backer can now sleep soundly knowing that!
And sadly – that's all that matters to Rangers' owner James Dolan – keeping the Cupless cigar-chomper on the payroll.
Possessing both the best winning and points percentages of franchise history (amongst coaches with 100+ games) doesn't guarantee you employment anymore.
Neither does becoming the first coach of Rangers' history to post back-to-back seasons of 100+ points.
But don't fret yet!
After all, possessing an iron-clad contract worth $11.6M per-season, for no playoff production whatsoever, does guarantee you employment!
Simply put: You don't need your yeast to rise in the Spring in order to "earn" your dough.
"THE RANGERS' WAY!"
---
If you haven't already, then I urge you to check out my last blog which was posted on this site just two days ago – as I covered the lead-up to what we all expected, and then became reality on May 6th – the firing of Gerard Gallant.
This is my way of telling you that I'm not going to repeat everything that I wrote just 48-hours ago; so check it out as we now cover the latest bombshell to hit Rangerstown, USA.
You can find that blog here:
---
When I last left you, I told you how the Rangers didn't share Gallant's exit interview with their fans – and even worse for "THE TURK" – how Drury stayed quiet as the entire media, and on both sides of the U.S./Canadian border, suggested that the head coach would soon be axed.
Prior to the news of Gallant's firing from Saturday, late afternoon – nothing had changed.
Drury had an ample amount of time to squash the "GALLANT WILL BE FIRED" rumors – but he never did.
As said two nights ago on this site, and as I'm saying one more time here – the writing was on the wall.
And as also said – this feels like Alain Vigneault 2.0 – as the head coach pleaded his case to the media during his final interview – but at the end of the day – it was all for naught.
At this time, I want to show you how the Rangers are covering this story – then follow-up their press release with all of my own thoughts and opinions.
---
At around 5:11PM, Larry Brooks, the only Rangers' beat reporter with sources, broke the news:
BREAKING: Rangers and head coach Gerard Gallant have agreed to part ways, Post has learned.

— Larry Brooks (@NYP_Brooksie) May 6, 2023
---
A few minutes later, via their official Twitter account, the Rangers tweeted out the following:
OFFICIAL: #NYR and head coach Gerard Gallant have mutually agreed to part ways.

— New York Rangers (@NYRangers) May 6, 2023
---
The Rangers, still using Twitter (no press release has been posted on their website as of this writing), then tweeted out the following texts:
NYR President + GM Chris Drury: "I want to first thank Gerard for his work and commitment to NYR during his time as head coach. I have a ton of respect for Gerard as both a coach + person and truly appreciate everything he did for us on and off the ice these last two seasons.

"After my evaluation of the season and discussions with Gerard, we mutually came to the conclusion that a change would be beneficial for both parties. I wish he and his family all the best in the future. Our search for a new head coach will begin right away."

Drury on the NYR coaching search: "Just looking for the right fit. Not going to limit ourselves right now to any specific style or type of coach."

Drury on the search time frame: "Want to be as thorough as we can be. Don't have a set date in mind as of yet; just want to get the right person, whenever that is."
---
The Rangers also posted a team-written statement from Gallant, one that reads as if it were written by an attorney:
Gerard Gallant: "I would like to thank Mr. Dolan, Chris + the Rangers organization for giving me the opportunity to be their head coach these last two seasons. The experience of coaching an Original Six franchise with such rich history and an incredibly passionate fanbase is something I will never forget. After conversations with my family and Chris, it became clear that this was the right decision for both myself and NYR at this time."
The club also posted a thank you graphic, one that obviously screams fake: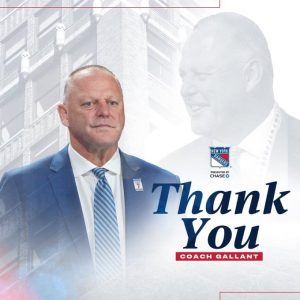 One thing that should be noted before proceeding?
That once again, Drury, and somewhat similar to Glen Sather two GM's before him (and who still collects a paycheck from James Dolan despite never winning anything in 23+ years – and as I have repeatedly mentioned on this site), sits in the shadows.
Instead of using the team's M$G Network, YouTube account or even a live Tweeter feed – Drury continues to release statements via black-and-white text, while refusing to face the fans in color – you know – the same fans who this franchise demanded $400+ "get-in" ticket costs during the 2023 Stanley Cup Playoffs.
As you may suspect – it's my opinion that this is a bad look – especially when you see other NHL general managers around the league facing the heat during times of turmoil.
For Drury, he rarely puts himself in front of the camera – and with news this big – ignoring the fans is both a monumental disgrace and a monstrous disservice.
This practice doesn't create any positive vibes. Instead, it instills ill-wills.
Then again – since Dolan had his house sold-out for most of this season and during every playoff game too (even despite the insane ticket prices) – I guess there is no motive for Drury to change his ways.
---
By now, you already know how I feel about this deal – I hate it – and not just because I thought that Gallant was doing a good job.
While I won't rerun my fandom of "THE TURK," nor why I wanted Gallant to stay for the 78956796699th time on this site tonight; at the same time – I just think this move sets the franchise back.
In addition, this Gallant firing is now the first real black mark on Drury's ledger.
Let me explain the ways, and in a bullet-point form of fashion:
— Gallant's firing means that come the 2023-24 season, the Rangers will have their fourth coach behind their bench during a time-span of only five-years. How do you build a culture/winning program like that?
— Since it's woefully apparent that the players will never be held accountable; I do wonder how many coaching candidates will be looking elsewhere?
— After all, with recent Ranger coaches having short shelf-lives, especially bench bosses who really didn't deserve to be fired in the first place – you have to think that this job will be a turn-off for some.
— And for the candidates interested in perhaps becoming the next "quick hook" – they will be looking for boffo money and term. History always repeats itself – and these men will want to be handsomely paid as a result.
— Just for context, Alain Vigneault was fired following five seasons – which included both an ECF and SCF appearance – and a Presidents' Trophy win too. He was fired following a 2017-18 season marred by injuries – and as then-GM, Jeff Gorton, started trading away the bulk of his star talent, following the release of "THE LETTER." In essence, the rebuild prevented AV from qualifying for the playoffs in every single one of his five-seasons as head coach.
— David Quinn, now tasked to lead the rebuild, saw many players flourish under him. Then the pandemic happened. Despite Artemi Panarin having the best season of his career under DQ, and Fox also winning a Norris Trophy under the once exclusive collegiate coach – come 2021, Panarin had his problems in Russia, Trouba was ailing, they couldn't beat the Islanders, and for the rotten cherry on top – The Tom Wilson Game – a game that wiped out the entire regime just days later.
— And in a harbinger of what was to come for Gallant – following his firing, DQ when defending his case, brought up how he wanted a different roster – and how he felt that the Rangers lacked toughness and grit.
— Gallant, who did receive his "grit" and "tough guys" in Year One, players that he requested; soon had them stripped away from him during Year Two.
— While I still believe that the 2023 first-round loss falls squarely on the shoulders of the two highest paid forwards of the team, MIA Z. & Soggy Bread; prior to the embarrassment, Gallant watched Sammy Blais, Ryan Reaves, and others like them move on; while skilled players, including a banged-up Patrick Kane, were brought into the fold.
— Again – while I think the loss to the Devils is all because of the lack of production from the FAT CATS – you could tell from Gallant's recent interviews that this wasn't really the roster that he had desired – which probably led to his conflict/falling out with Drury in the first place.
— In the case of Drury (one more time – I blame the players – not the GM, nor the HC) – the 2023 failure, and now the firing of Gallant, falls on him.
— The ousting of THE TURK means a $7M severance package to be paid-out by the owner. Drury's roster construction will also be questioned – and we all know how the power-hungry Glen Sather has Dolan's ear. Don't believe me? Just ask John Davidson and Jeff Gorton.
— Whether you wanted Gallant to stay or if you were a "FLAT EARTH TURKER;" either way, this is true – this is Drury's first real loss.
— This firing is also a self-admission that he picked the wrong guy – and no less than just two-years ago. But of course – no GM bats 1.000 – but I doubt that Sather, who barely batted his own weight during his fifteen rotten years as the team's GM (and an extra four years after that as team president), will relay that to Dolan.
— This franchise hasn't won a Stanley Cup since 1994, and unless they win it next season; then come June of 2024 – the Cupless drought will turn thirty-years-old. Nothing has really been learned since that time, or at the very least, ever since the 2000 firing of Neil Smith/hiring of Sather.
— Since 2000, just 23-years-ago, the franchise has undergone ten different head coaching changes – but to be fair – "only" five different head coaches since the salary cap era began (2005-06). Whoever is hired next will become the sixth head coach of the past eighteen years – where in other words – the Rangers hire a new bench boss every three-years. Even a U.S. President has a longer term than that!
— All of this personifies the biggest adage of the salary cap era, where player contracts are unfortunately guaranteed – "You can't fire the players – but you can fire head coaches."
---
This news is still very fresh, so there is no concrete information on why Gallant was fired – but of course – there is a ton of speculation – speculation which is very much obvious.
While some fans may not want to hear it – we now have had two coaches fired with Artemi Panarin on the roster – the highest-paid winger in the league – yet one that rarely shows up during the playoffs.
If you're counting, then you also know that this is now the second coach fired in a time-span of two-years. But it can't be Panarin's fault – right? Ugh.
Perhaps Panarin needs an "adjusting?"
All of this is why I now believe that "THE BREADMAN" has earned himself a new nickname – "COACH KILLER."
I guess he only speaks English during his exit interviews too.
But since #10 has a contract that can't be moved – unless the Rangers want to take a significant loss on it – then he'll continue to lead the team in scoring during the regular season – only to become "GHOST TOAST" when the games matter the most.
And let's face it – whoever becomes the next head coach will deal with the same problem – as it's impossible to teach shooting accuracy and a playoff mentality.
Don't forget this either – during both the tenures of DQ and Gallant – Panarin has said that he doesn't listen to his head coach and wants to do his own thing. (He's only said this after big wins – as miraculously – that's when he can speak English! Praise the Lord!)
And what he said has been extremely evident.
Coach Killer.
A worse problem than that?
The Rangers are now the equivalent of an NBA team – the players hold all of the power.
When things get tough, all they have to do is bury their head coach to the general manager – and boom – it's another shiny new toy that they can later break and blame!
We should all be so lucky to have jobs like these players – and where we can get our boss fired when we fail.
Again – all Panarin had to do was hit the net, JUST ONCE, during his numerous breakaways, odd-man rushes and 0-27 power-play performance. Had he, then we're talking about Rangers/Hurricanes.
And while this is purely speculation – I do wonder how much the two brutal losses that the Devils have just endured to the Hurricanes, factored into the timing of Drury's decision.
One more time – while I'm not saying this is a fact – had the Devils blown out the Hurricanes in Games 1 & 2 of their series – then perhaps Drury wouldn't have been so hasty in his decision.
But what's done is done – and it's now up to a new head coach to be set-up as the fall guy when this team, especially the FAT CATS, don't show up during big playoff games.
Rinse-wash-repeat.
---
Over time, Gallant's tenure with the Rangers will be remembered more fondly than it is right now – and from both the majority of the fan base and media members.
The only way his tenure can become diminished, at least from a historical aspect?
Should the Rangers win the Stanley Cup in 2024 – but I wouldn't hold my breath in hopes of this dream scenario becoming a reality.
To me, I don't think that you can discredit what "THE TURK" accomplished in New York.
The two winning seasons, the best back-to-back regular seasons in 97-years. A Cinderella Eastern Conference Final appearance. A Vezina Trophy winner under his watch. Over a dozen players having the best seasons of their careers under him.
Sadly, in the moment, he takes the fall for the underwhelming performances of his star players during the playoffs – and where the word "adjustment" is frequently used by a young echo chamber; a motley lot that has no clue what that word even means, nor has made any valid alternative "adjustment" suggestions either.
Simply stated: When your top stars can't hit the net; how is a coach supposed to "adjust" to that? By getting on the ice and shooting the puck for them?
---
Despite whatever Drury said on Saturday – I doubt there will be much of a search for a new head coach.
I outlined some potential coaching candidates on Thursday night on this site – and where as noted already tonight – it has to be Joel Quenneville – not Mark Messier, not Daryl Sutter, not Peter Laviolette, and for that matter, not Kris Knoblauch either – as the AHL head coach is currently experiencing a heck of a run with the Hartford Wolfpack.
This franchise, and owner, is in love with big names.
It's my opinion that Drury is just biding his time – and waiting the NHL's blessing to reinstate Coach Q.
For what it's worth – that might not happen until the 2023 Stanley Cup champion is decided – as I'm of the belief that NHL commissioner, Gary Bettman, doesn't want such a distraction/negative story during the peak of the season.
But you can reinstate Quenneville on a Friday July night – when most eyes aren't paying attention – and when most hockey reporters are away from their keyboards.
And as previously said – "Kyle Beach Who?"
Once Q. is reinstated, and then once Drury hires him – there will be a brief media shit-storm – but like any other story from this 24/7/365 news-cycle – it will quickly blow over – and "CANCEL CULTURE" will find their next target – perhaps a hockey player that refuses to become a pink-haired vegan.
THE HORROR!
Plus, with Dolan at the helm – do you really think he cares how he and his franchise are perceived?
After all, this is a guy that wouldn't get out of bed with Isiah Thomas for years – a Knicks' boss that cost the owner over $15M due to sexual harassment lawsuits.
And following Thomas sexually harassing female employees, and the money paid-out to them as a result, what did Dolan do next? He put Thomas in charge of the WNBA Liberty!
He'd put Jeffrey Dahmer in charge of Human Resources if he could!
You can't make this up!
If that's not enough for you, then there are his infamous feuds with both Knicks' fan-favorite/alum Charles Oakley, his new war with the State Liquor Authority – and do I really need to explain this point any further?
---
For those who have such time, here's a challenge for you:
Screenshot, take record, do whatever you have to do, and keep a file of what Ranger fans are saying right now – and who they want to see named as the next head coach.
Then, in anywhere from six-weeks to six-months afterwards; go back and then see what these fans are saying.
It doesn't matter if it was John Tortorella, Alain Vigneault, David Quinn and now Gerard Gallant – at one point or the other – the majority of the fan base were excited about their hires – only to then quickly turn on them like spoiled milk – while ignoring the taste of moldy bread at the same time.
And as noted before – the Rangers could hire Jack Adams, Scotty Bowman, Toe Blake or another Hall of Famer in their primes, or even resurrect the corpse of Lester Patrick too – and it won't matter – fans will always blame the head coach – even when the star players fail.
But unlike the head coaches of today; these men held power – and were also allowed to hold their players accountable.
For a "participation trophy era" of players – there is no participation trophy granted to the head coach.
Good luck to the next sucker.
---
As we go home here – this was the roundhouse heard round Rangerstown.
While it hasn't been reported yet – I'd also expect everyone from Gallant's staff to get the pink slip too – except for the obvious – goaltending coach, Benoit Allaire.
Whoever the new coach will be should be able to bring in his own staff – and I don't think I'll get much debate about that opinion!
Moving forward, I'm sure we'll get more stories/aftermath about this – and perhaps down the line – an interview from Gallant too – where he'll open up about this "mutual departure."
Once we get more information, I'll return on this site.
And whoever the next head coach is (Quenneville) – like everyone else since 2002 (Bryan Trottier) – I'll support that bench boss – despite my current displeasure in Gallant's firing.
But should/when that next head coach not work out – and this Cup drought hits thirty, thirty-five, forty-years-and-beyond – then it will be the "same old script" – Glen Sather collects a paycheck!
Heck, I think the day when Sather dies – Dolan will conduct seances – and then send a check to Slat's eventual Banff grave.
Maybe the head coach isn't the problem.
Good luck to Gerard Gallant – who in my opinion – was unceremoniously fired – while also ignoring the real problems with this franchise.
PLUGS TIME! (Buy a book and support my Rangers' induced therapy bills. After all, I don't run ads on this site!)
---
My first plug of tonight's blog – the mandatory plug for my book, "The New York Rangers Rink of Honor and the Rafters of Madison Square Garden."
As mentioned previously, the book is now available in hardcover, in paperback and in Kindle formats. To purchase a copy of the book, visit this link:
https://www.amazon.com/Rangers-Rafters-Madison-Square-Garden-ebook/dp/B09CM5N2WD
For those still looking for signed paperback versions of the book, I have re-ordered more copies. I now have a few signed copies for sale at $25 a pop (includes shipping price) through me directly. Here is all the information on that:
---
My four-volume set of books, "One Game at a Time – A Season to Remember," is a game-by-game recount of the Rangers 2021-22 campaign.
My second title as an author, "One Game at a Time – A Season to Remember," is now available in eBook, paperback and hardcover formats.
To obtain signed copies, visit: https://bluecollarblueshirts.com/onegamebook/
To purchase all four volumes on Amazon, visit: Amazon.com – "One Game at a Time."
---
The greatest volume-set of books on Rangers' history today!
"Tricks of the Trade – A Century-Long Journey Through Every Trade Made In New York Rangers' History," a four-volume set of books that meticulously covers every trade made in franchise history, is now on sale.
All four volumes of the title can be purchased on Amazon.com and are presented in three different formats – eBook, paperback and hardcover.
To purchase Volume I: Conn Smythe (1926) – Craig Patrick (1986), visit Amazon.com
To purchase Volume II: Phil Esposito (1986) – Neil Smith (2000), visit Amazon.com
To purchase Volume III: Glen Sather (2000-2015), visit Amazon.com
To purchase Volume IV: Jeff Gorton (2015) – Chris Drury (2022), visit Amazon.com
To purchase signed copies of all four volumes, visit https://bluecollarblueshirts.com/tricksofthetrade/
---
Here are my last few blogs, in case you missed them:
---
---
---
If you haven't already, subscribe to this blog for the next update:
---
Don't forget to order my recently released four-volume set of books, "Tricks of the Trade!"
If you don't order through me, all four volumes are now available on Amazon.com
For more details, check out: https://bluecollarblueshirts.com/tricksofthetrade/
Thanks for reading.
LET'S GO RANGERS!
Sean McCaffrey
BULLSMC@aol.com
@NYCTHEMIC on the Tweeter machine