Greetings and salutations everyone and welcome to another blog here on BlueCollarBlueShirts.com. Silver lining? Game Five can't be any worse than Game Four was. (And if it is – I may go into hiding!)
As I write these words from a pissed-off and stunned state; should the Rangers have another night out as they did on Monday night in Pittsburgh, then come 9:45PM on Wednesday night – their season will be over.
Despite everything, I choose to remain positive and have one of the longest on-going playoff cliches racing around my mind – "it ain't over till it's over."
That stated, the Rangers, who looked absolutely miserable on Monday (and arguably the worst they have ever looked during this 2021-22 season); the Blueshirts will now have to win three games in a row in order to continue their playoff campaign.
For what it's worth, the Rangers have done so twice before. (And yep, I know – we're talking about two completely different rosters here, so no need to remind me of this.)
The Blueshirts came back from a 3-1 hole most famously in 2014 against these same Pittsburgh Penguins, when trade deadline acquisition Martin St. Louis propelled them to victory. (The Rangers also erased a 3-1 series deficit to the Washington Capitals just a year later, in 2015.)
Without trying to make light of a serious situation/event, as that's not my intent at all – the Rangers won't have the death of a parent to rally around this time. Instead, Gallant's Gang must find their own motivation in themselves. If not – it will be lights out on Wednesday night.
---
I got about 76786867786768689 thoughts racing in my head, where for better or for worse, my number one thought is this – "what would've happened had Filip Chytil's late third period goal stood during Game One?"
Not only would have the Rangers taken a 1-0 series lead had the officials (and Toronto) correctly done their job – then you wouldn't have had the triple overtime either. And if you didn't have the triple overtime – then "world-beater" Louis Domingue isn't in net and perhaps CZAR IGOR wouldn't be burnt out right now too.
However, what's done is done – although I do 100% believe that the officials swung the series during the odd-numbered games.
That said – I'm not making any excuses for Game Four.
This loss, one of the biggest epic fails in all of franchise history – is both unequivocally and 100% on the Rangers.
While this series isn't over (at least not yet); not only will I be thinking about the Chytil goal reversal; I'll be thinking about Game Three too, where the refs waved off and whistled a Penguins goal off of the board, only to allow it seconds later.
(And during both of these Ranger losses (losses prior to tonight), which were basically one-goal losses – the officials swung goal scoring plays in favor of the Penguins both times. All it takes is one goal, and each time, the Penguins, of course, got the benefit of the doubt.)
And during tonight's Game 4, we saw another example of the inept officials, where they made no call on the ice on a Crosby goal, only to spend what felt like a half-hour afterwards, in their successful attempt to find a Penguin goal.
What would've happened had this goal not counted – a goal that then tied the game at 1-1?
Who knows, as the "what if" questions continue to pile-up during this series.
But let me be clear here in case I'm not clear enough already – Game Four is on the Rangers. No excuses.
---
During the M$GN broadcast, and especially during the post-game show; we had a realistic Henrik Lundqvist and an excuse-ready Sieve Vagistat.
If there was anything that irked me more so than usual, it was when Vagistat popped out the excuse rolodex and blamed the Ranger injuries for these losses, where he specifically talked about Sammy Blais, Tyler Motte, Ryan Lindgren and Barclay Goodrow – four role-players who the Rangers do indeed miss.
Not mentioned by Vagistat once, but mentioned regularly on this site since the aftermath of Game One? THE FACT THAT THE PENGUINS HAVE A FREAKIN' THIRD STRING GOALIE IN NET.
Also omitted by the clueless chart king? The fact that the Penguins are also missing a solid defenseman (Brian Dumoulin) and a scorer, in Rakell, Rakell The Musical, too.
The biggest omission? THE FACT THAT THE RANGERS' TOP SIX ARE GETTING COMPLETELY OUTPLAYED BY THE PENGUINS' TOP SIX!
I am not denying that losing Goodrow and Lindgren hurts the Rangers. Their losses are a big blow. But to blame injuries for these past two losses is a lame excuse.
The Penguins are beat up more, where one more time, and for those in the back:
THE RANGERS' BIGGEST ADVANTAGE GOING INTO THIS SERIES WAS GOALTENDING. THE RANGERS ARE GIVING LOUIE DOMINGUE A FATHER FINKIN' CINDERELLA STORY, A STORY THAT DOMINGUE WILL BE TELLING HIS GRANDKIDS IN 30-50 YEARS FROM NOW!
---
After getting pummeled, outplayed and out-worked; I saw many Ranger fans (and I had about 767868697866 messages sent my way too about this) blame Gallant for this loss.
How quick we are to forget.
Is this 3-1 hole disappointing? Of course. To solely blame Gallant for Game Four, the worst loss of the series? That's utter pish and shite to me.
(Yes, "pish" and "shite" are "Still Game" references – probably the best show on Netflix today that you have never heard of and/or watched.)
---
Checklist time!
Last time I checked Part I: Gallant doesn't take faceoffs, where the Rangers' problems at the dot (especially during zone faceoff draws) are so Father Finkin' bad (how bad is it?) that even happy-homer Sam Rosen remarked during the broadcast, "Joe, the Rangers are getting KILLED on faceoffs." I don't think I've ever heard Rosen use the word "killed" before, unless he was talking about a penalty kill.
Last time I checked Part II: Gallant isn't making $8.5M+.
Last time I checked Part III: Gallant isn't telling his players to NOT shoot the puck.
Last time I checked Part IV: Gallant's not out there trying to cover the Crosby line. His top stars are, and to say the least – they aren't doing a good job of doing so. What else do you want Gallant to do? He has his best guys out there against the Pens' top guys, and the superstars in Rangers' blue are failing.
Last time I checked Part V: Gallant isn't asking his best players to be shown up by his third line, where playoff rookies Filip Chytil, Kaapo Kakko and Alexis Lafreniere have been the most consistent forwards for the Rangers. And when it comes to the defensemen, Gallant isn't telling Patrik Nemeth to be shown up by playoff rookie K'Andre Miller either.
Last time I checked Part VI: Gallant doesn't control the injuries. What do you want him to do with his depleted roster? Staple Zibanejad to the bench? Insert the 5'5″ Zac Jones into the line-up? He can only work with what he has. (Although after tonight, I think we've all seen enough of Nemeth. Jones can't be any worse than him at this point.)
Last time I checked Part VII: are you really going to ignore one of the best regular Ranger seasons in all of franchise history, a history that runs 95 years, because of one game?
---
If there's anything to be learnt Part I: outside of the fact that the officials will always love the Penguins, it's this – playoff experience is invaluable. It's why losing Goodrow was such a major blow. It's also why the Penguins, who have recently gone all the way twice before, are able to capitalize on all of the Rangers' jitters and nervousness.
If there's anything to be learnt Part II: some Ranger fans, mainly younger supporters and people who think stupid analytical graphs are the end-all, be-all – these erroneous freaks will always blame head coaches, thirteenth forwards and seventh defensemen during tough times.
Ignored? Missing Mika, who is back in "Rika Zibanenash" mode. Also ignored? The Rangers' recently heralded power-play, a man-advantage group that can't beat a third string journeyman.
Want more? Also ignored is the fact that the team's most skilled player, Artemi Panarin, would rather make cross-ice passes and send pucks flying past the blue line rather than shooting at the goalie from five feet away.
And perhaps the biggest fact ignored amongst all – it are the top stars of the Penguins, no longer in their primes and closer to the end than to the beginning of their careers; stars who are just dominating the Rangers' top stars, stars who are all thought to be in their primes.
But yeah – go ahead – blame Gallant.
---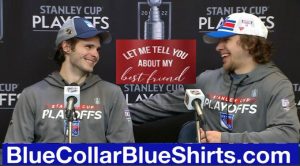 There's a lot to get into tonight. I'll start off with the non-Ranger news, and then get into everything else.
And if you're reading this blog after this 7-2 ass-whipping – thank you. I know it's difficult to relive this smackdown.
At this time, let's get into the news, notes, and interviews – and then get into the GAME REVIEW.
---
Monday morning was a busy day for the NHL – and I'm not talking about all of the pregame nerves and jitters surrounding the fourth game between the Rangers and Penguins.
As everyone and their mother has probably heard of by now; Lou Lamoriello, the general manager and team president of the New York Islanders, has fired head coach Barry Trotz. The Islanders officially announced Trotz's canning around 10:00am on Monday.
While obviously, I'm more concerned about the Rangers and their quest to win the Stanley Cup right now, rather than anything Islander related – this Trotz news felt shocking to me – despite what others are saying.
In every single media report covering Lamoriello's decision to move on from Trotz, each one of these reports brought up Lamoriello's history with the Devils.
When using Lamoriello's previous history with the Devils, where he fired multiple coaches (and even during winning seasons); the media deducted that this firing of Trotz shouldn't have come off as "surprising," "shocking," and/or "unexpected."
If that's the case – why was this news so surprising, shocking and expected? In addition, how come no one had any inkling that this beheading was on its way either?
As a Rangers fan, I'm happy whenever the Islanders swirl around the toilet bowl. As a hockey fan, I don't get this firing at all.
Yes, I'm aware of Lamoriello's history, and I'm not ignoring that at all; but at the same time – can you really blame the Islanders' failed 2021-22 season on Trotz?
Everyone knows the deal about the Islanders, and if you don't know about it – just ask Sam Rosen and Joe Micheletti, two Ranger broadcasters who had no issue busting out the excuses, while tears slowly rolled down their cheeks, when talking about all of the Islander problems from their 2021-22 campaign.
That said, these two weren't wrong either – it's just that they were Ranger announcers defending the Islanders during games between the two bitter rivals!
Every "excuse" (some may use the word "explanation" instead) about the Islanders' bad season is true – they did start their first thirteen games on the road. They were massacred by COVID-19, where they were the first team to have bouts with the virus this season. They did have numerous injury issues all season. No one is ignoring that.
At the same time, the Islanders, fresh off of back-to-back Eastern Conference Final berths – Lamoriello never did anything to address their biggest issue on the ice – scoring.
During the off-season, Lamoriello targeted the 93 year old Zedno Chara and a washed-up & bought-out Zach Parise. While you need veteran experience to win – it wasn't their defense that did the Islanders in during their past two playoff runs.
Rather than seeking a goal scorer; Lamoriello doubled-down on aging veterans, veterans who were long past their primes, and players who are not known for their goal production either. How that falls on the shoulders of Barry Trotz – I do not know.
As many have suggested – there has to be more about this story, where there had to be something going on between Trotz and Lamoriello.
After all, how do you fire a coach that won a Jack Adams for you in one season, and then took you to two consecutive Eastern Conference Finals in the seasons that followed?
Trotz will get a gig elsewhere if he desires, but if you're an Islanders fan, you know this – this was a bad firing.
Maybe Mike Milbury is available?
---
In the other big firing news from Monday, the Senators fired Pierre McGuire, who served the club as their Senior Vice-President of Player Development. I can't profess to be a "SENATORS INSIDERRR," but this news also felt shocking.
After all, and as the title would suggest – it takes time to "develop players."
Plus, the Senators were pretty bad long before McGuire traded in his headset and microphone for this gig in Canada's capital city.
While who knows what McGuire will do next, as he could try to find another NHL gig or just go back to broadcasting; here's what truly shocked me on Monday – that Pierre McGuire wasn't in Pittsburgh, sporting a raging hard-on underneath his Pittsburgh Penguins cheerleaders' outfit!
Before lunch break on Monday, Ranger fans saw the Islanders enter a new phase of malaise; while a noted Rangers' hater/Penguins' supporter received his walking papers too.
---
In our last piece of news from Monday; the NHL announced their three finalists for the 2022 Norris Trophy.
As predicted in this space a few weeks back – Fox is not among the final three.
Instead, and as also predicted not only by me, but everybody else who watches the entire league – Roman Josi (NSH), Victor Hedman (TBL), or Cale Makar (COL) will win the prestigious trophy this season.
That stated, and without knowing the final voting until it's announced – I wouldn't be shocked to see Fox finish with the fourth or fifth most amount of votes either.
As talked about earlier on this site – injuries hampered Fox a bit, while at the same time – Josi, Hedman and Makar had amazing start-to-finish seasons. In other words – Fox wasn't "ROBBED" here – but he's still a top five defenseman of this league.
Let's now get into the Rangers vs Penguins Game Four pregame news.
---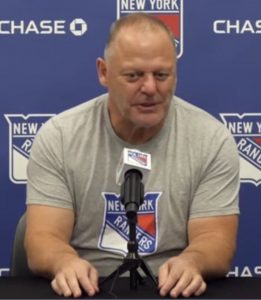 On Sunday, the team, and just like their opponents too – took the day off. However, both head coaches spoke to the media on their day of rest, where nothing really came out of either press conference. Everyone wants to win, everyone has to work hard, every team has injuries, and blah blah blah.
On Monday morning (and while McGuire and Trotz were getting canned too), the two teams had a pregame skate, where following it, both bench bosses talked to the media.
From the Pittsburgh side of things, head coach Mike Sullivan said that Tristan Jarry is skating on his own, but wouldn't be ready for Game 4. However, it's rumored that Jarry could return during the latter games of the series.
(As also opined on Saturday night on this site – if Domingue continues to play well, there would be no reason to rush Jarry back.)
Sullivan also said that both Rakell, Rakell The Musical and Brian Dumoulin wouldn't be ready for Game Four. In a way, these two injuries are a "trade-off" for the Ranger injuries of both Barclay Goodrow and Ryan Lindgren. This is also my way of saying – "NO EXCUSES."
Here's Gallant following Monday's pregame skate:
---
When it comes to Ryan Lindgren, who had missed the two previous games of the series, Gallant said the expected three words of – "game time decision." Perhaps even more so expected – Lindgren didn't play tonight.
However, and in a new wrinkle, Gallant teased the idea of going with a line-up of eleven forwards and seven defensemen – where if it's worth anything, Gallant went 2-0 this season with that unorthodox line-up.
At the end of the day, Gallant used the traditional 12F/6D line-up, where he scratched Dryden Hunt and inserted Johnny Brodzinski onto the fourth line instead.
---
Here's what "The Turk" ultimately went with for this "Jack Johnson" tribute game:
FIRST LINE: Kreider/Zibanejad/Vatrano
SECOND LINE: Panarin/Strome/Copp
THIRD LINE: Lafreniere/Chytil/Kakko
FOURTH LINE: Rooney/Brodzinski/Reaves
Defensively, we had this:
FIRST D-PAIR: Miller/Trouba
SECOND D-PAIR: Braun/Fox
THIRD D-PAIR: Nemeth/Schneider
And in net, CZAR IGOR.
BOX SCORE time.
The following information and graphics come from the new world-wide leader in NHL coverage, ESPN.com:
SCORING:
PENALTIES: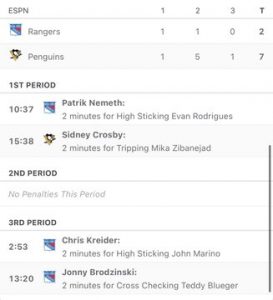 TEAM STATS: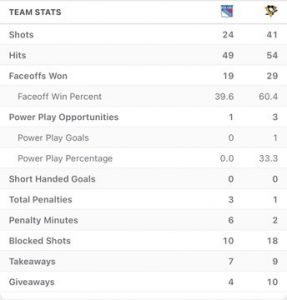 GOALIES:
| | | | | | | | | | | |
| --- | --- | --- | --- | --- | --- | --- | --- | --- | --- | --- |
| SA | GA | SV | SV% | ESSV | PPSV | SHSV | SOSA | SOS | TOI | PIM |
| 24 | 2 | 22 | .917 | 20 | 0 | 2 | 0 | 0 | 60:00 | 0 |
| | | | | | | | | | | |
| --- | --- | --- | --- | --- | --- | --- | --- | --- | --- | --- |
| SA | GA | SV | SV% | ESSV | PPSV | SHSV | SOSA | SOS | TOI | PIM |
| 11 | 1 | 10 | .909 | 8 | 0 | 2 | 0 | 0 | 20:00 | 0 |
| 30 | 6 | 24 | .800 | 22 | 1 | 1 | 0 | 0 | 39:53 | 0 |
---
As noted earlier, I have 784548488484848484 times pi thoughts going through my head, where another one of these thoughts concerns CZAR IGOR.
I don't hide my biases – yep, I guess I'm what you could call a "FAN BOY" of #31.
I won't do my "Greatest Hits" and repeat/explain everything I've said a zillion times before – but since 2017, I've been clamoring for the days of the Russian in net for the New York Rangers.
And for all of the people who are slamming him right now – does his 2022 Vezina win now mean nothing to you?
CZAR IGOR, pulled for the second consecutive game in a row, did not look good tonight.
Maybe I'm making excuses myself (and if you want to call me out for this so be it, as I'm not above criticism either) – but I still wonder if the cowardly hit he received by Jeff Carter during the end of Game Two has negatively impacted his game.
Combine the big hit he took and also having to play nearly six periods during Game One – maybe he's not at 100%. And should the Rangers lose this series (let's hope not) – then I think we'll hear about it during exit interviews.
These "excuses" now made – if you're a fan of the ice birds, then you have every reason to be "King Konging" your chest to kingdom come.
During Games Three and Four, both on Pittsburgh ice, ice that the black-and-yellow successfully protected behind consecutive games of seven goals for – the Pittsburgh faithful made their voices heard.
For 120 minutes, and even during time when CZAR IGOR was on the bench after being pulled – Penguin fans trolled him unmercifully.
I saw some Ranger fans complain about the Penguins' boisterous crowd. Are you kidding me? The Penguin fans are doing exactly what they are supposed to do!
(And let's face it – the people complaining about Penguin fans are the same people belting out "SUCKS" about a player they wouldn't recognize – even if they were face-to-face with him, in a one Denis Potvin.)
I have no way of 100% knowing if all of the trolling and the mockingly sing-songing of his name is getting to him or not – but should the Rangers win Game 5 and then force a Game 6 in Pittsburgh – then like it or not – CZAR IGOR better get prepared to hear his name thrown around in jest like never before.
---
Prior to the commencement of this thrashing – I was actually able to get over Game Three, where I was also able to approach Game Four with a positive mindset. Foolish me.
Not only did I do my daily pregame boasting and predictions of a 4-0 CZAR IGOR shutout, and goals from both Zibanejad and Brodzinski too – but I really thought that the Rangers would turn the tables and even the series.
How delusional.
And yep, if I'm always going to mention when I'm right with my predictions – I also have to be fair and tell you when I'm wrong too.
(Another failed prediction? My Rangers' sweep of this series. Ugh.)
I couldn't have been more wrong during my now wasted positive outlook prior to Game Four.
---
The M$GN broadcast was better than usual tonight – even if Sieve Vagistat was there.
I thought that both Sam Rosen and Joe Micheletti had one of their better calls of the season and said what this game was. The same can also be said about Henrik Lundqvist, a #30 who pulled no punches and perhaps summed this game up the best, and with just one sentence, when he said – "the Rangers look paralyzed."
He wasn't kidding. You'd have to think that Stephen Hawking (assuming that he was alive today), in his wheel chair, would have provided more defensive resistance than the Rangers did tonight.
Lundqvist and Vagistat opened up the broadcast talking about CZAR IGOR, where Lundqvist, unfortunately, was prophetic when talking about playing in front of hostile crowds.
(A funny part during this is when Vagistat had to shut up, as no one, not a home crowd or an away crowd – has ever chanted his name. Maybe they chant it at "The Ramrod." I kid, I kid, I need some Artie Lange inspired comedy right now!)
And by the looks of it, and in shades of an "SAT question" – Lundqvist is to Montreal as CZAR IGOR is to blank.
The blank? Pittsburgh.
Then again, Lundqvist did knock off Montreal during the playoffs. Twice.
(Ugh – I can't fall into the Lundqvist vs CZAR IGOR stuff that's all over social media right now!)
---
Dave Maloney, who sounded like he either had COVID or blew out his vocal cords after watching the horrendous affair that was Game Three (he must've been a peach to listen to on the radio tonight), hyped up Frank Vatrano.
During the latter stages of the game, Vatrano was then demoted to the fourth line – something I'll soon get into.
Once returned to Lundqvist and his pigeon, aka the clear-sighted moron; Lundqvist said one of the best feelings of his playoff career was whenever he shut up an opposing team's fan base on the road – something that CZAR IGOR has failed to do thus far.
Lundqvist also mentioned that whenever an opposing fan base is trolling/mocking you, that's also an admission of how great of a player you are, because if you weren't – they wouldn't be concerned about you.
(I guess that's why no one in Pittsburgh is trolling Mika Zibanejad right now. Oooooh, did I just say that? And yep – this "joke" is for effect and to make a point.)
Come 7PM, we went to Sam and Joe who both stated the obvious – the Rangers needed to win this game. They didn't. As a result, they are now officially in mathematically "MUST WIN" territory.
Buckle up, GAME REVIEW time – where I'll try to limit the pain as much as possible.
In fact, I'll skip most of the play-by-play, because there's no point after tonight.
---
FIRST PERIOD:
It wasn't all bad…
In a rarity, Mika Zibanejad won the game's opening faceoff at center ice. He, along with everyone else, would then go on to lose nearly every faceoff known to man, in both the o-zone and d-zones. But hey, they won some faceoffs in the middle! Whoop-de-do!
As the Penguin fans immediately jumped down Igor's throat (and as they should've – we'd do the same at M$G to an opposing goalie); the Rangers' second line came out hot, but as would be the case all game – the Pens blocked a lot of shots – eighteen in all.
Want to know something that's just gross? That eighteen blocked shots stat sounds kind of high, because more times than not – the Rangers passed up the puck rather than shooting it.
For Domingue, the third string goalie showing up a Vezina winner – this was the easiest playoff game of his career. (And yep, he's only started in three of them, and came into a game in relief during another.)
Just 2:06 into the period, it was Alexis Lafreniere who struck first:
THE KID LINE STAYS HOT pic.twitter.com/dM4eq7V3Ls

— x – Rangers on MSG (@RangersMSGN) May 9, 2022
---
1-0, good guys, where it's tough for me to put "good guys" in caps-lock – and as I usually do.
If anyone deserved a goal in this series it was #13 himself, who has had a strong playoffs thus far.
Lafreniere was rewarded here after a pass from Schneider, as the pair of twenty year olds, you know, the two youngest and most inexperienced players on the team, connected for the first tally of Game Four.
And that my friends, is really the only Rangers' highlight of the game.
Up next? The Rangers got their asses kicked so bad, that the shit brewing in their intestines went flying out of their mouths.
Let me summarize what happened next, and as fast as possible:
For the next 57:54, the Rangers would either shoot wide, not shoot at all, or just have shots blocked. Then, the Penguins would get the puck, and as if they were zombies full of nuclear radiation from "The Walking Dead" – the Rangers avoided them.
During every Pens' possession sans one or two of them – the black-and-yellow skated straight to Igor.
Sometimes, the Penguins would go to the slot untouched. Sometimes, they would try to catch Igor from his left or right. Most times, they went to Gretzky's office (behind the net) and watched the Rangers fail in their attempts to chase them down, as if this game was a sixty minute Benny Hill video on loop.
Seriously, if you dare to watch this game again, you might as well play this in the background, especially whenever the Rangers were on defense:
---
It was during this period where Panarin pretty much told us that he wasn't going to shoot the puck tonight.
In fact, he finished the game with zero shots on goal. Ditto linemate Andrew Copp. Only Strome, of this second line (2 SOG), put the puck on net during this horrid affair.
After Domingue made a few pedestrian saves (not a knock on him – he just wasn't challenged much), Igor then made a few himself. That wouldn't last long for #31.
After back-to-back defensive plays, where both Strome and Vatrano broke up potential Penguin one-timers; Patrik Nemeth took his obligatory penalty, as he is now averaging one penalty per game (four in all).
This is where it all went downhill.
While I'm not solely blaming this loss on Nemeth, it's also true that his penalty kicked off the Rangers' misery.
Forty seconds into the Pens' power-play, it looked like we had another case of the officials swinging a game and pressing the "SCREW THE RANGERS" button.
While M$GN didn't show us a clear cut replay until AFTER the officials ruled this as a good goal; this play was kind of bullshit – but the right call was made.
Crosby seemingly scored on a rebound, as he tucked a puck past Igor. However, the officials had no clue what was going on and seemingly blew the play dead.
In addition, despite the Penguins' arena crew flashing the red light and playing their goal song – THE OFFICIALS NEVER RULED A GOAL ON THE ICE.
After what felt like a goal review that was longer than one of these blogs – the officials, and as you'd expect (did they even need to review it – we all knew what they were going to say anyway) said good goal. 1-1.
Once the officials said good goal, and after showing us 789678687978967896 replays where M$GN showed no conclusive evidence of a goal – that's when M$GN showed us that the puck had slipped by Igor.
However, before showing us this replay, I admit it – I was crying bloody murder.
Now, I must admit – a good goal and another goal allowed by the Rangers' PK, a PK that sorely misses both Goodrow and Lindgren – especially Goodrow, since the Rangers have just given up on trying to win zone faceoffs.
In fact, most Penguin goals would be scored after the Rangers lost these zone draws.
The Penguins, after this goal, just took over. However, with 4:32 to go, the Rangers received a temporary reprieve, when Crosby (of all people) was boxed for tripping Zibanejad.
Now receiving a rare power-play and a chance to go up a goal again – the power-play, and has been the case as of late – failed, and failed big-time.
Worse than that? During this power-play, and about a minute into it, Mika blasted a puck towards Domingue, but it was deflected by Strome right into the neck/lower chin area of Kreider.
Kreider immediately went to the locker room. He was done for the rest of the period, but would return by the time the second period began – not that it mattered.
After Kakko shot a puck straight into Domingue's chest, the Pens' PK came up big. That meant their special teams were now 2 for 2, while the Rangers had an 0-2 goose egg.
Here's what I said after the first period on the Tweeter:
1-1 after 20. 1P Thoughts:
— Tied game, but it feels like 9-1 Pens.
— Losing Kreider kills them.
— Officials have swung this series.
— SOG 14-8, Hits 17-16, FO's 13-4 (not a typo) Pens.
— Special teams, #NYR 0-2, Pens 2-2.
— Lots to overcome. LGR.

— BlueCollarBlueShirts (@NYCTheMiC) May 9, 2022
---
That 9-1 feeling? That soon came to be.
And yep, the Rangers only won four of seventeen faceoffs. Not good.
---
SECOND PERIOD:
As Joe Micheletti was screaming that the Rangers weren't shooting enough (he was right), the middle frame soon began.
The Rangers, who must've bet the over tonight, allowed the Penguins to own them, as if they were gimps on ice.
1:40 in, the Penguins hit the post – a rare break.
Following back-to-back Trouba turnovers, Carter then hit the post. That was now two breaks. That's all they'd get.
After another d-zone loss following a Rangers icing (yaaaaawn – same old hat), Carrie Mathison scored. He now has more goals than Mika Zibanejad in this series.
2-1, bad guys, at just the 3:14 mark of the period.
Not even 24 seconds later, and after another faceoff loss (this time at center ice), Guentzel, all alone in Igor's crease, scored the easiest goal of his life (even easier than empty net goals), after a perfect pass from Crosby. 3-1, bad guys.
And yep, at this point in the game – Crosby had three points. The Rangers' first line? The Rangers' second line? Ha!
As the Penguins continued to make the Rangers look like a pond hockey squad; Domingue made a few easy saves, as the Rangers just couldn't get to him – where more times than not, they just settled for long distance shots.
With 9:51 to go, it was Teddy Blueger's turn, where he came up just short and hit the side of the net.
With 8:38 to go, the Bobby Orr of his generation, you know, Mark Friedman; was left all alone in the slot. Blammo, 4-1 bad guys.
And yep, Friedman, just like Mathison, now has more goals in this series than Zibanenash too.
As I was reminded that Vagistat was on his knees (not unusual for him) and begging for the Rangers to draw the Penguins during the past four weeks on the M$GN; with 5:56 to go, Mathison scored again – this time on his own goalie.
On this "puck luck" play that falsely boosted individual stats; Fox tried to find Kreider but the puck bounced off Mathison's skate. 4-2, bad guys.
Both Zibanejad and Panarin were credited with assists here which is why the eye-test matters – these assists meant shit and were fluky as hell.
The Penguins, unlike Game Three – wouldn't blow a 4-1 lead this time around.
Rather than choking a three-goal deficit again, instead – the Penguins scored the next three goals of the game.
I should also mention that it was around this time where Gallant tinkered with his lines. Panarin replaced Vatrano on the first, Lafreniere replaced Panarin on the second, Rooney replaced Lafreniere on the third, and Vatrano was demoted to the fourth line.
I don't know why Vatrano was sent down to the fourth line, that is, unless you consider his team-worst -3 stat, where to be fair – the whole top six sucked tonight. It's the Lafreniere/Chytil/Kakko line that's been the best for the Rangers.
Let me say this before continuing. Every Penguin goal was the end result of a brutal turnover, a d-zone Rangers' faceoff loss or a deflection, where in most cases – two of the three took place at the same time.
While I won't knock CZAR IGOR (I'll let others do that) – I think this is when he just got pissed off and fed up – and not in a good way.
After a million Penguin chances that Igor survived; with just 1:07 to go and with the Rangers' first line pinned in their own zone; Heinen scored a goal – another deflection goal. 5-2 bad guys.
35 seconds later, it was Jeff Carter's turn. 6-2 bad guys, after another d-zone face off loss.
Here were my live second intermission thoughts:
6-2 after 40. 2P thoughts:
— Can't win a faceoff.
— Igor don't look the same.
— Where's Mika? Third line can't be top line.
— SOG 30-20, Hits 44-34, FO's 23-13 but I don't think #NYR has won one zone faceoff.
— Louis Domingue.
— Ugh.

— BlueCollarBlueShirts (@NYCTheMiC) May 10, 2022
---
THIRD PERIOD:
Going into this series – did anyone ever think that we'd see Alexandar Georgiev play for the Rangers again?
Now after two road games in Pittsburgh – #40 has played in as many road periods as CZAR IGOR has – three in all.
What can I say about this third period? It just prolonged the misery, where the only bright spot was Georgiev himself, who made ten saves on eleven shots, where all ten of them were of those friendly "HIGH DANGER" variety.
The whole third period went like this:
Turnover, turnover, turnover, don't shoot, Georgiev big save, Georgiev big save, Georgiev big save, turnover, turnover, blocked shot, Ranger penalty, Georgiev save, Ranger penalty, and finally a backhanded goal for Evgeni Malkin, a goal which was scored with 7:38 remaining.
7-2, bad guys.
7-2 final.
The backs of the Rangers are now officially against the wall.
Here's Gallant after the game, where he supported CZAR IGOR and confirmed his Game 5 start:
---
While not as bad as Yankees reliever Aroldis Chapman, who also smiles and laughs after blowing games; Gallant, like the Yankee pitcher, also has the "giggle" tick.
I don't know how he can laugh and smile about this game, but again – I think it's a defense mechanism/tick.
That said, optically, this inability to not flash the pearly whites doesn't come off good.
If there's anything to really note about Gallant's post-game presser, it's that he repeatedly used that four-letter word that every hockey player hates – "SOFT."
Whether that will motivate his team or not – well I guess we'll find out on Wednesday. And even if the Rangers win on home ice, they'll have to avoid reverting to their bad habits during Game Six – should there be one.
It should also be noted, that just like CZAR IGOR at the end of these two road games – team leaders Mika Zibanejad, Chris Kreider, and Artemi Panarin weren't around for the media following this Game Four loss.
Give credit to both Jacob Trouba and Andrew Copp, players who did stick around and took the team's heat:
---
I'm sure the Rangers' flight home will be as delightful as receiving a prostate exam from Edward Scissorhands.
Yes, the officials haven't helped the Rangers during this series – but Game Four is 100% on them.
Come Wednesday, we'll find out how true "No Quit in NY" truly is.
PLUGS TIME, which I'll also keep short.
---
On Sunday night, our chums at "The Blueshirt Underground Show" returned with a new episode. To listen/watch the show, click the play button below:
---
My first plug of tonight's blog – the mandatory plug for my book, "The New York Rangers Rink of Honor and the Rafters of Madison Square Garden".
As mentioned previously, the book is now available in hardcover, in paperback and in Kindle formats. To purchase a copy of the book, visit this link:
https://www.amazon.com/Rangers-Rafters-Madison-Square-Garden-ebook/dp/B09CM5N2WD
For those still looking for signed paperback versions of the book, I have re-ordered more copies. I now have a few signed copies for sale at $25 a pop (includes shipping price) through me directly. Here is all the information on that:
---
If you haven't already, subscribe to this blog for the next update:
---
Up next: Game 5, on Wednesday night, at M$G.
As always here, thanks for reading and…
LET'S GO RANGERS!
Sean McCaffrey
BULLSMC@aol.com