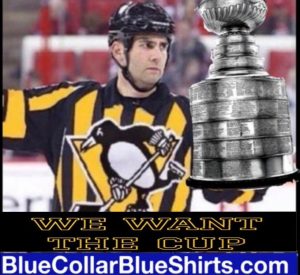 Greetings and salutations everyone and welcome to another blog here on BlueCollarBlueShirts.com. Disgusting. Horrific. Pathetic.
Last night, I talked about how the Rangers had every advantage going into their Game Three match with the Penguins. As you're probably aware of already – the Rangers couldn't take advantage of their beat-up foes on Saturday night.
While the men posing as unbiased officials sure did their best to ensure a "Pittsburgh Refguins" Game Three win; at the end of the day – the Rangers had every chance in the world to win this game. They didn't.
Yes, you can partially blame the officials for this loss; but it were the Rangers who did themselves in during a tied third period.
Following a first period where the officials opened up to a 4-1 lead over the Rangers; the Blueshirts mounted a comeback of their own, behind three straight second period goals which then knotted the score at 4-4.
The Rangers, who began the final frame on a 25 second power-play; would receive two more power-plays during the third period. The end result? Three scoreless man-advantages.
You can't blame the men in yellow-and-black stripes for that.
Despite their repeated failures on the power-play; the Rangers continued to challenge third-string goalie Louis Domingue, but to his credit – the AHL goalie wouldn't crack in crunch time. Of course.
A Danton Heinen goal allowed with just 8:58 remaining in regulation would hold up as the game winner.
Two empty net goals, scored both by Jake Guentzel and Jeff Carter; would eventually seal the deal, as the Refguins ultimately took Game 3 by a 7-4 final.
Tonight's game, and the end result too, is tough to break down.
On one hand, the officials all but handed this game to their favorite team during the first period. However, and on the other hand – the Rangers overcame all of the BS and soon tied the game after forty minutes of play.
During a deciding third period, where the oldest cliche in hockey was repeated – "win the period, win the game" – it were the Penguins who beat the Rangers. The third frame is on the Rangers alone – and not on the officials.
That said, had the Rangers been able to win this game – the impact of the officials would have been a minor story.
However, with the loss, and as a Rangers fan – you can't get it out of your head – especially after the utter nonsense pulled during Game One.
What would've happened had the officials called the first period of this game fairly? Who knows?
What we do know is this – the Rangers are now in a 2-1 hole, as they now get ready for a Game 4 in Pittsburgh on Monday night.
---
I watched tonight's game at my humble and sparkling-clean palatial estate, with my good friends "TEN O'CLOCK TOMMY" and Eddie Whistles.
It's funny how much a short period of time can change everything.
At 6PM, we were all pumped up about Messier at the Kentucky Derby. Funny enough, once we saw the 87:1 odds on "Rich Strike," I said to Eddie Whistles – "maybe we should throw $5 on him for the hell of it."
We didn't.
A $100 bet on the Rangers and three hours later – we all became two-time losers.
Just like the weather in New York on Saturday – "when it rains it pours." Ugh.
However, our failed predictions/bets isn't the lede here – instead, it's the Rangers' loss – a loss that's tough to accept.
I want to be clear here – the officials were horrid during the first period. However, to solely blame the officials would be erroneous.
While I hate, hate, HATE to blame the officials, and sixth & seventh defensemen after a loss too – this much is a fact – Justin Braun and Patrik Nemeth did the Rangers NO favors tonight – where Nemeth (-3) was the worst defenseman on the ice tonight.
This much is known – the Rangers missed both Barclay Goodrow and Ryan Lindgren during Game Three.
However, you can't blame injuries for this loss, especially when you consider all of the walking wounded in Pittsburgh, where need I remind you again – THE PENGUINS HAD A FATHER FINKING THIRD STRING GOALIE IN NET!
What did the Rangers do more times than not during Game 3? They got on their knees and worshiped at the altar of Scott Norwood, as they shot wide whenever they could. It burnt them.
---
It's late, I'm tired, and I'm saltier than a bag of Lay's potato chips.
Let's blow through this blog as fast as possible, where I'm repeating what Gallant said after Game One in my head – "MOVE ON."
That said, this is now two games where the officials weren't on the level, and should the Rangers drop this series – I'll be wishing for these officials to meet their untimely demise all summer.
At this time, let's get into the news, notes, and interviews – and then get into the GAME REVIEW.
---
If you missed last night's blog, I covered all of Friday's news here: https://bluecollarblueshirts.com/5622/
On Saturday afternoon, prior to the game, both head coaches met with the media, where as you'd expect – neither wouldn't reveal much about their "game-time decision" players.
However, and in a new wrinkle, Penguins' starting goalie Tristan Jarry took his first practice/skate on Saturday morning. Mike Sullivan wouldn't reveal when he expected Jarry to enter this series, just as he wouldn't say anything about his players battling injuries.
(And at this point – do you even play Jarry? Domingue has been phenomenal.)
Here's head coach Gerard Gallant from Saturday morning, where outside of saying that it doesn't matter who is in net for the Penguins ("we have to play our game"); he didn't say much:
---
Here's what "The Turk" went with for this "Carl Hagelin" tribute game, where at the end of the day – he skated the same line-up as he did during Game Two, due to the Goodrow and Lindgren injuries – two players that the Rangers most certainly missed (no excuses though) during this game:
FIRST LINE: Kreider/Zibanejad/Vatrano
SECOND LINE: Panarin/Strome/Copp
THIRD LINE: Lafreniere/Chytil/Kakko
FOURTH LINE: Hunt/Rooney/Reaves
Defensively, we had this:
FIRST D-PAIR: Miller/Trouba
SECOND D-PAIR: Braun/Fox
THIRD D-PAIR: Nemeth/Schneider
And in net, CZAR IGOR.
---
BOX SCORE time.
The following information and graphics come from the new world-wide leader in NHL coverage, ESPN.com:
SCORING:
PENALTIES:
TEAM STATS:
GOALIES:
| | | | | | | | | | | |
| --- | --- | --- | --- | --- | --- | --- | --- | --- | --- | --- |
| SA | GA | SV | SV% | ESSV | PPSV | SHSV | SOSA | SOS | TOI | PIM |
| 36 | 4 | 32 | .889 | 26 | 3 | 3 | 0 | 0 | 59:49 | 0 |
| | | | | | | | | | | |
| --- | --- | --- | --- | --- | --- | --- | --- | --- | --- | --- |
| SA | GA | SV | SV% | ESSV | PPSV | SHSV | SOSA | SOS | TOI | PIM |
| 20 | 1 | 19 | .950 | 18 | 0 | 1 | 0 | 0 | 38:57 | 0 |
| 15 | 4 | 11 | .733 | 10 | 0 | 1 | 0 | 0 | 20:00 | 0 |
---
<Deep Breath>
As an eternal cock-eyed optimist, and as someone who has pushed my "glass half full" outlook on you readers all season long too; I'll say this – at least I had a good time with my friends tonight. After that – UGH!
Usually, at this point of any game review blog, I give you the play-by-play of the M$GN pregame show.
Tonight, I don't have much for you, as Eddie Whistles, "TEN O'CLOCK TOMMY," and yours truly included, were all watching the Kentucky Derby while the M$GN pregame show was on – where one more time, Messier, the equine, couldn't do what Messier, the player, did so many times during his career – come up with a big-time late victory. Ugh!
Foolish me for thinking that Messier, the HAWSE, had this race in the bag at the final turn! I feel like Billy Mumphrey! (If you get this reference, kudos to you!) (Yep – once again, this is a "SEINFELD" reference.)
I'll say this Part I – once the game began, we had both the TNT and M$GN broadcasts on, as I have two televisions in my man cave. Once again, the TNT picture was much better than the one that M$GN provided; but since I'm loyal to a fault – we had the M$GN volume on, while muting TNT.
I'll say this Part II – originally, we had planned on going to the bar tonight for this game. In hindsight, I'm glad we didn't. It's so hard making that "WALK OF SHAME" out of the pub after a Rangers' loss – especially following a post-season loss.
I'll say this Part III – I like hosting people at my house anyway. Cheaper drinks, no bathroom lines, you can always hear the volume and oh yeah – my drink pours are much heartier than any pour that you'll find from any bartender this side of the Mississippi! And on this night – we needed a healthy amount of "Basil Hayden's!"
As far as the M$GN broadcast goes, or at least from what I heard/saw – both Henrik Lundqvist and Sieve Vagistat were back. The two talked about the injuries from both sides of the coin and the "perceived" advantage that the Rangers had in net.
Dave Maloney, who was sporting a nice shiny pin in tribute to Rod Gilbert, was in Pittsburgh tonight (he handled the radio call), where he then praised Strome, Fox, Miller and Trouba.
How prophetic Maloney was during this, especially when talking about the Rangers' blue line – Fox, Miller and Trouba were great tonight. Schneider was so-so (and keep in mind, he's only twenty years old, so you need to temper your expectations); while Nemeth and Braun have had better games, to say the least.
GAME REVIEW time, where yep – I want to get this over with more so than you can imagine.
However, I'm a hardcore fan, and win or lose – I'll never throw in the towel. RANGERS IN SIX!
---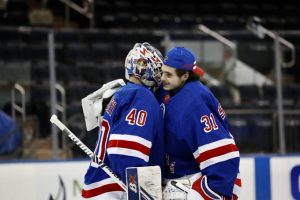 It wasn't all bad – or so I say.
After Mika won the first draw of the game, his first of six of twenty overall (PUTRID); CZAR IGOR stoned Bryan Rust point blank – and just 28 seconds into the contest.
Worth noting here Part I? Outside of the two empty net goals that the Penguins scored at the end of this game – the Rangers held off the Pens' top line all game. However, porous defense, and questionable officiating too – would eventually do the Rangers in.
Prior to tonight's game, the Rangers hadn't afforded a goal to the Penguins' second, third and fourth lines, nor to their defensemen neither during regulation time.
In Game Three, the Penguins' secondary scorers and defensemen would tally five goals in all.
Worth noting here Part II? It was the Rangers' third line, the "KID LINE" (I hate the "KID LINE" moniker because so many lines in NHL history have had this label attached to them – but it's what everyone is calling them right now – and for better or for worse), who were the most consistent (and best) line for Gallant's Gang.
I don't know what that says for the Rangers.
Yeah, I'm happy that Kakko, Chytil and Lafreniere all played well – but if they are the strongest Blueshirts' line during a sixty minute affair; than more times than not, the Rangers will lose. And that's what ultimately happened.
---
Not even two minutes into this contest – the officials decided to make their impact once again.
After overturning a Filip Chytil game winning goal during Game One; this time, the officials made sure to get the Penguins on the board first during Game Three.
With the net off of the moorings, the officials blew their whistles, thus ending play at the 1:57 mark. However, and at the same time – Brock McGinn put a puck past the goal line.
Despite the officials BLOWING THE PLAY DEAD, and adamantly waving off the goal too – the cowards wearing Foot Locker employee gear begged Toronto to help them out.
Toronto soon obliged, and after a short review, McGinn's goal, where need I remind you, WAS BLOWN DEAD BEFORE THE PUCK WENT INTO THE NET, was then upheld.
How fitting – the Penguins got another goal after a little help from their friends, where these same losers in Toronto are the arch-enemies of the Rangers.
Sour grapes? Maybe. But when you look at the goal reversal during Game One, and then look at this – how am I supposed to think differently?
1-0, bad guys. My tried-and-true pregame bet of a 4-0 shutout was blown up before we even hit two minutes of play. UGH!
Following the Refguins' first goal; the Rangers woke up a bit, but similar to the coronavirus pandemic from earlier this season – the Rangers came down with a contagious case of "shoot-wide-itis," where more times than not – the Rangers gave Domingue a break.
What am I getting at here? The Rangers didn't make Domingue's night as tough as they should have. And that's my story and I'm sticking to it!
As I was cursing out these officials to kingdom come to my buddies "TEN O'CLOCK TOMMY" and Eddie Whistles; at the 5:08 mark, Kaapo Kakko tied the game. What a freakin' goal – a goal that the officials were hesitant to call.
On this goal, a pure third line goal (assists by Chytil and Lafreniere), #13 got the puck to #72, where the Czech then found the French-Quebecker for a top shelf goal.
1-1, as Kakko, unlike most Rangers on this night, got the puck right under the cross-bar for the quick equalizer.
Up next – and akin to the Kentucky Derby – horseshit.
At the 6:29 mark, just 81 seconds after Kakko's tying goal; the officials had a case of the brown underwear. How dare the Rangers tie this game!
Immediately, the officials made up a penalty, where they boxed Justin Braun for holding Heinen, in another one of those classic "phantom penalties."
The Rangers' PK had some chances here, where soon thereafter, the Penguins wised up.
In what I thought was noticeable, especially after a Domingue save on Kreider; the Penguins fired the puck hard into the Rangers' zone, as they didn't want CZAR IGOR to play the puck at all. (CZAR IGOR had a few clears himself during these Rangers' PK's.)
At the 8:18 mark, and during a sequence where you thought that the Rangers' PK would come up with a kill; Jeff Carter scored. 2-1, bad guys.
On the goal, it looked like CZAR IGOR had the save, but whether he kicked it in himself or had the puck just simply squirted through his five-hole; in any event it was a good goal for the Penguins.
2-1, bad guys, where the Penguins got a gift from the officials on their first goal and now a phantom PPG on their second.
It only got worse.
After the officials ignored Fox getting boarded, charged and interfered with; instead, they called Copp for a high-stick on Zucker.
Once again, the Rangers' PK had their chances, but couldn't convert.
After Strome went wide, and following a Domingue breakaway save on Rooney too; at the 10:31 mark, Rodrigues scored, as he deposited a puck past Igor following a puck-luck rebound off of the backboards.
3-1 bad guys.
And if you're keeping count – at this point, you now had two Penguin PPG's after questionable calls, and the bullshit reversal at the 1:58 mark.
But wait K-Mart shoppers – it only got worse.
As Penguin fans trolled CZAR IGOR throughout the period, including mocking chants of "EEEEEE-GOOOOOORE" and "IGOR SUCKS," and following a few strong saves out of a third string goalie too; with just 4:45 remaining; Brian Boyle, of all people (and of course), made a great hit on Braden Schneider while in the Rangers' d-zone.
Once retrieving the puck; Boyle found Rodrigues all alone in the slot. Blammo. 4-1, bad guys, in what I thought was the only good Penguins goal of the period.
As the Rangers continued their Scott Norwood act, where Copp went wide twice; following Vatrano going wide himself – you just started to pull the hair out of your head. However, after these missed chances – both would soon redeem themselves.
CZAR IGOR would soon come up with two saves during the final minute of this first period, where after each of these stops – the Penguins got cute and we then had scrums following these saves.
4-1 bad guys after twenty minutes, where at the time, I said the following on social media:
4-1 bad guys after 20. 1P Thoughts:
— These officials are ridiculous. How the NHL allows this is a disgrace.
—- #NYR needs to hit the net, too many shots going wide.
— SOG 15-10, Hits 20-12, FO's 10-8, all Pens
— Refguins PP 2-2
— Game was fucked from the start.

— BlueCollarBlueShirts (@NYCTheMiC) May 7, 2022
---
As both Lundqvist and Vagistat debated if CZAR IGOR's night should be over during the intermission; come the start of the middle frame, Gallant answered that question for them – in was Alexandar Georgiev, out was CZAR IGOR.
No one this season has bellowed, and in both a loud and proud fashion, more than me – "IN TURK WE TRUST!"
That said, I didn't like this decision.
I don't know, maybe CZAR IGOR was hurt a bit after being run by Jeff Carter during the end of Game Two.
(For what it's worth, Igor remained on the bench, rather than going to the locker room.)
Of course, I'm also saying this after a Rangers' loss – but I also said this when this goalie exchanged happened at the time too.
To be clear – I didn't think that Igor was much at fault for the deficit. I thought pulling him was a poor decision – even if it did work out – at least temporarily.
At the same time, I should also be fair with you, and add that both Igor and Gallant were smiling after the Game Two victory. I should also relay to you how Igor practiced on Friday morning – and with no issues to be had.
Hindsight being 20/20 here? Sure. Is Carter's cowardly attack worth bringing up though? Certainly.
I just didn't like this pull because it was somewhat admitting that this game was over – although that wouldn't be the case – at least not yet.
Yeah, the Rangers were down 4-1, but even so – I didn't think that CZAR IGOR was at fault. I would've let him start this second period and then see what came of it.
Plus, need I remind you again – the PENGUINS HAD A FATHER FINKIN' THIRD STRING GOALIE IN NET!
Between piss-poor officiating and the Rangers shooting wide – I just can't blame Igor for the Rangers malaise.
And because I'm always fair with you – yep, no one is a bigger CZAR IGOR fan boy than me:
Following the game, I watched the UFC PPV – but also checked my social media pages during it – where I saw Ranger fans blaming Georgiev for the loss. There's no way that I can agree with these "instant reaction" opinions.
As you'll soon see (and if you don't know already) – the Rangers would soon tie the game.
While knotting the game at 4-4 was great; at the same time, the Rangers had 786789676788766987 zillion chances to go up 5-4, but despite three power-plays afforded to them – they went wide more times than not.
And yep, and with a bad taste in my mouth as I write this (or is it a bad taste in my fingers?) – Domingue settled down and did his job too.
As the Rangers continued their mission against two members of the animal kingdom, the Zebras and the Penguins; the second period was a complete 180 of the first twenty minutes.
With the Rangers battling their severe case of "shoot-wide-itis," Trouba then broke up a Pens' 2 vs 1 odd-man rush with 16:36 to go.
Of note, and if I didn't hammer this point home yet already – Miller and Trouba were FANTASTIC tonight. I can't say the same about the other defensive pairs.
As the Rangers continued to stain the boards with rubber marks; with 13:09 to go – we finally got some good news.
With the Rangers' first line motoring, Kreider found Frank Vatrano for a one-timer, a shot that sailed past Domingue on his stick-side.
4-2, bad guys, as the RIFLE had now cut the Pens' lead to two.
1:07 later, and with the Rangers' second line on the ice, Panarin scored! 4-3 bad guys, as the Rangers had now scored two goals within a time-span of 67 seconds.
On this goal, the Rangers' second line had what felt like 89678678966734363748934 billion chances; but somehow the Penguins survived. Finally, Panarin baked one against Domingue.
All of a sudden, the electric crowd in Pittsburgh grew as silent as a fallen child.
With 9:46 to go, the Rangers were out-shooting the Penguins 11-0 in the period, as the Blueshirts wouldn't allow the Penguins to even sniff Georgiev.
Eight seconds later, AG40 would record his first save of the game, when he stopped Rodrigues.
The Rangers continued to force the issue on Domingue, but the third-stringer came up with the saves.
In what could've been another scoring play; the Rangers' third line had a 3 x 1 attack, but couldn't get a SOG. Adding to the head-shaking was Schneider, when all alone and uncontested, shot wide with 6:45 to go.
With 4:52 to go and the officials fearing a Rangers' comeback; the officials soon raised their arms in the air, as they decided now was the time to call a phantom holding call on Braden Schneider.
During the Penguins' delayed attack; the black-and-yellow pulled Domingue. When trying to set up their 6 x 5 offense; the Pens' almost scored on their own net – as a puck took a favorable Pittsburgh bounce off of the post.
What could've been.
As the officials continued to ingest Penguin procreation juice; the Rangers' penalty kill shoved it up their ass.
With 4:01 to go, and now on the PK; Rooney had a mini-breakaway chance on Domingue. Rooney was slashed during the process – but no matter for the Rangers – as Andrew Copp, the best acquisition of this year's NHL Trade Deadline, scored on the rebound.
4-4!!!!!!
A three-goal lead had been erased – a dreaded three-goal lead at that!!!
AND LET ME SAY THIS ONE MORE TIME TO BE CLEAR – THE OFFICIALS WERE HORRIBLE. THEY GAVE THE FIRST PERIOD TO THE PENGUINS. HOWEVER, AT THIS POINT IN THE GAME, IT WAS NOW 4-4. THE RANGERS WOULD RECEIVE THE NEXT THREE POWER-PLAYS OF THE GAME AND COULDN'T FINISH ON ANY OF THEM.
So while the refs sucked; you can't say that they were the sole reason for this loss either.
With 85 ticks remaining; Heinen hooked Fox. The Rangers' heralded power-play wouldn't score here, but they would begin the third period on a man advantage.
Here's what I said after forty minutes in Shitsburgh:
4-4 after 40. 2P Thoughts:
— FUCK YEA
— THEY NEVER GIVE UP
— Still don't like the Igor pull, but it's working
— SOG 28-22, Hits 27-26 #NYR ; FO's 23-15 Pens
— What a response
— Beat the refs!
LGFNR

— BlueCollarBlueShirts (@NYCTheMiC) May 8, 2022
---
Once the third period started; the Pens got their kill. A few seconds later, Domingue stoned Kreider.
Then, with 17:41 to go; Malkin was boxed for tripping Schneider.
Once again, the Penguins held on, where Domingue made stops on Strome and Zibanejad. Seconds following their kill – Domingue watched a Panarin shot from nearby sail wide.
As we hit 14:20 remaining; Georgiev came up with a pair of big saves on Crosby. Forty seconds later, #40 himself, also stopped Letang.
Now with 13:31 remaining; the Rangers' power-play, hoping that a third time would be a charm, would soon get another chance, following Heinen's slash on Nemeth. Instead, the Penguins' penalty kill would remain flawless.
Back to full-strength, and with just under ten minutes to go; Domingue stopped a Panarin-to-Copp one-timer. Just 23 seconds later, Domingue would stop Panarin too.
After a trio of failed power-plays, and a lot of shots that went wide by the Rangers too; with 8:58 to go; Heinen scored.
A few things:
— Georgiev finished with 19 saves on 20 shots faced (.950 save percentage). This was the one that got past him. I can't blame him here – especially since the Rangers were stuck in their zone and couldn't get the puck out.
— While maybe Igor stops this one; who knows what would've happened during the second period had #31 remained in net?
— The Rangers had three power-plays that they couldn't convert on, and against a third-string goalie nonetheless.
— After getting their kills; the Pens had momentum. This is on the Rangers – and not on the officials.
---
Following the Pens' goal, which put them up 5-4; they soon sailed the puck over the glass with 8:04 to go – no call.
Up next were four saves in succession out of Georgiev, as the Bulgarian kept this contest as a one-goal game.
As Georgiev kept this match as a one-goal difference; the Rangers couldn't find the equalizer.
With 2:24 to go, Gallant used his timeout and pulled Georgiev for the extra attacker.
Ten seconds later, Guentzel scored on the empty net. 6-4 bad guys.
1:07 later, and with Georgiev back on the bench – Carter scored. 7-4 bad guys, 7-4 bad guys your final.
Here's Gallant after game, who didn't seem phased after the loss:
---
While Gallant was able to smile after this loss – I know I can't.
Heck, I probably will stew all day long on Sunday – and then return to a positive state of mind on Monday.
What's just absolutely killing me – crying be damned – are these horrible officials.
In the Rangers' two losses, the officials (and Toronto) swung a goal call in the Penguins' favor during both Ranger defeats.
Even my "arch-nemesis," Sieve Vagistat, said as much during this broadcast, when he said, "any 50-50 call, it will always go the Penguins way." He's right – even for as rare as that is!
There's still PLENTY OF TIME left in this series; but if the Rangers don't come out of this with their hands raised – the officials, and their power-play during this game too – both will be thought about during the entirety of this upcoming off-season.
And while I don't want to finger-point here; at the same time – will Zibanejad score a goal in this series?
PLUGS TIME!
---
My first plug of tonight's blog – the mandatory plug for my book, "The New York Rangers Rink of Honor and the Rafters of Madison Square Garden".
As mentioned previously, the book is now available in hardcover, in paperback and in Kindle formats. To purchase a copy of the book, visit this link:
https://www.amazon.com/Rangers-Rafters-Madison-Square-Garden-ebook/dp/B09CM5N2WD
For those still looking for signed paperback versions of the book, I have re-ordered more copies. I now have a few signed copies for sale at $25 a pop (includes shipping price) through me directly. Here is all the information on that:
---
Here are my last few blogs, in case you missed them: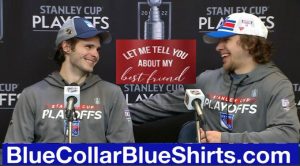 ---
---
---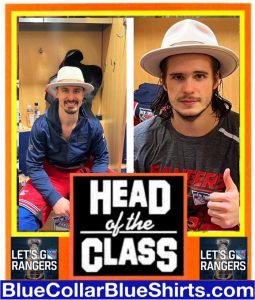 ---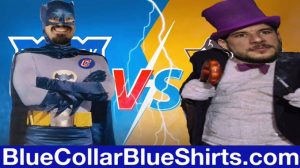 ---
If you haven't already, subscribe to this blog for the next update:
---
Up next: a pivotal Game 4, in Pittsburgh on Monday night.
While the Rangers have displayed a remarkable rebounding ability all season – I don't know if they can dig themselves out of a 3-1 hole either.
In other words – Game 4 isn't a "MUST WIN" game; but a loss would be devastating – and as you all know.
As Gallant said during his post-game interview – he wanted to shake things up at the start of the middle stanza. CZAR IGOR will start on Monday night.
However, Pens' starting goalie Tristan Jarry could be back too – and if the Rangers' can't figure out a third-string goalie – how do you like their chances against Jarry?
For the love of all things holy – get the split and turn this series into a "Best of Three."
Thanks for putting up with my venting and crying tonight.
As always here, thanks for reading and…
LET'S GO RANGERS!
Sean McCaffrey
BULLSMC@aol.com