Greetings and salutations everyone and welcome to another blog here on BlueCollarBlueShirts.com. Admittedly, I'm still not over Game Four – but what can you do?
As head coach Gerard Gallant said after the Game One loss – "MOVE ON."
Of course, one more loss and they'll be moving on to the golf course.
(And to show you how truly demented in the head that I am – after writing about 10,000 words last night, and in addition to this short blog too – I also listened to my three favorite Ranger-themed podcasts on Tuesday – "The Blueshirt Underground Show (Patreon Edition)," "Two Guys One Cup," and "Up in the Blue Seats." Misery loves company!)
I received a ton of feedback from you guys and gals following the Penguins' 7-2 drubbing of the Rangers, where truth be told – I thought a lot of it was extreme. However, I understood all of it, as a lot of that reaction was during the heat of the moment and perhaps a tad bit exaggerated during an increased state of unfiltered rage.
In other words, and for the people who asked me – NO, I DON'T THINK BARRY TROTZ WILL BE COACHING THE RANGERS NEXT SEASON!
(And I'm not even joking. Not only was I asked this, but I also saw a lot of "FIRE GALLANT" stuff throughout the online streets of Rangerstown, USA.)
And oh yeah – NO, I DON'T THINK THAT KREIDER, TROUBA, MIKA, AND/OR PANARIN WILL BE TRADED DURING THE OFF-SEASON EITHER!
My response to your concerns about Patrik Nemeth? Yeah, I can see general manager Chris Drury trying to facilitate that trade!
---
There's really not too much to get into tonight. After all, while Ranger tickets may not be cheap – talk is.
For our beloved Blueshirts, they can say all of the right things (and most times they have), but at the end of the day – it means nothing.
Gallant's Gang needs to do their talking on the ice and that starts with the Rangers' first line, who not only needs to start scoring (I'm especially looking at Mika Zibanejad right now) – but they need to shut down the Pens' top line of Rust/Crosby/Guentzel too.
On Tuesday, both teams held light practices, where it looks like Rakell, Rakell The Musical has a chance of playing during Game 5 on Wednesday night. Both defenseman Brian Dumoulin and goaltender Tristan Jarry have a lesser of a chance of returning than Rakell. (And up 3-1, there's no reason to rush these guys back if they aren't at 100%.)
On the Rangers end of things, we didn't really learn much from their practice – but it can't be a good thing that Tyler Motte, nor Ryan Lindgren neither, practiced on Tuesday.
When it comes to Lindgren's status for Game Five, do I even need to tell you? As you'd expect, he's still a "game-time decision." He's also "day-to-day."
And for those who would pack Patrik Nemeth's bags for free – during Tuesday's practice he remained on the third pair with Braden Schneider.
For those clamoring for Zac Jones (and at this point – what do the Rangers have to lose by giving him a chance?) – it seems highly unlikely that he'll make his NHL Playoff debut on Wednesday.
After all, the Rangers made a minor roster transaction on Tuesday, when they reassigned Adam Huska back to Hartford while recalling Keith Kinkaid from the IR.
If the Rangers had any plans of giving Jones a shot, then they would've had #6 taking reps on the third pair on Tuesday.
That said – maybe Gallant wakes up Wednesday and changes his mind. He's done so before.
Here's Tuesday's short edition of "TURK TALK," where really, not much was learnt:
---
No joke – Gallant could've said anything here and it wouldn't have mattered. The time for talk is long over. Everyone knows the task at hand – the Rangers must go on a three game winning streak or that's it.
Come Wednesday night at 7PM, CZAR IGOR, who officially was named as a Vezina Finalist on Tuesday (he'll win it, despite whatever silly and negative thoughts you have about him at the present moment), will have to put his cape on and put forth another superhuman effort.
The Rangers' top line will have to score and stop Crosby's line too. Artemi Panarin will have to actually shoot the puck. The power-play will have to convert. The Rangers' defense, whose structure was about as strong as a wet piece of one-ply toilet paper on Monday night; the blue liners will have to turn into cast-iron steel.
And while that's all hopefully going on, and as someone who can become somewhat superstitious around playoff time, I'll be wearing this:
My attire for the rest of this first round #nyr pic.twitter.com/jn0hICVKzU

— BlueCollarBlueShirts (@NYCTheMiC) May 10, 2022
---
---
Four Rangers who don't concern me at all? This quartet:
The four healthy #NYR that you can't criticize at all. pic.twitter.com/BmtgIhc3rp

— BlueCollarBlueShirts (@NYCTheMiC) May 10, 2022
---
I received a lot of feedback to that above tweet from Tuesday morning, where 98% of it was positive.
Some people will always remain miserable, which is why I just ignored the 1% of these analytical assholes who had to dissect every piece of minutiae regarding Braden Schneider.
Really, are you kidding me? The guy is twenty years old, was never supposed to be here this season, and in turn, what has he done? He's picked up points. He's been better than the veterans.
Am I saying to give him the Norris? Of course not. However, I am saying that Schneider, along with Kaapo Kakko, Alexis Lafreniere and K'Andre Miller; all four of these "young guns" have been the best and most consistent Ranger skaters throughout this series.
So much for the "THEY NEED EXPERIENCE AND NEED TO LEARN HOW TO LOSE" narratives.
Plus, you have to live in the moment – you never know when you'll get back to the playoffs.
As far as the other 1% of responses that I received, some argued that Filip Chytil belonged right there with these four guys. A fair argument I suppose.
I thought about it, but I have Chytil a notch below these four, only because #72 has been horrendous on faceoffs.
Plus – if you take a closer look, all four players featured in that photo are 22 years old or younger. Also impressive? All four are also on rookie contract deals.
(FYI: Chytil turns 23 years old later this year and is no longer on a rookie contract, as he earns $2.3M a season. Kakko, Lafreniere, Schneider and Miller all earn $925,000 each – where general manager Chris Drury will have a tough decision come this off-season, when trying to come to terms with Kakko.)
---
Lastly, while bringing up my tweets from Tuesday; some people actually tried to tell me that Sieve Vagistat WASN'T campaigning for the Penguins during the last month on the M$GN.
In case you're a doubter, here was what he said right before the playoffs began:
This idiot rooted to draw the Penguins for a month straight – despite people with a brain knowing that the officials would help out #LetsGoPens more than #Allcaps. Guess you can't track that on a homemade arts and crafts chart. Time to send this Isles alum where he belongs. #nyr pic.twitter.com/gocmz1tOLq

— BlueCollarBlueShirts (@NYCTheMiC) May 10, 2022
---
As previously mentioned, CZAR IGOR officially earned his Vezina nomination on Tuesday, where yep – after being pulled in back-to-back games (where I wouldn't put his high GAA and low save percentage stats solely on him) – the timing of this announcement was kind of poor.
However, we still can't forget his amazing and historic 2021-22 season.
Plus, last time I checked – the Rangers aren't dead yet either.
Here's what the Rangers had to say about Igor's nomination, courtesy of https://www.nhl.com/rangers/news/igor-shesterkin-named-finalist-for-vezina-trophy/c-333945390?icmp=int_web_nyr_news_rightrail :
New York Rangers goaltender Igor Shesterkin was named one of three finalists for the Vezina Trophy, the National Hockey League announced today. The winners of the 2022 NHL Awards will be revealed during the Conference Finals and Stanley Cup Final, with exact dates, format and times to be announced.

First awarded in 1926-27, the Vezina Trophy is presented annually "to the goaltender adjudged to be the best at his position" and is voted on by the general managers of the NHL's 32 teams. The other finalists for the award are Calgary's Jacob Markstrom and Nashville's Juuse Saros.

Shesterkin, 26, is the first Rangers goaltender since Henrik Lundqvist in 2012-13 to be named a finalist for the Vezina Trophy. Lundqvist was a runner-up that season in his bid for back-to-back Vezina Trophy wins. If Shesterkin were to take home the award, he would become the sixth Ranger to do so and join Henrik Lundqvist (2011-12), John Vanbiesbrouck (1985-86), Ed Giacomin & Gilles Villemure (1970-71), and Dave Kerr (1939-40).
A Moscow, Russia native, Shesterkin posted a 36-13-4 record with a league-leading 2.07 goals-against average and .935 save percentage, joining Henrik Lundqvist (2012-13) as the only Rangers goalies to finish a season (min. 40 GP) leading the NHL in both save percentage and GAA.

Shesterkin's .935 save percentage was THE highest single season save percentage in Rangers history among goaltenders who made 30 or more appearances. Among goaltenders who played 50 or more games, Shesterkin had the third highest save percentage in NHL history behind Tim Thomas (2010-11 – .938) and Dominik Hasek (1998-99 – .937). Both Thomas and Hasek won the Vezina Trophy in those seasons.

Among NHL goaltenders in 2021-22, Shesterkin's 36 wins ranked sixth and his six shutouts ranked third. His 36 wins were tied for the seventh most by a Rangers goaltender in a single season throughout team history.

In addition, Shesterkin had a .900 save percentage in 75 percent of his starts this season, the highest rate in the NHL (min. 20 starts).

For his efforts in 2021-22, Shesterkin was named the Rangers' Most Valuable Player, which is voted on by members of the New York Rangers media and has been given annually since the conclusion of the 1941-42 season.
---
As far as anything else from the wide-world of Rangers hockey – there isn't much.
We're all nervous and sitting on the edges of our seats, as we await the final outcome of Game Five.
Should the Rangers win that game – the intensity level will only increase prior to Game Six in Pittsburgh. And come Game 7 (there will be a seventh game – or so I say!) – that's when the fingernail chewing will really begin!
One last piece of league news before signing off.
---
On Tuesday evening, and prior to all playoff games beginning – the league held their 2022 NHL Draft Lottery.
Ah, the good old days of the Summer of 2020, where we all once sat with bated breath, as a ping-pong ball with the Rangers' logo on it popped out of a chute!
When looking at the Rangers' rivals, the Islanders didn't jump into the top ten. Instead, they received the thirteenth overall pick.
The Philadelphia Flyers made out all right, as they'll select fifth overall – but that team will be entering a rebuild, which means they'll probably still stink next season.
The New Jersey Devils, who always seem to come out like winners during these draft lotteries; jumped ahead and landed the second overall pick. Of course, the Devils really have nothing to show for after winning a few draft lotteries during previous years, while also landing top five picks in other years.
However, unlike the Flyers and Islanders, who will have new coaches behind their benches next season; the Devils seem content with their bench boss, former Rangers' assistant Lindy Ruff – despite the Devils' front office canning all of Ruff's assistants. We'll see if Ruff remains as the off-season continues.
Personally, I was hoping that the Arizona Coyotes would land the first overall pick. I was only rooting for this as I would've found it comedic – especially with the Desert Dogs scheduled to play the next three years in front of houses of 2,000+.
Can you imagine Shane Wright, the consensus first overall pick, having to spend his rookie contract years playing on a rinky-dink college rink?
(And oh, are any of these 786786689689689689686 gambling sites taking odds on who will be the first Coyote to be accused of nefarious actions with an ASU co-ed? You know that story is coming!)
However, and as expected – the Montreal Canadiens landed the first overall pick.
Due to the new lottery rules, which rewarded losers more so than ever in 2022 – the Habs were the odds-on favorites to receive the first overall pick.
That said – I do wonder if Jeff Gorton, now team president of the Habs, still had Steve McDonald's badge on him for good luck?
Ever since first bringing McDonald's badge with him to NHL draft lotteries; Gorton landed the second overall pick during the 2019 lottery and then the first overall pick during the 2020 lottery. Then, following his Rangers' firing, and a quick stint on television too, he wound up in Montreal, where once again he's the big winner on lottery day. I wonder what his biggest scratch-off ticket winnings are?
While the Habs were projected to land the first overall pick; even if they weren't, and in shades of the Crosby draft, where the league rigged it for Pittsburgh (the Rangers had the best odds that year, but Pittsburgh was bankrupt and needed something to save them) – I think the league would've rigged this lottery for Montreal anyway.
It's in the league's best interest for Montreal to be a contender. Plus, with the NHL Draft scheduled to take place in Montreal – what a feel-good moment it will be for Hab supporters come July 7th.
For the media – the stories will write themselves.
---
That wraps up this one, where like you – my stomach will be doing back-flips like a skilled trapeze performer come Wednesday afternoon.
I'm not ready for this season to be over yet.
I don't even want to look ahead and present the scenario/aftermath of a Game Five loss, so instead, I bid you farewell, with this sweetener – see you tomorrow night, where we'll talk all about Rangers vs Penguins Game Six.
PLUGS TIME.
---
Tuesday was a big day for the NYR podcast world, as everyone vented their grievances with the team. After all, it's always healthy to vent your rage, rather than having it bottled up. (SERENITY NOW!)
Up first, our pals over at "2 Guys 1 Cup" returned with a new episode, where I thought co-host Roc made a good point about the upcoming Ryan Strome contract negotiations. However, I don't agree with co-host Shawn's opinions on CZAR IGOR – but that's okay!
To listen to the show, click the link below:
Wanna commiserate? Episode 45 is up. #NYR https://t.co/CSF4LXzNO0

— 2 Guys 1 Cup Podcast (@2G1CRangers) May 10, 2022
---
Ron Duguay and company also returned on Tuesday, with a new episode of "Up in the Blue Seats." Maybe it's an age and experience thing, but needless to say – I thought Duguay and Larry Brooks made interesting and valid points. I can't say the same about their co-hosts.
To listen to the show, click the link below:
— Ron Duguay (@RonDuguay10) May 10, 2022
---
My first plug of tonight's blog – the mandatory plug for my book, "The New York Rangers Rink of Honor and the Rafters of Madison Square Garden".
As mentioned previously, the book is now available in hardcover, in paperback and in Kindle formats. To purchase a copy of the book, visit this link:
https://www.amazon.com/Rangers-Rafters-Madison-Square-Garden-ebook/dp/B09CM5N2WD
For those still looking for signed paperback versions of the book, I have re-ordered more copies. I now have a few signed copies for sale at $25 a pop (includes shipping price) through me directly. Here is all the information on that:
---
Here are my last few blogs, in case you missed them:
---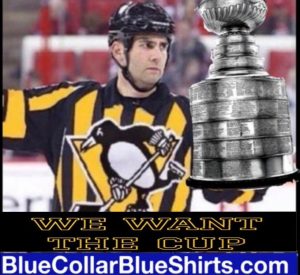 ---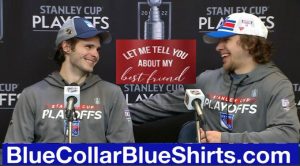 ---
If you haven't already, subscribe to this blog for the next update:
---
Up next: Game 5, on Wednesday night, at M$G.
As always here, thanks for reading and…
LET'S GO RANGERS!
Sean McCaffrey
BULLSMC@aol.com