Greetings and salutations everyone and welcome to another blog here on BlueCollarBlueShirts.com. Tonight's blog mantra – "LOOK MA – NO POLITICS!"
After talking about the political and sports worlds colliding, during the last few blogs on this site, tonight's blog will stick strictly to the New York Rangers and the NHL. Quite frankly, it's tiresome to talk politics and it's better to use sports as an escape, even if sometimes it's just unavoidable.
In tonight's blog, I have a CZAR IGOR update, a recap of the new Tony DeAngelo "WATCH YOUR TONE" podcast, the NHL "Fan Choice" Awards, the 2020 Jack Adams Award & other tidbits to get into.
However, before getting into everything, as usual, it's PLUGS time. Here are my last few blogs, in case you missed them:
---
---
---
---
---
As reported previously on these blogs, when it comes to the topic of the three-headed dragon known as the 2019-2020 New York Ranger goaltenders, we have heard & seen videos of Henrik Lundqvist practicing with the Frolunda Indians of the SHL. We've also heard and seen videos of Alexandar Georgiev practicing with Kaapo Kakko.
Since I just mentioned Kaapo Kakko, to also give you an update on something I wondered previously on this site, it seems that despite his Celiac disease and having diabetes, it seems more probable than not, that Kakko will be able to play for the Rangers when games resume. However, and let me be clear here, that's not 100% yet. Truth is, we won't know anything 100% until July & August roll around. However, for right now, if you're a bettor, put your money on Kakko skating against the Hurricanes. Again, nothing official, and really, nothing will be official until training camps resume and when the puck is dropped.
When it comes to CZAR IGOR, we found out on Thursday, June 11th, that Igor is currently staying in the Miami, Florida area, as he's practicing at the Pines Ice Arena in Pembroke Pines, Florida. For those who don't know, Pembroke Pines is a Miami suburb, located about twenty miles or so from Miami.
While my personal friend, and friend of the blog Ricky Otazu, was the first to tell me about this story, the Washington Capitals fan website had this story first. You can read about Igor practicing with Ovi, from a Caps fan point-of-view, here: https://novacapsfans.com/2020/06/11/alex-ovechkin-joins-several-fellow-countrymen-for-workout-in-south-florida/
During "this shit", also known as the corona virus, we do know, that courtesy of NY Post reporter Mollie Walker, that NY Rangers owner, James Dolan, purchased plastic skating boards for every member of the roster. For those who may confuse what I'm saying here, I'm not talking about skate boards. You're not going to see Artemi Panarin start doing some Tony Hawk shit on the ice. Then again, maybe you will! However, in this specific scenario and news report, I'm talking specifically about these skating boards: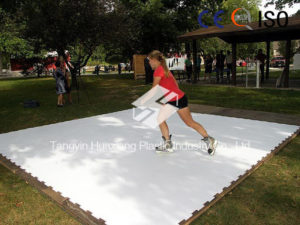 As talked about on previous blogs, for players in Europe, Sweden specifically, due to different countries approaching/battling the corona virus pandemic differently than here in New York or America in general; many of these Swedish players have had a leg-up on their North American counterparts, as they have been able to get rink time and skate on real ice, rather than the faux plastic ice which is depicted in the photo above.
While it was known that North American players, and players who stayed in either America or Canada during this COVID-19 outbreak, were doing anything they could to keep their bodies in hockey shape; now that it's okay, we're starting to see pictures and videos of these players back on the ice. Previously, if players were skating inside of North American rinks, "under the radar", for lack of a better phrase, we didn't hear about it or see it.
Right now, I can't provide exact details, but we do know that Florida was one of the first states to open up in America, and really the first state or province to open up in all of North America. We do know that CZAR IGOR has been in Florida, so perhaps he's been practicing for a while down in the Sunshine State.
I suppose this part of Florida has a Russian community, as joining Ovechkin and CZAR IGOR at this practice were Nikita Zadorov (Colorado Avalanche), Darius Kasparitis (NHL retired), Vladimir Denisov (AHL, KHL), Peter Schastlivy (NHL/KHL) and Evgenii Dadonov (Florida Panthers).
I'll tell you what, throw out everyone else that was on the ice at this practice/practices. We know that Lundqvist is practicing with third string guys who can't play at the NHL level today. (Kind of like Lundqvist himself, if you ask me!) We know that Georgiev is practicing against a rookie, in Kaapo Kakko. Now, we know that CZAR IGOR is practicing with Alex Ovechkin. As they say, you can only get better by playing against the best. Who better to practice with, if you're a goalie, than one of the greatest players of all-time, in Alex Ovechkin? (Just don't tell Sean Hacknett this! See my last blog for more on Hacknett.)
There are a ton of pictures and video from the practice, and you can view them all here: https://www.instagram.com/dima.mecajev/?utm_source=ig_embed
The best video? How about this one:

Not too shabby if I say so myself!
(Of course, there was another video from this practice, of Ovechkin scoring on CZAR IGOR, but who needs to see that?!?)
While we don't have all the details concerning how long Igor has been practicing, who he's staying with and all that, at the end of the day, these facts truly aren't necessary. Just knowing Igor is on the ice and who he is practicing with – well that is more than enough for this Rangers booze-hound blogger!
If you've been following these blogs ever since the NHL "pause", you know my feelings – CZAR IGOR should be the starting goalie, come the play-in round against the Carolina Hurricanes. Refer to my past blogs for my detailed thoughts on that topic. That said, this is now Igor's team. I never had a doubt about Igor's conditioning upon the Rangers return to playing hockey again. These videos and pictures were just something to "fist-pump" about and something that every Ranger fan should be excited about. One more time – look at who Igor is practicing against!
I know it's been a while and it still feels like a while away, but before you know it, we will all have our Ranger jerseys on again, and will be looking for blood against the Carolina Hurricanes.
Speaking of goaltenders and the upcoming 2020 Stanley Cup Playoffs, on Friday, June 12th, NHL.com ranked their Top 16 Goalies for these playoffs. Here's the list:
Whenever lists of opinion are made, it's just that – opinion. All of these lists, and I've done it in the past too on these blogs, so I'm as guilty as anyone, are just things to fill out white space on a monitor and to drive debate/discussion.
When I glance at this list, I wouldn't have ranked these goalies this way, but again, it's all a difference of opinion and personal preference. I guess Rask is fine at number 1, but you really could make a case for last year's Vezina winner, in Vasilevskiy. You could also make a major case for Hellebuyck, who may win the Vezina this year. You can also make a strong case for Jordan Binnington, who as a rookie last year, carried the Blues to the playoffs and had the stones to win a Stanley Cup Final Game 7. Again, all of this stuff is subject to opinion.
If there was anything that truly surprised me about this list, it was the fact that Carey Price wasn't ranked higher. After all, during this "pause" and all the talk about what to do about the playoffs, one major topic was that these teams didn't want a best of three series first round. All of the teams were worried about a goalie getting hot. The name of Carey Price always came up in these talks. In fact, it was even reported that the Pittsburgh Penguins, who will take on the Montreal Canadiens in the first round, were the team that lobbied the hardest, for at least, a best of five game series in the first round.
And as I've said on this site before and as I'll say again, I don't get all the hoopla about Carey Price. I'm aware of his regular season career and his history, but it's not like he's been a lights out goalie when the regular season turns into the playoffs. He also isn't a man of many perennial deep playoff runs.
Of course, me being me, I did notice one major omission from this list – the third highest paid goaltender in the NHL. You may have heard about him! His name is Henrik Lundqvist!
SAD!
While I wouldn't expect Lundqvist to be talked about as one of the best goalies or even in the top 50% of goalies in the NHL of 2020, I did find this list amusing.
And since I was asked about this, I think Igor Shestyorkin was omitted from this list for two reasons:
— Igor didn't play enough games. In fact, next season will officially be his NHL rookie season.
— While it is assumed that Shestyorkin will be the starting goalie of the Rangers, come the playoffs, that fact isn't 100% official yet.
While on the topic of the playoffs, this BREAKING NEWS item just came in on the ticker: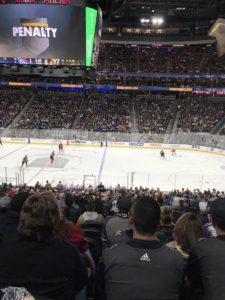 The following comes from Sportsnet.ca, via this link: https://www.sportsnet.ca/hockey/nhl/vegas-nhl-hub-city-announcement-expected-june-22/
The Las Vegas Review-Journal has put out a story saying Vegas will be confirmed as a hub city for NHL playoff games by June 22, but the truth is we should expect the official announcement before then.

Gary Bettman said as much on May 26 when he indicated it would be three weeks until the hub cities were finalized.

Vegas will be one of them. The other depends on how the Canadian government chooses to enforce the 14-day quarantine for those entering the country. We await an announcement there.

With training camps set to open July 10, teams need to know where this is going as soon as possible.

Ideally, the NHL would like to have a Canadian city serve as a hub alongside Vegas, but that won't be finalized until the federal government makes a ruling. Toronto is the preferred destination, assuming the quarantine issue can be managed.
Now, if only these games were open to the common fan! Talk about an economy boost!
Let's switch gears and go back to the topic of lists. This following list being more real and more important than the goalie list of opinions talked about above.
Here are the latest results on the 2019-2020 Jack Adams (coach of the year) race:
With 18 reporters responding, former Rangers head coach & current bench boss of the Philadelphia Flyers, in Alain Vigneault, in his first season behind an NHL bench since being fired by the Rangers, is currently the front-runner to win the 2020 Jack Adams Award.
The two other favorites to win the award this season, also have Ranger ties. Pittsburgh Penguins head coach Mike Sullivan is a former Rangers draft pick and was an assistant coach for the franchise. John Tortorella, currently with the Columbus Blue Jackets, has a long history with the Rangers, where I'm assuming that, you the reader, know all about Torts and his run with New York.
Just to give you a real quick recap of my thoughts on AV & Torts, in an effort to save you time from going through the archives of this site, when the Rangers broke ties with Torts, I understood the Torts firing, but didn't like it. When it comes to the AV firing, a topic that I've probably written a million words about on this site, I felt that decision was poor. I felt AV deserved a chance to keep it going here.

To this day, both AV & Torts are top five coaches in Rangers history, with really only Lester Patrick, Frank Boucher and Emile Francis having longer & better tenures. You could also throw Mike Keenan in there, but he was only here for one season and it was a tumultuous season at that, despite the Rangers winning the Stanley Cup that season.
I always felt AV was wronged here, because he had such a successful tenure here. In his last season, it wasn't his fault a bunch of players got injured. It wasn't his fault Lundqvist was falling apart. And when the Rangers decided to release "The Letter", that wasn't his fault either. You can make a strong argument, had the Rangers decided to make a run at the playoffs, rather than rebuilding, AV & the Rangers would've qualified for the playoffs, in AV's last season with the club.
I will also say, like I said at the time, there was nothing I could do about the AV firing and all I could do is support David Quinn. In DQ's two seasons here, I've enjoyed the ride and I can see him one day being up for this Jack Adams award. I can also see him being the fourth coach in Rangers history to win the Stanley Cup! Conversely, I will say this too – I agree with the DQ contrarians. If the Rangers were to ever fire DQ (I don't envision that happening any time soon) I don't think many teams across the league would be clamoring for DQ's head coaching services.
When it comes to the 2020 Jack Adams Award winner, I really don't see much of an argument for Mike Sullivan. After all, he has a recent two-time Stanley Cup winner and has arguably one of the greatest players on the planet today, in Sidney Crosby. He also has the second half of a 1-2 punch, in Malkin too.
When it comes to a winner, while the NHL poll has AV as the likely winner, to me, I think Tortorella deserves it more, for all the reasons I've said all season. Columbus, going into the season, had their roster decimated through free agency, with guys like Bobrovsky, Panarin and Duchene heading off for greener pastures. Then during the season, especially after the All-Star break, Columbus was just ravaged and savaged with injuries. Despite fielding AHL players in their line-up during many nights, Columbus was still in the playoff hunt. And don't forget – prior to the season, NO ONE had Columbus as a playoff team.
It is my opinion that Torts accomplished more with less. While that doesn't take away from what AV did, as he did turn things around in Philly, AV also has a ton of stars on his team and the Flyers may have finally found a steady and reliable goaltender in Carter Hart. Prior to Hart, the Flyers haven't had a consistent and regular goalie since the days of Ron Hextall.
I'm pulling for Torts to win the Jack Adams this season. However, if it's AV, I have no problem with that. I just hope Sullivan doesn't win!
And now, the other lead story of this blog – the much anticipated debut of Tony DeAngelo's "WATCH YOUR TONE" podcast.
---
I'm not going to rehash everything Tony DeAngelo here. Just read my most recent blogs, or really, any of my blogs from this season. For whatever reason, just because Tony DeAngelo isn't a liberal, fans think they can attack him and his family on social media. It's kind of sick when you think about it.
When Tony DeAngelo first announced he was doing a podcast, this set waves from both sides of the fan base. Tony DeAngelo fans, like myself, were happy to hear about it. Haters of TDA, who only hate TDA based on his political beliefs, were up-in-arms. I know I've said this a million times on this site, and this time I'll say it for the millionth & first time – "Time and time again, fans of any sport and of any team, want their players to be more interactive on social media. TDA is the most interactive Ranger on social media, and what does he get in return? Idiots harassing him and his family. SAD!"
On June 11th, the inaugural episode of "Watch Your Tone" was released. You can listen to the show by clicking the link below:
https://t.co/qEg0m4IjTx Our first episode is now available on Apple podcast, they approved just in time! Also available on Spotify! Enjoy and give us feedback!

— WatchYourTone_ (@WatchYourTone4) June 11, 2020
A couple of things here, before giving you the quick recap of the podcast:
— Here's what I said last blog, prior to this episode's release:
"In my opinion, there are so many idiots out there, chomping at the bit, waiting to hate on this thing. I doubt TDA will even talk politics on this forum, as I see him keeping it exclusively to sports talk. I think fans of TDA will enjoy this, and for the people who hate TDA, like Sean Hacknett or Adam Hermtrans, they will leave disappointed, as they'll have nothing to go after DeAngelo about. We'll see, but that's just my gut feeling!"
As predicted above, this is exactly what happened. TDA and his co-hosts, even while talking about the fans who hate TDA, (there was even a "Mean Tweets" closing segment) nothing from the political realm was discussed on the podcast. The only "edgy" thing DeAngelo said, was how he was proud to be an Italian-American. Of course, as expected, this led to TDA's Twitter account to be flooded by these "COLUMBUS IS THE WORST HUMAN EVER IN HISTORY OMG!" degenerates.
— I believe that with this episode, and correct me if I'm wrong, but Tony DeAngelo is now the only currently active NHLer with a podcast today. Gotta say, that's pretty ballsy in this super PC charged world, especially for a player in a contract year. Then again, TDA's on-the-ice work spoke enough volumes this season, where he will get a big contract no matter what, as long as he doesn't say anything that the liberal lynch mob can truly hang him for. It's one thing for soy boy fans to cry about nothing; teams don't care about that. As long as TDA isn't saying anything truly offensive, teams won't care what he says on his podcast. Teams/franchises only care about if TDA produces on the ice. They don't care about what he does in a voting booth.
— I enjoyed the first episode. I listen to a lot of podcasts, as it's nice way to kill time, whether it's going to & from work, doing laundry, doing tasks around the house, or whatever. This new podcast is now part of my routine, just like how "BSU", "Up in the Blue Seats", and "View From The Penalty Box" are.
When it comes to the podcast, Tony DeAngelo is a natural as a host. This didn't shock me, as we've already seen Tony handle himself well, while doing the old Derek Stepan role for the M$G Networks & the NYR social media mediums. The three other hosts on the podcast, are TDA's brother Lou, (who I'm now calling FREDO, as a joke, as a result of who Lou picked to win the Stanley Cup this season. Again, we live in the era of prefacing qualifying statements, so I don't need my words twisted & people saying I'm shitting on Lou DeAngelo. I'm joking but I do hope the Fredo nickname sticks!) Ron, who is Tony's friend & Huff, another friend.
It's going to take time to flesh out the co-hosts and get a feel for them, but in episode one, we know that Ron is a degenerate gambler. Gotta love it! This is the only thing that could potentially get Tony DeAngelo in trouble, as he can't talk about gambling at all. That kind of talk are murky waters for current professional athletes. However, as a listener of a show, a show that is probably going to find a target demographic of males 18-36, gambling talk can only benefit the show. Do I have to remind you of all the DraftKings & Fanduel ads we see on an everyday basis?
When it comes to any real "news" from the podcast, Tony DeAngelo reiterated that he wants to stay in New York and loves being a Ranger. While being careful not to disparage his former club, the Arizona Coyotes, TDA talks about one of his first days as a Ranger, and seeing thousands of Ranger fans greeting the team during opening night, during one of the "blue carpet" deals.
DeAngelo, who is a huge sports fan, and pulls for the Eagles, Phillies & 76ers, said he lost all his allegiance to the Flyers when they didn't draft him, back in 2014. Upon becoming an NHLer, TDA forgot about the Flyers. As talked about on the show, while his friends and family were all Flyer fans, they all became Ranger fans very quickly, after the 2017 draft day trade, where TDA came to the Rangers. It was mentioned that Tony's brother, Lou DeAngelo, has switched sides and attended many games at M$G this season.
After TDA doubled-down, and talked more about how much he loved New York and the Rangers, the topic of the new playoff system was talked about. When it comes to the 29-2 vote, in favor of the upcoming playoff system, with only Tampa & Carolina dissenting, TDA said, "I totally disagree, it should've been 31-0." From there, Carolina's history with the Rangers was brought up by TDA's co-hosts, but obviously and wisely, TDA refrained from commenting on Carolina specifically. If you're TDA, there's no point in rattling cages on this topic or giving Carolina any bulletin board material.
When it comes to sports, TDA tried to get a conversation about the recent UFC PPV from 6/6/20 going, but his co-hosts obviously don't know much about UFC or MMA. The tie-in, was how UFC was holding shows in front of empty arenas. I will say, as both a huge hockey and MMA fan, no fans at UFC shows hasn't effected the game at all. In fact, it has brought a different perspective to the game, as you can now hear the cornermen shouting instructions. Hell, with a legend and future HOFer like Dan Cormier cage-side, we've even seen fighters adjust their gameplan, while in fight, by hearing Cormier's advice/commentary!
With hockey going the no-fans route for the 2020 playoffs (I still wonder, as mentioned on past blogs, if the NFL opens up in front of fans, can the NHL amend their idea and open up rinks for playoff rounds?) TDA and his hosts joked about the idea of TDA being miked up. TDA says he curses all the time and jokingly said, that while it may lead to the highest viewership of all-time, they would have to bleep him out every shift. I will say, whether it's the NHL or NBA, with both leagues returning in front of no-fans, those 8 second delay censor people, will be in for the busiest days of their careers!
As far as hockey talk goes on the podcast, the hosts and TDA gave out their year-end awards. Of note, TDA picked Connor Hellebuyck to win the Vezina, Roman Josi to win the Norris and for teammate Artemi Panarin to win the Hart. I got no problem with Panarin winning the Hart!
Eventually, the conversation turned into who will win the Stanley Cup. TDA had to refrain from getting involved in this talk, obviously, but his co-hosts had a good time with it. This was also the part of the conversation, where Lou DeAngelo earned his "FREDO" nickname, at least in my eyes!
I'll let you listen to hear who Lou DeAngelo picked to win the Stanley Cup this year, but suffice to say, he didn't choose the Rangers. And really, while I'm having fun making the Fredo jokes here, I think it's good that TDA's brother & friends, all didn't pick the Rangers. It's nice to have a balance. The best radio is conflicting radio. If everyone agrees all the time, it's boring. You need someone to stir the pot.
That said, and as I've been saying ever since the news of resuming play was announced – WHY NOT THE RANGERS?
As far as any other newsworthy news items from the podcast, the topic of everyone staying in the same hotel during the playoffs was brought up. TDA brought up that it would be weird to see Brady Skjei, a player he will see in the play-in round, when the Rangers take on the Candy Canes. TDA said while he probably wouldn't talk to Skjei during the series, he did say it would just be awkward and how it would be unavoidable to run into friends from other teams.
The podcast wrapped up with TDA's friends and Lou, doing a "Mean Tweets" segment, where the trio read tweets from demented Ranger fans, directed towards TDA. TDA said the only one that bothered him, was one where someone hoped for TDA to die in a plane crash. All because of political beliefs folks! SAD!
Truth be told, aside from the death wish (and what an understatement here, as I say "besides the death wish") the mean tweets were pretty tame, compared to the ones I've shared on this blog from these demented basement bozos. The quartet laughed about this, and hinted the tweets would be meaner on future episodes. And really, there's a treasure trove of those tweets for these four to read, should they be willing.
Clocking in at under an hour, I found TDA's first episode of "Watch Your Tone" to be entertaining and informing. As far as any criticism, it's what I said before – the hosts and their personalities need to be fleshed out more, and TDA needs to mention the names of his co-hosts directly when speaking to them, so we can get to know each voice. This will all come with time.
Also, as previously mentioned, and I know everyone is aware of this, when it comes to gambling and predictions, I think TDA is going to have to keep doing the qualifying statement stuff, where he says he has to stay out of it, let his co-hosts riff on the topic and then chime in on the next topic. TDA knows he's a target and he just needs to make sure he continues to navigate these waters correctly.
For a debut episode, I found the show enjoyable.
As far as the next episode, nothing was mentioned. For a podcast to be successful, you really need to have a set day of the week and a set time of the week, in regards to the next episode being released. For example, I know Ron Duguay's podcast comes out at 12PM every Wednesday afternoon. I know to look for it. While I understand TDA's schedule as a current NHL player may hinder a regular schedule, I believe "Watch Your Tone" needs to at least try to stick to some sort of regular schedule, in an attempt to make the podcast "appointment listening."
Moving forward on this blog, in regards to TDA's podcast, don't expect these recaps to be as lengthy on future blogs. I know my Ron Duguay podcast reviews (and really, everything on this blog) gets lengthy, but that's because Duguay usually has news items and never-before-heard stories. That said, like Ron Duguay's podcast, like Cam Connor's podcast and like the Blueshirt Underground show, I'll continue to plug TDA's podcasts, with commentary when I think it's needed. I think it's important to spread the word about these Rangers endeavors, because without viewers/listeners/readers/whatever, they will cease to exist.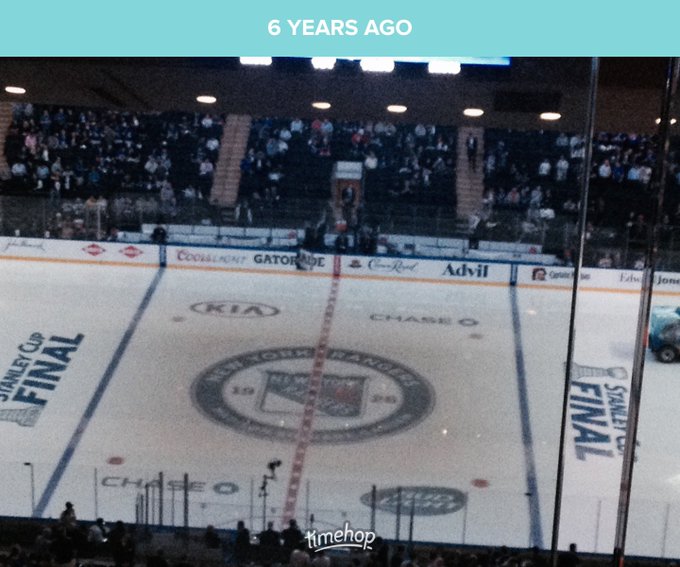 Before getting out of here, on Friday, June 12th, the NHL released their "Fan Choice" Awards. You can view all the winners here: https://www.nhl.com/fans/nhl-fan-choice-awards
While all the awards are pretty silly and meaningless, the biggest one was this:
While Lundqvist will never ever win a Stanley Cup as a starting goaltender, something I've said since 2014, perhaps not making a "best dressed" list, is the only thing that could hurt his pride even more!
Again, while these awards were lighthearted in nature, if there was any "news worthy" item coming out of this, it was that former Ranger, Kevin Hayes, was named the funniest player in the league. And with the contract he got from Philadelphia, no one is laughing harder to the bank than Mr. Hayes. I still hate that the Rangers got rid of him. I would take Hayes & his contract, over Lundqvist and his contract, any day of the week, twice on Sundays!
One last dig on Lundqvist and I'm out!
Here's a fun question to ask yourself – what player made you realize that you were getting old? What I'm getting at here, who was the first player that you rooted for, that you realized that you were older than? For me, it was Robinson Cano, when he was tearing it up for the Yankees. Manny Maholtra was also another player that made me realize this, but he was also two years older than me. I just remember being a teenager and getting Manny's autograph, and realizing, that when I was a sophomore in high school, he was a senior.
If you haven't already, subscribe to this blog for the next update:
As far as the next blog, if you subscribe by clicking the form above, you'll get that bad boy delivered to your email box.
As always, thanks for reading and…
"WHY NOT THE RANGERS?!?!"
LET'S GO RANGERS!
Sean McCaffrey
BULLSMC@aol.com
@NYCTHEMIC on Tweeter and the new Parler app.