Greetings and salutations everyone and welcome to another blog here on BlueCollarBlueShirts.com. What a week, what a week, what a week! After Gary Bettman announced the league's return plans this past Tuesday, it seems like everyone and their mother has now returned to hockey social media. While I've made all of my opinions known about the NHL's return in previous blogs, I'm not the only one with an opinion; as everywhere you go, everyone is talking the NHL and their eventual return. That's good for the league. People care.
And once again, kudos to NHL commissioner Gary Bettman, because say whatever you want about him, and we all know I have, he will always be known as the first commissioner, of the big four sports, to bring his sport back.
As dormant fans during this corona virus return to their social media accounts, days after Bettman's announcement, Tony DeAngelo's name once again returned to the news. I'll get into everything DeAngelo at the end of this blog, but I'll give you a teaser here – it never ceases to amaze me, how these liberals (or Rachel Maddow NYR Twitter, as I like to call them) will bully, make death threats and write all sorts of garbage about DeAngelo, even going as far as harassing his own family members, but in their next breath, will tweet about how the bullying culture needs to be stopped, how people need to be positive and all that other happy hypocritical horseshit.
Away from Tony DeAngelo, other people involved with the Rangers made headlines this week, including Team President John Davidson, Head Coach David Quinn, Kaapo Kakko & Henrik Lundqvist. More on this quartet, as I get moving along here.
Elsewhere on this blog tonight, will be a guest commentary from Rangers fan/BCBS reader Joseph Gearity, as he comments on something I've covered previously – the high cost of these team logo protective face coverings. (I talked about what Fanatics were charging for these masks, while Joe not only looks at Fanatics, but talks about third party sellers too.)
In addition to tonight's manifesto, we will be taking a look at what old friend Cam Talbot recently did.
Our main feature tonight will be taking a deep look at the career of Ron Greschner and a recent petition that's been circulating the internet concerning his status for having his number retired by the Rangers. However, before getting into all of that, I'll give you the latest NHL return update. That said, of course, what would any of these blogs be without me plugging my most recent writings first?
As usual, and say it with me, because you know I've said it 76786769 times before – here are my most recent blogs, in case you missed them:
---
---
---
---
---
---
After writing about 20,000+ words on the topic of the NHL's return, during the past seven days, I have one new thing to bring to your attention.
According to SportsNet.ca (You can read the full article from its original source here: https://www.sportsnet.ca/hockey/nhl/nhl-tells-players-phase-3-return-play-plan-wont-start-july-10/) the NHL informed players this week, that Phase III of this return, won't start until July 10th. For those who don't know, Phase III is just the NHL's phrase for "training camps".
If there is anything to take out of this July 10th return to work date, it's not so much the training camps part of it. It's the fact that Toronto previously said, that everything in their city, that was deemed non-essential, would be shut down to at least July 1st.
Going back to my last two blogs, I talked about the NHL and how they will look for two hub cities to host their Stanley Cup Playoffs in. While Vegas seems to be the heavy favorite as the Western Conference city, over in the Eastern Conference, only three cities were considered – Columbus, Pittsburgh & Toronto.
After Bettman's announcement on Tuesday, his deputy commissioner, Bill Daly, said that no Canadian city would be considered for hub city status, unless Canada lifts their two-week quarantine. Of the two leaders of their respective countries, it's been US President Donald Trump, and not Canadian Prime Minister Justin Trudeau, who has been advocating for sports to return as soon as possible.
The NHL, who didn't give July 1st as a concrete return date, as Bettman just said it would be the earliest return date considered, have now added nine more days to this corona virus pause in their season. Theoretically, these nine days could allow Canada to reconsider things and perhaps allow the NHL to return to Toronto.
In the NHL's case, it makes 100% sense if Toronto were one of the hub cities. It would be nice to give each country a host city, in an effort of being fair. Furthermore, the majority of the NHL's top reporters/media all live in Toronto too. While it's being reported that most of the media won't be allowed to attend these empty arena games, due to health reasons, test costs & other factors; you would think the top prominent reporters would be allowed access, like your top reporters from Sportsnet & TSN, like Bob McKenzie, Darren Dreger, Elliotte Friedman, etc.
In addition, Toronto is the capital of the NHL, and a city that features many hockey rinks, which can be used for practice for twelve of the returning teams. Toronto is also a major city, a tourist city, so they have the hotel space to accommodate a huge influx of players & staff.
I truly believe, that should Canada lift restrictions for the NHL, as America is doing, we'll then see Vegas & Toronto officially announced as the hub cities. Time will tell.
As far as anything else about the NHL's return, there's nothing else new to add here, but stay tuned to this site once news breaks.
Greschner time!
---
I guess I should preface the following by saying this – if you're not aware of my work on this site, check the archives. I don't think anyone has written more words about the Rangers and their horrible job of honoring their history & past players, than I have. All you have to do is look at the header of this site, and check out the tabs on Frank Boucher, the New York Rangers Rink of Honor & The Real Rafters of Madison Square Garden features.
Furthermore, on March 24th, I looked at the Top 10 Rangers defensemen in franchise history, where I slotted Ron Greschner at #5 All-Time. You can read that blog, which looks at these top 10 defensemen, in-depth, here: https://bluecollarblueshirts.com/32420/
In other words, I don't want to repeat too much of what I said in the past already. I just want to make it aware that I've been championing for Ron Greschner for some time now.
One more time, in case you haven't heard me say this 789676987 times before – no team in the NHL or in all of NY sports, does a worse job of honoring their past than the New York Rangers.
It is my opinion, that the Rangers should embrace their history. It is my belief, that the Rangers should retire the jerseys & give the rafter treatment to Frank Boucher, Bill Cook, Bun Cook, Ivan Johnson and Bryan Hextall. I also believe that Lester Patrick & Emile Francis deserve banners in the rafters of MSG too. And maybe I'm very extreme and strong with my passion for history here, but I'd also give a banner honoring the #1 jersey, for guys like Davey Kerr, Chuck Rayner and Gump Worsley. It's a crying shame that whenever the Rangers, the fans or the media themselves, talk about Rangers goaltending, the name Davey Kerr is NEVER brought up.
(Another plug, check out this link: https://bluecollarblueshirts.com/1940/ . That is my 1940 Rangers blog and I said there that I feel the 1940 championship team is ignored, due to the "19-40" chant and all the negative connotations associated with the chant.)
Aside from Emile Francis (and it's still unbelievable to me that the Rangers haven't done a ceremony for him yet. He turns 94 years old this year. Are the Rangers waiting for him to die, and then give him a flowery tribute, posthumously?) of people alive today, no one deserves the honor of having their jersey number retired more than Ron Greschner. And yes, for Larry Brooks – that includes Brad Park. (And I'm not saying Greschner was better than Brad Park, I'm saying Grescher's tenure and dedication to the Rangers was stronger than Park, as Park didn't even play half his career in New York.)
This past Thursday, on May 28th, I received a phone call from my good buddy of 20 years, in Ricky Otazu. I've talked about Ricky O. in the past on these blogs. Ricky told me that he was going to start a petition to campaign for Ron Greschner's #4 jersey to be risen to the rafters of MSG. He asked me for some help with his cause, and due to our friendship, my passion for Rangers history and because I believe in this effort, I told him I would do the blog you're reading right now.
If you haven't seen it already, you can sign Ricky's petition to get the Rangers to retire Ron Greschner's #4 here: https://www.change.org/p/true-new-york-rangers-fans-get-ron-greschner-s-number-retired?recruiter=1094643709&utm_source=share_petition&utm_medium=twitter&utm_campaign=share_petition&recruited_by_id=5a310070-a09a-11ea-b50c-3bbac430e334
When you look at the career of Ron Greschner, obviously, he's not a Hall of Famer. That's fine. When it comes to retiring numbers, no matter what the sport, while yes, you usually honor your Hall of Famers (except for the Rangers, who ignore a ton of them) you also usually honor your heart & soul guys, guys who had a fantastic tenure with a respective club.
Ron Greschner ticks all the boxes for a jersey retirement ceremony.
Just look at these quick facts:
— A 16 year run with the Rangers, the only team Greschner ever played for.
— When it comes to Rangers defensemen records, Greschner is third in games played (981), second in goals (179), second in assists (431) and second in points, with 610. When it comes to the offensive stats, only Leetch surpasses him.
— A former captain of the team.
— A featured player in many deep playoff runs, including the 1979 Stanley Cup Final.
— A teammate beloved by his peers, and a guy who gave it his all.
On December 12th, 2019, Ron Greschner appeared on Ron Duguay's "Up in the Blueseats" podcast. I recapped that episode here: https://bluecollarblueshirts.com/121219/
What I like about Ron Duguay and his podcast, is his dedication to Rangers history. Whether Duguay is talking Tex Rickard, Frank Boucher or in this case, his former teammate & good buddy Ron Greschner, Duguay has a deep appreciation for Ranger heroes.
As mentioned earlier in this blog, and in my recap of this Duguay/Greschner interview, the topic of Greschner having his jersey retired by the Rangers came up. In the interview, Greschner said he would only accept the honor while his mother was still alive. For Greschner, his parents helped mold him and gave him the opportunity to become a player in the NHL. While it would be a nice token of appreciation by the Rangers, if they retired #4, for Greschner, it would mean more for his mother to see it than anything else.
Obviously, due to this corona virus, nothing is going to happen at Madison Square Garden in the immediate future. Hell, next season might not even start until after New Year's Day of 2021.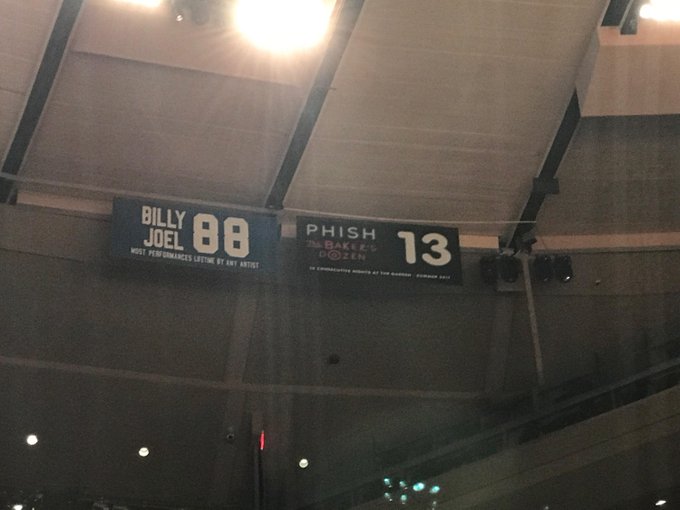 What we do know is this – Team President John Davidson, who can make something like this happen, has a strong relationship with Greschner. While Greschner 100% deserves the honor, looking ahead, we don't know what the aftermath of this corona virus will be. We know that millions are unemployed and Ranger tickets are expensive. Moving forward, the Rangers may need to host special nights, such as jersey retirement ceremonies, to help boost their attendance. Furthermore, a gesture such as retiring Greschner's #4, would promote great vibes after a terrible time in world history.
John Davidson is still in his first season as Team President of the club, and while he's a seasoned and grizzled veteran at this job, he is still getting his feet wet in his current position. JD's predecessor, Senile Sather, was horrendous with honoring past Ranger legends. He was horrible with the media too. In the limited time that JD has been President of the franchise, JD has been more media accessible and has said more things publicly than Sather ever did in 20 years. Perhaps JD can continue to make changes from the top, and create a franchise-wide mandate, of really embracing team history.
You don't stay with a franchise for 16 years, and not have a strong bond with the fans you played in front of. For Greschner, who was with the Rangers from 1974-1990, Greschner became a beloved Ranger, for both his on-ice work and off-the-ice stories. Upon retirement, Greschner quickly embraced becoming part of the Rangers alumni and worked with the franchise in charity events and other appearances, something that continues to this very day. Greschner has remained a steady fixture at MSG, and for regular attendees of Ranger games, you usually can see him around the arena more times than not.
Part of Greschner's legacy with the Rangers, was that aside from the rebuild years of the mid-1970's, which then led to the firing of Emile Francis, Ron Greschner was in the playoffs every single year of his career after this mini-rebuild. The Rangers made many deep runs during Greschner's time with the Rangers. While Greschner never won a Cup with the Rangers, neither did Eddie Giacomin, Andy Bathgate, Harry Howell or the GAG Line, all men who have had this prestigious honor, of having their jerseys retired, bestowed upon them.
Greschner started his career with the Rangers in 1974, the tail-end of the Emile Francis years. After making the Stanley Cup Final in 1979, Ron Greschner was the lone constant during the entire 1980's decade for the Rangers. You don't last that long with one team, unless you're producing at a high level and well-respected.
It is my belief, that John Davidson is aware of everything that goes on in Rangerstown, USA. Whether it's Duguay's podcast or Ricky O's petition, I'm sure JD sees everything. It's time for JD and the Rangers to give Greschner his night and Gisella Greschner a memory she will never forget. It's also time for the franchise to create a culture of celebrating Ranger legends and Hall of Famers of the past, if nothing else, to educate younger & newer fans about these players. Even some of the hardcore Ranger fans out there, think that the Rangers started with the GAG line, 1994 happened and the Lundqvist Era began. The Rangers need to fill in the holes of different eras and erase these time period gaps.
Once again, you can sign Ricky Otazu's petition, to get Greschner his just due, by visiting: https://www.change.org/p/true-new-york-rangers-fans-get-ron-greschner-s-number-retired?recruiter=1094643709&recruited_by_id=5a310070-a09a-11ea-b50c-3bbac430e334
Let's hope we get this night in 2021. And as morbid as this may sound, let's hope that Gisella Greschner continues her journey to 100+ years old. As stated by Ron Greschner himself, this honor isn't for him. It's for his mother that made his career happen. Ron Greschner deserves this honor and the Rangers need to make this happen – sooner than later.
---
Switching gears for a second, but continuing things posted by Ranger fans, the following rant comes from BCBS reader Joseph Gearity, as he talks about the jacked up prices for Ranger protective face coverings/masks from third party outlets:
Hello to all who have decided to read this post. It's my first time ever contributing to a blog in anyway shape or form. So if I don't make any sense I do apologize haha. Thank you Sean for giving me this chance to get something off my chest.
I am a New York sports fan living outside Baltimore. My love of New York sports is intense. Diehard Yankees and Rangers fan. Have been for many years. Even when I lived outside of Philadelphia. With this ongoing pandemic I was invited to a group on Facebook that was making masks of New York teams. My two favorite teams! Now this is what really grinds my gears to the core. I am very fortunate to have my job. I am an essential employee. So during this pandemic I have been getting paid and going to work. But I have to wear a mask. It's not the end of the world. Just an inconvenience at times. Especially when my glasses fog up. That is the worst!
So the prices of these masks yeah. 30 dollars a pop! Out of donated material such as shirts jersey etc etc. god only knows. So if I would've ordered the three masks it would've cost me over 90 dollars….. 90 dollars for three masks. I was told many excuses that they are being made with pride by New Yorkers for New Yorkers etc etc. Ok, I'm fine with all that, however why are the same people in this group are also the same people that can afford to go to 5+ Ranger games a year at MSG?
It's always the same people. And trust me I know and I think we all know the cost it is to go to games there. I could find a better and an even NHL or MLB licensed masked on sites such as fanatics for as little as 15 dollars! The point I'm trying to make is the fact people are using hard times like this to rip off the fellow fan. I have a coworker at my job who has made over 3000 masks for less than 300 dollars. That's including the supplies and shipping! How can someone justify selling a piece of fabric for 30 dollars a piece? It makes no sense.
– Joseph Gearity
Thanks to Joe for his contribution tonight. Let's do some rapid fire now.
---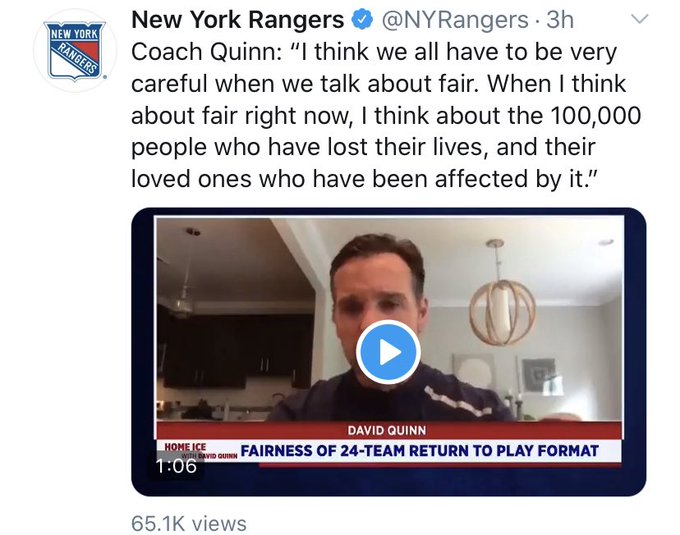 As we now look at some random topics in Rangerstown, USA right now, up first is the David Quinn quote that I posted above. Truth be told, I 100% believe and agree with what DQ is saying here. That said, I think we are now entering a society of "qualifying statements", as you can never get straight to the point without prefacing your point with something politically correct first. Listen, I get that might sound hypocritical for me, as these blogs routinely go over 10,000 words, but I never do the PC stuff here!
This isn't a DQ thing either, as I see this all over social media and in op-ed pieces. Even with every NHL return story, everyone has to say, "nothing is official yet, blah blah blah." I know I've done that myself too. The reason all of these qualifying statements occur, is because if you don't make one, these nasty liberals will then throw every -ism and -ist in the world at you, as you'll soon see when I get to the DeAngelo segment of this blog. You just can't say anything anymore, without worrying if you're going to offend some limp-wristed soy boy. SAD!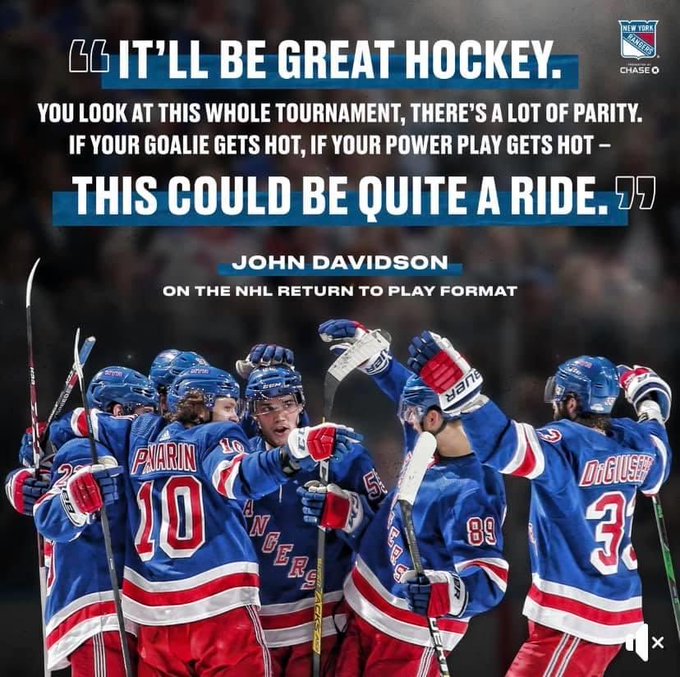 Prior to Davidson's zoom chat with NYR reporters, Larry Brooks wrote an article on why he thinks Henrik Lundqvist should be the starter in the 2020 playoffs. This article was so freaking terrible and perhaps the biggest example of a text fellatio, that I'm not even going to plug it here. When I read Larry's drivel, I had to wonder if he sent Lundqvist an engorged dick pic after writing it. Seriously, does Lundqvist pay Brooks by the word or is it just an annual salary?
Of course, there are twenty-something other players on the team, but when it comes to the Rangers and the playoffs, for Larry Brooks, it's all Lundqvist, all the time. It never ends.
After Brooks' love letter to Lundqvist in the NY Post, JD held his zoom chat, where guess what – the talk was mostly about Henrik Lundqvist. Not Igor Shestyorkin. Not Adam Fox. Not Mika Zibanejad. Not Artemi Panarin. Not Ryan Strome. Not Tony DeAngelo. Not Ryan Lindgren. Not Marc Staal. The Lundqvist love affair never ends, even if Lundqvist shouldn't even be dressed for these playoff games, as I opined in two of my most recent blogs.
The following transcript of JD's zoom call, comes from NYRangersNews.com:
On who will start in goal in the playoffs, "That is the coaches decision, they will make that when we get to it. In talking to Hank the other day, I know he has started skating, Sweden has been more open than most countries, he is planning to get ready. Shesterkin and Georgiev both of them, I know how hard they train and what they do. This is going to be a unique situation, our training center will open in the near future, it's going to be very strict and in turn, if we open around July 1 for training camp, I want all three guys to be ready. It might not even matter who starts, even though the first round will be shortened to five games to get into the playoffs, you just don't know who is going to get through camp, who is going to pull a groin muscle. Something could happen somewhere along the line so I want three guys ready and the coaches to make that decision as to who starts."
On what he has learned about Hank and his commitment for the Rangers, "No question, I envision the day, whenever it comes, that he rides into the sunset that he stays and works in NY with the Rangers, that would be a great thing to see. I remember, when I look back at the Rangers and doing TV, the first day that Hank showed up in training camp, I think he was 23 at the time. I leaned against the glass, where the media still to this day watch practice, and go 'that is a goalie, that guy is ready' and sure enough he has gone on with his career. It's hard, guys like myself have gone through this, I had to retire because of injury, I've seen Marty Brodeur, a lot of guys, the time comes eventually and I'm not saying the time is now for Hank, but somewhere when you get into your late-30s that decision has to be made. I look at him work every day, it's A-Plus, first class and he has handled himself very well. I will say this, that the communication with Hank, Benoit Allaire, David Quinn, myself and Jeff Gorton has been very very good. We all have a certain amount of respect that he has earned and we will see where it all goes. We are also in a position, we have to be very forward and honest, we are trying to build a team that will move on and be a championship team, that is the goal, we are working our way through this thing. I have an immense amount of respect for Hank, he has been extremely professional with everything we have done to this point."


---
Listen, I'm not going to bore you with my greatest hits on Lundqvist. You know my opinions already.
That said, things never change. Immediately after this zoom call, media outlets across the league, including NBC and the NHL, had feature stories with this headline: "Lundqvist Will Get Chance To Regain Starting Goalie Job For Rangers!" That's a real headline from Dan Rosen, of NHL.com.
Isn't it amazing Suzyn, that the headline wasn't this: "RANGERS RUSSIAN ROOKIE SENSATION IGOR SHESTYORKIN LOOKING FOR FIRST TASTE OF NHL PLAYOFF HOCKEY!" Of course, CZAR IGOR, who is the best goalie on the team today, takes a backseat to a relic of a bygone era. It's never what's best for the team, it's always about what's best for one over-the-hill goalie.
This all said, I will say, I expected JD to answer in the way he did. What else is he going to say? He has to support every player on the team. However, when the dust clears, I will bet you cash money, that barring injury, DQ will give CZAR IGOR the nod, against those miserable crybabies of Carolina.
And I'll also bet cash money with you on this too – if the NHL does allow amnesty clauses for the 2020-2021 season, the Rangers will buy out Lundqvist. No other buy-out would make more sense.
There were two more telling things from JD's zoom call. First, the minor news note, JD giving a vote of confidence to David Quinn. Once again, this comes from NYRangersNews.com:
On inheriting David Quinn and if he likes him, "I love the guy, I really do. Times change, coaches that are older have to evolve, I saw that with John Tortorella in Columbus. Everyone thought his career was done but he's changed and moved along, he's still Torts, but he understands the players. With David Quinn he has a little bit of everything, a great deal of passion, very good with young players, very good with older players. There is a special quality with that man that is neat. He has to retire early as a player because of Christams disease and just watching him work, I watched him with the Rangers when I was not with the Rangers and he pushes, pushes the right way, players respect him, there is a lot to like here. I don't think he's going to be a short-term coach, I think he has long-term passion which is really good."
I've said it before and I'll say it again – I love this three-headed triad, of John Davidson, Jeff Gorton & David Quinn. I feel they will all be part of a Stanley Cup here.
In the more important news item, JD talked Kaapo Kakko.
In the same zoom call, the topic of Kaapo Kakko was brought up. I know I've talked about this ever since he was drafted and all season long on these blogs, but in case you don't know,  Kaapo Kakko has celiac disease & diabetes. In turn, his condition puts him in the high risk category for the corona virus.
On Kakko, JD said this:
"I know that he's skating and working out like mad men to try to get ready to come back. I'm sure he's going to want to play, but at the same time, again, it's important for everybody to be taken care of regarding their health. It doesn't matter if you're a 19-year-old young player or if you're an older executive. Everything has to be done in the right fashion."

"If he, hypothetically, cannot play, he can't play. We're going to take care of him, he's a big part of us. If he can play, he's going to play and I'm sure he's going to want to play. But we listen to the science, we listen to the medical people, they're going to tell us what to do."
Prior to this statement by JD, video footage, coming from the Rangers, was shown of Kakko practicing with Alexandar Georgiev.
While it's too early to figure out if Kakko will play or not in these upcoming 2020 Stanley Cup playoffs, his status is something to keep in the back of your mind. He already missed games this season due to his medical condition.
As I've previously mentioned in the past, and as I shared with you from a BCBS reader who also has Celiac disease, people with this affliction have to be careful of their surroundings. For a teenager coming to a new country, Kakko has to be aware of what he's eating, the hotel he's in and everything else that an otherwise healthy person would take for granted.
I'm sure every effort and precaution will be made, in order to get Kakko on the ice for the 2020 Stanley Cup Playoffs. However, if the risk factor is too high, you can't blame the Rangers in the event they keep him home. When it comes to other high profile athletes and the corona virus, WWE wrestler Roman Reigns, a cancer survivor, has taken leave from the WWE. We shall see, once the other sports start to return, if other people with health issues, also stay put until this corona virus bullshit all ends.
One more story, and then we'll get into the second main event of this blog, in Tony DeAngelo.
If you're new to this blog or need a refresher, I think it's safe to say, that outside of his family, I'm one of the biggest Cam Talbot fans in the world. I'm not going to rehash everything, but if you want to read one of my best "clap-back" blogs, check out: https://bluecollarblueshirts.com/cm4717/
On Friday, May 29th, it was reported that Cam Talbot saved the University of Alabama-Huntsville NCAA Division I hockey program. It was this program, that gave Talbot his start, which then led to his NHL career.
Funny enough, one of my friends for 20+ years, who I met in my days in the pro wrestling business, currently works for minor league baseball. My friend, Rob S., is currently working with a minor league team in Huntsville, Alabama and first alerted me to this story when it first began.
For those not aware of the full story, check out this article, from NHL.com. The direct link is here:
https://www.nhl.com/news/flames-talbot-rescues-alabama-huntsville-hockey/c-317069242
For those too lazy to click the link, here's the story:
Aided by Cam Talbot, the University of Alabama-Huntsville NCAA Division I hockey program was reinstated by the school Friday after supporters raised more than $520,000 to save it.
The Calgary Flames goalie, who played for UAH from 2007-10, and backers of the 41-year-old hockey program had until the end of Friday to raise $500,000 or university officials would follow through on their announcement to end the program immediately due to budgetary concerns surrounding the coronavirus.

Talbot was the face of a GoFundMe effort launched by Alabama-Huntsville hockey alumni and supporters that raised $521,887 from 2,200 donors by late Friday afternoon.

"I'm extremely excited that the program will continue on," said Talbot, who has played 314 NHL games for the Flames, New York Rangers, Edmonton Oilers and Philadelphia Flyers. "Don't get us wrong, there's still a lot of work to be done. But this was the first hurdle and we couldn't be more ecstatic from the support we've gotten."

Talbot took to social media and asked people to donate to a GoFundMe effort after university officials said they would reconsider their decision if supporters of the team could raise a total of $750,000. The rest of the money came from separate gifts of $125,000 from former Alabama-Huntsville players Sheldon Wolitski and Taso Sofikitis.

"We are hopeful that this support will translate into a sustainable funding model that will allow the UAH hockey program to rise again to high levels of success," university president Darren Dawson said.

Dawson said the university woud form an advisory board to help keep the hockey program alive if the fundraising effort was successful. Talbot said he was asked to serve on the board, which would include UAH hockey alumni, business leaders and major donors.

"I never thought I'd ever join a board or even be asked to join one, so it kind of caught me off guard, to be honest with you," he said. "I don't know what I bring to the table, but I hope if I do join, I'll bring some sort of value to it."

Alabama-Huntsville is the only NCAA Division I hockey program in the Southeast. It won national championships as a Division II program in 1996 and 1998 before moving to Division I. The school has produced several professional players, including forward Jared Ross, who was the first Alabama-born player to reach the NHL and played 13 games for the Flyers from 2008-10.

The drive to save the program received help from members of the NHL community. Brian Burke, a Sportsnet hockey analyst and former NHL general manager and executive, donated $1,000.

"They've been a Division I program for decades, they've put players into the NHL, they've educated scores of other student-athletes," said Burke, who played hockey at Providence College. "I think it's an important program for the hockey family. We lost U.S. International University in San Diego (in 1988), that was a Division I program, we lost Northern Arizona (in 1985). And I just didn't want to see us lose another one."

Chicago Blackhawks forward Dylan Strome said he contributed $500 because "I have a few friends that play there. … So I felt it was right to donate some money to a good cause."

Blackhawks forward Patrick Kane, Strome's teammate, tweeted, "It's great to see the hockey community getting behind and showing support for @uahhockey. Help keep the dream and tradition alive for the Chargers hockey program."

Talbot said, "That helped a lot because he has a huge following. Hockey is a small community, so it's nice that everyone found it, found time for it and gave it a little bit of love, which was huge."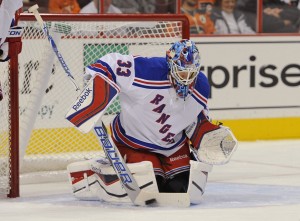 Congrats to Cam Talbot and the UAH hockey progam. If you're looking for a story about the positivity of social media, which many in the Rangers fan base claim they're seeking, this story is for you.
With the NHL always looking for new markets, and with the WHA having a history in Alabama, it's nice to see a hockey market saved.
On Twitter, Talbot also added the following statement:
Well what can I say that hasn't already been said. A huge thank you goes out to everyone who contributed to the gofundme page and to the people that worked tirelessly behind the scenes back in Huntsville to make this happen. We will #ChargeOn https://t.co/EraY6Ymqxe

— Cam Talbot (@ctalbot33) May 30, 2020
Once again, congrats to Cam Talbot and to Huntsville hockey.
And now, Tony DeAngelo time!
---
In the never-ending saga of Tony DeAngelo and the demented liberal fans who are offended every time TDA farts or coughs, TDA once again made headlines this week.
I have to say this before continuing – all of this is 100% retarded. I know the word "retarded" is a PC trigger word, but I don't give a flying Father Fink. No other adjective is more appropriate, when discussing these rubber room basement rejects.
Truth be told, I have never seen a fan base go after their own player like this. Say what you want about my stuff on Lundqvist, but all of my opinions on that topic have always been hockey related. I'm not going to go into everything on my opinions on Lundqvist here, so just check the archives of this site if you want more. When it comes to DeAngelo specifically, who just had the best regular season by a Rangers defensemen since the days of Brian Leetch, the vitriol for this guy is unprecedented.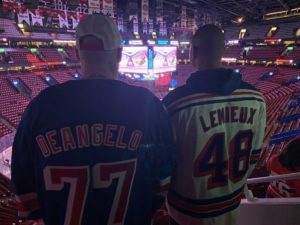 As recent of 4/26, I did another in-depth look on DeAngelo and the Rachel Maddow NYR Twidiots. You can read that blog here: https://bluecollarblueshirts.com/42620/
(Of note, the reason why I plug past blogs, is not for the cheap web traffic. If I wanted that, I'd just break up these 10,000 word manifestos into 76786786789 different columns, like other Ranger blogs do. I just hate rewriting what I've previously written in long-form.)
In the latest edition of "As the World Turns, with Tony DeAngelo", DeAngelo this week, once again was attacked, accused of all the -ism's in the world and had these limp-wristed losers begging the official Twitter account of the NY Rangers to silence him. What caused all of this? DeAngelo wants to do a podcast. Imagine that! For all these people who ask the Rangers to be more interactive, Strome, DeAngelo & Lemieux, the most interactive Ranger players on social media, have to deal with a never-ending heap of bullshit from these treasonous Ranger fans.
And I'm not trying to be funny here. Time and time again, I see Ranger fans wanting players to be more interactive and to engage on social media. The three players that make an active effort to do so, are just met with negative bullshit non-stop. In fact, Ryan Strome, who was very interactive, took a timeout, as he felt dealing with these retards wasn't worth his time. (My words, not his.)
As I write these words, I feel like I'm in repeat mode. It never ends with these hypocritical cucks – who in one breath, preach anti-bullying campaigns, positivity and for a safe space experience, but in their next breath, treat Tony DeAngelo like a witch from the Salem Witch Trials of 1693.
I know everyone doesn't do the Twitter, but if you do, to really get a full grasp of everything, you have to check the comments beneath every TDA tweet. While TDA has his supporters, like yours truly, there are a ton of people, 99% of them who live with their parents, who troll TDA under their own Twitter account and the 8067767786789 burner accounts they have created.
The latest TDA witch hunt started on May 26th, when TDA announced that he was going to start a podcast. Again, one more time here, check the comments from the hypocritical twidiots, who only hate TDA because their political beliefs differ from his:
Podcast name ideas. None of my own so far but have some ideas from people. Narrow it down and feel free to give your own idea!

— Tony DeAngelo (@TonyDee07) May 26, 2020
Again, and I know I've said this 69697766 times on these blogs, I don't give one flying Father Fink who these players align with politically. Just win. In fact, on his new podcast, TDA can renounce Donald Trump, say he wants to finger-blast AOC & hashtag #ImWithHer , and I wouldn't care. All I care about is the Rangers winning and TDA is a huge asset in that department.
Also of note, the upcoming TDA podcast will be entitled, "Watch Your Tone". It's a shame, my "Dishin' with DeMAGAngelo" idea (thanks @NYRKELSMADS) was never considered. SAD!
As TDA continued on Twitter this week, he teased what his podcast would be about:
Sports. General stuff. Politics we'll see about that one! https://t.co/5P4wVSyClD

— Tony DeAngelo (@TonyDee07) May 28, 2020
Due to the majority of Twitter leaning left, this set off these crybaby liberal twunts. While I don't want to really dive into this topic, keep in mind, this is also the same week where Twitter started editing and adding notes to the tweets of President Donald Trump. You also have the George Floyd & riot stories going on too, so this has been an ultra-charged political week on Twitter and on social media in general.
And again, I don't want to get into all of this, but things have gotten so out of hand, with Twitter interfering with Donald Trump, that Trump signed legislation about social media platforms & their regulations this week. Do your own research on this stuff, as I don't want to get bogged down talking about all of the crooks and crevices about this topic.
The biggest TDA tweet of Friday, May 29th, came when TDA said this:
The name of the podcast will be "Watch Your Tone". Looking forward to it! We will be talking a lot of hockey but all sports as well and general "stuff" First episode will be out within the next two weeks we think. We will be taking some questions on Episode 1 so start thinking!

— Tony DeAngelo (@TonyDee07) May 29, 2020
This tweet led to two immediate responses. The first response? TDA's buddy Brendan Lemieux, who tweeted (and then deleted) the following: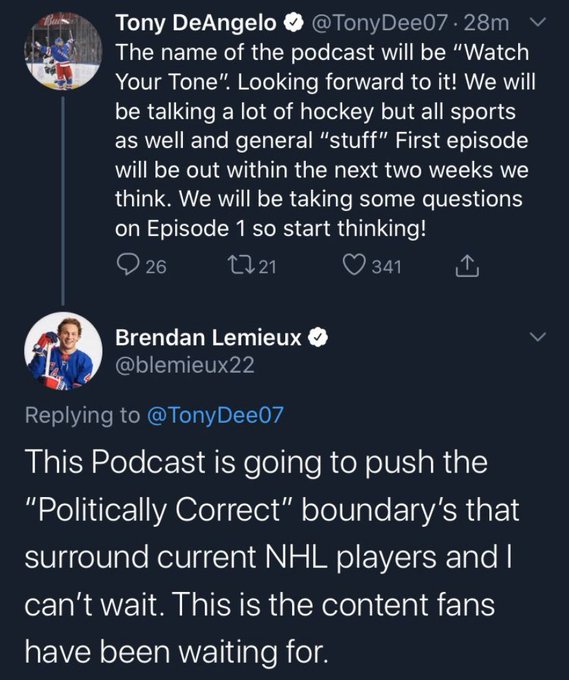 If only Lemieux was to be true here, and TDA did embrace his audience. After all, no matter what TDA does, people are going to hate him. He may as well do an hour podcast on Trump every week and play to his audience. Plus, as someone who is sick of the liberal agenda, I feel you have to fight back against these cancel culture cretins. You can't let them win, with all their self-serving & two-faced bullshit. May as well go all in, if you're TDA.
The other big response here? The official @NYRangers twitter account retweeted Tony's tweet, only to take it down an hour later. Cancel Culture won here, as there was so much backlash from these liberal loonies, that the Rangers twitter account decided to delete their tweet promoting DeAngelo's podcast, rather than dealing with these morons with their 3743737347373 multiplied by pi, twitter accounts.
One more time – in a week where Twitter is actively editing/adding comments about Donald Trump's tweets, the Rangers backed off on TDA, rather than supporting his podcast as originally intended. Instead of fighting back, the Rangers caved to a loud minority of crybabies & their multiple Twitter accounts.
This also led to ESPN "reporter", Greg Wyshynski, who has tweeted out foul things about WWE female wrestlers in the past, trying to play the woke ace reporter. He wrote some self-serving bullshit, saying, "The New York Rangers are not affiliated with "Watch Your Tone," a new podcast hosted by defenseman Tony DeAngelo, despite having briefly promoted it on their official Twitter feed on Friday. The podcast, which has yet to debut, kicked up a controversy…"
Let's stop right there. What controversy? Liberals crying? They cry about everything. In fact, farmers love liberals during drought season, as all of their crocodile tears can water all the crops in America, for eons and eons of time! What Mr. Wyshynski was doing here, was tweeting for click-bait. He even claimed Ranger fans asked him for his opinions on TDA's upcoming podcast, despite no evidence stating this faux claim.
In addition, you also had all these Ranger bloggers, who live with their parents, despite being 30 years of age and older, denouncing TDA for having the "audacity" for starting a podcast. You see, to these scumbags, you must live in the liberal bubble. No other idea must be entertained.
And let me be clear here, because I know I'm coming off very anti-left here and I know that will piss off some readers – as mentioned previously on these blogs, I voted for Obama twice (I didn't like Palin as VP & I wasn't going to vote for a Mormon who believes in magic underwear in Mitt Romney) and I've been watching Bill Maher since the 1990's. I felt Trump was the best man for the job in 2016, and I still feel that way in 2020. I also feel that liberal politics have gotten so perverted and diverted from their original agenda. I mean, you got these assholes rioting and looting cities; the same assholes who are fighting for transgender prison abortions.
Somewhere along the way, liberal politics went from ideas against the normal grain, to something so extreme, that no joke, these liberals are even defending pedophiles in the modern day. Again, I'm not joking here. These extreme liberals feel that pedophilia is a mental thing. I wonder how they would feel about having these people in their home and in their communities?
Maybe I'm sharing too much here, but it's my blog and I'll blog if I want to!
Knowing the political landscape this week, and knowing how these hypocritical liberal Rachel Maddow NYR twitter fans promote a party of peace, anti-bullying, pure positivity and all that; let me just show you a quick sample of how these animals responded to TDA, and his simple announcement of launching a podcast: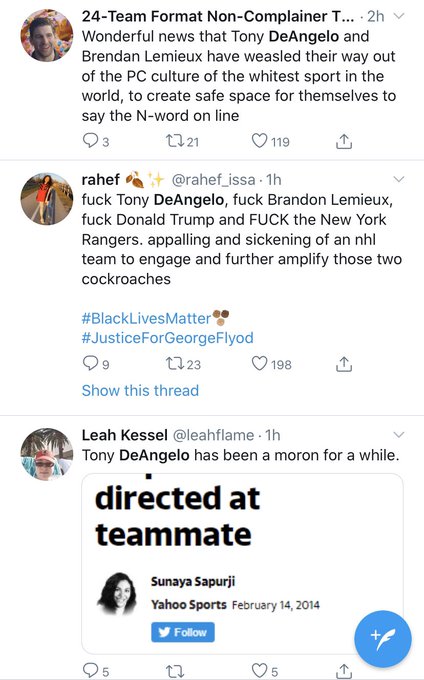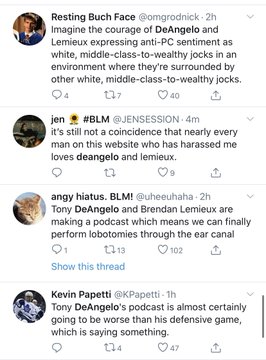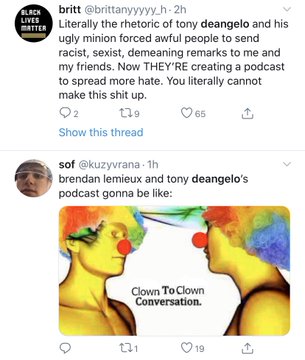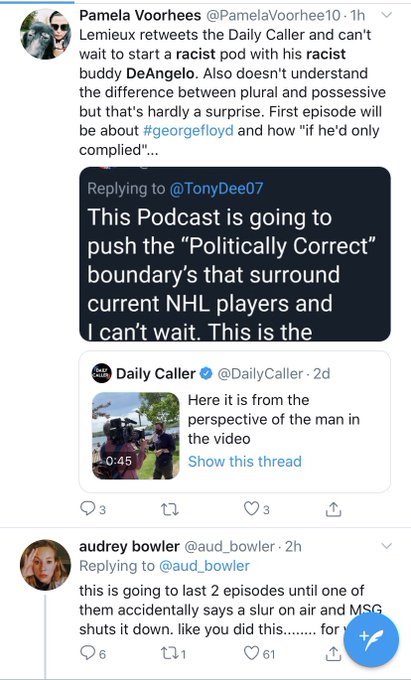 2020 and NYR fans are already offended about a podcast they didn't even hear yet. SAD!
Unfortunately for TDA, who is trying to increase his brand during a contract year, he's mostly likely going to wind up neutered, if he even gets this podcast off the ground at all. I am 100% sure, that TDA will never say this publicly, but I feel, deep down, that both NYR & his agent, have told him to calm it down.
After all, while the Rangers front office, the owner and many of the players all support Donald Trump privately; it's not a popular opinion to have on a demented liberal leftist platform, which Twitter is. (Side note, follow me on the new uncensored Parler platform, @NYCTHEMIC . I know Ron Duguay is there, and really, DeAngelo should go there too, and escape the nonsensical wrath of these Twitter bitches!)
It's just a shame. TDA has been a great player for the Rangers, but because he's patriotic and openly supports his country, he and his family have to deal with bullshit on an every day basis.
And let me add this – even if I didn't agree with TDA politically, I would still defend his right to believe what he believes. CZAR IGOR & Mike Richter could come out with a podcast called "WE WANT LIBERAL PENIS UP OUR POOP CHUTES" and I would defend their right to have such a podcast. And hell, as you've seen from my podcast reports on this site, I'd listen to it too!
When you break it down, that's the biggest problem here – liberals don't want to listen to the other side, nevermind the notion of even entertaining another opinion. Again, I'm a Trump guy, full disclosure, but I watch Bill Maher every week. I watch MSNBC. I don't have to agree with these people, but I do like to get the other side, in an effort to understand where they are coming from. (And really, Bill Maher hated Trump way before Trump even considered running for President, which is why I value Maher's opinion a lot. Plus, I loved his movie "Religulous".)
This blog and this segment on TDA is going too long. I know it. So let me wrap this up by saying I feel bad for TDA. It feels like he'll never win with a large segment of Ranger fans. He could put up a hat trick every night, and there will still be fans complaining about him. The fact that the Rangers twitter account went from supporting him to ghosting him, well that speaks volumes.
As I close this manifesto out, let me give a huge shout out to @NYRANGERS_87 on Twitter, who chose me as his winner of this signed photo giveaway. I've been told that this signed 16×20 photo, pictured above, retails for $1000. I will tell you this now, while I haven't received this picture yet (I did get a tracking number) there is no shot in hell I'd ever sell it. Once I receive this signed photo of Rangers greats (I need to get a signed TDA photo one of these days too, if not my MAGA hat signed by him!) I'm framing it and hanging it right above this computer I'm typing to you from now!
Whew, this was a long one, and I didn't even do my podcast wrap-up in this blog. Real quick, check out the new podcasts from @RonDuguay10 & @TheBSUShow for other Ranger-themed opinion/news.
Subscribe to this blog by clicking the button below, so you don't miss the next update: