Greetings and salutations everyone and welcome to another blog here on BlueCollarBlueShirts.com, as we enter a new week of the liberal apocalypse. Whether it's statues being taken down, "Gone From the Wind" being deemed too offensive to air by HBO (the same HBO that has brought us shows like "Oz", "The Sopranos" and "The Wire"), people destroying property all across America, and an all-out war against police officers, it seems like no one is safe these days. Don't believe me? Just ask David Dorn. Oh wait, you can't, as he was just another victim of these "peaceful protests." You have to wonder if Dorn will get the same media attention and as many funerals as a career criminal who put a gun on a pregnant woman during a robbery? Sadly, we know the answer – Dorn won't.
Hell, if you click this link here, you can read about how the deranged loony liberals now want to cancel cartoon police dogs from children TV shows. And truth be told, the main reason I care about "Paw Patrol" is because my nieces' love that show! These leftist sickos now want happy police dogs eradicated from TV. SAD!
What's next, the systematic liberal take down of McGruff The Crime Dog?
As has been the tone in my most recent blogs, it's just unavoidable to talk politics and the state of the world, when talking sports, here in June of 2020. As George Costanza once famously said, on an episode of "Seinfeld", "WORLDS ARE COLLIDING!" To bite off Mr. Costanza here, "SPORTS SEAN IS COLLIDING WITH POLITICS SEAN!"
I mean really, what's next after all of this? The Village Police kicking out the police officer? Some YMCA!
Speaking of my most recent blogs, what a segue way to get into the PLUGS section of this particular blog you're reading right now. Say it with me folks – "here are my last few blogs in case you missed them:"
---
---
---
---
---
If you use social media to get your sports news these days, it's quite the ordeal. You have to scroll through endless upon endless political commentaries, not just from regular people, but from people in sports too. I'm just as guilty as anyone of this. Look at the blog you're reading now after all! It's hard to ignore the world around you. In addition, with the sports world in a state of pause, there's not much else to talk about.
I've talked aplenty about all the George Floyd & Derek Chauvin stuff in my last two blogs, so I don't want to rehash all of that. That said, it just amazes me how big and how much support cancel culture has received in recent weeks. Whatever happened to Winston Churchill's old quote of "Those who fail to learn from history are condemned to repeat it." Is Churchill canceled too?
The biggest problem with cancel culture, is that even if you believe in all of their zany ideas, it is that they are judging everyone and everything, through the year 2020 and 20/20 hindsight vision. Christopher Columbus is now looked at as if he was a pedophile, who killed dogs and ate grandmothers in his free time, from some of these nut-bags. Are you really going to pick through every aspect of Christopher Columbus and his life in 1492, based on the world in 2020? Why not cancel George Washington next? After all, he had slaves and he wasn't for equal rights. He just wanted to be liberated from England.
If you're a regular reader of these blogs, you know my penchant for history, whether it be American, world or hockey history. I just look at all of this modern liberal McCarthyism of today, where everyone they don't like is called a racist and how everything is now offensive. I wonder how many creative ideas, that have now been stifled, in fear of saying something that makes you the next target of cancel culture?
The fact is this – to fight cancel culture, people must be willing to cancel "cancel culture". It's time for people to pull up their big boy pants, and fight back against these never-ending liberal finger-pointers, who will twist anything you've ever said and accuse you of every -ism and -ist in the world.
Can you imagine what history books will look like in 100 years if liberals have their way? I can see it now, should liberalism be able to sustain itself for 100 years:
"America was founded in 2020, after Saint Floyd sacrificed himself for America. Judas Chauvin's actions led to settlers demanding primitive police forces to be shut down. Tony DeAngelo was the devil. Upon winning the 2024 Presidential Election, President Bill Deblasio renamed President Trump's "White House" and called it the "Black Domicile." It was also in 2024, where the formerly racist named city, of Washington, District of Columbia, was renamed to Saint George Floydville."
You get the rest and what I'm saying here.

Like I said a few blogs ago – I miss Rudy Giuliani as the mayor here. Can you imagine if 9/11 occurred under Deblasio's watch? You would have Deblasio and all of these wackos saying, "YOU'RE A RACIST IF YOU HATE BIN LADEN AND BRING UP THE MUSLIM FAITH. BIN LADEN HAS EVERY RIGHT TO PROTEST AMERICA EVEN IF IT'S DESTRUCTIVE. IT WOULD BE CONSTRUCTIVE IF YOU LISTENED TO HIS MESSAGE AND NOT THE TWO BUILDINGS BURNING DOWN!"
And you know what's amazing Suzyn? All you heard from liberals after 9/11, was how it was only one bad Muslim out of a million. I don't know how true that is. After all, and in something that liberals avoid talking about, Muslims hate homosexuals, as in some parts of the world, Muslim people stone homosexuals to death, even here in 2020. And let's not get into how the Muslim faith and cities treat their women either. These nice facts are always ignored. That said, if you're going to say Bin Laden was just one rotten apple, then couldn't you say the same about Derek Chauvin?
I know many of you don't come here for me to yammer on about politics, so I'll cut this rant off here. However, I must warn you, the Rangers were back in the news this week, over a political issue. That is why I'm talking politics here and that's why I'll have to talk about politics again on this blog. Again, all of this stuff is unavoidable and in-your-face 24/7, that you just can't put your head in the sand about the news.
(And because several of you have asked me on social media and on the email, if you're looking for a good independent political writer, check out my buddy of over 25 years, in Carmine Sabia, with his https://sabiareport.com/ website.)
In more positive news – hockey is back! Sort of. That said, there were members of the Rangers practicing this week and everything looks full-steam ahead, as we approach the official training camp date of July 11th. Any hockey is better than no hockey. Once again, kudos to commissioner Gary Bettman, for putting together a plan before any of his peers. What's going on in baseball right now is ridiculous.
I can't be the only one who thought the following after seeing the picture above – JD looks like he's about to take his grandkids to the beach! However, JD traded in the shovels and sandcastles for hockey sticks and pucks, as he attended day one of the Rangers optional practice on Tuesday.
On Monday, NHL.com gave an update on the voluntary Phase 2 workouts. You can read the full story here: https://www.nhl.com/news/phase-2-begins-with-voluntary-workouts/c-317114274
For those too lazy to click the article, here are the highlights of the piece, courtesy of NHL.com:
NHL Deputy Commissioner Bill Daly told TSN last week that teams are allowed to decide when they want to open.
"Clubs are approaching it differently depending on their circumstances," Daly said.

The Deputy Commissioner said he expected all 24 teams in the Return to Play Plan to open prior to the transition to Phase 3, the start of training camps, which will not occur before July 10.

"I have talked with the players and they will tell us when they think we should open," St. Louis Blues general manager Doug Armstrong told the St. Louis Post-Dispatch. "If they feel comfortable training as they are (currently), they should. When they want us to open, we will."

A date for Phase 4, which would be the start of play in the Stanley Cup Qualifiers leading into the Stanley Cup Playoffs, has not been determined.

The NHL season was paused March 12 due to concerns surrounding the coronavirus and facilities were closed. The NHL announced last week that teams would be permitted to reopen their training facilities to allow players to participate in individualized training activities (off-ice and on-ice). Players will be participating on a voluntary basis, and workouts will be limited to a maximum of six players at any time, plus a limited number of staff.

All teams must adhere to the Phase 2 Protocol that was released by the NHL and NHL Players' Association on May 25. The 21-page document is intended to provide players with a safe and controlled environment to resume their conditioning.

"Even if a player decides he doesn't want to start skating Monday, Tuesday or Wednesday, at least he knows he has the option, and there's a comfortability with that," Islanders general manager Lou Lamoriello said.

---
When it comes to these voluntary practices around the league, the media is closed off from attending. These practices are only attended by a select few people, people who have ties with the organization. In other words – no media.
According to the NHL's Phase 2 return, here is who allowed, and what's allowed, at these voluntary practices, with the following once again, coming from NHL.com:
— Player-only" non-contact skates. No coaches, skating coaches, other Club employees or Club contracted representatives may participate in any on-ice sessions.

— On-ice time shall be divided equally between the skaters within each small group (goaltenders may be provided additional ice time). When Players are not participating in on-ice activities they will be permitted to utilize the Club's exercise and weight room equipment, or receive individual treatment from the Club's Medical/Training Staff.

— Weight training that does not include the need for a spotter;

— Circuit-based activities such as resistance training;

— Cardiovascular exercises and endurance training; and

— Rehabilitation and treatment for Players with on-going disabling injuries and for Players with non-disabling injuries, may be provided as directed by Club Medical/Training staff.

---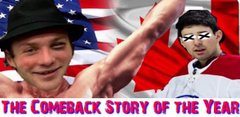 The NY Post, which is really the only news outlet in NY that has multiple reporters dedicated to covering the Rangers, had a brief news update this week on the Rangers and this Phase 2 return.
According to the NY Post, Chris Kreider, Adam Fox, Marc Staal, Brendan Smith, Phil Di Giuseppe and Brendan Lemieux, all attended the first voluntary practice. It's also being reported that Artemi Panarin and Julien Gauthier are also local right now, but still need to undergo COVID-19 testing, before taking the ice themselves.
In something I didn't know, CZAR IGOR SHESTYORKIN is currently in Florida, where he is practicing.
In her article, Mollie Walker reported the following:

I would like to know more about this. How does CZAR IGOR, who just touched American soil for the first time last year, already have a place in Florida? I know Artemi Panarin has a house in Florida, but with Panarin in New York right now, I wonder if CZAR IGOR has his own digs there, or is the guest of someone?
When it comes to the three-headed triad of Ranger goalies, Henrik Lundqvist is still in Sweden, where he has been practicing. I'm not exactly sure where Alexandar Georgiev is right now, but there have been videos of him practicing with Kaapo Kakko. If there is anything we do know for a fact, it is that all three Ranger goaltenders are practicing and on the ice right now, even if it's not in New York.
It's also been reported, from once again Mollie Walker, who said the following on a recent episode of Ron Duguay's "Up in the Blueseats" podcast, that James Dolan & the Rangers, purchased plastic skate boards for everyone on the roster, so the players could keep their legs and skate game going.
While obviously there will be some rust and some time needed to get back into hockey-shape, it looks like the Rangers have made the best out of a bad situation. And I'll get more into James Dolan in a second, but this is example #78678678678967896896 of no matter what you want to say about him, you can never accuse him of being cheap. He will spend money on anything, that will help give his team an edge, whether it's the best doctors, best food, best travel accommodations, or in this case, the best off-ice practice equipment.
As far as other Rangers and on-ice news, that's about it. The bigger stories, as it has been for a while now, all happened off ice, with the sports world meeting the political world stories, topping all of the Rangers news headlines.
---
During my last two blogs, I recapped the crazy hysterics from these super liberal social justice warriors, who were OFFENDED that the Rangers didn't release a positive statement supporting Black Lives Matter and/or disparaging the New York Police Department. On those blogs, I brought up Steven McDonald and the "Extra Effort" award named after him, which to this day, is the single most prestigious award that only a New York Ranger can have bestowed upon him.
Long story short here, in recapping my thoughts from those blogs – the Rangers, never in a million years, will say anything anti-NYPD. NYR & NYPD have had a long lasting and positive relationship, which started way back in 1926 and which continues to exist to this very day. Unlike many of these basement bozos, the Rangers also don't have short memories either: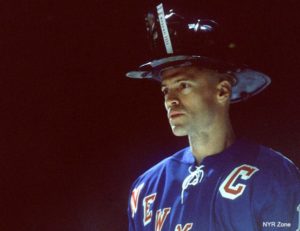 The truth of the matter is that here in June of 2020, we live in a world where fans and consumers demand statements from every entity and company in the world. No joke, you can't get away from it. Whether it's my email, playing NHL 2020 on PS4, Netflix, Amazon, Twitter or anything else I use or support, I'm inundated with "BLACK LIVES MATTER" messages. It also turns out that June is PRIDE month, which means several of these messages are accompanied by rainbows too. Even if you want to get out of the political stuff in your everyday life, because of the public outcry if a company or team doesn't say something, you're forced to see all of this stuff 24/7.
And as I said a few blogs ago, while the Black Lives Matter movement is something I wouldn't support personally (I believe every life matters and I'm not down with rioting, looting and cancel culture) I don't care who supports it. You want to support it? That's fine by me. That's your right. Everyone is entitled to their opinion. However, the difference is, and as I mentioned with the DeAngelo stuff all season long, when it comes to the party of peace, you know, the tolerant liberals, who say that they are all for free speech and the exchange of independent thought, those ideas only work as long as your views align with theirs. You're not allowed to have a different opinion, because if you do, that's when all the -ism's and ist's get thrown at you.
Furthermore, when it comes to all the LGTBQPIis3.14 stuff, I support gay rights, gay marriage, and their message. I don't give a crap who lives with who, who kisses who and who marries who. Everyone is entitled to be happy and live their life, in my opinion. That said, I just don't need to see it 24/7. I don't need a whole month of emails dedicated towards it.
Perhaps it's because I live in liberal NY, which may put me in a bubble, but I'm not aware of anyone who is not allowed to marry, buy a home, adopt a kid, or whatever else that a straight person can do that a gay person can't. I just think we're now in a world, where everyone is forced to send out flowery statements of platitudes, just to be politically correct. After all, is your life really ruined if you don't get a "WE LOVE GAY PRIDE" message from Best Buy or CVS?
I guess what I'm really saying here is that I don't need statements upon statements. I just don't care how a company feels. If Chik-Fil-A wants to be super conservative and maintain strong Christian values, be my guest. If Amazon wants to donate to BLM gay parades, be my guest. I just don't need to be bombarded with statements and emails from these companies, no matter which way they lean.
That all out of the way, in this now strongly charged PC world, every company and every team now feels like they have to cover all of their bases with statements, before having all the -ism and -ist accusations thrown their way.
After not saying anything, James Dolan's two teams, in the Knicks and in the Rangers, were the last domino to fall in their respective leagues. After watching every other team in the NBA & the NHL make statements, Dolan's two franchises finally kowtowed and gave the liberals something to chew on. Of course, as you'll soon see, despite the Rangers & Knicks pandering and trying to fan the liberal flames away, it wasn't enough for these people.
On Tuesday, June 9th, after being radio silent for nearly a week (the last tweet prior to this one from the Rangers, was about sheep-herding) the Rangers tweeted out the following platitude:
I'll tell you what – it's not only a shame that the Rangers caved into the cries from these limp-wristed soy boy basement bozos, it's a bigger shame that after the Rangers made this statement, these "Ranger fans", continued with their "(insert player here) IS A RACIST!" BS rhetoric. SAD!
No joke, while 99% of the response was negative from the SJW crowd, some of the negative responses then saw fans accuse Tony DeAngelo and Brendan Lemieux of being racists. These fans then accused James Dolan of being a racist. Ranger fans were accused of being a racist for supporting the Rangers. It just never ends.
I talked about this recently on one of these blogs, and it's worth repeating again – this liberal lynch mob have devalued the word racist. The word racist means nothing. It's like calling someone an asshole now. A word that once held serious ramifications and was a serious accusation, is no greater than calling someone a dickhead today.
The saddest thing about all of this – none of these people who liberally throw the word racist around, as if they were pouring water out of a sink, truly know what the word means.
Let's talk facts instead of opinion here.
You can not find one time EVER, where the New York Rangers or James Dolan himself, ever denied an opportunity to a non-white player/front office/staff or anyone else. Calling either party racist is foolish and is pure slander.
You can say Dolan isn't the greatest owner, the greatest drinker or the greatest guitarist and that's fine, BUT THERE IS NOTHING, ABSOLUTELY NOTHING, that he or the New York Rangers ever
did, that can be considered racist.
And save me the bullshit – supporting the hardworking men and women of NYPD is not racist. That's commendable, or at least it was before the liberal pitchfork crowd took over social media.
Lastly on Dolan himself, I know people will bring up the Charles Oakley & Spike Lee incidents, in regards to Dolan, but neither incident had racial motives behind them. Sometimes Dolan is a dick. That's fine. But racist? Hell no.
What is always lost by these "Ranger fans",  these same people who will go on Twitter and see someone say "I like apples", and then reply 89677867896 times saying, "YOU'RE RACIST! WHAT ABOUT ORANGES! DO YOU HATE BANANAS TOO, YOU MAGA ASSHOLE!", is about all the work James Dolan, the Rangers, the Rangers alumni and the Garden of Dreams (a charity created by Dolan) does for minority communities.
For over 30+ years, Dolan, his team and his charities, have gone out of their way to promote hockey in communities that would otherwise not be able to afford hockey equipment. I've made this point in the past before – it's easy for kids to play basketball. All you gotta do is have $10 for a ball and find a park. When it comes to playing hockey, it's a lot more expensive, from the gear, getting ice time, etc.
If anything, James Dolan has made himself a target for people and fans, due to his failure to win championships in 50+ combined seasons as owner of the Rangers & the Knicks, in addition to all the off-the-court and off-the-ice shenanigans while owner of these two franchises, which are not race-related. When it comes to his two teams, since the Knicks and the NBA are bigger than the Rangers & the NHL in America, most of the wrath that Dolan receives comes from Knick fans, rather than from Ranger fans.
I just wish, that these same people who use all of their energy to make up bullshit and call Dolan a racist, would actually take that same energy and look at all the good Dolan does too. Dolan's charities and the Rangers, have been promoting hockey in predominately black Harlem for 30 years now, despite not one NHL player ever coming out of Harlem. For Dolan, it's all about giving these kids a better life and the experience. There's no financial gain. There is no grooming/recruiting process. It's about enriching the less fortunate. What a racist, huh?
I don't think the Rangers needed to make a statement. I understand why they did. Of course, people with agendas will twist anything to fit their modus operandi, with the biggest offender of this practice being another Rangers blogger, in Adam Hermtrans.
IMMEDIATELY after Dolan's statement, not only did Hermtrans go after Dolan and the Rangers for not apologizing enough (THEY DIDN'T EVEN DO ANYTHING WRONG!) Hermtrans then took to one of his favorite targets, in Tony DeAngelo.
In other words, Hermtrans, despite being deeply offended and sore by Dolan & the Rangers lack of apology, STILL HAD IT IN HIM, to go after DeAngelo. So much for the anti-bully campaign, huh?
(And before pressing on, let me address what my critics will now say. "YOU HATE LUNDQVIST AND HIS CONTRACT WAA WAA WAA!"
While I wish the Rangers would've moved on from Lundqvist after 2015, ALL OF MY OPINIONS ON LUNDQVIST HAVE ALWAYS BEEN HOCKEY RELATED! I don't care about his politics or what he does off-the-ice. I've hated that contract forever. It's always been about HOCKEY and my opinions on what I think will help the Rangers win the Cup. When it comes to DeAngelo, there are a large portion of fans, DESPITE DEANGELO HAVING THE BEST OFFENSIVE SEASON AS A RANGERS DEFENSEMAN SINCE THE DAYS OF BRIAN LEETCH, who only hate him because of DeAngelo's political views. That's the difference. My opinions on Lundqvist have always been 100% hockey related. For DeAngelo's detractors, they have the opposite and warped mentality.)
After the Rangers statement, here is what Hermtrans tweeted out, in a rapid-fire way:
There were more tweets that Hermtrans sent out on the topic, but it's just nauseating to go through them all.
I've talked a lot about Tony DeAngelo on this site, because since he isn't a liberal, and because he has no issues making that clear, these social media justice warriors attack him for every little thing. Your pizza was cold? TDA's fault. You missed a spot wiping? TDA's fault. You stubbed your toe? TDA's fault.
I've also said this before, and credit to TDA for hanging in there – these fans want more interaction from players, but the most interactive player on the Rangers roster, in TDA, gets attacked daily from these cruel cretins. These same cruel cretins, even ran Ryan Strome off of Twitter. Prior to the attacks on Strome, Strome was just like TDA, always interactive and engaging with Ranger fans.
TDA, who has become a lightning rod of controversy, despite doing NOTHING to have earned that title, couldn't sit back idly. TDA quickly responded on Twitter, in regards to the bullshit Hermtrans was putting out about him: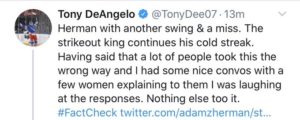 Stop me if you heard this before – but we now live in a world of prefacing qualifying statements. You can't say anything anymore. I don't know how stand-up comics survive in 2020, since the majority of these SJW losers have no sense of humor. You can't laugh about anything. Everything you say has to be distorted. Here was TDA sharing a joke, and it wasn't women who were offended, it was this salty little bitch named Adam Hermtrans! Go figure!
Despite TDA publicly spanking Hermtrans, Hermtrans continued his faux outrage, with these exhausting tweets: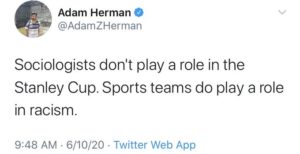 Again, this Hermtrans guy is just lost in trying to be offended by everything. The Rangers have been working with black communities for 30+ years, in an attempt to promote hockey to kids who otherwise couldn't afford to play.
Not mentioned once, in any of Hermtrans' tirades, were the work the Garden of Dreams and the Rangers have done for the black community. Hermtrans would rather falsely pontificate with alleged accusations of racism, rather than talk the entire story.
One more time – if you don't believe me here, please show me one example of James Dolan, the Garden of Dreams or the Rangers, of doing anything that could be classified as racist. It just doesn't exist folks.
While on the topic of these bullshit fake news writers, let's also take a look at Sean Hacknett. Remember him?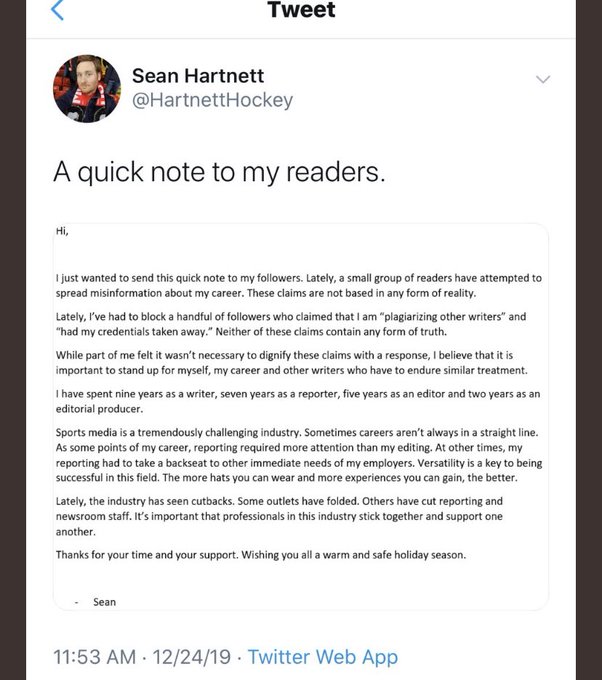 If you need a refresher on resident WFAN scribe Sean Hacknett, check out: https://bluecollarblueshirts.com/1227ck/
When it comes to Sean Hacknett and Adam Hermtrans, they both share the opinion of being a liberal who must attack anyone who disagrees with their political ideology. However, the biggest difference between the two, is like yours truly, Adam Hermtrans is just a blogger. While he creates waves (and I know I do too) at the end of the day, he's not representing anyone but himself. All of the stuff he writes is his opinion, whether you agree with it or not. He is not the voice of any media conglomerate, no matter how big or how small.
When it comes to Hacknett, someone who fancies himself as a reporter (even if he doesn't have press credentials and spends most of his time recapping Rick Carpiniello articles) Hacknett does work for a major outfit in New York, as he works for WFAN.
I just want to share a few recent tweets that were sent to me, which Hacknett has sent out over the last two weeks:
Is Hacknett freaking kidding me here? Hacknett hates ALEX OVECHKIN, over POLITICS? What a Father Finkin' CLOWN!
I've talked so much about Ovi on these blogs, so I'm not going to rehash everything. However, long story short, when it comes to the NHL and ambassadors of the game, THERE IS NO GREATER AMBASSADOR FOR THE LEAGUE, than Alex Ovechkin.
Do your own research here. Hundreds upon hundreds of times, Ovechkin, while ON THE ROAD, will find little kids in the stands. He'll give those kids his stick, a puck, his jersey, a photo-op or something else, to help enhance the child's experience at a game. There are countless upon countless of stories, where Ovechkin brings kids to the locker room to meet the players. By doing all of this, he's created fans of his for life and fans of the league for life.
And when Ovi won that Cup in 2018, who partied and celebrated the Cup's magnitude and legacy better than Ovechkin?
Ovechkin is one of the friendliest superstars in the league and one of the most charitable at that too. For this pile of shit, Sean Hacknett, to attack Ovechkin, just because his political beliefs aren't the same as his, well that's one huge crock of shit. I hope WFAN takes notice. How can you employ a guy, who is telling you that he can't cover his topic, which is hockey, objectively? Hacknett has now made himself a story rather than covering stories. That's a Journalism 101 no-no.
YUCK! And I'll close this rant on Hacknett with this – I follow other WFAN writers. Not one of them have mentioned politics or their view on a player during the course of all of this. They have all kept it professional. If Cancel Culture is going to nab anyone, it should be Hacknett!
Speaking of Ovechkin, let's go to one of the goalies he always lights up, in Henrik Lundqvist.
On Tuesday, June 9th, the NHL announced their candidates for the 2020 Bill Masterton Memorial Trophy. You can find the article on this story here: https://www.nhl.com/news/2019-2020-bill-masterton-memorial-trophy-nominations-announced/c-317120414
Furthermore, here is the complete list of players in the running for the award:
For those who don't know, the Bill Masterton Memorial Trophy started in the era of post-expansion, after Bill Masterton, then playing with the Minnesota North Stars, died after sustaining an injury in a game played on January 15th, 1968.
The award is given to an NHL player who best exemplifies the qualities of perseverance, sportsmanship, and dedication to ice hockey. Most recent winners include Robin Lehner, Brian Boyle and Craig Anderson.
Rangers who have won this award are Jean Ratelle, Rod Gilbert, Anders Hedberg, Adam Graves and Dominic Moore.
I'm aware this award is open to anyone, but I found it funny that Lundqvist was nominated for this award, while being healthy and playing the least amount of games this season, than any other season in his career.
Truth be told, I don't think any Ranger has a shot at this award. I think Oskar Lindbolm (PHI) and Jay Bouwmeester (STL) are the two odds-on favorites to win this award, due to the ordeals they have faced and are currently battling.
I just don't think Lundqvist should've been the Rangers candidate. I know, shocker coming from me.
Who would I've nominated from Rangerstown, USA? Brendan Smith, who had a bounce back season after a few nightmarish seasons here. His versatility led him to playing out of his natural role as a defenseman for the majority of the season. Again, I don't think Smith would've won, just like I don't see Lundqvist winning, but I just see Smith as the better candidate.
NEXT, as we are almost at the end here. Podcast wrap-up time!
---
If you haven't already, check out my book review on "Thin Ice". You can read it here: https://bluecollarblueshirts.com/thinice/
To this day, "Thin Ice" is one of the greatest books I've ever read on the Rangers, about hockey and just about in general. As I said in that review, and as I've commented on social media and on these blogs, I had so many questions after reading that book, some 30 years after it was first published.
Leave it to Ron Duguay, who has been PERFECT and to quote Joe Micheletti, FABULOUS, with his "Up in the Blueseats" podcast. I can't rave about this podcast enough. Yes, we all know that I'm a Duguay fan; and I've never hid that fact on these blogs, but really, if you aren't listening to his podcast, you're doing yourself a disservice as a Rangers fan.
In his latest episode, along with co-host Jake Brown, Duguay interviews ex-Ranger Pat Hickey. Then, with Hickey, Duguay interviews Larry "Ratso" Sloman, the author of "Thin Ice". You can listen to this podcast and these interviews, by clicking the link below:
Listen to Episode 28 of 'Up In The Blue Seats': A Season in Hell feat. Pat Hickey, Larry Sloman https://t.co/TDJuqzcKUg via @nypostsports

— Jake Brown (@JakeBrownRadio) June 10, 2020
Big thanks to Ron Duguay & Jake Brown, who asked all of my questions to Ratso on the podcast!
Once again, Duguay and "Up in the Blueseats" topped themselves. This was just an amazing interview and I don't know how many other people were interested in it, but for this somewhat of a historian fan (I think it sounds douchey if I call myself a Rangers historian) I loved this interview.
Switching gears, also on Wednesday, June 10th, Jim & Eddie, of Blueshirt Underground Radio, released their latest episode:
I'm not sure if the BSU guys get enough credit from Ranger fans. To this day, I can't think of another Rangers podcast, that is live or is as interactive as BSU. As mentioned on past blogs, the duo records their shows live on YouTube, and fans can comment and converse with the hosts. It makes for a real fun show. Once you're in for a few shows, you get a feel for the hosts, the people in the chatroom and all the BSU "whackpackers", such as Costa, Cutter and Mikey Handjobs. (My nickname for Mike! It's all in good fun!) Then, once in a while, you'll hear from some level-headed fans, when guys like Roc, Josh G., Joe C., or Matt M. call in.
BSU has a good little thing going for themselves. What I like best about them, is despite being the first people in the podcast/radio/video game, they never take themselves seriously. It's about having fun and shooting the shit. It makes for a good show.
As far as the latest episode of BSU, hosts Jim & Eddie, made show history tonight, with their #NEVERFORGET Chris Drury misery moment in Rangers history. Check out the show to see what I'm talking about!
And last but not least, when it comes to NYR podcasts, the podcast everyone is already hating despite not releasing an episode yet, has teased their imminent arrival, which may have taken place by the time you read these words. Of course, I'm talking about the new Tony DeAngelo "Watch Your Tone" podcast:
https://t.co/LpZ9B9Y6GB podcast will be available on Spotify! Make sure to download and be ready for the release!

— WatchYourTone_ (@WatchYourTone4) June 10, 2020
In my opinion, there are so many idiots out there, chomping at the bit, waiting to hate on this thing. I doubt TDA will even talk politics on this forum, as I see him keeping it exclusively to sports talk. I think fans of TDA will enjoy this, and for the people who hate TDA, like Sean Hacknett or Adam Hermtrans, they will leave disappointed, as they'll have nothing to go after DeAngelo about. We'll see, but that's just my gut feeling!
If you haven't already, subscribe to this blog for the next update: