Greetings and salutations everyone and welcome to another blog here on BlueCollarBlueShirts.com. After writing a manifesto just several days ago, talking all about the latest league resumption rumors, it's now official – the NHL IS BACK!
On Tuesday, May 26th, at 4:30PM, NHL commissioner Gary Bettman, via a video feed from his house, announced the NHL's return, which will happen no earlier than July 1st. In my last blog, I talked about how the WWE continued to do their television tapings in Florida, throughout this entire tenure of the corona virus. I also mentioned how the UFC and how they have returned, running three events in a week's time. That said, with Bettman's announcement today, the NHL is the first of the four major sports, to announce their game plan and imminent return.
While I'm not the only person to have slammed Gary Bettman in the past, because in my opinion, he's the worst commissioner in the history of sports (three lockdowns in 25 years, one lost season) I must tip my hat to Bettman here. Whether it was a sense of pride, his reputation or future legacy, whatever the case, Bettman has navigated these tricky waters and is bringing hockey back. In fact, this announcement may have been his finest moment as commissioner yet. When the history books are written and people in 100 years look at 2020, they will see that Bettman brought hockey back, before any of his peers brought back their sports.
Truth be told, the NFL, aside from their annual draft, (a brutal affair held from Roger Goodell's home this year) have not been effected by the corona virus yet, as they are in their off-season. If anything, the NFL hasn't missed a beat, because as usual, the players of the National Felony League are still committing crimes & felonies during all of this. It's just business as usual for the NFL. "Smackin' a bitch?" "Poppin' off a gat?" "Armed robberies by millionaires?" It's just another day in the good old National Felony League.
Just like the NHL, who again, was first to announce their comeback; the NBA looks close to announcing their return plans too. However, when it comes to the MLB, the powers-to-be in baseball are in the middle of a complete shit-show, as the majority of baseball players don't want to return for less money. The MLB players union and the league can't find common ground and are rumored to be miles away with their negotiations. To me, a "common Joe", hence this blog being called BLUE COLLAR Blue Shirts, I find all of this sickening. All of these unemployed people across the world, and some of these losers would rather sit at home, rather than play for less money. What a message to send. SAD!
I do give Gary Bettman credit for his announcement today, but people should also acknowledge the players and the owners. They wanted a resolution any way possible. Money, contracts, dates and everything else business-related, while important, was never really a hindrance for anyone involved with the NHL during this corona virus nonsense. There was never a day during this corona virus, where either side threatened to shut it all down. From day one, throughout the corona virus and as of this writing – ALL SIDES WANTED TO PLAY. Don't ever forget that, especially when you look at these baseball players, who are out for three months after stubbing their toe.
You gotta love hockey players – they wanted to come back as much as the fans wanted to see them come back. If you follow what's going on with baseball, it's the complete opposite, and really downright disgusting. After all, keep this simple fact in mind – THESE GUYS GET MILLIONS OF DOLLARS TO PLAY A KID'S GAME!
---
Before getting into Bettman's mega-long announcement (his speech today exceeded 15 minutes) as always, let me plug my last few blogs. And really, if you didn't read my last blog, where I discussed this upcoming announcement in-depth already, in addition to talking everything Rangers & everything Rangers vs Carolina, make sure to check it out. (It's the first blog plugged, the 5/25 one.)
Anyhoo, as usual, the plugs for my most recent material:
---
---
---
---
---
---
I know I'm always going nuts when I see people do the copy & paste stuff, but really, with Bettman's announcement, I must give you everything that both Bettman and the NHL put out there today. After I give you all of the official news, I'll give you my opinions and thoughts.
For starters, if you want to watch Bettman's announcement, you can do so by clicking play on the video below, courtesy of Sportsnet.ca & the NHL:
After Bettman did his announcement in the video linked above, NHL.com pretty much recapped what Bettman said, word-for-word.
Here's the NHL's official announcement that they ran on NHL.com. The following information also can be viewed at its original source by visiting: https://www.nhl.com/news/nhl-announces-return-to-play-plan/c-317031134
NEW YORK – The National Hockey League announced today a Return To Play Plan for the 2019-20 season, highlighted by a modified competitive format in which 24 teams will return to play and vie for the Stanley Cup at two "hub" cities beginning later this summer. The Plan also includes an outline for the return of NHL players to their Club training facilities (Phase 2) and formal training camp (Phase 3), as well as information regarding the 2020 NHL Draft Lottery.
Today's announcement follows approval of the Plan by the League's Board of Governors and the National Hockey League Players' Association.
The NHL paused its season on March 12 from concerns over the coronavirus, having played 85 percent of the 2019-20 regular-season schedule that started in early October (1,082 of 1,271 games).
"At the pause, we committed to resuming play only when appropriate and prudent," said Commissioner Gary Bettman. "We are hopeful the Return To Play Plan will allow us to complete the season and award the Stanley Cup in a manner in which the health and safety of our players, on-ice officials, team staff and associated individuals involved are paramount. Accordingly, an essential component of the Plan is a rigorous, regular schedule of testing.
"On the hockey side, the return-to-play format reflects the League's extraordinary competitive balance while honoring the tradition and integrity of the Stanley Cup Playoffs.
"The Return To Play Plan is the result of weeks of constructive dialogue with the National Hockey League Players' Association and we are grateful for their cooperation. We also thank our consulting health experts and the local, regional and national authorities who are helping steer us through a complex set of issues."
Following are details of the Return To Play Plan:
Regular Season
* The 2019-20 regular season is declared concluded through games of March 11. The 189 games originally scheduled from March 12 – April 4 will not be played.
* 24 teams will resume play: the top 12 in each Conference on the basis of points percentage at the pause (through games of March 11).
Timeline
* Since the League's pause on March 12, the League has been in Phase 1 with teams having been instructed to self-isolate as much as possible.
Phase 2 – Early June
* In early June, it is expected that teams will be permitted to return to home facilities for small group, voluntary, and on- and off-ice training.
Phase 3 – Not Earlier than First Half of July
* Not earlier than first half of July, formal training camps will begin after guidance from medical and civil authorities.
Phase 4 – Timing TBD
* 24 teams in 2 "hub" cities will compete in Seeding Round Robins, a Qualifying Round and Conference-based Stanley Cup Playoffs.
* The 2 "hub" cities will be selected from among the following:
– Chicago, IL
– Columbus, OH
– Dallas, TX
– Edmonton, AB
– Las Vegas, NV
– Los Angeles, CA
– Minneapolis/St. Paul, MN
– Pittsburgh, PA
– Toronto, ON
– Vancouver, BC
* Each Conference is assigned a "hub" city with secure hotels, arena, practice facilities and in-market transportation.
* Teams will be limited to 50 personnel in the "hub" city with only a small number of support staff permitted to enter the event areas.
* Timing and sites will be determined at a future date and will be dependent on COVID-19 conditions, testing ability and government regulations.
Competitive Format
* In each Conference, teams seeded by points percentage.
Round Robin: The top 4 teams play for First Round seeding (regular-season overtime rules in effect)
Qualifying Round: The remaining 8 teams play best-of-5 series to advance to the First Round (playoff overtime rules in effect)
First Round and Second Round: Format (seeding vs. bracket) and series lengths to be determined
Conference Finals and Stanley Cup Final: Best-of-7 series
* The winners from the Qualifying Round play the top 4 seeds in the First Round. Individual First Round series matchups remain to be determined.
City 1
Team   Conf. Rank   P%
Boston Bruins   1   .714
Tampa Bay Lightning   2   .657
Washington Capitals   3   .652
Philadelphia Flyers   4   .645
Pittsburgh Penguins   5   .623
Carolina Hurricanes   6   .596
New York Islanders   7   .588
Toronto Maple Leafs   8   .579
Columbus Blue Jackets   9   .579
Florida Panthers   10   .565
New York Rangers   11   .564
Montreal Canadiens   12   .500
City 1 – Round Robin for Seeding in First Round
1. Boston Bruins
2. Tampa Bay Lightning
3. Washington Capitals
4. Philadelphia Flyers
City 1 – Best-of-5 Qualifying Round
#5 Pittsburgh Penguins vs. #12 Montreal Canadiens
#6 Carolina Hurricanes vs. #11 New York Rangers
#7 New York Islanders vs. #10 Florida Panthers
#8 Toronto Maple Leafs vs. #9 Columbus Blue Jackets
City 2
Team   Conf. Rank   P%
St. Louis Blues   1   .662
Colorado Avalanche   2   .657
Vegas Golden Knights   3   .606
Dallas Stars   4   .594
Edmonton Oilers   5   .585
Nashville Predators   6   .565
Vancouver Canucks   7   .565
Calgary Flames   8   .564
Winnipeg Jets   9   .563
Minnesota Wild   10   .558
Arizona Coyotes   11   .529
Chicago Blackhawks   12   .514
City 2 – Round Robin for Seeding in First Round
1. St. Louis Blues
2. Colorado Avalanche
3. Vegas Golden Knights
4. Dallas Stars
City 2 – Best-of-5 Qualifying Round
#5 Edmonton Oilers vs. #12 Chicago Blackhawks
#6 Nashville Predators vs. #11 Arizona Coyotes
#7 Vancouver Canucks vs. #10 Minnesota Wild
#8 Calgary Flames vs. #9 Winnipeg Jets
2020 NHL Draft Lottery
The NHL Draft Lottery will determine the order for the first 15 selections of the 2020 NHL Draft. The picks will be awarded to the seven teams that do not resume play and the eight teams that do not advance from the Qualifying Round (or the teams that acquired their first-round picks).
Phase 1
* Phase 1 of the Draft Lottery will be conducted prior to the Qualifying Round on Friday, June 26.
* Three draws: First Draw (first overall pick), Second Draw (second overall pick) and Third Draw (third overall pick).
* Clubs entered: The seven teams that do not return to play, ranked in inverse order of their points percentage at the time of the regular-season pause, and eight "place-holders" to represent the to-be-determined Qualifying Round teams that will not advance, thus maintaining previously-established odds.
Team   P%   Odds
1. Detroit Red Wings   .275   18.5%
2. Ottawa Senators   .437   13.5%
3. Ottawa Senators*   .437   11.5%
4. Los Angeles Kings   .457   9.5%
5. Anaheim Ducks   .472   8.5%
6. New Jersey Devils   .493**   7.5%
7. Buffalo Sabres   .493**   6.5%
8. Team A   n/a   6.0%
9. Team B   n/a   5.0%
10. Team C   n/a   3.5%
11. Team D   n/a   3.0%
12. Team E   n/a   2.5%
13. Team F   n/a   2.0%
14. Team G   n/a   1.5%
15. Team H   n/a   1.0%
* Acquired in a trade with San Jose Sharks (.450 points percentage)
** Buffalo Sabres ranked higher than New Jersey Devils on the basis of higher regulation/OT win percentage (Buffalo, .406 ROW%; New Jersey, .348 ROW%)
First Draw
* If the winning team of the First Draw is from the #1-7 group, that team wins the right to the first overall pick in the 2020 NHL Draft.
* If the winning team of the First Draw is from the #8-15 group, the right to the first overall pick will be determined in Phase 2 of the Draft Lottery.
* After the First Draw, the winning team (from either the #1-7 group or the #8-15 group) will no longer be eligible for the Second or Third Draws. All number combinations originally assigned to this team will become "Re-Draw Combinations" for the Second and Third Draws. The remaining teams' odds will increase on a proportionate basis for the Second Draw based on which team wins the First Draw.
Second Draw
* If the winning team of the Second Draw is from among the #1-7 group, that team wins the right to the second overall pick in the 2020 NHL Draft.
* If the winning team of the Second Draw is from the #8-15 group, the right to the second overall pick will be determined in Phase 2 of the Draft Lottery.
* After the Second Draw, the winning team (from either the #1-7 group or the #8-15 group) will no longer be eligible for the Third Draw. All number combinations originally assigned to this team will become "Re-Draw Combinations" for the Third Draw. The remaining teams' odds will increase on a proportionate basis for the Third Draw based on which team wins the Second Draw.
Third Draw
* If the winning team of the Third Draw is from among the #1-7 group above, that team wins the right to the third overall pick in the 2020 NHL Draft.
* If the winning team of the Third Draw is from the #8-15 group, the right to the third overall pick will be determined in Phase 2 of the Draft Lottery.
If All Three Draws Are Won by Teams in #1-7 Group . . .
* The winning teams receive the respective top three selections in the 2020 NHL Draft. The remaining four teams in the #1-7 group not selected in the three draws are assigned NHL Draft positions 4 through 7 in inverse order of their points percentage at the time of the regular-season pause. The next eight Draft positions (8 through 15) will be assigned to the eight teams that do not advance from the Qualifying Round, in inverse order of their points percentage at the time of the regular-season pause. In these circumstances, Phase 2 of the Draft Lottery would not be necessary.
If Any of the Three Draws Are Won by Teams in the #8-15 Group
* The Draws for the corresponding selections will be conducted during Phase 2 among only the eight Qualifying Round teams that failed to advance.
Phase 2
* Phase 2 of the Draft Lottery, if necessary, will be conducted between the Qualifying Round and First Round.
* Phase 2 participants: the eight teams that do not advance from the Qualifying Round (or the teams that acquired their first-round picks).
* Following each Phase 2 draw, the winning team will be assigned the corresponding Top 3 selection and, if another Phase 2 draw is necessary, that team's numbered lottery ball will be removed.
* When all Phase 1 and Phase 2 draws are completed and the Top 3 selections in the 2020 NHL Draft assigned, the remaining selections in the Top 15 will be assigned to the 12 teams that did not win a draw in inverse order of their points percentages at the time of the season's pause.
* In each Phase 2 draw, all participants will have the same odds.
(Once again, the above article was taken from NHL.com)
---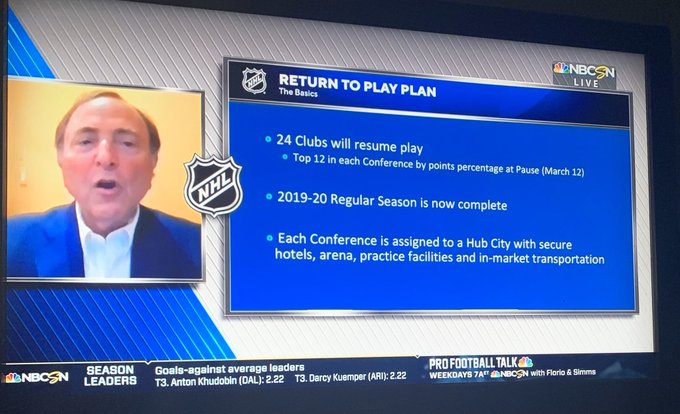 Let's face it – Bettman dropped a ton of information today, and there's a lot to go through.
Of everything announced today, if there was anything truly confusing and made you sound like Mike Francesa, by saying "WAIT A SECOND!", it was all the information concerning the 2020 NHL Draft. Fortunate for me, as a Rangers fan, WHO WANTS THE CUP, and can care less about these morons who want the Rangers to lose/tank for draft positioning – I don't care about the 2020 NHL draft. Okay, maybe I'm exaggerating, because I obviously care a little, but really, my concern about the 2020 NHL draft is just that – a little.
If you've been reading these blogs religiously, know me or just follow me on the social media gimmicks, you know that I just want to see the Rangers in the playoffs. I get what the rebuild is/was, but there is no way that I would ever root for the team to lose. As talked about in past blogs, when I look at this Rangers team, they remind me of the 2017 Yankees a bit – an old guard moved on, new faces took over and the team made a surprising run that saw them fall one game shy of the World Series.
And let's face it – no draft pick is guaranteed and the Rangers were never going to be bad enough this season to find themselves with the first overall pick. When you add guys like Panarin and Trouba for big money, have all these exciting new rookies and seeing players approaching or entering their prime, all I want to see is this new core get some playoff experience under their belt. With Bettman's announcement today, while these playoffs will be unprecedented, this Rangers core will get playoff experience nevertheless.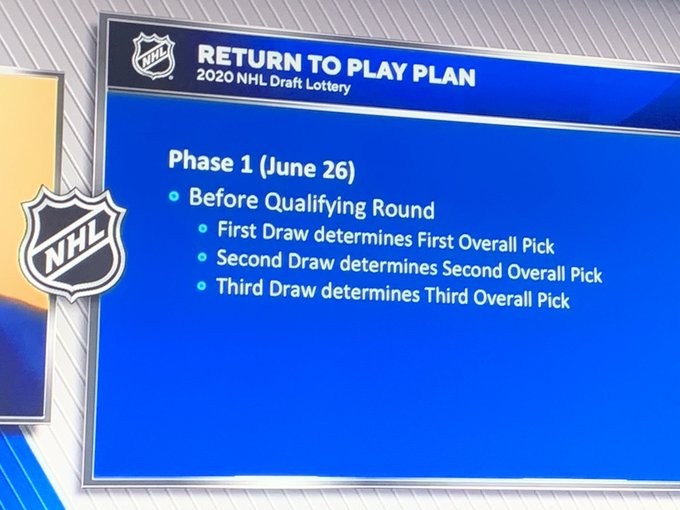 Other hockey related websites, blogs, podcasts, social media outlets and even those people who share hockey news via the Pony Express, are all dissecting every piece of news and minutiae of the 2020 NHL Draft. This hockey news/opinion outlet will not be one of them.
As mentioned, the only thing I care about is the Rangers in the playoffs. Whether they get the 9th pick, the 13th pick, the 17th pick, whatever, I just don't care. After all, I don't watch teenage kids play hockey all over the world. All I care about is the Rangers, and to a lesser extent, Team USA. As someone who knows their Rangers history, I also know how the Rangers aren't really beast slayers during draft day. Sure, once in a while the Rangers will do something nice at the draft, but the majority of the time, it's been more swings & a miss than a ball over the wall.
And really, unlike others who proclaim to be draft experts, and even the people who really are draft experts, let's face it – you can't really analyze a draft until five years after it has happened. Sure, everyone knew a Connor McDavid or a Sidney Crosby was going to be a generational player, but for the draft selections that weren't #1 overall, no one, and I mean no one, can tell you with full confidence, how the 12th pick of a random draft is going to do. They can't even predict how the second pick of a draft will do.
In conclusion on the topic of the 2020 NHL draft here, while I've included all the information released by the NHL & Bettman today, I just don't care. The draft is happening. Good. Hopefully the Rangers do something good on draft day. However, with the Rangers not part of the draft lottery and with my goal of always wanting to see the Rangers in the playoffs, I got bigger fish to fry! It's time for the Rangers to whip the asses of "the bunch of jerks!"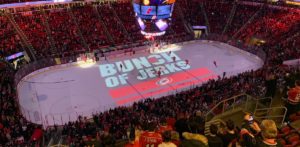 One last time here, in case you haven't read it already, check out my last blog at: https://bluecollarblueshirts.com/52520/, as I pretty much recapped & talked about everything that Bettman officially announced today.
Away from the 2020 NHL Draft, Bettman laid out all the plans for the 2020 NHL Stanley Cup playoffs. Of note, and as I said would happen, the 2019-2020 regular season is now over. Most people, like me, thought that if the NHL was to return in 2020, the league would skip straight to the playoffs. That is why in the last week of March, and in the early weeks of April, you saw everyone & their mother comment and give out their 2019-2020 year-end league awards.
When it comes to the Rangers specifically, outside of Artemi Panarin contesting for the Hart Trophy, the only award of significance to dole out, is the esteemed Steven McDonald Extra Effort Award. I already covered my thoughts on this subject in-depth already, when I brought back the "Frank Boucher Fan Trophy" award. You can read that blog here: https://bluecollarblueshirts.com/4220/
And spoiler alert, in case you haven't seen that blog yet, I would give the 2019-2020 Steven McDonald award to this guy:
The Canadian reporters were 100% correct with their reports from last week, in regards to the 24 team playoff format, the two hub cities, empty arenas and everything else. Bettman, in his announcement on Tuesday, did fill in some of the blanks, but did leave a ton of things open, as he awaits approval from government and health officials, from two different countries.
In regards to the playoffs, here's what Bettman said, which is concrete:
— The league won't resume no earlier than July 1st. This means another five or so weeks of no hockey. I can live with that, now knowing what the plans are. What Bettman didn't say, about the July 1st date, is that this date may have been selected due to Canada's lockdown/shutdown/quarantine.
— Bettman also made it clear that there aren't many Eastern Conference cities being considered for hub city status. Here's a quick list of the cities being considered: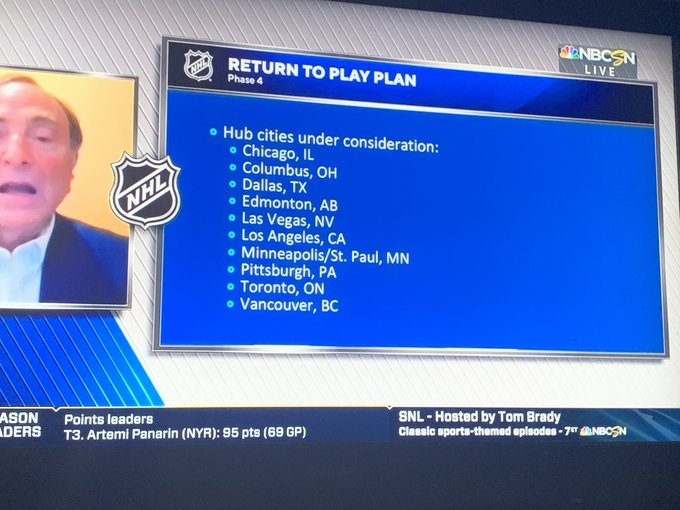 — Of note here, as talked about last blog, Vegas seems to be the front-runner, due to having the abundance of hotels to accommodate teams. In another concrete statement, Bettman said each team would be allowed to carry 50 people, including full teams, coaches, trainers and staff.
— Surprisingly enough here, not one Florida city is being considered. I found that odd, since UFC & WWE are exclusively running in Florida right now, as Florida was the first state to allow sports to return. It was previously rumored that both NHL cities in Florida, in Tampa & Sunrise, were being considered. In addition, Orlando (who has a minor league team) was considered, due to an accessible airport & like Vegas, all the hotels in the city.
— After his announcement, Bettman & Deputy Commissioner, Bill Daly, both spoke to the media. Daly's most newsworthy quote was this one: "We won't be in a position to use any of the Canadian cities as a hub city, without some sort of relaxation of the 14 day self-quarantine that's law in Canada." In other words, if Prime Minister Trudeau doesn't open up Canada, the only cities being considered to be a hub in the Eastern Conference are Pittsburgh and Columbus. Very odd. And for fellow New Yorkers, obviously, NY was never even discussed, due to Queens, NY being the epicenter of this virus in America.
— Not brought up here, was the idea of using multiple rinks in one city. Obviously if Canada opens up, there are an abundance of rinks in Toronto. However, I am led to believe that it will only be one rink per city, as it will be easier to monitor, regulate and create safety systems this way.
— The NHL won't resume play, until they get 100% approval from all government and health officials. While it is expected the NHL will get all of these clearances and okays, the league won't do anything without them.
— For the seven non-playoff teams, these players may be idle for up to 9 months, if not longer than that. The league wants to play a regular 82 game season schedule for 2020-2021, even if the season doesn't start until January of 2021. It is thought that the 2020 Stanley Cup Champion will be crowned in September.
— While Gary Bettman didn't rule out everyone, he did it make it clear that many members of the media will not be allowed to attend these games. There will most likely be video before and after press conferences, but non prominent NHL media members will not get credentials for these games.
Rangers-wise, it seems that Larry Brooks doesn't travel anymore, and due to his age, he might not be interested anyway. I could see Brett Crygalis of the NY Post getting a credential, but I don't see Colin Stephenson of Newsday or Vince Mercogliano of LoHud getting one. Spinning off of this topic, it will be interesting to see who broadcasts these games. Both Joe Micheletti and Sam Rosen are senior citizens and the corona virus has a huge impact on people 65 years of age and over. That said, I could see Micheletti doing the games with a younger John Gianonne and keeping Rosen at home. Just a thought and I'm 100% spit-balling here.
— Bettman said what I said last blog – not everyone is going to be happy about all of this. There's no way of pleasing everyone, but at the end of the day, the league did what it thought was best for the betterment of all. We're all just happy that hockey is back.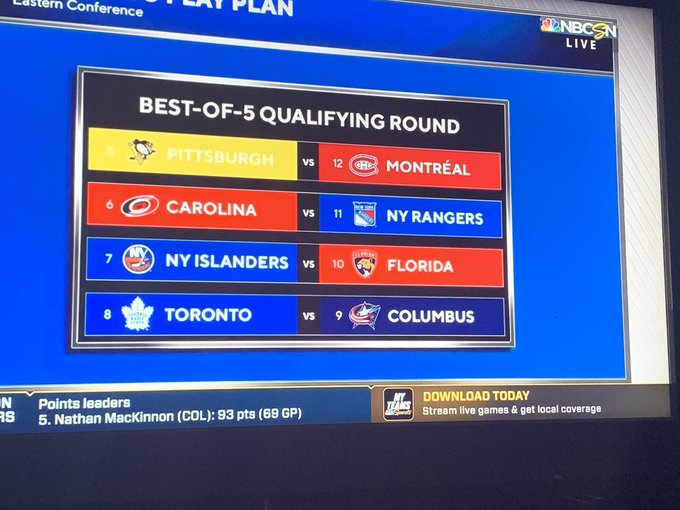 While Bettman did say a lot and did confirm all the rumors from last week, a lot of things were left open ended. Here's a question I have. With the NFL looking to host games in front of fans in September, and say all of this corona virus bullshit is over, would the NHL reconsider the empty arena policy? Is there a chance a paying audience could attend the Stanley Cup Final, or maybe even a Conference Final? Obviously, that's a question for down the road, as the NHL has to do first things first, before considering better options as these playoffs move along.
Worth noting here, because a lot of people have brought this up to me – there was nothing announced about rule changes to the game. Again, as I said last blog, you got UFC guys kicking the shit out of each other, bleeding all over the place and sweating like a whore in church. If these guys can have all this physical contact, then I'm sure hockey players can hit, check, fight, and hell, spit on the ice too!
For the stat people & fans of history, the NHL, as of right now, is undecided on how to record these qualifying and top seeded teams round robin games. Officially, these games are not part of the actual Stanley Cup tournament. The qualifying rounds, which is the round the Rangers are in, is a round you have to win to qualify for the first round of the playoffs, where if they win, would then play against one of the top seeded teams. The NHL is still trying to figure out what to do, in regards to stat keeping here.
Also for the stat people & fans of history, the following comes from the Edmonton Oilers, with the 2019-2020 regular season now officially complete:
Massive congrats to #Oilers forward Leon Draisaitl on winning the 2019-20 Art Ross Trophy!

Leon is the first-ever German to win the @NHL's scoring title while he & Connor McDavid are the first teammates to finish 1st & 2nd in scoring since 2013. https://t.co/IyZc9c5zOT

— Edmonton Oilers (@EdmontonOilers) May 27, 2020
In other news, as a result of all of this, Alex Ovechkin & David Pastrnak co-win the Rocket Richard Trophy, with 48 goals a piece. The Boston Bruins are now officially winners of the Presidents' Trophy too. In another Bruins note, the team who I want to see the Rangers avoid at all costs, Bruins goalie Tuukka Rask finishes first in GAA (2.12), second in save percentage (.929) + second in shutouts (5). Vezina anyone?
Oh and going off on a completely different subject here, speaking of the Bruins, guess who is now on Twitter:
Ready to defend myself in the Twittersphere. Let's have some fun! pic.twitter.com/zOf9v7Vk45

— Mike Milbury (@realmikemilbury) May 27, 2020
As a Ranger fan, and as someone who has said Mike Milbury is one of the most hated men in NY Rangers history, I'm happy to see him on Twitter. Say what you want about him, but he seems to embrace being hated & enjoys being an asshole, which are qualities I adore. Nothing like a good old fashioned heel, shoe heel or otherwise. I hope Milbury goes in full Tony DeAngelo mode, and just starts trolling his trolls back! That's entertainment to me.
---
Moving forward here, it doesn't look like we'll see hockey until the second or third week of July, at best. In fact, it may not even start up again until August. All the poppycock & ballyhoo that I've talked about repeatedly all remains – the governments, both US & Canadian, the health officials, the quarantines, the traveling, the hotel accommodations, the testing and so on and so forth, all still applies. However, today was an Andre the Giant sized foot in the right direction.
I guess for the next 5-6 weeks, the big arguments on social media won't be about the teams in, it will be people doing "grammar nazi" stuff, such as "You know, the Rangers aren't in the playoffs yet. They are in the qualifying round. They have to win that round to be a playoff team. Blah blah blah, my shit doesn't stink and I pee sitting down, blah blah blah."
I don't give a flying Father Fink – the Rangers are alive and that's good enough for me. Whether they are technically a playoff team or not, I really don't care about the semantics of it all. They are playing for the right to win the Stanley Cup and that's all that matters. If you want to mince words and phrases, be my guest – but for me, I'm just happy to be pumped to see the Rangers play again and shout-out "LET'S GO RANGERS!"
And hell, with strong air conditioning, I can even wear my jerseys in the summer!
Another thought here, with the baseball divas going in the opposite direction, this could be a great time for the NHL to grab eyeballs. The most unpredictable tournament in all of sports has now become more unpredictable. If baseball doesn't come out of the proverbial dugout here, hockey could create a bunch of new fans. Sure, it sucks that the atmosphere and crowd reaction will be lost, but you know the players will be going all out.
Hockey, the new national past time? While that may apply in Canada already, here in America, as the lotto man once said – "hey, you never know."
---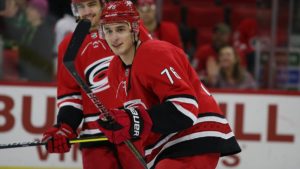 Obviously, it is waaaaaaay too early to do a Rangers/Canes series preview or anything of that nature. After all, we don't know how these guys will respond to a three month layoff, who got fat, who has been training, who can pick up where they left off, who's a slow starter and all these other variables. The only thing I know? David Quinn will go with CZAR IGOR in net, as outlined last blog!
Of course, winning the series is the biggest thing that matters here. The cherry on top here, is the fact that the Rangers own Carolina's 2020 first round draft pick, as a result of the magnificent, genius and downright robbery of a trade, that Jeff Gorton made back at the NHL trade deadline, when he shipped Brady Skjei off to Cane country.
I know what you're saying. "YOU SAID YOU DON'T CARE ABOUT THE NHL DRAFT!" While that is somewhat true, obviously, it benefits the Rangers, to not only to win this series in an effort to contend for the Cup, but by eliminating Carolina, the Rangers will get a better first round overall draft selection. Who knows how it will all play out, but the Rangers, if they can defeat a team they've treated as a doormat for the last decade, could jump up several spots in the 2020 NHL Draft. I'm all for that.
Conversely, should the Rangers lose this series, they will be off for a while, but will still remain with a Top 15 pick. However, what's better than not only beating Carolina, but lifting up their skirt a bit and taking their pick too?
As brought up last blog, Carolina was one of two teams, out of 31 teams, to vote no against this now official 24 team playoff format. They are scared. They are frightened. They are twunts. Every single stat and every piece of history here, all favors the Rangers. If there is anything to be nervous about as Ranger fans, there's always that thing about "being due." Is Carolina due to vanquish one of their biggest arch-rivals? I Father Finkin' hope not!
I've said it already three times this week, and I'll say it one more time before I head home here.
I don't care about the regular season standings. The Rangers from the fall of 2019, weren't the same team in 2020. Of course, a big part of that is CZAR IGOR SHESTYORKIN, who put up video game numbers.
I don't care who the opponent is. This Cup is for the taking. And if you're on the other side of the Rangers, who would want to sign up to play against a team with one of the hottest goalies in the NHL in CZAR IGOR, Mika Zibanejad, who was having a career season, a rejuvenated Rangers defense, and a 100% & no longer having his future in the back of his mind Chris Kreider? And oh yeah, the Rangers also have that Artemi Panarin guy.
While other teams are certainly more playoff tested, like Washington, Pittsburgh and Tampa, and while other teams have deeper rosters, such as Boston and Toronto, anything can happen in the playoffs, more so than ever before.
As I've said a bunch of times before these rumors became official and as I'll be saying a lot this whole summer – "WHY NOT THE RANGERS?!"
I'll tell you what, it's nice to have some good news for once.
Subscribe to this blog by clicking the button below, so you don't miss the next update: