Greetings and salutations everyone and welcome to another blog here on BlueCollarBlueShirts.com. Some introductory music for you, before overheating my keyboard as a result of my fingers moving faster than Olympic swimmer Katie Ledecky:
Needless to say, I'm jacked up right now!
As I was pondering going to bed at a decent time on Thursday night, at 10:04PM the Rangers tweeted out the following: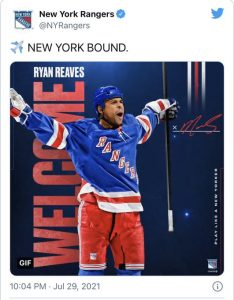 As a result of this news, I was no longer tired and was now wired. Hence this blog tonight!
While many in Rangerstown, USA, including myself, were hoping for the Rangers to sign Nick Ritchie during free agency; instead of the Rangers signing Ritchie (and who knows, that deal may come next) the Rangers went out and traded for one of the biggest badasses in all of the NHL today, in Ryan Reaves. And if you don't know who Ryan Reaves is, then Google him. In short, he's one of the last true enforcers left in the NHL today.
If you're a regular reader of these blogs, you know that I detest the "PROPOZED LINEZ" nonsense, especially during the middle of the summer. However, when you have Ryan Reaves, Sammy Blais and Barclay Goodrow all on your roster, it's hard not trying to imagine these three stacking up together. Of course, while this suggested line wouldn't be as offensively prolific as the old Philadelphia Flyers "Legion of Doom" line from the mid-1990's; (John LeClair/Eric Lindros/Mikael Renberg) this trio of Rangers would most certainly earn the "Legion of Doom" label and bring more physicality than that Flyers line from over 25 years ago.
And do you know why this Reaves trade and the recent moves out of Rangers general manager Chris Drury are good? Easy! Because every single one of these people who make love to charts, like Jason Biggs screwing an apple pie in the movie "American Pie"; all of these analytical nutjobs are all upset and in tears about all of this. When these people are wrong and wetting themselves – then you know the Rangers are doing something right.
In addition, I just don't know what these analytical people were expecting. Did these people, people who worship at the altar of Microsoft Excel, think that the Rangers were going to stay the status quo? Change was coming and change is here. Buckle up buttercups!
While I will share with you all of the information of this Reaves trade after the PLUGS segment; I have to get the following out of my system – now, for the first time since the early-to-mid 1990's, teams in the Rangers division are going to say, "oh shit, not those guys", when they look at the calendar and see the Rangers on the schedule. The Rangers won't go 82-0, but in the Rangers losses from next season, the Rangers opponents will desperately be seeking ice baths afterwards. (Just watch out for Steve Valiquette and his rubber ducky chart!)
The Rangers are no longer a pushover. The Rangers are going to let you know that they are there and this all starts with Chris Drury, trickles down to Gerard Gallant and Gallant will get these horses flying down the track.
And if you're one of those fans who likes graceful figure skating hockey games, games full of patty-cake – I heard the SHL are doing wonderful things this time of year!
Last night, I wrote about 50,000 words on the Rangers. Tonight's blog won't be as long, as I just want to focus on the two Rangers stories and the one non-story of Thursday. In addition, I have some sad news to share with you as well, but I'll save that for the end of the blog. For now, and as usual here, the PLUGS segment.
Here are my last few blogs in case you missed them:
---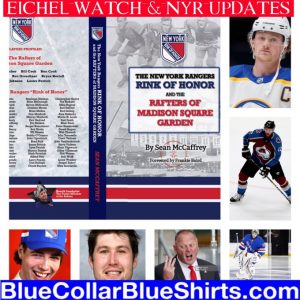 ---
---
Here's the official Reaves press release from the Rangers, courtesy of https://www.nhl.com/rangers/news/rangers-acquire-forward-ryan-reaves/c-325874862?icmp=int_web_nyr_news_subnav :
New York Rangers President and General Manager Chris Drury announced today that the team has acquired forward Ryan Reaves from the Vegas Golden Knights in exchange for a third-round pick in the 2022 NHL Entry Draft.

Reaves, 34, skated in 37 games with Vegas this past season, registering one goal and four assists for five points, along with 27 penalty minutes. He led the NHL (min. 20 games played) in hits per 60 minutes of ice time in 2020-21 (23.02), and he also led the Golden Knights in hits (141) this past season. Reaves skated in 12 games during the 2021 Stanley Cup Playoffs while helping the Golden Knights advance to the Semifinals.
The 6-2, 225-pounder has skated in 686 career NHL games over parts of 11 seasons (2010-11 – 2020-21) with St. Louis, Pittsburgh, and Vegas, registering 49 goals and 52 assists for 101 points, along with 937 penalty minutes. Since the start of his first NHL season in 2010-11, Reaves ranks third in the NHL in hits (2,322), ranks seventh in the NHL in major penalties (75), and ranks eighth in the league in penalty minutes. He has averaged at least 20 hits per 60 minutes of ice time in each of his 11 NHL seasons, and he led the NHL in hits in back-to-back seasons in 2018-19 (305) and 2019-20 (316). Reaves has helped his team advance to the Stanley Cup Playoffs in each of the last 10 seasons, and he has skated in 84 postseason games in his NHL career. He helped Vegas advance to the Stanley Cup Final in 2017-18, and he also helped the Golden Knights advance to at least the third round of the playoffs in three of his four seasons with the team. Reaves was coached by current Rangers head coach Gerard Gallant for parts of three seasons with Vegas (2017-18 – 2019-20).

The Winnipeg, Manitoba native was originally selected by St. Louis in the fifth round, 156th overall, of the 2005 NHL Entry Draft.

---
For those wondering and because salary cap hits are the end all, be all in the NHL these days; Ryan Reaves, who will turn 35 years old on January 20th, 2022, is on the final year of his contract, a contract where Reaves will be paid $1,750,000 during the 2021-2022 season.
In other words and to use deduction math here, the Rangers traded away both Brett Howden and Pavel Buchnevich. In return, the Rangers added Ryan Reaves and Sammy Blais. Pavel Buchnevich just got a contract which will pay him $5.8M a year in St. Louis, while Brett Howden is on a $885,000 contract with Vegas. Blais, like Reaves, is on the last year of his deal too, where Blais will be paid $1.5M for the 2021-2022 season. As a result, the Rangers got both Blais & Reaves for Buchnevich & Howden and the Rangers also saved $3,435,000 on their cap during this process. I'd call that a win, no matter how big of a fan of Buchnevich that you may be.
One joke around the league is that if the Rangers wanted an answer to their hypothetical "Tom Wilson problem", the Rangers just got that answer in Reaves.
That said, and I think this fact gets lost with a lot of people, especially the mooks from the wide world of charts – the Rangers aren't just building a team to play against the Capitals. It's not like the Rangers and Capitals have had a storied playoff feud as of late, like the old Detroit vs Colorado feud from the turn of the century. Instead, Chris Drury is building a team that no one can take a night off against. You won't see the slow starts from last season during the 2021-2022 season. And while Reaves has never won a Stanley Cup, Reaves does have Stanley Cup Final experience – just like his potential linemates in Sammy Blais and Barclay Goodrow, two Stanley Cup champions in their own right.
In addition, and as noted by the Rangers in their own press release, Reaves once thrived under Gerard Gallant in Vegas. Every coach in the league when changing locations loves to have a familiar face or two around. Don't believe me? Ask Mike Keenan.
While I'm not saying Reaves will get the "C" or even an "A" on his sweater, Reaves will be able to give Gallant a temperature check around the locker room. Reaves can now help the roster, (a Rangers roster that's mostly only ever known David Quinn while with the Rangers) during this new coaching regime and transition. And really, what I'm saying here is stuff that Chris Drury already knows, as both a Stanley Cup champion and as a former player himself.
---
Since the trade happened late and perhaps because Drury isn't done yet; neither Drury or Reaves have met with the media yet. Who knows – a press conference could happen some time Friday or maybe some time next week. Either way, I'm sure we'll get one, where some cupcake members of the NYR beat will pester Drury over "toughness" and "grit", while not realizing that Drury is building a WIN NOW team – charts and expected stats be damned.
I'm not sure if I said this on social media or on this site before, so I'll say this again – you just KNOW, that after every Rangers loss during the regular season, the analytical crowd will start whining and mock terms such as "beat 'em in the alley" and "sandpaper players". However, this team isn't being built to win a Presidents' Trophy – they are being built to win the Stanley Cup.
It's my contention that as long as the Rangers get into the playoffs, then you can judge them. This Rangers roster, in its present state, would've been able to compete during the 2021 Stanley Cup Playoffs, where you can't say the same thing about the Rangers roster which closed out the 2021 regular season.
Let's now get into the other stories from Thursday.
---
In your latest update from "EICHEL WATCH", Kevyn Adams, the general manager of the Buffalo Sabres, seems to be sticking to his guns and enjoying his game of "chicken". From what Adams is saying, he feels that he is dealing from a position of power here, where as an outsider looking in, it feels like the complete opposite.
The irony about the Rangers and Golden Knights completing their second trade of this off-season together, is that with this trade, the Golden Knights shaved a little salary cap space while the Rangers added some cap dollars. According to the Canadian reporters, both the Rangers and Golden Knights are rumored to be the top two suitors for Eichel.
While I've thrown this idea around before, needless to say, whoever lands Eichel will most likely "Kucherov" him, and put Eichel on the LITR. Since Vegas has been a Stanley Cup contender ever since their first year of existence and with more pressure to win now than ever before – Vegas would be set-up better than the Rangers to LITR someone of Eichel's caliber.
Of course, for whatever team that lands Eichel, even if that team does go down the LITR road, there will still be the issue of chemistry. After all, Kucherov has only ever known Tampa Bay and has chemistry with all of his teammates. To add Eichel to your playoff roster cold, there won't be any immediate chemistry there since Eichel would be playing with all new faces. Just something to think about.
As I wrap up on Eichel here, the situation remains unchanged.
---
In an update from last night's blog, the Carolina Hurricanes now have five members of the Rangers alumni on their payroll! Fortunately for the Rangers and unfortunately for Carolina, none of these five men are Artemi Panarin or Adam Fox!
After Carolina signed Tony DeAngelo and Antti Raanta on Wednesday, where these two ex-Rangers joined ex-Rangers Brady Skjei and Jesper Fast; on Thursday July 29th, the Carolina Hurricanes added Brendan Smith to their roster.
Smith, who after this 2021 season finished up his four-year deal with the Rangers, a deal worth $17.4M overall ($4.35M AAV); Smith signed a one-year deal with Carolina on Thursday, where Smith will be paid $800k for the 2021-2022 season. Talk about a drop off in pay! Smith is taking nearly five and half times less in salary this upcoming season than the salary he was paid during the 2021 season. For Brendan Smith, at least he got fat with the Rangers, because as predicted, he'll never see $4.35M per season again.
For Carolina to do what Tampa once did, it's now time for Carolina to sign a former Rangers captain. Heck, Jaromir Jagr is still playing these days!
And to link our top story to this story, the sensitive analytical fans absolutely detest the Rangers acquisition of Reaves. In the past, one of their bandwagon teams were the Carolina Hurricanes. Since these same people also hate Tony DeAngelo, not only are they upset with the Rangers right now, but they are also upset with the Hurricanes too. I know you should never take joy in someone else's misery, but I would be lying if I told you that I didn't find all of this to be entertaining.
One more piece of Rangers news before heading home here.
---
In a story that you kind of can link to the Jack Eichel story, on Thursday morning, the Rangers gave Filip Chytil a two-year deal worth $4.6M, where Chytil will earn $2.3M a season.
I talked a lot about Chytil two blogs ago, so refer to the PLUGS section for more.
It's still my opinion that despite this signing, I just don't see Chytil suiting up for the Rangers next season. As I said two blogs ago, I don't know where he slots into the line-up. In addition, Gerard Gallant runs a tight ship and will do whatever it takes to win. He's not here to wait for Chytil to put it together. If there's one thing to be said, it's this – Chytil better be working on his face-off game this off-season.
Should Chytil remain with the Rangers and not be included in any sort of Eichel or other trade; if Chytil continues to be horrible at the circle, Gallant will have to try Chytil out as a winger. Is this an experiment or an ordeal Gallant is willing to go through? Who knows, but it is something to think about.
---
Some sad news to report here as we wrap up. Diehard Rangers fan Aaron Scott Davis passed away on July 23rd, 2021. Davis was only 38 years old at the time of his passing. Of note, his family reported his passing on Thursday, which to Facebook friends of Davis, explains why we haven't seen Davis post anything in the last week. (Davis was very active on Facebook.)
While Davis wasn't really on Twitter, the name of Aaron Davis should be familiar to many Ranger fans who use Facebook, as Davis was a regular in many different Rangers Facebook groups. Davis was known for his amazing computer generated artwork, as a result of his time studying Graphic Design at Penn State University.
I can't tell you that I ever met Aaron Davis in person, but I can tell you that for the last 2-3 years, I talked to him all the time, both publicly and privately on Facebook. If you're a regular reader of these blogs, you may also recognize his name, as Davis provided many graphics for this site. As I always joked when plugging Davis for his work, you could always tell the difference between his pictures and my horrible MS Paint jobs!
In recent times, Davis, who loved superheroes as much as he loved the Rangers, had been really sick. I would always check up on him and talk to him, as it seemed like every other week he was bouncing in and out of a hospital. We even joked privately about how many frequent flyer miles he was getting at these hospitals, as a way to make light of a serious situation.
Even during his most recent medical scare, (lupus, which partially blinded him) I didn't really think much about it, as I just expected Davis to bounce back as usual and then go back to sharing his amazing graphics with all of us, graphics like this one:
If there's any regret I have, it is that I was trying to get Davis to create his own website, where he could sell his prints. Davis had a ton of talent and I just wanted to see him get rewarded for it. Since Davis always allowed me to use his pictures on this site, I felt like I owed him one. Plus, he was a great guy anyway and you always want to help nice people.
At one point at the end of last year, I had a webmaster that I was going to pay to create a site where Davis could then upload his graphics for sale. (The webmaster was only $150, so it wasn't a big thing, but I knew Davis had financial issues due to all of his health issues.) However, the webmaster; who originally agreed to this project, got sick herself, and she wasn't available. Over time, Davis and his medical conditions worsened and this project went to the back-burner.
Moving forward, I'd like to upload all of the great work that Davis did, just as a way to keep his name and legacy alive. If you knew him from Facebook, you know that Davis was just a genuinely nice guy and a person who didn't have a mean bone in his body. In fact, he'd joke with me, laughing about some of the wild jokes and references I would make on this site and to him privately.
No one should ever die as young as Davis did, but he was in a lot of pain during the final year of his life. In a way, he's no longer suffering, but that doesn't help his family and the people who knew him personally.
RIP Aaron Scott Davis. You will be missed.
---
If you haven't already, subscribe to this blog for the next update:
---
Reaves today, Eichel tomorrow? If that's the case, I'll be back tomorrow. If not, I'm hoping to enjoy my weekend and giving my dinosaur computer a break!
Stay FABULOUS my friends.
As always here, thanks for reading and…
LET'S GO RANGERS!
Sean McCaffrey
BULLSMC@aol.com
@NYCTHEMIC on Tweeter