Greetings and salutations everyone and welcome to another blog here on BlueCollarBlueShirts.com. I don't even know where to start! However, the Proper 12 whisky bottle is open and my knuckles are sufficiently cracked. Let's go.
If you're a regular reader of these blogs, you know my style by now. I block out 3-4 hours and then just write one huge manifesto, rather than writing 67867867868976 three sentence blogs like others. (And that's not a shot on anyone else, this is just how I do things.) In addition, very rarely do I write ahead and "put stuff in the can". I just try to do everything all at once. Needless to say, this way of doing things may have backfired today, especially with so many topics and news items to get into.
Since I last left you, news out of the NHL has hit us like a two-piece from an in-his-prime Mike Tyson. After all, on Tuesday July 27th and just 24 hours prior to the free agency period opening up; the Vegas Golden Knights traded the 2021 Vezina Trophy winner and the face of their franchise, in Marc-Andre Fleury. This trade most certainly shocked the NHL world.
As a result, for the time being, (MAF has teased retirement since news of the trade, which opens up a whole new can of worms such as cap circumvention) Marc-Andre Fleury is now a member of the Chicago Blackhawks. Even crazier, Vegas got NOTHING in return! (It was later reported that Vegas got a minor league player in return for MAF, but that player will remain in Chicago's system. I'm saying "minor league player" here, rather than saying the name of Mikaal Hakkarainen, a Hakkarainen who was the player Vegas received in return, just because that's how insignificant the return was for Vegas. Simply put, this was a salary cap dump trade by VGK.)
The Marc-Andre Fleury trade is a bigger story for the bloggers/writers who exclusively cover the Blackhawks and/or the Vegas Golden Knights. That said, I absolutely abhorred this trade because this trade was a prime example of everything that I've always said on this site – I detest the salary cap, the salary cap is flawed, we spend too much time talking about the salary cap hits of these players and the salary cap does not promote fan loyalty.
In fact, the salary cap (in its present form) is so Father Finkin' bad, that even Fanatics, the official supplier of NHL jerseys, now provides customers/fans with a "jersey guarantee assurance" on jerseys sold. As part of that "jersey guarantee assurance", fans are allowed to return/get a new jersey if a player is traded within a year of such said purchase of a jersey. How is that good for business?
If you're new here, and without trying to go too deep into my "Greatest Hits" collection for my regular readers; simply stated, the salary cap sucks. Trust me, I get it – the salary cap allows the NHL to expand into markets where without a salary cap, the NHL wouldn't even entertain the idea of playing in some of these markets, markets such as Belmont! That said, what good is it if you have to trade your best player, your favorite player, or just a player that you're a fan of – ONLY because of the money that they make? Sounds like communism to me! What's next, a team in North Korea?
As suggested numerous times on this site, if anything, I think we can all agree that the salary cap needs major work and a retooling. A few ideas I've floated around in the past are the following:
— Institute a "Larry Bird Rule". If you're not familiar with what I mean here, it's my belief that the salary cap should allow for exceptions, where teams can sign their homegrown talent without fear of going over the salary cap. While I'm not suggesting the Rangers give Adam Fox an $80M AAV contract or anything like that; at the same time, the Rangers shouldn't be penalized for wanting to keep a player who made his NHL debut with them. (Yes, I know – Fox's rights were once had by both Calgary and Carolina, but for all intents and purposes, Fox is a day one New York Ranger.)
— Level out the playing field. In what world does it make sense to have a hard salary cap, when the no income tax state teams have an advantage over the states and provinces with high income taxes? For example, someone like a Ryan McDonagh, who earns $6.75M a year during his seven-year deal with Tampa; that $6.75M a year goes a lot further in Tampa, Florida than it would go in New York City. Players can accept less money, making them less of a cap hit, by playing in Texas or Florida. When you look at places like NYC, Montreal, Toronto and elsewhere; players want more money to play in these cities, in order to off-set the insane taxes they are nailed with by playing in these metropolitan cities, than when playing in the no income tax states. Simply stated – $5M in Dallas is not the same as $5M in Boston.
— Allow a yearly amnesty clause, where each team can buy-out one bad contract without any damage to their salary cap. Why should a team be crippled by one bad contract, like the one Jeff Skinner has in Buffalo? If you need a recent Rangers example, if the NHL allowed a yearly amnesty clause, the Rangers probably would still have Pavel Buchnevich on their roster today, as the team, under these conditions, would've bought out either Chris Kreider or Jacob Trouba. Furthermore, and more importantly, especially in MAF's case and with what the Islanders did with Ladd – you wouldn't see these salary cap dump trades anymore. Yes, salary cap dump trades are necessary today, but how is that good for the fans aka the NHL customers?
Call me a boomer if you must, but I don't think there is anything wrong with a player lasting with a team for over a decade. There is a great thing about living vicariously through a player's ups-and-downs with a team. Just ask fans of the Washington Capitals, who on Tuesday, saw Alex Ovechkin sign a five-year deal which guarantees that Ovi will be a Capital for life. That is, until the Capitals decide to pull a "Fleury" on him. (Yes Ovechkin has a NMC unlike the limited NMC that MAF had, but just go with this for the profound impact!)
I haven't even got into the PLUGS segment yet and I'm already fired up! Speaking of the PLUGS segment, let's get that out of the way here and then tackle the insane amount of news from Wednesday.
Say it with me – here are my last few blogs in case you missed them: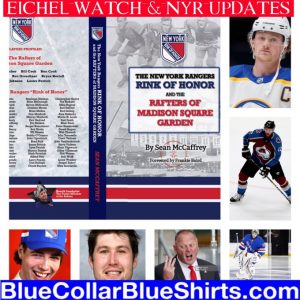 ---
---
---
As you may be aware of, and ever since the Stanley Cup Final wrapped up; fans of the Rangers and the Rangers beat writers themselves, have been revved up regarding the topic of the Rangers lack of depth at the center position. Two names that have routinely been linked in trade/UFA rumors to New York were Jack Eichel and Phillip Danault. As I write these words to you now, neither man is on their way to New York. In fact, you can completely rule out Danault coming to New York, as on Wednesday, Danault signed a six-year deal with the Los Angeles Kings where Danault will earn $33M overall. ($5.5M AAV.)
When it comes to Danault, had the Rangers signed him, it's most likely that Ryan Strome would've been playing elsewhere next season. As it stands right now, Strome is still a New York Ranger, but Strome's name is still in the rumor mill, where teams such as Seattle, Vegas, Ottawa and even Jack Eichel's Sabres have expressed interest. For what it's worth, I hope the Rangers retain Strome, especially since his chemistry with Artemi Panarin is abundantly apparent.
In any event, the Rangers are a no-go on Danault.
The never-ending saga of Jack Eichel also continues, a saga that is longer than watching the 2021 NHL Entry Draft one hundred times over.
---
One of the negative trade-offs of writing these blogs, blogs which rival the size of the Magna Carta; is the fact that anything can happen, thus making your writing come off as dated immediately after publishing. However, even if I was one of these people who just posted three sentences and called it a day, I would still the say the following – the NHL needs to adopt a policy straight out of the White House and issue a "LID" on Jack Eichel!
For a guy who has never played one game for the Rangers, Jack Eichel's name has dominated the back pages, social media and everywhere else in Rangerstown, USA. In fact, you could use a Penn Station shitter right now, and you would see Eichel trade rumors scribbled on the partition of the bathroom stall.
As the great white whale of this off-season, there have been many times where it felt like the Rangers were about to slay the beast, but just as frequently – there have been many times where the Rangers look like they are high-tailing it to dry land. It feels like the Rangers are no closer to landing Eichel today as they were a few mere weeks ago.
If there are any updates on Eichel, who is still with the Sabres as I write these words, we have the following:
— With the LA Kings signing Danault, it's highly unlikely that they are going to pursue Eichel any longer.
— Reports out of the Minnesota beat writers is that the Wild are no longer interested in Eichel. The bounty for Eichel is/was just too high.
— Vegas, who was linked to Eichel only because of dumping Fleury's cap hit; also look to be out, although their probability to land Eichel is stronger than the probabilities of both Minnesota and LA.
— Jack Eichel's agents have said that Eichel is expecting a trade and is surprised with how long this process has been. Bob McKenzie of TSN, even said that there is some frustration right now out of Eichel and his agents.
— Sabres general manager Kevyn Adams hasn't ruled out Eichel returning to the Sabres next season, where that statement feels like a move in a game of "chicken", rather than a statement having any veracity to it.
With that all said, the favorite to land Jack Eichel right now? Yep, you guessed it, the New York Rangers.
---
The Eichel Watch continues, where it's being reported that there wasn't much traction in talks between the Rangers and Sabres on Wednesday. However, what is known, and as I said last blog; with the free agency period now open and with teams filling out their rosters, the chances of the Sabres getting a major haul for Eichel have decreased. There aren't as many bidders now and if the Sabres can't find a deal with the Rangers that works for them – the Sabres will just have a bigger mess on their hands.
After all, following the recent departures of both Sam Reinhart and Rasmus Ristolainen; Linus Ullmark, as Taylor Hall did during the 2021 season, signed a deal with the Boston Bruins on Wednesday. As a result and at this present moment, the Sabres don't have a true starting goaltender going into next season.
There have been a zillion different trade packages discussed in a potential Rangers trade for Eichel. While it's a fool's errand to get into all of them, at this time, you'd have to figure that Alexandar Georgiev would be included in such a trade.
On Tuesday, Larry Brooks of the New York Post reported that while Alexandar Georgiev isn't demanding to be traded or anything as severe as that; Georgiev is willing to be traded, as long as it's to a team where Georgiev can compete for a starter's job. Here in New York City, barring something horrific happening to Igor Shestyorkin, a starter's job won't be had for Georgiev. With the Sabres now needing a starting goalie, Georgiev could be an option. Of course, Georgiev wouldn't be the only player going the other way, as the Rangers would have to add other pieces to the equation.
As I close up on this latest installment of Hijack Eichelmania, this much is known – I can't wait until Eichel's future is decided. There are only so many times in a day that you can refresh the Twitter accounts of Larry Brooks and Elliotte Friedman, while looking for details and updates!
Moving forward here, let's now get into the moves that the Rangers actually made on Wednesday.
---
The Rangers didn't make any moves on Wednesday which would blow your balls off or have you pumping your chest out. Outside of the Eichel stuff, the Rangers, just as they did last off-season, made a series of depth moves.
The Rangers made four signings on Wednesday. As I always do whenever the Rangers make a move, I'll share with you their press release first and then follow the Rangers press release with my thoughts and opinions.
Up first, the easy one. As expected, once they were legally able to, the Rangers signed Patrik Nemeth. The deal is for three years, where Nemeth will be a $2.5M cap hit per season with the Rangers.
Here's the Rangers official press release from https://www.nhl.com/rangers/news/rangers-agree-to-terms-with-free-agent-defenseman-patrik-nemeth/c-325838656  :
New York Rangers President and General Manager Chris Drury announced today that the team has agreed to terms with free agent defenseman Patrik Nemeth on a three-year contract.

Nemeth, 29, split this past season between the Detroit Red Wings and Colorado Avalanche, registering three goals and seven assists for 10 points, along with a plus-five rating and 20 penalty minutes. His three goals in 2020-21 were tied for the most he registered in one season in his NHL career, and his 87 hits during the season were the second-most he recorded in one season in his NHL career. Nemeth posted a 50.0% shot attempts percentage at 5-on-5 this past season, and he had an on-ice save percentage of 93.5% at 5-on-5 (his team's goaltenders posted a .935 SV% while he was on the ice at 5-on-5), which was tied for the 10th-best among the 98 NHL defensemen who played at least 50 games in 2020-21. He also skated in 10 games with Colorado during the 2021 Stanley Cup Playoffs, and he tied for second on the Avalanche in blocked shots (14) and ranked third in hits (20) in the playoffs.
The 6-3, 228-pounder has skated in 366 career NHL games over parts of eight seasons (2013-14 – 2020-21) with Dallas, Colorado, and Detroit, registering eight goals and 50 assists for 58 points, along with a plus-19 rating and 182 penalty minutes. Nemeth has posted a plus/minus rating of even or better in three of the last four seasons, and he established career-highs in several categories in 2017-18 with Colorado, including goals (three), assists (12), points (15), plus/minus rating (plus-27), and blocked shots (185). He ranked fifth in the NHL in blocked shots in 2017-18, and in 2018-19, he was one of 14 NHL players who registered 130 or more hits and 130 or more blocked shots during the season. Nemeth has logged at least 100:00 of shorthanded ice time in each of the last four seasons, and he ranks fourth in the NHL in shorthanded ice time over the span (800:10). He has also skated in 28 Stanley Cup Playoff games in his NHL career.

The Stockholm, Sweden native was originally selected by Dallas in the second round, 41st overall, of the 2010 NHL Entry Draft.
As talked about last blog, this is a good signing for the Rangers. Refer to my last blog for more, as I really don't have anything else to add about this signing.
---
Following the Nemeth signing, at 1:18PM on 7/28, the Rangers signed Jarred Tinordi out of Boston to a two-year deal worth $900K per season. If you notice from the picture above, the Rangers may have had an idea in mind when signing this depth defenseman.
Here's what the Rangers are saying, from https://www.nhl.com/rangers/news/rangers-agree-to-terms-with-free-agent-defenseman-jarred-tinordi/c-325840546 :
New York Rangers President and General Manager Chris Drury announced today that the team has agreed to terms with free agent defenseman Jarred Tinordi on a two-year contract.

Tinordi, 29, split this past season between the Nashville Predators and Boston Bruins, registering one assist and 11 penalty minutes in 21 games. He registered 56 hits and 30 blocked shots in the 21 games he played in 2020-21. Tinordi skated in his 100th career NHL game on April 13, 2021 vs. Buffalo. He also skated in four games with the Bruins during the 2021 Stanley Cup Playoffs.
The 6-6, 205-pounder has skated in 102 career NHL games over parts of six seasons (2012-13 – 2015-16; 2019-20 – 2020-21) with Montreal, Arizona, Nashville, and Boston, registering one goal and 11 assists for 12 points, along with 123 penalty minutes. Tinordi has recorded at least nine hits per 60 minutes of ice time in each of the last two seasons. He has served as a captain at several levels throughout his hockey career, including with the United States' gold medal-winning team at the 2010 IIHF U18 World Championship, the London Knights of the Ontario Hockey League (OHL), and most recently with the Milwaukee Admirals of the American Hockey League (AHL) in 2018-19 and 2019-20.

The Millersville, Maryland native was originally selected by Montreal in the first round, 22nd overall, of the 2010 NHL Entry Draft.
Not mentioned in the Rangers press release? Jarred Tinordi is the son of former Ranger Mark Tinordi, a Mark Tinordi that started his NHL career with the Rangers. In turn, the Tinordi family joins a short list of people that have father/son connections to the Rangers, including the Lester Patrick family.
I'm not Gerard Gallant, nor am I Chris Drury; but from my beer-stained computer chair, this looks to be a depth signing for the Rangers. As talked about last blog, I think the Rangers defense is pretty much set for next season, where the only question is the following – "is Nils Lundkvist ready?" Even then, I don't think the plan is for Tinordi to be in the line-up during Opening Night at MSG, but I guess stranger things have happened – like Jack Johnson being in the Opening Night line-up last season!
Of course, it's easy to say that the Rangers only signed Tinordi for his toughness, toughness which was displayed last season when Tinordi won a battle of fisticuffs with Tom Wilson. Between Tom Wilson, those Islander losses and the way the 2021 Stanley Cup Playoffs were played; the Rangers have adopted a whole new mentality this off-season.
It should be noted that the Rangers open the 2021-2022 season on the road – in Washington.
---
Rounding out the day were the Rangers signings of both Dryden Hunt and the returning Greg McKegg.
From the Rangers over at https://www.nhl.com/rangers/news/rangers-agree-to-terms-with-free-agent-forwards-greg-mckegg–dryden-hunt/c-325844236 :
New York Rangers President and General Manager Chris Drury announced today that the team has agreed to terms with free agent forward Greg McKegg on a one-year contract and with free agent forward Dryden Hunt on a two-year contract.

McKegg, 29, split this past season between the Boston Bruins in the NHL and the Providence Bruins of the American Hockey League (AHL). He recorded one goal in five NHL games with Boston and two assists in two AHL games with Providence.

The 6-0, 194-pounder has skated in 190 career NHL games over parts of eight NHL seasons (2013-14 – 2020-21) with Toronto, Florida, Tampa Bay, Pittsburgh, Carolina, the Rangers, and Boston, registering 19 goals and 15 assists for 34 points, along with 59 penalty minutes. McKegg recorded nine points (five goals, four assists) in 53 games with the Rangers during the 2019-20 season. He has also skated in 18 postseason games in his NHL career.
The St. Thomas, Ontario native was originally selected by Toronto in the third round, 62nd overall, of the 2010 NHL Entry Draft.

Hunt, 25, skated in 26 games with the Arizona Coyotes this past season, registering three goals and five assists for eight points, along with four penalty minutes. He was credited with 94 hits in the 26 contests he played in 2020-21, and he led Arizona in hits per 60 minutes of ice time during the season (18.11). Hunt averaged 11:58 of ice time per game this past season, which was the most he has averaged in one season thus far in his NHL career.

The 6-0, 193-pounder has skated in 89 career NHL games over parts of four seasons (2017-18 – 2020-21) with Florida and Arizona, registering six goals and 17 assists for 23 points, along with 38 penalty minutes. Hunt has registered at least 10 hits per 60 minutes of ice time in each of his four NHL seasons. He established career-highs in games played (31), goals (three), assists (seven), and points (10) with the Panthers in 2018-19. Hunt has also skated in two postseason games in his NHL career.

The Cranbrook, British Columbia native was originally signed by Florida as an undrafted free agent on March 2, 2016.
Again, I'm sitting in my chair in my condo and not in the big chair at Madison Square Garden. That said, both of these signings feel like depth signings to me, where it wouldn't surprise me to see both of these guys in Hartford to start the 2021-2022 season. I just don't see how either of these players fits into this Rangers line-up at the present moment.
Of the four signings from Wednesday, only Patrik Nemeth seems to be a lock to be a regular in the starting line-up.
While I'm not going crazy like others about McKegg returning, I don't get it either. Maybe Drury knows that McKegg is the great-nephew of ex-Rangers enforcer Lou Fontinato. As far as Hunt goes, this signing felt like it came out of left-field too. However, like most organizations do, the AHL team usually runs the same systems and tries to play the same way that the varsity club does. Perhaps these two signings ensures this philosophy.
It should also be stated here, that these signings may not bode well for the futures of Anthony Bitetto, Libor Hajek and Filip Chytil – that is, unless they love Hartford pizza.
As far as any other Rangers news that hasn't been talked about yet, and as talked about last blog – the Rangers are indeed in fact interested in Nick Ritchie. However, after the Bruins didn't qualify Ritchie on Monday, it's now being reported that the Bruins have expressed interest in bringing back Ritchie. In addition, Ritchie's name has also been linked to Toronto. As of this writing, Ritchie remains an unrestricted free agent, where I'd expect him to sign with one of these Original Six teams soon enough.
With the Rangers of today now all covered, let's talk about one of my favorite subjects – the Rangers alumni. However, no black and white pictures this go-around, as I just want to take a quick look at the recent members of the Rangers alumni.
---
While I haven't officially looked this up yet to state the following as 100% fact; it feels like this off-season has produced more Rangers turnover than any other Rangers off-season in history. Phil Esposito must be jealous!
Of course, there are many reasons for this, such as the increased roster size from the pandemic-plagued 2021 season and the salary cap. In addition, when you throw in the fact that the entire Rangers hierarchy was overthrown too, without question, the Rangers alumni, whose motto is "Once A Ranger, Always A Ranger", has increased their membership significantly.
In recent years, due to the Rangers rebuild, come playoff time, many Ranger fans joined the Tampa Bay Lightning bandwagon. After all, at one point, you had Anton Stralman, Ryan Callahan, Dan Girardi, Brian Boyle, JT Miller and Ryan McDonagh all there. Of those names, only McDonagh remains in Tampa. After the signings from Wednesday, the Carolina Hurricanes now possess a roster featuring the most prominent ex-Rangers in all of the league.
With Brady Skjei being the first to join Carolina during the 2019-2020 season; in the off-season that followed, Jesper Fast joined the man who ironically knocked Fast out of the 2020 Stanley Cup Playoffs. On Wednesday July 28th, more members of the Rangers alumni and irony followed suit into Carolina.
Up first, the Canes signed Antti Raanta to a two-year deal, where Raanta will become a $2M cap hit per season. Following Raanta's signing, Tony DeAngelo signed a contract with Carolina worth exactly half of Raanta's – one year and for $1M overall. Of course, DeAngelo will be receiving money from the Rangers as well during this time.
The irony in DeAngelo and Raanta both joining Carolina is the fact that these two were traded for each other, in that draft day deal made during the 2017 NHL Entry Draft. As a result of that trade, Raanta made the biggest money of his life, while DeAngelo hit the prime of his career, where DeAngelo was the fourth highest scoring defenseman of the 2019-2020 season.
Of note, while Lias Andersson remains in LA, the other major principle from that 2017 trade in Derek Stepan, Stepan, after Wednesday, remains as an unrestricted free agent. Could Carolina make it five ex-NYR? Time will tell.
The whole Tony DeAngelo thing is a topic to itself, a topic which I'll cover after this segment. For right now, I just wanted to recap the latest installment of "New Faces Trading Places".
---
Here's the latest on the recent members of the New York Rangers alumni:
— Pavel Buchnevich, traded to the St. Louis Blues last week, signed a four-year deal with the Blues, worth $23.2M overall and for a AAV of $5.8M. Here's Buchnevich on his big bucks:
"I'm excited for a new part of my life. I played against St. Louis a couple times, I know it's a good team… Good team, good fans."

Hear from Pavel Buchnevich after he signed a new four-year contract on Wednesday. https://t.co/6ugZQeQeTp #stlblues pic.twitter.com/y2rYvGkrNO

— St. Louis Blues (@StLouisBlues) July 28, 2021
Of note, Buchnevich brought the personality as usual and mentioned that his mother is a big magnet collector. Also of note, Buchnevich wasn't asked for his thoughts about the January 6th surge/takeover at Washington D.C. The same wouldn't apply to Tony DeAngelo, as you'll soon see.
---
Keith Yandle, fresh after being bought-out by the Florida Panthers; signed a cheap veteran deal with the Philadelphia Flyers, where Yandle will be paid $900,000 for the 2021-2022 season. The deal reunites Yandle with ex-Ranger Kevin Hayes, a Kevin Hayes who recruited his fellow American buddy to the Flyers.
In comments made by both Yandle and Hayes on Wednesday, Hayes sold Yandle on signing with the Flyers. In Philly, Yandle will also play under his old Rangers coach in Alain Vigneault. In addition to praising Hayes, Yandle also praised Vigneault and cited both of these men as his reasons in joining the Flyers.
---
Former long-time Ranger and the former alternate captain of the club, in Marc Staal, signed a one-year deal worth $2M to stay with the Detroit Red Wings. I was kind of surprised about this, because due to Staal's age and the fact that he's never won a Stanley Cup, I thought he'd try to chase a Cup elsewhere with a contender. I am left to guess that Staal enjoys living in Detroit, which is pretty close to his Canadian home. I know family comes first, but this just feels like a lost season ahead for Staal, as Detroit, most likely, won't make the playoffs.
---
Steven Fogarty signed with the Bruins on Wednesday, where he'll be paid $750K. Moving on.
---
Phillip Di Guiseppe is now one of the newest members of the Rangers alumni, as he signed a one-year deal with the Vancouver Canucks worth $750,000 overall. If PDG doesn't make it to the Canucks, he's guaranteed to make $450K at the AHL level. I don't think PDG moving on shocks anyone.
---
Anton Stralman and his $5.4M cap hit was traded by Florida to the Arizona Coyotes on Tuesday, an Arizona team that's been beasting on bad contracts like Joey Chestnut wolfing down hotdogs. Of note, Stralman has one-year remaining on the deal.
---
Dylan McIlrath, who has been bouncing in and out of the AHL ever since his time with the Rangers; signed a two-year deal with the Washington Capitals on Wednesday, where the man known as "The Undertaker" will earn $750K per season.
---
And as mentioned last blog, Anthony Duclair signed a three-year deal worth $9M overall with the Florida Panthers last week.
---
Officially, Henrik Lundqvist is currently a member of the New York Rangers alumni. However, as stated during previous blogs, who knows – a return may happen just yet, especially if Georgiev is dealt as expected.
On Wednesday, Bob McKenzie reported that Lundqvist, who is a UFA, is still awaiting medical clearance. In other words, Lundqvist can't sign a contract with anyone just yet. However, if Lundqvist can get the clearance that he's working so hard for; then Lundqvist plans on resuming his career – whether it's with the Rangers or elsewhere.
Of note, I just don't see Lundqvist returning to Washington, especially after Washington traded with Seattle to get Vitek Vanecek back on Wednesday. (When Seattle drafted Vanecek, they didn't know they'd be able to land Philipp Grubauer through free agency. This also puts Chris Driedger in a state of flux, as Grubauer, and not Driedger, is now assumed to be the number one goalie for the Krakheads.)
I've been saying this as far back as March (just check the archives of this site for proof) – if Lundqvist can get cleared, I could see Lundqvist returning to the Rangers on a veteran's minimum deal. While perhaps Lundqvist would have a better chance of chasing a Cup elsewhere, like in Colorado who could use some goaltending help right now; I think Lundqvist's heart is in New York and he wants to be with his family who lives in New York. And as said recently, for Chris Drury, this move would gain him a lot of positive favor with the fan base as well.
Let's now get into the Tony DeAngelo stuff, as I really think his whole story is fascinating. I also feel his story is historic, where future players should learn from DeAngelo's mistakes. In fact, and as noted in the past on this site – Adam Fox did. (When DeAngelo was being raked through the coals for supporting Donald Trump on social media, Adam Fox scrubbed his entire Twitter account where he liked Tweets in support of Trump. Fox doesn't have a Harvard education for nothing!)
---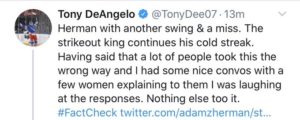 As first reported by Frank Seravalli on Tuesday and then confirmed by the Carolina Hurricanes on Wednesday – Tony DeAngelo is now a member of the Carolina Hurricanes. As expected, this signing was met with much backlash, with a lot of it, at least in my opinion, being unwarranted – yet expected.
I have written so many words on Tony DeAngelo and all of the nonsense surrounding him, that I feel I could fill up volumes of books about this subject, just like the old "Encyclopedia Britannica" series from generations ago. Younger fans, ironically, the same demographic currently demonizing Tony DeAngelo all over social media; may not be aware of that "Encyclopedia Britannica" reference.
To explain that reference here, back in the day, there was no such thing as the internet and when you had to do reports for school, you had to dust off these 100 pound books when doing research. Of course, research and most of these Tony DeAngelo haters are like oil and water. (And call me a nerd if you must, but I used to read these encyclopedia volumes cover to cover. That explains my love for history!)
As I've been saying a lot recently, I'm not going to rehash all of my previous writings on Tony DeAngelo. Just check the archives of this site or Google "Tony DeAngelo BlueCollarBlueShirts.com" for everything.
No matter what and no matter who Tony DeAngelo signed with; you knew there would be some sort of backlash when DeAngelo signed his next NHL contract, a backlash that would be met with a press conference by both Tony DeAngelo and the general manager who signed him. In this case, it was Carolina's GM in Don Waddell.
There's a lot of irony in Tony DeAngelo signing with Carolina, including this picture:
I will tell you this before motoring on – anytime you talk politics in sports, or really in general – you're guaranteed to alienate half your audience. That said, the topic of politics is involved in this story and really, it's the genesis for the hatred that DeAngelo currently receives by many people.
And oh, let me share the following with you too. I received about 50 different questions on Twitter on Wednesday, all asking the same thing – "what did Tony DeAngelo actually do OFF OF THE ICE?" I also saw this question posed to members of both both the NYR and NHL media. I've yet to see this question answered.
Yes, Tony DeAngelo was active on social media, but let's face it – if DeAngelo didn't publicly announce his support of Donald Trump and right wing politics, no one would've ever given a shit. Social media platforms tend to skew liberal, where these platforms even banned Donald Trump, the sitting American President at the time, off of their platforms.
While one could argue for free speech here, at the end of the day, no one has the God given right to use social media – everyone has to play by the rules set up by these social media platforms. Unfortunately for people who subscribe to conservative politics, they are usually the ones who go to "Facebook jail" or get the Twitter "ban hammer" when talking hot-button political issues. I mean, I've seen it, you've seen it and everyone has seen it – for the last few years, American celebrities went as far as wishing death on Donald Trump. Nothing happens to those social media accounts. If someone said the same stuff about Kamala Harris or President Joe Biden, it's a different story.
Let's just talk the facts here, facts which are very often lost when talking Tony DeAngelo:
— For all the talk about Tony DeAngelo being a racist, he was never suspended in the OHL for saying a racial slur. He screamed at a ref twice and at a teammate. While the word he used has never been reported, it's often thought that word was the f-word that's now considered as a slur for homosexuals. Over time, that f-word has been weeded out of hockey and in general; but at the same time, that word when used in hockey, is usually used in the same vein that you'd call someone an "asshole" or a "douchebag". As I've written in the past, go read Phil Esposito's "Thunder & Lightning" autobiography, as Espo brings this f-word up all the time. Is it right to use that word now? No. But does it always mean you're insulting homosexuals when using that word? No. Go watch the "South Park" biker episode for a good political commentary on this word.
— Regarding the racial make-up on DeAngelo's teammates during his days in the OHL? All white. However, many will never let the facts get in the way of a good story!
— There has never been one instance out of any of DeAngelo's teammates, past or present, who have had a bad thing to say about him. In fact, it's been the complete opposite. Whether DeAngelo was running the Rangers fantasy football league, getting Rangers on his old podcast or even today, where Jesper Fast and Brady Skjei told Carolina management that DeAngelo was a great teammate – there's never been one instance of a teammate speaking out against Tony DeAngelo. That includes Alexandar Georgiev. Again, this fact often gets lost. I mean hell, even David Quinn was praising DeAngelo two weeks ago during his first interview since being fired with Mark Rosenman.
— There was never an issue with K'Andre Miller. Tony DeAngelo, despite the bullshit Adam Herman put out there, never had one cross word or incident with Miller. In fact, it was Herman who put Miller in a bad spot by using Miller as a face for his fiction.
— Tony DeAngelo never punched Alexandar Georgiev. It was the other way around!
— If Jeff Gorton handled this situation better, we wouldn't be talking about DeAngelo's return to the NHL right now. By swearing off DeAngelo and destroying an asset, Jeff Gorton just made things worse.
---
Listen, I know this is going on for far too long and I sound like DeAngelo's public relations director. However, I do think his story is something everyone should take notice of.
Social media has too much power, where people headline read stuff and don't really investigate what they're reading. People will believe anything they read without doing the research. While DeAngelo put himself in hot water by not staying away from social media, at the same time, like any one else with an opinion, isn't it his right to express his opinions? Like I said a year ago, when I thought DeAngelo was hurting his stock at this time; it's not like DeAngelo said anything outrageous here either, except for that one time when DeAngelo was goaded into challenging a fan into a fight, after that fan trash talked DeAngelo's family. To this day, that "fan" shares those Twitter screen shots like a badge of honor. Pretty sad. That said, DeAngelo did take the bait and he got a talking to by the Rangers. It was DeAngelo's decision to get sucked into the nonsense.
Another accusation regarding DeAngelo, is that DeAngelo started his "Watch Your Tone" podcast to spread racist messages and promote right wing politics. Even ESPN reported this fake news junk, despite not listening to one episode. If you check the archives of this site, I recapped every single episode of "Watch Your Tone" during the pandemic, where not once was anything racist said on these podcasts, nor was there any talk of politics either. The whole podcast was about sports, where usually, the NFL was the top topic. (No joke, it was a podcast by a hockey player that focused on football, basketball and MMA.)
Optically, in a social media world where haters with politically fueled narratives will always twist words around to support their narratives; DeAngelo would never tweet out "BLM" during the BLM riots of the summer of 2020. Many of DeAngelo's peers did, including Jacob Trouba. One NYR beat reporter made Trouba out to be the second coming of Mother Theresa for tweeting out "BLM". However, because DeAngelo didn't, that fit the narrative that DeAngelo was a card carrying member of the KKK.
Again, I don't want to dive too much into the political waters here, but just because someone doesn't tweet out "BLM" – that doesn't mean that they are a racist either. For DeAngelo and others like him, I'm sure they are all for equality and for everyone having the same chance in life –  black, white, Asian, Hispanic or whatever. However, there is a difference between attaining your goal peacefully (like MLK tried to do) and violently – like some of those BLM riots were.
This is all such a sensitive subject, that even when people tweeted out "All Lives Matter", like Sacramento Kings broadcaster Grant Napear did, a Grant Napear who spent over three decades without incident covering the NBA; these people were considered racists and canceled too. Companies, including police departments, are so scared of any public backlash, that they will fire anyone that may go against social media norms. That includes hockey players.
Even by writing these words right now, I'm sure some people will throw the -ist's and -ism's at me too. And really, that's the problem – you can't have an open dialogue about this stuff, as some will always make it a black and white issue; rather than realizing that this topic is shades of gray. Everyone can want equality, but there's a right way in attaining that goal. Rioting is just never the answer, no matter what background you're from or cause that you support. If you get anything out of what I'm saying right now, peaceful talks are better and go further for the greater good than violence and property destruction – and this goes for any sort of debate, whether from the political realm or elsewhere.
After all, just think about it – does anyone ever mention how DeAngelo, Napear and the others who didn't tweet out BLM, also said that the riots on January 6th in Washington were horrible too? Of course not – it doesn't fit these people's narratives. I truly believe that all of these people, myself included, want a fair, yet peaceful way of attaining harmony. Rioting is just never the answer and riots hurt innocent people (including small business owners who were already hurting during a pandemic) rather than achieving a goal. There's just different ways to go about things and I believe that open dialogue, rather than violent rioting, is the best way to resolve issues.
And how about that #HockeyIsForEveryone hashtag? You know the hashtag that many liberals promote? I guess that doesn't apply to people who have political differences than the ones tweeting that hashtag out. Perhaps #DoAsISayNotAsIDo would be more appropriate? And let's not even get into the bullying that these people do on people that think different than them. #BellLetsTalk, am I right?
As I said then and as I'm saying again here, DeAngelo became a villain just because he had political beliefs that not many in his generation share. It truly is a shame, because at the time, DeAngelo was the most active NHLer on social media and was the only active NHLer to have a podcast. He really was a man of the fans, but because of his political leanings, some fans couldn't see past that. The fake news reports about him didn't help his case either; stuff DeAngelo probably should've spoke out on at the time. (DeAngelo would later speak out about this, not only today, but in a prior interview with Larry Brooks, an interview which came too late.)
And really, once again think about it. Before all the political garbage, DeAngelo assumed Derek Stepan's role as the face of NYR media, where DeAngelo, like Stepan before him, was the emcee of various NYR skits and promotional videos. That all ceased when DeAngelo revealed himself as an "R" word – "Republican".
Let's now fast-forward to today. After news of DeAngelo signing with the Canes, there was a social media uproar, which was also spear-headed by some members of the Carolina media themselves. You had fans saying they were getting rid of their season tickets, as if that mattered. After all, what do Carolina season tickets go for? $500 and a cup of coffee?
Compounding matters is that out of all NHL social media accounts, the Carolina Hurricanes social media account is the most liberal. With many of these fans believing falsehoods about DeAngelo, DeAngelo going to Carolina is like Judas betraying Jesus Christ.
I will say, since I will always have a sense of humor, I did find some jokes about this signing to be funny, such as DeAngelo leading a "Storm Surge" on the Capital and the fact that he's now wearing a red jersey, since red is the color of the Republican party. While perhaps I'm too ardent in my defense of DeAngelo, just because I think DeAngelo's situation forces NHL players to stop interacting with fans on social media altogether; my sense of humor will never leave me!
In what's also a fact and not a joke here – talent will always get chances. And when I say chances, I'm talking about DeAngelo's past fighting with coaches, referees and in one case, Alexandar Georgiev. If DeAngelo didn't bring anything to the table, he wouldn't even be a second thought. Need an example of this? Just look at the NFL, who hires felon after felon and criminal after criminal. As long as you can play, you'll always get chances in the NFL, even if you kill dogs, hit children and beat women – aka the NFL hat trick.
I bring up killing dogs here, for as sick as that is, (really, my stomach is just sick writing these words, as I'm a huge animal lover and have had pets all my life) because when I watched DeAngelo's press conference from Wednesday, I felt like DeAngelo was on trial for murder. No joke, I thought Mike Vick, who actually killed defenseless animals, got off easier than DeAngelo did during his return press conference.
Anyway, at this time, here's DeAngelo's press conference, presented without any opinions yet: (I don't want to influence your opinion here before you view this.)
The media was out for blood, especially Sara Civian of "The Athletic", a Civian who made it known prior to the press conference that she was looking to hang DeAngelo. If you notice, every other media member addressed Tony by name except for her.
When I watched this press conference, you'd think that DeAngelo was a Jerry Sandusky here or someone else who committed a heinous crime. When you have media members asking DeAngelo, "did you support storming the White House on January 6th?", it just tells you how far the media has fallen. As said earlier, no one in St. Louis asked Pavel Buchnevich for his thoughts on that horrific incident.
Whatever the event, DeAngelo handled the Carolina media here. DeAngelo is now on a "prove it" deal, where if he can get through next season without any incident as promised, he'll be able to earn big money again. For his sake, I hope he does – although I hope Carolina finishes near the bottom of the division – a few steps up above the Islanders, Devils and Flyers!
To wrap up on this long-winded diatribe, I leave you with this – do you think the Rangers will give DeAngelo a tribute video when DeAngelo returns to M$G in April? (Some people will take this comment seriously! In fact, some have already taken this joke seriously on social media! No one has a sense of humor anymore.)
---
Let's do some quick plugs as we close out here.
On Wednesday afternoon, the "Up in the Blue Seats" podcast returned with a special off-season episode. I usually recap these episodes, but due to time constraints tonight, I have to forego a recap here.
To give you a quick synopsis, despite this episode being released on Wednesday afternoon; some of the stuff talked about on this episode was already dated by the time it was released, due to Getzlaf re-signing in Anaheim and Danault going to LA. (And hey, how about Fake Stat Steve Valiquette predicting that the Rangers would sign Getzlaf too? Like his charts, it's all fake news out of Vally!)
The episode pretty much recaps everything that happened in Rangerstown, USA from the time DQ was fired until today.
If there was anything hysterical about this episode, it was Duguay talking about his personal life. Duguay mentioned that his son has now moved out of his house, and in turn, Duguay has been drinking a lot of tequila, walking around his house naked, looking for a romantic interest at bars during happy hours and that he is also in the process of releasing a new alcoholic drink, a drink that Duguay wants to infuse with CBD. Duguay also mentioned that he's been accused of still living in the 1970's and after recounting tales of what he's been doing lately, he feels that those accusations are accurate!
I don't hide my biases on this site, I love how open Duguay is and he truly is a throwback to a time where we could all laugh and have a fun time without being so sensitive about everything. It's not the worst thing in the world to have an open dialogue and exchange laughter. Heck, that's why this site exists!
To listen to an entertaining and informative episode of "Up in the Blue Seats", click the link below:
Up In The Blue Seats Podcast: @RonDuguay10 & @MollieeWalkerr return for a special Rangers free agency podcast. @NYP_Brooksie joins the crew to talk free agency plans & the Rangers offseason moves thus far

Apple: https://t.co/AEDGivBKvy
Spotify: https://t.co/1QS2lxroJr pic.twitter.com/gOP4ua9WgU

— New York Post (@nypost) July 28, 2021
In other podcast news, on Wednesday morning, our friends over at "2 Guys 1 Cup" released a 102 minute episode, talking all the latest in Rangerstown, USA. As a day one listener of this show, you can see the chemistry between the two co-hosts developing. What I like about Shawn and Roc, the two co-hosts, is that they don't agree on every topic, which makes the podcast more entertaining. If everyone agreed on everything it would be boring.
To listen to the episode, click the link below:
Episode 8: the Bye Bye Buch edition available now!https://t.co/grgtwADrfQ

— 2 Guys 1 Cup (@2G1CRangers) July 28, 2021
If you haven't already, subscribe to this blog for the next update:
---
Up next and similar to "Marcia, Marcia, Marcia"; "EICHEL, EICHEL, EICHEL".
I'll be back once the Rangers make news again.
Stay FABULOUS my friends.
As always here, thanks for reading and…
LET'S GO RANGERS!
Sean McCaffrey
BULLSMC@aol.com
@NYCTHEMIC on Tweeter