Greetings and salutations everyone and welcome to another blog here on BlueCollarBlueShirts.com. It's nearing "shit or get off the pot time", in the Rangers pursuit of landing Jack Eichel. For the Sabres, if they want to make a move, the sands of the hourglass are no longer in their favor.
As of this writing, Jack Eichel remains on the Buffalo Sabres roster, but for how much longer? To answer that question – well that's anyone's guess. While people can guess and speculate on what the Rangers may give up for Eichel, this much is known – if the Sabres can't move Eichel by noon of July 28th, the potential haul that the Sabres are looking for right now will have decreased.
It should be stated that not only are the Rangers still in the mix for Eichel's services, but other teams have also been linked as a potential suitor for Eichel, including teams such as the LA Kings and the Minnesota Wild. While I've previously discussed the pros and cons about the Rangers acquiring Eichel on this site, (where I really don't want to see the Rangers mortgage their future and cripple their salary cap for Eichel) I just have a beer gut-feeling that the Rangers will land Eichel. After all, rarely do you see the Rangers out of the big game hunt. With Chris Drury's Rangers looking to be in "WIN-NOW" mode, I just feel the end result is Jack Eichel searching for a new jersey number to wear in the Big Apple.
According to all reports, including a report from Elliotte Friedman of SportsNet; the Sabres are sticking to their guns in their ransom demands of Eichel. Perhaps the Sabres are trying to force the Rangers and other teams to out-bid each other and themselves. Whatever the case, the longer this game of chicken goes, the odds that the Sabres get the best package available will lessen.
Once the calendar flips to July 28th and the clock strikes high noon, the Sabres may not find a gun-slinger in front of them to do business with. After all, that's when the free agency period opens and if the Sabres aren't going to budge, teams around the league will look and spend elsewhere, as they fill out their 2021-2022 season rosters.
And if Eichel isn't traded – what a freaking mess for the Sabres, a Sabres franchise that's currently messier than the bottom of a porto-potty. No joke, I think the toughest job in all of the NHL right now, is the job of a Buffalo Sabres season ticket representative. The Sabres, who were bad enough already, have given their fans no hope this off-season. This also includes the Sabres drafting of Owen Power, an Owen Power who is expected to play at the NCAA level next season, rather than in a city that desperately needs something positive to happen. (And as talked about in the past, the Sabres fan base is one of the strongest in the league and they deserve better.)
Whether or not Chris Drury has given up on his talks with Buffalo for Eichel is unknown. What is known is that on Monday July 26th, Drury made a few decisions, decisions which not only impacted the Rangers, but decisions which also impacted the Rangers AHL affiliate in Hartford too. I'll have more on this below.
Elsewhere in Rangerstown, after Larry Brooks of the New York Post reported that the Rangers are moving on from Brendan Smith; Brooks, on Monday, also reported that the Rangers are looking to fill Smith's former slot on the club with Patrik Nemeth. Of note, the Nemeth signing can only become official starting on Wednesday. That said, Brooks has been batting 1.000 since Glen Sather returned to a role of power, and there's no reason to question the reporting out of Brooks.
While we await news on Eichel one way or the other, let's get into everything else that hasn't been covered yet on this site. However, up first and as usual – the PLUGS segment.
Here are my last few blogs in case you missed them:
---
---
---
To wrap up on one of the bigger stories of this Rangers off-season; Pavel Buchnevich posted the above message, where Buchnevich thanked Ranger fans for the last five seasons. Just writing that previous sentence feels weird, especially after my last blog where I talked about the arrival of both Pavel Buchnevich and Jimmy Vesey. I can't believe that was five years ago. Time flies when you're not winning Stanley Cups!
As said last blog, and as I'll say it again here – while I know many fans are upset about this Buchnevich trade, I'm trusting the Drury "pro-cess" here. While you can say this about any off-season and for any franchise in sports; for the Rangers, now more so than ever, I truly believe that everything Drury and the Rangers are doing at this present time are all small moves for the greater sum/good. Unlike other fans who are one step off of the ledge and looking down – I remain faithful and believe that Drury is not only building a playoff team, but a playoff contender as well. Call me optimistic or delusional if you must, but only time will tell and I think I'll be proven correct over time.
Moving on!
---
In our first piece of Rangers news from Monday, at 10:20AM, Larry Brooks, the only reporter on the Rangers beat who breaks news, tweeted out the following: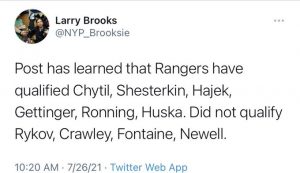 In news which was later confirmed by the NHL themselves, and as expected, the Rangers qualified their top two restricted free agents of this off-season in both Igor Shestyorkin and Filip Chytil. Let's take a look at each player individually.
In the case of CZAR IGOR, you regular readers know that I've been touting praise about Igor ever since 2017, when I first started following Igor's career in the KHL. Without question, one way or the other, the Rangers are bringing Igor back. It's just a matter of how much and for how long.
The Rangers could always do a bridge deal with Igor and then run the risk of Igor soon becoming an unrestricted free agent. Perhaps the smarter deal is to lock up Igor long-term, and like goalies of Rangers past, create a whole new era around their net-minder. In a perfect world, Igor would follow a great legacy of Rangers goaltending, legacies which include Davey Kerr, Chuck Rayner, Gump Worsley, Eddie Giacomin, Mike Richter and Henrik Lundqvist.
Of course, and stop me if you've heard these three words before – "THE SALARY CAP" will play a major factor in what the Rangers decide next.
I'll spare you from another one of my rants on the salary cap, but yeah, in a cap-less world, the Rangers would give Igor the money and the years. In today's world, the Rangers are going to have to decide how much of the salary cap Igor should take up.
I've seen different numbers rattled around from the various reporters that are out there, (both NYR and NHL scribes) suggesting as low as $4M a season and as high as $7M a season for Igor. For as much of a fan that I am of Igor, that $7M figure sounds crazy.
Perhaps the biggest concern for Drury and the Rangers are Igor's health issues. At the same time, you could also blame Igor's injuries on bad and dumb luck. A small minor concern could also be Igor's poor starts to games during the 2021 season, where after giving up an early goal or two, Igor then buckled down. In addition, (and I'm just trying to give you every angle here) like many Rangers from the 2021 season, perhaps Igor's poor starts were just the result of that crazy and no training camp 2021 season.
Gun to my head, I think the Rangers forego the whole bridge deal with Igor and wind up agreeing to a five-year deal worth $25M overall. Igor and his agents will probably look for $6M a year, but when compared to other goalies around the league of Igor's stature, $5M AAV seems like a fair figure for both parties. In any event, Igor will be a Ranger next season.
When it comes to the other "big" Rangers RFA in Filip Chytil, I'm not as confident with Filip Chytil returning to the Rangers as I am with Igor. In fact, by this time Wednesday, I could see Chytil going the other way in a trade for Jack Eichel.
There were two things I routinely said about Chytil throughout the course of the 2021 season. One, I don't believe that Chytil is a natural center and I think that Chytil would be better off on the wing. Two, I said that I felt like Chytil would be traded this off-season.
For Chytil, a guy who doesn't win face-offs on a team that had the lowest face-off win percentage in all of the NHL last season; to me, Chytil is expendable. While perhaps the Rangers sign and trade Chytil, if Chytil stays – I just don't see where Chytil fits on this team anymore.
You guys know I hate the "PROPOZED LINES" shit, but when it comes to the Rangers, RIGHT NOW, you have Mika Zibanejad, Ryan Strome, Barclay Goodrow and Kevin Rooney as the four best centers on the team. Again, who knows what happens with this roster, (and the Eichel thing is a factor, at least until Wednesday) but where does Chytil slot in? Even if Mika or Strome are moved for Eichel (as talked about last blog, the Rangers could deal Strome outright, while Mika would have to waive his NMC and a third team would have to be involved, since Mika isn't waiving his NMC to play in hockey hell in Buffalo) a combination of Mika, Strome and/or Eichel would account for your top two centers.
Barclay Goodrow just got paid. He's playing. For the money he's being paid, it's hard to envision Goodrow as just a fourth line checking center. More than likely, Goodrow will be a third liner.
When it comes to whoever the fourth center for the team may be, you have Morgan Barron, a Morgan Barron who is more natural as a centerman than Chytil. You also have Kevin Rooney. While Rooney and Goodrow could flip-flop on the wing and on the same line, all of this does limit Chytil's worth and playing time with the Rangers.
If you're a Chytil fan and want to go glass half-full here; in your wildest dreams, do you see Chytil as the second line center of this team, which would be the best case scenario for Chytil personally? While Chytil would love that, that might not be best for the Rangers.
Of course, another option is to flip (not Filip!) Chytil to the wing, where even then, the Rangers have a glut of wingers. It's why the Rangers traded Pavel Buchnevich in the first place. With Panarin, Kreider, Lafreniere, Kakko and Kravtsov pretty much guaranteed top minutes, once again, at best, Chytil would find himself on the third line and as a winger. And if the Rangers decide to make their third line a check line (more on this to come) then what are you paying Chytil for? To play 5-8 minutes a game?
So yeah, my prediction is that we won't see Filip Chytil on the Rangers next season. Of course, I've been wrong before! As I say way too many times on this site – "we'll see!"
---
As you may have read elsewhere already, since I'm late in getting this blog up; of the names NOT qualified by the Rangers on Monday, Yegor Rykov's name stands out the most. As a result, Yegor Rykov will never be known for what he did on the ice with the Rangers. Instead, Rykov is now known solely as one of the answers to a trivia question, with that question being "Name the two players involved in the first ever trade made between the New York Rangers and the New Jersey Devils." Yegor Rykov is one answer and Michael Grabner is the other answer.
On February 22nd, 2018, and for the first time in the storied "Battle of the Hudson" rivalry, the Rangers and Devils did business together. The trade saw the rebuilding Rangers deal Michael Grabner to the Devils in exchange for Yegor Rykov and a second round pick of the 2018 NHL Entry Draft. (The Rangers would later trade the pick to Ottawa, a pick who Ottawa then used to select Jonathan Tychonick – a Tychonick, who like Rykov, has never played one NHL game as of this writing.)
For a while there, many prospect experts pegged Rykov as a future member of the Rangers blue line. Due to injuries and the pandemic, these plans never came to fruition. Also bumping down Rykov's stock/value to the Rangers was the fact that the Rangers have a cabinet busting with young defenseman right now. At the end of the day, with the Rangers having so many young d-men in their system, it became a numbers game for Rykov and he drew the short straw.
All the best to Rykov and the others who weren't qualified on Monday. The NHL can be a cruel business.
While Rykov won't be playing with the Rangers next season, it's expected that Patrik Nemeth will.
---
On Monday afternoon, Larry Brooks reported that the Rangers will be signing defenseman Patrik Nemeth on Wednesday. For Brooks' story, check out: https://nypost.com/2021/07/26/rangers-expected-to-sign-patrik-nemeth-in-nhl-free-agency/
The future and expected signing of Nemeth goes along with what Chris Drury has been doing all off-season, as Drury loads up on brutes and sandpaper types. Nemeth, who turns 29 years old next season, is a veteran of the Western Conference, where Nemeth has played for the Dallas Stars, the Detroit Red Wings and the Colorado Avalanche. (FYI: Nemeth had two separate stints with the Avalanche.)
As Brooks said in his article, Nemeth is here for his "GRIT" factor, and isn't here to produce offensively like an Adam Fox. In addition, like Brendan Smith before Nemeth, it's expected that Nemeth will play a mentor role for another aspiring Ranger.
As noted 76767868967896 times on this site, Brendan Smith took Kaapo Kakko under his wing, where Smith drove Kakko around, helped Kakko adjust to life in the NHL and was a sounding board for the young Finnish player. This was all Smith becoming a team-first guy, after Smith's nonsense with Vinni Lettieri during the season prior.
I bring this up for one reason before getting into Nemeth. With Smith officially gone, I saw some fans saying that the Rangers should sign another player of Finnish descent, just to get Kakko going. To that I say – hogwash. The 2021-2022 season will be Kakko's third season. He's no longer a freshman or a sophomore. The hand-holding stuff, or at least the idea of it, needs to be shelved. It's time for Kakko to stop crawling and to start running by himself. That said, this same theory doesn't apply to Nils Lundkvist.
I should preface the following with two things that I've said in the past. One, it's not a guarantee that Lundkvist will be a Ranger next season, as who knows, Lundkvist could be part of an Eichel trade. Two, if Lundkvist isn't traded, it isn't a guarantee either that Lundkvist makes the Rangers out of camp. Perhaps a start in the AHL with the Wolfpack would be better for Lundkvist. Again, who knows?
If Lundkvist can make the team ahead of schedule, as K'Andre Miller did last season, it's expected that Lundkvist would join Nemeth on the third pair. After all, with Fox/Lindgren and Trouba/Miller pretty much a lock as the top four of NYR d-men, there's no other place for Lundkvist.
Just like Smith once did for Kakko and just like how fans are now suggesting that the Rangers sign a Finnish player to hold Kakko's hand; Nemeth, who is Swedish, could be a good mentor and sounding board for Lundkvist. In fact, that's probably why the Rangers, who have a ton of options for the third LD position, went with Nemeth.
People may not like to hear this or admit it, but hockey is deep-rooted in patriotism and features many international customs. Like a high school cafeteria, there are also cliques, whether it be the Russians hanging out with Russians, Americans hanging out with Americans, and/or in this case, Swedes hanging out with Swedes. This isn't a bad thing, it's just natural. After all, if you were sent to a different country that didn't speak your native language, you'd gravitate to someone who spoke your language and knew your customs too.
With a fellow countryman to talk to, and someone who could show him how things are done in America; Nemeth would be great for Lundkvist and great for Lundkvist's transition as an NHL player playing in North America. As far as their potential chemistry together? Well that's left to be determined. However, in a best case scenario, perhaps just like Marc Staal once recently did for Tony DeAngelo – perhaps Nemeth can be your classic stay-at-home defensive defenseman, which in turn, will allow Lundkvist to roam free offensively.
In either event, welcome to the Rangers Patrik Nemeth. And oh, while bringing up DeAngelo's name here, just a quick "what if?" on DeAngelo.
---
As we wind down here, I want to share with you two stories of redemption.
During the last off-season, Anthony Duclair partook in what many considered a fool's mission, when as a free agent, Duclair decided to represent himself in contract talks rather than hiring an agent. At the end of the day, Duclair may have sacrificed some bucks and term, where Duclair ultimately settled on a one-year deal worth $1.7M with the Florida Panthers. At the time of Duclair's signing, anyone in the league could've signed him, including the Rangers.
Fast-forward to July 15th. Duclair, who banked on himself, proved fortunate, as Duclair re-upped with the Panthers for three years, where Duclair will now earn $9M overall. For a man who was turning into a jersey collector, Duclair has finally found a home, at least for the time being.
As you may know, during the 2021 season, the Rangers had many weaknesses, with their center depth being one of the biggest. Over in Calgary, centerman Sam Bennett was having issues with the Flames, where it was known around the league that Bennett wanted out. On April 12th, 2021, the Flames finally found a trading partner and sent Bennett to Florida.
Bennett, like Duclair, thrived in his new environment. On Monday July 26th, Bennett signed a four-year deal worth $17.6M overall with the Panthers. For both Duclair and Bennett, both of whom were considered to be mercurial players – these two overcame the scuttlebutt around them and are now paid and paid handsomely at that.
Why do I bring this up, outside of the facts that Duclair is a member of the Rangers alumni and because of the Rangers center issues? Easy – when the Rangers were having their issues with Tony DeAngelo, at the same time, the Flames were having their issues with Sam Bennett.
As noted numerous times on this site, the way Jeff Gorton handled Tony DeAngelo was one of the worst examples of poor asset management in all of Rangers history. Had Gorton not stood on his soap box and said that "DeAngelo will never play for the Rangers again", perhaps the Rangers could've dealt DeAngelo to Calgary for Bennett straight up. Instead, we'll never know.
Had the Rangers had Bennett on their roster, starting 8-10 games into the regular season, who knows? Maybe the Rangers make the playoffs in 2021. At the very least, had the DeAngelo situation been handled better, perhaps the Rangers would've been able to save cap space this season and avoided the need to buy DeAngelo out of his contract.
One more topic and a book update and we're done for tonight!
---
In an interesting development and for whatever reason, the Boston Bruins elected not to qualify restricted free agent Nick Ritchie on Monday. If you watched the Rangers at all during 2021, in most of the Rangers eight games against the Bruins, Ritchie gave the Rangers nightmares.
I have no clue what Drury's plans are, nor do I claim to have any sort of inside track here. What I do know, is that if the Rangers could land Nick Ritchie, not only would he be cheaper than Blake Coleman, but Ritchie would be a perfect candidate for a Rangers "Identity Line", a line that on paper, looks to presently include Barclay Goodrow and Sammy Blais.
Nick Ritchie is one of your typical "players that you love to hate on the opposition, but love if he's wearing your sweater." Similar to guys like Brad Marchand, Tom Wilson and Wayne Simmonds, while Ritchie may not possess the same offensive skills as these aforementioned players, (although 15 goals and 11 assists in 56 games played during the 2021 season isn't nothing to sneeze at either) Ritchie would give the Rangers some jump.
That being said, while I'm sure Drury is aware of Nick Ritchie, so are the other general managers across the league.
A lot of what happens next in the Rangers future, and as mentioned repeatedly tonight, is whatever happens with Eichel. However, Ritchie wouldn't break the bank and he would be a perfect bottom six forward for the Rangers.
Some fans may whine about the Rangers trying to get "too tough", but of Ritchie, Blais and Goodrow, Ritchie would provide not only toughness and grit, but he could also rack up points too.
Again, who knows what Drury does, but the Rangers could do worse than Nick Ritchie.
---
As you can see above, the cover art for my upcoming book is now finalized. I could upload this picture on Amazon and do a pre-sale date, but since this is a passion project rather than a project to fatten my bank account; I'm going to wait until the book is entirely done before accepting any money.
Also of note, if you look at the back cover, you can see everyone that's profiled in the book. (And needless to say, there's more to this book than just these profiles. Those profiles are just a way to get your beak wet!)
As noted before, if you want a signed copy of the book, either reply in the comment section below or email me. The last I checked, I'm up to 264 requests for a signed paperback copy, which I will sell direct to you off of this website through Venmo or PayPal. In other words, as of right now, I'll order 300 copies and sell them here. If you want an unsigned paperback copy, that version will be 74 cents cheaper on Amazon. The book will also be a few dollars cheaper on Amazon/Kindle as an e-Book, where at this time, I'm not sure what the exact price-point for this version will be.
If you've been following these book updates on this site all the way, we're almost there. I think a 9/1 release date is looking more likely by the minute. I can't wait to get this book into your hands.
---
On Monday night, our buddies over at "The Blueshirt Undergound Show" returned with a new episode, where co-host Eddie G. is NOT as optimistic as I am about the Rangers chances during the 2021-2022 season. In fact, he's anything but optimistic! However, and as usual, "The BSU Show" brought the laughs, entertainment and great discussion when talking about the latest in Rangerstown, USA. Plus, even if they don't agree with my opinions, it's always great to get different perspectives. And really, there's nothing like an old-fashioned rant either!
To listen/watch the show, click the play button below:
If you haven't already, subscribe to this blog for the next update:
---
Up next, we pretty much await news from either Elliotte Friedman, Frank Seravalli or Larry Brooks on Jack Eichel's future. Once a decision is made, I'll return. If nothing is done by Tuesday night, I'll return Wednesday night, recapping the latest Rangers free agent signings.
Stay FABULOUS my friends.
As always here, thanks for reading and…
LET'S GO RANGERS!
Sean McCaffrey
BULLSMC@aol.com
@NYCTHEMIC on Tweeter