Greetings and salutations everyone and welcome to another blog here on BlueCollarBlueShirts.com. After writing a zillion words on the Rangers this week, this blog will be a short one – or at least a short one for me. I mean, I'm pretty sure this "short blog" will dwarf the size of other blogs that you may read! (And that's not a shot at anyone else, it's just to say I have my own unique style here!)
As talked about on last night's blog, on Saturday July 24th the Rangers not only completed the second day of the 2021 NHL Entry Draft, but the Rangers also officially bought Tony DeAngelo out of his contract too. Up next for the Rangers – figuring out what to do with the Hartford Wolfpack and tackling free agency, with the free agency period commencing at 12PM on July 28th. As stated last night and many times before – there's never a slow news day in Rangerstown, USA.
Since this is the point of the off-season where trades are hot and heavy, I should also mention here and as of this writing, that Jack Eichel is still with the Buffalo Sabres. Or as my buddy BUDDHA likes to call him, "Hijack Eichel".
In tonight's blog I have all the latest Rangers news covered for you, where just like on Friday night, Chris Drury met with the media on Saturday too. I have video of Drury's press conference for you below, where Drury, without saying his name directly, brushed upon the topic of Eichel. In addition, Drury also had some comments about Mika Zibanejad as well.
Even crazier, Joe Micheletti's brother, in Pat Micheletti, made Rangerstown headlines this weekend too. OH JOE!
Before getting into everything from Saturday, let's get the PLUGS segment out of the way first. Here are my last few blogs in case you missed them, where last night's blog covered a cornucopia of Rangers news:
---
---
---
It's official – Tony DeAngelo is no longer the property of the New York Rangers. After being waived on Friday, Tony DeAngelo cleared waivers at noon on Saturday. Immediately after clearing waivers, the Rangers then bought out DeAngelo.
Here's how the Rangers covered it:
As you can tell, the Rangers bought out DeAngelo once the clock struck 12PM, which was the first moment when the Rangers were legally able to buy-out DeAngelo from his contract.
I've written practically books about the DeAngelo situation, so there's no point in re-hashing everything once again here. Check the archives or search "Tony DeAngelo BlueCollarBlueShirts.com" in Google for my full length blogs on this subject.
As far as anything new regarding this situation, Chris Drury did talk about this transaction during Drury's media interview from Saturday. (Video included at the end of this blog.) In short, Drury said he never considered pivoting from the previous regime's decision and said that he was always going to follow through with this buy-out. Drury also mentioned that he called DeAngelo to wish him the best of luck. As a result, Tony DeAngelo, like Brett Howden, Colin Blackwell and Pavel Buchnevich before him; Tony DeAngelo now becomes the latest member of the New York Rangers alumni. Just don't expect DeAngelo to be making appearances on behalf of the Rangers anytime soon!
I also want to add in this space that if you're a regular reader of this site, you know how I felt about all of this. I won't go on and on about this situation again since I know it all comes off as tiresome. I just want to say that while I think this whole thing was unfortunate – I have to support Drury's decision to buy out DeAngelo. In fact, I do support Drury's decision.
I'll talk more about Drury later tonight, but just like how I support Drury's trades and his first round draft pick; I also have to have faith that buying out DeAngelo was the right decision too. Drury's there, I am not. Plus, if I was to go off on Drury for buying out DeAngelo, I'd be a hypocrite after supporting Drury's previous decisions since becoming the team's general manager.
And really, at the end of the day, Drury needs his own fresh slate and needs to move on from all issues from last season. With everything going on right now, trying to repair the DeAngelo relationship is the least of Drury's concerns. It's kind of like that scene from "Bronx Tale", where Drury is paying DeAngelo to get him out of his life. I get it. For Drury, it's all about the future and DeAngelo is now just the latest ghost of Rangers past.
As hockey fans, it will be interesting to see where DeAngelo goes next. As talked about before, I can see Tampa Bay, New Jersey and Philadelphia as being options. Whatever the case, all the best to DeAngelo and I still think Jeff Gorton handled this whole ordeal horribly. However you felt about DeAngelo, whether as a player or otherwise, this was just a bad case of asset management.
For DeAngelo's sake, hopefully he has success at his next stop, a stop where he will most definitely be watched under a microscope. Moving forward, if DeAngelo is unable to keep himself in check, he'll flame out of this league faster than Don Murdoch did.
As the Rangers were bidding adieu to DeAngelo, rounds two through seven of the 2021 NHL Entry Draft took place on Saturday, starting at 11AM and ending at who knows when! Let's get into what the Rangers did during the second day of the draft.
---
The NHL Entry Draft of 2021 is now over, and what a draft it was. With more teams than ever before participating, this draft was longer than a thousand of these blogs combined.
I never bullshit you on this site or during these blogs. Not only am I not familiar with any of these kids in this draft, I also zonked out during the third round. By the time I woke up at 7:15PM, the draft had just ended.
As talked about last night and in the past on this site, if you want detailed information on all of these draft picks and from an unbiased source, check out Steve Kournianos over at https://www.thedraftanalyst.com/
If there's any entertainment that I ever get out of any NHL entry draft, it is that I always get a kick out of Ranger fans on social media who flip out over every pick, as if they've ever seen any of these guys play. I know I sound like I'm throwing in the towel or being faithfully blind here, but I all I can say is that I support what Drury and his staff did. I mean, what else am I supposed to say? Fake some outrage over a topic that I have little knowledge about? I'm not everyone else that you may read! I'll save my outrage and pissed off feelings about the way the Rangers ignore their alumni!
In addition, and this is coming from me of all people; I also think it's in poor taste when fans go after these draft picks on social media, where in some cases, these fans tag these players on social media and express their disdain. As if these players forced teams into drafting them. And again, in 99.9% of these cases, these fans have never even seen these kids play before!
As it goes with any draft, you can't really assess any draft until 3-5 years down the line. In addition, and I'm sure I'm speaking for many Ranger fans here; after these last two years, where the Rangers won the draft lottery in both of these years, my interest in this draft didn't come anywhere as close to rivaling my interest during the last two NHL drafts.
At this time, let me give you what the Rangers are saying about their picks.
The following comes from the Rangers themselves over at: https://www.nhl.com/rangers/news/rangers-make-eight-selections-in-2021-nhl-entry-draft/c-325795782
During the 2021 NHL Entry Draft, which was held on Friday, July 23 and Saturday, July 24, the Rangers selected eight players. With their eight picks in the Draft, the Blueshirts selected six forwards, one defenseman, and one goaltender.

1st Round, 16th Overall

With the 16th overall pick in the 2021 NHL Entry Draft, the Rangers selected forward Brennan Othmann.

Othmann, 18, skated in 34 games with EHC Olten in the Swiss League this past season, registering seven goals and nine assists for 16 points, along with 64 penalty minutes. He was one of only 12 players (skaters and goaltenders included) in their U18 season or younger who played in the Swiss League in 2020-21, and he led all of those players in assists and points during the season. Othmann also recorded two points (one goal, one assist) in four playoff games with EHC Olten this past season.

The 6-0, 175-pounder played with the Flint Firebirds of the Ontario Hockey League (OHL) during the 2019-20 season, and he recorded 33 points (17 goals, 16 assists) and a plus-three rating in 55 contests during the season. Othmann was named to the OHL's First All-Rookie Team in 2019-20. He was selected by Flint in the first round, second overall, of the 2019 OHL Priority Selection.

Internationally, the Scarborough, Ontario native has represented Canada in several tournaments. Most recently, Othmann helped Canada win a gold medal at the 2021 IIHF U18 World Championship, as he registered six points (three goals, three assists) and a plus-six rating in seven games in the tournament. He also recorded six points (three goals, three assists) in five games while playing with Canada-Black at the 2019 World U17 Hockey Challenge.

Entering the 2021 NHL Entry Draft, Othmann was ranked No. 8 on NHL Central Scouting's final ranking of North American skaters eligible for this year's Draft.
3rd Round, 65th Overall

In the third round, the Rangers selected forward Jayden Grubbe with the 65th overall pick.

Grubbe, 18, skated in five games with the Red Deer Rebels of the Western Hockey League (WHL) this past season, registering one goal and two assists for three points, along with nine penalty minutes. The 6-2, 200-pounder recorded 29 points (six goals, 23 assists) in 57 games in his rookie season in the WHL in 2019-20. Grubbe served as Red Deer's captain this past season. Internationally, the Calgary, Alberta native recorded three points (two goals, one assist) in five games with Canada-Black at the 2019 World U17 Hockey Challenge.

3rd Round, 75th Overall

The Rangers acquired the 75th overall pick in the 2021 NHL Entry Draft from the Washington Capitals in exchange for the 80th overall pick and the 176th overall pick in the 2021 NHL Entry Draft. With the 75th overall pick, the Blueshirts selected forward Ryder Korczak.

Korczak, 18, skated in 17 games with the Moose Jaw Warriors of the Western Hockey League (WHL) this past season, registering three goals and 13 assists for 16 points, along with four penalty minutes. He led Moose Jaw in assists and tied for fourth on the team in points in 2020-21. The 5-11, 174-pounder has skated in 132 career WHL games over parts of four seasons (2017-18 – 2020-21), registering 29 goals and 69 assists for 98 points, along with 36 penalty minutes. The Yorkton, Saskatchewan native established WHL career-highs with 18 goals, 49 assists, and 67 points with Moose Jaw in 2019-20. Korczak has served as one of Moose Jaw's alternate captains in each of the last two seasons.

4th Round, 104th Overall

With the 104th overall pick, the Rangers selected forward Brody Lamb.

Lamb, 17 (turns 18 years old on August 30), skated in 24 games with the Dodge County Wildcats in Minnesota, registering 52 goals and 35 assists for 87 points, along with 12 penalty minutes. He was named the Minnesota Associated Press Player of the Year in 2020-21, as he led all players in the state in goals and points. The 6-1, 165-pounder also recorded 23 points (12 goals, 11 assists) in 19 games with Team TDS Transportation in the Upper Midwest High School Elite Hockey League (UMHSEHL) and two assists in 10 games with the Green Bay Gamblers of the United States Hockey League (USHL). The Rochester, Minnesota native served as Dodge County's captain this past season, and he also tallied 66 points (46 goals, 20 assists) in 22 games with Dodge County in 2019-20.

4th Round, 106th Overall

With the 106th overall pick, the Rangers selected forward Kalle Vaisanen.

Vaisanen, 18, skated in 27 games with TPS' U20 team in U20 SM-sarja in Finland, registering nine goals and 21 assists for 30 points, along with a plus-13 rating and 34 penalty minutes. The 6-4, 178-pounder has played in TPS' organization for the last two seasons; he recorded 39 points (18 goals, 21 assists) in 44 games with TPS' U18 team in U18 SM-sarja in 2019-20 and was named to the league's Second All-Star Team. Internationally, the Kotka, Finland native tallied one assist in five games while representing his country at the 2021 IIHF U18 World Championship.

4th Round, 112th Overall

With the 112th overall pick, the Rangers selected goaltender Talyn Boyko.

Boyko, 18, appeared in 14 games with the Tri-City Americans of the Western Hockey League (WHL) this past season, posting a 7-7-0 record, along with a 3.02 GAA, a .901 SV%, and 1 SO. The 6-7, 196-pounder established WHL career-bests in several categories in 2020-21, including wins, GAA, and SV%. The Drumheller, Alberta native has appeared in 48 career WHL games over parts of three seasons (2018-19 – 2020-21), all with Tri-City.

5th Round, 144th Overall

With the 144th overall pick, the Rangers selected forward Jaroslav Chmelar.

Chmelar, 18, skated in 15 games with Jokerit's U18 team in U18 SM-sarja in Finland this past season, registering five goals and eight assists for 13 points, along with eight penalty minutes. The 6-4, 198-pounder joined Jokerit's organization for the 2020-21 season after playing with Kiekko-Vantaa's organization in Finland during the 2019-20 season. Chmelar tallied 22 points (11 goals, 11 assists) in 42 games with Kiekko-Vantaa's U18 team in 2019-20. Internationally, the Nove Mesto nad Metuji, Czech Republic native recorded two points (one goal, one assist) and a plus-three rating in five games while representing his country at the 2021 IIHF U18 World Championship.

7th Round, 208th Overall

With the 208th overall pick, the Rangers selected defenseman Hank Kempf.

Kempf, 19, skated in 26 games with the Muskegon Lumberjacks of the United States Hockey League (USHL) this past season, registering four goals and six assists for 10 points, along with a plus-five rating and 27 penalty minutes. He established a USHL career-high in goals in 2020-21, and he served as one of Muskegon's alternate captains during the season. The 6-2, 191-pounder played parts of the last three seasons in the USHL (2018-19 – 2020-21), all with Muskegon, registering 28 points (four goals, 24 assists) and a plus-21 rating in 81 games. Kempf was named to the USHL All-Academic Team and the USHL All-Rookie Second Team in 2019-20. Internationally, the Chicago, Illinois native represented the United States at the 2019 Hlinka Gretzky Cup.

---
As far as anything else that I can add here, from the people who know and who I talk to, none of these players selected during this 2021 NHL Draft will be NHL ready for the Rangers next season.
Who knows how this draft will turn out? I think either way, it will be hard to fault any of these general managers due to the circumstances, with those circumstances being the pandemic ruining all of these minor league, international and college levels during the 2020-2021 season. Down the line, some GM's will be credited for striking gold. For those GM's whose picks don't pan out, they will be able to blame the pandemic. Simply put, there was a lot of "crap-shooting" this year.
This draft was like no other in NHL history, which is why I'm even more amazed that some Ranger fans are acting like these picks are life or death. Then again, I guess nothing should shock me anymore. Of course, as I say that, here's something shocking for you, a tweet from the FABULOUS brother known as Pat Micheletti: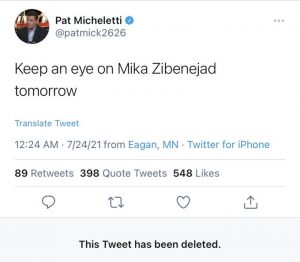 At the end of last night's blog, I included an update where I mentioned rumblings about Mika Zibanejad's status. Leave it to Pat Micheletti, the brother of Joe Micheletti, to get the ball rolling!
Who knows what Pat Micheletti was going for here? All we know for a fact is that Pat Micheletti teased that something was going to happen to Zibanejad, only for Pat Micheletti to later delete the tweet on Saturday afternoon.
When it comes to Zibanejad, I've discussed his situation before and I'm on record – I do not want to see the Rangers give Zibanejad a 7-8 year deal that includes a No Move Clause. These NMC's are salary cap killers. Need an example? Just ask Pavel Buchnevich and then look at the contracts that Chris Kreider and Jacob Trouba currently have.
While I do like to have my fun with the FABULOUS Joe Micheletti, I don't think his brother tweeted something out for the sake of tweeting something out. I'm sure there is something to what Pat Micheletti was saying, even for as vague as he was. Of course, one also must wonder why Pat Micheletti would even enter the waters of rumor mongering in the first place, as that is not his style.
In a way, this leads us to our next and final topic of tonight – Chris Drury's interview with the NYR messenger pigeons beat reporters.
---
I need to get this out of my system before moving on.
I have seen countless mooks on social media go on the Chris Drury warpath. Not included in any of these rantings and ravings are the facts that Chris Drury was/is a Stanley Cup Champion, ran successful businesses and is a hockey lifer. In other words, I'm more apt to put my faith into what Drury is doing right now, rather than siding with the opinions from the jerkoffs making charts, heat-maps and all of that other useless junk that the analytical bozos come up with when trying to devalue true hockey people.
I've always been one of those people who treat people in the same manner which they treat me. I apply that same logic/thinking to sports figures. For example, I was fine when Glen Sather first joined the team in 2000. I supported it. However, until Sather gave me a reason to turn on him, I had no issue. And when Sather traded Brian Leetch, that ended my peace accord with Sather!
Today, after 21 years of Sather making horrible decisions and never winning a Stanley Cup with the Rangers, I am admittedly a bonafide hater of Sather's! (And that's a shame, because really, Sather was a good player for the Rangers. In fact, he's even profiled in my upcoming book where I have him included in the New York Rangers "Rink of Honor"! That said, I have also included Sather's name in the bonus "NYR Stink of Dishonor" chapter too!)
When it comes to Drury, even if he may have gained his two new titles under suspicious circumstances; (for whatever reason, not one member of the NYR media have asked Drury when he knew that Dolan was planning on canning JD and Gorton) I am putting my faith into his decisions. No question, Drury's time as a Ranger was disappointing. However, as a front office person, it's a different ball game. After all, in his prime, Chris Drury won a Stanley Cup with Colorado.
In addition, Drury wasn't the first person, and he certainly won't be the last person, to have signed a mega-deal with the Rangers long after his prime. It's just the way the organization does things – just like how the Rangers have a hard-on for buying players out of their contracts!
Drury, despite his young age, has been around this game for a long time now. He knows how to win a Stanley Cup as a player. He's been around front offices. He already knows what's worked and what hasn't worked for the Rangers. Until Drury gives us a reason to get upset or question him, I'm fully onboard the Drury train.
I truly believe that for all the belly-aching and tears concerning Drury's recent moves, that by Christmas, Ranger fans will be doing cartwheels over the team, including cartwheels for the Rangers new identity line, where Goodrow and Blais should be two of the three members.
If you get anything out of what I'm saying here, it's this one word, a word that Axl Rose once made famous – "patience".
After the completion of the NHL Draft, Drury met with the media. Here's the video of Drury's press conference:
There are a few things I took out of Drury's press conference, outside of the DeAngelo stuff that I talked about at the top of this blog. Those things, and in no importance of order, are the following:
— Drury brought up the 2021 Stanley Cup playoffs and how teams who had role players and were physical had the most success. This is stuff I've been saying the whole way.
— Drury mentioned that he had to make decisions regarding the Hartford Wolfpack roster. As mentioned previously on this site, the team also needs a general manager.
— Drury said he was happy with his current center depth and without mentioning any player by name. Whether that's a vote of confidence for guys like Ryan Strome, Mika Zibanejad and Filip Chytil or not; well that's left to be determined, as all three players have had their names being linked in trades in one way or the other.
— Drury said while he drafted big and tall players, players who are also physical; Drury said that wasn't his sole mission when drafting players, mentioning that he selected the best players who he thought were out there. On an aside here, the Rangers also drafted a 6'7″ goalie. If that goalie, whose name is Tayln Boyko, doesn't pan out, perhaps Boyko could replace another tall goalie in Steve Valiquette on the MSG Networks. After all, at the present moment, both Boyko and Valiquette have similar experience as a starting NHL goaltender! (Yes, I had to work this bad joke in!)
— Drury was asked about free agency. Drury wouldn't tip his hat one way or the other here, outside of saying that he wants to field the best team possible. While Drury didn't say the two key words of "WIN NOW", it feels like that's the mission and I'm 100% in support of that.
Drury was also asked about Mika Zibanejad, which is a whole topic into itself.
---
On Mika Zibanejad and his contract status, Drury said the following:
"Obviously Mika is a huge part of our team and has been a huge part of our organization for a long-time. I'm certainly not going to discuss his contract or anyone else's publicly, but certainly have a ton of respect for him as a person and a player for what he has done here and I'll leave it at that."
Of note, none of the NYR reporters dared to bring up the name of "Pat Micheletti" to Drury.
We all know the deal about Jack Eichel and everything surrounding that situation. If the Rangers do land Eichel, that means the Rangers probably don't go into the 2022-2023 season with Zibanejad. However, it's my belief that if the Rangers do land Eichel, they don't have to necessarily give up Zibanejad in that potential trade. Furthermore, the Rangers could get one season of Zibanejad and Eichel together. After all, Eichel is due for surgery and if we learned anything during the 2021 Stanley Cup Playoffs, it was how Tampa Bay handled Nikita Kucherov and how Tampa Bay put Kucherov on the LITR list.
If Eichel is to miss a chunk of, if not the whole 2021-2022 season, in theory, the Rangers could put Eichel on the LITR and fingers-crossed, have Eichel join the Rangers for a 2022 Stanley Cup Playoff run. I know this sounds like fantasy land, and there is the whole thing about Eichel not having chemistry with these players under these circumstances, but this is a scenario that could potentially go down, for as slim of a chance that it is.
Lastly while on Eichel, Eichel turns 25 years old in October and his contract will expire by the time he's 30. Mika Zibanejad will turn 29 next season and he's going to want a massive "set-me-up" for life contract. I believe Larry Brooks said this first (I was going to say this tonight, but Brooks beat me to the punch) but $10M at 30 years old isn't the same as $10M at 35, 36 and 37 years old.
In addition, Zibanejad's poor season, COVID or no COVID, throws a huge monkey wrench into giving him an extension. Then, when you factor in Zibanejad's concussion history, do you really want to pay uber bucks to someone who may turn into the second coming of Rick Nash while under that big contract? While Rick Nash turned into a great three zone player, he never became an elite superstar with the Rangers. If you looked at Zibanejad's COVID-plagued 2021 season, he pretty much was Rick Nash 2.0 – solid in all three zones, a great penalty killer but couldn't find his scoring touch, especially in games where it mattered the most.
But wait, there's even more stuff for Drury to consider.
Due to the Rangers giving out NMC's like the way a Jehovah Witness hands out pamphlets, Mika presently has a NMC in this last year of his current contract. That's why, if the Rangers do want to move Mika to make room for Eichel, they will probably need a third team to get involved. There's just no way Mika is moving his NMC to go to a place where careers go to die, where Buffalo RIGHT NOW, looks much worse on paper than how they played and finished last season. How the Sabres can ask fans to pay money to watch that team, well that's beyond me. I feel for that fan base, one of the greatest fan bases in all of the league.
For Mika to theoretically waive his NMC, you have to figure that a third team, a team which is a contender, would have to be involved.
As I said last night when talking about Buchnevich; there's just no way Drury can trade Mika in the middle of next season, because that would be a bad message to send and not a message you want to send with James Dolan taking a new found interest in the team. At the same time, you also don't want to let Mika walk away for nothing, as the Islanders once did with John Tavares.
So yeah, as said – Drury has a tough decision to make here. He can give out another one of these Sather/Gorton contracts, a monster contract with a NMC which could cripple the Rangers, especially if Zibanejad experiences more concussion issues. Drury could also let Mika finish out his contract, only to get nothing in return if the two parties can't come to terms. Finally, Drury could also trade Mika, but a lot of things would have to go down in order for that to happen.
As I've said in the past, that's why Drury is getting the big bucks and this is why Mika Zibanejad's future is the toughest decision Drury will have to make this off-season.
---
If you haven't already, subscribe to this blog for the next update:
---
As noted, I don't think the Rangers are done yet. I'll be back after their next move. Until then, I'm gearing up to release my upcoming "The New York Rangers Rink of Honor and the Rafters of Madison Square Garden" book for you!
Stay FABULOUS my friends.
As always here, thanks for reading and…
LET'S GO RANGERS!
Sean McCaffrey
BULLSMC@aol.com
@NYCTHEMIC on Tweeter