Greetings and salutations everyone and welcome to another blog here on BlueCollarBlueShirts.com. Following last week's announcement of Jacob Trouba being named team captain – there isn't much going on – that is, unless you care about scouts and the IIHF World Junior Championship Tournament.
As noted on this site many times before, prospects/teenage players isn't my forte. History is. This is my way of telling you that outside of seeing a few highlights of both Brennan Othmann and Will Cuylle – I haven't watched a lick of the 2022 World Junior Tournament.
It's always my aim to be 100% authentic and genuine here, so I can't fake any real interest in this tournament. Plus, with both "real life" and trying to get my two book projects across the finish line – I really don't have the time for it either.
In addition, while it's great whenever the Ranger prospects stand out at these tournaments – it's not like these tournaments are truly an indicator of anything.
No joke, and as it always goes whenever some prospect/junior tournament is currently being held – people (fans) tend to overreact to both positive and negative play.
Yes, I'm rooting for all the Ranger prospects to do well – but as you're aware of – the NHL game is much different than any of these tournaments. Need an example? Exhibit A – Pavel Brendl.
And for what it's worth, it doesn't seem like there is much interest in this tournament anyway. Check out this story from Sportsnet for more:
https://www.sportsnet.ca/world-juniors/article/restrictions-may-be-gone-but-2022-world-juniors-feels-like-bubble-tournament/
---
When it comes to Ranger news, all we have is this:
The additions of both Garth Joy and Andy Schneider, to the Rangers' scouting department, are just two more moves made by Rangers' general manager Chris Drury in order to build the team in his own vision.
Since taking control of the club over a year ago, Drury has made a bevy of moves to the Rangers' scouting department, where prior to these two moves from Monday, August 15th, he's mainly focused on the European scouting division.
And that about wraps up the news from Rangerstown, USA!
As far as anything else; there are no updates on the statuses of previous players covered on this site during the past three weeks, Jimmy Vesey, Tyler Motte and Nazem Kadri.
However, it's still expected that Kadri will wind up with the Islanders in some fashion, but there's nothing official yet, nor has Isles' g.m., Lou Lamoriello, made any corresponding moves to accommodate whatever Kadri's hefty cap-hit will be.
Both Vesey and Motte remain as unrestricted free agents.
Next!
---
As you know by now, I've been doing freelance work for Stan Fischler and his columns on both NHL.com and in "The Hockey News."
One assignment I received from "The Maven" was to do a "Then and Now" feature on Alexei Kovalev and Artemi Panarin.
On Sunday, August 14th, the column ran on NHL.com, which you can read here: https://www.nhl.com/news/artemi-panarin-following-alexei-kovalevs-path-with-new-york-rangers/c-335269254
However, the column was heavily edited (something I know about going in – Stan asks me to write something and then he chops it up as he sees fit), including my whole preamble on Russian entry into the NHL.
At this time, and especially with not much else going on, I present to you "Then and Now: Kovalev & Panarin," and a mini history on Russian players and the NHL.
---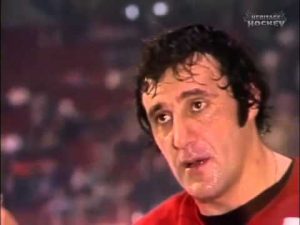 Historically, the year of 1991 will always be remembered for the fall of the Soviet Union. When the USSR splintered, over in the hockey world, it opened up the floodgates for an NHL Russian "invasion." The league has been better for it.
Prior to Russia becoming its own country, Soviet players were somewhat viewed as "villainous," not only to North American fans (both Canadian and American), but to the North American players too.
The reason for these negative feelings were two-fold.
While politics and "The Cold War" were part of it; hockey-wise, the Soviet Union had been dominating international hockey tournaments, including the Olympic games, due to the NHL forbidding their players (a majority who were North American) to compete in these tournaments.
Rather than seeing a true "best of the best" tournament during these international battles for hockey supremacy; instead, the Soviets feasted on both Canadian and American amateur teams, where from 1964-1976, the USSR won four straight Olympic hockey tournaments.
Furthermore, starting in 1956 and ending in 1988, the Soviet Union won seven of a possible nine Olympic Gold medals. One of the two losses? The 1980 "Miracle on Ice." You may have heard about it before!
It wasn't until 1998, when NHL commissioner Gary Bettman saw what the "Dream Team" did for the NBA in 1992, that NHL players, paid professionals, were allowed to participate in the Olympic games.
In 1972, and in an attempt to see what nation was truly the best on the ice (and we can talk about Bobby Hull and this tournament at another time), Canada and USSR played an eight-game set known as "The Summit Series." For the first time ever, the Soviets would see professional Canadian hockey players (NHLers) on the other side of the rink.
The series was extremely intense for both sides, especially with the way of the world at the time.
Prior to Game Eight of the series, and with the series tied at 3-3-1 (yes, they allowed games to end in ties, with Game Three featuring a 4-4 final), Phil Esposito rallied the troops.
"I said this to the guys one time in the dressing room: 'I play in Boston, they really don't give a damn about this,'" Esposito said. "I said to them, 'You guys who play in Canada? My God, if we lose this series, you won't be able to walk down the street. People will never forgive you. They won't forgive me either, but I don't give a damn, I'm going back to play in the States.'"
Canada then went on to win Game Eight by a final score of 6-5. The Soviets had been conquered – but it was no walk in the park – nor was it without drama either.
"I'm okay with the fact that I was the first in the NHL to score 100 points," Esposito said many years later to NHL.com. "The first to score 60 and 70 goals in a season; 76, to be exact. I was the guy who put a hockey team in Tampa, and I'm okay with that, too.
"But in 1972? That was playing with emotion for my country. It wasn't my job, it was for my country. Did I get myself up for it? I'll say this: There was no way — I don't know why I keep saying this and people sometimes look at me like I'm nuts — that I was going to lose. I was not going to let us lose."
Esposito's pride for country was echoed throughout North America. His sentiment for patriotism was shared, feelings that continued some twenty years later. Then the "Iron Curtain" fell and a new era in hockey began – the infusion of Russian NHLers – an era that a 1972 Esposito would have never envisioned.
Alexei Kovalev, born in Tolyatti, USSR (an hour's flight from Moscow, Russia today), broke the mold.
The right winger was drafted fifteenth overall during the first-round of the 1991 NHL Entry Draft. When the New York Rangers took him with this pick, Kovalev became the the first Russian-born Soviet to be selected during the first-round of an NHL draft. Times were changin'. The feelings of hostility for Soviet/Russian born players had eroded.
Following the draft, then Rangers' general manager, Neil Smith, said, "with Kovalev's talent, he probably should have been taken in the top three, but a lot of people thought we'd never get him out of there."
Kovalev, then at the age of nineteen years old, made his NHL debut during the 1992-93 season. A year later, he was the Rangers' third-highest scorer during the 1994 Stanley Cup Playoffs (21 points). (Brian Leetch scored 34 points, Mark Messier scored 30 points.)
Better than that? Kovalev also won the Stanley Cup in 1994, which then made him one of the first four Russians to ever have his name engraved on the Holy Grail of Hockey. (Sergei Nemchinov, Alexander Karpovtsev and Sergei Zubov were the other three Russians – as Neil Smith had no problem integrating Russians onto his roster.)
During a 2019 interview for the official website of the Rangers, Smith reflected about Kovalev's peak years with his club:
"I was proud of Kovalev – without him we don't win either. And he was a gutsy pick, because he was the highest a Russian had ever been picked in the draft. No, I didn't have any hesitation to do it, because I'd been doing it in Detroit: we drafted in '89 those guys that ended up winning Cups, and two Hall of Famers in Lidstrom and Fedorov. I didn't hesitate on rolling the dice on things. And Alex, we do not win without him in New York.
"I think of that story, in that famous game in New Jersey (Game 6 at Brendan Byrne Arena, where visiting executives sat in the press box that was set within the regular stands), they were winning 2-0, and there was this idiot in the stands next to me just yelling, over and over again, 'Hey Neil, back to the drawing board! Back to the drawing board!'
"So then Kovalev scores that goal and the place erupts, and then of course the famous stuff that goes on in the third period. And I swear to you, when Mess scores into the empty net, I turned to look at that guy, and the seat was empty. Gone. Kovalev quieted him right down, and then Mess sent him on his way."
Prior to winning the Stanley Cup, Kovalev also played during the 1992 Winter Olympic Games, where as part of the Unified Team (six nations of the former USSR), he won a gold medal.
In a 2019 interview the Caviar Diplomat, Kovalev talked about patriotism and winning:
"Most important for me was the [1992] Olympics because I'm Russian and it was for the country, especially given the situation we were in back then. But of course I cannot take a Stanley Cup away. After fifty-four years, to be part of that history – it was impressive and something to remember.
"The Olympic celebration went so quick, plus we were in a different country. We were celebrating one place to another, we traveled, celebrated at the airport—and then we got in the car and everything stopped in one moment. And then I was just going home by myself, with my family—that's it.
"The Stanley Cup was different. I didn't sleep for four days. They asked me to do the opening pitch at the Yankees game, and I was like, "I'm sorry—I have to fly home and go to sleep." So I passed on that. The celebration just went on and on and on."
Kovalev announced his retirement in 2017. During his career, he scored 1,029 points in 1,316 regular season games played. The multiple-time All-Star (and the MVP of the 2009 All-Star Game too), also scored 100 points in 123 playoff games. As a result, Kovalev finished his career by playing in more NHL games than any other Russian player that was born in the USSR.
While Kovalev and others were paving the way for other Russian players to enter the NHL in 1991; over in Korkino, Russia (formerly of the Soviet Union), on October 30th, a child named Artemi Panarin was born. Soon enough, "The Breadman," just like his countryman before him, would be earning Rangers' "dough."
Perhaps more ironic than that? Once "The Breadchild" (one wonders if the crust was cut off of his sandwiches back then!) became "The Breadman" – Panarin and Kovalev became fast friends. In fact, the two go flying together – literally.
During his time in the Big Apple, Kovalev became interested in aviation. As a result, he put the time in and eventually earned his pilot's license.
On July 20th, 2020, Panarin shared a picture on his social media accounts of himself and his favorite aviator, as the two left the ice and opted for the air.
"He [Kovalev] is definitely a great pilot, but I brought a parachute just in case," said Panarin once back on the ground. "Thank God I didn't need it."
While Kovalev and Panarin share many bonds today, including that year of 1991, their Russian background, casual flights, etc; the pair of comrades took two completely different paths to the NHL.
After some skepticism, fan-fare and hype; Kovalev would soon make a winner out of Neil Smith. Conversely, left winger Artemi Panarin went undrafted during the 2010 NHL Entry Draft – his first year of NHL eligibility.
In addition, while Kovalev came over to North America a little bit over a year following his draft; it would take Panarin, then approaching the age of 24, over five years following his 2010 NHL Draft omission to make his NHL debut.
Starting with the 2010-11 season, Panarin earned full-time status in the KHL. After five successful seasons in the top hockey league of Russia, on April 29th, 2015, Panarin signed a two-year entry level with the Chicago Blackhawks. In return, Panarin scored 77 points in 80 games played, which earned him the 2016 Calder Trophy.
Due to salary-cap reasons, Panarin was traded to the Columbus Blue Jackets on June 23rd, 2017. Following two excellent seasons in Ohio, Panarin became an unrestricted free agent during the Summer of 2019 – the top prize of that year's class of free agents.
The Rangers, despite being at their start of their rebuild, didn't waste any time.
On July 1st, 2019, the Rangers and Panarin agreed to a seven-year deal worth $81,500,000 overall ($11,642,000 per-season). Panarin has remained fabulous ever since.
"He's only 27 years of age, he's averaged eighty points over the last four seasons he's played in the NHL, he's a healthy body," then Rangers' team president John Davidson said after Panarin signed. "We know he wants to be here in New York, specifically with the Rangers. It's a perfect fit."
The man known by his initials, J.D., a former Ranger himself, would soon be proven correct in his assessment.
In his first season in the city that never sleeps, Panarin set career-highs in goals (32), assists (63) and points (95). These numbers earned him a Hart Trophy nomination for the first time in his career.
In a somewhat case of "what's old is new again," Russian politics interfered with Panarin's 2020-21 season. While Panarin maintained his over point-per-game average (58 points in 42 games played) – he missed fourteen games of the pandemic-shortened 56-game campaign because of what amounted to lies about him in his home country.
When the NHL returned for their first 82-game schedule in three seasons, the 2021-22 campaign, so did #10 in Rangers' blue. His 74 assists and 96 points became his new career-bests.
As Panarin enters his fourth season with the Rangers, and now with twenty games of playoff experience with the Rangers under his belt too (50 playoff games in total); "The Breadman" will look to become the latest Russian Ranger to win a Stanley Cup. If that should happen – maybe Kovalev should get the champagne on ice – and drink it on the ground!
---
Last but not least – the "DIARY" segment – where I have some more news on my two upcoming books.
"Tricks of the Trade – A Century-Long Journey Through Every Trade Made In New York Rangers' History" is still in the proof-read/editing/formatting process. It's still my goal to get this book to the finish line by 10/1/22, but I don't want to rush anything. This one is my pride and joy and I want it as perfect as possible.
My new four-volume set of books, "One Game at a Time – A Season to Remember" will be released on 9/1/22. You will be able to buy all four volumes of the series on either Amazon.com or through me directly.
Once released on Amazon (I'll provide the links here once up on their site), you will be able to buy the book in e-Book, paperback and hardcover formats.
In addition, you will be able to order all four volumes in one single version, the e-Book version, through Amazon. (The four separate volumes will also be available as e-Books on Amazon.)
For readers looking for signed copies, I can provide both hardcover and paperback versions for a discounted rate.
On Amazon.com, the paperback versions will retail for $19.99 each. The hardcover versions will retail for $24.99 each.
It was my goal to lower the price-point of these books, but each volume runs over 400 pages each, which in turn, meant I had to raise the price a little, in order to cover printing costs and Amazon fees.
However, if you purchase all four volumes through me, I can provide a bundle package discount.
For $75, you can get all four volumes (paperback version) signed. (U.S. customers/readers only.)
For $90, you can get all four volumes (hardcover version) signed. (U.S. customers/readers only.)
Both bundle packages include shipping costs.
I can accept Paypal, Venmo or check.
Rather than providing a bunch of different payment buttons, and to make it easier for me (I'm a one-man show here), please email BULLSMC@aol.com with your pre-order request and preferred method of payment.
If you'd rather me email you, list your email address in the COMMENTS section and I'll get back to you.
For international readers/customers, please email me for a shipping quote and what country the books will be going to.
Of note, if you're not interested in having all four volumes, and just want one volume, Amazon.com will have you covered.
Here are the covers of each volume:
---
---
---
---
Here is the Amazon.com description of the book:
"One Game at a Time – A Season to Remember" is a game-by-game recap of the New York Rangers' comeback 2021-22 season – the first successful season of a brand new era of Rangers' history.
The kindle version of this book includes all four volumes of "One Game at a Time – A Season to Remember," including "Dawn of a New Day," "The Rise of Czar Igor," "The Tree of Trouba," and "The Playoffs."
Following the heels of one of the most dramatic and controversy-plagued seasons in all of franchise history (the 2020-21 season), the Blueshirts used the 2021-22 campaign to complete one of the biggest 180's in their near one hundred years worth of history, where by the end of it – the Rangers finished the season as the third-best team in all of the NHL.
Behind both a new general manager/team president (Chris Drury) and a new head coach (Gerard Gallant), the Rangers had one of their best regular seasons yet during the 2021-22 season, where they finished with 52 wins (tied for second-best in franchise history) and 110 points (third-best in franchise history).
The Rangers not only had team success during the 2021-22 season, but many superstars, including Chris Kreider, Artemi Panarin, Igor Shestyorkin, Adam Fox, Barclay Goodrow, Jacob Trouba, Mika Zibanejad, Ryan Strome, Alexis Lafreniere, K'Andre Miller and more, all had the best seasons of their individual careers.
For a team that many thought wouldn't even reach the 2022 Stanley Cup Playoffs at the start of the season – the Rangers then went on to have a strong postseason run, where they ultimately finished two games shy of reaching the Stanley Cup Final.
From the author of "The New York Rangers Rink of Honor and the Rafters of Madison Square Garden;" "One Game at a Time – A Season to Remember" is a compilation of writings from Sean McCaffrey's BlueCollarBlueShirts.com website, where every Rangers game played from the 2021-22 season (82 regular season games and 20 playoff games) are fully recapped.
Re-live every big goal, save, hit, win, Game Seven victories, and more from the Rangers' 2021-22 season during "One Game at a Time – A Season to Remember."
---
Lastly, and as a disclaimer, in the attempt to not mislead anyone – this four-volume set is a compilation/compendium of my blogs from this site which covered the 2021-22 season. I don't want to fool anyone into thinking that this volume set is 100% original material.
While there is original material included, I want to be honest with everyone, as you guys and gals are the target audience – about 10% of the book is original content. Again, I just don't want to deceive anyone.
Once the books go on sale, I'll include the introduction to the four-volume set on this site.
To give you a spoiler on why I felt I had to put this four-volume set out there; basically, I believe that the 2021-22 season needed to be put into book form – even if it's just for Ranger historians of the future, when I'm long-and-dead. (I say this from first-hand experience, as when I do my own research about the Rangers from yesteryear, it's not that easy finding books, articles, interviews, etc about those early teams.)
Lastly while on this title; very often, I am asked some form of the following question, "how do you run your site with no ads, spyware and/or Patreon links?"
If you're one of these people who ask me about this, this is how: book sales!
Rather than asking you for your money via Patreon, GoFatherFinkMe, or whatever other crowd-funding/sourcing sites that other bloggers/fan sites use (any donations are appreciated, but I'd feel like a bum asking for financial contributions without giving anything back in return), I say this – if you want to support the site, buy my books – even a compilation set! They look great on a bookshelf!
And honestly, I know that you guys and gals will. The way you supported my first book tells me all that I need to know! Thanks again!
---
PLUGS TIME!
---
My first plug of tonight's blog – the mandatory plug for my book, "The New York Rangers Rink of Honor and the Rafters of Madison Square Garden".
As mentioned previously, the book is now available in hardcover, in paperback and in Kindle formats. To purchase a copy of the book, visit this link:
https://www.amazon.com/Rangers-Rafters-Madison-Square-Garden-ebook/dp/B09CM5N2WD
For those still looking for signed paperback versions of the book, I have re-ordered more copies. I now have a few signed copies for sale at $25 a pop (includes shipping price) through me directly. Here is all the information on that:
---
Here are my last few blogs, in case you missed them: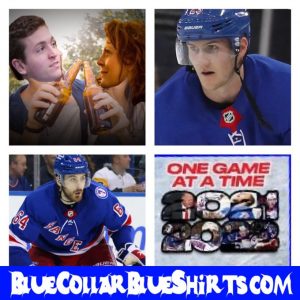 ---
---
---
If you haven't already, subscribe to this blog for the next update:
---
Up next for yours truly: rifling through pre-orders and completing "Tricks of the Trade!"
Enjoy the rest of your summer. Barring anything truly breaking, I'll be back next Monday.
Thanks for reading.
LET'S GO RANGERS!
Sean McCaffrey
BULLSMC@aol.com
@NYCTHEMIC on the Tweeter machine