Greetings and salutations everyone and welcome to another blog here on BlueCollarBlueShirts.com. One down, five to go.
And while I know that it's only the preseason, and that the Rangers hit a major travel delay prior to Sunday night's tilt in Boston too – for one night only – can you tell me what has changed?
The short summary prior to fully recapping what we saw on a bloodbath/upset NFL Sunday?
An 0-5 power-play, two shots off of the iron, turning an unheard of no name goalie into the second coming of Martin Brodeur, and of course, and my personal favorite – the younger and lesser paid players outperforming the "older" and higher paid players on the team – aka "THE RANGERS' WAY!"
What's that saying?
Oh yeah – "The More Things Change, The More They Stay The Same!"
---
Following the next five preseason games played; come October 12th, in Buffalo, the pointless exercise, aka the Rangers' 82-game regular season schedule, begins.
A promise for you too – I will eventually get into the Rangers' first preseason game tonight, which took place on Sunday, September 24th, in Boston, MA – but first – everything else that took place prior to that particular puck drop, as I play "catch-up" in my lead-up to that "review."
(And to save you some time, should you only be interested in Sunday's game, then scroll all the way down to the bold-faced "SUNDAY.")
But let's face it – this game, played on the Lord's Day, the Sabbath (and a nod of the head and respect for my Jewish readers observing Yom Kippur too – and for what's it worth – this club also needs to atone for their sins committed during the 2023 Stanley Cup Playoffs), meant OO-GATZ!
And yep, I know that the following point is already redundant on this site, but what's one more time?
The only way to judge these 2023-24 Blueshirts is by whatever they do come the postseason – assuming that they are one of the eight Eastern Conference teams that's above the playoff cut-line come April.
And Part I: I don't care what seed they land at – it's all about what they do once there.
And Part II: If the Rangers aren't a playoff contender come Spring, then it's my belief that the ass cheeks of Chris "Jong-Un" Drury, aka "The Pizza Man," aka "ZOOM ZOOM," will be red-hot – akin to the feet of a wandering Moses in the desert.
I bring up this point one more time (and let's face it – you can replace the word "point" with "fact"), because as previously mentioned on this site – what happened during the three practices previous to the Rangers' late matinee in Beantown from Sunday doesn't really matter, nor will the next five remaining preseason/exhibition games mean anything of significance either.
As new Blueshirts' bench boss Peter Laviolette has said from day one, and then 97867896896686786966 times afterwards, where only the word "systems" has been repeated more to a crop of Rangers' beat reporters who foam at the mouth in ecstasy whenever they hear it – the 37th coach in franchise history is going to experiment with a whole lot of things during his first training camp in the Big Apple.
In other words, if you're one of these morons that are worrying about line combinations and defensive pairings right now – then, and without sugar-coating it, that's what you are – a moron!
---
On Wednesday, the 2023-24 Rangers gathered up for the first time this season in Tarrytown, NY, where medicals were taken and promotional materials were filmed. You can read more about this "monumental" day here: https://bluecollarblueshirts.com/92123/
Once everyone was cleared to play and following the players mean-mugging for pictures; for the next 72-hours, Thursday, Friday and Saturday, Laviolette and his assistant coaches, Dan Muse, Michael Peca, Phil Housley and Benoit Allaire (and for all of my comments and opinions about how I believe that Laviolette is "Lateralette" – and how he wasn't the first person that I would've chosen to man this club – I really do like the staff that he's put together – and where furthermore, I kind of would rather see Housley at the helm instead of "Six-Stop Lavy"), broke the 58-men in camp into three separate groups.
(Holy parentheses, dashes and bad grammar Batman!)
While the groupings don't really matter, nor does all of the flip-flopping/tinkering/experimenting that Lavy has employed either; from all accounts, including from both the head coach and the players themselves, the practices were strong, taxing and no walk in the park.
Then again, the first few days of camp, no matter the team, are always the most grueling.
While this isn't like the days of old, when players came into camp with beer bellies and hands devoid of callouses, as the players from today train year-round unlike their "hockey forefathers;" it's one thing to train on your own, but it's another thing to get back to the rink with your team – and especially with a new coach in-tow.
---
Following all three Ranger practices leading up to the start of the preseason, Laviolette diligently, eloquently and politely spoke to the Blueshirts' beat reporters – where at times – it felt like he was holding their hand while meticulously explaining every nook-and-cranny of his "systems."
(New drinking game this season: Take a shot whenever the word "systems" comes up during these media interviews with Lavy – but please – have strong medical insurance should you partake in this game! I'm a seasoned boozer myself and my liver is already screaming with agony!)
For the sake of posterity, here are the three "LAVY'S LOUNGES"/interviews that took place prior to the Rangers' Sunday showing in Boston:
---
---
---
For now, and I don't suspect this to continue into the regular season, Laviolette has been very forthcoming and patient in his interviews with the birdbrains that compromise the Rangers' beat – and where for the life of me – can someone please get Mollie "I Don't Give a Shit" Walker a freakin' muzzle?
Seriously, can she go two seconds without cackling like a mentally damaged/kicked-in-the-head hyena?
Making matters worse is that her non-stop shrieks is like listening to nails on a chalkboard.
No joke, and you can watch/hear it for yourself, Laviolette can say something elementary such as, "Don't put much into the lines right now, I just want to see what we have," and her response is "HAHHAHAHAHAHA" in her never-ending and annoying screeching high-pitch shrills.
I don't know if this is a tic, a defect or what, but it is unprofessional. No one else in the business does this.
---
Most of what Laviolette is doing/saying right now in his daily chats with the media is stuff that he's done in his five other stops – he's very open to start – but over time – he soon clams up and isn't as giving.
We'll see if that trend continues as time goes on.
But for now, and after listening to Laviolette speak to the beat reporters – you'd think that everyone involved meets up at some cheap roadside motel, where the cable is free and the vibrating beds will only cost you a quarter, once finished.
In the effort of fairness, and to give you both sides of the coin – Laviolette is no dummy either. He's 100% aware of the ineptness and tragedy that occurred last season when the Rangers were humiliated by the Devils in seven-games.
"The Savvy Lavy" is a seasoned veteran and has been through all of this before – now six times at that.
Just watch any of the videos above and you can see that every answer is carefully thought out, where in addition – he answers every question with a preface/disclaimer/qualifying statement – which to be fair, I do too in my writing (which is why these blogs are so damn long) – as everyone, now in this woke cancel culture world, tries to twist around everything that you say.
While he will never say the two words of "Gerard Gallant;" Laviolette does reference him – but is also polite while doing so.
After all, there is a ton of mutual respect amongst the NHL coaching brethren and where only very rarely, will you ever hear one bench boss publicly disparage another.
Similar to the beat reporters, a majority of fans are also equally as impressed with Laviolette, as he continues to explain his theories and answers every question in complete detail.
Again, I think this is mainly due to Laviolette being with a new club, while also being aware of the relationship that Gallant had towards the end with the media – but this just can't continue.
After all, and while every NHL club is aware of what the other 31-teams are doing (and the "systems" they employ too) – you can't just give an open playbook via the media either.
And for as bad as the NHL is at promoting themselves (and more on Australia to come) – I am still shocked to this very day that the beat reporters are allowed to share and post clips online of what their respective teams do during practice.
After all, ever hear of "Spygate?"
(For a humorous story related to this, check out my new book, "The Top 100 Villains of New York Rangers History," and flip to the chapter on Alex Ovechkin – who once watched a Rangers' practice during the playoffs – and where he wasn't immediately kicked out either.)
---
Unlike everything else that they do, including rookie prospect games, the draft, off-season coverage, etc; the Blueshirts have been good at sharing all of the player and staff interviews on their YouTube page – and in a timely manner to boot.
For right now, it's too much for yours truly to share every interview conducted with the twenty or so players that have spoken to the media during the past three days, so if you want to watch every interview, then check out the official YouTube page of the Rangers, which you can do so by visiting this link: https://www.youtube.com/@nyrangers/videos
That said, just a few thoughts on the stuff that really caught my eye – and information that I'd like to pass along to you too, assuming that you aren't already aware:
— Laviolette, among other things, said that he will be coaching the team in all six of the club's preseason games. More times than not, most NHL veteran head coaches will allow their assistants to run the bench, while they watch from the press box.
— Furthermore, and unlike his predecessor, Lavy said that he will have the final say on what goalie starts. Previously, Gallant, David Quinn, Alain Vigneault and John Tortorella would allow Benoit Allaire to make these calls.
— Every player is happy about Laviolette as their boss, and where team captain Jacob Trouba made an indirect dig at the expense of "The Turk" while praising his new coach.
— Speaking of Trouba – everyone loves him – including Laviolette and perhaps the biggest Drury "haul" of this off-season too – his former teammate in Winnipeg, Blake Wheeler.
— When it comes to Wheeler and the other senior citizens that signed with Chris "Jong" Drury this summer; all of them spoke about Trouba's leadership skills, while also saying that since they have families (Nick Bonino may have grandchildren) – they wanted to sign with any team from day one – as they all wanted to get the moving process going, a process which also includes enrolling their children into schools.
(And while this wasn't mentioned – I'm sure that all of these "Blueshirt Babies" will be attending private schools – and won't be involved with the over-flooding of NYC migrants in the tough public school system.)
— Jonathan Quick (who I still have 2014 PTSD over – and check out my new book for all of it), and who already had Northeast roots as he's a Connecticut resident, and after correcting the New York Post's resident dingbat Mollie Walker about his previous stops too – brought up how he always wanted to play for his favorite team – and how his son was the inspiration for his new bucket – which has the Rangers' goal song lyrics, "HEY! HEY! HEY!" on the back of it.
— Vincent Trocheck, now in Year 2 of a contract that only Drury would afford him, spoke as if he was a life-long suffering fan of this team – and just like any of us. While he didn't say these words verbatim, #16 implied that it was time to shit or get off the pot – and how after so many years of losing – it was time to bring home a championship for the first time in 30-years. This was encouraging to me, as he sounded like any one of us.
And yep – it's easy to get behind a player who truly cares.
— CZAR IGOR received headlines following his interview – and where of note – his English has drastically improved (and where Stone Cold Artemi Panarin should take notice of his comrade's linguistic skills too), the 2022 Vezina Trophy winner said that while he took last year's loss all on his shoulders, that he's also now overcome it.
While #31 was the least of the Rangers' problems during the playoffs, he takes all of these games to heart. He said that the whole experience was one of the learning nature, and while he plans to have a strong season – won't let the ghosts from last year get into his head either.
— Kaapo Kaako, now in Year 5 of his so far uninspiring career, made interesting remarks. While he still desires top-six and first-unit power-play minutes (as anyone in his position should); he also said that playing either wing is easy – and that any hockey player should be able to do so.
Why did this catch my eye? Easy. This was in a response to another question, of a million, asked by these turds that make up the Rangers' beat, in regards to Alexis Lafreniere – and his quest to master his off-wing, the right wing.
— As far as Alexis Lafreniere goes, while there were no questions directed to him in concern to his summer softball exit velo stats; he did say that he did train at the right-wing this summer.
And make of this as you want – of all the players interviewed – he was the only one out of breath and red-faced while talking.
Maybe he was the only player who talked immediately after leaving the ice, or maybe this is a condition thing. Time will tell – and where as mentioned 97867896789678967896 times on this site this summer – his off-season training will be a topic this Fall – especially if he gets off to a slow start.
— Erik "Zac Jones Who?" Gustafsson, who seems like a lock to start the season next to Braden Schneider on the Rangers' third-pair, and like Bonino before him, praised Laviolette while also stating that he was excited to be a Ranger.
For what it's worth, Lateralette also praised Bonino and Gustafsson, and where if there were gambling odds on such a thing, then the line would be set at -10000000000000000000000000000000000000 for both of Laviolette's former charges to be in his opening night line-up.
Furthermore, and this is my gut feeling based on what Lavy said, and not what he said verbatim – and in a SAT question too – Bonino to Laviolette is BLANK to Gallant.
The blank?
Barclay Goodrow – who despite his successes – is a player that some of these nimrods that call Rangerstown, USA home want traded away.
— Of note, and while speaking of Jones too – the UMass-Amherst alum didn't speak to the media, nor did any other player that is currently considered as "fringe" (aka AHL bound), including Tyler Pitlick, Ben Harpur, Louis Domingue, Jonny Brodzinski and the slew of others as covered here: https://bluecollarblueshirts.com/92123/
---
In other news, the Rangers made a pair of PTO signings this week – and where yes – I found all of this to be humorous and comical
If you recall (https://bluecollarblueshirts.com/91823/ ), just a week ago, Chris "Jong" Drury, who has hid out more than the cowardly piece of crap Osama Bin Laden ever did, made a rare public appearance, where during this "Haley Comet's" sighting – he said that he wouldn't be signing any player to a PTO contract this year – as he said that he's happy with the team as presently constructed – you know, where the club currently has a dozen-or-so twelve fourth-liners under contract.
The man sitting in the big chair on 33rd St. & 7th Ave. changed his mind no less than seven days later after saying as much, where funny enough – it was the Rangers' Public Relations Department – and not the official social media and online channels of the club – that announced the following two PTO signings:
TRANSACTION: The Rangers have signed goaltender Brad Arvanitis to a PTO. The Holliston, MA, native spent the 2022-23 season in the ECHL with the Rapid City Rush, Tulsa Oilers and Wichita Thunder. He also played with the Pensacola Ice Flyers of the Southern Professional Hockey…

— NY Rangers PR (@NYR_PR) September 21, 2023
---
TRANSACTION: The Rangers have signed defenseman Adam Clendening to a PTO. The Niagara Falls, NY native split the 2022-23 season with the AHL's Hartford Wolf Pack and Rockford IceHogs, compiling 33 pts (4G-29A) in 68 games.

— NY Rangers PR (@NYR_PR) September 22, 2023
---
For what it's worth – neither signing appears on the official website of the Rangers.
In the grand scheme of things – these two PTO signings means nothing at all – and where should either, or if both, of these players remain with the organization – then they will be running the roads that compromise both the AHL and the ECHL.
However, I just found it interesting that Drury, and on his own accord, as he wasn't directly asked this, went out of his way to say that he wouldn't be signing any veterans to PTO deals, but no less than a week later – not only signed one of these contracts – but two of them.
You tell me – is he a liar or just indecisive?
I just wish that he gave Eric Staal the PTO treatment – as the former Blueshirt, and who remains unsigned for this 2023-24 NHL campaign, had a decent season last year in Florida.
Then again, the Rangers already have enough fourth-liners under their umbrella.
---
While I'll have some quick shots for you at the end of this blog, and following my thoughts on Sunday night's exhibition tilt; as far as anything else that's worth talking about; during Friday's practice, Laviolette caught an errant puck to his head, and where following the contact of rubber meeting flesh – he went to the locker room, put on a hat, and was right back out there.
He's fine, but I bring this up because it was the new Rangers' trainer (Andy Hosler) that assisted him – and not Jim "WE SHALL NOT MENTION HIS NAME EVER – signed the Rangers' beat reporters" Ramsay.
Laviolette also caught something else prior to the Blueshirts vs. B's game from Sunday this weekend – shade from his former player, the Washington Capitals' Evgeny Kuznetsov.
This is our final story prior to getting into my New York vs Boston preseason Game 1 thoughts and the news from Sunday.
---
Take it however you want, but on Saturday, the Washington Capitals' fan site, RussianMachineNeverBreaks.com, posted the following story, one where Evgeny Kuznetsov didn't exactly have much praise for the new Rangers' head coach: https://russianmachineneverbreaks.com/2023/09/23/evgeny-kuznetsov-capitals-hiring-peter-laviolette-downturn/
I found the response to this story to be both wide-ranging and interesting.
On one hand, the 2018 Stanley Cup champion had his remarks received in merit, while on the other hand, and as a way to knock him down a peg – detractors of his interview brought up his past (and public) dabbles with cocaine usage.
Furthermore, most Capital fans sided with the player who scored the most points in D.C.'s lone championship postseason (32 points in 2018) – and where they even said that Laviolette was "boring," "predictable," "out-of-touch," and my favorite, "a loser."
They even questioned the Rangers' beat favorite term of today, "his systems."
As you know by now, and as already mentioned in this particular blog too – one of the reasons why I wasn't high on the Laviolette hire (nor am I now) was because of his failed tenure in Washington – where following their Stanley Cup win from five years ago (under Barry Trotz) – the team just regressed, and then regressed even more, under Lavy's watch (which followed a brief period where a Trotz' assistant, Todd Reirden, served the club).
While I'm obviously rooting for Lavy to bring the Rangers to the promised land – their fifth Stanley Cup in franchise history – I don't see it happening either.
But to be fair, that has more to do with the players than the head coach himself – where let's face it – in nearly 100-years of Blueshirts history – only three men have won the Stanley Cup as the club's head coach (Lester Patrick in 1928 and 1933, Frank Boucher in 1940 and Mike Keenan in 1994).
In other words, the odds aren't in Lavy's favor.
Maybe it's because I have no expectations, maybe it's because I'm jaded; but as you probably have been able to deduce – I find all of Laviolette's interviews to be completely transparent – and somewhat "phony," for a lack of a better term, too.
As said earlier – let's see what he says, and how he treats these reporters too, as the season moseys along – and when the "new car smell" has worn off.
While Kuznetsov's comments are definitely from his own two eyes, his experience and his opinion; at the very least, and in what was already a fact prior to these remarks – these upcoming Rangers vs Capitals games during this 2023-24 campaign will feature heavier-than-usual stakes – and should be equally as exciting for fans.
However you feel about this story, at least it brings some extra juice to a rivalry that's had plenty of steam these past few years – including when Laviolette was behind that D.C. bench during the "Tom Wilson Game" – a contest that pretty much ended an entire Rangers' front office regime.
One thing to look for?
Let's see if the Rangers' beat reporters even ask Lavy about this – or will they ignore this story just like they did with the firing of the Blueshirts' former employee of 29-years, Jim Ramsay.
---
SUNDAY
The Rangers had a busy-as-hell day on Sunday, as no one got the day off.
And for Laviolette, he must be running on no sleep – and a head coach who will be up at the crack of dawn on Monday morning.
Prior to boarding their Delta flight to Boston, Laviolette scrimmaged the players who weren't going to play against the Bruins on Sunday night. That meant that the head coach, his staff, and the group of players who did compete against the black-and-gold, all had to wait around noon before taking the short trip up north.
There were two things of note to come out of the scrimmage.
One, the losing squad were forced to skate after their loss, as a "prearranged punishment."
While this wasn't exactly shades of Phil Watson, or for that matter, Herb Brooks either; it is interesting how hard Laviolette is pushing these players. I bring this up, because if this stuff continues, then the topic of "burnout" will get some buzz in some circles.
The second thing was the big one, as Mika Zibanejad was injured and later ruled as day-to-day.
Despite being there, the beat reporters had no clue what caused Zibanejad's ailment. Officially, the Rangers used the NHL's go to phrase, "upper body injury," when describing whatever is currently bothering their first line center.
While who knows if this is something serious or just a minor nick; it is something to keep an eye on regardless.
We'll see if Zibanejad returns to practice this week, but obviously, there is no rush to do so, as there's no reason to exacerbate his injury.
(Of note: It was also reported by the Rangers that Brennan Othmann is day-to-day – and where no one knows the reason why. More on Othmann as the news comes in.)
Following the scrimmage, and as the Rangers and Laviolette were in the air, the Blueshirts trimmed down their 58-man roster, where they made eleven cuts in all.
As first announced by the club themselves at 3PM (https://www.nhl.com/rangers/news/rangers-trim-roster-to-48-players ), the Blueshirts have assigned the following players to the Hartford Wolf Pack: Maxim Barbashev, Seth Barton, Zach Berzolla, Ryan McCleary and Sahil Panwar.
Furthermore, Joe Arntsen, Bryce McConnell-Barker, Max McCue, James Petrovski and Dylan Roobroeck will return to their respective junior teams.
Lastly, the Rangers have also released Brad Arvanitis from his PTO.
While none of these cuts caught anyone off-guard (as we all know what this final roster will be) – I did find it comical how Drury flip-flopped on the whole PTO thing.
After saying he wasn't going to sign anyone to a PTO deal, he signed Arvanitis (sounds like a disease) and then cut him a week later.
Indecisive or just playing around with James Dolan's money?
You be the judge!
---
Yes, and just like everything else preseason related, the following doesn't really matter: but for whatever reason, Laviolette, as mentioned, decided to hold a scrimmage in Tarrytown, NY and then immediately jet off to the airport afterwards.
While it's true that most teams during the preseason travel on the day of the game, rather than the night before as they do in the regular season; at the same time, everyone in the Northeast was fully aware of a major storm in the area.
Rather than flying out the night before (or bussing it – although these days, the Rangers only ride the bus whenever playing the Islanders, Devils and Flyers – and I guess they could've kicked it old school too – by riding the rail to Beantown); the Blueshirts waited until the last second to fly to Boston – where really – how is that good (or an advantage) for the group that played tonight?
Specifically, how is this good for Jonathan Quick, who started tonight's game?
After all, NHL goalies are creatures of habit and under these conditions, and for a player that needs to get off to a strong start – the parameters dictated to the new #32 in New York by his head coach did him no favors.
Due to the bad weather, the Rangers' flight was delayed and as a result, they didn't arrive to the arena until one hour prior to puck drop.
In other words, you could use the poorly planned travel woes as an excuse for the Blueshirts' 3-0 loss from Sunday night – but even still – I think that only goes so far.
But there is merit to it.
And really, with how financially secure that the Rangers are (richest franchise in hockey) – couldn't they have just flown out this group of players with one of the team's assistant head coaches on Saturday night, in an attempt to give them the best possible pregame conditions?
Who wants to sit on a flight (and I know that they don't have to deal with the headaches of commercial flights like me or you) and then once landing – immediately gear up and play a physical game?
Fortunately, this will be the last time that such a scenario will exist, as the rest of the road games are in New Jersey and on Long Island.
But if you combine this story with the scrimmage that the Rangers had, that's now two examples of Laviolette perhaps not employing the best strategy.
Just sayin' this for now – and we'll see how this all unfolds as the season continues.
Finally, let's get into Sunday's game, our main event for tonight's blog.
---
Tonight's game aired on the M$GN, where both John Giannone (subbing for Sam Rosen who was observing the Jewish holiday) and Joe Micheletti were in Boston.
In previous years, M$GN has saved some cash by having their announcers call the road preseason games from the studio. It was nice to see that new tradition broken.
For most of the broadcast, Micheletti was in full propaganda mode, where he repeated a lot of what Laviolette has said in his press conferences, while also trying to make it sound like it was his own thoughts.
Whether it was Micheletti saying "there are no more kids here anymore," "SYSTEMS, SYSTEMS, SYSTEMS," or something else; it was all stuff that Lavy had previously said.
If there was anything that I found truly hilarious, then it was when "JUMPIN' JOE" actually said the following:
"Laviolette is a strong coach and he will watch the tape of this game and learn from it."
When Micheletti said that, he was really trying to imply that watching game tape was some sort of an idea orchestrated by a pioneer, a visionary, if you will.
Going into the game, all that we knew was that Quick would start, while Louie "Spicy Pork Roll" Domingue would finish it.
As the game progressed, here's the line-up that Laviolette ultimately deployed, where again, and I know you're sick of it too – means nothing:
FIRST LINE: Cuylle/Chytil/Lafreniere
SECOND LINE: Edstrom/Belzile/Vesey
THIRD LINE: Berard/Nash/Sykora
FOURTH LINE: Blidh/Leschyshyn/Brodzinski
FIRST PAIR: Mackey/Schneider
SECOND PAIR: Jones/Harpur
THIRD PAIR: Robertson/Emberson
STARTER: Quick
BACK-UP: Domingue
In addition, the first power-play unit (which played about ninety seconds per shift except on one man-advantage), consisted of the first line, Brodzinski and Jones – and with the defenseman serving as the team's power-play quarterback – where more times than not – he looked like another New York quarterback, Zack Wilson.
---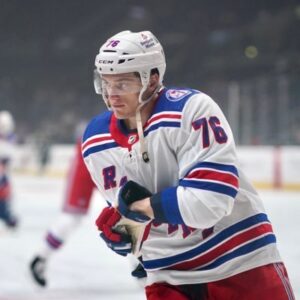 Obviously, this won't be a normal GAME REVIEW for this site, considering that it's the preseason, the travel situation and because I feel that that these games are more about what the players yearning for a varsity roster spot are doing.

That said, and as stated long ago at the top of this blog – to go 0-5 on the power-play, hit every post imaginable, get nothing out of your "stars" and also turn a goalie that you never heard of before into Patrick Roy – well I've read this book before – in fact – I've read the whole 97-year volume set.
Bruins' goalie, Brandon Bussi, channeled his inner Akira Schmid tonight. While he did get help from his two best friends, the post and the crossbar, he did make 29 saves, including a few all-out robberies, but none bigger than the save that he made on Mr. Hockey during the final frame:
BRANDON BUSSI ARE YOU KIDDING ME!? pic.twitter.com/tl5qOQR7cG

— Jonny Lazarus (@JLazzy23) September 24, 2023
---
Of note: It wouldn't shock me if Mr. Bussi never plays hockey again and this winds up being the best game of his life.
"The Rangers' Way!"
If two forwards really stood out (at least in my eyes), then it was the previously mentioned Sykora and Brodzinski.
What impressed me about the youngster was that he took some big hits in this game – but brushed off all of them in a nonchalant matter. In other words, he's not soft like a Vitali Kravtsov.
Better than that, Sykora was driving the offense, and he, along with the veteran Brodzinski, was one of the two Rangers who heard that ungodly familiar sound of <DING>.
Heck, Sykora hit the crossbar so hard (HOW HARD WAS IT?), that the part of the net that's attached to the top of the crossbar fell off and needed repairs afterwards.
While it's most likely Brodzinski that has the best chance of being called up and playing for the varsity club this season; for one night, Sykora put on a good show – and should only improve with a full season in Hartford – his first in a North American league.
Another veteran that impressed me tonight was a name that I wasn't expecting, fourth-line left-winger Anton Blindh. Like Sykora and Brodzinski, he too put a bunch of shots on goal, including a sequence where he put a puck on pads and then followed up with his own rebound.
But of course, "The Bussi Stops Here," and no goal was afforded.
Also of note?
Blindh recorded the first NYR SOG – at the ten-minute mark of the game – another negative trend that plagues this franchise.
Thankfully, the Rangers picked up the offense as the game went along (29 SOG to Boston's 22 SOG), but again – Bussi.
For as unproductive as the Rangers' power-play was (they had some "GOOD LOOKS" and some spirited moments, but 0-5 is still 0-5 anyway that you cut it – especially for a team that needs PRODUCTION – and not EXPECTED STATS); the first Blueshirts' penalty kill was even worse.
Robertson took a high-sticking penalty at the six-minute mark of the game and for the next eighty seconds, the Bruins never left the Rangers' zone. The end result was a goal for Matthew Piotras on a shot that Quick initially got a piece of – but still went behind him anyway.
While I didn't think that Filip Chytil and Alexis Lafreniere started off that hot, they did pick it up as the game went along. Perhaps the travel was part of the slow start, but excuses won't cut it this year.
They had a few opportunities to score tonight (Chytil finished with a game-high six SOG), but again, it's about execution and not excuses/what if's. (And no more disclaimers about this being the preseason – you already know!)
And as said all summer – if Lafreniere can't execute and put up the points, then a big YES – you'll hear all about his off-season – and where I'd imagine the word "softball" will be repeated as frequently as the Rangers' beat reporters and Laviolette says "systems."
Chytil, who played to the final horn, drew a tripping penalty with just .1 seconds remaining in the first period, which meant that the Rangers would get a chance to tie the game during the first two minutes of the middle frame.
---
During the first intermission, I saw a ton of stuff on my Tweeter feed, where if you were to believe everything that you read, then this team should be renamed as the "NEW YORK ALEXIS LAFRENIERES" – and where 99% of these fans also thought that the first-overall pick of the 2020 NHL Entry Draft plays the center position.
After all, that's the only thing I can deduce whenever I see Lafreniere being compared to centers such as Connor McDavid, Jack Hughes and Tim Stutzle.
I'm not going to go down this road again, and explain every intricate detail of Lafreniere's most unorthodox entry into the league, but this season is all about winning the Stanley Cup – not development, not sacrificing Chris Kreider's playing time for him or anything else.
But if Lafreniere can earn his keep, then yes, that will be an excellent problem to have – but even so – I can't see him bumping Kreider away from Zibanejad as a left-winger.
It's ONLY about the final result this season. End of story.
And oh, "THE KIDS" shit, shit that I hated last season, needs to be flushed forever.
After all, Chytil is now 24-years-old, a veteran of 327 NHL games, and if you believe it, enters this 2023-24 campaign in his seventh season.
---
The Rangers failed on their first power-play of the second period and this is where Brodzinski hit a post, and where once the man-advantage expired, Blindh then had his two great shots denied.
Right after the saves, Lafreniere lost an o-zone draw, the Bruins went the other way, Schneider turned over the puck and BOOM – Quick then made his best save of the game.
Four seconds later, at the 3:04 mark of the period, Jake DeBrusk ripped a shot from the left circle. 2-0, bad guys.
This was probably another shot that Quick should have had, but again – he didn't have his normal pregame routine today – and this is coming from a guy who is not a fan of the former L.A. King on this team – and as someone who also believes that he will eventually retire in-season this year.
In what felt like a case of deja vu; at the eight-minute mark, Bussi made his best save yet, this time on Jimmy Vesey, who had a decent showing tonight, but not as strong as the other three forwards that I talked about earlier.
Seven-seconds later, John Beecher split Schneider and Mackey and put the puck past Quick.
3-0, bad guys – and what would become the final score too.
As you were wondering if the Rangers should've just canceled their flight due to the inclement weather; with 9:33 remaining, Domingue took over the net.
Quick, and where it will be repeated 96786896696789678967896 times this season that he grew up idolizing Mike Richter (and this will be repeated by Sam and Joe as often as they tell you that Adam Fox grew up in Jericho, NY), finished with three goals allowed on fourteen shots faced – "good" for a .786 save percentage and a GAA of just under six (he played 30:26).
I give Quick a pass tonight, but my feelings about Dylan Garand making his first NHL start this season were even stronger after watching this game.
By the end of the second period, the Rangers' power-play was 0-4.
---
The third period was the best twenty minutes that the Rangers played, but trumping them was again Bussi, Bussi, Bussi. (Say that "Marcia Brady" style.)

Domingue, unlike Quick, didn't have to do too much, as the Blueshirts dictated the pace.
Aside from Bussi's brilliance, the other highlight was BIG BAD BEN HARPUR giving A.J. Greer the "Corey Perry Treatment," where it should be noted that during this particular tilt, which took place with only 2:36 remaining, Greer starred and played the role of Jacob Trouba.
Prior to the fight, Greer laid a big, yet clean and legal, hit on Mackey. Harpur immediately tossed the gloves which meant that Greer was forced to defend himself for playing the right way – and as Trouba often does.
Here's the fisticuffs:
Ben Harpur shows some jam and gives A.J. Greer the hands pic.twitter.com/2mpWEI8kWD

— Jonny Lazarus (@JLazzy23) September 25, 2023
---
3-0, Bruins, your final.
Here's Lateralette following a performance that screamed "same old shit":
---
<Deep Breath>
Yes, it's the only preseason and this team will only be judged by whatever happens in the postseason.
But until April, all of this talk is just white noise and where I already want to vomit anytime I hear the word "systems."
I want "execution" – and "goals" wouldn't be bad either!
If you take anything out of what I'm saying, then it's that you can't overreact or get mad about anything from Sunday; but a lot of what has plagued the Rangers was clearly apparent tonight.
And as even Micheletti admitted on the broadcast, as he was quoting Trouba when saying it – "last season left a huge pit in the Rangers' stomachs."
That pit is even bigger for the fans – people who are more invested in this franchise than the players themselves – and fans who are now waiting for their second championship in thirty years.
---
Following tonight's game, the Rangers will play three more times this week, on Tuesday 9/26 (Islanders) and Thursday 9/28 (Devils) at M$G.
On Friday, 9/29, the Rangers and Islanders will rematch at the IBS Arena at Belmont.
After a short mini-break, the Rangers will close out their preseason with a back-to-back, where they will travel to Hockeytown, USA, aka Newark, NJ, on Wednesday October 4th, followed by a home tilt where the Blueshirts will host the Bruins on Thursday October 5th.
Let's fire off some quick shots before going home tonight.
---
In exhibit #897678696789697676 of the NHL being their own worst enemy – and the worst promoters of all-time too: On Friday, 9/23, and in a game that exclusively aired on the NHL Network, the Arizona Coyotes trumped the LA Kings by a final score of 5-3 in Foster Beer Land.
No joke – I pushed this game on my Twitter/X feed – and where I was largely met with this response: "The NHL is playing in Australia tonight?"
Once again, the NHL does little to no promotion for what should've been pushed as a major event.
After all, what other North American pro sports league is playing 24-hours away "Down Under?"
Both teams, and with the desire of giving this new market their best, played all of their starters.
While the game was sloppy (and it was going to be, between it being the first preseason game and the travel involved) – it was also highly entertaining. (And maybe that's because I bet on the 'Yotes to win the game too – what a freakin' degenerate!)
The game had everything, including this fight:
Hockey is back baby! @ArizonaCoyotes Josh Brown and @LAKings Jacob Doty threw down in an absolute banger. And to think, it's only the preseason.

– Ryan#NHL #HockeyTwitter pic.twitter.com/A8HRIrSFxB

— Game 7 Sports Club (@Game7Energy) September 23, 2023
---
These two heavyweight kangaroos, Brown and Doty, had a hell of a stand-up draw – and where every Australian (and the tourists who made the trip) were all on their feet.
As I always say on this site – while not every goal scored is celebrated – every fan always gets up off of their ass whenever the gloves are dropped – so yes – FIGHTING SHOULD NEVER BE REMOVED FROM THE NHL.
A day later, on Saturday 9/23, the St. Louis Blues, who also made the long flight to the far continent, split a pair of games with the Coyotes, winning the first contest 3-2 and then dropping the rematch 5-1.
If I gained anything from these games (played in front of sold-out crowds of 15,000+), then it was this: Move the Arizona Desert Dogs to Australia and let them play as the "Koalas," "Kangaroos" or "Wombats."
While I know this will never happen (after all – you can't have the other 31 teams playing visitor to a continent/country that's a 48-hour round-trip flight away); at the very least, the Coyotes are a bigger draw down under than they are down south, at the America/Mexico border – and where they presently draw under 5,000 patrons a game.
And talk about all the "down under" jokes that you can make when the Coyotes bury all of the horrible contracts that they take on too!
---
In former Ranger news, keep an eye on both Mats Zuccarello and Derek Stepan this season.
For Stepan, it seems that he's now retired, although he hasn't officially said as much, as the 33-year-old is now shadowing Minnesota Wild general manager, Bill Guerin – and where it's expected that the native of Hastings, MN will join the team's scouting staff.
While Stepan, in theory, still has several years left in his career should that be his desire; for now, it looks like he's trading in the skates and pads for a pen and paper.
If you can believe it, then Mats Zuccarello, arguably one of the biggest Ranger fan-favorites of this century, is now 36-years-old, and in another example of "time flies" – is now in his fifth-and-final year of his five-year contract ($30M overall/$6M per-season) with the Minnesota Wild.
It's already rumored in the Land of 10,000 Lakes that should the Wild get off to a slow start, and more desperate than that – they aren't a true threat to the Stanley Cup either – then "ZUUUUUUUUUUUUC" will be traded.
I know, I know, I know – every Ranger fan clamors for a return of a one-time former favorite – but more times than not, and as in 99.9% of the time – it never happens.
But seriously think about it.
Zucc, who can play at either wing, would be a great fit for a 2023-24 Rangers' club looking to reach – and then go far once there – in the playoffs.
Last season, he was only second-best to superstar Kirill Kaprizov in the points department for the Wild.
Now playing on the expiring year of his contract – would anyone say no to a Zac Jones (and maybe a late round draft pick too) trade – a deal that returns the lovable hobbit to his well-known New York digs?
In my 2023-24 NHL Preview, I opined (and I do believe that this opinion is shared) that the Wild seem destined for another first-round exit – as more times than not – that's usually their fate.
Should things go south for the Wild, wouldn't Zucc, a player who's still producing to this day – and more important than that – has proved he can produce under the bright lights at M$G too – be a perfect veteran fit for this veteran-heavy 2023-24 Rangers' squad?
Yes, and this is the stuff from the realm of a fan boy – but bring back #36 – and #88 too, Patrick Kane – and then I'll feel better about the Rangers' chances entering the 2024 Stanley Cup Playoffs.
Speaking of Zucc, are you aware of the latest business venture from one of his good friends, current Rangers' ambassador and M$GN panelist, Henrik Lundqvist?
---
The most successful Swede in Rangers' history, "The King," #30, Henrik Lundqvist, and following a failed venture where he tried to hawk watches for four-digits a pop, is now selling personalized cologne for $250 a bottle – and where the eponymous description even says, "perfectly captures the essence of my career."
So if you want to smell like a used jockstrap – look no further than to Lundqvist's new fragrance that's now on sale.
And while I would never personally buy this – as a joke – and should you have deep pockets – then yes, if you buy it for me, then I'll wear it at the next Rangers' game that I go to – and where I'll probably stink out "The Mollie Wee" during my pregame drinking theatrics too!
What's next?
Sieve Vagistat douches, five for $1.00? (That I will never buy, nor support either!)
---
Back at it Tuesday night, following the second game of the preseason featuring the two teams from New York.
PLUGS TIME! (Buy a book and support my Rangers' induced therapy bills. After all, I don't run ads on this site!
---
"The Top 100 Villains of New York Rangers History," is now available for preorder.
For complete information, please visit: https://bluecollarblueshirts.com/rangerkillers/
---
My second plug of tonight's blog – the mandatory plug for my book, "The New York Rangers Rink of Honor and the Rafters of Madison Square Garden."
As mentioned previously, the book is now available in hardcover, in paperback and in Kindle formats. To purchase a copy of the book, visit this link:
https://www.amazon.com/Rangers-Rafters-Madison-Square-Garden-ebook/dp/B09CM5N2WD
For those still looking for signed paperback versions of the book, I have re-ordered more copies. I now have a few signed copies for sale at $25 a pop (includes shipping price) through me directly. Here is all the information on that:
---
My four-volume set of books, "One Game at a Time – A Season to Remember," is a game-by-game recount of the Rangers 2021-22 campaign.
My second title as an author, "One Game at a Time – A Season to Remember," is now available in eBook, paperback and hardcover formats.
To obtain signed copies, visit: https://bluecollarblueshirts.com/onegamebook/
To purchase all four volumes on Amazon, visit: Amazon.com – "One Game at a Time."
---
The greatest volume-set of books on Rangers' history today!
"Tricks of the Trade – A Century-Long Journey Through Every Trade Made In New York Rangers' History," a four-volume set of books that meticulously covers every trade made in franchise history, is now on sale.
All four volumes of the title can be purchased on Amazon.com and are presented in three different formats – eBook, paperback and hardcover.
To purchase Volume I: Conn Smythe (1926) – Craig Patrick (1986), visit Amazon.com
To purchase Volume II: Phil Esposito (1986) – Neil Smith (2000), visit Amazon.com
To purchase Volume III: Glen Sather (2000-2015), visit Amazon.com
To purchase Volume IV: Jeff Gorton (2015) – Chris Drury (2022), visit Amazon.com
To purchase signed copies of all four volumes, visit https://bluecollarblueshirts.com/tricksofthetrade/
---
Here are my last few blogs, in case you missed them:
---
---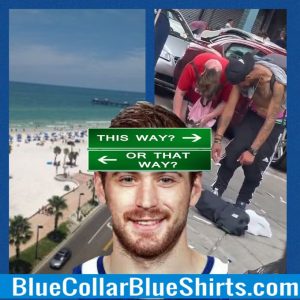 ---
---
If you haven't already, subscribe to this blog for the next update:
---
Don't forget to order my recently released four-volume set of books, "Tricks of the Trade!"
If you don't order through me, all four volumes are now available on Amazon.com
For more details, check out: https://bluecollarblueshirts.com/tricksofthetrade/
Thanks for reading.
LET'S GO RANGERS!
Sean McCaffrey
BULLSMC@aol.com
@NYCTHEMIC on the Tweeter machine