Greetings and salutations everyone and welcome to another blog here on BlueCollarBlueShirts.com. I have about 100 or so pages left to go through with my editor and then the book will go to the printers! Best case scenario, this process, which has taken nearly two years, should be complete by this weekend. Worst case scenario, the book hits its target release date of 9/6.
And while yes, I know these book plugs and updates can get annoying, but who else is going to promote my book better than me? And heck, after doing this blog/site for seven years, I've never asked for a dime once. I don't even run ads, spyware or break these blogs up into a bunch of click-bait articles. All I'm asking here is for $20 for what I think is the most definitive book about New York Rangers history on the market. Hopefully, you'll be the judge of that!
For pre-order information, click the link below:
---
Before getting into all the news, notes and opinions, I'd like to say thank you here for all the overwhelming feedback that I received regarding my last blog entry here, where I talked about the passing of Rod Gilbert. Between social media and emails, I must've received at least 100 different stories from you guys, where you all told me about your own personal interactions and memories of Rod Gilbert.
Most of your stories were similar to mine and that's a good thing, as it just goes to show you how consistently amazing Rod Gilbert truly was with Ranger fans. That said, my favorite stories from you guys about Rod Gilbert were the ones where you didn't see him in his official capacity as the Rangers ambassador. Even in his personal time, Rod Gilbert was always "on". Some of you told me, where even at bars and restaurants, that Gilbert made time for you, where he would reminiscence about the old days or in some cases, share some jokes with you too.
I also received emails about Rod Gilbert's role in my upcoming book. Since Gilbert has already been honored by the Rangers, I don't have a featured chapter on him, as the book discusses the unsung heroes and the guys that the Rangers do not honor today. However, Gilbert's name pops up throughout the book, as Rangers history is discussed on every page. That said, I think I will add a short one or two page thing on Gilbert, just so the book can be as up-to-date as possible. And spoiler alert: I'll use those pages to argue that both Rod Gilbert and Adam Graves should have statues inside or outside of Madison Square Garden.
As far as anything else new on Rod Gilbert, the Rangers and the beat reporters haven't released details on what caused Gilbert's death. As I said last time, I heard from one of his friends that he was sick for a while and was told what it was, but until the Rangers or an accredited reporter breaks the news, I don't feel it's my place to say anything. Keep that in the back of your mind when I get into the talk about Jimmy Hayes.
In addition, we also have information on Rod Gilbert's funeral and memorial service, as Ron Duguay posted the following on Twitter on Tuesday, August 24th:
Not that I have to tell you guys this, but you know there will be some people with sharpies and items that they will want signed by current Rangers and members of the alumni. Don't be one of those people. These guys just lost a real-life friend and they aren't there to sign autographs and take pictures.
I bring this up, because during my days in the wrestling business, several big name wrestlers, some that I knew and worked with, passed away. At all of these funerals, there would always be a pocket of fans who showed up, all looking to take pictures and get things signed. That comes off as extremely tacky, cruel and misguided.
The Gilbert family didn't have to host a public visitation. They could've made the event private for only Gilbert's friends, family and co-workers. If you should attend, pay your respects and don't look for anything else.
Of note, Gilbert, even in passing, continues to raise money for the Garden of Dreams. What a class act. RIP Mr. Ranger.
---
As you probably heard by now, on August 23rd, Jimmy Hayes, the brother of ex-Ranger Kevin Hayes, passed away at his home. Jimmy Hayes, who also played in the NHL like Kevin, was only 31 years old.
When the news first broke, speculation on what caused Jimmy's death ran rampant, where some people wondered if this death was a suicide or something related to the coronavirus. I understand that's the natural human reaction whenever someone dies young, as you want to know why. However, to put that stuff out there is kind of reckless, especially since we know that the family and friends of Jimmy Hayes (and anyone else who passes away young) can read this stuff.
For what it's worth, on Wednesday August 25th, the medical examiner completed an autopsy report, but wasn't able to determine what caused the death.
According to the Boston Globe, a spokesman for the Office of the Chief Medical Examiner emailed them, saying:
"OCME has completed an autopsy in this case. The cause and manner of death remain pending and an update is not expected for several weeks when toxicology testing comes back."
In either event, this is a tragic loss, especially since Jimmy Hayes leaves behind a wife and young children, with one child being two years old and the other child only being three months old.
On Tuesday August 24th, Kevin Hayes released the following statement:
"Yesterday I lost my best friend, my brother. My whole life it has always been Jimmy and Kevin or the Hayes brothers. I have followed you around since I can remember and I wouldn't want it any other way. Whether it was youth hockey, Nobles, Boston College or the NHL, you paved the way for me. You taught me everything I needed to know in order to succeed. You lit up every single room you walked into with your smile and positive attitude. Everyone wanted to be around Jim, the big, goofy, horrible dancer, funny, genuine and kindest person around. I will never forget the times we shared or the memories we made and know that I will try my hardest to have your legacy live on. Our world lost someone special and I don't know if I will ever be the same but till we meet again, I LOVE YOU JIM!"
As you would expect, the NHL community has taken this death hard, as there are many tributes and testimonials out there from not only current NHL players, but from members of the NHL alumni too.
In any event, my condolences to the friends and family of Jimmy Hayes. As we all know, 31 years old is way too young.
---
In respect to both Rod Gilbert and Jimmy Hayes here, I'd now like to move on and get into everything else, as I attempt to try to brighten the mood of this blog entry. After all, there is some Rangers news to talk about.
Following the PLUGS segment, I have all the latest on the Rangers fleshing out their coaching staff and finishing up all of their hiring for the Hartford Wolfpack. In addition, on Tuesday August 24th, former Rangers general manager Jeff Gorton gave his first in-depth interview, where Gorton discussed a lot of things that Ranger fans will be interested in hearing.
Here are my last few blogs in case you missed them:
---
---
---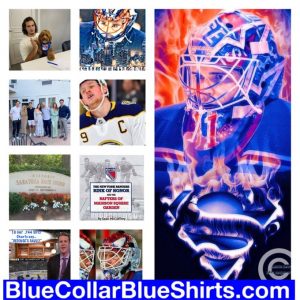 ---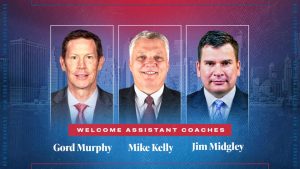 One thing I've noticed this off-season, especially when you consider all of the bellyaching over the Pavel Buchnevich trade and the Rangers focusing on getting tough; is that yes, the Rangers will have a new coach behind their bench come this 2021-2022 season.
Need a reminder? Here's the guy:
It's funny when you think about it. Every time I peruse Rangers social media, whether it be Facebook or Twitter (I don't do the Instagram), everyone seems to forget that the Rangers now have Gerard Gallant behind their bench. In fact, it feels like I've heard more about Jack Eichel and Tom Wilson this off-season, rather than talk about Gallant himself.
If you've been reading these blogs all summer, you know how I feel about Chris Drury and the job he's done this off-season – I'm fine with it and have an optimistic mindset. I truly believe the Rangers will be competing for the Stanley Cup this year. While I'm rooting for the Rangers to win the Stanley Cup (as I do every year), I don't expect that in 2022. It would be nice though! That said, I do see the Rangers surprising many people this year, including Ranger fans themselves.
I think what's lost in a lot of the negative takes that you see that are out there, with the majority of those takes coming from the whiny chart nerd losers, also known as the people who have no clue at all; is that Gerard Gallant is running this team. As we've seen already, Gallant has had influence in some of the moves that the Rangers have made this summer, not only in regards to his coaching staff, but with the roster too. Need an example? Hello Ryan Reaves!
Granted, Gallant usually doesn't last in one place for too long, but at the same time, ever since the Emile Francis era ended, it's not like Ranger head coaches have long shelf lives either. And even then, Francis bounced on-and-off the bench, as he tried to solely focus on his general manager duties.
While who knows how long Gallant's tenure will run for, what we do know is that Gallant usually does a good job of turning teams around and improving them before his departure. There's no reason to think this won't happen with the Rangers, especially with Chris Drury feeling pressure from ownership.
I'm not saying to buy your Stanley Cup tickets yet. All I'm saying is that when you see all these takes about the Rangers, and some of the moaning and groaning that's out there – keep in mind that the Rangers have a more than capable and experienced head coach this go around.
Prior to Monday, we knew that Mike Kelly, a Gallant confidant and Gord Murphy, part of the Rangers system, were joining Gallant's staff. On Monday, we found out the third and final piece, as the Rangers announced that Jim Midgely will be joining the team for the ride.
The Rangers released the following press release on Monday, courtesy of https://www.nhl.com/rangers/news/rangers-announce-coaching-staff-additions/c-326015362:
New York Rangers President and General Manager Chris Drury announced today that the team has named Gord Murphy, Mike Kelly, and Jim Midgley Assistant Coaches with the Rangers, and that Steve Smith has been named an Assistant Coach with the Rangers' American Hockey League (AHL) affiliate, the Hartford Wolf Pack.
The 2021-22 season will be Murphy's first full season with the Rangers coaching staff, as he has previously worked with the Rangers coaching staff during his tenure with the organization. Murphy served as an assistant coach with the Blueshirts during the Qualifying Round of the postseason in 2020, and he also assisted the Rangers coaching staff for several games in March of 2021.

Murphy enters the 2021-22 season with 18 years of professional coaching experience, including parts of 16 seasons as an assistant coach in the NHL. He previously served as an associate head coach with the Rangers' American Hockey League (AHL) affiliate, the Hartford Wolf Pack, for the past two seasons. Murphy has served an assistant coach with the Columbus Blue Jackets (2002-03 – 2009-10), Florida Panthers (2010-11 – 2013-14), and Philadelphia Flyers (2014-15 – 2018-19) in his coaching career. He was on the same coaching staff with Rangers head coach Gerard Gallant in Columbus for parts of four seasons (2002-03 – 2006-07).
Prior to beginning his coaching career, Murphy played parts of 14 seasons in the NHL (1988-89 – 2001-02) with the Philadelphia Flyers, Boston Bruins, Florida Panthers, and Atlanta Thrashers. The defenseman skated in 862 career NHL games, registering 85 goals and 238 assists for 323 points, along with 668 penalty minutes.

Kelly has served as an assistant coach in the NHL for parts of eight seasons with the Vancouver Canucks (2006-07 and 2007-08), Florida Panthers (2014-15 – 2016-17), and Vegas Golden Knights (2017-18 – 2019-20), and he was a member of Gallant's coaching staff with both Florida and Vegas. He also served as an assistant coach with Team Canada at the 2021 IIHF World Championship and helped the team win a gold medal. Kelly's coaching experience dates back to 1988-89, when he first served as an assistant coach with the London Knights of the Ontario Hockey League (OHL).

Midgley has served as a coach in the Quebec Major Junior Hockey League (QMJHL) for nine seasons, including one season as the Head Coach of the Halifax Mooseheads (2017-18). In his one season as Halifax's Head Coach, he guided the Mooseheads to a 43-18-6-1 (W-L-OTL-SL) record and helped the team advance to the second round of the QMJHL Playoffs. Most recently, Midgley served as an Amateur Scout with the Philadelphia Flyers during the 2020-21 season, and he is serving as an Assistant Coach with Team Canada at the 2021 IIHF Women's World Championship.

Smith joins the Rangers organization after spending parts of the last 11 seasons as an Assistant Coach in the NHL. He most recently served as an Assistant Coach with the Buffalo Sabres for parts of three seasons (2018-19 – 2020-21). Smith has also served as an Assistant Coach with the Carolina Hurricanes (2014-15 – 2017-18), Edmonton Oilers (2010-11 – 2013-14), and Calgary Flames (1997-98), and he spent two seasons as a scout with the Chicago Blackhawks (2008-09 – 2009-10).

Smith, who is a native of Glasgow, Scotland and grew up in Cobourg, Ontario, played parts of 16 seasons in the NHL (1984-85 – 1996-97; 1998-99 – 2000-01). A defenseman, Smith skated in 804 career NHL games with the Edmonton Oilers, Chicago Blackhawks, and Calgary Flames, registering 72 goals and 303 assists for 375 points, along with a plus-139 rating and 2,139 penalty minutes. He is a three-time Stanley Cup Champion, as he helped the Oilers win the Stanley Cup in 1986-87, 1987-88, and 1989-90. Smith played in the 1991 NHL All-Star Game and helped Canada win the 1991 Canada Cup. He was inducted into the Cobourg and District Sports Hall of Fame in 2019.
---
While I have discussed Kelly and Murphy before on this site, I can't lie to you here – I don't know one thing about Jim Midgely, outside of what the Rangers said and from what I can find when using Google. What I can tell you from my internet sleuthing, is that Midgely is from Townsend, Ontario and has spent the bulk of his life in Canada. In other words, there's no New England connection here to Chris Drury. In any event, the best of luck to Midgely and the Rangers.
In other news, on Wednesday, the Rangers confirmed what I wrote about last week, which was a story that Larry Brooks of the New York Post reported first – Ryan Martin is now the new assistant general manager of the Rangers and the general manager of the Hartford Wolfpack.
For the Rangers version of this story, check out this link: https://www.nhl.com/rangers/news/rangers-name-ryan-martin-assistant-gm-gm-of-hartford-wolf-pack/c-326020440?icmp=int_web_nyr_news_subnav
Let's now get into the Jeff Gorton interview from Tuesday.
---
On Tuesday August 24th, ex-Rangers general manager Jeff Gorton appeared on "The Cam & Stick Podcast", a podcast which is hosted by ex-NHLer Cam Janssen and NHL insider Andy Strickland. This interview, which ran about 45 minutes or so, was Gorton's first interview since being dismissed by James Dolan and the Rangers.
During the interview, Gorton discussed his entire career, from his early days in Boston and meeting Jean Ratelle to his run with the Rangers. While I'll recap the highlights for you, you should listen to the interview yourself, if only to get a feel for what Gorton was saying here and the tone of his voice.
To listen to the interview, click the play button below:
🎙️Episode #148: Jeff Gorton

➡️ Wilson/Panarin situation
➡️ Dealing with Tony DeAngelo
➡️ John Tortorella
➡️ Building the Bruins
➡️ ➕Much more

🎧Listenhttps://t.co/CZNecBSrLR pic.twitter.com/D2Eqjqz9Mg

— The Cam & Strick Podcast (@camandstrickpod) August 24, 2021
---
When it comes to this interview, obviously the main topics that Ranger fans wanted to hear about were Gorton's dismissal, the Rangers rebuild, the Artemi Panarin situation, Tom Wilson vs the Rangers toughness, Tony DeAngelo and the Rangers off-season. Gorton addressed all of these topics and more, although admittedly, there could've been some follow-up questions. After all, the "Punch Heard 'Round the World", in reference to the Alexandar Georgiev vs Tony DeAngelo melee, was never brought up. That said, nearly everything else you'd want to hear about was discussed.
Among the highlights, or at least the stuff that I thought stood out the most:
Gorton brought up the animal which is playing in New York City when compared to playing elsewhere. Gorton said due to the traffic in the city and how players live all over the place, whether in the suburbs or in the city itself, that it is harder for players to bond in New York City than in another NHL city. This has always been an issue for the Rangers, even going back to the days of the original Rangers, where some lived in NYC, some lived in New Jersey and some lived in Queens or Brooklyn. Heck, this also applied to the Emile Francis era of Rangers too, where half the team lived on Long Island (where the practice rink was, in Long Beach) and the rest lived elsewhere.
---
Gorton talked about John Tortorella, as Gorton was with the organization during Tortorella's run as head coach. Gorton raved about Tortorella, saying that he loved working with him and how he loves how honest Tortorella always is. Gorton pretty much said what every Tortorella fan says, yours truly included – Torts' has his ways, but there's always a reason behind what he does, whether he's taking the heat off of his players or trying to motivate someone.
---
When it comes to Artemi Panarin's whole situation with the "KGB" from this past season, a situation which led Panarin into missing a bunch of games, Gorton said the situation wasn't really about Panarin's well-being as much as it was about the well-being of Panarin's family. This is stuff that I (and you) speculated on at the time of this incident, as Gorton pretty much confirmed my thoughts here – Panarin was worried about his elderly grandparents and his future father-in-law.
When it comes to Panarin's grandparents specifically, Gorton mentioned that Panarin was worried about his grandparents being cut off from their medicine and their doctors.
Gorton then confirmed something else I said when this happened – there was no point in rushing Panarin back if his mind wasn't right and if he weren't 100% focused on hockey. When Panarin did return, everything had blown over and Panarin knew his family was okay.
Gorton also mentioned that he wouldn't even give Panarin's accuser the time of day, because he didn't want to validate or give any credibility to the junk that Andrei Nazarov was putting out there.
---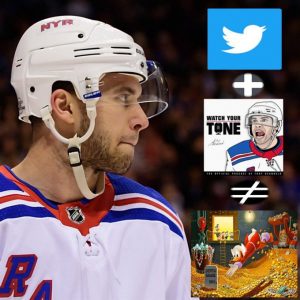 Of course, Tony DeAngelo's name was brought up during the interview, where once again, Jeff Gorton pretty much confirmed all of my suspicions and things that I have said on this site previously. However, there were two things that I had an issue with.
One, and as mentioned, co-hosts Cam & Andy never brought up the Georgiev/DeAngelo incident. To this day, we don't know what truly happened, as no one who was there has talked about it. In turn, all we have our second-hand accounts and speculation.
Two, both Cam & Andy, along with Jeff Gorton himself, gave a narrative that DeAngelo's former "Watch Your Tone" podcast was somewhat toxic. I doubt any of these three ever listened to one episode. As someone who recapped all of those episodes during this pandemic, there was never anything controversial said on any of those episodes. The podcast was basically DeAngelo and his friends talking sports, where the NFL was usually talked about predominately. All of this stuff about this podcast being some sort of political show couldn't be any further from the truth. Then again, many people do subscribe to the theory of "never let the truth get in the way of a good story."
As far as what was said, Gorton, JUST LIKE every single one of DeAngelo's ex-teammates, JD and DQ have said, confirmed that DeAngelo is a great teammate and someone who busts his ass for his teammates. In other words, all those fake news narratives that have been thrown out there about DeAngelo being some sort of locker room cancer was debunked once again. Of course, Gorton's words won't stop people who have these narratives from spreading them. "TONY DEANGELO SUPPORTS ORANGE MAN, TONY DEANGELO IS SATAN!"
Speaking of the orange man, Gorton brought up that Tony DeAngelo is a big supporter of Donald Trump and lets people know it. While Gorton didn't express disapproval in DeAngelo's political beliefs, Gorton mentioned how DeAngelo let that distract him, especially when it came to social media.
Gorton pretty much said that he had to call DeAngelo from time-to-time, where Gorton told Tony to "tone" it down. Gorton brought up the Rangers, like any other team in pro sports, is an entertainment business and a business that only survives with paying customers. Gorton said he wasn't happy with DeAngelo getting into online flame wars with Ranger fans, which is something I've always said from day one on this site. It was always my opinion, and still is, that if DeAngelo wants to use social media, he should say what he wants (as long as it isn't criminal), but not get sucked into these back-and-forth nasty arguments that always arise on social media – especially a social media that heavily skews liberal, which is the opposite of DeAngelo himself.
Gorton also confirmed that he had many teams calling him about DeAngelo this summer, where these teams asked Gorton about dealing with DeAngelo and about DeAngelo's character. Gorton confirmed that he also talked to Carolina, where Gorton said he praised DeAngelo and brought up how DeAngelo could also produce on the ice, which is the number one reason why these teams wanted DeAngelo in the first place. After all, if DeAngelo couldn't help a hockey team, he would've been exiled out of the league – something that only an idiot thought would happen after the Rangers put him on timeout. Unless you're a criminal, if you're talented, you will play. Then again, you can still be a criminal and play – just look at the National Felony League (NFL).
In Gorton's last comments about DeAngelo, Gorton once again confirmed my suspicions and said something I have previously said on this site – the whole DeAngelo incident/removal probably would've never happened had the Rangers had veterans in their locker room. You can go back to my blogs from prior to the 2021 season, where I said losing Marc Staal would not only hurt the Rangers, but hurt DeAngelo himself too. That being said, it's also up to DeAngelo to keep his temper and social media activity under control and he shouldn't need a veteran to tell him that. After all, DeAngelo is now a veteran of the NHL himself, as he's no longer a kid.
---
The Tom Wilson game from this past season was brought up, where Gorton confirmed that Panarin suffered injuries after the physicality. Gorton said with the Rangers out of the playoff mix, there was no reason to play Panarin and/or force him back on the ice.
Gorton also confirmed that it was James Dolan, and not he or JD, who released the statement calling for the job of George Parros. Gorton even said that when that statement was released, that is when he saw it for the first time, as he wasn't given a heads-up about it. Gorton, while not backing Dolan's statement, also believed that Wilson should've been suspended, rather than receiving a $5,000 fine as Wilson ultimately did.
Gorton also brought up the topic of toughness, where he brought up toughness during this segment and during talk of the Rangers rebuild. Gorton said neither JD or himself were oblivious to the Rangers lack of toughness issues, but at the same time, they had so many different kids to play and you couldn't bench these guys for just tough types and/or role players. In addition, while Gorton mentioned that JD has always subscribed to teams needing toughness, the two also wanted to see how these kids would handle adversity when it arouse.
Gorton said it was always his plan to grow the kids and the team into a contender. Once the team was ready for the playoffs, Gorton said then he was going to seek out tough guy types and role players to complement the roster. However, Gorton didn't feel the team was at that point yet and reiterated that guys like Filip Chytil, Kaapo Kakko, Alexis Lafreniere and others needed to gain experience. Gorton, tongue-in-cheek, also said that if he sent any of these kids to Hartford, he would've never heard the end of it.
---
Throughout the interview, Gorton praised both John Davidson and Chris Drury, even mentioning that he talks to JD daily.
When it comes to James Dolan, Gorton said he hasn't spoken to him since his firing.
Also of note? Gorton confirmed that Artemi Panarin speaks perfect English, but pretends not to, so he doesn't have to do media. While Panarin is financially compensated very well, at the same time, this probably does hurt other potential lucrative offers for him. It's probably why he'll never get the "C" on his sweater either.
---
In his closing comments during the interview, Gorton expressed a desire to be a GM once again, noting that he's only 53 years old. As far as his immediate future, Gorton mentioned that he still lives nearby New York City and will continue to do work for the NHL Network, where he said it will help keep his name alive.
In addition, Gorton did say he wasn't rooting for anyone to get fired, but that we all the nature of the beast. Hello Buffalo!
All in all, a very informative interview, even if some things were omitted. Aside from the Georgiev/DeAngelo omission, I would like to hear the answer to this question – "If you weren't fired Jeff, would you have fired David Quinn after the season?" Of note – David Quinn's name wasn't brought up during the interview.
One last news item before going home here.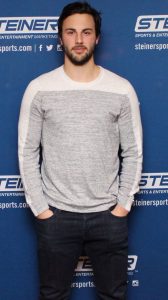 On Wednesday August 25th, the Philadelphia Flyers announced that they have signed ex-Ranger Derick Brassard to a one-year deal worth $825,000. (Of note, unlike the way the Rangers do things, the Flyers do announce terms and salaries of player contracts.)
The deal not only reunites Derick Brassard with ex-Rangers Kevin Hayes and Keith Yandle, but also reunites Brassard with ex-Rangers head coach Alain Vigneault. What's going on in Philadelphia? Who do they think they are, Carolina?
As a result of the deal, Brassard now joins his NINTH NHL franchise, as Brassard continues collecting jerseys around the NHL. Prior to signing with the orange and black, Brassard played for the Blue Jackets, Rangers, Senators, Penguins, Panthers, Avalanche, Islanders and Coyotes.
Fun facts: Mike Sillinger currently holds the record for most franchises played with, as Sillinger played with twelve different franchises during his career. In addition, Sillinger was traded nine times in his career too, another league record which he shares with Brent Ashton.
Selfishly and just for the bizarre factor, I was hoping that Brassard would wind up in Carolina, as the Hurricanes currently have six members of the Rangers alumni on their roster in Brady Skjei, Jesper Fast, Antti Raanta, Tony DeAngelo, Brendan Smith and Derek Stepan. Instead, Brassard, who already has had jerseys of Rangers rivals, now wears another rival jersey – the one with the familiar "P" on the chest.
I'd say good luck to Brassard here, but Phather Phink Philadelphia!
---
If you haven't already, subscribe to this blog for the next update:
---
I'm back to editing the book mode, where praise to the hockey gods, this book will be 100% complete by this weekend. Then I'll get my life back! Of course, once the book is released, there is the whole promoting thing, but that's a problem for future me!
Stay FABULOUS my friends.
As always here, thanks for reading and…
LET'S GO RANGERS!
Sean McCaffrey
BULLSMC@aol.com
@NYCTHEMIC on Tweeter