Greetings and salutations everyone and welcome to another blog here on BlueCollarBlueShirts.com.
On Saturday afternoon, in a rare 1pm matinee game, the Edmonton Oilers defeated the New York Rangers at Madison $quare Garden, by a final of 4-1.
Off puck drop here, I want to respond to all the moaning and groaning that I've seen on social media, in regards to the Rangers schedule.
Yes, a week off between games isn't ideal. It's downright stupid. The schedule-makers should have some sort of accountability here, where at the very least, they explain why the Rangers are the only team in the league to play two games, have a week off, followed up by four days off and then have an immediate back-to-back game road-trip.
I just want to be clear here – I agree with everyone, the schedule seems like it was made by Lennie from "Of Mice and Men". (That's my way of using the now dreaded "R" word without saying the word. Ah eff it, I don't care about political correctness here. The schedule is retarded! Sue me liberals!)
Even worse, instead of the usual 7PM start time, this game started at 1PM, as this game was promoted to families. You know, the average family of four that can afford $2000 to go to a game at Madison $quare Garden.
That said, even with the terrible schedule and horrible start time, there's just no way and no how, that you can blame the schedule for this loss today.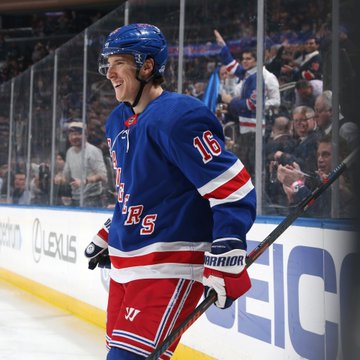 When it comes to this game today, the bottom line is this – the Rangers had 6 full days to prepare for it. Meanwhile, the Oilers, who are a seven hour flight away from their home rink, are in the middle of a grueling road-trip. After this win today, the Oilers are now 5-0 on the season (first time since the Gretzky/Messier era) and just swept the three NY area Metropolitan teams.
When I see Ranger fans blaming the schedule or the start time for this loss, I don't see these people taking into account what the Oilers have been going through. The Rangers had all the advantage in the world for this game. They had six days to scout the Oilers and to be ready for them. Meanwhile, the Oilers have been playing all week and went to their back-up goalie for this game.
Speaking of the back-up goalie of the Oilers, their back-up goalie is Mike Smith, who is 37 years old. Joe Micheletti mentioned his age. I saw Ranger fans on Twitter mocking Smith's age. The best part about this? Mike Smith is actually 20 days younger than Henrik Lundqvist! Mike Smith is also making $2M this season, which is $6.5M less than Lundqvist. Just like Lundqvist, Mike Smith has an Olympic Gold medal. When you also add in the fact that Mike Smith has actually scored a goal in his career too, I gotta ask – who is the real freaking king here? For the value and because he had a better game today, I think we gotta go with KING MIKE SMITH here!
Before motoring along here and getting into this game, in case you missed all the talk about the Vladislav Namestnikov trade, here's that blog, along with my most recent blogs:
---
---

---
---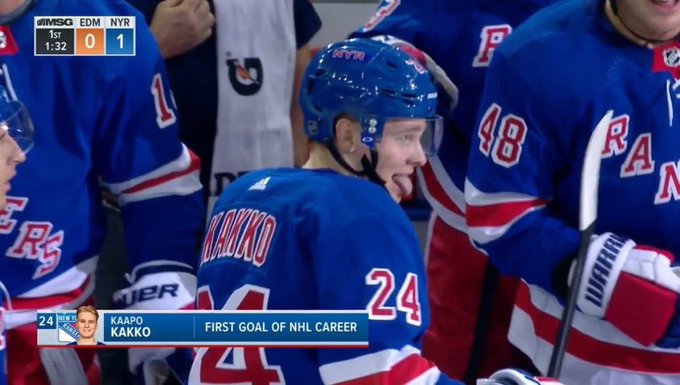 Unlike other fans, bloggers, writers and whoever; as talked about, I don't blame the schedule for this loss. To me, it felt that after Kaapo Kakko scored his first goal with 90 seconds and change remaining in the first period, which put the Rangers up 1-0, the Rangers then took the rest of the game off. It seriously felt like that right after this goal, when the Rangers went into the locker room during the first intermission, they had one of those MLB postseason beer/booze baths:
While I am exaggerating a bit here, truth be told, every single person affiliated with the Rangers and every single fan of the Rangers, were just ecstatic with Kakko's goal. This is what we all wanted. However, after the goal, it just felt that everyone forgot that there were still 40 more minutes left to play. Unfortunately for the Rangers, the Oilers did not forget about that little nuisance of a fact and would wind up taking over the game for good, in the latter stages of the third period.
Gambling Segment Time!

I hate to do the old pat on the back stuff here, but I've been tweeting out my NHL game predictions. I've been batting something like .850. Of course, it's early and I have used a lot of favorites and have been predicting everyone to beat the Ottawa Senators and the New York Islanders.
Of note, my average is going to start leveling out (the best gamblers have a 57% success rate) as the Senators just beat the Tampa Bay Lightning. I didn't predict the Senators to win that game! And of course, it was Vladislav Namestnikov leading the Senators in victory, with two goals. Go figure.
For the purpose of this blog, I have been tracking my over-under predictions. Going into this game, I was 2-0 on the season. Before this game, I tweeted out the following on my @NYCTHEMIC twitter account:
"Lundswiss is playing tomorrow. Over-under is a full goal higher than the normal -5.5. Rangers GAG line and Lundswiss starting means to hammer the over."
Can't win them all. There's a reason why there's a lot of expensive real estate in Las Vegas! I drop to 2-1 this season.
If anything, this game went the complete opposite of what I thought would happen. Until the third period, this was really a defensive game. While each team had multiple chances to score extra goals in this game, for the most part, this game was more defensive than anything else.
The Rangers new GAG line was held off the board tonight. That said, as mentioned in my last blog, that line can be held scoreless for the next four games and they still will be averaging a goal a game.
The Oilers top line, of McDavid/Draisaitl/Kassian, while they did produce points in the third period; for most of the game, the Rangers were able to contain them. It took a PPG and a soft goal allowed by Lundqvist to get the Oil's top line on the board.
In any event, no excuses. I got this game prediction wrong. I'm not perfect. Oh well.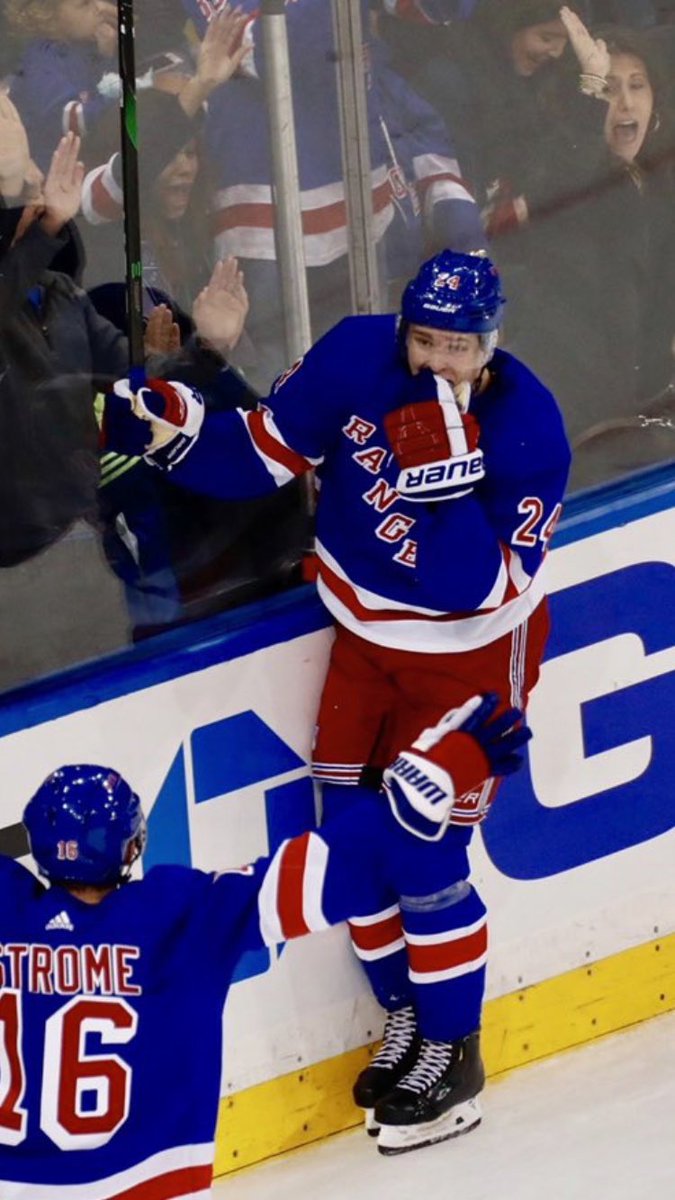 At this time, as usual, I'd like to share with you the box score from this game. The following comes from ESPN.com:
SCORING: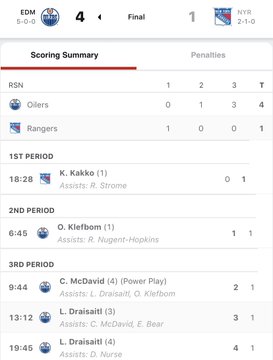 PENALTIES: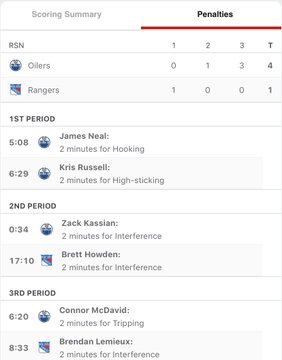 GOALIES: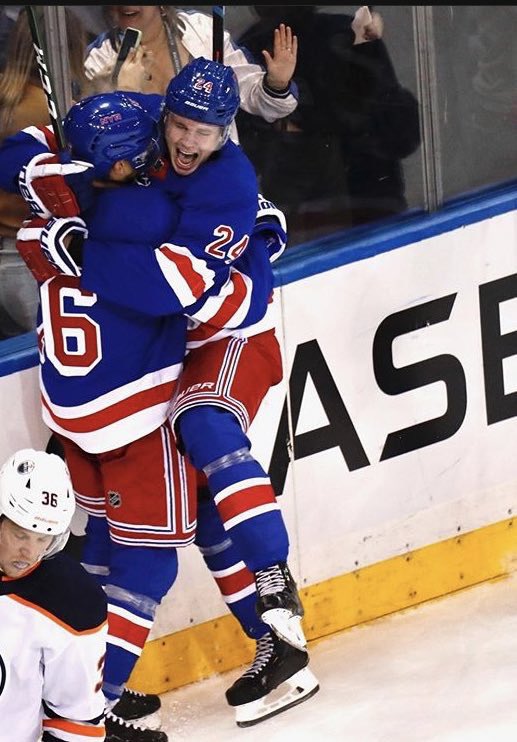 When it comes to this Rangers loss, you can look at many different things. When combined, it's easy to see why the Rangers lost. In an order of no importance or significance, here's why the Rangers lost today:
— The Rangers PP, which produced multiple goals in the first two games, went 0-4 today. The Rangers even failed on a 5 vs 3 PP. When you can't score on a 5 vs 3 PP, you're setting yourself up to lose. Conversely, the Oilers PP went 1-2 today and that McDavid PPG would wind up being the game winner.
— The Rangers top line didn't score. I talked about this in past blogs. The Rangers are very top heavy. If the top line isn't producing, it's tough for the Rangers to find goals.
— Chris Kreider did his disappearing act. Despite finding a post on the first Rangers PP of the game, CK20 was reduced to a shell of himself. At one point in the first period, he did leave the game with an injury, but he came back and logged nearly 17 minutes of ice time overall. However, I had to check the box score to see if he even returned. Kreider hasn't stepped up yet in these first three games.
— Buchnevich continues to be off. Seriously, if Buchnevich wasn't on the first line and if the Rangers didn't play the terrible Ottawa Senators, it's debatable if he'd even have a point this season. Buchnevich looked tired, lazy and was sloppy all game. I don't want to say he held down Panarin and Zibanejad today, but he didn't help them either.
— Lundqvist and his usual one bad goal allowed. While there is no way you can blame Lundqvist for this loss, at least not 100% blame him, once again, there was Lundqvist giving up a terrible goal in this game. That goal put the Oilers up 3-1. If you make a save on a puck that is saved 100 out of 100 times by any other goalie in the league, the score remains 2-1 and gives the Rangers a fighting chance at tying the game.
Now, let's get to this game itself.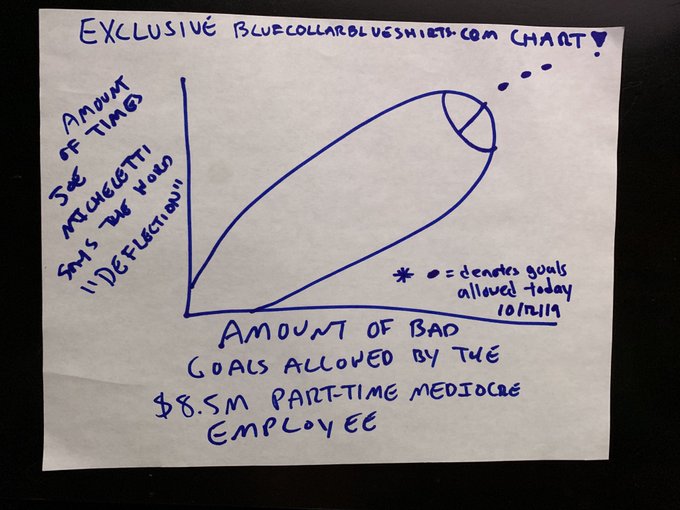 With a 1PM start time, and being a night owl, the last thing I wanted to see when I turned on my TV today was Joe Micheletti. In fact, after listening to Micheletti yammer on for 3 hours, I could use another week off from the Rangers.
Seriously, if you took a shot every time Micheletti says the words "screen" or "deflection", even if it was a shot of some foo-foo shit like Malibu Rum, you would be dead from choking on your own vomit, like a classic rock star. What Micheletti fails to tell us, is how the other goalie also has to deal with screens and deflections. In Micheletti's world, screens and deflections only occur when his Swedish loverboy is in net.
While on the topic of commentary, John Giannone called his second straight game for the Rangers today, as I assume that Sam Rosen has an NFL obligation somewhere tomorrow. As mentioned, I like Giannone's straight-man style. There's no flair. There's no bells and whistles. There's no gimmicks. Giannone just calls the action and I enjoy it. That said, as mentioned on previous blogs, if I were the MSG Networks, I would back up a truck of cash to Kenny Albert's house and convince Albert to ditch some commitments and be the #1 TV play-by-play announcer. Of course, I'd also flip-flop Dave Maloney and Joe Micheletti too.
Speaking of Dave Maloney, with Giannone calling the game, Maloney had Giannone's normal spot in-between the benches. Maloney was sick today and was hoarse in the throat. Between Trautwig and Maloney, you got to wonder, do we have some sort of Sam Darnold mono going around? Maybe these guys are getting mono from kissing Lundqvist's ass too much? Then again, to disprove this hypothesis, Micheletti is as healthy as a horse.
With the Rangers trading Namestnikov earlier this week, the Rangers tinkered with their third and fourth lines today. The top two lines and the defense remained the same from the game with Ottawa. As a refresher, as it's been a long time in-between games, here was your line-up today:
FIRST LINE: Panarin/Zibanejad/Buchnevich
SECOND LINE: Kreider/Strome/Kakko
THIRD LINE: Lemieux/Howden/Fast
FOURTH LINE: McKegg/Andersson/Smith
Defensively, it was the same, as we had:
FIRST PAIR: Staal/DeAngelo
SECOND PAIR: Hajek/Trouba
THIRD PAIR: Skjei/Fox
And as mentioned, Lundqvist was in the barrel.
Of note, what does this tell you about Brady Skjei? Prior to this off-season, only Skjei & Zibanejad were signed past the current NHL CBA. Now, Skjei, a recipient of a huge deal, is part of the third D-pair. While this will all change and I'm sure Skjei will be juggled around and he will get his 16+ minutes a game, this contract isn't looking great at the present moment.
20 seconds into this game, Mika Zibanejad broke away, only to be stopped by Mike Smith. When I saw that, I was already in Sam Rosen "OH BABY" mode, as I thought Zibanejad was picking up right where he left off. Sadly, it wouldn't be meant to be today.
These 1PM games, which always start off sluggish, did start a little slow today. However, if anything, the first period was the most exciting period of the game. I don't think any Ranger fan can argue against that statement.
The Rangers would dodge an early bullet in this period, when Draisaitl missed wide, Lundqvist went out of position, which then led to an open net for Zack Kassian. Kassian would go wide himself, which prevented the Oilers from taking the lead. Right off the bat here, with Zibanejad and Kassian, we could've had a 1-1 game, with just 5 minutes played.
With 5:08 played in the first period, Brendan Lemieux drew a penalty on the red-hot James Neal. The Rangers would go on the PP and put forth their best PP attempt of the game. Unfortunately it produced no goal, despite everyone watching thinking that Kreider had one.
During this PP, Kreider took a shot that looked to monkey around the post and cross the goal line, before going out. However, with replay, it was clear as day that Kreider's shot just hit the post and went out. The camera angle on TV during the live play tricked us. While on this Rangers power-play, Russell would be boxed for high-sticking, thus giving the Rangers 40 seconds of 5 vs 3 power-play time. The Oilers would kill these important 40 seconds.
The Rangers, despite failing on the 5 vs 3 PP, would see Oiler goalie Mike Smith lose his stick. Despite Panarin and Zibanejad trying to get this tally, the Oilers rallied around their goalie and were able to make the crucial clear. The Oilers went on to kill this power-play too.
Really, Kreider should've scored here and choked. He had a wide open and close look at the twine behind Smith. If anything, this game could've been 2-1, Rangers (would've helped my over prediction) but with 10 minutes played, it remained 0-0. The Rangers were the better team here, but as we've seen so many times before, allowed the Oilers to hang around, rather than capitalizing on chances. Even worse, right after this, Brendan Smith hit the crossbar. The other Smith, in Oilers goalie Mike Smith, got a little help from his friends today.
As the period approached its final half, the game turned into more of a defensive struggle. I thought Marc Staal looked good here. I thought Buchnevich looked anything but. Panarin would also make some good moves with his hands, as he charged towards the net, before being denied by Mike Smith.
At the 18:28 mark of the first period, M$G ejaculated. The moment everyone waited for finally came, just like Ranger fans did in their own pants. Here it is:
The emotion Kaapo Kakko shows after scoring his first career NHL goal is everything. (🎥 @nhl) pic.twitter.com/CP3B5BQ1xV

— NBC Sports (@NBCSports) October 12, 2019
1-0, GOOD GUYS, courtesy of Kaapo Kakko.
What can you say here? Ryan Strome, currently on the dartboard of many chart boy losers, made a perfect pass to Kakko. Kakko finished off Smith with a clean as a whistle backhand, to put the Rangers on the board.
Worth mentioning, I did see Kakko's post game interview as I was putting the finishing touches on this blog. Kakko credited Strome for making the pass. Major props to Kakko for being a team player and praising a teammate. Little things like that go a long way. Kakko is way beyond his years when it comes to the topic of maturity. I don't want to go overboard here, but these comments are something a captain would say. Kakko took his own personal highlight and credited a teammate. I love it.
I also want to say this about Kakko's goal. There were literally 547826589467892645789624578926457892628 gifs, videos and all other sorts of social media postings about this goal. In fact, Kakko wound up trending on twitter worldwide and was the number 1 trend in NY. People are buying in, and hey, why not? As a Ranger fan, I was fist-pumping like I was Paulie D. on the "Jersey Shore."
The rest of the period just saw the fans in the Garden cheer for Kakko, as the Rangers got out of the period with their 1-0 lead. As mentioned at the top of this blog, there were still 40 minutes left.
I guess I should talk a bit about my quasi-Oiler fandom here. As you know, I was a huge Cam Talbot fan. I also respect the history between the Oilers and the Rangers. After all, without the Oilers, the Rangers don't win the Cup in 1994. In fact, and as I mentioned in my Edmonton road-trip blog from many moons ago, to some Edmonton fans, they refer to the Rangers 1994 Stanley Cup win as the Oilers sixth Cup.
Being a huge fan of Cam Talbot, when the Oilers were in the area during these last three seasons, I would attend their games not only against the Rangers, but against the Islanders and Devils too. I watched most of their games on TV too. I'm very well versed with the team and their recent seasons. I've also had the pleasure of meeting in-person and talking to Oiler fans on social media. They are a great fan base. (Hi Shelley! Shit, hi Cam Connor!)
The best thing about being a Talbot fan and a fake Oiler fan during this time, was because Islander and Devil tickets are so cheap, I was able to sit on the glass for one Oiler/Islander game and sit three rows back for another. I spent something like $140 COMBINED, for both of those games. To compare, $140 gets you two beers at M$G.
In those Oiler/Islander games, I saw the greatest player in the world, or at least one of them, just do his thing. In my life, I was fortunate enough to see Michael Jordan play live in his prime, but I was sitting all the way up top. I have to give my dad credit here. I have no clue what he paid for those Bulls/Knicks tickets, but knowing what I know now, it couldn't have been cheap. He took me to three Bulls/Knicks games and the Bulls were always a hot ticket in NY in the 1990's. Like myself, my dad was a blue collar guy, who didn't need to spend that type of money. Looking back at it, I appreciate it more now. (In addition, my dad took my brother and me to that famous Jordan double nickel game, where Jordan had 55 points and the game winning assist to Bill Wennington. If my dad is reading this now, I hope he's happy that I remember that game, 20+ years later! Money well spent!)
As I rant about my personal live viewing experiences here, I've seen Lebron James play live. I've seen Tom Brady live. I've seen Gretzky and Super Mario live as well, albeit towards the end of their careers. I even sat close and saw Crosby & Ovechkin. I also once sat behind the Yankees dugout and saw Jeter and Mariano do their thing. What I'm saying here is that I've seen some real GOATS in my time and to me, McDavid is one of them.
To me, you really can't appreciate how good McDavid is on TV. You have to see this guy live. Furthermore, and I know this is a financial thing, if you can, try to see him up close. Don't do it at MSG. Do what I did, and go to an Islander or Devil game, where you can treat the arena as if it were Six Flags, and get in by using an empty Coca-Cola can.
When you sit up close and see McDavid play, you will just be awed. You can appreciate the speed and skill that much more, than if you sat at the top of the arena. What this guy does on the ice is a work of art and if you have the financial means and time, you owe it to yourself to see him in his prime. When I watch him play, I imagine this is what it was like for hockey fans in the 1980's with Gretzky. (I am 37 and was too young to have seen Gretzky in his prime. In fact, while I'm aware of his career now, I only first started seeing him play when he was with the Kings.)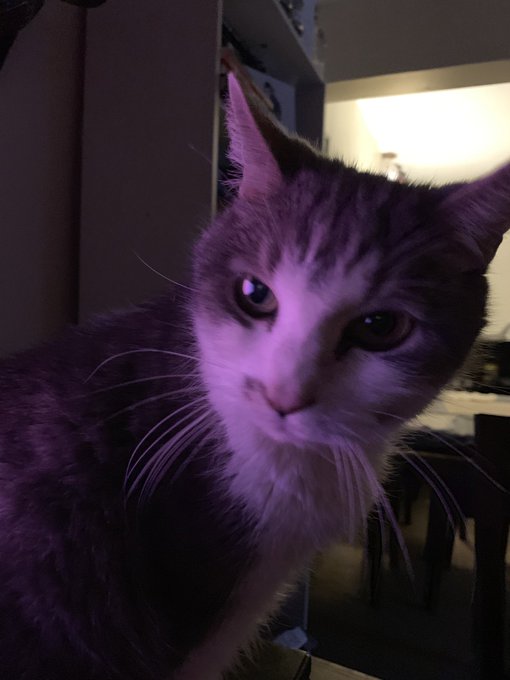 I gotta stop dilly-dallying here, the Yankee game will be here sooner than I know it!
To start off the second period, that dickhead Joe Micheletti actually downplayed Kakko's goal. Later on, Micheletti did a back-flip and jizzed himself to kingdom come when Hank went out of position and saved his own ass by making a save on James Neal.
The Oilers came to play in the second period. 30 seconds in, Draisaitl hit a post. Then the Oilers scored, but Kassian was called and penalized for goaltender interference. I don't know about that call, as it looked like DeAngelo pushed Kassian into Hank here. Either way, the Rangers avoided another big blow and got a PP out of it too.
With the early period PP, the Rangers did nothing with it. In fact, this was their worst PP attempt of the four PP's they got in this game. No goal here and I think they only got one shot too.
As this game went along, and really, for the whole game, I thought this new fourth line played well. They didn't score, but really, that's not their job either. It seemed that every time they were on the ice, Andersson, McKegg and Smith were pushing the puck forward and creating offense. Say what you want about Smith, but he hasn't been bad and has been good in his dual-role. Yes, I know the contract and yes, I know this is a rebuild, I'm just commenting on what I've seen. Maybe Smith is increasing his value for a future trade. That's what we want anyway, right?
Later on the period, Lundqvist made a Georgievesque great save on Chiasson. However, the Rangers couldn't really get out of their own zone and took an icing. Immediately after the faceoff in the Rangers D zone, Klefbom scored a seeing eye goal, 6 minutes and change into this second period, beating Lundqvist through a bevy of screens. 1-1. Can't blame Hank here.
The Oilers had the edge for most of the second period, but that didn't stop Trouba from getting his stuff in. I love his game. All he does is shoot and the Rangers certainly need a guy like that.
What I liked through the first two periods, was that despite the Rangers GAG line not scoring, neither did the Oilers top line. That would change in the third period, but for the most part, for the first 40 minutes, the Rangers did a great job of shutting down the Oilers top weapons. Give some credit to Staal and DeAngelo here.
It's funny, I really thought we would see a shootout and a bunch of goals in this game, just because these 1PM games tend to be sloppy. While both teams would have breakaways and odd-man rushes, neither team could convert. I thought the Oilers looked particularly bad with their odd-man rushes, as they were somewhat too casual and too cool-for-school with their attempts.
At the end of two periods, 1-1 game.
Six minutes and change into the third period, Mika Zibanejad drew a penalty on McDavid, as McDavid blatantly tripped Zibanejad. The Rangers would get their fourth power-play of the game and would fail for the fourth time in this game.
Immediately after killing the penalty, McDavid got out of the box and Lemieux interfered with McDavid. This would put the Oilers on the PP.
The second this all happened, I said this on Twitter (and you can check the timestamp to verify that I said this before the Oilers goal):
Lemieux boxed for interfering with McDavid. You can feel this Oilers goal coming. #nyr #PlayLikeANewYorker

— BlueCollarBlueShirts (@NYCTheMiC) October 12, 2019
A minute into the power-play, there was Captain Connor scoring the go-ahead goal to make the game 2-1, with less than 10 minutes to go. You could just feel it coming. You can't go 0-4 on the PP, fail on 5 vs 3 PP and then expect to hold off a team led by the best player in the NHL. 2-1, bad guys.
Unless it's something egregious, I rarely blame a goalie for a PPG. That applies here. What can you say, the puck bounced off Trouba and McDavid did his job. That said, there were still 10 minutes to go and the Rangers weren't dead. However, they would be, less than four minutes later, when Lundqvist gave up another one of his trademark bad goals to Leon Draisaitl:
Draisaitl with his 3rd of the season. Assisted by Connor and Bear. 3-1 Edmonton. 5:00 left in the third. pic.twitter.com/9cOYKsB5SD

— The Oil Drop (@TheOilDrop) October 12, 2019
3-1, bad guys.
I haven't watched the postgame yet, but I'm sure Lundqvist is blaming the referees for not blowing a whistle. However, when you don't control the puck, you don't get a whistle. And really, Lundqvist does this far too often, where he thinks he has the puck, but meanwhile, the puck is dancing all over he place and goes through his Lincon Tunnel sized five-hole.
I want to be clear here – you can't blame 100% Lundqvist for this loss, but this goal didn't help matters. Again, it makes NO SENSE for him to be on this team to begin with. He's overpaid, he's overrated and doesn't belong on a team rebuilding. The Rangers would be better off using his money on a 2C and allowing Georgiev and Shestyorkin to grow under the Allaire learning tree.
And really, it's the same old shit with Hank. Make a few good saves, even if some of these good saves were created because he was out of position. Then of course, Lundqvist gives up a soft goal that changes the game. $8.5M for this nonsense. Meanwhile, on the other end, Mike Smith was stopping every PP shot the Rangers had and made a few good saves along the way.
With the score now 3-1 Oilers, the life of M$G was just sucked out. You could feel the defeat not only in the arena, but on the ice. These back-breaking Lundswiss goals allowed are just killers. There's never a good time to give up a bad goal, but there is no worse time to give up this type of goal with your team trying to tie up the game, late into the third period.
Down two goals, Quinn half-heartedly tried to make a go of it and pulled Lundqvist. With 15 ticks remaining, Draisaitl finished off the Rangers with an empty net goal, giving the Oilers a 4-1 victory.
I have a lot of Oiler fans who read these blogs, and all I can do here is tip my cap to them and say congratulations. Great game and a great road trip for the Oil.
For Ranger fans, who are jaded like myself, it doesn't shock me that Lundqvist gave up a horrible goal on a day where we should all be celebrating Kakko's first goal.
I gotta head home here, as I want to be finished with this manifesto by the time the Yankees game starts. For my woes with the Giants and the Rangers, at least I always have the Yankees!
As far as this loss, I know the schedule will be blamed, and as I said above, that's horse-shit to me. It just sucks the Rangers lost this game, as they now have four days to steam about it. With the loss, you'll have bloggers, fans, writers and everyone else, dissecting every minutiae concerning this game. People wouldn't be doing that if the Rangers played tomorrow.
That said, with this loss, you'll have people looking to pin the loss on one sole individual, but that really isn't the case here. If you're looking to finger-point at something, finger-point at the special teams that went 0-4 on the PP and 1-2 on the PK. Special teams were a huge difference maker in this game.
Moving forward here, I hope to chime in and do another blog between now and Thursday. I'm going to the Rangers/Devils game on Thursday night. That should be a long night for yours truly. I'll try to get something up after the game, but it won't be as long and detailed as these blogs tend to be, especially with a game 24 hours later with Washington.
In closing on this game, it's just a shame the Rangers lost, as it does take away some of the good vibes from Kakko getting on the board. That said, save the doom and gloom shit for someone else. I'll take 2-1 at this point in the season!
Until next time, thanks for reading, and as always…
"LET'S GO RANGERS"
Sean McCaffrey
BULLSMC@aol.com
@NYCTHEMIC on the tweeter machine