Greetings and salutations everyone and welcome to another blog here on BlueCollarBlueShirts.com. Originally, I didn't think I would be able to get something up this week, but with the cancellation of the Yankees game, here on Wednesday night, here I am.
With this Yankees game being postponed due to bad weather tonight, this blog allows me to catch up on all the recent rumors and news swirling around Rangerstown, USA right now. It also saves me time from having to recap everything that went down this week in tomorrow night's blog. That works out for me, as I'm going to the Rangers vs Devils game tomorrow and I probably won't get back home until near midnight.
Speaking of the Yankees & the Rangers/Devils game tomorrow, I must admit that I jumped the gun on purchasing tickets to the hockey game in Newark, NJ, which you may also know as Hockeytown, USA. When tickets for this game first went on sale, my buddy and I quickly snared a pair. We paid face value, so you really can't complain about that. However, because the Yankees are in the MLB playoffs, ticket prices for the Rangers/Devils game are already dropping.
As I write these words and check Stubhub.com, less than 24 hours before game time, tickets comparable to the tickets I have are going for $40-$50 less than face value.  By 5PM on game day, I would expect the tickets to be even cheaper. I won't shy away from the fact that I wanted to see the first ever Kakko vs Hughes game in-person, but I do know that I overpaid a bit. However, who knew when tickets went on sale for this game, that the Yankees would be playing on this night? Can't win them all.
While this blog has a headline date of 10/17, as mentioned, I'm writing this on the evening of 10/16. By the time you read this, it will probably be 10/17. Long story short, if you don't care about the Yankees game and want to watch hockey, you can get good tickets, and for cheap prices, for this Rangers/Devils game.
The same situation will apply on Sunday, when the Rangers host the Vancouver Canucks at M$G. Those tickets will probably be the cheapest of the season, as you got everything in your favor. You have a potential ALCS Game 7, between the Yankees & Astros. You also have the Giants and Jets playing. Furthermore, it's the Canucks, which aren't a hot draw in NY. In other words, if you want to see a game at MSG this year, and at an affordable price, this upcoming Sunday may be your best crack at it all season.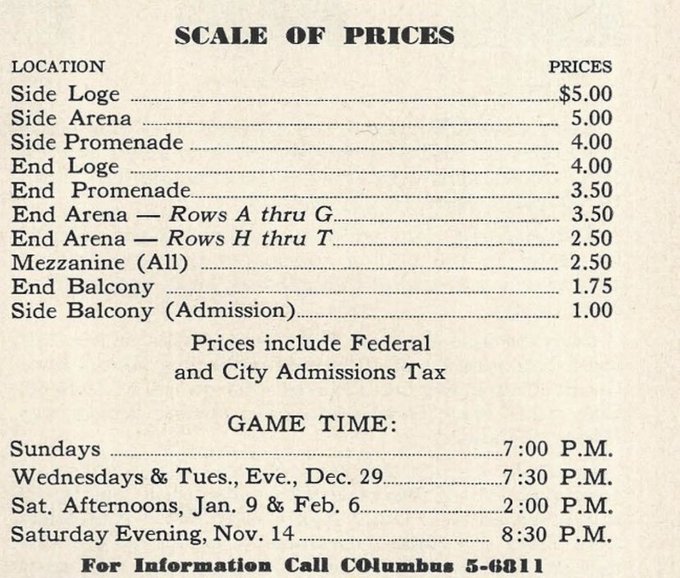 Before moseying along here, I will be referring to my most recent blogs in this manifesto. In case you missed my latest blogs, as usual, here they are:
---
---
---

---
In my last blog, I talked all about the Rangers schedule, so I won't really rehash all of that here. In short, the schedule sucks. I know it. You know it. The Rangers know it. There's just nothing we can do about it. However, come this Rangers/Devils game on Thursday night, all the downtime is over. The Rangers will finally go into a routine, until their bye week and then the break during NHL All-Star weekend.
Ironically, even with the schedule going back to normal, the next thing Ranger fans and even the Rangers themselves will complain about, will still be the schedule. In case you don't know, the Rangers will play the most amount of back-to-back's this season. A huge part of that is because of all the early downtime. Unfortunately, as much as I hate talking about this schedule, I think it's just going to be a topic all season, especially if the team looks haggard and tired in some of these games, later on in the season.
If there is anything positive to take away from the schedule, it is that the Rangers have a lot of local opponents. The Devils and the Islanders are 10-15 minutes away. The Flyers are only 2 hours away. The Capitals and the Bruins are three hours away. When you look around the East Coast, most Eastern Conference games for the Rangers are only a two hours or less flight away. To paraphrase David Quinn here, "it's not like we are located in Colorado." Plus, unlike other teams in the NHL, the Rangers have three different airports they can fly in and out of. If there are delays or something is going crazy at an airport, the team has two other options. They aren't married to one singular airport. Just something to think about, especially if you're optimist.
The biggest problem about the Rangers having so much downtime, is that just like a teenager, an employee or anyone else – too much free time just leads to trouble. I'm speaking from experience here. I've had slow jobs in the days of my YOUT ("My Cousin Vinny" reference, of course!) and I got myself in trouble during downtime. I can remember that at the age of 19 (almost twenty years ago) my friend and I were bored out of our minds at our custodian job & the downtime led to us getting in trouble.
Oh and let me say this. All these civil service jobs or any job in general, where you're mandated to do a certain amount of work a day, these jobs should let you go home early if you finished all of your work. For example, if you're custodian, the classroom or bathroom you're cleaning can't get any cleaner once you finish. If you are a garbage man, once you finish your route, there's no more garbage to pick up. If you work in retail and your job is to stock shelves, once the shelves are stocked, you can't stock them anymore.
Having employees hide out and linger around, until they can punch out at the proverbial 5PM, that doesn't help anyone. It breeds discontent. You get more work done by telling the employees what they have to do for the day. If the incentive is they can go home early once they finish, the employees will work hard, get shit done, and in most cases, do extra out of appreciation. When you make people clock watch, it's just bad.
And because I mentioned it, here was my downtime story at the age of 19. If you can recall, "The Jerky Boys" were a hot phenomenon that many young adult males were fans of. To this day, I can recite every call as if they were song lyrics.
Anyway, my friend at work and I created our own characters. If you know "The Jerky Boys", I pretty much ripped off the character of Jack Tors and gave him a Latino accent.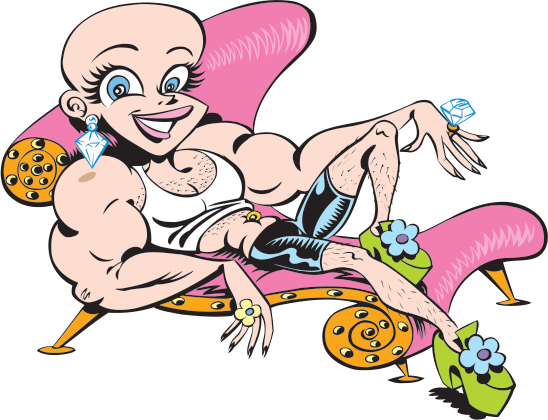 And let me stress this again here – both my friend and I finished our work for the day. We had to hang around two extra hours and we had to kill time somehow. This is what led to our demise! Some people drink at work to kill time. For me, I was always about making people laugh, and sometimes, making people laugh gets me in trouble more times than not. Maybe I'm better off drinking on the job! (I kid, I kid, but let's face it, people do it.)
Man, am I going off on a tangent here. Back to the story.
With two hours to kill, my friend and I were prank calling all these places. Unfortunately, unlike today, we didn't have a program to record our calls. We didn't have cell phones either. We also forgot about this new invention called "Star 69", where you could trace back calls. We also didn't think that the places we were calling would trace back the calls to the phone located at the desk of the school's librarian.
There was this one pizza place by us, where the guy who answered the phone would sell for everything. He was kind of like Red from "The Tube Bar" tapes. While this guy wasn't gruff or as menacing as Red, this guy at this pizza place just reacted to everything, which made him a perfect and an entertaining mark for us.
Anyway, after prank calling this guy 78678678967896789 times, he finally got fed up. All I can remember from this time, is that in my last call to him, was that I was asking him for a penis pizza and asking him if he could see if it fit in his ass. I think I was asking him about making pizzas for a gay bachelor party and then went into something about asking if he wanted to jump out of an oversized pizza box at this said gay bachelor party.
Oh and I have to say this – this is where the liberal social justice warrior types will say this humor is sophomoric and homophobic. Get over yourselves.
These stupid jokes are funny to 19 year old males. I can't lie – this stuff is still funny to me today. I'm not going to explain or defend myself any further. If you can't laugh, take a penis pizza and shove it up your calzone hole!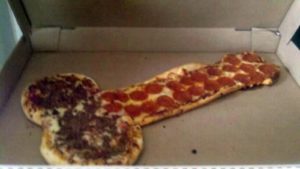 All in all, this guy from the pizza place didn't enjoy penis pizza suggestions. The hard-on Star 69'd the call, found out it was coming from a school, called the school district and eventually everything got back to me and my friend. I wasn't much of a good liar, and really, they had me dead to rights, so I just admitted it was me who did it.
As I look back now, you never want to throw away a job with benefits and good pay. However, at 19, I was still in college and wasn't ready to settle down to one job anyway. At least I got a good story out of it. That said, I got a better story concerning downtime. One day I'll share with you my high school suspension story, which humor wise, blows away this story. It's a much funnier story now, 20+ years later, then it was at the time!
There's also the story in my current line of work, where two guys were fighting and writing nasty shit about each other inside of the porto-potty at the job site we were on. One of these guys were in my union, the other guy was not. I told my union brother to write this: "What's the difference between X (not using real names here) and the NY Rangers? The Rangers shower after three periods." Needless to say, that innocent joke led to some pushing and shoving between those two. Just another case of my messed up sense of humor creating trouble!
To this day, I just don't understand people who don't have a crazy sense of humor. Maybe I'm the messed up one, but I rather laugh than be so serious all the time. If you're a regular reader of these blogs, I think you understand where I'm coming from. Plus, I think it was the great Artie Lange who once said – "I rather be a fat and funny guy than a fat and miserable guy!"
Oh and speaking of down-time, see what happens? There isn't much going on this week and I just spent 1000+ words talking about prank calls and penis pizza.
And before talking about, you know, hockey, let's face it – you want pizza now.
Back to the Rangers.
There are two "major" developments going on right now. I put the word "major" in quotes, just because I don't think these would've been big stories if there was no downtime right now.
The first story is what David Quinn is doing with his lines. Quinn has promoted, for lack of a better word, two players. Those two players are Brett Howden and Brendan Smith.
Based on all the reports from the reporters who cover these Ranger practices, Brett Howden has moved up to the second line at center. Moving down is Ryan Strome. Brendan Smith, who will still play defense on the penalty kill, has moved up to the third line as a winger. Moving down to the fourth line will be Brendan Lemieux.
To flesh it all out, the lines, which are not 100% official, look something like this for the game with the Devils:
FIRST LINE: Panarin/Zibanejad/Buchnevich
SECOND LINE: Kreider/Howden/Kakko
THIRD LINE: Fast/Strome/Smith
FOURTH LINE: Lemieux/Andersson and either McKegg or Haley. Based on what we are getting from some reporters, Haley may make his 2019-2020 season debut here, as this game with the Devils is a rivalry game. Adding Haley gives the Rangers more oomph. Maybe we'll get a Haley/Simmonds fight out of this too.
Just like the schedule, a topic that seems to get a never-ending debate is what the Rangers should do with their centermen. We know that after Mika Zibanejad, it's anyone's guess on what to do.
Ever since the loss to the Oilers this past Saturday, and really, even before then, I've read 364376476357167 fans and reporters all chime in with their opinions. "Send this guy to Hartford." "Trade Strome!" "Sign this guy!" "Bring up Chytil!" "WE DON'T DESERVE LUNDQVIST!"
To me, three games in and with all this downtime, I think people are just going bat-shit over this stuff because there is nothing else to talk about. Sometimes, you gotta trust the front office. It's too tough to go nuts about a team that's only played three games in two plus weeks. That being said, everyone knew the Rangers were going to be a top line heavy team this season. This is why I did all my Hayes contract vs Lundqvist contract talk in past blogs. The Rangers are just bunch of a question marks, when it comes to the centers of this team. It's up to Quinn to answer these questions.
As far as Howden getting promoted and Strome getting demoted, I just wonder what triggered this change. Strome had the only assist, and a pretty one at that, in the Rangers lone goal on Saturday. It's not like Howden has done anything to outplay Strome. It's not like Howden has been this world-beater that deserves his just due. To me, it looks like shaking things up for the sake of shaking things up. I also think Quinn has ADD, as he can't keep still. He changed his line-up nearly every game last season and he has to be busting at the seams to get another game where he can shake up his lines again. I don't know if that's a good thing either, as it's tough to create true chemistry when you're shaking things up all the time.
While I know that previous Ranger coaches, in Alain Vigneault and John Tortorella, had more veteran teams, where they could rely on the same guys every day, I just feel that Quinn and this hyperactive Rangers fan base, talk more about lines than a 1980's Miami, Florida coke addict. It also boggles me how all these Ranger fans have the time to analyze every minutiae of every Rangers practice. Seriously, I see people talking about if Quinn wore a hat or not during practice. Again, too much downtime.
When it comes to my opinion, I'm with Quinn. Go for it. Give Howden a shot. I just don't see what Strome did to get bumped or what Howden did to get promoted.
On the topic of Brendan Smith, I've been crossing my fingers, knocking on wood and wearing my same streaky lucky pair of underwear, all in the hopes that Quinn would promote Brendan Smith to the first line and banish Buchnevich to the fourth line. I only want this to happen for one reason – just to see Ranger fans on social media lose it. If Quinn was to make that change, Ranger fans on social media would have their "One Flew Over a Cuckoo's Nest" moment. Or is it "One Flew Over the Kakko's Nest?"
Ranger fans, and reporters too for that matter, can be a fickle and hypocritical bunch. The people that want Brendan Smith gone from this team are also the same people who don't want him to play. How can the Rangers ever trade Smith if he doesn't get game time auditions? By showcasing Smith as a dual-role player, the Rangers are strengthening Smith's stock and perhaps come the trade-deadline, a team will take a chance on a guy who can play the wing and play D on a PK.
Of course, all of these line changes aren't the top problem for the Rangers right now. As mentioned in previous blogs, to me, the biggest problem is Chris Kreider. The Rangers can shuffle their second, third and fourth lines all they want, but if Kreider can't produce, it hurts the team big-time.
Going with the assumption that all the scoring is coming from the first line and the fourth line is your check/grind line, that leaves six forwards/players to pick up the scoring. Those six players look to be Howden, Kakko, Kreider, Strome, Fast and now Smith. Kakko is his own topic. He's a special project and despite his goal on Saturday, Ranger fans will have to display patience. It will eventually come together.
Fast and Smith have never been scorers. That leaves you with Howden, Strome and Kreider. The jury is out on Howden. Strome can give you some scoring, but he doesn't have the potential to light lamps like Kreider does. It's really up to Kreider to become the player we all want him to be. To me, I'm still shocked that the Rangers left Kreider as an open-ended question this season. It's October 17th and we still don't know what Kreider's future with this team will be.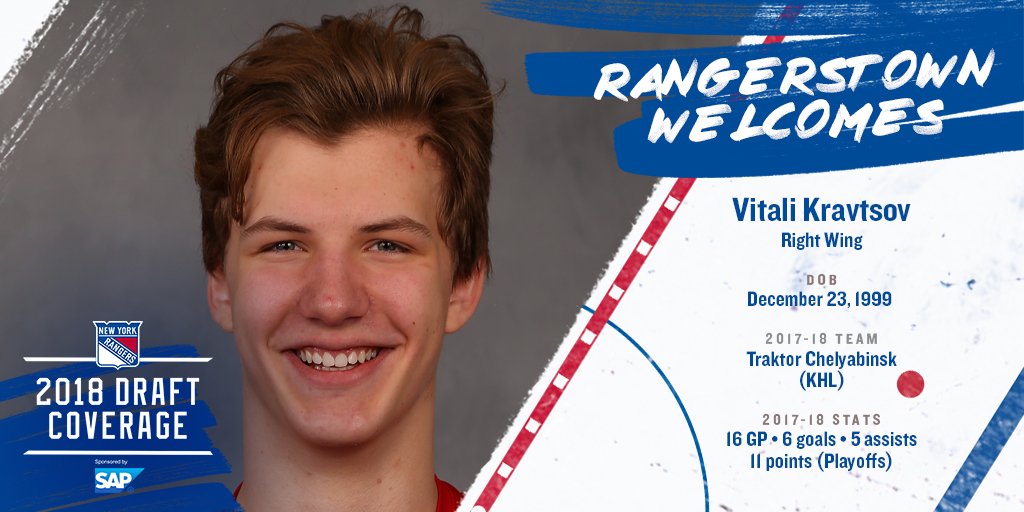 If Quinn's never-ending game of changing lines is one major story, the other major story concerns Vitali Kravtsov.
On Wednesday afternoon, Russian reporter Igor Eronko (Think the KHL version of Bob McKenzie) tweeted out the following:
Hearing Vitali Kravtsov considers a return to the KHL. Has a European assignment clause in his contract #NYR

— Igor Eronko (@IgorEronko) October 16, 2019
Just to give you some background information on Igor Eronko, he's reputable. He wouldn't just tweet this out for clicks or Twitter followers. He was also the first reporter to report that Kravtsov would be leaving the KHL and would join the Rangers. Eronko was reporting this as far back as January of 2019. In other words, Eronko has sources close to Kravtsov, who many believe to be the father of Kravtsov himself. (Kravtsov's father pays attention to his son and what people say about his son on social media.)
Of course, because Ranger fans have to have a "do-or-die" opinion on everything, I saw extreme opinions from both ends. Some fans think the Rangers have messed up by banishing a 19 year old kid to Shartford, CT. Other fans think Kravtsov is weak and needs to GTFO.
While I don't have the exact figure, Kravtsov can make millions of dollars to play in the KHL right now. He's making $925,000 this season with NYR. I have heard that if Kravtsov went back to the KHL, he can make as upwards as six times the amount of money he's making here. I also heard that he could be making $3M to go play in the KHL, which sounds more reasonable and sound to me.
My take on this, is that if I'm 19 years old and can make $3M annually and live at home, I'm taking that money now. It's a win-win. Think about it. If Kravtsov was to play three more years in Russia, he has the potential to make something like $9M+. I don't know about you, but if I had $9M at the age of 22, I would be set for life. If Kravtsov was to go back, that would give him financial security and he would still be extremely young enough to give the NHL another crack, if that is his desire.
With rumors swirling about Kravtsov's attitude in Hartford right now, the same reporter who is reporting about Kravtsov today, previously tweeted out the following:
Kravtsov is the guy who produces and produces when the coach believes in him. When it's not a thing, Vitali usually just can't find himself up #NYR

— Igor Eronko (@IgorEronko) October 13, 2019
Of course, a tweet like this adds fuel to the "Kravtsov is weak and doesn't have the heart to play here" stuff.
Working under the assumption that Eronko is correct in his reporting, it may be the best thing for Kravtsov to go back to the KHL. Not only will he set himself up nice for life, he will also gain maturity and confidence.
To me, these situations are tough. Not everyone can just pack up everything, move to the opposite end of the world, not know the language, not know how to get around and not get the job they planned to get. I mean, look at Igor Shestyorkin. He waited before coming here, and many, myself included, think he can be the next franchise goaltender. Perhaps Kravtsov came here too early. I just don't know.
I've said this before. Think about it. No matter how old you are, could you do what Kravtsov did or what these other international players have done? I'm 37 years old. I wouldn't want to move to Russia and start anew. Shit, I wouldn't even want to move from the place I have now in NY. I'm happy with that I have. For a 19 year old like Kravtsov, who may be homesick and just sick of Hartford, I wouldn't blame him if he wanted to go back. After all, that's why he has the clause to leave anyway. That clause is insurance. That clause is an out for him.
The other thing to keep in mind here is the fact that Kravtsov is 19 years old. Of course he's going to be moody and second-guessing himself. Many of us, myself included here too, thought he would make the team out of camp. He didn't. Instead of playing in New York, with all the perks in the world, he's playing in crack-infested Hartford, where penis pizza (CALL BACK!) is the local delicacy. There's not much glitz there.
While I understand why the Rangers would rather Kravtsov play top 6 minutes in Hartford than bottom 6 minutes in New York, the Rangers continue to send out their oxymoron and illogical vibes. The Rangers tell us they want to rebuild, this is a development year and how the best is yet to come. However, how is any of that true with Henrik Lundqvist, Brendan Smith and to an extent, Marc Staal, all here? How is that true if Lias Andersson is on the fourth line playing 6 minutes a game? How is this true with Kravtsov in Hartford? How is this true with Shestyorkin and Chytil in Hartford too?
The Rangers are giving out mixed messages and because of their crossed lines, Kravtsov seems to be pissed. While I understand his frustration, there is something to the art of perseverance. What doesn't kill you makes you stronger, so to speak. This is a Darwinism test for Kravtsov. He has to overcome his woes now for greater success later.
Just like the line changes, when I look at this Kravtsov story, I think it's just another result of the schedule and the downtime. Once the Rangers get back into the swing of things, perhaps it would afford Kravtsov an opportunity to play here. However, if he wants to set himself up for life, I would understand that too.
Whatever happens here, I do think that if Kravtsov was to go back, it puts Kravtsov in the power negotiation chair. For the Rangers to let Kravtsov slip through the cracks, it makes Jeff Gorton and the scouts look bad. It's like when McCain selected Palin as his VP in the 2008 election. He didn't vet her 100%. Even now, with Kravtsov pouting a bit (I believe in Eronko's reporting) you have to wonder how strong Kravtsov was vetted by the Rangers.
And if you're a true pessimist, the 2018 first round Islanders draft pick, in Oliver Wahlstrom, the player the Rangers could've selected before Kravtov, well Wahlstrom is currently playing with the "big-league" (can anyone really call the Islanders "big-league"?) team.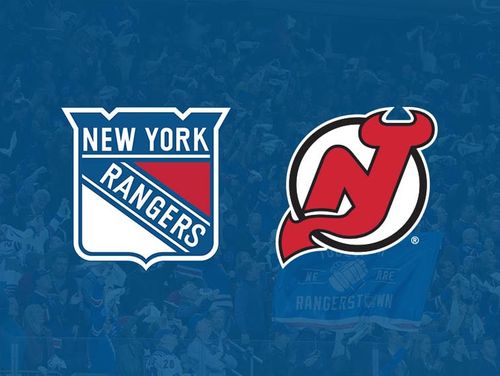 On Thursday night, the two last place teams of the Metropolitan will do battle, as the Battle of the Hudson rivalry gets renewed. Of course, these two teams are in the cellar for different reasons. The Rangers have only played three games, so they haven't been able to rack up the points. As I write these words, the division leader, in the Carolina Hurricanes, are about to drop the puck for the 8th time this season.
The Devils, on the other hand, are a mess and are already going through organizational changes. The Devils come into this game with a 0-4-2 record and have already blown two games where they had a three goal lead in each. While the Rangers and the Devils have a storied history, there is a new chapter in the rivalry between Kaapo Kakko and the pointless in six games Jack Hughes.
On an aside here, I'm not even going to plug the full link, but some moron on the WFAN website is already doing articles on how Kakko and Hughes aren't living up to their potential. Mind you, Kakko has played three games and the fact that every scout with merit said it would take Hughes some time to find his way. Downtime man.
I bring up Kakko here, because it kind of ties in with the Kravtsov stuff. On one side, you have these reports about Kravtsov and his attitude. When it comes to Kakko, every article from every Rangers beat reporter today was about how Kakko stays on the ice after practice, in an effort to better his game. Again, this is part of the downtime, as I'm sure as the Rangers start hitting the rough patch of the schedule, Kakko will ease up a bit. However, when you talk about maturity, when compared to Kravtsov, Kakko was telling all the reporters today that it's not about "Kakko vs Hughes. It's about the Rangers vs the Devils." Talk about a kid wise and mature beyond his years. I doubt Kakko is making prank phone calls.
While no game is a MUST-WIN at this point in the season, for the Rangers, with all the time off, they sure as hell want to pick up these two points against a frustrated and down-on-their-luck Devils squad. If this game is a MUST-WIN for anyone, it's for Devils coach John Hynes.
Speaking of Hynes, did you see this yesterday:
It's so bad in New Jersey right now, that the above tweet had many fans and reporters fooled. I was one of the fans hoodwinked. (Granted, I was watching the Yankees game, so I didn't check to see if the account had the blue check mark for Twitter verification.)
At any rate, fake tweet or not, this tweet could be real if the Rangers put a beating on the Devils at The Rock. It seems that the Devils are really considering a change behind the bench, as they announced this on Wednesday afternoon:
Devils assistant GM Tom Fitzgerald has joined John Hynes' coaching staff to serve in an assistant capacity.@amandacstein | #NJDevils pic.twitter.com/wkwmcCl2SQ

— New Jersey Devils (@NJDevils) October 16, 2019
There's also rumblings that if the Devils continue to slide, the Devils may try to trade a soon-to-be free agent, in Taylor Hall.
What is 100% – the Devils are teetering right now and the Rangers can shove it up their ass with a big victory on Thursday.
The Rangers have already announced that Alexandar Georgiev will be in the barrel this game, as Quinn is going with his best goalie for this game. The Devils have not announced their goalie yet, but it's presumably going to be Corey Schneider. After all, with Hynes possibly coaching for his job, he's going to go with his best.
The Devils play high scoring games, so any lapses in the Rangers defense will be ugly. However, the Devils give up a lot of goals too, so this could be a game where we see the GAG line go nuts. Right now, the current over-under line is -6.5, so Vegas sees this as a high scoring game.  As mentioned, the Devils don't have trouble scoring, they have trouble protecting and defending.
Again, I won't call this a MUST-WIN game, but really, the Rangers need to win this game. It's a nice two-shot special if the Rangers can win. First, they would pick up the two points and second, they would put a dagger into the heart of a division rival. With the Rangers playing the red-hot Washington Capitals 24 hours after this game with the Devils, it would be nice to take care of business on the front-end.
My prediction, 5-3, Rangers.
Oh, and for those who may know, is it true the Devils have a Fan Duel gambling area inside of "The Rock"? I may have to place a wager on this game, and that's on the Rangers to win! I heard something where Fan Duel gives you a free $500 bet if you sign up, so if I can make a free $500 by betting the Rangers, why the eff not?
That about wraps up this blog. I'll be back super-late tomorrow night, with a quick recap of the Rangers/Devils game, plus thoughts on my live event experience.
Until next time, stop going so nuts about line changes and what goes on in practice. Find something to do with your downtime, like reading the archives of this blog!
As always, thanks for reading and…
"LET'S GO RANGERS!"
Sean McCaffrey
BULLSMC@aol.com
@NYCTHEMIC on twitter
PS: LET'S GO YANKEES! With the way these Yankee playoff games are played, I should get home in time for the third inning!