Greetings and salutations and welcome to another blog here on BlueCollarBlueShirts.com. And to answer any questions you may have, yes the quote above was first said by Winston Churchill, during a radio speech in October of 1939. There's your world history fact of the day! Wouldn't you rather learn something like that, than be inundated with silly heat map charts like this: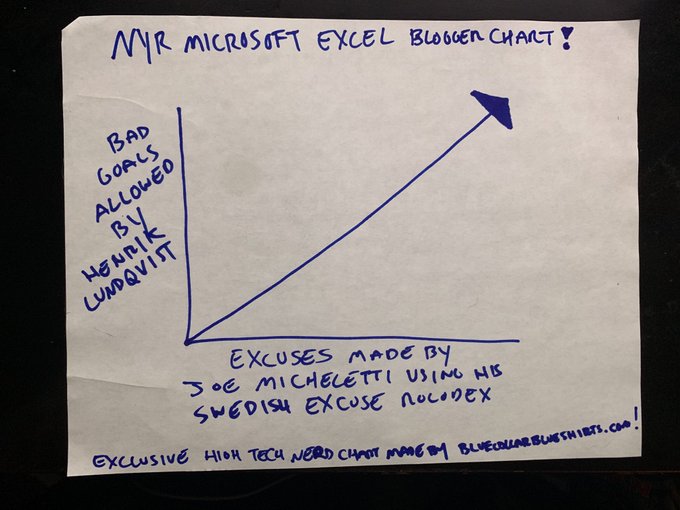 I know some people like it, but I will never understand the satisfaction that some people get by making charts about hockey games. I rather be drinking a beer and hootin' and hollerin', than sitting in a damp basement and making up all these stupid and silly charts. How is the game fun when you're doing that? Plus, as mentioned 676789678969 times on this blog, none of the charts factor in fatigue, heart, emotion, passion, luck, road games, bad ice, live boards, travel, the opposing team on the ice, toughness, etc. If games were won based on charts and paper, then one of these nerds would've ruined the sport books in Vegas.
Seriously, here's one of these charts that one of these dorks made about a hockey game. Tell me how this enhances your enjoyment of a game: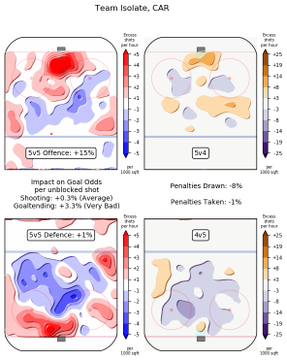 While, yeah, I can look at this chart and figure it out; the real question is this – who wants to?  Want to know the craziest thing about this? Micah McCurdy charges people to look at his charts. It's like chart porn for the white Urkel's of the hockey world. I mean, more power to Mr. McCurdy for finding his corner of the internet and getting money from this geek niche audience, but damn, I just don't get it.
Seriously, as I take one quick glance at the above charts, it looks like McCurdy was either trying to find out if a semen sample is fertile or if someone's cells were cancerous.
I know some people love the ANALytics, and it has also played a part in Steve Valiquette getting his job with the MSG Networks, but the problem with these chart humping freaks is that they are taking away jobs from people who have actually played the game and understand the game. This isn't another Ron Duguay defense piece here, but you see it all over the league. For the common fan, when the NHL Network starts talking about Corsi and Fenwick, it's just easy to tune out on.
As it is in all sports, as old players retire, they move on to front office jobs or take a media job. In the NHL, you're seeing more and more of this chart crap and really, what do any of these charts predict? All of these charts are made up of data gained and collected AFTER a game. The old classic hockey men of yore, your Conn Smythe, your Art Ross and your Scotty Bowman types, they didn't need this crap. The eye test always worked. The eye test still works today, but as time moves on, a new generation of people will get jobs in hockey because of their protractors and T-squares and unfortunately, these people don't know the first damn thing about the eye test.
And as I say whenever I do one of these rants, the King of Analytics, the one who brought this stuff into sports, was Billy Beane, the GM of the Oakland Athletics. Guess how many championships he's won? That's right, zero.
The reason I bring this chart nonsense up, is because this was originally going to be my main topic in tonight's blog. However, the Rangers wound up making a trade this week, so that will now be the main focus of this blog.
Before hitting you with the plugs and jumping into everything else, I was simply stunned this week. The Rangers are 2-0. Are they perfect? Of course not, but who is? However they are 2-0, and to anyone who can use the EYE TEST, which you know, consists of just watching the games, you can see the Rangers are moving in the right direction. Rome wasn't built in a day and neither is this hockey team. It's going to take time. That said, you can see the light at the end of the tunnel. It's almost as bright as the light shining through Hank's five hole right after the Rangers score a goal!
Actually, let me hit you with the plug section here, because my past blogs tie in with what I'm about to say. In case you missed them, here are my last few blogs:
---

---
---
---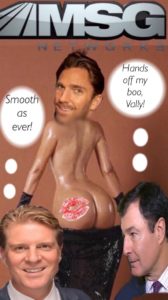 In my last two blogs, I thought I wrote very positive pieces about the Rangers. I'll get into the trade later, but really, I'm happy where the team is. Obviously I want Lundqvist out of here, but that isn't my decision.
After watching the win on Saturday, I did my blog, went to sleep, woke up, watched the NFL all day and then late Sunday night/early Monday morning, I browsed through social media. I would later go through social media after the Rangers made their trade. What I saw was unfathomable.
With the Rangers 2-0, looking their best in some time, you had fans CRYING and COMPLAINING about the team, in particular, about the second, third and fourth lines. You would think we were in the playoffs right now or something. What's worse, is that a lot of these people complaining are the same people who defend Lundqvist at every turn and preached patience throughout all of last season. These are also the same turds who screamed "TANK" and "LOSE FOR HUGHES" at every which way. Funny how that is all forgotten now.
And listen I get it, the Rangers are top heavy right now, and you'll need scoring eventually from other places in the line-up, but for RIGHT NOW, two games in, I just don't get the overwhelming panic and end of the world vibe.
I see people just bashing Ryan Strome repeatedly. It turns out that he's the reason Kakko has no goals and Kreider is struggling. Are you serious? No shit guys, people are really saying this.
Not mentioned, is you know, how Kakko is a rookie and how Kreider has a history of becoming a ghost for stretches at a time. No guys, the second line's failures right now are all because of Ryan Strome. Oh, and did you know that Strome supports Donald Trump? THAT MUST BE THE REASON WHY THE SECOND LINE IS BOMBING.
And again, with a lot of social media comments skewing from a dumber, liberal and younger generation, if a player openly supports Trump, large portions of this fan base turn against that player. These fans full of hepatitis and acne medication also hate Tony DeAngelo and Brendan Lemieux, just because they support the POTUS. Wait until these fans find out that Hank is a Trump guy. Tax cuts for the rich? You know Hank is about that!
Of course, in what I haven't said yet, all these DOOM and GLOOM fans are reacting like this after 2 games. TWO FREAKING GAMES THAT THE RANGERS HAVE WON, mind you!
Yes, my opinions are well known on Henrik Lundqvist, but I don't root for the players on this team to fail. It just seems that some Ranger fans will never be happy. They all hate Keith Yandle. Then they all hate Dan Boyle. Then they all hate Kevin Shattenkirk. Then they all hate Brendan Smith, Brady Skjei, Ryan Strome, Tony DeAngelo and Brendan Lemieux. And of course, when Hank is giving up four goals a game, it's everyone else's fault besides the goalie. If Georgiev gives up one goal, it's all Georgiev's fault. Funny how that works too!
I feel a portion, a loud one at that, feel they need to have someone to hate with this team. Everyone knows better than Jeff Gorton and David Quinn. In all the years of doing this blog, while I have my opinions, I have always stated that these are my opinions and I even say, "I'm not there, the coach is." You just got these people who think they know more than anyone. Even worse, they don't explain their illogical thinking. They just say one thing and run with it. At least with my anti-Lundqvist stuff, I give you all my reasons and give you a detailed explanation of my opinions based on evidence.
I mean really, I have seen people who must be touched in the head, say stuff like this: "TONY DEANGELO SUCKS!" Are you kidding? The guy plays on the PK and PP, helps lead the PK, and just racks assists. Why does he suck? Because he didn't vote for a crook in a 40% off Dress Barn pants suit? Get outta here!
It's two games folks. Two games the Rangers have won. People should be happy. I don't know if it's this fake bye week and people just need something to talk about or what, but the Rangers will be fine. They won't win a Cup this season unless Lundswiss leaves. We all know that. However, as long as this team is better in April than they are in October, everything will be gravy. And if this team can get some playoff experience, even better. Maybe they can be like the 2017 Yankees, one game from the World Series, only to make a huge run two years later. (In two years, Hank will be gone too! WOO-HOO!)
If there is anything I will agree with these chart people about, it is the cause for concern about Chris Kreider.
New readers might not know this about me, but the regular readers of this blog do – I'm very consistent with my opinions. I don't flip-flop. If I'm wrong, I'll say I was wrong. A recent example of this is when Georgiev started on Saturday. I thought for sure Lundqvist would take that easy game. Turns out, Quinn didn't want Georgiev on the bench for too long. I'm not trying to say I was somewhat right about this, but from what Quinn said, it didn't matter who the Rangers played on that Saturday; Hank was getting the home opener on Thursday and Georgiev was getting the game on Saturday. That said, I predicted Hank would start against Ottawa. I was wrong. I can admit it!
As far as the Hank vs Georgiev stuff from last season, where Hank took all the starts against the bad teams once January hit, I think we'll see that again last year. It won't happen right away, especially with this wacky schedule. I think it will become apparent once we get into the winter months. I'll track it like I did last year and we'll see if I'm right on this prediction. If I'm wrong, I'll let you know too.
One topic that I have been consistent on, is the topic of Chris Kreider. My stance on Kreider remains the same – I DON'T KNOW! Truth be told, I don't think the Rangers even know what they will do with Kreider either!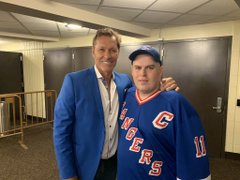 Recently on Twitter, I posed the following question:
"Random thought & conspiracy theory during this off-time: anyone think Kreider is on the second line, instead of having Buchnevich's spot, just because he's in a contract year? By not playing with 93 & 10, CK's numbers take a hit & plateau before the biggest deal of his career."
What I'm saying here, is that I think Kreider is a better hockey player than Buchnevich. In a league where the salary cap hit is just as important as any other stat on the back of a trading card, are the Rangers trying to limit Kreider's production, just so they can re-sign him on the cheap? And to be fair, this is something I'm talking about with a week off in-between games. It's just a topic of conversation. Deep down, I truly think Quinn is putting out the best line-up in his mind. The man wants to win and I don't know if anyone can question him on that.
Let's face it, if Kreider was on the first line, that would give him the most potential to acclimate points this season. I don't know how anyone can argue against that. And really, that goes for any player on the team. You're going to get assists and goals by playing with Panarin and Zibanejad. It's kind of the situation Namestnikov had during his days in Tampa, when he was playing with Stamkos & Kucherov. Once Namestnikov left that line, his point totals were never the same, which is something I think everyone expected and understands.
When I said this on Twitter, Ron Duguay responded with:
"No !!! They need Kreider to perform at a high level , another established top center is needed!!!!!!!! Rangers will not survive as a one line team."
In something that Duguay agreed with me on, and many others did on Twitter too, it's a shame the Rangers have this undying passion for Henrik Lundqvist.
Put it this way, what would you rather have during this rebuild – a center in his prime making $7M or a 38 year old over-the-hill goalie making $8.5M? What makes the team better, a second line center or a goalie whose best days are long gone?
Of course, what I'm getting at here, is that I'd rather Kevin Hayes than Henrik Lundqvist, especially with Georgiev and Shestyorkin here and with Benoit Allaire as the goalie whisperer mentoring them.
No matter how you feel about Kevin Hayes, while yes, he's overpaid by the Flyers right now, who knows, maybe he would've signed with the Rangers for less money during the off-season. In today's NHL, it's harder to be stronger up the middle than it is to be strong at the goaltender position. Quality centers don't grow on trees.
Seriously, just look around the league, the best goaltenders are all back-up goalies who supplanted their starter. Vasilevskiy knocked off Bishop. Murray knocked off Fleury. Hellebuyck knocked off Pavelec. Binnington knocked off Allen. The list goes on and on. By getting cheaper and better production in net, it allowed these teams to make deep playoff runs. Not one top five paid goalie has won a Cup in the salary cap era. Two rookies have though!
Ever since re-signing Lundqvist in December of 2013, the Rangers have had strong back-up goaltending and of course, Benoit Allaire gets a huge assist here. However, when you have ridiculous money wrapped up in a mediocre goalie that shouldn't even be here to begin with, it hurts the rest of the roster. Of course this is a rebuild, so we're not talking about the Cup, but when you look at the Rangers centermen, they sure do miss a player like Kevin Hayes. I don't know how anyone can say that Lundqvist is more valuable than a strong 2C.
However, this isn't about Kevin Hayes, this is about Chris Kreider.
When I look at Chris Kreider, I have no clue where he will be a year from now. When the Rangers traded McDonagh two seasons ago, while I thought Marc Staal deserved the "C", I thought Chris Kreider was the guy they wanted. Today, I think it should be Mika Zibanejad, for reasons I listed in my last blog.
For whatever reason, you just never know what Kreider you will get on the ice. This has nothing to do with his off-ice stuff, as from all reports, he's a valuable commodity in that locker room. The young kids look up to him. He tries to teach them. He even knows conversational Russian, and he tries to talk to these new-to-America players & help them get comfortable.
Keep in mind, for all these new Russians who barely speak English, they have to get an apartment, learn the subway, learn how to get around, learn how to get to MSG, learn a new way of life, learn a new language, etc. It's not easy. Having Kreider on the roster helps the transition for some of these guys.
For two seasons now, the Rangers have played the long game when it comes to the topic of re-signing Chris Kreider. As it stands right now, once we hit July 1st, 2020, Chris Kreider stands to make the most amount of money that he will ever make in his life. This upcoming new contract will set-up Kreider and his future family for life. I got to think, if I'm Chris Kreider, I want nothing to do with this second line and want to be on the first line, where I can produce the most amount of points possible, thus securing the biggest contract possible. I don't know this as fact, but it seems to be common sense, no?
While yes, we're only two games in, the fact remains that once we start chugging along here, the "will they or won't they" headline will start becoming more frequent, in regards to the contract status of Chris Kreider. Will Kreider be here all season? Will the Rangers try to re-sign him? Or is Kreider destined to be like McDonagh, Zuccarello, Hayes, Nash and the others, whom were jettisoned to a Cup contending team in exchange for draft picks and/or prospects?
To me, the status of Chris Kreider is the hardest question to answer. I see both sides of the coin. I don't think there is a strong argument for either side, as I can see why the Rangers would move on, but I also can see why the Rangers would retain him. I don't see a right answer or a clear-cut move here.
We all know that Kreider can be his own worst enemy, when it comes to his time on the ice. This season is going to be tough if these lines remain. For starters, unless Kreider gets promoted to the first line, he's not playing with the best centers around. While Strome is serviceable, he's probably a 3C or 4C on other teams. He obviously isn't Zibanejad. Away from Strome and Zibanejad, that leaves Kreider with young kids or rookies, in guys like Lias Andersson, Filip Chytil, Brett Howden or even someone like a Boo Nieves.
With Kreider not having the best centermen around him, as it stands right now, on his other wing is a rookie. While Kaapo Kakko may one day take this team to the Cup, in the present day, Kakko is still a rookie that is getting used to the NHL game.
I can't profess to say I've seen every Kakko game. I have seen every Kakko game in America though. From what I can tell, he reminds me of Kobe Bryant and that's not a bad thing. He can be a puck hog and great players can be puck hogs. While I'm sure Kakko will work on his passing and setting guys up, it's not there right now. 10/10 times, if Kakko can deke and make a move to the net, he will do that, rather than making the pass. Since Kakko has had a lot of success doing this, you can't blame him and his moves to the net are a huge part of his game.
In other words, Kreider isn't playing with a guy like Panarin, who is excellent at setting up his teammates for shots on goal. I'm not trying to bury Kreider's linemates at all, because that isn't the case. However, the truth of the matter is that Kreider is playing with projects and not with the best players the Rangers have to offer.
With Kreider's history of being a ghost during long stretches of time, this current line is going to need some time to find their footing. It's up to Kreider to roll with it, accept it and try to lead this line. Even then, if Kreider is able to put it altogether, I still don't know what the Rangers will do with him.
When it comes to the riddle of "Where will Chris Kreider be a year from now?", I simply do not know. I don't think the Rangers or even Kreider knows himself. All we can do is hope that this second line, through the process of time, will find their wheelhouse and start ripping and roaring.
This all said, you can't blame Ryan Strome for what Kreider does. Yes, Strome isn't Zibanejad, but Kreider needs to step up too and grab that brass ring.
On Monday afternoon, the Rangers traded Vladislav Namestnikov to the Ottawa Senators. I wanted to wait 24 hours before doing a blog about this, because I wanted to see if the Rangers would make any roster moves in response to the trade.
In case you missed the news about the trade, here's what the Rangers tweeted out: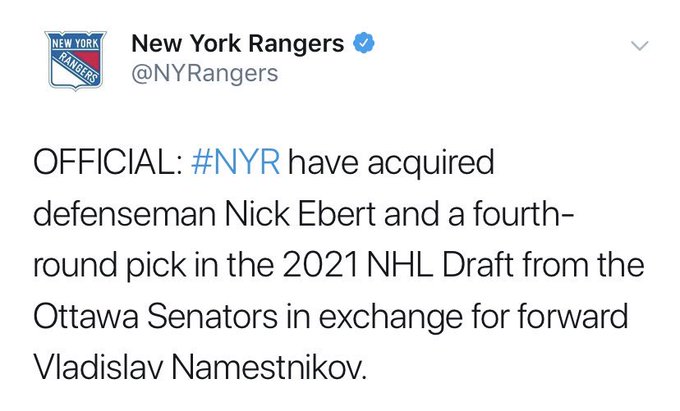 Here's what the Rangers said on their website about this trade, courtesy of NYRangers.com:
NEW YORK, October 7, 2019 – The New York Rangers announced today that the team has acquired defenseman Nick Ebert and a fourth-round pick in the 2021 NHL Entry Draft from the Ottawa Senators in exchange for Vladislav Namestnikov.
 Ebert, 25, has skated in one game with the Belleville Senators of the American Hockey League (AHL) in 2019-20. He skated in 49 games with Orebro of the Swedish Hockey League (SHL) last season, registering 11 goals and 22 assists for 33 points, along with 46 penalty minutes. Ebert ranked third among SHL defensemen in goals, ranked fourth among SHL defensemen in points, and ranked fifth among SHL defensemen in assists in 2018-19. He also ranked 12th among all SHL players in average ice time (21:23) last season. Ebert led all players on Orebro in assists, points, average ice time, shots on goal (144), and power play goals (six), tied for the team lead in game-winning goals (three), and ranked third on the team in goals in 2018-19.

The 6-1, 205-pounder played in the SHL for parts of the last two seasons (2017-18 and 2018-19), as well as in the Kontinental Hockey League (KHL) with HC Slovan Bratislava in 2017-18. Ebert also played three seasons in the AHL (2014-15 – 2016-17) before playing in Europe. He has skated in 158 career AHL games, registering 19 goals and 32 assists for 51 points, along with a plus-23 rating and 86 penalty minutes. Ebert helped the Manchester Monarchs win the Calder Cup as AHL Champions in 2014-15, and he also helped the Guelph Storm of the Ontario Hockey League (OHL) win the J. Ross Robertson Cup as OHL Champions during his final season of junior hockey in 2013-14.

The Livingston, New Jersey native was originally selected by the Los Angeles Kings with the final pick of the 2012 NHL Entry Draft (seventh round, 211th overall). 

The Rangers now have nine picks in the 2021 NHL Entry Draft (their own first-round pick, their own second-round pick, their own third-round pick, Buffalo's third-round pick, their own fourth-round pick, Ottawa's fourth-round pick, their own fifth-round pick, their own sixth-round pick, and their own seventh-round pick). The Blueshirts also currently have 18 picks over the next two years (2020 and 2021) in the NHL Entry Draft.

Namestnikov skated in 99 games with the Rangers over parts of three seasons (2017-18 – 2019-20), registering 13 goals and 22 assists for 35 points, along with 56 penalty minutes.
I have a few opinions and thoughts about this trade. First off, I'm happy for one reason – I don't have to type out "Vladislav Namestnikov" ever again. His name wreaked havoc on my spellchecker! That said, I'm sorry for my buddies in @WhalePack and @Fixxser, who won't be able to use their "Damestnikov" jokes anymore!
This trade was purely a salary cap dump trade, which kind of boggled me too. While the Rangers are retaining 18.75% of Namestnikov's salary (The Rangers will have $750,000 on their books of Namestnikov's $4M salary) I can't believe Ottawa was the team that traded for him.
I have written about Ottawa a bunch of times on these blogs. In short, Ottawa is cheap, have one of the worst owners in the league and took on $15M+ in dead contracts this off-season, (including Ryan Callahan) in an effort to get to the salary cap floor. As mentioned previously, when it comes to real money, Ottawa is way short, when it comes to real dollars, of the cap floor. Everyone knows this – Ottawa circumvented the rules of the salary cap, and pretty much "loop-holed" their way into this 2019-2020 season.
With Ottawa being cheap as hell, tanking and getting rid of high priced guys, I can't believe they would take on Namestnikov, for an extra $3M+ on their books. In theory, Namestnikov should make them a better team, but really, by how much? Will Namestnikov get them an extra five points this season? Maybe. However, if the goal is to tank, why even take on Namestnikov at all, even with his salary coming off the books at the end of the season? However, that is Ottawa's problem now.
While I can't say I truly "feel bad" for Namestnikov, it shows you how funny this league can be, especially over time. Two years ago, Namestnikov was having the time of his life, racking up points with Tampa. Then he was traded to the Rangers, who were going through their rebuild. Just over a year later, now Namestnikov is with the worst team in the league. From first to worst, and fast.
If anything, Namestnikov, in a contract year, will be able to get a ton of playing time in Ottawa, as he looks for a big money deal in the summer of 2020. Come the end of this season, barring any injuries, Namestnikov will be a veteran of over 400+ NHL games played. However, it has to just suck, from playing with one of the best franchises in the league just two years ago to now playing with the worst team in the league, and really a team with no direction and horrible ownership.
The Rangers public reaction to this trade is basically the same reaction I had. It's a salary cap dump trade. It's also a way for the Rangers to trade someone who doesn't really fit into the future plans of this franchise. It also opens up playing time for someone fresh and new.
From all reports, the biggest winner of this trade, at least for right now, is Gregg McKegg. On Tuesday, McKegg skated with the fourth line, as it looks like he will be in the line-up, come Saturday with the Oilers. If McKegg doesn't pan out, this allows someone like a Filip Chytil, a Vinni Lettieri or even Vitali Kravtsov to get a look with the big club.
As it stands right now, because of the wacky schedule (the Rangers play again on Saturday, then have four days off before a back-to-back road-trip with NJ & Washington) there is no need for the Rangers to call anyone up right now. The Rangers are fine with just carrying one extra skater. Plus, with the next three games close to the home-base, the Rangers don't have to worry if someone gets hurt. NY, NJ and Washington aren't that far from Hartford. It's not like the Rangers are in the middle of their Western Canada loop or anything.
An interesting name in all of this is Vitali Kravtsov, who was benched/not dressed for Hartford's game this past Sunday. From the Rangers end of things, both Quinn and Gorton said, and I'm paraphrasing here, that Kravtsov needs to get with the program and there are things he needs to work on. DQ and JG didn't really expand beyond on that, but it's expected that Kravtsov will play in Hartford's next game.
What makes things interesting, is that Kravtsov does have the option of going back to Russia if he doesn't like his time with the Rangers. While I don't see that happening, as it's Kravtsov's goal to play in the NHL, obviously, this isn't the start or situation he expected.
Again, I will say that I have to believe in Quinn and Gorton because I'm not in the room or in the front office with them, but I thought Kravtsov deserved a roster spot with NYR at the end of this preseason. For whatever reason, the Rangers thought otherwise, citing that he would get better getting top line minutes in Hartford, rather than getting fourth line minutes in New York. However, by not playing at all, that doesn't help anyone and will just lead to speculation.
In closing on all of this, I thought this was a great and sensible trade. Of course, it would've been nicer if Gorton could've moved Smith's big money to Ottawa, but you take what you can get.
For what it's worth, Namestnikov's agent was happy about the trade and with his client getting the opportunity to play more. What else is his agent supposed to say?
While I'm not phased about a trade occurring this early into the season, I am still wondering why this move was made now, two games in, rather than over the summer? What impressed Ottawa right now about Namestnikov, that they decided to pull the trigger on October 8th, than say July 8th? It's not like Namestnikov was a factor in the Rangers win over the Senators this past Saturday!
In any event, for the rebuilding Rangers, this trade was a win-win, when you look at the salary cap and with giving opportunities to younger players. Nothing against Namestnikov, but will you really miss him?
Before heading home here, I wanted to look at the Ryan McDonagh trade of 2018.
In that trade with Tampa, the Rangers traded McDonagh and JT Miller to Tampa, in exchange for Vladislav Namestnikov, Libor Hajek, Brett Howden, Tampa's first round pick of 2018 and Tampa's second round pick of 2019. (Of note, if Tampa won the Cup last season, the 2019 pick would've been a first round pick.)
With Tampa's picks, the Rangers took Karl Henriksson in the 2019 draft and took Nils Lundkvist in the 2018 draft.
Yesterday, the Rangers turned Namestnikov into Nick Ebert and a fourth round pick in the 2021 draft.
So essentially, the Rangers have now traded McDonagh & Miller for Hajek, Howden, Lundkvist, Henriksson, Ebert and a fourth round pick in 2021.
Is this a good enough of haul for you? It should be noted, after giving JT Miller a ridiculous contract, the Bolts traded Miller to Vancouver during this past off-season.
What also is funny about all of this is the fact that during the Summer of 2017, the Rangers signed the biggest name of that free agent class, in Kevin Shattenkirk. When Shattenkirk signed here, the first thing he said is that he wanted to play with Ryan McDonagh. Fast forward to today, and now Shattenkirk is with McDonagh, both as members of the Tampa Bay Lightning.
Granted I'm biased here, but if you're going to keep a stupid contract like Lundqvist's, why not keep McDonagh too? By trading McDonagh (and passing on Hayes too) you're looking for someone to be the next Ryan McDonagh. As it stands now, Hajek isn't that guy, just like how Howden isn't Kevin Hayes. The jury is still out on how some of these young players will do, but as I look back it, the Rangers just didn't get enough back for McDonagh.
I can't stress this point enough, the Rangers traded Kevin Hayes and Ryan McDonagh, in an effort to find the next Hayes & McDonagh. What happens in a few years if the Rangers get those types of players? They will have to pay them, just like they would've had to pay Hayes and McDonagh, both who are already proven commodities.
Let me put it to you this way, what duo would you rather on this Rangers team right now – Ryan McDonagh & Kevin Hayes or Henrik Lundqvist and Brendan Smith?
Time is funny.
The Rangers announced the following on Tuesday:
The New York Rangers announced today that the team has agreed to terms with defenseman Matthew Robertson on an entry-level contract.

Robertson, 18, has skated in three games with the Edmonton Oil Kings of the Western Hockey League (WHL) this season. He has skated in 129 career WHL games over parts of four seasons (2016-17 – 2019-20), all with Edmonton, registering 14 goals and 44 assists for 58 points, along with 74 penalty minutes. Over the last two seasons (2017-18 and 2018-19), Robertson was tied for second among WHL defensemen in their U18 season or younger in goals (14), and he also ranked fourth among WHL defensemen in their U18 season or younger in assists (43) and points (57). Last season, Robertson tallied 33 points (seven goals, 26 assists) and posted a plus-18 rating in 52 games with the Oil Kings. He established WHL career-highs in several categories in 2018-19, including assists, points, and plus/minus rating, and tied his WHL career-high in goals.
As far as this announcement, I have no opinion. I saw Robertson play at the Traverse City Tournament and during the preseason, and wasn't really wowed. Then again, I'm not an NHL scout, nor was Robertson the focus of my attention when watching the TCT and the preseason. I was watching guys like Kravtsov, Fox, Kakko, Lettieri, Shestyorkin and others with more intent.
And as I was putting the finishing touches on this blog, Rangers reporter Leslie Treff reported the following:
Newly traded for Nick Ebert has been sent to Hartford. The Rangers have reassigned Brandon Crawley to the ECHL (Maine).

— Leslie Treff (@HFNYRangers) October 8, 2019
That sucks for Mr. CRAAAAAAAAAWLLLEEEEEEEY!
One last segment here.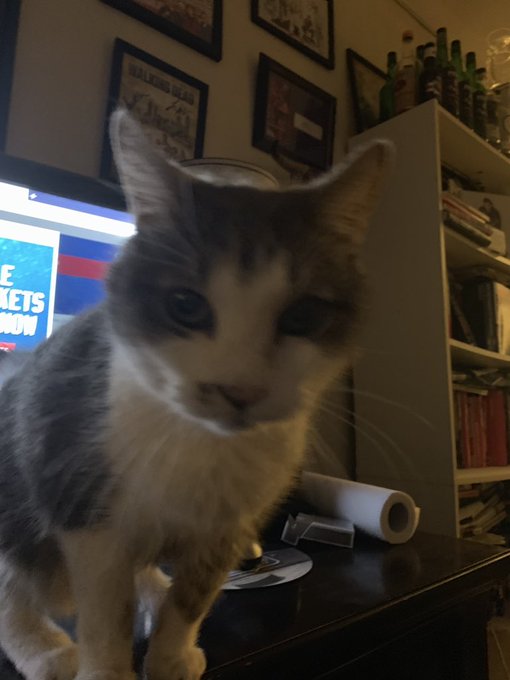 If you're on the Rangers email list, you probably got bombarded with emails in the last 24 hours. I got four separate emails from the team. Here they are: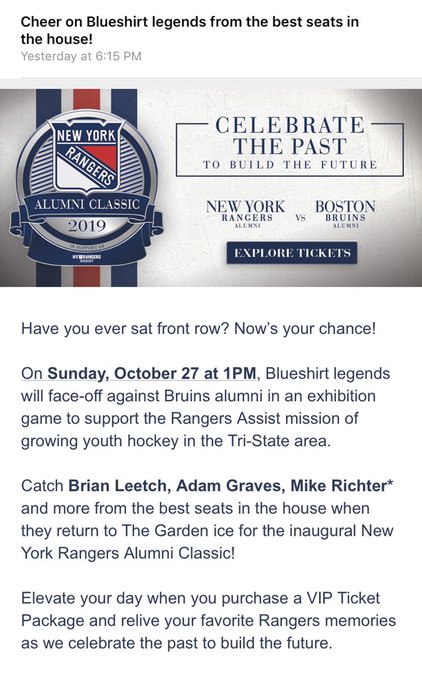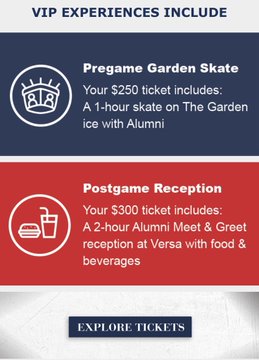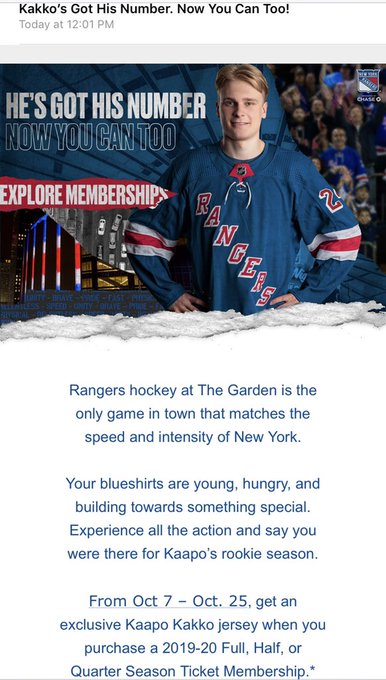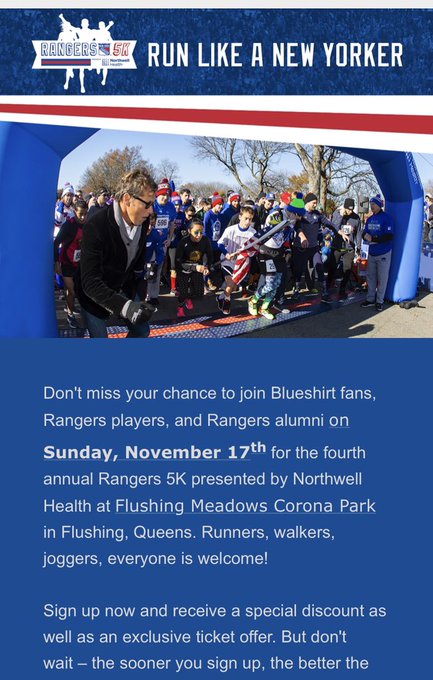 Frank Boucher, the greatest Ranger of all-time, was born on October 7th. Of course, while the Rangers plugged other stuff in their history on that day, this birthday was ignored. When I received all these emails from the Rangers, I replied back with, "That's great, but when are you retiring Frank Boucher's jersey and putting it in the rafters?" I've yet to get a response.
To this day, despite all my attempts and the attempts from the Boucher family, the Rangers have blown this off. I just don't get it. How do you ignore a career life-long Ranger, a Hall of Fame Ranger that has his name on the Cup three different times? You think the Rangers would be celebrating this guy, but I guess Micheletti kissing Lundqvist's ass is more important. I just don't get how you ignore the glory years of the franchise.
For all the talk and celebration over the GAG Line, they never won anything. Frank Boucher's Bread Line won two Stanley Cups, in an era where home playoff games were always on the road, because of the circus.
If anyone has a direct link to Jeff Gorton or John Davidson, feel free to forward them my email address or ask them yourself – where's the respect for Frank Boucher?
As long as I'm breathing, I will never let this topic go to rest.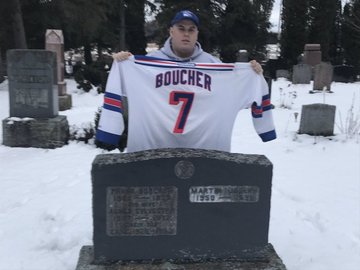 One last thing for real and then I'm going home here. Did you see this: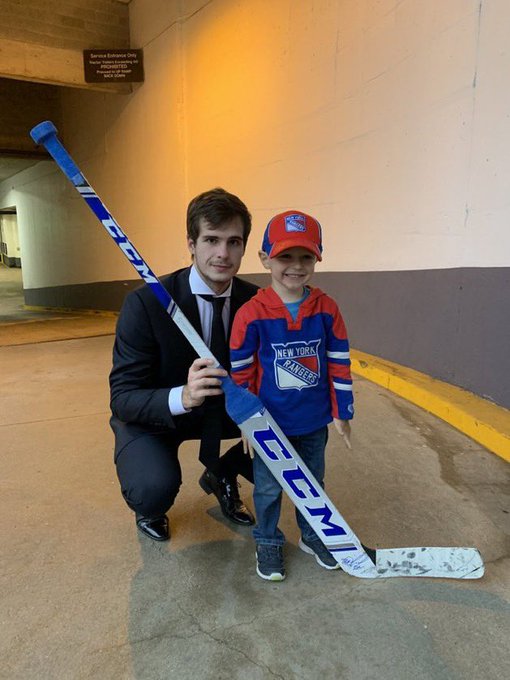 Well that about does it for this blog. Barring anymore trades (which I don't forsee, but then again, who knew Namestnikov was going to be dealt this week?) I'll be back on Saturday night, after the game with the Oilers, the same Oilers that just embarrassed the Islanders at the Nassau Coliseum on Tuesday night.
Akin to the old adage of "if a tree falls in a forest, does anyone hear it", if the Islanders play a game in front of 3 fans, does anyone give a shit?
See you Saturday.
As always, thanks for reading and…
"LET'S GO RANGERS!"
Sean McCaffrey
BULLSMC@aol.com
@NYCTHEMIC on the Twitter machine
PS: LET'S GO YANKEES! WHAT A SWEEP.
Oh and of course, Hi Travis!