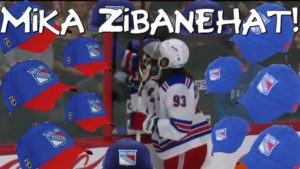 Greetings and salutations everyone and welcome to another blog here on BlueCollarBlueShirts.com! I am giving you the exclamation mark here, because after this Rangers victory tonight, I'm pumped! (And there's one more exclamation mark there for good measure.)
On Saturday night, October 5th, the Rangers traveled north of the border to challenge the Ottawa Senators. The Rangers overwhelmed and cleared this challenge to a tune of 4-1. For the Rangers, everything worked out. The top line put up historic numbers. The power-play delivered. The penalty kill destroyed the Senators. And of course, in net, there was Alexandar Georgiev, who was simply superb.
Now I know some people may try to buzz-kill this win by saying, "It's only Ottawa." You're damn right it's only Ottawa. While Ottawa may be a terrible team, the fact of the matter is that they will be a trap game for many teams this season. Furthermore, a win over Ottawa gets you the same two points as if you just defeated one of the better teams in the league, such as Tampa, Vegas or Toronto. In addition, this was a road-win and the Rangers spoiled the Senators home-opener.
So when people say, "it's only Ottawa", to them I say poo-poo to you! After all, the people saying "it's only Ottawa" were the same people who ignored when Lundqvist was getting beaten by them all last season.
The fact of the matter is this. This Rangers team is a young team and will experience some up-and-down times this season. Knowing that they can handle business, and do what they are supposed to do against bad teams, it is a feather in their cap. It's a step in the right direction. Again, I go back to Lundswiss – how many games did he lose to bottom-of-the-barrel teams last season? 8? 9? Here in 2019-2020, with the better goalie and the best top line in hockey today (at least statistically, as of all games played on 10/5) the Rangers did what they were supposed to do. How can anyone be glass half-empty after this game?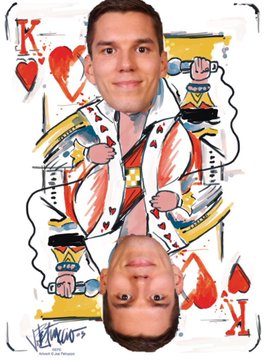 Before doing the plugs, reviewing this game and talking about the news, I wanted to share the following clip off of puck drop here. This is Mika Zibanejad before tonight's game:
We normally don't condone making kids cry but…@NYRangers | #NYR | #LGR pic.twitter.com/PwjcZhxsXJ

— Rangers on MSG (@RangersMSGN) October 6, 2019
Far too often, when it comes to sport stories, the media, bloggers, fans and everyone else, tend to talk about the negative stuff first. We just did this with Antonio Brown. When I see Mika Zibanejad, who is in the zone and getting ready for his game, take a timeout here, and stop to take a selfie with some young kid – well to me, that is just amazing. This is the clip that should be on all the highlight reel shows. This is the stuff that should be trending on Twitter.
By taking one second out of his preparation to take this picture, Mika Zibanejad created a fan for life and gave this family a story to talk about for a long time. Even better, the hockey gods rewarded Mika Zibanejad tonight, as Zibanejad went on to score a hat trick and pick up an assist. This is like a real-life Paul O'Neill hitting two homeruns for that kid in that episode of "Seinfeld"!
While I haven't found photographic evidence of this yet, I was told that Mika Zibanejad signed a stick and gave it to this kid once Zibanejad was named the number 1 star of the game. What a class act. This is an athlete and player I'm proud to root for.
With Zibanejad's on-ice performance and being a representative of this team with this kid tonight, instead of the Broadway Hat, the Rangers should've just sewn a "C" on Mika's jersey. After all, it's not like that "A" is weighing him down!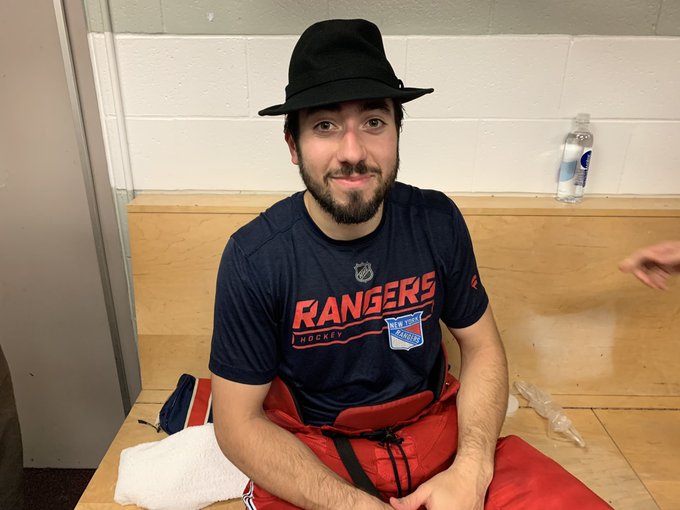 At this time, before dissecting this glorious domination, here are my last few blogs in case you missed them:
---
---
---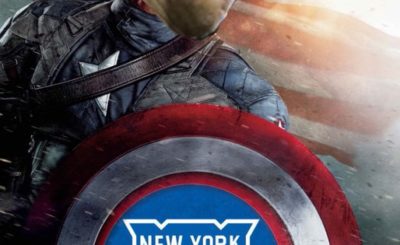 ---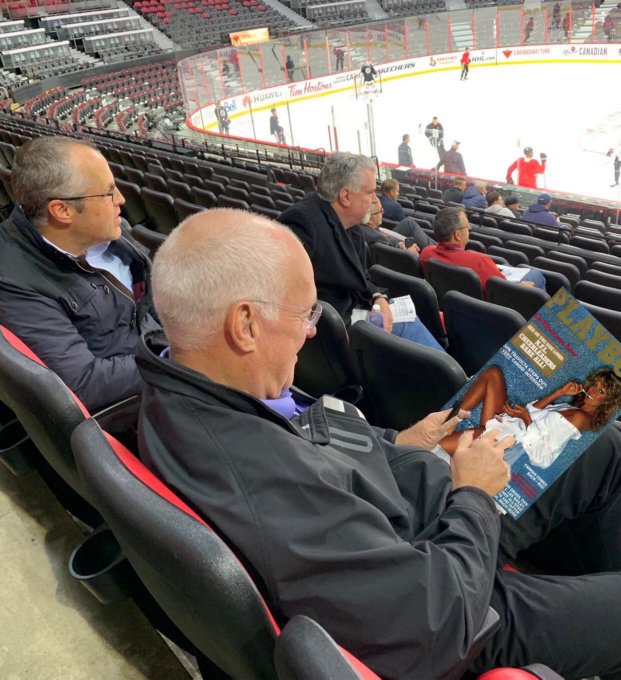 Where to begin, where to begin, where to begin? I use this sentence in homage to Mika Zibanejad's three goals tonight!
Let's do the pregame news first, and as usual, I'll get the easier thing out of the way first.
On Friday, the day after the Rangers beat the Jets, the Rangers announced that Alexandar Georgiev would be starting on Saturday night. Here's how they broke the news on Twitter: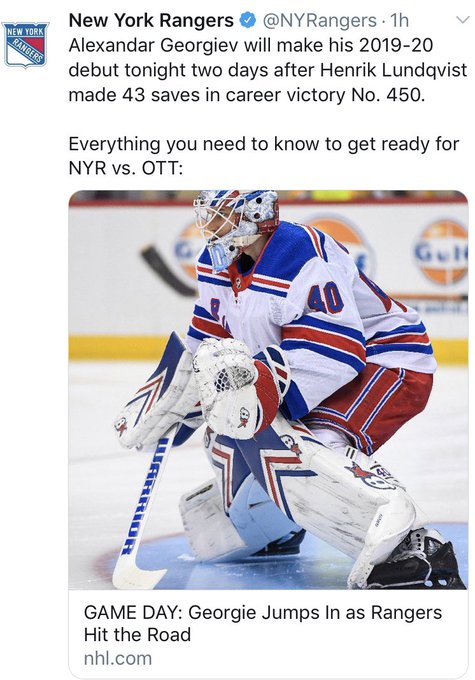 Two things here. Isn't it funny how the Rangers had to say what Lundqvist did? It's not Georgiev starting. No, it's Georgiev is starting after Lundqvist got his 450th win. Of course, the Rangers kept talking that up too. I was in the building Thursday, and I must've missed how Lundqvist won that game by himself. Not one mention of the six goals in support! Funny how that works. Let's see if the Rangers, this upcoming Friday, announce that Lundqvist is starting against the Oilers, after Georgiev's great performance in this game. Don't hold your breath!
I will say, I was shocked that Georgiev started this game. I was certain Lundqvist had this game circled on his calendar, just because of how bad Ottawa will be this year. Then again, Lundqvist lost to them a bunch of times last season.
According to Quinn, it was always the plan to have Georgiev start this game, even with the week in between this game with Ottawa and the Rangers next game with Edmonton. I was happy to see this. You know my thoughts on Lundqvist already, so I'll spare you the spiel, but I was happy to see Georgiev get this game and not have to wait three weeks into the season to get a start.
As mentioned plenty of times this summer and I'll touch on it a bit more later on in this blog, when it comes to a player on the Rangers dealing with the most pressure this season, it's Alexandar Georgiev.
Not only will Georgiev have to prove to the Rangers that he's good enough to be the starter, he has to also worry about Igor Shestyorkin nipping at his heels. Georgiev is somewhat the monkey in the middle here and he could be another goalie sacrifice during this Lundqvist Error, come the trade deadline. By playing well and playing often, Georgiev is not only playing for the starter job in New York, he could also be auditioning for a spot elsewhere. (This is my shout-out to my buddy Al Demauro, as I agree with his theory that Georgiev may be trade-bait. I don't want that to happen, but it wouldn't shock me either.)
The other pregame news concerned the defensemen. In game two of the season, David Quinn has already used two different sets of pairings. Here were the pairings tonight: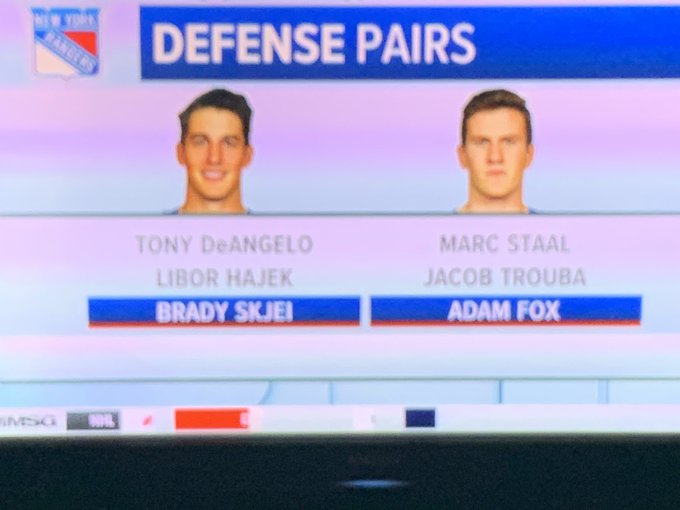 With the D shake-up, Quinn said that it was the media who assumed Trouba and Skjei were the top pair. Quinn made sure to say that he never said those words. Ironically enough, despite the top pair from the home opener being broken up, it was Trouba and Skjei logging the most amount of minutes out of all 6 defensemen in this win over Ottawa.
When it comes to Trouba, I remain floored and awed. I love, love, love his game. All he does is shoot like a wildman. There were more Trouba shootings in Ottawa tonight than shootings in the cities of Chicago, Detroit and Baltimore, COMBINED. Trouba led the team with 5 shots. Of note, when talking about SOG, Zibanejad was 3-3 tonight, giving him a success rate of 100%. And to put this altogether here, Zibanejad's first goal only happened because of Trouba's shoot-first mentality, as Zibanejad gobbled up a Trouba rebound and beat Ottawa goalie Craig Anderson.
Of course, with the way this game went, all headlines will be about Mika Zibanejad. No one can argue otherwise. That said, with Georgiev and Zibanejad's GAG Line 2.0 playing amazing tonight, I think Trouba may get lost in the shuffle here, when it comes to the topic of press clippings. That said, let it be known, Trouba was a beast tonight, as he was a major offensive presence and part of the extremely successful Rangers PP1 unit.
Gambling segment time!

Before the game, on Twitter, @NYCTHEMIC, I said this:
The over-under prediction #PlayLikeANewYorker tweet

This is a tough one because -6.5 is a full goal higher than the norm of -5.5. Georgiev is great but Ottawa sucks. Can this be a 5-2 #nyr win or a 3-1 type of game?

Rule of thumb: when in doubt, bet the under.

Record: 1-0 pic.twitter.com/JETXwwC1Ug

— BlueCollarBlueShirts (@NYCTheMiC) October 5, 2019
Just to be clear here, the reason I say "when in doubt, bet the under", that is because if you bet the under, you start the game off with your bet winning.
I also said this before the game too:
"Sidebet – hammer #NYR to win and parlay NYR with the Yankees for value! Even better, parlay the Yankees -1.5 and the Rangers -1.5 for maximum value."
If there was anything I was wrong about here, it is that you could've parlayed the Rangers -2.5 and the Yankees -6.5 for true maximum value!
Either way, with five total goals, the under hit tonight, bringing my over-under record to 2-0 this season. Always bet the over on Hank starts and always bet the under on Georgiev starts. It worked last season and it will work again this season, especially when we start getting into the winter months. I guarantee it!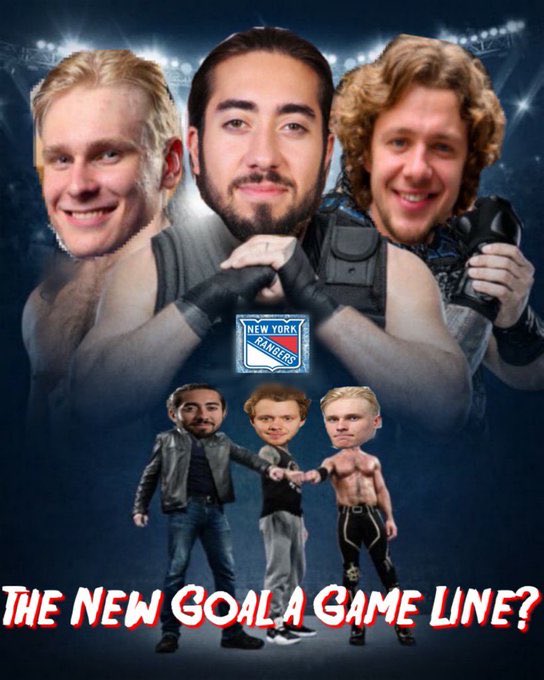 With the Yankees up 8-0 on the Twins by 6:30pm, I flipped my TV's and put the Ranger game on the big TV and the Yankee game on the small TV. With all the college football and MMA tonight, it might be time for a third TV where these framed pictures are: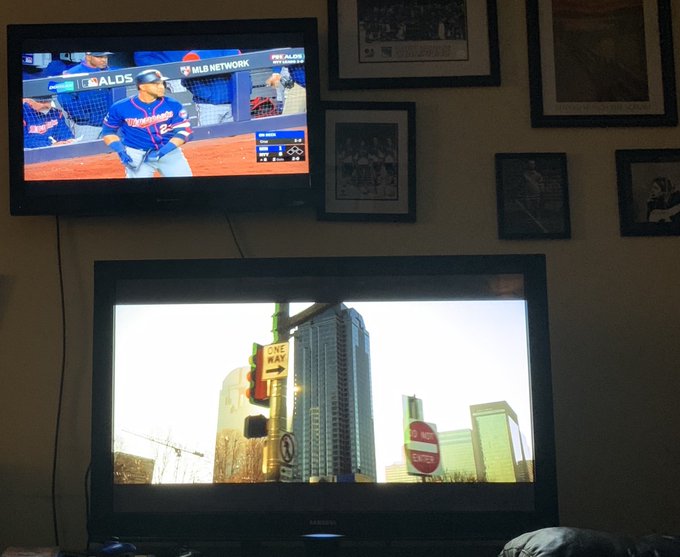 Isn't October the best time of the year? We got MLB playoffs, the NFL, the start of hockey season, NCAA Football, MMA, and the NBA, if you're into that. No wonder why couch sales are up in America!
The pregame show didn't have much to say really, outside of an interview with John Davidson. On that note, how many interviews did Senile Sather do in his near 20+ years here? JD was interviewed in Ottawa, by Ranger announcers John Giannone and Joe Micheletti. Sam Rosen wasn't there tonight, as I believe he's calling the Giants game on Sunday.
Quick thoughts on the commentators tonight – I thought they were good. And yes, that includes Micheletti. I like Giannone's laid-back style. I know everyone loves Sam Rosen, and he's the voice now of three generations, but Giannone is a perfectly acceptable replacement. I enjoyed one story Joe told in this game, where Tony DeAngelo reached out to Adam Fox and befriended him in the off-season, knowing that Fox would be competing for TDA's minutes.
If there was anything to be told from the JD interview, it was how much he put over the Rangers training facilities and their travel department. I've said this 7896789678956765 times on this blog. The reason so many people choose the Rangers over any other team, especially vs the Islanders, is because no matter what you want to say about James Dolan, the man spends money. The Rangers have the best of everything – the best food, the best planes, the best trainers, the best scouts, the best hotels, the best facilities, etc.
With Pittsburgh crushing the now 0-2 Columbus Blue Jackets tonight, and with all the top notch stuff Dolan provides to the Rangers, JD has to be happy as a pig in shit right now. It's great to be home again! As I said when the deal was first made, JD deserted a terrible situation for a great situation, here in NY.
At this time, let me share with you the box score from ESPN.com:
SCORING SUMMARY: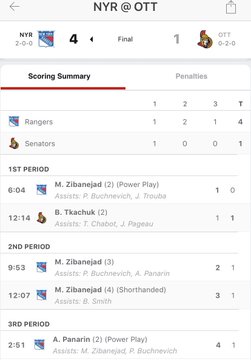 PENALTY SUMMARY: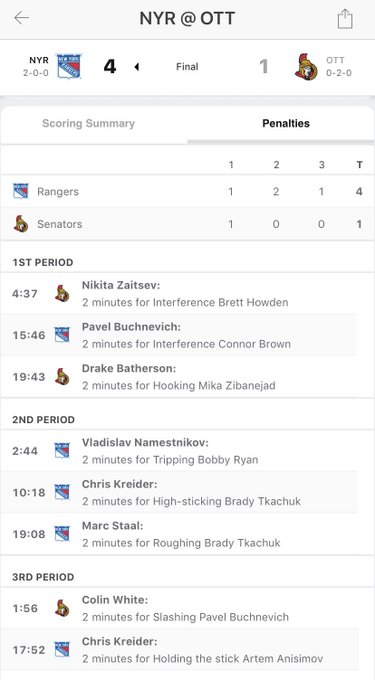 GOALIES:

Of note, Lundqvist has a 4.00 GAA compared to Georgiev's 1.00 GAA. Georgiev has a .969 save percentage to Lundqvist's .915 save percentage. Yes, I know Ottawa is worse than Winnipeg, but Georgiev made a ton of big saves tonight. (And outside of this blog, I haven't seen anyone mention that WPG were missing five out of their six defensemen from the 2019 playoffs.)
Of Georgiev's 31 saves, Georgiev made about 6-7 excellent saves, shots that could've been goals. Georgiev and the PK were also 5-5 on the PK tonight. There was one PK during this game that Georgiev was especially excellent on, where he basically killed the Ottawa PP by himself. He finished with 7 short-handed saves overall.
The goal Georgiev allowed occurred when he was screened, possibly interfered with and saw the puck deflect by him. In other no words, NOT ONE BAD GOAL ALLOWED.
Furthermore and somewhat as important, Ranger fans were allowed to celebrate every Mika Zibanejad goal. In other words, Georgiev didn't give up a goal seconds after the Rangers scored, which Lundqvist did on two occasions on Thursday.
And oh yeah, Lundqvist makes nearly $8M more than Georgiev. Now put this altogether. Just imagine what $8.5M in cap space could do for this team right now.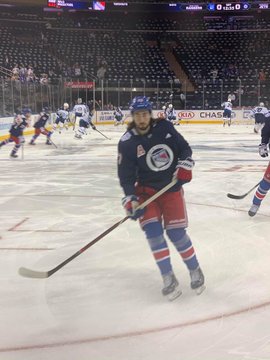 As is evident with this blog and as I said during the summer, I really feel that Zibanejad/Panarin and whoever you have flanking them, has the potential to be the next GAG line. Zibanejad has four goals already. Panarin has two. That's six total goals in two games, meaning the Rangers could be shut-out the next four games and this line would still be averaging a Goal-a-Game. NOT TOO SHABBY, if I say so myself.
When watching this game tonight, with Lundqvist not there, this was the most excited I've been since the 2015 playoffs. You can feel the hope and good will with this team. This is the future. This is a new core developing. This is the light at the end of the tunnel.
Yes, we all know I'm not a Lundqvist guy, but hear me out here – with Lundqvist out of the game (and hopefully off of this team sooner than later) this allows Mika Zibanejad to not only be the leader on the ice, but the voice of the room. When it comes to pregame, postgame or times in between games, Lundqvist is the defacto leader and sometimes that albatross weighs on these guys. Like Marc Staal, Lundqvist doesn't connect with these guys at a social level. He's not single and in his 20's. He's in his late 30's and is a family man. He's in a different stage of life. Plus, when was the last time you saw Zibanejad burying his teammates in the media? It's never happened.
I don't know if you saw this, but before this game, on their flight to Ottawa, Zibanejad was breaking the balls of Lias Andersson after his trip on Thursday night. This may sound stupid, but for real, it's little shit like this that promotes team chemistry and forges bonds. To me, this is another example of why Zibanejad deserves the "C". Gentle ribbing (not that kind, you sick freaks) goes a long way. Just ask any player.
Aside from the Rangers being better off with Lundqvist, I think without Lundqvist around, it allows Mika to mature into the leader that we all hope he can be. Let's face it. It's not Kreider. The brass ring is Mika's to grab. If this team can get over their obsession with Lundqvist, it will allow a guy like Mika to step up and try to put the team on his back. I'm all for that.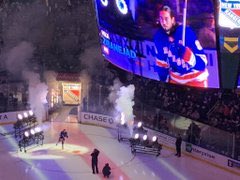 In tonight's 4-1 win over the Senators, you've already heard me rave about Mika, the top line, Trouba and Georgiev. What I haven't talked about yet are the three other lines. In fact, I haven't talked much about the other lines during this young season. While the vibes are good and positive now, as the season goes along, the Rangers will need production from other parts on this roster.
For the people who say, "it's Ottawa", well that might be the case. If that is the hill you're dying on, where was the rest of the roster tonight? Sure, they had time with the puck and kept Ottawa off the board, but are these Rangers, here in 2019-2020, going to live and die by the first line? Eventually, other teams will catch up and be on these guys like white on rice. When that happens, that is when guys like Kakko, Kreider, Strome, Fast, Andersson, etc all need to stand up. We haven't seen it yet, because sans a Howden fluke goal in the home opener, all the goals this season are coming from the top line or the defensemen.
Let's get to the review/recap.
After Micheletti fawned over a player that wasn't even playing in this game tonight, the puck finally dropped to start the beginning of this game. Before Zibanejad went on his tear tonight, I was pulling for him hard, just because of what he did for that little kid. Yes I can be a grumpy prick on these blogs and on social media, but stuff like that always has me pulling for players. It's why I like Ovechkin so much. He always does stuff like this, especially on the road.
Oh, and because I haven't mentioned it yet, David Quinn used the same lines that he did on Thursday.
After feeling each other out for a bit, at 4:37, Nikita Zaitsev was banged for interference. This put the Rangers on the PP for the first time in the match. The Rangers just dominated the puck during this PP, with Trouba really coming into his own as the proverbial "power-play quarterback." His hard work and Zibanejad's nose for the puck paid off, as at 6:04 into the period, Zibanejad put the Rangers up 1-0:
HEY! HEY! HEY HEY HEY!@NYRangers | #LGR | #PlayLikeANewYorker pic.twitter.com/fXT6DQjfqa

— Rangers on MSG (@RangersMSGN) October 5, 2019
1-0, GOOD GUYS. And hey, that's two straight games with a PPG goal. Maybe the Rangers don't need MSL as I was campaigning for during the preseason!
Two things on this goal – this was great karma for Zibanejad. And as mentioned, the "A" isn't weighing him down. Give the man his "C"!
As the first period progressed, the Rangers just continued to bring the pressure. There were several times where they couldn't finish.  As mentioned last blog, Buchnevich seems a step slow from his linemates. I'll get more into him on Zibby's second goal of the game. Kakko also had a chance at an open net tonight, as did Kreider.
Kreider and Kakko, who play on the same line, were just okay to me tonight. However, expectation levels are different. I expect Kakko to struggle. He's not going to be an overnight sensation, despite the clamor and will that some in this fan base want him to be. And no, that's not a knock at the Church of Kakko fan club, I just think it's going to take time for Kakko to get there.
When it comes to Kreider, yeah, it's only two games and he's not playing with Zibanejad and Panarin, (might be worth giving him a look at it though) but I can see glimpses of last season, where he isn't much of a factor. Kreider needs to be a factor, especially in a walk year, contractually.
Games like these is why the Rangers didn't extend Kreider in the off-season. And again, to be fair, Kreider doesn't really have a lights out center on his line either. I saw Ron Duguay on Twitter mention that he wished the Rangers held onto Kevin Hayes for this reason, but obviously the money wasn't there. The money could've been there though. All the Rangers had to do was say goodbye to Hank. And be fair you Lundqvist Lovers, in 2019-2020, would you rather have Hayes for $7M or Hank for $8.5M?
At 12:14 in the first period, the Senators finally got on the board, as Tkachuk tipped in a blast from Chabot. As mentioned earlier, Georgiev was screened and possibly interfered with. It was a good goal and if there is any positive thing to take away from this, it is that the two best players on the Senators produced this goal. It's not like it was some AHLer beating Georgiev. 1-1.
Defensively, the Rangers had another mish-mash game, but I'm not as sour as others are. I think some fans expect every defenseman to be 100% turnover free. That just doesn't happen in the NHL. That said, Staal, who couldn't clear Tkachuk from the net on the Ottawa goal, channeled his inner Dan Girardi in this game. Marc Staal had 7, YES SEVEN, blocked shots tonight. That's more than the rest of the Rangers defense, COMBINED!
Put it this way, Georgiev faced 32 shots tonight. Without Staal, Georgiev faces 39. Does Georgiev finish the game with only one goal allowed without Staal tonight? Who knows? That said, Staal did a tremendous job of limiting opportunities. While he was part of the first goal allowed, it was a flukish thing and I thought Staal was solid defensively.
Brady Skjei, who will be under the microscope because of his contract, (prior to this off-season, only Skjei & Zibanejad had deals that went beyond the current CBA) seems to be a mixed-bag. At one point in this game, DeAngelo pretty much took the puck off of Skjei's stick, and would go on to make a successful clear. To be fair, I watched this game on TV and wasn't there. I don't know if DeAngelo had a better route to clear the puck than Skjei, but it was obvious that DeAngelo grabbed the puck and moved the play from behind Georgiev and into the neutral zone.
With five minutes remaining in the period, Buchnevich took a lazy interference penalty. The Rangers PK came up big here. Then, with 16 seconds remaining in the period, Batherson hooked Zibanejad. That's another thing I want to mention here, I believe Zibanejad drew two penalties tonight, while Buchnevich drew another. Not only are the top line producing goals, they have instilled fear into their opposition, where the Jets and now the Senators are committing penalties against the top line.
The Rangers didn't score a PPG in these 16 seconds, so after 20 minutes, the score remained 1-1.
The second period, and really, the entire game, was the Mika Zibanejad Show.
In this period, you had the second line guys missing the net on some GOOD LOOKS. The Rangers took three penalties in this period and the Rangers PK killed each one. If it weren't for Zibanejad, this is where you would be talking about how Georgiev saved the Rangers bacon. He was making two on 0 saves, 3 on 1 saves, saves from his doorstep, and basically had the bulk of his work in this period. I mean, take a look at this save:
That's a save by Alexandar Georgiev. #PlayLikeANewYorker pic.twitter.com/zzGSej9KNS

— ESNY (@EliteSportsNY) October 6, 2019
Worth mentioning – the Rangers twitter account had gifs of Hank's saves on Thursday. Nothing was mentioned about Georgiev. Funny how that works.
And in regards to the @RangersMSGN twitter account, they have really gone OD with promoting the team and gifs. I enjoy it.
After keeping this game tied, the Rangers scored one of the best goals that I have seen in some time. Here's the top line, doing some tic-tac-GOAL action:
It's like mom and dad always say, "We can't pick a favorite. We love them both equally."@NYRangers | #PlayLikeANewYorker | #LGR pic.twitter.com/EHn7P4uAE1

— Rangers on MSG (@RangersMSGN) October 6, 2019
2-1, GOOD GUYS, at 9:53 into the second period. (Of note, Zibanejad's third goal plays in this video too.)
On this goal, what can you say? It's a Picasso.
When I do these blogs, I refer to my twitter timeline, as I type out stuff during the game so I can refer back to it later here. When I saw Buchnevich pass up a look at the empty net, I was about to bury him. However, it worked out and Zibanejad got his second tally of the night.
I don't know if these three have ever practiced this or what, but whatever this was, it was amazing. I saw that after the game, Zibanejad was laughing about Buchnevich passing up a look at the empty net. While it worked out here, in the future, you want to see Buchenvich take more of a goal scorer's presence. In either event, this worked out and this would be the game winning goal. And really, what a GWG that it was. I haven't seen a goal like this since an All-Star Game.
Right after this goal, Kreider took a penalty. Georgiev did his job and while short-handed, Zibanejad just made a fool of the Ottawa defense. They are still looking for Anderson's jock. 3-1, GOOD GUYS.
Here's my live reaction to this goal:
I look at this game & see no Hank. I'm watching Mika grow into a leader and into an elite player. (Not there yet but potential is there.) This is the most excited I've been since 2015 run. I can't wait for Hank to be gone and enjoy this team grow, see a new core and get a Cup!

— BlueCollarBlueShirts (@NYCTheMiC) October 6, 2019
At the end of the period, there were some shenanigans from both teams, but for whatever reason, only Marc Staal was penalized. To me, this was a bullshit Ottawa PP and some shoddy officiating. The Rangers would kill the first half of the penalty in the second period and kill the back half of the penalty in the third period.
3-1 after two periods.
After killing the Ottawa PP, the Rangers would get a PP of their own. Zibanejad drew the penalty and would assist on Panarin's PPG:
The New York Rangers are going to be fun this year. I think this may be the funnest Rangers team of my lifetime. Get used to hearing this: Pavel Buchnevich to Mika Zibanejad to Artemi Panarin for the power play goal! pic.twitter.com/9a1z7fjfqX

— Jimmy Clarke (@JimmyClarke) October 6, 2019
4-1, GOOD GUYS. This was just like the goal from Thursday, as Panarin sniped this one home.
Seriously, I haven't seen Senators get embarrassed like this. ever since Trump schooled Elizabeth Warren and Bernie Sanders.
After this goal, the Senators were pretty much dead and buried.
Georgiev would have one last barrage to deal with, as he weathered a storm of Senators with about 9 minutes left in the game. The KING OF KINGS easily turned this shit aside!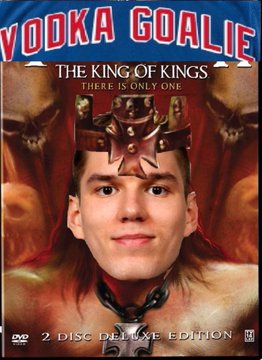 As time ticked down, the result was never in question. The question was "how many goals will the Rangers win by?" The answer to that was 3, as this 4-1 score held.
If there was anything to talk about with this game pretty much over, it was that Kreider took a dumb penalty and Georgiev and the PK came up big once again.
At the end of the day 4-1, GOOD GUYS, from Ottawa.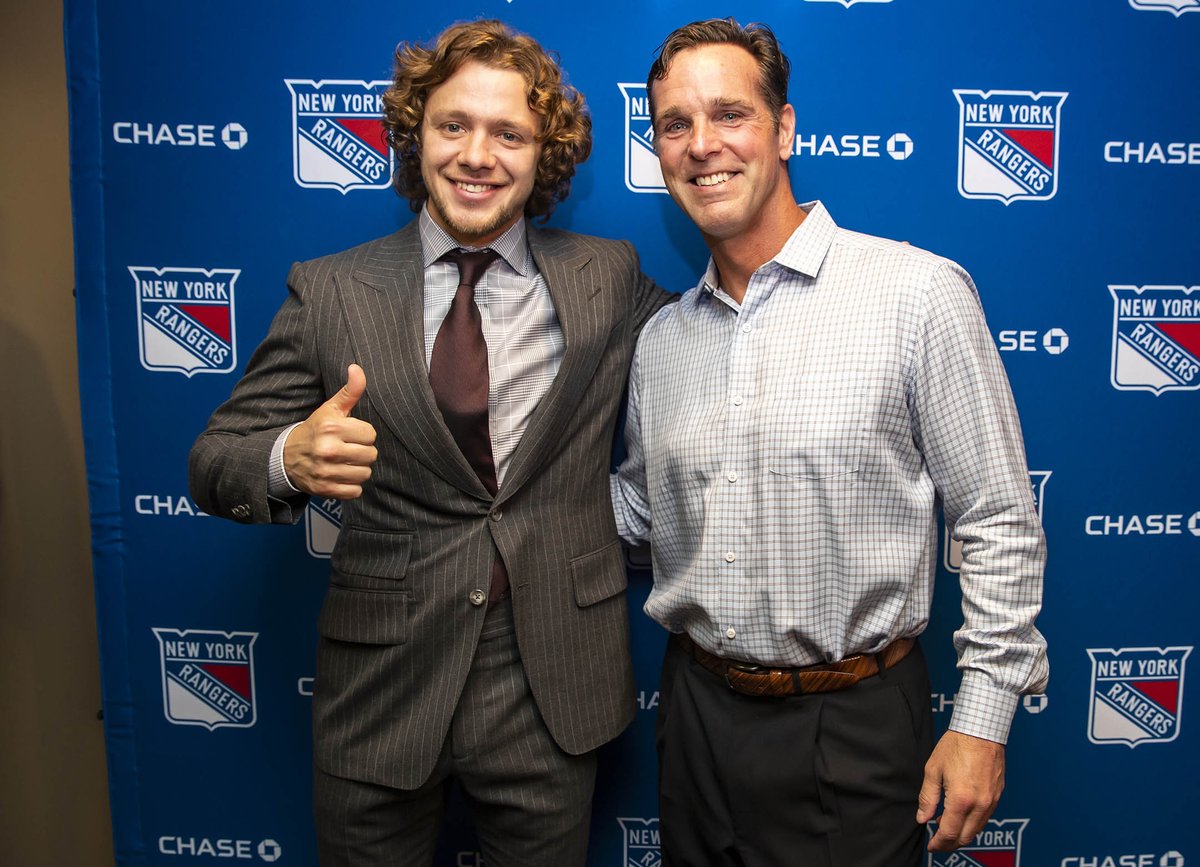 All in all, this was a great win for your New York Rangers. This was also a very important win for the team, and not just because you want to handle business against a team that everyone has at the bottom of the league.
The reason why this victory is so important is that the Rangers won't play again until next Saturday, when they host the Oilers in an afternoon tilt. I hate these afternoon games. That said, at least the Rangers can get ready for it. There's no excuse of being tired for that game.
If the Rangers lost this game, we'd have a week of "doom and gloom" from the newspaper people and chart humpers. We would also see all of these butt-sniffing, stinky finger freaks, all dissecting every move David Quinn made in this game. Instead, with the win and two points, everyone is happy and we look ahead, rather than complaining about what happened.
As it stands right now, the Rangers are 2-0 and UNDEFEATED. They also have 10 goals for, in two games played. We're not used to this offensive output. With the Oilers up next, whose goaltending is an absolute mess (they gave up 5 goals to the shitty Kings tonight) I can see the Rangers putting up their average in this game, with a nice little 5 spot on the board.
I fully expect Quinn to have his boys ready for this game. Even better, while the schedule and the break doesn't make any sense (because of this break, the Rangers lead the league with the most amount of back-to-back's this season) it does give Quinn and the team a ton of practice time to work with. In the next five days of practice, this will give Quinn and the Rangers a better of idea of what's working and what's not working. I just hope that Quinn doesn't pull a "Ruxin" from "The League" and tinkers too much.
One last segment before we head home here.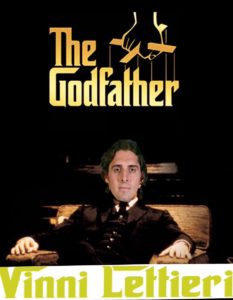 Last season, throughout these blogs, I presented you the "LETTIERI WATCH", as I tracked his progress in Hartford. Eventually, I will make a new picture and change this segment to the "WOLFPACK WATCH", as there are more players to be concerned about in Hartford, such as CZAR IGOR, Ryan Lindgren, Filip Chytil and Vitali Kravtsov.
I am also calling out one of the editor's of this blog and a Wolfpack season ticket holder, in the great @WHALEPACK , to provide with me a short synopsis and pictures from these games.
The Wolfpack defeated the reigning and defending AHL champions tonight, downing the Charlotte Checkers by a score of 5-3. For the Wolfpack, a team that has struggled so much in recent years, this win was a nice step in the right direction.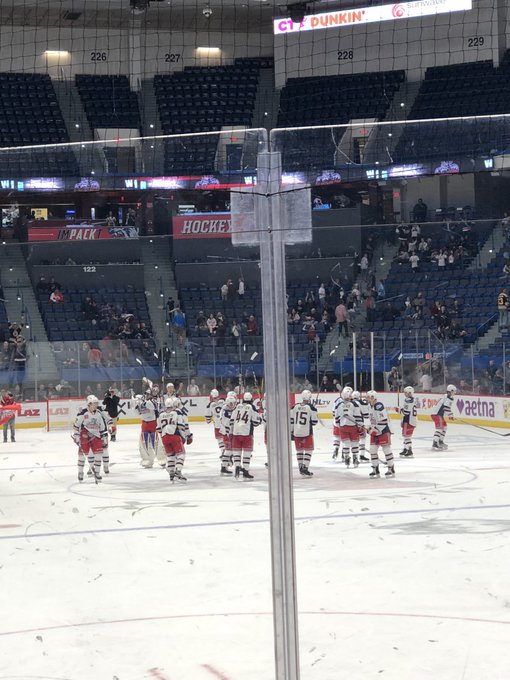 Here is the somewhat box score of the game, from the Hartford Wolfpack website:
Charlotte Checkers 3 at Hartford Wolf Pack 5
Saturday, October 5, 2019 – XL Center
Charlotte 1 0 2 – 3
Hartford 2 2 1 – 5
1st Period-1, Charlotte, Kuokkanen 1 (Priskie), 1:18. 2, Hartford, Keane 1 (O'Regan, Nieves), 4:03. 3, Hartford, LoVerde 1 (Newell, Fontaine), 12:06. Penalties-Gauthier Cha (double minor – high-sticking), 5:31; Day Hfd (interference), 17:17; Forsling Cha (tripping), 19:40.
2nd Period-4, Hartford, Beleskey 1 (O'Regan, Lettieri), 1:34 (PP). 5, Hartford, Lettieri 1 (Fogarty), 17:40. Penalties-Luostarinen Cha (holding), 13:40; Gibbons Cha (slashing), 14:37; Keane Hfd (slashing), 14:37.
3rd Period-6, Hartford, Beleskey 2 (LoVerde, O'Regan), 0:24. 7, Charlotte, Gust 1 (McKeown, Shinkaruk), 4:18 (PP). 8, Charlotte, Gauthier 1 (Gibbons, Geekie), 10:22. Penalties-Lettieri Hfd (high-sticking), 3:57.
Shots on Goal-Charlotte 8-10-11-29. Hartford 8-10-5-23.
Power Play Opportunities-Charlotte 1 / 2; Hartford 1 / 4.
Goalies-Charlotte, Nedeljkovic 0-1-0 (23 shots-18 saves). Hartford, Shesterkin 1-0-0 (29 shots-26 saves).
A-5,040
Referees-Jordan Deckard (14), Alex Garon (64).
Linesmen-Brent Colby (7), Mike Baker (11).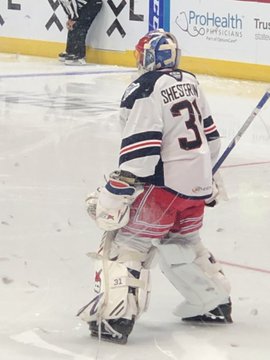 Whalepack told us this on Twitter:
Three Stars: 1. HFD – D. O'Regan 2. HFD – M. Beleskey 3. HFD – V. Lettieri
He also told me that Shestyorkin looked good. I heard the first goal allowed wasn't pretty, but after that, Igor settled down and was fantastic. I heard Beleskey, who I don't ever see returning to the Rangers, had a great game.
AND HOW ABOUT MY BOY VINNI LETTIERI? That's right, a goal and an assist in this game. He also got the third star!
As the season progresses, I'll try to get @Whalepack to give us more detailed reports, as he's my eyes there! Let's just hope @Fixxser doesn't boop him.
Between Didi's grandslam leading into this game, my picks being right and the Rangers just opening a can of whoop-ass, I'm pretty freaking pumped as I close this blog. To me, this was a preview of what's to come, if the Rangers will ever cut the cord on Lundqvist.
Just think, as time goes on, Kakko will be better. Fingers crossed, Kravtsov and Chytil develop and make the team. Oh, and how about that K'Andre Miller guy? Did you see this: https://madison.com/wsj/sports/college/hockey/wisconsin-badgers-k-andre-miller-suspended-for-violation-of-men/article_05dd0066-0d7c-5481-90eb-8289859f26b5.html
Long story short, K'Andre Miller has been suspended by his college team, in the Wisconsin Badgers. It is unknown what he was suspended for.
I will say this, his suspension could be for something stupid. Maybe he was drinking. Maybe he was smoking pot. Personally, I hope he pulled a Lip from "Shameless" and was banging his professor. No one knows what caused the suspension, but I wouldn't put much into it. If it was something really serious, I think someone would have the story. What I mean by that, is that if he was arrested or something, someone would've found the police report by now. That's why I think it's something silly and meaningless.
By the time Miller is in camp next season, I think this will all be forgotten. When I see a game like the Rangers had today, and think about the current talent in Hartford and the talent in the pipeline (this includes Nils Lundkvist too) the Rangers are set-up for success. The best is yet to come and I'm enjoying this ride in the present time.
The Rangers don't play again until next Saturday. As far as this blog goes, maybe I'll sneak in a history piece or just comment on whatever big news happens between now and then. I'll definitely be back with a blog after that game. I'd also like to fix the plugs/links section of this blog, as it needs an update, especially when it comes to the great Facebook Ranger groups that are out there.
To get first eyes on this blog, I encourage you to subscribe. You can do so by filling out this:
Until next time, thanks for reading and as always…
"LET'S GO RANGERS!"
Sean McCaffrey
BULLSMC@aol.com
@NYCTHEMIC on the Twitter