Greetings and salutations everyone and welcome to another blog here on BlueCollarBlueShirts.com. Last time I checked, no team finishes a season 82-0. In other words, expect the Rangers to go 81-1 this season! (I kid, I kid!)
There are a few ways to look at the Rangers' 4-1 loss to the Winnipeg Jets from Friday night. Is what I'm about to say next pure excuses? Perhaps. However, there is validity in the following:
— The Rangers opened the season by playing three games in four nights.
— This was the second-half of a back-to-back set.
— This was the Jets' first game of the season, their home opener at that.
— Jaroslav Halak, and not CZAR IGOR, played, where to be fair – Halak was more than serviceable tonight. In fact, he was arguably the best Ranger on the ice.
---
While head coach Gerard Gallant, team captain Jacob Trouba, nor anyone else involved in Friday night's game will make these excuses; had this game been held under different circumstances – I think the Rangers would've cruised to victory.
However, you can only play the hand that your dealt. The Rangers lost. Fair and square at that.
In addition, we're talking about the third game of an eighty-two game season, where as the season moseys along, the Rangers will also catch opponents under similar circumstances.
At the end of the day, while the NHL schedule-makers surely didn't do the Rangers any favors when starting this 2022-23 campaign – everything will balance out by the time the regular season reaches its end.
Furthermore, if you look at these first three games in a vacuum; the Rangers DOMINATED the three-time reigning & defending Eastern Conference champions on Tuesday night, and then scored a touchdown & kicked the extra point in Minnesota on Thursday.
In other words, while yes – everyone hates losing – I'm not upset about this loss. It is what it is. On to the next one.
---
While I don't have all of the facts and stats in front of me – I do know the following off of the top of my head.
During the salary-cap era, this was the first time that the Rangers opened up a season by facing three consecutive Vezina winners (sans their own).
I'll have to look this up (unless one of you want to do so for Monday's blog), but I'm sure this happened all the time, even going as far back to the inception of the NHL, with a brief pause during the 1940s-1950s (when you had multiple-time consecutive winners of the trophy), and then returning throughout the end of the Original Six era (1967).
(Holy run-on sentence Batman!)
Had CZAR IGOR started this game (and there was no reason to start him tonight), he then would've had a chance to beat the last three consecutive Vezina Trophy winners, prior to his 2022 win.
In other words, the Rangers faced three tough goalies to start the season and beat two of them.
As the recently deceased Meat Loaf once sang, "two out of three ain't bad." (Another Dennis Milleresque reference for friend of the blog, Doug I.)
Goaltending wise, things will become easier for the Blueshirts during the next four games, when the Rangers host the Ducks (Jon Gibson), the Sharks (not sure who they will start – but OLD FRIEND, David Quinn, and his team aren't very good), the Blue Jackets (again, not sure who they will start, but they are currently 0-2 and have been blown-out in both of their losses), followed up by another OLD FRIEND – Alexandar Georgiev, now the starter of the defending Stanley Cup champions, the Colorado Avalanche.
(Holy run-on sentence times two Batman!)
Equally as important – during this upcoming four-game home-stand, the Rangers don't have any back-to-back games on the schedule.
After hosting the Ducks on Monday, October 17th, the team has two days off and will then host the Sharks on Thursday, October 20th.
Once through with the two Californian teams, the Rangers have another two days off and will then host the Bluejackets on Sunday, October 23rd.
Another off-day follows the tilt with Columbus, where once done with JD's team, the Rangers will then play a back-to-back set, where they will host Colorado on Tuesday, October 25th, and then play in what's essentially a home game the next night, when the Rangers travel to the IBS Arena at Belmont on Wednesday, October 26th.
In other words – things will get easier – at least when compared to these first three games.
At this time, let's get into the minor news stories from Friday, and then into tonight's game itself.
---
While this isn't truly a "pregame story," the photo depicted above, when Ryan Reaves physically told Marcus Foligno that you don't mess with the Rangers, went viral on Friday – and not just in Rangerstown, USA. Instead, this photo went viral throughout the hockey world, where at last check, it was viewed over three million times.
The photographer, Aaron Lavinsky, perhaps should have watermarked this photo, as without knowing too much about his career as a photojournalist – this easily has to be one of his most shared/viewed photos of his career!
Prediction? Just like this photo being viewed millions of times, I'd expect Reaves, especially in retirement, to sign this photo millions of times too!
No joke, I think this photo will become Reaves' "Tie Domi" moment, similar to this photo below, when Domi famously won a decision over the all-time NHL Kingpin, Bob Probert:
In another "minor" story (literally), on Friday, the Hartford Wolfpack announced their captains:
As originally noted a few blogs back (assists to readers Rich M. and Danny Mack, who both have contributed AHL reports to this site in the past); the feeling in Hartford was that when Brodzinski was recalled to the Rangers last season, it significantly hurt the Wolfpack.
Unless the Rangers suffer a major rash of injuries, it's tough to envision a return to Broadway for "JONNY HOCKEY" this season. That's why it's my feeling that Brodzinski will serve the Wolfpack as their team captain for the duration of the AHL campaign.
---
Maybe I pay too much attention to the feedback that I receive, while also reading other blogs, listening to Ranger-themed podcasts and monitoring my Twitter account.
While this doesn't apply to everyone (it does apply to the majority) – sometimes, I wish I could filter out all of the feedback that I get from Ranger fans under the age of thirty years old.
I truly get where some of these fans are coming from – because I was just like them.
Of course, there was no social media back then, so some of my ignorant (and often wrong) opinions aren't available in the public domain!
Heck, Petr Nedved was one of my favorite players growing up. I thought he could do no wrong. As a teenager, I was also chomping at the bit to see guys like Manny Maholtra, Pavel Brendl and Jamie Lundmark succeed – and where I thought that they would! Yikes!
However, through age and experience (and Twitter, much like the current crop of Ranger beat reporters today, skews young), you learn from history. If you don't – it repeats itself.
Whether it's a younger generation treating Vitali Kravtsov as if he's the second coming of "The Russian Rocket," Pavel Bure, going ape-shit over every seventh defenseman and thirteenth forward that has ever lived, or burying every "GRIT" player that doesn't pretty-up their charts – these people are freaking clueless.
Worse than that – they won't even consider a differing opinion, where more times than not – they think their opinions are facts.
(And that's why I'm very careful on this site, and in my books too, to tell you when I'm offering you my opinion, rather than presenting my opinions as facts.)
Similar to how I will no longer watch any of these M$GN pregame or post-game shows that exclusively feature Sieve Vagistat – I have to start ignoring these people too! Perhaps easier said than done!
The idiocy has reached all-time highs (a new and younger generation has emerged, a generation that knows nothing else but the present and the echo chamber that they live in); where these mooks, who will also question The Turk at every turn (you know – after the head coach just led the team to the Eastern Conference last year, and who prior to tonight's game, was undefeated on the season), have become completely unbearable.
(Holy run-on sentence times three Batman! Where's my book editor Diane when I need her?)
Case in point: after bawling their eyes out about Dryden Hunt playing last night (who then scored "The Lone Ranger" goal during tonight's loss), these same pea-brains were absolutely IRATE about Libor Hajek subbing in for Zac Jones tonight.
Maybe it's because I'm older (and admittedly, significantly older at that) and/or have now written five books (two titles – full details in the PLUGS segment) on Rangers' history – but whatever it is – these daily life-and-death reactions, where 99% of the time, these people don't even think to consider other opinions and/or seek the truth – are absolutely ludicrous.
Full disclosure, I somewhat thought that Hajek would play tonight. Here's what I said on social media before the game:
Haven't seen anything yet, but I wonder if Blais and Hajek play, just because it's the second half of a back-to-back. #nyr

— BlueCollarBlueShirts (@NYCTheMiC) October 14, 2022
---
And to be fair, and to show you that I do get things wrong too, I also said this:
#NYR v Jets Pregame Predictions:
— 4-0 win… unless Pionk scores
— Trouba goal
— Multi-point games for Fox/Panarin
—- Hajek finishes +1
— Lafreniere goal
—- 3-0 at the end of the night.
LGR

— BlueCollarBlueShirts (@NYCTheMiC) October 14, 2022
Oops!
---
When the Rangers/Gallant announced Hajek in/Jones out, you would have thought that Gallant drove around the 1994 Stanley Cup in a pothole laden parking lot, like George Costanza once did with the World Series trophy in "Seinfeld."
(And sadly – most of these younger fans have never seen an episode of "Seinfeld!")
(I would've also included the 1928, 1933 and 1940 Stanley Cups here, but as we all know – the Rangers ignore their own history – much like these young fans. 1994 and that's it!)
Ignored by the masses is the fact that Jones is now in his first NHL season. It's not the end of the world to give him a timeout.
Furthermore (and you can pin some of this on the clueless beat reporters, who frequently, don't ask the right questions), this was 100% about giving Hajek a game and 0% about Jones' play thus far – despite the nonsense some of these people were putting out there. ("GALLANT IS PUNISHING JONES!")
(The reporters didn't get Gallant on record about this prior to the game, but to me, this was obvious – and more and more, I'm learning that you can no longer assume that people can find the obvious in anything anymore! "GALLANT DOESN'T KNOW WHAT HE'S DOING!")
And had Blais been healthy enough to go, I think he would've bumped Hunt from the line-up too.
The NHL regular season is an 82-game grind. Players, especially non-superstars, will get a game or two off, especially during back-to-backs.
Gallant has previously said that he wants to give Hajek more playing time, after making #25 a regular scratch during the majority of the 2021-22 campaign.
As a left-defenseman – there's no way Hajek is bumping Lindgren and/or Miller, unless these two can't go.
It's simple arithmetic – Jones is young and there's no foul in letting him watch a game.
And while the Rangers may demote a forward in the near-future (I've covered the salary cap, and how it accrues, all week – so refer to the archives of this site if you need the detailed explanation) – they will be carrying seven defensemen all season.
I know I went too long on this, but the short version: Hajek has to play. This was a good spot to get him into the line-up.
And hey – Hajek played extremely well tonight – and that's not a shot at Jones. It's just to say that both 3LD have been solid this season.
---
Here is the line-up that Gallant used tonight, where prior to the game, "The Turk" said that Blais was being held out for precautionary reasons:
FIRST LINE: Kreider/Mika/Kakko
SECOND LINE: Panarin/Trocheck/Lafreniere
THIRD LINE: Vesey/Chytil/Goodrow
FOURTH LINE: Hunt/Carpenter/Reaves
FIRST PAIR: Miller/Trouba
SECOND PAIR: Lindgren/Fox
THIRD PAIR: Hajek/Schneider
STARTING GOALIE: THE HALAKNESS MONSTER
BACK UP: CZAR IGOR
---
BOX SCORE time.
The following information and graphics come courtesy of ESPN.com:
SCORING: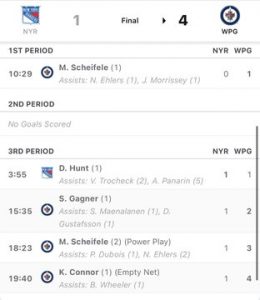 PENALTIES: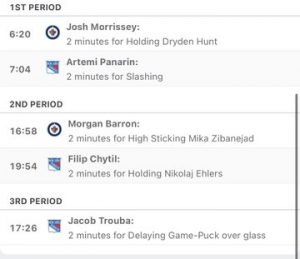 TEAM STATS:
GOALIES:
| | | | | | | | | | | |
| --- | --- | --- | --- | --- | --- | --- | --- | --- | --- | --- |
| SA | GA | SV | SV% | ESSV | PPSV | SHSV | SOSA | SOS | TOI | PIM |
| 41 | 1 | 40 | .976 | 32 | 6 | 2 | 0 | 0 | 60:00 | 0 |
| | | | | | | | | | | |
| --- | --- | --- | --- | --- | --- | --- | --- | --- | --- | --- |
| SA | GA | SV | SV% | ESSV | PPSV | SHSV | SOSA | SOS | TOI | PIM |
| 33 | 3 | 30 | .909 | 27 | 3 | 0 | 0 | 0 | 58:58 | 0 |
---
At 7:30PM I tuned into the M$GN pregame show. When I saw that Lundqvist had the night off, and in honor of "Hispanic Heritage Month," I said "adios amigo," turned off the channel and then watched some of the Lightning/Blue Jackets game instead.
Unfortunately, since tonight's game was the Jets' home-opener, there was a twenty minute delay, where in turn, come 8PM – I had to suffer through five minutes of Sieve Vagistat. BRU-TAL.
However, and as previously noted; Vagistat caters to these millennial fans who have their heads buried in their charts – whenever their heads aren't buried up their own asses.
I can admit that Vagistat serves his purpose for some fans – but he just isn't for me. I've seen better – and I don't know if some of these fans can say the same, due to their ages.
And no joke – the little that I saw from Vagistat tonight, it was the same stuff – analytics, I did this, I did that – and boom, I hit my mute button.
At around 8:15PM, Sam Rosen and Joe Micheletti talked a bit, and in a theme that would run all night, the two repeatedly mentioned how Jacob Trouba is now captain and how he once placed in Winnipeg.
Seriously, if you took a shot every time Sam & Joe brought up Trouba and his former home tonight – then you would've had a full-ride to the ICU by the end of the first period.
Let's now get into the GAME REVIEW, where really, you can sum up this game in two words – Connor Hellebuyck.
---
FIRST PERIOD:
For as cliche as it sounds (and there's a reason why things are a cliche – it happens all the time), the Rangers didn't have their legs in this first period. They were obviously tired a bit from playing the night before, in addition to having their sleep schedules disturbed.
Two things that prevailed all game happened at the onset of this contest. First, Jacob Trouba received boos, boos that only got louder as the game went on. I mean, I get it, but it's not like his "replacement," the person he was traded for, Neal Pionk, is some sort of a schlub.
In fact, if you look at these two players since that trade from June of 2019 – it's Pionk who has been better, and for far less money.
While Trouba is finally starting to flourish now, needless to say – his first two seasons in New York weren't exactly the best. (More on this trade, with complete details, in my upcoming "Tricks of the Trade" book – preorder info located at the end of this blog.)
(And in a quick update – I did originally plan to have all four volumes of "Tricks of the Trade" released by October 11th. However, when I received my test copies prior to publication, I found some mistakes and formatting errors, hence the delay. I don't want to put out an imperfect product. Putting in the extra time to give you the best books possible is well worth it for me. That said, I think I should have these books released within the next ten days – so get your preorders in today.)
The second thing that took place all game? Jaroslav Halak would have to make incredible saves throughout.
While Connor Hellebucyk shone brightest tonight; I'd venture to guess that Halak was tested more – where his greatest test, which he passed with flying colors, took place during this first period.
I know that you guys and gals don't like long blogs after losses, so I'll race through this period.
Most of the period went like this – Halak made one or two tough saves per minute, while the Rangers looked disjointed and couldn't string two passes together.
If there was one skater that was extremely noticeable, it was Alexis Lafreniere, who followed-up his strong game from Thursday night during this match. He was a complete pest on the ice, as he routinely forced the issue, especially on the forecheck.
After surviving a mini-surge; at the 6:20 mark, Josh Morrissey held Dryden Hunt. So if you're keeping track, Hunt drew a penalty and scored a goal tonight.
This Rangers' power-play started off good, but just 44 seconds into it – Panarin was boxed for slashing – a call that I thought was suspect.
And yep, Panarin could do no right on this night. This game was a complete "Murphy's Law" type of a night for him – even if he did pick up an assist on Hunt's third period goal.
This was most evident once the 4 x 4 and Jets' power-play was over with.
Zibanejad found the jack-in-the-box Breadman with a picture-perfect three zone stretch pass. Panarin shot high, and while this puck may have hit the glass anyway – Hellebuyck still got a piece of it.
If you're keeping track, Panarin is now 0-2 on breakaways this season – where aside from Tom Wilson, maybe breakaways are his kryptonite, as he didn't have much success on them last season either.
As the story goes, whenever a team fails to capitalize on a major scoring opportunity, then the other team goes the other way and scores.
That's what Mark Scheifele did at the 10:29 mark, when he ripped a shot from the circle to the right of Halak. 1-0, bad guys.
For some reason, Micheletti thought an icing should have been called. I didn't agree, just because the Rangers were trying to play the puck before the Jets retrieved it.
The Jets would continue to mount their attack. By the end of the period, Halak was only credited with a dozen saves but it felt like twenty plus.
Aside from Panarin's breakaway, the only time Hellebuyck was tested during this first frame was when both Zibanejad and Kakko peppered the backstop.
1-0 bad guys after twenty. Here's what I said at the time:
1-0, bad guys, after 20. 1P Thoughts:
— This game has been as drab and dreary as the city of Winnipeg itself.
— A "victim of the schedule road period."
— Halak best #NYR – I think the Rangers will now come on.
— SOG 13-10 J, Hits 11-11, FO's 8-8, both PP's 0-1.

— BlueCollarBlueShirts (@NYCTheMiC) October 15, 2022
---
SECOND PERIOD:
In a word, the Rangers got "GOALIE'D" during this middle stanza – just like how CZAR IGOR "GOALIES" opponents.
By the end of the period, the Rangers averaged over a shot on goal per minute, where they finished the frame with 21 SOG. The Jets finished with 6 SOG, where credit to Halak – none of these six saves were easy.
At the 2:11 mark of the period, Halak had recorded four saves. The Jets wouldn't get another SOG off for nearly thirteen minutes or so.
Up next was just a Rangers' barrage, where once again, Lafreniere was motoring like a freight train out there.
When Lafreniere wasn't shooting any puck that found his blade, he was setting up his teammates instead. Hellebuyck was just in the zone and denied all comers.
Hellebuyck stopped everyone this period, including Kakko, Mika, Trocheck, Fox, Trouba, Lafreniere, Kreider, you name the player, it doesn't matter – the goalie kept all of them off of the board.
As the Jets' goalie kept on frustrating Rangerstown, USA; during the final five minutes of this period, you thought that the Blueshirts would finally break through.
Trocheck and Panarin had a two vs one odd-man rush, and really the best chance at busting up Hellebuyck's shut-out since #10's breakaway. "The Breadman" then shot the puck in Hellebuyck's "bread basket."
When Mika's line came back on the ice, Fox delivered a puck from a distance and Hellebuyck misplayed it. Zibanejad, during a diving attempt, came an inch away from pushing the puck past the goal line.
Then, with 3:02 to go, "OLD FRIEND" Morgan Barron high-sticked Zibanejad.
As was the case all period – the Rangers' power-play did everything but score, where Hellebuyck absolutely robbed both Mika and Kreider. Sometimes you just run into a hot goalie – and that was most certainly the case tonight.
Once the power-play expired, Trouba found himself in a 4 x 1 situation – where the captain broke up this Jets' odd-man rush. Hell of a play.
I should also mention, that defensively, Trouba and MIKA SELKE were studs all night – even with "The Great Eight's" gaffe, a mistake which took place at the end of the game.
I know that some fans are making a mountain out of a molehill about Trouba's late penalty – but this game was lost way before that.
Simply stated – very easily, the Rangers should've had 3, 4 or 5 goals on the board by the time that penalty happened.
In other words, if you're getting on Trouba right now – well I'll let you do that. That's not my take tonight!
Towards the end of the period, Ryan Carpenter went to make a hit, but he went ass-over-tea kettle when doing so. When he got up, he had a ton of blood on the left side of his head. I couldn't tell if it was more his head or his ear that was bleeding, but it looked like both areas were seeping red liquid.
Sans the blood, which looked like something out of "The Walking Dead," Carpenter was alert and aware when he got up, as he then found Jim Ramsey for repairs. However, Carpenter didn't return to the game, where as of this writing, I'm not sure if this was a concussion issue or a Vincent Van Gogh issue.
Following the game, when asked about Carpenter, Gallant hit his go to line, a catchphrase that I'm surprised hasn't been plastered on the front of a tee shirt yet – "day-to-day."
Seriously, Gallant could have been a news reporter in Japan in 1945, and when asked about the status of Hiroshima and Nagasaki, he would've replied with "day-to-day."
However, a penalty which I definitely thought was ill-advised, is when Filip Chytil, with only six seconds left in the period, held Nikolaj Ehlers. Maybe #72 was caught up in the moment, but in my eyes, this was a case of not being aware of how much time was left on the clock.
And as any player will tell you – this stuff happens. You're worried about the play in real-time and not eying the clock.
1-0 bad guys after forty minutes, and with the Jets entering the third period on a 1:54 power-play.
Here's what I said at the time:
1-0, bad guys, after 40. 2P Thoughts:
— #NYR did everything but score that period. A weaker goalie, they have a FG on the board.
— 21 SOG for NYR that period, 31-19 overall.
— Hits 22-21 Jets, FO's 22-17 R
— Halak has been great.
— 0-2 PP, but lots of chances.
— LGR!

— BlueCollarBlueShirts (@NYCTheMiC) October 15, 2022
---
THIRD PERIOD:
Zibanejad, as usual, was the star of this Rangers' penalty kill.
After just missing on scoring his second short-handed goal of the season, he rushed back, forced a turnover, prevented a two vs one look at Halak, and then cleared the puck.
Selke anyone?
I don't know if the Rangers gassed out or not (Gallant implied that they did during his post-game interview), but the Jets had a zillion chances this period, where on 99% of them – they shot either high or wide.
And as "The Turk" said, this wasn't about the Rangers' defensemen – it was just that the structure collapsed, perhaps due to fatigue, especially after going all-out during the second period.
At the (Austin) 3:16 mark, Lafreniere pulled off this Harlem Globetrotter move, where at the end of it, he found Kreider. Close, but no cigar – no smoking allowed inside of the arena.
However, since Kakko was on the Rangers' second PK unit, which meant that Lafreniere was temporarily bumped to the first line; in turn, Hunt was temporarily bumped to the second line.
This worked out, as with 16:05 to go, this happened:
Hunt goes skate, stick, net. We're tied 1-1 #NYR pic.twitter.com/mt5rCX1gJl

— Rangers on MSG (@RangersMSGN) October 15, 2022
---
1-1, as Hunt finally snapped Hellebuyck's shutout.
I won't lie – I thought the Rangers were going to win the game at this point.
And yep, had the Rangers won (or even lost in overtime), I would've written a long spiel about how contenders find-a-way to win, how this was a gut-check victory, how they overcame adversity and blah-blah-blah.
While they lost tonight – I think you'll see the comeback Rangers, who led the league in comeback victories last season, pull off a few comebacks as this season progresses.
A minute after Hunt's goal, Halak stood tall again, when he stopped Pierre Luc Dubois. Right after, Panarin had another good chance denied.
Up next, and with near ten minutes remaining, Schneider broke up an Appleton breakaway. Panarin then had another good chance denied, as the bakery was closed tonight.
Following three straight Jets' chances, where all of them went wide or high; with 7:00 to go, Panarin couldn't handle a rebound. Had he, it would've been 2-1, good guys.
The turning point of the game, aside from sixty minutes of Hellebuyck, took place with 4:25 remaining.
The Jets got the puck deep and behind the Miller/Trouba pair. Sam Gagner found the puck, and boom, 2-1, bad guys.
While shit happens, I thought that Panarin could've been a little more aggressive here. He did one of those "let me half-heartedly wave my stick at you" type of deals, and didn't go after Gagner in the fashion that a Kreider or a Zibanejad would have. Trocheck was caught looking a bit too, but this play happened so fast, and as you all know – "that's hockey Suzyn."
Even down 2-1, I thought the Rangers could tie the game, especially after Halak made a breakaway save, followed up by an odd-man rush save.
However, with 2:34 to go, Trouba airmailed a puck over the glass, while behind Halak's net, and with the Jets pressuring. This nixed any idea of an empty net attack. It also led to a power-play goal, as Scheifele scored with 1:37 to go.
3-1, bad guys.
Once pulling Halak with eighty seconds to go, the Jets wouldn't allow the Rangers to muster much. Forty seconds later, Gallant took his timeout. Twenty seconds following the timeout, Connor, who must've put a dozen pucks high or wide tonight, finally found twine. 4-1 bad guys, 4-1 your final.
---
As I was making the horrible blog header photo that's featured at the top of this blog, I made the mistake of not changing the channel.
Just thirty seconds into the post-game, Vagistat started to talk about analytics. I immediately grabbed my remote and flipped to the Hurricanes/Sharks game.
I've went on long enough tonight, but I do want to close with this.
This game was example #78967896789678967896879678996 of why analytics mean nothing.
You can read my previous rants on this subject for more (where really, the two words of my argument against analytics are "HUMAN ELEMENT"), but for your consideration, here's what analytics (and stats too) wouldn't tell you tonight:
— The schedule. Analytics don't factor in the human element and these silly charts treat every game as if they were played under the same exact conditions.
— A red-hot goalie. Had the Rangers faced Vagistat tonight, they probably would've put a dirty dozen of goals on the board. Every Ranger shooter had their shooting percentages (and the almighty CORSI stat) slashed tonight – which I wouldn't consider fair.
— Bad ice. There were plenty of times where guys were falling down all over the place, thus preventing scoring opportunities.
— Off nights. No player is perfect every game. This wasn't Panarin's night.
I think you get my point.
---
Barring something major happening, back at it Monday night – although my work schedule might change as soon as Monday.
Presently, my work hours are expected to change to 3PM-11PM – something I'm hoping to get out of as soon as possible.
However, the Rangers don't pay my bills and I have grown accustomed to eating every day and having a roof over my head.
In other words, unlike Vitali Kravtsov, I can't tell my employers, "screw you guys, I'm going home!"
Should my hours change (and it's pretty much a given that they will); obviously my "live tweeting" during games will cease, where if you don't already know – I use my tweets as notes whenever writing these game reviews.
However, should my hours change, I'll just watch the games back on my DVR (and turn my phone off completely – I don't want any spoilers – as I don't want anyone to influence my opinions) and then write these blogs afterwards.
Thanks for all of your support, where if you really want to show your support, purchase my books listed below! A man needs beer money!
See ya Monday night!
PLUGS TIME!
---
My first plug of tonight's blog – the mandatory plug for my book, "The New York Rangers Rink of Honor and the Rafters of Madison Square Garden."
As mentioned previously, the book is now available in hardcover, in paperback and in Kindle formats. To purchase a copy of the book, visit this link:
https://www.amazon.com/Rangers-Rafters-Madison-Square-Garden-ebook/dp/B09CM5N2WD
For those still looking for signed paperback versions of the book, I have re-ordered more copies. I now have a few signed copies for sale at $25 a pop (includes shipping price) through me directly. Here is all the information on that:
---
My four-volume set of books, "One Game at a Time – A Season to Remember," is a game-by-game recount of the Rangers 2021-22 campaign.
My second title as an author, "One Game at a Time – A Season to Remember," is now available in eBook, paperback and hardcover formats.
To obtain signed copies, visit: https://bluecollarblueshirts.com/onegamebook/
To purchase all four volumes on Amazon, visit: Amazon.com – "One Game at a Time."
---
Here are my last few blogs, in case you missed them:
---
---
---
If you haven't already, subscribe to this blog for the next update:
---
Don't forget to pre-order my new four-volume set of books, "Tricks of the Trade!"
If you don't pre-order through me, all four volumes will also be on sale over at Amazon.com
For more details, check out: https://bluecollarblueshirts.com/tricksofthetrade/
See ya Thursday night!
Thanks for reading.
LET'S GO RANGERS!
Sean McCaffrey
BULLSMC@aol.com
@NYCTHEMIC on the Tweeter machine