Greetings and salutations everyone and welcome to another blog here on BlueCollarBlueShirts.com. Talk about a non-stop weekend of sports – even with the Rangers idle during the past two days – but a Blueshirt team we'll soon discuss.
This weekend was a sneak-preview, a "soft opening" if you will, of the "sports equinox" – as come Tuesday, October 18th – the NBA, and their special brand of basketball, the 5 vs 5 three-point variety, will join the NFL, the MLB and the NHL in presenting active competition to their fans.
And if you're a fan of the UFC and NCAA Football too – your couch is getting fixed for a permanent ass-indentation soon – providing you haven't already left two cheek marks on your sofa! (However, the less said about my couch, the better!)
(Public Service Announcement: don't forget to vacuum up the crumbs before going to bed! And those pizza boxes and beer cans? Trash them or forever live the life of a hoarder!)
Between the MLB Playoffs, Tennessee's thriller over Alabama, NFL Sunday, a UFC non-PPV event, a major boxing heavyweight title fight and the NHL in full-swing too – sports fans may have only left their couches to use their restrooms this weekend. And who knows – even that may be debatable!
(FYI: due to plumbing issues, my toilet/beer cooler/recliner remains inoperable!)
Yes, this is a hockey site/blog, but I have to say the following two things before pressing on, which in a way, are both somewhat Ranger-related:
1 – The Yankees will play a do-or-die Game Five in the Bronx on Monday night, as they look to beat the Guardians and play for the pennant, in an ALCS rematch with the cheaters from Houston.
In turn, if you're looking to attend Monday night's Rangers vs Ducks game – you're in luck. The secondary market will take a major hit and this will be one of your best chances to attend a Rangers' game at M$G on the "cheap."
2 – I know it's happened a few times before during my lifetime, so pardon my exaggeration – but off the top of my head – I can't think of the last time where both the Giants and the Jets were still alive, and in the thick of things, come Halloween time.
While we're still two weeks away from little kids banging on your door and looking for free sweets, as if they were one of these adult cretins who beg for free crap at the glass during Ranger warm-ups – both the Giants and the Jets are looking great – something that both fan-bases deserve after many (and many) down years.
And similar to how the Yankees have been destroying the Rangers' secondary ticket market – should the Giants and the Jets make the playoffs (I know – plenty of time left – you don't need to remind me) – Ranger fans not looking to break the bank may get another reprieve in January, when the NFL Playoffs commence.
---
As repeatedly noted on this site for over the past year, I've been contributing articles to Stan Fischler, articles that "The Maven" later uses on both NHL.com and in "The Hockey News."
And as also relayed to you on numerous occasions – the 2021 United States Hockey Hall of Famer usually chops/edits my work, due to his own space specifications – specifications that I don't have to abide by on this site!
During tonight's blog, I'm going to share two recent pieces that I've written for Fischler, two articles that should interest any fan of the Rangers.
The first piece pertains to what I brought up a few blogs ago, when my buddy, Mike "The Esquire," first chirped this into my ear – Mika Zibanejad should be considered for the Frank J. Selke Trophy. I'll lead with that tonight.
Following my argument for "Monitoring Mika;" I have also included a few "JUST SAYIN'S," mainly exclusive to the Metropolitan Division, and thoughts gathered after watching all of the Islanders, Flyers, Devils, Capitals, Penguins, Canes and Blue Jackets action from this weekend.
I'll then close with news and notes from Sunday's Rangers' practice – where we do have a few things to discuss – including the return of Ryan Strome to M$G.
Let's roll.
---
Francis Joseph Selke, a nine-time Stanley Cup champion and a Hall of Fame Class of 1960 inductee too (as a builder), made his legacy in the NHL after decades spent with both the Toronto Maple Leafs and the Montreal Canadiens.
Selke, who passed away in 1985 at the age of 93, forever lives on, as an NHL year-end award in his namesake, "The Frank J. Selke Trophy," annually honors a forward "who demonstrates the most skill in the defensive component of the game."
The trophy, which was founded in 1978, was the final year-end award paid in tribute to a general manager from the Original Six era.
Prior to the inception of the Selke Trophy, the NHL had already instituted the Art Ross Trophy (1947), the James Norris Trophy (1954), the Conn Smythe Trophy (1965) and the Jack Adams Trophy (1974).
(Perhaps one Original Six g.m. omission from these NHL exclusive year-end trophies? Lester Patrick. However, "The Silver Fox" does have a trophy in his honor, founded in 1966, and an award that honors one's "outstanding service to hockey in the United States." As opposed to the other trophies, the Lester Patrick Trophy is not limited to only NHLers. My pal Stan Fischler can tell you more about it – after all, he won the trophy in 2007!)
Similar to most NHL year-end trophies, the candidates for the Selke Trophy are repetitive.
While we can look at the histories of all of these trophies at another time; needless to say, in modern times, once a player becomes a candidate or a winner of a trophy – these players are usually up for consideration in the seasons that follow.
A player really needs to break the mold in order to become a candidate for a trophy. Until that happens, and more times than not – it's frequently the same collection of players that are considered for these prestigious honors.
Case in point? Patrice Bergeron, a perennial candidate for the Selke Trophy and a five-time winner himself. Boston's premier center is also the most recent winner of the trophy, having won it in 2022.
(Conversely, one can look at Colorado's Cale Makar as a player who "broke the mold," as is evident by his 2022 Norris and Smythe Trophy wins.)
Unlike other NHL year-end trophies, the Selke is decided in a more arbitrary fashion.
While the rise of analytics have become a factor in deciding winners in recent years; when compared to the other year-end trophies listed above (and you can also include other trophies, such as the Vezina Trophy), voters of the Selke Trophy can't just look at the black-and-white stats when determining a winner.
Yes, stats and analytics can help – but the eye-test is the best tell-all.
Perhaps contrary to popular belief, the Selke Trophy isn't purely a "defensive forward" award – just like the Norris Trophy – which is supposed to honor the best defenseman in the league – but a trophy that's now exclusive for offensive-defensemen.
Throughout its history, the Selke Trophy has been routinely handed out to prolific scorers, including Doug Gilmour (127 points in 1992-93), Sergei Federov (120 points in 1993-94 and 107 points in 1995-96), and Troy Murray (99 points in 1985-86).
Scorers from the salary-cap era have also been well-represented, including Pavel Datsyuk (97 points in both the 2007-08 and 2008-09 seasons, and who then won the award in 2010 following a 70 point season), Anze Kopitar (92 points in 2017-18) and Ryan O'Reilly (77 points in 2018-19).
Bergeron, last year's winner, scored 65 points for the Bruins during the 2021-22 season. Funny enough, the two runner-ups for the trophy outscored him. (Elias Lindholm, who scored 82 points, and 2021 winner, Aleksander Barkov, who scored 88 points).
(Due to Bergeron's flirtation with retirement at the time, it was thought that he was the "sentimental" winner – although to be fair – Bergeron was worthy of winning – again.)
Another interesting fact about the Selke Trophy? Despite a left-winger, Bob Gainey, the first recipient of the trophy (and who then won it three times after first winning it in 1978 – four consecutive wins in total), the award has now become center-exclusive.
Beginning with the 2003-04 season, the final season before the inception of the NHL's hard salary-cap system, the last eighteen winners of the award have been centers.
The Selke Trophy, which has been handed out 44 times, has only been presented to flanks on nine occasions. When you consider that Gainey won the trophy during its first four years of existence; only five wingers have won it since 1981.
Enter #93 of the New York Rangers, the new $8,500,000 per-season man in the middle, Mika Zibanejad.
Perhaps my Ranger fandom plays into my argument for the Blueshirt; but let's look at the facts – and to paraphrase Larry David – "the Rangers are pretty, pretty, pretty good."
In recent years, we've seen other Rangers both win and contend for year-end trophies. Adam Fox won the Norris Trophy in 2021. Igor Shestyorkin won the Vezina Trophy in 2022. Furthermore, the Rangers' goaltender finished second-runner up for the Hart Trophy in 2022, while head coach Gerard Gallant (Jack Adams), and general manager Chris Drury (Jim Gregory Award), also finished as second runner-ups in their respective races.
In other words – "why not Mika Zibanejad for the Selke Trophy?"
The Swedish-born center has placed in previous Selke Trophy races, but has never finished better than fifteenth place. (He finished 30th overall in 2020 and 15th overall in 2022.)
However, as his bank account has grown – so has his play on the ice.
Zibanejad has become one of the top centers of the league and continues to improve season-by-season.
"Mika Magic," who will turn thirty years old on April 18th, 2023, scored 74 points for a rebuilding Rangers' club during the 2018-19 campaign. A season later, the pandemic-shortened 2019-20 season, Zibanejad was the hottest scorer of the league prior to shutdown, when he finished the campaign with 75 points in only 57 games played.
Despite a season from hell, the Rangers' 2020-21 season, where following it, Rangers' owner James Dolan cleaned house; Zibanejad still flirted with a point-per-game average, having scored 50 points in 56 games played during another pandemic-plagued campaign.
Last season, the 2021-22 campaign, Zibanejad set career-highs in assists (52) and points (81).
For a Selke Trophy that has historically honored centers who can rack up the points – Mika has that department covered.
Defensively, there is no better Rangers' forward than Zibanejad. Need evidence? Take a look at his work during Ranger penalty kills.
When #93 isn't scoring short-handed goals (or coming close to it), he's constantly clearing pucks, where he makes these high-pressure situations look easy.
Voted to the All-Star Game in 2022 (he didn't play in the game, as he had personal matters to attend to at the time), Zibanejad is usually matched-up against the elite lines of the league – where more times than not – he shuts them down.
As a leader (Zibanejad serves the Rangers as an alternate captain, where he first had the "A" affixed to his sweater during the 2018-19 season); perhaps one detriment for Mika's case as a Selke Trophy winner is his faceoff percentage at the dots. However, Zibanejad's faceoff winning percentage numbers have increased season-by-season.
Following a 2020-21 campaign where Zibanejad finished 46.3% at the red dots; he boosted his percentage to 52.3% last season.
Zibanejad's willingness to block shots should also be considered, as he stepped in front of 47 pucks last season, while also forcing 62 turnovers. In comparison, Bergeron blocked 45 shots and forced 37 turnovers during the 2021-22 campaign. Only Bergeron's faceoff percentage, 61.9%, trumped Zibanejad's.
Zibanejad, a three zone player and who also plays on the Rangers' first penalty kill and power-play units, deserves to be considered for the Frank J. Selke Trophy in 2023.
While there is plenty of the season left to be played; "Monitoring Mika" should be an objective of every member of the voting panel, the Professional Hockey Writers' Association (PHWA).
To quote NBA legend Charles Barkley, "anything less would be uncivilized!"
---
As noted above, sometimes Fischler asks me to write a few quick hits for his "JUST SAYIN'" segments. Here are the ones I submitted to him following this weekend's events – where yep – I know the season is young!
---
— We're only one week into the season, but I'll take a self-pat on the back for some of my preseason predictions – you have to take them when you can get them! Among them, the following:
— If there was any prediction I felt the strongest about, it was that the Minnesota Wild erred when showing the money to Marc-Andre Fleury, rather than paying Kevin Fiala. In only four periods played, the 2021 Vezina winner has given up eleven goals. Fiala is currently averaging a point-per-game in his new home in Los Angeles.
— Lindy Ruff will be the first coach fired this season. It only took forty minutes into the Devils' Saturday night home-opener for loud chants of "FIRE LINDY" to bounce around "The Rock."
— While most pundits have the Devils pegged above the Flyers this season – I think John Tortorella's orange team will outperform the red-and-black attack – something I've said from day one of this off-season.
— The Flyers are already 2-0 (with a win over the Devils) while the team from Newark is 0-2 – and have given up five goals per game. Devils goaltending, and as has been the case for a while, remains suspect.
— For all of the chatter about a nuclear showdown between Torts' and the hometown kid Tony DeAngelo? The defenseman is leading the team in ice time and is averaging a point-per-game, with both a goal and an assist to his ledger. As predicted, Torts' and DeAngelo are cut from the same cloth. They'll do good together, just like how Carter Hart will thrive under his new head coach – the 2004 Stanley Cup champion who also has two Vezina Trophy winners under his belt.
— The Maple Leafs have rebounded after an embarrassing first game of the season loss to their oldest rival, the Canadiens. The Leafs have gone 2-0 since, but were their squeaker wins over the Capitals and Senators that impressive?
— I didn't unearth anything new when I predicted that the Capitals status as a perennial playoff contender would cease this season.
— Ovechkin's club, now the oldest team in the league, and who are also crushed with injuries, don't look good at all. As said when it first happened – the decision to pay Darcy Kuemper was mind-boggling – a goaltender that was extremely fortunate that his only competition on the net-minder free agent market was Jack Campbell.
— Conversely, the other perennial playoff team from the division, the Penguins, do look good. I think they have another playoff run in them, especially with Sidney Crosby lighting lamps, but I also foresee another first-round exit. Should that happen, that will be their fifth consecutive first-round ouster.
— The Hurricanes haven't missed a beat since shaking up their roster – although they haven't faced any contenders either. Currently 2-0 with wins over both the Blue Jackets and the Sharks, the Canes take on another lowly team on Monday night, the Kraken.
— The Blue Jackets, who I didn't think would improve too much because of just one acquisition (albeit a major one at that, in Johnny Gaudreau), are 0-3 and where they been blown out of the water in all three of their games – games where they were able to tie, only to then give up a barrage of goals later. (4-1 loss to the Canes, 5-2 loss to the Lightning and a 5-2 loss to the Blues.)
— The Islanders, clawed by the Cats in their first game of the season, responded in fashion – by blowing the Ducks out of the water to a tune of 7-1 on Saturday night. Maybe Lou Lamoriello's faith in his team was well-advised. Then again, maybe the Ducks swam too far when making making the early season trip from Anaheim to the east coast.
— As a New Yorker and a Madison Square Network Subscriber (and yes, I'm a diehard Blueshirt backer too), I must admit that the Devils and the Islanders have better broadcasts than my favorite team.
— For my money, the Devils' Kenny Daneyko is the best color analyst in the tri-state area. Butch Goring is also entertaining (I know most Ranger fans can't stand him – but I don't mind a homer – after all, I'd like to see a Ranger legend homer on their broadcasts), while Goring's partner, Brendan Burke, is the best play-by-play man on the MSGN. Should Kenny Albert ever replace Sam Rosen – that opinion will change.
— And that's not a knock at Sam Rosen, nor at Joe Micheletti either. It's just to say that Rosen lost his fastball years ago, although he still remains enjoyable – for different reasons – and in a "grandfatherly" type of a way.
— Micheletti, as opined in the past, is doing two jobs these days (literally too – as he's the emergency fill-in for both Islander and Devil broadcasts whenever someone is sick and/or unavailable), as more often than not, when he's not describing the action on the ice – he's covering for Rosen's daily follies. But hey – who doesn't love Sam Rosen – especially whenever he's cheerfully proclaiming, "it's a power-play goal!"
— While on the topic of MSGN broadcasts, I prefer the organic in-arena intermission segments that both the Isles and Devils provide. The Ranger studio segments, featuring the often nauseating Steve Valiquette, are forced, dry, too slickly produced and rarely pertain to the game at hand.
---
FINAL THOUGHT
Social media has erased the age old adage – "innocent until proven guilty."
I hope the same people who brought attention to the Ian Cole allegations use an equal amount of effort and energy when reporting that these allegations were proven false.
Sadly, Cole's name will forever be linked to these baseless accusations. Don't believe me? Google his name.
If you haven't read it already, I first commented on the Ian Cole allegations last week. You can find that blog here: https://bluecollarblueshirts.com/101022/
As said then, and as I'm saying again here – I didn't want to rush into judgment – not until hearing the results of the NHL's investigation.
And as also said at the time – these allegations are not new in the NHL either – as Tex Rickard, founder of the Rangers, once had to endure a similar ordeal, where by the end of it – his accusers admitted that they were trying to extort him for money.
However, unlike the co-conspirators against Rickard – there is no accuser on record against Cole.
All we have is one anonymous tweet from an account that could've been created by anyone – male or female – former friend or foe.
As said a week ago – I thought that the NHL was put into a bad position.
Simply stated – these allegations went viral and were impossible to ignore.
While I also believed that Cole shouldn't have been suspended unless concrete evidence came out of the investigation – the NHL was in a "damned if we do, damned if we don't" situation – a situation created by the era of today.
I don't care about Cole's personal life, but it's true that he has a ton of detractors, following his affair with the now former television reporter in Carolina, Abby Labar.
For all I know, the person behind the Twitter account, who accused Cole of one of the most heinous things one can be accused of, was a spurned lover and/or someone involved in that messy situation.
The idea that anyone can accuse anyone of anything, without fear of consequences, is scary to think about.
Take a two-minute timeout here and just put yourself in Cole's skates.
Yeah, maybe you've done some wrong stuff in your life (no one's perfect), but being accused of having sex with a minor is the ultimate crime – the worst type of crime. Just ask anyone who's ever spent time in the real "sin bin" – prison.
The NHLPA also released a statement on Saturday, one that I 100% agreed with:
Here's the thing – if the NHL and the Bolts suspended Cole after an anonymous allegation – what's to prevent copycat incidents?
I'm a Ranger fan. I hate the Islanders. If I created a fake Twitter account and accused an Islander of having sex with a minor – would that player be suspended too?
And hey, come the playoffs – if Cole can be suspended without merit or proof of the allegations against him – why not accuse every player from the opposing team for the same thing?
The NHL, again, in a tough situation, set a dangerous precedent here.
I don't think there is a right answer, at least not from a public perspective point-of-view; but I do believe the league should've just said they were aware of the allegations and would investigate. Instead, they temporarily jailed Cole without a trial – where it also should be said that Cole was paid throughout the suspension.
If there's anything that bothered me, it was how some people were mad about the NHL's investigation. It felt like these people were hoping that Cole committed this crime. That's what you're rooting for? Cole defiling a child?
For me, I'm happy to hear that none of this was true – although I'm not happy with how this story was handled.
Who knows, maybe down the line, whoever made these allegations will be brought to the light.
Conversely, maybe this really did happen, but if the accuser isn't going to publicly speak out about it – then you can't expect any punishment to be doled out. These allegations, serious as they are, needs a name/face behind them.
I just hope that whoever made these allegations is discovered.
This is serious stuff that you can't take lightly. If true, this person should go on record. If false, this person should be sued and jailed for slander.
Making allegations, especially one of this nature, should have consequences – and should have a face behind it too.
We saw Kyle Beach step-up, and in turn, he's now helped to change the culture in the NHL.
If it wasn't for him, a sexual predator would still be able to prey without detection. I respect what he did. It couldn't have been easy, especially having to relive the horror that he experienced.
In the same vein, and this just isn't about the NHL, this is about society in general – there needs to be major punishment handed out to anyone who dares to make such an allegation as this one – especially if false/made-up.
As noted at the top of this – should this accuser ever be found and should this all prove to be a hoax – no matter what – these allegations will forever be linked to Cole's name. That's messed up.
Let's now talk about a better subject – the 2022-23 New York Rangers.
---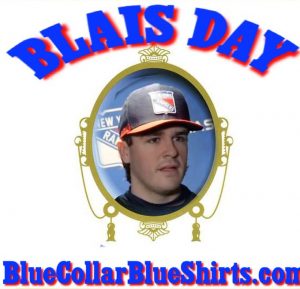 On Sunday, prior to NFL kickoff, the Rangers reconvened for practice. As a result, we do have updates on the following players:
— Vitali Kravtsov was back on the ice, but skating in a non-contact jersey. He's not expected to play on Monday.
— Sammy Blais was back on the ice, and he's ready for contact – and ready to play his first NHL regular season game in nearly a year.
— Ryan Carpenter was not at practice. Gallant hit his go-to line of "day-to-day" when discussing Carpenter's status. While we know that Carpenter was cut up by a skate on Friday night; if there is any silver-lining here, it's that Carpenter is "day-to-day" rather than on the injured-reserve.
In other words, what could've been something serious wasn't as bad as it could've been.
Speaking of Gallant, here is Sunday's edition of "TURK TALK":
---
Here were the lines that practiced on Sunday, lines that are most likely to be seen on Monday night:
FIRST LINE: Kreider/Mika/Kakko
SECOND LINE: Panarin/Trocheck/Lafreniere
THIRD LINE: Vesey/Chytil/Blais
FOURTH LINE: Hunt/Goodrow/Reaves
Defensively, we saw:
FIRST PAIR: Miller/Trouba
SECOND PAIR: Lindgren/Fox
THIRD PAIR: Hajek & Jones alternating with Schneider (I think Jones will play on Monday, as the two 3LD rotate.)
GOALIES: C'mon now, you know the deal!
Let's close with "OLD FRIEND," Ryan Strome.
---
By the time you read these words, it's Monday and the Rangers will host the Anaheim Ducks tonight at "The World's Most Expensive Arena."
As noted earlier, the Islanders blew the Ducks out of the water (har-har-har) on Saturday night, to a tune of 7-1.
In other words, expect the Rangers to struggle with the Ducks – especially if Strome had them partying on Sunday night!
(I don't know this for a fact, but I wouldn't be shocked to hear that Strome was hanging out with Panarin and company on Sunday.)
While I expect Gallant's Gang to handle business, more times than not, whenever a team (especially one from the west coast) gets blown out by the Islanders or the Devils, that team tries to overcome their previous embarrassment against the Rangers.
(And yes, this works both ways too – as whenever the Rangers humiliate a Western Conference team, that team usually shows up against the Islanders and Devils – the two other area teams on these loops.)
Of course, aside from the Rangers looking to maintain their pristine and perfect record at home (albeit, 1-0), the biggest pregame story is the return of Ryan Strome, the first of three "OLD FRIENDS" to appear at M$G during the Rangers' next four games. (As noted last blog, both David Quinn and Alexandar Georgiev will take on their former team during this current Blueshirts' home-stand.)
To a lesser extent, Frank Vatrano will also face his former team on Monday night.
Prediction: the Rangers will give both Strome and Vatrano their own "thank you" video packages.
While I know that these "thank you's" don't mean anything in the grand scheme of things; suffice to say, Strome meant a heck of a lot more than Vatrano did for the Rangers. He deserves it.
For those wanting more about Strome, here is one link that covers it all, a link that also features a sample chapter of my upcoming four-volume set of books (pre-order today – link below), "Tricks of the Trade": https://bluecollarblueshirts.com/71522/
Another thing worth mentioning? The Ducks' starting goalie, John Gibson, started on Saturday.
With the Ducks now on the first game of a back-to-back set (they play the Devils on Tuesday), perhaps the Rangers will see the Ducks' back-up, a former Flyer, Anthony Stolarz.
One last prediction? The Rangers win the game by a final score of 4-0! (What, you expected something else?)
PLUGS TIME!
---
My first plug of tonight's blog – the mandatory plug for my book, "The New York Rangers Rink of Honor and the Rafters of Madison Square Garden."
As mentioned previously, the book is now available in hardcover, in paperback and in Kindle formats. To purchase a copy of the book, visit this link:
https://www.amazon.com/Rangers-Rafters-Madison-Square-Garden-ebook/dp/B09CM5N2WD
For those still looking for signed paperback versions of the book, I have re-ordered more copies. I now have a few signed copies for sale at $25 a pop (includes shipping price) through me directly. Here is all the information on that:
---
My four-volume set of books, "One Game at a Time – A Season to Remember," is a game-by-game recount of the Rangers 2021-22 campaign.
My second title as an author, "One Game at a Time – A Season to Remember," is now available in eBook, paperback and hardcover formats.
To obtain signed copies, visit: https://bluecollarblueshirts.com/onegamebook/
To purchase all four volumes on Amazon, visit: Amazon.com – "One Game at a Time."
---
Here are my last few blogs, in case you missed them:
---
---
---
If you haven't already, subscribe to this blog for the next update:
---
Don't forget to pre-order my new four-volume set of books, "Tricks of the Trade!"
If you don't pre-order through me, all four volumes will also be on sale over at Amazon.com
For more details, check out: https://bluecollarblueshirts.com/tricksofthetrade/
See ya Monday night, after the game.
Thanks for reading.
LET'S GO RANGERS!
Sean McCaffrey
BULLSMC@aol.com
@NYCTHEMIC on the Tweeter machine