Greetings and salutations everyone and welcome to another blog here on BlueCollarBlueShirts.com. Are you ready?
By the time you read these words, it will be GAME DAY, as the Rangers host the Tampa Bay Lightning this Tuesday night, at Madison $quare Garden, with a puck drop scheduled for 7:30PM.
Be advised – this game will air on ESPN/ESPN Plus – and not on the M$GN.
(In other words – no Vally – this season is already off to a hot start! However, for you fellow gluttons for punishment – keep on reading – you can still find the M$GN crew on Tuesday night.)
During tonight's blog, I'll catch you up on all of the latest news and notes from Rangerstown, USA. Once doing so, I'll then give you a dozen predictions on the Rangers and their 2022-23 season.
Unfortunately, I'll also get into the Ian Cole stuff – serious allegations which I hope are false.
And if you decided to enjoy an extended nap during the summer and into the preseason, here are two links that will catch you up on everything:
2022-23 NHL Season Preview and Off-Season Recap – https://bluecollarblueshirts.com/2223/
Rangers Off-Season Refresher/Recap – https://bluecollarblueshirts.com/92622/
Let's roll – and let's roll in a chronological fashion – where admittedly, our first few stories are things that we all predicted/already knew – and then became official over the past 24 hours.
---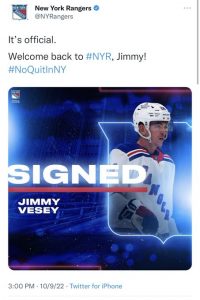 During the past few weeks, and even as recent as the last time I wrote on this site (https://bluecollarblueshirts.com/10822/ ), I've repeated the same thing – Chris Drury will give Jimmy Vesey a contract.
Other predictions made during this same time frame? Jarred Tinordi, Matt Bartkowski and Julien Gauthier wouldn't make the final cut.
On Sunday, all of these obvious predictions rang true.
Let's start off with Jimmy Vesey, as he's the one that will be with the Rangers for the 2022-23 season.
Here's how the Rangers reported it, courtesy of https://www.nhl.com/rangers/news/rangers-agree-to-terms-with-jimmy-vesey/c-336212368?icmp=int_web_nyr_news_rightrail:
New York Rangers President and General Manager Chris Drury announced today that the team has agreed to terms with forward Jimmy Vesey on a one-year contract.

Vesey, 29, played in five preseason games for the Rangers while attending Training Camp on a Professional Tryout (PTO). He registered one goal and two assists for three points, tied for the third most on the Blueshirts in the exhibition season.

Vesey returns to the Rangers after playing three seasons with the club from 2016-17 to 2018-19. With the Blueshirts, Vesey recorded 50 goals and 40 assists for 90 points in 240 games. In 2018-19 with New York, Vesey notched career-highs in points (35), assists (18), games played (81) and tied his career-high in goals (17). That season, he also recorded a career-high 154 shots on goal.
Last season, the Boston, Massachusetts native skated in 68 games for the New Jersey Devils, tallying eight goals and seven assists for 15 points. Two of his eight goals came shorthanded.

In six NHL seasons with the Rangers, Devils, Vancouver Canucks, Toronto Maple Leafs and Buffalo Sabres, Vesey has accumulated 135 points (72G-63A) in 422 games. On February 15 of last season, Vesey played in his 400th career NHL game.

Prior to his professional career, Vesey played four seasons at Harvard University, registering 80 goals and 64 assists for 144 points in 128 games. He captured the Hobey Baker Award as the NCAA's top men's ice hockey player in 2015-16.

Vesey was originally drafted by the Nashville Predators in the third round, 66th overall, of the 2012 NHL Draft. He then signed with the Blueshirts as a free agent on August 19, 2016.
---
While other teams across the league report their own financials, the Rangers do not.
Rather than running down Vesey's history again, both on the ice and contractually, check out: https://bluecollarblueshirts.com/tricksofthetrade/
If you click that link, you'll find my Jimmy Vesey sample chapter from my upcoming four-volume set of books, "Tricks of the Trade – A Century-Long Journey Through Every Trade Made In New York Rangers' History," where Vesey's entire career is covered.
Vesey, who began his career (2016-17) earning $3,775,000 per season, will earn three million dollars less than that this season, as he and Drury agreed to terms on a one-year deal worth $750,000. That figure is also $50,000 less than what Vesey earned last season with the Devils ($800,000).
You can revisit the archives of this site for my game-by-game recaps of the Rangers' six exhibition matches, but needless to say – when it came to the players who were fighting for a roster spot, it was Vesey, on a PTO, who out-played the competition – a field of players which included Julien Gauthier, Dryden Hunt, Gustav Rydahl, Jonny Brodzinski, Ryan Carpenter and Vitali Kravtsov.
Unfortunately for Gauthier, he is the odd-man out and for several reasons at that, including:
— He couldn't score in a 1800s brothel with fistfuls of $100 bills in his hands.
— He doesn't have a relationship/history with Gallant like Hunt and Carpenter do.
— The Rangers weren't going to run the risk of waiving Kravtsov, due to the obvious reasons as previously discussed on this site.
— And most important – Vesey was significantly better – where #26 also provides value on the Rangers' penalty kill.
When the Rangers made it as official as a ref's whistle with Vesey; also on Sunday, the Rangers waived Gauthier and Jarred Tinordi. And as opposed to Vesey, who earned a contract after playing well during his PTO; defenseman Matt Bartkowski, the only other man in camp on a PTO, did not receive a deal.
Let's get into that now.
---
While the fates of Gauthier, Tinordi and Bartowski were pretty much well-known; come Monday, the Rangers made it official.
Here's how the Rangers reported it, courtesy of https://www.nhl.com/rangers/news/rangers-trim-roster-to-23-players/c-336230414?icmp=int_web_nyr_news_rightrail:
New York Rangers President and General Manager Chris Drury announced today that the team has assigned forward Julien Gauthier to the Hartford Wolf Pack of the American Hockey League (AHL) and has released defenseman Matt Bartkowski from his professional try-out (PTO). In addition, defenseman Jarred Tinordi was claimed off waivers by the Chicago Blackhawks.

Gauthier played in three preseason games for the Blueshirts, posting 11 shots, one of five Rangers to have double-digit shot totals in the preseason. He skated in 49 games for the Rangers in 2021-22, registering three goals and four assists for seven points. Gauthier set career-highs in both goals and games played.
Bartkowski recorded one assist in four preseason games with the Rangers.

Tinordi played in seven games with the Rangers in 2021-22, scoring one goal on January 8 against Anaheim. Tinordi notched one goal and four assists for five points in 32 games with Hartford last season.

Ahead of tomorrow's season opener against the Tampa Bay Lightning, the roster breakdown is listed below:

Forwards (14): Sammy Blais, Ryan Carpenter, Filip Chytil, Barclay Goodrow, Dryden Hunt, Kaapo Kakko, Vitali Kravtsov, Chris Kreider, Alexis Lafrenière, Artemi Panarin, Ryan Reaves, Vincent Trocheck, Jimmy Vesey, Mika Zibanejad

Defensemen (7): Adam Fox, Libor Hajek, Zac Jones, Ryan Lindgren, K'Andre Miller, Braden Schneider, Jacob Trouba

Goaltenders (2): Jaroslav Halak, Igor Shesterkin
---
Let's run through these three transactions.
Up first, Bartkowski wasn't signed. No surprise there.
While "The Bartman" could always receive a deal to play for the Hartford Wolfpack; at 34-years old, and with no previous association with the club either – the Rangers may just move on. No harm, no foul.
And yes, it's always a good thing to have a few veterans on your AHL affiliate team, but I don't think that Bartkowski should be taking ice time from anyone there, just for the sake of veteran experience. However, Chris Drury, and not yours truly, will be the judge of that!
I thought it was extremely telling when Gauthier passed through waivers without issue.
While I understand that most NHL rosters are set, and those pesky words, "the salary cap" exist too – what does it say when Tinordi can find an NHL job, but Gauthier can't?
If a team like the Blackhawks, projected to be cellar-dwellers all season, are willing to pick up Tinordi's $900,000 contract, while the other 31 teams in the league thumbed their noses at Gauthier's $800,000 deal – it's my estimation that the league doesn't think highly of Gauthier.
(I don't want to spend another blog ragging on the horrendous Rangers' beat reporters, but yep – two of them reported that there was league-wide interest in Gauthier. As I always say – if it doesn't come from Larry Brooks, then don't believe it.)
Furthermore, and say what you want about his previous piss-poor attitude; had the Rangers waived Kravtsov – someone would have claimed him.
All of this just tells me that the league, as a whole, doesn't see much in Gauthier, nor desires to bother with a player that at best, is now looking to become a "reclamation project."
I mean, for $800,000, you would think that an upstart team like the Kraken would be interested. So much for that!
And yep – as I said when Drury first re-signed Gauthier back on July 1st – I never understood why the general manager brought back the struggling forward, the Gene Carr of his own generation.
While I didn't predict that Vesey would receive a PTO, and then earn a deal too; with the Rangers pressed against the salary cap this season – every penny counts – pennies I wouldn't have awarded a player who never met a net that he couldn't miss.
Tinordi, who now has a better shot of playing in the NHL this season with Chicago rather than had he remained in New York's organization; "The Tin Man" enters the Windy City on the final year of his two-year contract.
It's my opinion that the Blackhawks did the Rangers a solid here.
While Tinordi's contract wouldn't have counted against the Rangers' cap; his departure just opens up a spot for the younger and promising defensemen that are looking to howl in Hartford.
One last news item from Sunday, and then we'll move into Monday's news, followed by my twelve bold and not-so-bold 2022-23 predictions.
---
On Sunday, the Rangers announced that Brennan Othmann was the 2022 winner of the Lars-Erik Sjoberg award – where really, there weren't that many other options, due to the lack of productive rookies at camp this year.
For Othmann, it's a nice feather in his cap. Heck, he could win it again next year too!
For the Rangers and their fans – this award doesn't really mean much – especially since you know, Othmann's bid for the Calder Trophy won't be taking place this season.
While there have been some major names to win this award (Mike Richter and Henrik Lundqvist stand out); for every winner that went on to enjoy an excellent career, there's also players like Jamie Lundmark, Lias Andersson and Matt Gilroy who also won this award.
Here's the Rangers' press release on Othmann's victory, courtesy of https://www.nhl.com/rangers/news/brennan-othmann-named-winner-of-2022-lars-erik-sjoberg-award/c-336207262?icmp=int_web_nyr_news_rightrail:
The New York Rangers announced today that forward Brennan Othmann has been named this year's winner of the Lars-Erik Sjoberg Award, which is given annually to the top Rangers rookie in Training Camp as selected by the media.

Othmann, 19, led all Rangers rookies with two assists/points in two preseason games for the Blueshirts. The Blueshirts' first round selection, 16th overall, in the 2021 NHL Entry Draft also recorded two shots and two penalty minutes in his two contests.

The Scarborough, Ontario recorded both of his assists/points in New York's preseason opener against the Islanders where he also was a plus-1 and named the game's first star. Othmann ranked sixth among forwards in that contest in ice time with a 14:37 clip.
In 2021-22, Othmann captained the Flint Firebirds of the Ontario Hockey League (OHL), where he recorded 50 goals and 47 assists for 97 points in 66 games. Last season, he ranked second in the OHL in goals and seventh in points. He was also named to the OHL First All-Star Team.

The Lars-Erik Sjoberg Award, which was first presented in 1988, honors the memory of Lars-Erik Sjoberg, who was the Rangers chief European scout for eight years. During his tenure with the Blueshirts, Sjoberg played a prominent role in the team's decision to draft Europeans such as Tomas Sandstrom, Jan Erixon, and Ulf Dahlen. Prior to joining the Rangers as a scout, Sjoberg played five seasons with the Winnipeg Jets during their time in the World Hockey Association (WHA), and he also skated with Winnipeg in its inaugural NHL season in 1979-80.

LARS-ERIK SJOBERG AWARD WINNERS
1988 Mike Richter
1989 Troy Mallette
1990 Steven Rice
1991 Tony Amonte
1992 Peter Andersson
1993 Mattias Norstrom
1994 Mattias Norstrom
1995 Niklas Sundstrom
1996 Eric Cairns
1997 Marc Savard
1998 Manny Malhotra
1999 Kim Johnsson
2000 Filip Novak
2001 Dan Blackburn
2002 Jamie Lundmark
2003 Dominic Moore
2005 Henrik Lundqvist
2006 Nigel Dawes and Brandon Dubinsky
2007 Marc Staal
2008 Lauri Korpikoski
2009 Matt Gilroy
2010 Derek Stepan
2011 Carl Hagelin
2013 Jesper Fast
2014 Anthony Duclair
2015 Oscar Lindberg
2016 Jimmy Vesey
2017 Filip Chytil
2018 Lias Andersson
2019 Adam Fox
2021 Nils Lundkvist
2022 Brennan Othmann
Congrats to Othmann. See ya next season.
---
On Monday morning, the Rangers confirmed what we all thought – with Jacob Trouba now as captain, and Ryan Strome in Anaheim too; the four remaining alternate captains from last season, Barclay Goodrow, Mika Zibanejad, Chris Kreider and Artemi Panarin, will all wear the "A" on their sweaters this season.
While the breakdown wasn't announced; I expect Kreider and Zibanejad to wear the A during home games, while Panarin and Goodrow to wear the A during road games (or vice-versa – either way – I think Kreider & Zibanejad will wear the "A" on the same nights).
Head coach Gerard Gallant talked about this decision, among other things, following the Rangers final practice of training camp:
---
When talking about the team's decision to run it back with Goodrow, Zibanejad, Kreider and Panarin, "The Turk" basically said what I've been saying during the past few weeks:
"It was a good group and it was tough. You hate leaving out guys too. There are a lot of guys knocking on the door for these roles.

"I just think that last year we had a great group. Why would I change it and take it away from those guys? They are good people and did a good job. As I always talk about, it takes 23 guys to be leaders in our group and that is the big part. They have their senior leadership group, but they include everybody in there. That is what is really important."
You don't have to sell me!
Speaking of Monday's practice, that brings us to this, the "EXPECTED" lines for Tuesday's home-opener.
---
Before getting into Sammy Blais and Vitali Kravtsov, there's this – the Rangers will enter the 2022-23 season with a 23-man roster – where many expect (and Gallant has previously said this too) that the roster will soon drop to 22-men, as the team tries to accrue cap space for the 2023 NHL Trade Deadline. (We've covered all of this before.)
(And while I'll bring up those two words that everyone is starting to dread, "Patrick Kane;" if such a deal is to happen, the Rangers will have to punt a salary to Hartford – unless Chicago is interested in becoming investors in the law firm of "Hunt and Carpenter.")
That now brings us to Blais and Kravtsov, where if the former didn't receive an injury on Saturday night, then it was expected that he'd be in Gallant's line-up on Tuesday night – and not the disappointing & mercurial Russian.
On Monday, the Rangers announced that Blais wasn't practicing and that he wouldn't be available against Tampa.
As of this writing (and this could change by the time you read this) – Blais isn't on the injured reserve list, nor on the LITR either.
For as lucky as Kravtsov may currently be right now, the opposite applies to Blais.
As brought up to yours truly repeatedly on Monday (and astutely at that – credit to this 30-person Twitter thread that I'm involved in – I don't always agree with everyone – but I respect/enjoy getting different opinions) – Blais has never played in more than forty games during a single season.
While his status as a role-player is factor; injuries are also a reason why Blais has never played in more than 50% of games during a traditional regular season.
(In the effort of presenting you the whole story, the 2019 Stanley Cup champ played in 36 games for the Blues during the pandemic-plagued 2021 56-game campaign.)
I know that many people think that Blais may be snake-bit, as if were Antti Raanta in Arizona (and maybe that's true); but the biggest injury he suffered during his career took place last season, the P.K. Slewban incident.
Outside of the dirty work committed by the recently retired Devil, Blais has endured routine injuries that you see everywhere else in the league – where to be fair – he's had more of his fair share when compared to others.
As brought up last blog, if there was anyone rooting for Blais to miss time, it was Kravtsov himself.
(And I'm not suggesting that Kravtsov is actively rooting for injuries, but as it goes (and this is human nature too) – injuries open up opportunities – especially for a player that was expected to spend Tuesday night upstairs in the press box.)
---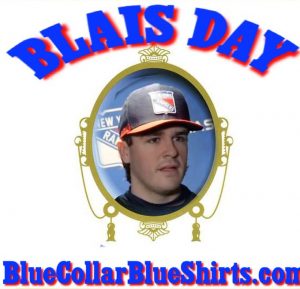 With Blais unable to participate at Monday's practice, Gallant dressed these lines, lines that we'll most likely see on Tuesday, with a question mark only surrounding the fourth line:
FIRST LINE: Kreider/Mika/Kakko
SECOND LINE: Panarin/Trocheck/Kravtsov
THIRD LINE: Lafreniere/Chytil/Goodrow
FOURTH LINE: Hunt/Carpenter/Reaves/Vesey
As you can see, a decision hasn't been rendered yet, in regards to the Rangers' fourth line.
My prediction? Carpenter, since he's a natural center, will play.
Reaves, because of his energy, fan-favorite status, the fact that this game is the home opener, and the whole marketable "SHESTY, RELEASE US!" stuff, will play. (There's also a few tough guys on the Lightning roster, so Reaves could be useful as a deterrent.)
For the final spot on the line, I see Jimmy Vesey getting the nod over Hunt, especially due to Vesey's abilities to kill penalties.
Plus, the Rangers/Drury just went out of their way to sign him, thus increasing their salary cap figure. Why pay him to sit him?
And for what it's worth, I thought that Vesey had a better camp than Hunt too – although Gallant has routinely praised Hunt whenever possible – as the head coach should. This isn't the Jeff Gorton era anymore!
Defensively, what we all expected is what Gallant dressed:
FIRST PAIR: Lindgren/Fox
SECOND PAIR: Miller/Trouba
THIRD PAIR: Jones/Schneider
As was often the case last year, Libor Hajek will be spending Tuesday night checking out MSG's food options, rather than suiting up.
In the same vein of the Blais/Kravtsov stuff, you know that deep down, Hajek is hoping for Jones to get off to a slow start.
Unless Schneider has one of the worst sophomore slumps in history – it feels like the only way Hajek cracks into the line-up, barring injuries, is if Jones has a rough go of it.
Goaltender wise – c'mon man – you know it already! CZAR IGOR will start and "The HALAKNESS MONSTER" will back-up the 2022 Vezina Trophy winner.
Let's now get into the main event of this blog, some season predictions, and then close with a few parting words on Rangers vs Lightning, the rematch.
---
If there's one thing that needs to be noted before getting into the predictions – it's the Rangers' issues with the hard salary cap.
Unlike last year, where Drury had eight figures to work with; the general manager enters the 2022-23 campaign with only $183,531 to play around with, money which will accrue as the season moseys along. (The near $10M raise that Fox received is the biggest reason for this – but hey – the 2021 Norris Trophy winner had to get paid.)
Here's all of the information, courtesy of CapFriendly.com:
The #NYR roster appears to be set:

Projected Cap Hit: $82,316,469
Projected Cap Space: $183,531
Roster Size: 23 (14F – 7D – 2G)
Injured Reserve: nonehttps://t.co/9lXSQxORh8

— CapFriendly (@CapFriendly) October 10, 2022
Furthermore, some of what you're about to read next is stuff I've already predicted on this site. I just wanted to put it all in one place, so I can go back and look at these predictions at the end of the season.
---
A DOZEN BOLD AND NOT-SO-BOLD 2022-23 NY RANGERS PREDICTIONS
1 – The Patrick Kane rumors will be even more intense (and perhaps more annoying too) than the J.T. Miller rumors from last season.
For some reason, ESPN.com, and other hockey news outlets too, are King-Konging their chests, where they are defiantly proclaiming as a bold prediction, that yes, Kane will wear a #88 sweater in New York, as Eric Lindros once did.
While the prediction has merit to it; what doesn't have any merit at all is anyone saying that this educated guess is BOLD.
This rumor has been around for some time now, even going as far back to the 2022 NHL Trade Deadline.
If one wanted to be bold, they'd say that this trade happens sooner than later. Heck, an even bolder prediction? Predicting that Kane DOESN'T wind up in New York!
Bolder than that? Predicting that I will refrain from alcohol during the season!
It's pretty much impossible for the Rangers to land Kane early into the season – even if that's what would be best, in an attempt to create chemistry between Kane and his new team.
Another prediction? One way or the other, Kane won't finish the season in Chicago. (It's been reported that Colorado has interest in Kane, but just like the Rangers – the Avalanche can't do anything until their salary cap monies accrue.)
My not-so-bold prediction? The Rangers pull off a three-way deal at the trade deadline.
Kane will become the first superstar, since the days of Eric Staal (2/28/2016), and the first future Hall of Famer since the days of Martin St. Louis (3/5/2014), to join the Rangers at the trade deadline.
Why do I feel so strongly about this? The Rangers are in WIN NOW mode, and just like any other contending team, the cap will force them to shed parts during the Summer of 2023 – just as we saw this off-season.
In short – you have to strike when the iron is hot.
---
2 – Alexis Lafreniere has his best season yet.
This is another not-so-bold prediction – DUH!
In a way, I do wonder if the Rangers are trying to hold down Lafreniere a bit, due to their salary cap issues, and with the 2020 first-overall pick due for a raise in the Summer of 2023.
Of course, that's a pure conspiracy theory. Gallant doesn't care about player contracts – only Drury does.
While Lafreniere will begin the season on the third line and on the second power-play unit; #13, who scored 19 goals and picked up 12 assists last season (31 points); I believe that he'll eventually work his way up to the first line – and the first power-play unit too.
The prediction? Lafreniere finishes with 30+ goals and 50+ points.
---
3 – Artemi Panarin and Vincent Trocheck will get off to a horrendous start, but will show up big-time during the playoffs.
This is another not-so-bold prediction – and one that I've frequently repeated on this site.
As said during the preseason – these two don't have any chemistry with each other – yet.
You just couldn't expect Trocheck to waltz right in and then immediately gel with Panarin as Strome once did.
I think these two will struggle out the gate, especially with the timid Kravtsov weighing them down.
In a way, I think these two would be better off with a more defensively-minded forward on their line (think of the days of Jesper Fast in the top six), whether it be Goodrow or Vesey.
And for two veterans looking to win a Stanley Cup – I think they'd be better served with a veteran themselves, especially as they try to create chemistry – rather than being tasked to bring along a troublesome rookie.
I suspect that we'll see a lot of turnovers (mistimed passes) and horrific plus-minus numbers at the onset of the season, only for the two to put it together around Christmastime and beyond.
And yep – this is a prediction that I hope to be 100% wrong about!
---
4 – K'Andre Miller receives Norris Trophy attention
Yep – this is another not-so-bold prediction, especially with several Rangers, including Trouba and Reaves, who have pretty much said the same thing.
Miller, like Lafreniere, is looking to get a big raise during the Summer of 2023. He'll get it.
Should this prediction ring true, it will also prevent Adam Fox from becoming a two-time winner of the award, as Miller may split the Ranger vote.
And of course, there's that Cale Makar guy too.
---
5 – Kaapo Kakko doesn't fulfill his newly awarded two-year contract in New York.
I know that Kakko ended the preseason on a high note, but again – it's only the preseason.
Based on what we've seen in three seasons out of the second-overall pick of the 2019 NHL Entry Draft (where to be fair – not one of these seasons have been traditional, due to COVID-19) – will it surprise anyone if Kakko continues to struggle early into the season and then has some sort of injury/affliction again?
I understand that Kakko's natural position is at right-wing, as opposed to Lafreniere, who is a natural left-winger.
Still, I think the Rangers would be better off with Lafreniere on his off-wing with the BFF's, Kreider and Zibanejad, rather than Kakko himself.
(And please – I'm not criticizing Drury and Gallant here – no one beats their drum louder than me!)
Due to cap issues, and the fact that I think Lafreniere is the better player (more potential too), I think #13 eventually bumps #24 from the top line.
As repeated often on this site (and this point was first made by Jim S. & Eddie G. of "The Blueshirt Underground Show") – if Kakko is sitting on four or five points after twenty or so games played – that "bust" word will echo around the streets of Rangerstown, USA.
---
6 – Vitali Kravtsov doesn't make it through the 2022-23 season
After hearing about Chicago claiming Tinordi on Monday – I feel even stronger about this.
Since I'm in the "TRADE 4 KANE" camp, and believe such a trade will happen too – I think Kravtsov, along with a first-round pick (the one acquired from Dallas), is dealt to the rebuilding franchise.
And yep – I'm not a big fan of Kravtsov – but I do want him to play well.
It serves no purpose to root against him – especially if I want him traded. If he stinks, no one will want him. Asset Management 101!
---
7 – Igor Shestyorkin becomes the first consecutive winner of the Vezina Trophy since the days of Martin Brodeur (2007 and 2008)
Perhaps lost in CZAR IGOR's 2022 Vezina win? He only played in 53 games – a low figure in comparison to previous Vezina winners.
With Alexandar Georgiev now out of the mix, and a more traditional (and supportive) back-up goalie behind him too; I think #31 will hit at least 65 games this season – twelve more than last season.
Since he's already a winner (once you win an NHL year-end award, you're always in consideration to win another), and because I think we haven't seen Shestyorkin hit his prime years yet; I think CZAR IGOR is due for an even bigger season during this go-around.
The only thing that can hamper Igor's chances? Injuries. Then again, he was injured last year and still went on to dominate the Vezina voting.
Lock it up!
---
8 – Chris Kreider scores 40+ goals
It may have taken some time, but finally – Kreider is the player that everyone always thought he could be.
Coming off a career-high season, where everyone is aware of his 52 goals (fourth player to hit 50+ goals in franchise history – Vic Hadfield (50), Adam Graves (52) and Jaromir Jagr (54) being the others); I don't suspect that "CK52" will have that much of a drop-off.
While it's tough to expect fifty goals or more out of Kreider; I think he's finally put it all together, where he'll reap most of his awards during Ranger power-plays.
And for Kreider – I don't even think he cares about scoring – he's more concerned about winning the Stanley Cup – but we'll talk about that once we get to prediction number twelve!
---
9 – Mika Zibanejad flirts with a 100 point season
Zibanejad, who enters this season in Year One of his eight-year deal worth $68,000,000 overall; the first-line center will be primed to deliver. In turn, I think he will.
During Zibanejad's first season in New York, when the team was at the end of contending (and in a new environment too); Mika received an injury but still went on to score 37 points in 56 games.
During the 2019-20 season, and now with the team turning a corner a bit, while also still into their rebuild; #93 posted his best point-per-game average yet, when he scored 75 points in 57 games.
Last season, and with the team now as a contender – Mika scored a career-high 81 points in 81 games.
With his one-timer during Ranger power-plays becoming more lethal than ever before – I expect Zibanejad to return to a player that averages over a point-per-game.
My safe number? Zibanejad hits ninety points.
My bold prediction? Zibanejad hits three digits, one hundred on the nose.
---
10 – Jacob Trouba leads the team in PIM
This is another not-so-bold prediction – because after all, Trouba led the team in PIM last season (88 PIM).
However, I also see Trouba, who led the team in blocked shots last season (177), finishing first in that statistic too.
Due to Trouba's recent career resurgence and emergence, I think he will become an even bigger focus of the opposition this season – and their complaints to both the officials and the league too.
While all of Trouba's monstrous bone-crushing hits have been clean – I think the officials will err a few times, and in turn – will take the side of caution following some of these "TROO TROO TRAIN" hits.
And as far as the "C" weighing down "The Great Eight?" I don't see it. Not one iota.
I think Trouba, after two disappointing initial seasons in New York, finally feels comfortable. I believe that he will thrive in his new role.
---
11 – Filip Chytil has the best season of his career
Chytil, now 23-years old and entering his fifth season as an NHL regular (but doesn't it feel like he's been here for a decade – after all, he is the third longest tenured player on the club, behind Kreider and Zibanejad), is ready to explode.
Perhaps the saving grace from the disgrace of the 2017 NHL Entry Draft ("Crybaby" Lias Andersson); Chytil finally looks confident.
And while I'm sure that both Sam Rosen and Joe Micheletti will tell us all about how much weight #72 has gained in the off-season – from what I saw on Saturday night, he does look bigger. Playing physical will only endear himself to Gallant.
After four disappointing regular seasons, where many have even nicknamed him as "Filip Brittle," due to his never-ending bouts with injuries; between his size, recent playoff performance and his new-found confidence – Chytil should easily smash his career-high point total of 23 points from the 2019-20 season.
---
12 – Your 2023 Stanley Cup Champions, THE NEW YORK RANGERS
Homer pick? Yes. However, do I really believe it? Yes, yes and yes!
Similar to the Patrick Kane rumors, expect to hear about the Rangers success from last year all-season long.
We've already received a preview of this from the crew at the MSGN, as both Rosen & Micheletti have mentioned the 2022 Stanley Cup Playoffs about 67856756756856858 times per broadcast – which is the same amount of times that Micheletti shrieks the word "FABULOUS" during a sixty-minute game.
As explained during my 2022-23 season preview blog – I see the Rangers vs the Avalanche in the 2023 Stanley Cup Final – and with Adam Fox as your Conn Smythe winner.
I also see Alexandar Georgiev, once again, putting on the "poo-poo" face when watching CZAR IGOR celebrating a victory!
---
Rangers host the Bolts at 7:30PM. And I'm sure you're aware of the top guns in Tampa too.
For those unaware, M$GN will have pregame and postgame shows on Tuesday – so if you want to listen to the worst back-up goalie of the Henrik Lundqvist era yammer on about analytics – there you go.
The Rangers are currently a -115 favorite to win the game. Tampa bettors will also have to pay the juice, as they are a -105 favorite.
And while I know some of you don't care about gambling, I only bring this up to say this – I'm kind of surprised that the Rangers are favored to win the game – just because of the new line-up.
Furthermore, while the Rangers will have the revenge factor going for them – for the club, I think it's more about winning the home opener – rather than staying stuck in the past.
While I think the Rangers will get hot later on in the season; I also think they'll have some growing pains, especially with that second line.
Conversely, and even with the salary cap continuing to wreak havoc on Tampa (Ryan McDonagh and Ondrej Palat were victims this off-season, following Tampa losing their entire third line a season prior) – the Bolts have no issues from a chemistry perspective. They are a well-ran franchise.
The Lightning's top six remains the same. Defenseman Victor Hedman, and goalie Andrei Vasilevskiy, also remain. Ditto head coach Jon Cooper, the longest tenured bench boss of the league.
---
I suspect that Ian Cole, formerly of Carolina (and if you recall this story from season, he was accused of cheating on his wife and breaking up the engagement of Abby Labar, a Canes' television reporter that participated in the affair), will be the top topic on the ESPN broadcast.
Similar to me even bringing this up – ESPN can't ignore this story.
I don't want to get too in-depth on this (this blog is long enough), but if you haven't heard already – Cole has been alleged of having sex with a minor.
You can google the story for yourself (or just read ESPN's account, which you can find here: https://www.espn.com/nhl/story/_/id/34764790/tampa-bay-lightning-suspend-ian-cole-pending-investigation-allegations-sexual-abuse), but this alleged incident took place several years back, when this female was attending high school.
It's not known where and when these alleged illegal (and sick) acts of activity took place. What's 100% known is that Cole was playing in the NHL when these alleged crimes took place.
Currently, Cole is suspended from the Lightning, pending the results of the investigation.
Here's my take – I have no opinion on this, outside of if this is true – then he should be banished from the league – and sent to jail too – just like any other pedophile. (You can't fix pedophiles. I believe all pedophiles deserve life sentences, if not the death penalty in applicable states.)
However, all of this stuff is presently alleged (I can't stress the word "alleged" enough) – the most serious allegations anyone can put forth.
When it comes to stories like this, I rather wait until all of the facts are presented. I believe in "innocent until being proved guilty."
I've seen others burned at the stake for similar allegations, only for these allegations to later be proven false.
Whether it's someone looking for a payout, revenge or something else – I'll let the pros conduct their investigation – especially when the allegations against Cole come from an anonymous Twitter user – where to the league's credit – they are not taking these allegations lightly.
That said, the NHLPA may have a case against the league – only because nothing has been proven yet.
Here's a history lesson for you, and as covered in my first book – the first owner/founder of the Rangers, Tex Rickard, also found himself in the same situation as Cole. A minor accused Rickard of having sex with her, and for a brief amount of time (the worst time of Rickard's life), he was shunned, hated and berated.
A few months following the allegations, the young woman admitted she made the whole thing up, and with help from her mother, as they were caught trying to extort Rickard for his money.
It took time, but eventually, the whole world found out that these allegations against Rickard were false. However, the accusations received more press than the end result.
In today's world, no matter what results come out of this – "Ian Cole had sex with a minor" will always pop-up in a Google search – an unfortunate consequence of this era –  especially in the event that these allegations prove false.
Again – I don't know how the whole Cole thing shakes out – but it's not my place to have an opinion on this – not until we have all of the information.
Let's close with something better than a topic of this nature.
---
My prediction for the home-opener? A 4-0 CZAR IGOR shutout! What, you were expecting something else?
Of note – for the first time in over ten years or so (sans 2021 where fans weren't allowed to attend) – I won't be attending the home-opener.
As previously mentioned, I just can't justify paying these crazy prices to sit in shit seats and deal with that horrendous second rotunda. I'll save my money for my road-trips, where I have more fun traveling than dealing with M$G and NYC.
And while the Rangers are my favorite team – I have two TV's in my man cave – and will have an eye on the Yankees too.
In addition, and this is definitely pandemic-influenced too; perhaps now at the age of forty, I've officially embraced the "BOOMER" accusations that are always bestowed upon me! I rather watch the games on my big-screen TV, drink my cheap booze and piss at my own leisure – with no lines to boot!
But don't get it twisted. If you offer me free tickets – I'll be there!
After all, and as I always say – nothing beats the live NHL experience.
If I didn't believe this – I wouldn't have attended a preseason game, as I did on Saturday night!
Lastly, and before going home, check out my latest work for The Hockey News here: https://thehockeynews.com/news/fischler-report-why-i-love-the-panthers-and-flames-in-the-cup-final
As discussed last blog, I'm talking about my two favorite subjects for Stan Fischler – Rangers' history and Frank Boucher.
PLUGS TIME!
---
My first plug of tonight's blog – the mandatory plug for my book, "The New York Rangers Rink of Honor and the Rafters of Madison Square Garden."
As mentioned previously, the book is now available in hardcover, in paperback and in Kindle formats. To purchase a copy of the book, visit this link:
https://www.amazon.com/Rangers-Rafters-Madison-Square-Garden-ebook/dp/B09CM5N2WD
For those still looking for signed paperback versions of the book, I have re-ordered more copies. I now have a few signed copies for sale at $25 a pop (includes shipping price) through me directly. Here is all the information on that:
---
My four-volume set of books, "One Game at a Time – A Season to Remember," is a game-by-game recount of the Rangers 2021-22 campaign.
My second title as an author, "One Game at a Time – A Season to Remember," is now available in eBook, paperback and hardcover formats.
To obtain signed copies, visit: https://bluecollarblueshirts.com/onegamebook/
To purchase all four volumes on Amazon, visit: Amazon.com – "One Game at a Time."
---
Here are my last few blogs, in case you missed them:
---
---
---
---
If you haven't already, subscribe to this blog for the next update:
---
Don't forget to pre-order my new four-volume set of books, "Tricks of the Trade!"
If you don't pre-order through me, all four volumes will also be on sale over at Amazon.com
For more details, check out: https://bluecollarblueshirts.com/tricksofthetrade/
Back tomorrow night, with our first game review of the regular season.
Thanks for reading.
LET'S GO RANGERS!
Sean McCaffrey
BULLSMC@aol.com
@NYCTHEMIC on the Tweeter machine