Greetings and salutations everyone and welcome to another blog here on BlueCollarBlueShirts.com. Can you believe it? We're already over a week into the ALEXIS LAFRENIERE ERA! What a great time to be alive! And oh, to follow up something I said previously, the official online store of the NHL (Shop.NHL.com) is running a 30% off sale, as I predicted during my last blog entry on this site. However, and of course, custom Lafreniere jerseys are omitted from that sale. (And so are Cam Talbot Minnesota Wild jerseys. For shame Shop.NHL.com, FOR SHAME! That said, wait until Black Friday/Cyber Monday, as I'm sure all items, as usual, will be included in that future 30% off sale. For yours truly, that's when I'll be picking up my Lafreniere jersey!)
Off puck drop tonight, I freely admit to you – there's not much going on. Things have kind of quieted down a bit, after all the huge news from last week. After all, with everything that's gone down in the last two weeks, it was going to be extremely hard to top all of the news from the last 14 days.
As noted last blog, once the Rangers make their decisions, on their four restricted free agents (RFA's), set for arbitration; I think all Rangers news will come to a halt for a while, only to restart back up again once we get closer to training camp. Once the statuses of Lemieux, DeAngelo, Strome & Georgiev are all figured out, I think that's when I'll bring back the DeLorean & book review blogs. (And from my Twitter mentions, it seems many of you are picking up some books lately too.)
While news may be slow today, I still have a double main event for you tonight, as I'll have full recap of the latest episode of Tony DeAngelo's "Watch Your Tone" podcast. This episode was much different than past episodes, so I think you'll want to read up on that. I also have some interesting news regarding podcasts, the Rangers and YouTube.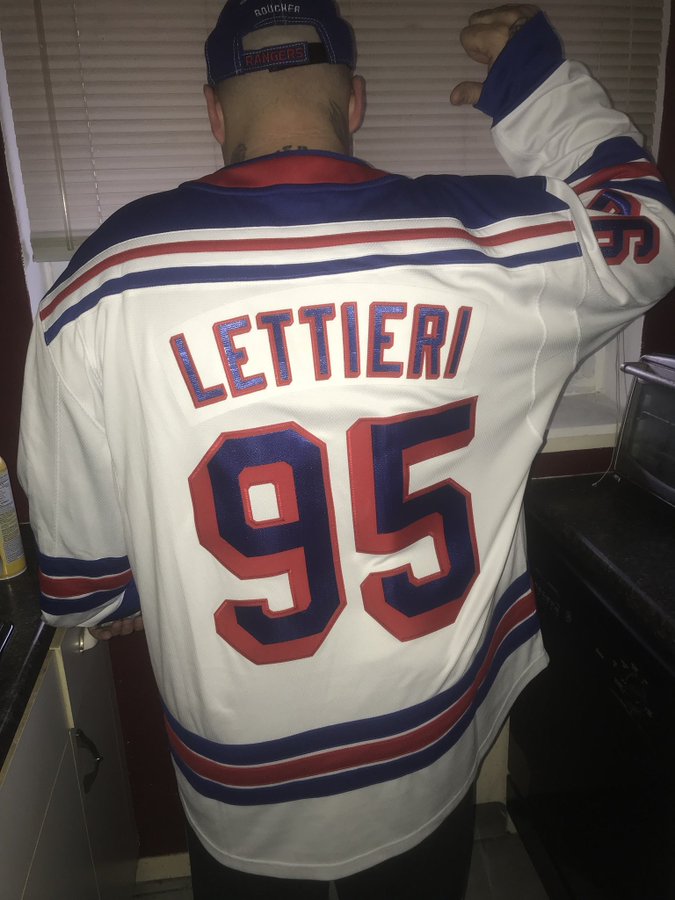 The other main event of tonight's blog, is the AMAZING video that Jim Schmeideberg, of "The Blue Shirt Underground Show", aired on Wednesday night. In Jim's one-of-a-kind video, a video you won't see anywhere else, Jim, on behalf of his BSU program, put together a four minute tribute video, dedicated to the great Vinni Lettieri. I'll say this here and I'll say it again once I get to that segment of the blog – this video is must see. You'll laugh. You'll cry. And then you will laugh and cry again! You may even let out a fart of excitement too! I know I did!
Aside from those two podcasts, elsewhere on this blog, I have updates on the Rangers RFA's. As it seems to be the case whenever news is slow, Tony DeAngelo's name is back in the news, after an interview he gave Rangers lame-stream reporter Vince Mercogliano. That said, at least Mercogliano got this interview and did some real reporting here, rather than ignoring stories and presenting mock drafts of players he's never seen before as news.
In addition, to keep up with the ex-Rangers theme of these last two weeks, Marc Staal finally broke the seal on Wednesday, commenting about his trade to Detroit. While we've already heard from both Henrik Lundqvist and Jesper Fast, for the first time since this trade was announced, (and Staal was the first to go) Staal commented about his new location.
Of note, I was also going to do a segment tonight about Lias Andersson crying to the media, and how Andersson just said, when talking about the Rangers, was "I was hoping to be traded." However, who gives a flying Father Fink about Lias Andersson? Just commenting on this quote is a waste of my time. Goodbye and good riddance! It's my plan to never talk about this bust again, except whenever he plays against the Rangers – that is, assuming that loser ever decides to leave his small pond in Sweden and comes to play with the big fishes of the NHL. However, for that to happen, Andersson will have to put down his video game controller!
(No joke, Andersson blamed video games as one of the reasons for his failure with the Rangers. What a sissy. I think if we all had the same opportunity presented to us, we'd rather play in the NHL than play as the Princess in "Mario Kart.")
For tonight's blog, I'll sandwich the news in-between the two podcast recaps. However, before rocking and rolling here, as usual – the PLUGS section.
In case you missed them, here are my latest works in manifesto form:
---
---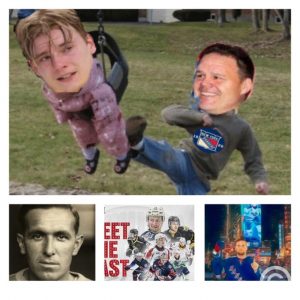 ---
---
---
Going into the latest episode of "Watch Your Tone", outside of Alexis Lafreniere, Tony DeAngelo remains the most talked about New York Ranger. After all, due to his status as a restricted free agent, he's one of the last dominoes left standing of this Rangers off-season. In addition, and as I'll get into at the end of this recap, Tony DeAngelo also gave an interview with Vince Mercogliano on Wednesday, where TDA said, if asked, he has no problem with moving to the left side of the defense.
Unfortunately, neither of these topics were discussed on the podcast. In addition, after promising another rant on analytics, that topic never came up on this episode either.
While I'm not trying to pretend to be Mike Francesa here and say "IMMA HAWD MAWKA", I will say this – as someone who's listened to every episode, promotes the show frequently on this site and most importantly, a fan of the show, this latest episode of "Watch Your Tone" was mailed in. DeAngelo's co-hosts say as much on this episode. Heck, as you'll soon see, this episode was entitled "BLOW IT UP", in reference to how lacking this episode was.
By now, you all know that I'm a huge fan of Tony DeAngelo and have always defended him from these sorry sack of shits on social media. I'm the complete opposite of a "Tony DeAngelo hater". I'm a fan. After all, I think I've posted this picture of me & my buddy "TEN O'CLOCK TOMMY", about 6786789 times on this site: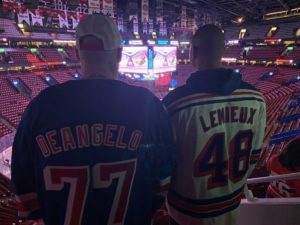 With that mini-rant and preface out of the way, let's get into this episode.
As has been noted in the past, the show is available on all major streaming podcast platforms. It's also on YouTube, which is the way I follow the show. Keep that last sentence in mind as you read along.
For those who want to watch the show, click the play button:
With that all out of the way, let's get into the recap. (And yes, I fully admit that these recaps are a way to fill space. That said, I have fun doing them and it seems you guys like reading them too, based on the major uptick in site traffic during these recent weeks!)
As usual, we kick off the program with some "New York, New York" by Frank Sinatra, the same Frank Sinatra, that who I've been told, owed a few bucks to Frank Rizzo when "Sinatra checked out." Yes, that's a reference to a classic "Jerky Boys" call to Juggy Gayles! I can't wait for the new "Jerky Boys" album to come out. I can run and recite lines from all of the "Jerky Boys" albums, for days on end! In fact, I still do so to this very day! (I freely admit that this is a sickness, but I'm a diehard fan of Mr. Rosenberg, Mr. Tors and the aforementioned Mr. Rizzo!)
And no, I had no idea I would be talking about the "Jerky Boys" when I started doing this "Watch Your Tone" podcast recap. I just happened to be listening to some of my old "Jerky Boys" CD's today and that Sinatra call was on my mind. With that said, let's now get into the recap of the podcast, LIVER-LIPS!
TDA welcomes us to the show and then introduces us to his merry band of co-hosts. TDA mentions there is no guest interview this week. TDA says he wants to focus on all of the news in the NHL this week. TDA says he'll also get into his thoughts on the computer nerds too. Already, I'm hooked! That said, unfortunately, this rant on computer nerds never took place.
TDA asks his co-hosts about Taylor Hall signing with the Buffalo Sabres. (Check out my last blog for my thoughts on Hall with Buffalo.) Huff is interested to see Hall with Eichel. Brother Lou doesn't think this move makes Buffalo a contender. Ron the Gambler says "why go to Buffalo for an extra couple million?" Ron the Gambler's counterparts laugh about Ron brushing off the topic of money. Brother Lou says "in this league, you take the money." Interesting, for obvious reasons.
TDA then runs down Buffalo's current roster, mentioning how goaltending still remains a problem in the land of the buffalo wing. TDA feels that Hall has the potential to have a 40 goal season in 2021, providing if the NHL plays 82 games next season. TDA is optimistic about the Sabres chances next season.
Not mentioned in any of this Hall/Sabres talk, is what I said last blog – this is a win-win deal for both parties & the idea of Hall taking this contract and then cashing out next season with the Seattle Kraken, a team that will have no cap issues in the 2021-2022 season. (Again, check out my last blog for more on this.)
In addition on Hall, TDA talks about Hall winning the Hart Trophy two years back. You know my feelings on that – it should've been McDavid that year and the only reason Hall won it, is because the Devils made the playoffs that year and the Oilers did not. (It's also why McDavid won the Ted Lindsay Award that season and why Hall did not.)
The WYT boys then talk about the other big signings of free agency, talking about Alex Pietrangelo going to Vegas. Brother Lou echoes my thoughts, saying he's surprised about the money Pietrangelo got. Brother Lou makes a good point here too – what other team was going to give Pietrangelo the money & term that he got with VGK? Huff feels this signing will lead Vegas to a Cup within a three year time period.
The guys then talk about Vegas being in "win-now" mode. You don't say. It feels like Vegas has been in "win-now" mode ever since their inception into the league.
TDA brings up the cap issues with Vegas, and saying how Vegas pretty much traded Schmidt & Stastny for Pietrangelo & draft picks. That's a good way to look at it.
The next topic is "who are the winners and losers of free agency?" Huff thinks Vegas did well. TDA thinks Vancouver is a loser of free agency, as he runs down all the moves the Canucks made this off-season. That was surprising to me, as many people have Vancouver pegged as winners. I guess we should be happy that Vancouver isn't in the Rangers division (and with this pandemic, the Rangers might not even play Vancouver in 2021) because this came off as "bulletin-board" stuff for Vancouver.
However, in "bulletin-board" material, TDA says that he feels the Islanders are losers here. I echo his sentiment, but I'm sure the Islanders and their fans won't! (And let's not forget how well TDA played against the Islanders in 2019-2020 either!)
When it comes to winners in free agency, TDA feels that Colorado was a huge winner. TDA runs down the moves the Avalanche made. TDA is also impressed with Colorado's blue line.
Huff then makes a good point – you will always know how big a move truly is, when the fan base who loses a player complains about that player leaving.
The WYT crew then talk about the moves Montreal made this off-season. TDA feels moving on from Max Domi was a bad move. TDA then says he feels that Montreal did a good job during free agency. TDA also feels that Detroit had a good off-season.
In closing on winners of free agency, TDA feels that Toronto were big winners. TDA feels that Jimmy Vesey could break into Toronto's top six forwards. That feels like a biased comment to me! The guys then joke about how Sean the Producer looks like Auston Matthews. (And holy shit, he does!) There's also a joke in here about how the Flyers need a right-handed defenseman too. TDA laughs that comment off.
After wrapping up on free agency, we then move into Week 6 of WYT Trivia.
Huff is up first, and he gets a tough question. Huff is asked, "what team has the longest winning streak?" This was a weird question too, because it wasn't really specific. Huff gets four teams to choose from. TDA then rephrases the question, asking "what team has the longest undefeated streak?" Huff gets the answer right, answering the Flyers.
Brother Lou is up next. He gets an easy question, as he's asked, "what object did Florida Panthers fans throw on the ice during their 1996 Stanley Cup playoff run?" Brother Lou asks for multiple choice options. Brother Lou answers correctly, saying "rats". While Brother Lou got the answer right, he did seem hesitant!
Ron the Gambler gets the last question. He's asked, "what Washington Capital won the Kelly Cup, the Calder Cup & the Stanley Cup?" He gets this question in multiple choice format too. Ron the Gambler nails it, answering TJ Oshie. This gives TDA's co-hosts a clean sweep this week. That's a first!
After trivia, the guys then riff on all of the NHL commercials that were aired during the playoffs, the draft and during free agency.
TDA says there's not much free agency news left to talk about, ignoring his own current situation and what's going on with the Rangers. I get why DeAngelo doesn't want to talk about himself or his teammates here, but this podcast is geared towards Ranger fans. Of note, DeAngelo didn't even mention Alexis Lafreniere either. You would think that would be a major topic on a Rangers-themed podcast.
TDA and the boys then talk about Anthony Duclair being his own agent. (Ex-NYR John Scott recently ripped Duclair for doing the same thing, on his "Droppin' The Gloves" podcast.) TDA now says he wants to be known as "Tony Scoops", talking about some of the stories he's broken during NHL free agency.
As far as where "The Duke" winds up, no one sees him returning to Ottawa, with Detroit, Florida & Nashville being listed as possible landing locations.
Marleau's return to San Jose is discussed and the guys talk about the oldest players to ever play in the NHL. Somehow, these guys forget about Gordie Howe! Unforgivable! Inexcusable! (And to a lesser extent, what a shame that the names of Mark Messier & Gump Worsley were omitted here too!)
When it comes to the oldest players to ever play in the NHL, Huff does bring up Mario Lemieux and says he was Pittsburgh's version of "Jackie Moon". The guys also side-bar on Chara and his strong pull-up game.
The WYT crew then talk about their low YouTube views of the podcast. TDA says fans are better off watching on YouTube than listening to the show via an audio medium. I agree. TDA then jokes about Ron The Gambler wanting to "blow up the show", over the program's lack of YouTube views. It's mentioned that Sean "The Producer" will take over pimping the YouTube account. (I'll have more on this in my closing summary of the episode.)
Up next is UFC talk. The spinning superkick knockout from last week's UFC ESPN+ show is talked about. That was insane. The guys then preview the huge upcoming UFC shows. TDA laughs about Brother Lou betting on Walt Harris, only because Harris had a personal tragedy. McGregor's next fight is also discussed.
I'm a huge UFC guy and McGregor is always exciting to watch, but I'm with TDA – McGregor's never-ending antics, including all his fake retirements, gets tiresome & aggravating. That said, McGregor's nonsense didn't prevent me from drinking a bottle of Proper 12, when writing this blog that you're reading right now. (And not for nothing, while I'm sure I have some grammar and syntax errors in this manifesto, I think this blog comes off readable, despite yours truly hitting the Irishman's whisky!)
After wrapping up on UFC, the guys then talk about the NFL & all of their predictions. Brother Lou's 3-9 Week 5 (or should I say "Weak 5"?) record is mocked. TDA brings up the picks Ron the Gambler has been making. The "Ron The Gambler" nickname is then discussed. For what it's worth, I coined that nonsense!
This podcast was recorded on Tuesday night, right before the Titans/Bills game. Brother Lou, like me, liked the Bills, solely because of the Titan's issues. We saw how that worked out, as the Bills were massacred on Tuesday night, like it was a horror movie. TDA then talks about his fantasy football league, where other Ranger defensemen are included, such as Jacob Trouba & Brendan Smith.
As we get to the end of the episode, TDA mentions how Ron the Gambler wants to "blow up the podcast." A bad review that slams Ron the Gambler is then read. This was pretty funny. For as much of a blah episode this was, at least this episode ended on a high note!
TDA says he has some good guests coming down the pike and that wraps up this under-whelming episode. You know it's a lack-luster week when you don't even get a MANSCAPED ad read!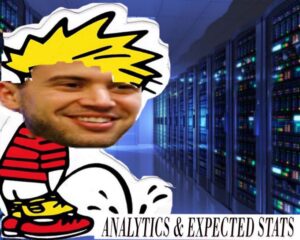 To me, this was one of the weakest episodes of "Watch Your Tone" yet, and I think these guys knew it too. You had Huff saying on the show how the podcast was becoming a chore, while Ron The Gambler's "BLOW IT UP" comments were frequently referenced. While these comments were made in jest, they were also true.
If there was anything disappointing about this show (and not every episode can be a hat-trick) it's that WYT had, in my opinion, their three strongest consecutive shows yet, prior to this episode.
When WYT started, and as it continued, it was my belief that this podcast was started as a way for Tony DeAngelo to have a platform to give his haters a huge "FU". Ironically, this is why Sean Avery started his podcast. (Avery said this very thing during his interview on WYT.)
As WYT progressed, it seemed like this podcast was a way to make a few bucks, as very quickly, WYT started pushing multiple hats and t-shirts to fans. While I understand we live in a country that promotes capitalism, and I'm all for it, for a business venture like this, I think you need to build up a real audience over a period of time before pimping your wares. (Hey, I've been doing this site for 6+ years now, maybe I should sell BCBS merch? Get your official BCBS tighty-whities today!)
Unlike the Ron Duguay "Up in the Blue Seats" or John Scott's "Droppin' The Gloves" podcasts, which feel structured and always solid, I think sometimes WYT flies on the seat of their pants. At times, it feels like WYT has ADD. After all, just last week, WYT & TDA were promoting a live NFL preview show on Sunday. That never happened. This idea seems shit-canned already, as it wasn't brought up on today's episode.
In the same ADD vein, prior to this episode's release and even during the first minute of this podcast, TDA and the crew were pushing a huge rant on analytics. That never happened on this episode. I think TDA & his boys saw something that pissed them off on social media, tweeted about it and then just forgot about it. Then again, maybe TDA didn't want to get himself into any hot water. Either way, a topic was promised and nothing was ever said about it.
In what I found to be a big story, even if others won't, is how the WYT staff were talking about their astronomically low YouTube views, views which anyone can see publicly. As of this writing, Episode 14 of WYT has been online for 16 hours. It has 94 views. In comparison, as of this writing, BSU, which also aired on Wednesday, had 95 views after two hours of being uploaded. (Of note, BSU had technical issues with their show tonight, but despite that, in 1/8th of the time, they already had more YouTube views than WYT.)
I know BSU has a large audience. WYT says they do great numbers on platforms that aren't YouTube. Let me say this, and I know I've made mention about this before. The New York Rangers YouTube account is a gold mine, as they put up interviews with players and management all the time. Many of these interviews are of extreme significance, especially whenever Jeff Gorton or JD speak. However, most of those videos from NYR have 300 or less views on YouTube, which is insane, considering several of the Rangers social media accounts have over a million followers.
It is my opinion, and again, I know I've said this before when talking about my own readership, (and thanks for being part of it) is that for the younger generation, which WYT is geared towards, most of these people have ADD. These people can't sit for an hour and watch or listen to something.
Think about it – what goes viral? Videos and/or clips that are 20 seconds or less. People just don't have the attention span to sit through long-form media. And I know I've said this in the past too – 90% of my readership are 35 years of age or older. Not many teenagers or twenty-somethings have the patience or attention spans to read a 10K word blog, 2-3 times a week.
While this site is a "one-click" destination, for these podcasters, they are on various outlets, whether it's iTunes, YouTube, Stitcher, Spotify, Plenty of Fish, Grindr, J-Date or whatever else is out there! In essence, while you may grow your audience by having different ways to consume your content, individual outlet traffic numbers will take a hit.
If you're one of these podcasters that are out there, it behooves you to present your product to as many people as possible, and on as many platforms as possible. However, if you're looking for real ad revenue, you're probably better off using one platform that pays well. For instance, I know YouTube only pays decent if you can keep a viewer for 20 minutes or longer. iTunes doesn't pay as much.
If anything, you're probably better off releasing your podcast on YouTube. After doing so, you're also better off viral clipping the highlights on social media, in an effort to drive traffic to YouTube. In addition, for these podcasters who put their wares on YouTube, these podcasters must also be aware of the fact that many people listen to podcasts while driving, commuting, working out, taking a dump, etc. For many potential consumers, it's easier to listen than to watch.
And for any of these NYR-themed YouTubers, take solace in the fact that the Rangers official YouTube channel doesn't draw flies. In fact, BSU, on average, draws more viewers to their YouTube show than the videos posted on the NYR YouTube channel.
Last time I checked, (and I only checked today after the comments made on WYT) BSU doesn't have over a million followers on various social media channels. That speaks volumes about the Rangers and their promotion of their YouTube channel. I mean really, just think about this for a second. From the numbers we see publicly, this blog and BSU gets numbers that dwarves the traffic that the official YouTube channel of the NY Rangers receives. That said, like most NHL ideas, perhaps marketing and promoting are major issues here.
In closing on this topic, and I know this may be a topic that many don't care about, it's this – you have to be your own best self promoter. I say from this experience, just based on the recent traffic this site has done alone:
If you get anything out of this, yes it's a slow news day. Let's get into that slow news now!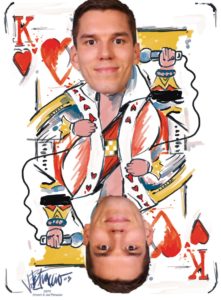 On Tuesday, the NHL released arbitration dates for all of the key RFA's around the league. Here they are: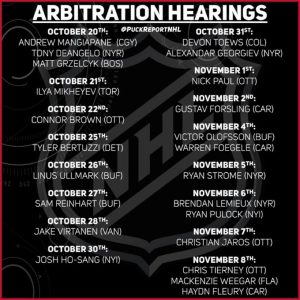 As you can see, the big four of the NYR RFA's, and the only RFA's left remaining for the Rangers, now have their arbitration dates set. Tony DeAngelo is first, with his arbitration date set for next week, on 10/20. This might be good news for the Rangers, as TDA is probably due for the biggest contract of the four NYR RFA's. This will allow the Rangers to get the biggest contract and decision out of the way first.
After TDA, Georgiev will have his case heard on Halloween. Ryan Strome will then have his fate decided on 11/5. Brendan Lemieux then pulls in the rear, as his case will be heard a day later, on 11/6.
As talked about before, I think Lemieux & Georgiev, who will hands down, get lesser contracts than both Strome & DeAngelo, will come to an agreement with NYR, before arbitration. I could be wrong here, but from what's out there, I think NYR is operating under the idea that both of these guys are coming back. However, if the Rangers don't bring back Lemieux, how about this guy:
On this site, during recent blogs, I've made mention of the Rangers needing both LD and C depth. I've also talked about the Rangers new-found commitment to North Americans and toughness. When it comes to someone who lives in NY and plays a tough brand of hockey, is there anyone better than the Islanders Matt Martin, who is currently without a contract for the 2021 season?
While Matt Martin's age may not suit the new look New York Rangers (Matt Martin turns 32 in May of 2021) when it comes to finding a veteran with an edge, Matt Martin would be a solid fit. While the Rangers may have too many left wingers to make this deal happen, like anything the Rangers ponder about, the idea of Matt Martin should be considered with due diligence.
Would Matt Martin make the Rangers better? I think so. It might be a win-win marriage for both parties, considering that Martin lives in NY already, has a family in NY and oh yeah – a prominent season ticket holder and NY radio personality is his father-in-law, in ex-Jet & current WFAN mouth, in Boomer Esiason. Free press!
If I had to give you the probability percentage, regarding Martin switching teams in the rivalry of NY, I'd peg it at 10%. All I'm saying here, it's an option worth exploring. After all, for all the talk about the Rangers looking to add toughness and grit to the team, have they really succeeded at that goal during this off-season? Martin could be that guy. And hell, even if the Rangers do bring back Lemieux as most think, a great fourth line full of tough guys and checkers would only help the residents of MSG.
---
If we've learned anything from TDA on WYT, it's that he knows he's due to be paid. While TDA wants to stick with NYR, he's not an idiot either. He saw first-hand how the Rangers did Kevin Shattenkirk, after Shattenkirk left $25M+ guaranteed on the table when he signed with NYR. That said, based on what NYR have done this off-season, and with the way JD & Gorton have been talking, I think TDA will return.
On Wednesday, 10/14, Vince Mercogliano reached out to Tony DeAngelo, as Mercogliano wanted to get TDA's reaction to recent comments made by both JD & Gorton. You can read Mercogliano's article here: https://www.lohud.com/story/sports/nhl/rangers/2020/10/14/ny-rangers-tony-deangelo-move-left-defense-easy-adjustment/3650372001/
And give Mercogliano some credit here. While Larry Brooks is still going on and on about his love affair and sexual desires about Henrik Lundqvist, Mercogliano is reporting real news here.
In Mercogliano's interview with TDA, TDA says he would have no problem flipping to the left side of the defense, as has been mentioned by both JD & Gorton. In a key quote of the article, TDA says, "I don't care who I play with, or which side I play. I just want to have the best team possible." Not for nothing, while this quote is a "great get" for Mercogliano, this is something TDA should've said on his podcast. After all, if WYT is complaining about lack of YouTube views, a quote like this on the show would drive up traffic, or so one would think.
In any event, it seems that TDA has no problem with being a team-player and going along with what's asked of him. If TDA was to flip sides, and flip sides successfully, the Rangers top two d-pairs for 2021 would be Lindgren/Fox & TDA/Trouba. That would leave the third pair up for debate and for consideration, but when you look at this potential top four of the blue shirts blue line, it's not that shabby if I say so myself!
---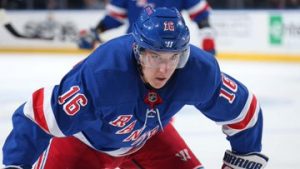 I 100% believe Ryan Strome wants to return to the Rangers. After all, he's said that on both WYT and on social media. However, what an arbitrator views his worth as, may hinder those plans.
While it remains to be seen if Strome goes to arbitration or not (and it's probably in his best interest to do so, at least from a financial perspective) it should be mentioned that whatever number he's offered, (and like any other NHL RFA) as part of the new CBA, Strome has four days to decide. In those four days, Strome can shop himself to other teams around the league, at the arbitrator's price. If Strome doesn't find a situation he likes, he can just sign with the Rangers, for what would most likely be a lesser figure.
I'll add this, before closing up on this topic. Similar to Taylor Hall, depending how much guaranteed money means to these guys, meaning guaranteed term/length of contract here, it may serve both TDA & Strome best to agree to one-year deals. From there, these guys, providing they have a great 2021, could parlay that into a huge contract with the Seattle Kraken, a team that has no cap issues going into the 2021-2022 season. Just something to think about.
Two more topics and I'm finished!
---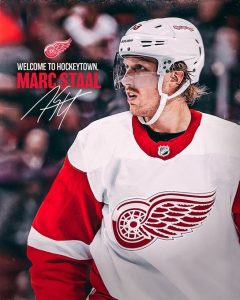 On October 13th, Marc Staal made his first comments as a member of the Red Wings. You can read the full article about this, from the Red Wings website, by visiting: https://www.nhl.com/redwings/news/staal-excited-to-bring-veteran-presence/c-319450310
For those too lazy to click that link, here's the article, as reprinted from the Red Wings website:
DETROIT — This past week was one of the busiest in Detroit Red Wings front office history as the club re-tooled its roster and prospect pool, adding 12 draft picks and eight free agents.
But an under-the-radar move the Red Wings made while the draft hype was building was acquiring veteran defenseman Marc Staal and a second-round draft pick in the 2021 NHL Entry Draft from the New York Rangers for future considerations.

The 33-year-old defenseman spent his entire 13-year career with the Rangers, after being the club's first-round pick, 12th overall, in the 2005 NHL Draft.

Staal spoke to the local media on Tuesday for the first time since being acquired by the Wings on September 26 and said he was originally shocked about the news of the trade, but the shock immediately turned to excitement for a new opportunity and a fresh start with another Original Six franchise.

"A lot of the conversation was him trying to relieve the shock of what happened and speaking about things in Detroit and the area," Staal said about his first conversation with Red Wings executive vice president and general manager Steve Yzerman. "I've known a lot of guys that have played there that speak very highly of Detroit. So that part of it, I wasn't too worried about.

"I think the next thing was just the opportunity to come in and be a big part of the team and be a guy that's counted on every night. I'm looking forward to that responsibility and playing some of my best hockey."

In 892 career games, Staal has 43 goals, 145 assists and is plus-46. The 6-foot-4, 214-pound blueliner has produced double-digit points in seven of the last eight seasons and has been a mainstay as a top-four defenseman in New York, playing an average of 76 games per season from 2014-2019.

After that initial conversation with Yzerman, Staal said he's not bothered by going from a playoff team to a rebuilding team because of Yzerman's guidance, the Red Wings' tradition and Detroit's talented core in place.

"I feel a lot more comfortable about where the team is heading and going to an outstanding franchise, beautiful new rink and it's an Original Six (franchise)," Stall said. "So I get to go from one great franchise to the next, and I'm excited to be part of that. It's a pretty good situation that I'm walking into."

After allowing veteran Detroit defensemen Jonathan Ericsson and Trevor Daley to seek opportunities elsewhere, Yzerman had some holes to fill on the Red Wings' blue line. Staal's left-handed shot and experience in the locker room served as a perfect replacement.

"The trade accomplishes a couple things," Yzerman said the night of the trade. "One, as part of our rebuilding process, we're trying to add draft picks, prospects, young players and future assets to help us down the line. We're trying to be competitive. We're trying to improve at the same time. In this deal, not only do we get a defenseman who'll go right into our lineup, that plugs a huge hole for us, but we add future assets as well.

"He plugs a huge hole on our D. We have Patrik Nemeth and Danny DeKeyser. Marc Staal fits in nicely on the left side. He's a good, solid defender, good size, he's been in the league a long time, he's a good penalty killer, so he plugs a hole for us on the back end."

Staal said he has tremendous respect for Yzerman and the work he's done as an NHL general manager. The chemistry with his new team is already building, as several of Staal's new teammates and coaching staff have reached out to welcome him to the club, and he said he's ecstatic for the new opportunity.

"They have some very good young players and I've seen the (free agency) signings of the last couple weeks," Staal said. "So I'm coming in there and ready to help this team get better and win games. I'm excited to play somewhere different. I think it's going to be great."
---
If I take anything out of this Staal interview, it's this – despite having the second longest tenure on the club behind Henrik Lundqvist, Staal wasn't treated in the same manner as Lundqvist. JD & Gorton held Lundqvist's hand every step of the way and let Lundqvist know what they were thinking every day. This same luxury wasn't afforded to Marc Staal, which is part-business and part-crappy. (Or should I say "craapy"?)
Marc Staal admitted this trade hit him like a stack of bricks. He had no clue it was coming, and really, no one saw this trade coming either.
While Staal is saying all the right things right now (because really, who in their right mind, especially an aging beat-up veteran who is past their prime, would be happy about leaving NY to go to a cellar-dweller team?) you have to know this trade and the way it went down, had to hurt him. How couldn't it?
As I said when this trade happened, I didn't see it coming. Neither did Marc Staal. While the Rangers owe me nothing, like Lundqvist, the Rangers could've done a better job of keeping Staal informed of their intentions. He earned it.
Let's end this serious segment and close with some levity.
---
On Wednesday night, the BSU show returned with their latest episode. You can watch it here:
While I always feel that BSU is always must-see programming, (I try to plug every show they do on this site & I really enjoy their live shows) I know that feeling may not apply to everyone else. However, if you ever watch one episode of their show, make it this one!
At the 37 minute or so mark of the program, host Jim Schmeideberg, who I wasn't aware possessed this type of talent, (Jim & BSU usually commission editing/video/graphic ideas to others) released a four minute tribute video to Vinni Lettieri. As Jim said on the show, "anyone can make a Henrik Lundqivst tribute video. Not everyone can release a Vinni Lettieri tribute video." I'm inclined to agree!
When it comes to Vinni Lettieri, to my knowledge, outside of Lettieri's family, no two people were a bigger fan of Lettieri than Jim and I. I have explained my fandom of Lettieri, in great detail, during past blogs. In short, I liked his style of game. It was also a bonus that he shared the same last name as three of my nieces. And let me say this too – including Lettieri's family, I don't think anyone bought as many Vinni Lettieri jerseys as I did! (One for me, five others for my family with the Lettieri surname! And yes, I got all of those jerseys for 30% off! While Lettieri may no longer be a Ranger, there will always be Lettieri's in my family! Winning!)
For Jim, and I think I can speak for him a little here, he was/is a fan of Lettieri for one of the reasons I was/is – Lettieri's shoot-first, ask questions later, brand of hockey. As time went on, Jim, who has the same sense of humor as me (he's also a huge sizzle-chest fan of the "Jerky Boys", BLOG CALLBACK!) loved running with the Lettieri "Eye-Talian" jokes. (Save me your silly rants on stereotypes or the stupid "r" word, a "r" word that gets tossed about effortlessly on social media by morons looking to be offended or who look to do the "GOTCHA" stuff. It's okay to laugh!)
Jim told me he will eventually post this Lettieri tribute video as a stand-alone thing. However, for a podcast/YouTube show, this bit was money. As I told Jim after seeing it, I was never more proud to own a Vinni Lettieri jersey!
In other news, stay tuned to this site in 2021, when Jim & I review every Ducks game! I kid, I kid! After all, I'll be watching Cam Talbot Minnesota Wild games at that time. (I don't kid about that!)
Vinni Lettieri, the greatest paesan the Rangers ever had. BA FUNGUL to you NYR, for letting him walk!
Seriously though, because I know some people can't tell when I'm being funny, I knew Lettieri was a goner the second NYR didn't call him up during various opportunities last season. In any event, I wish him the best and the Ducks are probably a good team for him. He'll at least get a chance to play and hopefully, lose that "4A" label. BUONA FORTUNA!
---
If you haven't already, subscribe to this blog for the next update:
As mentioned, the next big thing the Rangers do, will be whatever the franchise decides on their four RFA's. Once something is done on that front, I'll report back here. Until then, it looks like some book reviews & DeLorean blogs are in this site's future. Fortunately, the TDA WYT podcast also gives me something to talk about once a week!
As always here, thanks for reading and…
LET'S GO RANGERS!
Sean McCaffrey
BULLSMC@aol.com
@NYCTHEMIC on Tweeter and on Parler
Follow the BlueCollarBlueShirts.com Facebook Group by clicking this link: https://www.facebook.com/groups/1564026407193056/