Greetings and salutations everyone and welcome to another blog here on BlueCollarBlueShirts.com. It's the first DeLorean blog of 2020 – a year that no one would want to visit, or revisit, if they had the DeLorean from "Back to the Future"!
Since this site's inception, during previous NHL off-seasons, I've done these DeLorean flashback blogs, where I take a tape or a DVD of an old Rangers game and review it as if it just happened. I have to give a major thank you to reader Mike J., who sends me all of these old games for the purpose of these DeLorean blogs.
I know what many are you thinking right now, especially in the times we're living in, here in 2020. Both the M$G & NHL Networks ran a ton of old games, during the NHL pause of 2020. Some of you may have had your fill of classic games. However, with this blog, I'm going to be talking about a period of time and a game that the M$G Networks never talks about – the Guy LaFleur season with the Rangers & his lone hat trick with NYR.
After all, I've been doing these DeLorean blogs for years, before M$G opened the vault during this pandemic of 2020. And really, when it comes to the M$G Network, what do they show you anyway? It's the same old shit – games from 1994, with games from 2014 now sprinkled in. By now, you all know about Matteau!
When it comes to M$G Networks and the classic Ranger games they rebroadcast, it's the 1994 Network all the time. It's always been my mission to give you something different here. Plus, with my affinity for history, I'm also giving you something you won't find anywhere else. For older fans, I think you'll enjoy this blog. For newer fans, this will help you appreciate Rangers history. For every fan of the Rangers, I think you'll learn something new, providing you make it to the end of this Magna Carta of a blog!
Oh and needless to say, this is going to be a long blog, with tons of media, so this might take a second or two to load. I know I could break this up into different pages for cheap clicks, but that's not how I roll. These blogs are always 10,000 words, one click and no ads! Feel free to read at your own pace!
Tonight's DeLorean game of choice, is the Rangers game from February 27th, 1989, where the Rangers hosted the LA Kings. Historically, the year 1989 wasn't that great for either the Rangers or Kings. (The Rangers were swept in the first round of the playoffs by the Pittsburgh Penguins, while the Kings were swept in the second round of the playoffs, by the eventual Stanley Cup Champion of that year, in the Calgary Flames.) However, when you look at all of the people on the ice that night (and in the crowd) there's a bevy of Hall of Famers & interesting names involved.
Seriously, look at the two top names on these clubs at the time. You had Wayne Gretzky on one side. No matter how you rank him, he has to be at least in your list of Top Three NHL Players of All-Time. (Some people rank Bobby Orr, Mario Lemieux and Gordie Howe above Gretzky, but those people, respectively, are also fans of the Bruins, Penguins & Red Wings.) On the other side, you had Guy LaFleur in his one season with the Rangers, a Guy LaFleur who is on everyone's Top Ten List.
When you look at the opponent in this game, in the LA Kings, this game at M$G was Gretzky's first as a King. Previously, as you may have heard about already, the Oilers traded perhaps the greatest hockey player of all-time to the Kings, in what was essentially a trade driven by financial needs. (I'll have more on this trade as we go along.)
When Gretzky was traded to LA, he obviously was the biggest name in hockey at the time. (And for many people, Gretzky still is the biggest name in hockey, here in 2020.) While Gretzky is one player that would eventually play for the Rangers, for Ranger fans, there were other Ranger alumni (and future alumni & a future Cup champion to boot) on these 1988-1989 LA Kings.
Away from Wayne Gretzky, the Kings roster also featured Ron Duguay, Bernie Nicholls, Luc Robitaille, Mike Allison, Bobby Carpenter, Igor Liba, Paul Fenton, Chris Kontos, Marty McSorely, Tom Laidlaw, Dean Kennedy, Jim Wiemer, Steve Richmond and at the time, future 1994 Stanley Cup Champion, in goaltender Glenn Healy. In addition, the head coach of the Kings at the time was Robbie Ftorek, the same Ftorek who finished his NHL playing career with the Rangers. (It seems like the Rangers have a thing for acquiring veterans in the latter stages of their career!)
As you can see, and in the spirit of trying to forget what happened in 2014, there's been a lot of intersection among the New York Rangers and the Los Angeles Kings, even dating as far back as 1989.
Ironically, on the other side of things in 1989, was Marcel Dionne, the long-time LA King, who was now with the Rangers. However, on this specific date of February 27th, 1989, Dionne was playing for the Rangers – that is, the Denver Rangers of the IHL. Dionne, at this point in time, was in Denver, rather than in New York, due to a rehab/conditioning assignment. Of note, this would also be Dionne's last season in the NHL.
As you'd imagine, and probably know already, when the Kings traded for Wayne Gretzky, not only did Wayne Gretzky sell-out the Great Western Forum in Los Angeles every game, Gretzky was also a big draw on the road. In Year One of Gretzky's time with the Kings, there was a ton of interest, if not more interest than usual, in Wayne Gretzky.
Crossing the North American border, from Edmonton, Alberta to Los Angeles, California, hockey's greatest superstar was now in an American market; one of the biggest markets in America to boot. In fact, you can trace this move to the birth of two new franchises that would soon enter the NHL, in both the San Jose Sharks & Anaheim Ducks. Gretzky's time in California made hockey popular and profitable.
While Wayne Gretzky drew the eyes of a ton of celebrities in his new home of LA, on the road, all across America, celebrities, who didn't attend NHL games previously, came out to see Gretzky on a regular basis. Some celebrities wanted to be seen in the front row, in what really was an event during this time. Some celebrities wanted to see what all the hype was about. This concept also applied to the New York Rangers, a team that admittedly never had any problems with drawing a crowd at all.
It's also worth mentioning here, in a horrid piece of Rangers trivia, in his autobiography, entitled "Thunder and Lightning", Phil Esposito, who was the general manager of the New York Rangers in 1989, talked about how he could've landed Wayne Gretzky for $15M, prior to the Oilers trade of Gretzky to the Kings. However, M$G & NYR management nixed the trade on Esposito, saying it wasn't worth the cost, since the Rangers were already selling out M$G at the time. In other words, the Rangers, as a hockey club in the NHL, were already the draw and selling out. They didn't need anything else to help them sell out the house.
Rather than spending money to win a Cup, the Rangers put the bottom line and profits first. As Esposito stated in his book, had the Knicks been able to land a big player, say someone like a Michael Jordan, M$G management would've approved the $15M expense. For M$G at this time, hockey just wasn't a priority. They didn't have that George Steinbrenner mentality. (And this type of stuff went on prior to Esposito, and really only ended when James Dolan became owner.)
(And for what it's worth, I do believe, had future owner James Dolan been the owner at the time, without question, I believe he would've given Esposito the funding for Gretzky. Say what you want about Dolan, but cheapness & frugality aren't two of his traits.)
Let's go back to the celebrity angle.
While I don't want to turn this into anything political here, the biggest celebrity in the house, for this Rangers vs Kings game, from February 27th, 1989, was Donald J. Trump. It really is amazing when you look at Trump's years before his Presidency. In those days, you could spot him at the biggest events in America, whether it was a Super Bowl, a World Series, a Wrestlemania, the Emmy's or whatever else you can think of. Of course, in those days, no one ever accused him of being any one of the slanderous -ism's or -ist's, that some people now come up with today, whenever discussing Trump. Funny how that works! (Okay, I'll stop with my political commentary here!)
Whatever the event, during this game, Trump was spotted in the crowd and was mentioned during the broadcast, as he was sitting with model & actress Carol Alt. Of course, and for those who don't know, Carol Alt was married to Ron Greschner at the time. (Of note, Greschner didn't play in this game, as he was injured at the time.) It should also be mentioned that both Trump & Alt had attended Ranger games prior to this date, but with Gretzky in town, there was no way they were going to miss out on this particular game.
When you look at the entire roster of the 1988-1989 New York Rangers, you have these names: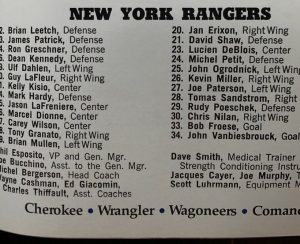 When you look at this 1988-1989 NY Rangers roster, you have three people, who throughout the course of NY Rangers history, wore the "C" on their sweater. Those people are Brian Leetch, Ron Greschner and Kelly Kisio, with Kisio being the captain of the team at this time. In addition, the Rangers general manager in 1989 was Phil Esposito, a former captain of the club.
Of note, this would be Esposito's last season in this role, as he'd soon be fired and replaced by Neil Smith. This was also the same season where Esposito would fire Rangers head coach Michel Bergeron, just five days before the start of the 1989 NHL Stanley Cup Playoffs. (There were also two regular season games remaining at the time.) As we'd see, not only would the 1980's soon come to an end, the new decade of the 1990's would usher in a ton of change too. There were an abundance of changes during the off-season of 1989. In five years after all of these changes, the Rangers would go on to win the Stanley Cup in 1994. (You may have heard about this!)
In another piece of trivia & thought, had the Rangers not fired Esposito after this 1989 season, (Esposito's GM contract with NYR ran through July 1990, so he was let go a year early) who knows if the Tampa Bay Lightning would've ever come into existence? (For those who don't know, Esposito founded and is the man behind the existence of the Lightning. Again, read his autobiography, he goes into great detail on how he pulled it all off.)
Without question, the catalyst for this blog, is in this game, Guy LaFleur would pick up his first and only hat trick with the Rangers. In addition, as a fan of all things history, whether it's sports or American history, this game just features a ton of great names of Rangers lure. And as someone who was only 7 years old in 1989, I just find this period of time fun to look back at.
One name, from this game, that especially pops out to me, which probably won't pop out to other people as much, is this guy:
I know I've told this story in the past, but this site constantly gets new readers, so I'll tell it again.
As a kid, my next door neighbor was the uncle of both Brian and Joey Mullen. However, for yours truly, in those times, as a pre-teenager, Joey Mullen, who went on to become a Hall of Famer and win the Stanley Cup on three separate occasions, was the enemy. He was part of the Pittsburgh Penguins, a team I detested then and a team I still despise to this very day!
My dad, who has given this site the term "Father Fink", a term I use instead of saying the f-word on these blogs, was friendly with "Mr. Mullen", the uncle of the Mullen brothers. Even as I write these words, I can't remember what Mr. Mullen's first name was. I always called him Mr. Mullen, even when I reached the collegiate age. (I want to say his full name was Bill Mullen.)
As kids, we did something that you don't see much of today, even prior to this pandemic – we played outside! On my block growing up, a dead-end block for what it's worth, all the kids would play street football, street hockey, stickball, kickball, man-hunt and whatever other activity you could think of. Looking back at it, this had to be great for our parents. We were outside all the time and they always knew we were outside, and within vision, playing some sort of sport. Today, from my experiences, I don't see kids playing in the street anymore. It's amazing how much the world has changed from those days. (Official street hockey pucks would come after this time, for what it's worth.)
Anyway, Mr. Mullen was retired and would usually sit outside in a lawn chair or would be working on his lawn. He would see us play hockey and whatever else. Once in a while, since we would always wear Rangers merchandise, he'd give us signed stuff and pucks from Brian Mullen. Unfortunately, I don't have those things today, but I can remember using a signed rubber puck while playing street hockey. We didn't care much for memorabilia in those days!
While some of my memories are hazy from that time, I do remember being a fan of Brian Mullen, just because we knew his uncle and because Brian Mullen was a Ranger. Unfortunately for Brian Mullen, while he does play in this game that I'm going to recap (he even picked up an assist in this contest) he never received the good fortune or accolades that his older brother, in Joey Mullen, would attain.
---
At this time, before going into the DeLorean and giving you the world in 1989 for reference, I want to plug my past DeLorean blogs. As mentioned, I know I have a growing readership here, so some people may have missed these trips down memory lane. (And after checking out these past DeLorean blogs, if there's a game you think I should give this DeLorean treatment to, feel free to let me know!)
Without further ado, here are all the previous DeLorean blogs from this site:
---
---
---
---
---
---
---
---
---
---
---
---
Before getting into the game itself, let's take a look at America in 1989. (I always include these bits in every DeLorean blog, because I know for the people who were alive at the time, they always enjoy this.)
The following information comes from http://www.thepeoplehistory.com/1989.html  :
Cost of Living 1989
How Much things cost in 1989


Yearly Inflation Rate U.S.A. 4.83%
Year End Close Dow Jones Industrial Average 2753
Interest Rates Year End Federal Reserve 10.50%
Average Cost of new house

$120,000.00


Average Income per year

$27,450.00


Average Monthly Rent

$420.00


Average Price for new car

$15,3500.00


1 gallon of gas

97 cents

US Postage Stamp

25 cents


BMW 325

$21,400


Ford Probe

$12,695


Ham and Cheese Pizza

$2.59


Rib Eye Steak Lb

$3.79


Ritz Crackers

$1.79


Barbie's Dancetime Shop

$24.98


Ghostbusters Table-top Pinball

$19.85
If there is anything that stands out to me here, it's the fact that the cost of a slice of ham & cheese pizza not only was a thing, but a thing that was made mention of!
---
Anyone else remember when Paula Abdul was the hottest thing in America? On February 27th, 1989, she had the biggest hit single in America.
Billboard Top 10 Songs Week Ending February 25, 1989

"Straight Up" by Paula Abdul
"Lost In Your Eyes" by Debbie Gibson
"Wild Thing" by Tone-Loc
"The Lover In Me" by Sheena Easton
"Born To Be My Baby" by Bon Jovi
"She Wants To Dance With Me" by Rick Astley
"You Got It" (The Right Stuff) by New Kids On The Block
"What I Am" by Edie Brickell
"The Living Years" by Mike & The Mechanics
"Walking Away" by Information Society
Needless to say, I'm not a fan of any of this crap listed above! I'm glad the "grunge" era of music came shortly after this bubble gum nonsense. Give me Nirvana, Pearl Jam and Alice in Chains over the music of 1989 any day! Hell, give me any band, from either the 1960's or 1970's, over this stuff too!
---
In the world of cinema, here were the Top 10 Grossing Films of 1989:
"Batman"
"Indiana Jones and the Last Crusade"
"Lethal Weapon 2"
"Rain Man"
"Honey, I Shrunk The Kids"
"Look Who's Talking"
"Ghostbusters II"
"Dead Poets Society"
"Parenthood"
"Back To The Future II"
No joke, if you're still stuck in the house during this "Age of 'Rona", you could binge-watch all ten of these movies, and still be extremely entertained. There's not one bad movie on this list! And hell, look at the movie that's in the rear here – "Back to the Future II", the franchise which this very blog you're reading pays tribute to! (For my money, all three "Back to the Future" movies are the best trifecta of movies ever. I know some people will say "The Godfather", but Part III was atrocious. I mean really, the whole movie is three hours about kissing cousins! Is this "The Godfather" or "The Beverly Hillbillies"?
---
Lastly, to give you a picture of where the Rangers and Kings were at on February 27th, 1989, let me give you the 411.
After a strong January of 1989, where the Rangers went 8-2-3, the Rangers lost their first six of seven games in February. However, by the end of the month, the Rangers would win their next four out of five games, as they continued their playoff push. Ultimately, the Rangers would finish ten points out of first place, which put them third in the division and would secure them a playoff spot.
Over in the Western Conference, the Kings lost their last six out of seven games in January of 1989. By the time the Kings met the Rangers, the Kings turned their ship around a bit, despite losing their last three out of four games in February. At the end of the season, the Calgary Flames, who would win the Stanley Cup in 1989, also won the Presidents' Trophy in this season, finishing with a league high of 117 points. The Kings, in Year One of the #99 era, would finish in second place, good for a playoff spot, with 91 points.
If there's anything you really need to know, if you don't know it by now, is that I can't stress enough how huge it was when the Oilers traded Gretzky to the Kings. The Gretzky trade would over-shadow the news about the Rangers luring Guy LaFleur out of his retirement. Previously, LaFleur was retired for nearly four years, even being inducted into the Hockey Hall of Fame during his retirement, in 1988.
While I'm an American, and know that most of my readers are American too; these were two humongous stories in Canada, during 1989. You had the legendary face of the historic Montreal Canadiens going to Broadway, while "Canada's Son", in Wayne Gretzky, left Edmonton for LA. Things were so bad in Edmonton at the time, that people were even burning effigies of then-Oilers owner, in Peter Pocklington. It was so bad in Edmonton (and in Canada) at the time, that even Canadian politicians tried to block the Gretzky trade. (Of note, the ESPN series of "30 for 30" has an amazing documentary on this Gretzky trade, entitled "King's Ransom".)
This is another important fact that you should be aware of too. In the same summer, the summer of 1988, a month prior to "The Trade", Gretzky's wedding to Janet Jones was dubbed as "The Royal Wedding" in Canada. That's how huge Gretzky was, not only in Edmonton, but to Canada in general.
And in a SPOILER, not really a spoiler, ALERT, the Oilers arch-rival, in the Flames, were the best team in hockey in 1989, winning both the Presidents' Trophy & the Stanley Cup. This enraged Oiler fans even more. However, these feelings of pure RAGE would be subsided a year later, when the Oilers would win the Cup during the 1990 Stanley Cup Final, behind new captain, Mark Messier. (Do I need to mention what happened with Messier next, in regards to the Rangers?)
5000 words, and I haven't even got into the game yet!
Finally, let's talk Rangers vs Kings, from February 27th, 1989.
---
NOTE: AS ALWAYS DURING THESE "DELOREAN" (FLASHBACK GAME REVIEW) BLOGS, I AM PRETENDING THAT I AM MY CURRENT AGE (38 YEARS OLD) IN 1989 AND WRITING THIS IMMEDIATELY AFTER THE GAME HAD ENDED. IN REALITY, DURING 1989, I WAS EAGERLY ANTICIPATING THE "TGIF" LINE-UP ON ABC! I WAS ALL ABOUT "FULL HOUSE"! (AND ADMITTEDLY HERE, I HAVE WATCHED EVERY EPISODE OF "FULLER HOUSE" ON NETFLIX TOO! SAD!)

Greetings and salutations everyone and welcome to another game review, here on the BlueCollarBlueShirts Newsletter!
As I write these words, an hour after the Rangers 6-4 win over the LA Kings on Monday night, I have to admit, I did partake in the consumption of these frothy brews:
Going into this game, I didn't know what to expect, aside from expecting another game to hit the over! Both the Kings & the Rangers are averaging something like six goals a game here in February. In the final tilt of this month, for both teams, I expected a high scoring game. Luckily, it was Rangers goalie John Vanbiesbrouck on the right end of this one, as his 27 saves off of 31 shots was enough to beat Glenn Healy and the Kings; a Glenn Healy who gave up five goals after seeing 33 shots from the Rangers.
For both the Rangers and the Kings, two teams who are both chasing a playoff spot (Rangers have a shot at winning the Patrick Division, while LA looks like they'll have to settle for second place in the Smythe Division) this game, as told, was a high scoring affair. Fortunately, the Rangers took this final game of February, before hosting the Toronto Maple Leafs on March 1st.
While Wayne Gretzy plying his wares inside of M$G was obviously the top story going into this game, after the final buzzer, it was Guy LaFleur making all the headlines. Gretzky would pick up three assists in this contest, but it would be LaFleur having the better game, as LaFleur picked up his first hat-trick with the Rangers during this affair.
Aside from the Hall of Famer Guy LaFleur and the future Hall of Famer in Wayne Gretzky; I thought Brian Leetch, who should win the Calder Trophy this season, had another beast of a game. Not only did Leetch skate well defensively, he also picked up a goal and an assist in this game. The Rangers may have something with this kid.
As it stands right now, Leetch is on pace for 70+ points, which would be a Rangers record for all NYR defensemen in franchise history. In addition, while Ron Greschner and James Patrick are two of the best defensemen in all of Rangers history, if Brian Leetch keeps this level of play up, Leetch has the chance to go down as the best defenseman of all time in Rangers history, and that includes players such as Ivan "Ching" Johnson, Harry Howell and Brad Park.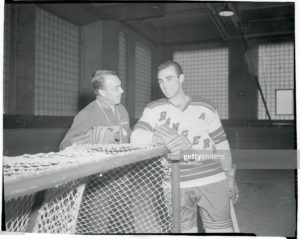 Before getting into tonight's game, I guess I should talk about the other sports stories of today first. On Sunday, February 26th, the Yankees announced that Tom Seaver would be joining their broadcast booth. Blasphemous! Let him stay with the loser Mets!
In other news from the baseball world, Wade Boggs found himself on the right end of things, when the California court threw out Margo Adams' $12M lawsuit that Adams had out against him, for "emotional distress". Like a whore should get $12M for willingly having sex with a ball player!
While I'm glad to see Boggs have this lawsuit, against his former fornicator, dismissed; as a Yankees fan, all I have to say here is "FATHER FINK" Wade Boggs. This type of disgusting behavior from a married man was classless. That's the difference between the Red Sox and the Yankees. The Yankees would never sign a player that displays the despicable characteristics of a Wade Boggs. Furthermore, I doubt Wade Boggs will ever win a World Series either! I'll take Mike Pagliaruo over Boggs any day!
Back to tonight's Rangers victory!
Before getting into the nuts and bolts of tonight's game, as usual here, during these BCBS newsletter reports, let me share with you the box score of this game, courtesy of the Hockey-Reference 1-900 hotline number.
Scoring Summary
1st Period
10:18
LAK
Dave Taylor (21)
Luc Robitaille, Tim Watters
14:40
NYR
Guy Lafleur (15)
John Ogrodnick, David Shaw
19:54
NYR
PP
Guy Lafleur (16)
Tomas Sandstrom, Carey Wilson
2nd Period
00:26
LAK
Doug Crossman (10)
Wayne Gretzky, Mike Krushelnyski
07:32
LAK
PP
Dave Taylor (22)
Wayne Gretzky, Bernie Nicholls
11:18
NYR
PP
Brian Leetch (20)
Tomas Sandstrom, Jason Lafreniere
14:26
NYR
Guy Lafleur (17)
John Ogrodnick, Darren Turcotte
3rd Period
06:12
LAK
Mike Krushelnyski (19)
Wayne Gretzky, Steve Kasper
15:17
NYR
Kelly Kisio (22)
Lucien DeBlois, Brian Leetch
19:25
NYR
EN
Kelly Kisio (23)
Brian Mullen, Lucien DeBlois
Penalty Summary
Goalies
Goalie Stats
Rk
Player
DEC
GA
SA
SV
SV%
SO
PIM
TOI
1
Glenn Healy
L
5
33
28
.848
0
12
59:22
2
Empty Net
1
1
0
.000
0
0
Goalie Stats
Rk
Player
DEC
GA
SA
SV
SV%
SO
PIM
TOI
1
John Vanbiesbrouck
W
4
31
27
.871
0
0
60:00
---
Finally (I know I say that a lot, but that's the gimmick here, a gimmick almost as good as Hulk Hogan, who will be challenging Macho Man Randy Savage for the WWF World Title at Wrestlemania V next month) as someone born in 1951 and who is now 38 years old, all I'm asking for is the Rangers to win one Stanley Cup in my lifetime! Maybe LaFleur can make this happen. Hell, 1940, the year the Rangers last won the Cup, is almost 50 years ago!
I can remember the 1972 Stanley Cup Final vividly, a year where had Jean Ratelle had been 100%, the Rangers may have accomplished this feat. I remember the 1979 Stanley Cup Final, a SCF that took place just ten years ago.
I bring up the 1979 Stanley Cup Final here, because it still pains me to see one of my favorites, in Ron Duguay, with the Kings. I don't know if Duguay's days in the NHL will go beyond this season, but it's still weird to see him not wearing a blue jersey, especially after his return and being a Ranger once again, just a year ago. While I don't have any complaints about LaFleur wearing the #10 jersey, especially after tonight, #10 to me will always be Ron Duguay.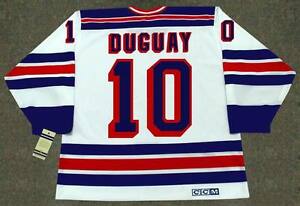 I watched this game from home, on my what's now considered a "classic" tv. One of these days, I'll have to get one of those new 5000 pound big screen TV's. However, this TV, along with my new copy of "Super Mario Brothers 3" (yes I'm 38 years old and play the Nintendo Entertainment System) still works for me:
It should be noted here, that both Jan Erixon (back) & Ron Greschner (feet) are still out with injury. With nearly 15 years with the Rangers, I'm not sure how much Ron Greschner has left, in what has been a hell of a career with the Rangers.
After the injury announcements, we got the National Anthem prior to puck drop. Every time I hear this song, it reminds me of how lucky we are and how united we can be. I could never imagine anyone disgracing this song, at any time or at any place in America. Here's the anthem from this game, courtesy of my VCR:
A timeless classic, no matter what people try to tell you in 2020. Here's the National Anthem, prior to #nyr v #LAKings from 2/27/1989. Great job Ms. Gibbons, wherever you are! pic.twitter.com/x656fazO8A

— BlueCollarBlueShirts (@NYCTheMiC) September 23, 2020
---
Seriously, ONE FINAL THING, before getting into this game. Has anyone heard about the rumors about Michel Bergeron? I was at Charlie O's after the game the other night, and I heard some chatter about Bergeron being pissed off that he hasn't gotten an extension yet from Phil Esposito. It should be interesting to see what happens this off-season and if Espo brings Bergeron back.
As noted above, we had John Vanbiesbrouck & Glenn Healy in nets in this one. And for those looking for the picture, here's Gretzky's first face-off at MSG, as a member of the LA Kings:
Right off puck drop, Gretzky won the draw and tried one of his wrap-around moves. No dice. Then immediately afterwards, everyone's favorite rookie, in Brian Leetch, blasted a puck, a puck that Glenn Healy had some trouble with saving. Could you ever imagine Leetch and Gretzky on the same team? It could've happened if Espo had his way. Cheap ownership will never lead to a Cup! I know the Oilers had a great run in this decade, but they'll never win a Cup in the 1990's after trading Gretzky away.
Rangers rookie Tony Granato had a good look at scoring early in this game, but his chance of scoring was broken up by the Kings. After the Kings kept Granato off the board, that evil John Tonelli had a chance, that fortunately the Rangers broke up. I'll always hate those dynasty Islanders!
I know Guy LaFleur has been here for some time now, but after making a pass to Ogrodnick, M$G still let out a roar of "GUYYYYYYYYYYYYYYYYYYYYY!" As we'd later find out, "GUYYYYYYYYYY!" would be the story of the game.
Healy would then make the save on Ogrodnick, after the good pass from LaFleur.
I should also mention here, for whatever reason, I got the LA Kings feed of this game through my rabbit box. Their broadcast team of Bob Miller and Nick Nickson continually mentioned how Gretzky was on a two game pointless streak. Of course, that streak would be snapped in this game.
As the game continued in the early stages, Beezer made a beauty of a save on a Gretzky slap shot. The Kings broadcast also mentioned all of the cross-pollination between NY & the Kings:
Beezer, who recently gave up ten goals in a home game, continued to make saves, stopping McSorley after a good shot on net. It was mentioned here, by the Kings broadcasters, how in that ten goals allowed game by Beezer, how M$G started chanting "EDDIE, EDDIE, EDDIE!" Fortunately, I think Beezer has the monkey off his back. (And I think fans forget how Giacomin was booed and even had vegetables thrown at him, during his early years with the Blueshirts. Ranger fans sure like to get on their goalies! I could never do that.)
Speaking of ex-Rangers, Ranger fans showed appreciation to Ron Duguay, in his first shift of this game, (a great shift at that) by chanting "DOOOOOOOG!" Here's the clip from my trusty Panasonic VCR:
Here is @RonDuguay10 's first shift of this 2/27/89 game…. as a King. #nyr fans still chanted DOOOOOOUG regardless. #OnceARangerAlwaysARanger pic.twitter.com/Ia1ybnIuNy

— BlueCollarBlueShirts (@NYCTheMiC) September 23, 2020
In either event, this shift from Duguay, Jay Miller & Marty McSorley didn't produce a goal, even if it was hairy for a second.
About 5 minutes into the game, it looked like Guy LaFleur was tripped. No call. The boisterous MSG crowd let the refs hear it. You gotta love Madison Square Garden – the building is always loud and rockin'! That will never change!
Right after the no-call, Healy made a great save on a Rangers two on one, stopping Kelly Kisio, while Brian Mullen awaited a rebound. Huge save there.
Rookie Darren Turcotte, making his return after his rehab assignment in Denver, made a good move at Healy, but Healy denied him. Turcotte has promise. Right after this, Beezer stopped Tonelli.
Then, in a really big play from Beezer, Beezer denied the Kings on a four on one chance:
KING BEEZER, denies the FOUR ON ONE! #nyr pic.twitter.com/aXMIOFD47i

— BlueCollarBlueShirts (@NYCTheMiC) September 23, 2020
Talk about keeping your team in a game, despite only being in the first period!
After some back and forth action, Leetch set up Granato for a perfect shot five feet from Healy, but Healy made another good save.
At the 9:57 mark of the first period, Tony Granato was boxed for holding. During the scrum after the whistle, Ken Baumgartner was sent to the box for his shenanigans. No loss of man power here.
Just seconds later, during the four on four foreplay, Kings captain Dave Taylor split the Rangers defense, went up the middle, kicked a puck to himself, was slashed, but somehow, and some way, was able to put the puck between Beezer's legs. 1-0, BAD GUYS, at the 10:18 mark of the first period.
After the Kings goal, the Kings kept up their impressive forecheck, with Beezer this time stopping Taylor from the slot. Guy LaFleur then took the puck and created offense. It was a sign of things to come.
I told you how earlier in this game, LaFleur was tripped, but there was no call. The referees then missed another Kings penalty, this time with Ron Duguay going pretty high with his twig here:
Look at @RonDuguay10 laying wood and getting away with it! #nyr pic.twitter.com/DbOXZQaXtz

— BlueCollarBlueShirts (@NYCTheMiC) September 23, 2020
Even the Kings announcers said this should've been a penalty!
After this non-call, Beezer would stop Gretzky again. Big save, as this save kept this game as a one goal game.
At the 14:40 mark of the first period, Guy LaFleur, during a long shift, would pick up his first of three goals, and what a beauty this one was:
Guy LaFleur doing what he does best!!!! #nyr pic.twitter.com/zXgc0zNEeh

— BlueCollarBlueShirts (@NYCTheMiC) September 23, 2020
This was a backhand that Habs fans saw for years. WHAT A GOAL! 1-1 game!
After more back and forth action, including a fanned shot from Tomas Sandstrom, former Ranger Tom Laidlaw was boxed for holding, (although it looked like interference) with just 90 seconds remaining in the first stanza. On the Rangers power-play, with just six seconds remaining in the period, LaFleur picked up his second goal of the game:
GUYYYYYYYYYYYYY #NYR pic.twitter.com/qpdALOjTha

— BlueCollarBlueShirts (@NYCTheMiC) September 23, 2020

GOOD GUYS 2, BAD GUYS 1!
On the goal, Calder favorite Brian Leetch gets the puck in the zone. Sandstrom then finds LaFleur on the door-step, and bang, 2-1 just like that. The Rangers really needed this one, considering how bad their power-play has been as of late. (I feel like we've been saying this forever about the NYR PP!)
At the end of twenty minutes, Rangers 2, Kings 1.
The good vibes from LaFleur's late goal in the first period were short lived. Just 26 seconds into the second period, Wayne Gretzky lined up for a blast. On the rebound given up by Beezer, Doug Crossman deposited the puck into the back of the net. 2-2. Of note, this also broke Gretzky's two games without a point "drought."
After Crossman's goal, the Rangers showed some fire, as Guy LaFleur almost had his third goal of the game. Healy was able to prevent this hat trick goal – at least up to this point in the game!
Brian Mullen, who had a good game here, then screened Healy to set up a shot from Mark Hardy. The shot went just wide.
Something noticeable from the Kings broadcast – they really love Wayne Gretzky. It's all they talk about. However, can you blame them? I will say, these broadcasters were knowledgeable, bringing up Lucien DeBlois recent role with the Rangers, as a fourth line checker.
As the game progressed, the underrated James Patrick broke up a chance from Gretzky. It was also brought up that Gretzky just tied the Kings record for most points in a season, (137) which was once set by current Ranger Marcel Dionne. I think it's safe to say that Gretzky will break that record! In fact, Gretzky would do just that in this game!
At the 6:13 mark of the period, Mark Hardy was busted for tripping. On the Kings power-play, at the 7:32 mark, Dave Taylor picked up his second goal of the game, pushing the score to BAD GUYS 3, GOOD GUYS 2. Minga.
At the halfway mark of the game, Steve Duchesne was boxed for tripping. On the Rangers power-play, as we've seen all season, Brian Leetch shined, tying the game at three goals a piece, with 8 minutes and change remaining in the period. For Leetch, this was his 20th goal of the season. For the Rangers, this was their second PPG of the game, something we haven't seen much of this season.
With under six minutes to go in the period, Guy LaFleur picked up the hat trick! Here's LaFleur potting his third goal of the contest:
What a night to be inside of @TheGarden . LaFleur picks up his only hat trick as a #nyr and the crowd is louder than a playoff game. You never see this anymore at M$G. pic.twitter.com/R0RsSmqez1

— BlueCollarBlueShirts (@NYCTheMiC) September 23, 2020
4-3, GOOD GUYS!
What a freaking rip by LaFleur, after the Kings turned over the puck in their own zone. I wish I was in attendance for this game. MSG was rocking! The reaction to this goal, a second period goal nevertheless, felt like it was a playoff overtime game winning goal.
Oh and let me say this again – ESPO, you gotta re-sign LaFleur!!!
After LaFleur picked up the hat-trick, MSG was boisterous. Every play garnered a huge reaction. You could feel the Garden rocking from your recliner. "LET'S GO RANGERS" chants bounced all over the iconic ceiling. Fans continued to throw hats, even during game play. Man, oh man, what a historic night at MSG. This game won't be forgotten any time soon!
To add on this, even the Kings looked in awe of LaFleur. When LaFleur took the ice for his next shift after his hat-trick, the Garden exploded again. You could really feel the energy in your bones, whether or not you were inside of MSG for this game.
At this point in the broadcast, and rightfully so, all the announcers could talk about was both LaFleur and Gretzky. What a night!
Back to the game.
A few minutes after LaFleur's third goal, Kings captain Dave Taylor almost picked up a hat-trick himself. Thankfully, Beezer was able to deny Taylor. After the save, Duguay won a draw, but once again, Beezer was able to deny the Kings.
Even more remarkable, at the end of the second period, LaFleur had a chance for four goals, after another Kings turnover. However, Healy made one of the best saves of his career, to keep this game Rangers 4, Kings 3, after two periods of play.
After seven goals and a historic night in MSG, there was still the issue of playing the third period!
To kick off the third period, after three quick saves from Beezer, on the other end of the ice, LaFleur wound up for a big slap shot, but Healy made the save. Man, was LaFleur on fire tonight!
However, while the Rangers do have that great veteran presence right now, it's been their younger players and rookies making a huge difference, hence the Rangers being a Stanley Cup contender as I write these words.
Oh, and again, let me make mention of how great these LA Kings broadcasters were. They were on top of every Rangers news item all game long.
At the four minute mark of the period, Mike Krushelnyski recieved a two minute minor for hooking. However, despite some GOOD LOOKS, the Rangers power-play didn't pick up the goal here.
With the Kings killing the Rangers PP, Krushelnyski came out of the box. Wayne Gretzky found him with the puck. Beezer then made the stop on Krushelnyski. However, in a similar goal to the second goal Taylor scored, Krushelnyski got his own rebound and tucked it in, finding the open space between Beezer's skate and the goal post. 4-4 game.
Two things here. First off, this was a pretty and an amazing goal from Krushelnyski, who stuck with the play. Beezer had an off-night here, as this was the second time where he lost the puck.
Secondly, the score was now tied at 4-4, with under 14 minutes to go. Had the Rangers lost this game, this would've killed the ecstasy and sensation feelings from LaFleur's three goals. Fortunately, this Krushelnyski goal would be the last Kings goal of the game!
With the game now tied, it was now chain-smoking time! Seven minutes into the period, Luc Robitaille stripped Leetch of the puck. Beezer then made a big save. Then, after the next face-off, Beezer stopped Robitaille again.
Whenever LaFleur took the ice during this stretch, MSG exploded with GUYYYYYYYYY chants. Despite his hat-trick, LaFleur could've had 5-6 goals in this game, but Healy made some solid saves on him.
With eight minutes left in the game, the Rangers had a good chance to put the Kings away, after this meltdown from Glenn Healy:
Healy has a huge meltdown and rightfully so #lakings #nyr pic.twitter.com/Yn5QMRyloD

— BlueCollarBlueShirts (@NYCTheMiC) September 23, 2020
Listen, we're all Ranger fans here, but this was an awful, awful, awful call. And did I mention that this call was awful?
I don't know if the refs were trying to give the Rangers a freebie here, after missing two blatant Kings penalties earlier in the game, but this was not a delay of game from Healy. You had Kelly Kisio right next to Healy. This was a good of a freeze as any. While yes, this was to the benefit of the Rangers, this was a wrong call, and a call that a referee should be fined over.
I'll even add this, and maybe this is hindsight being 20/20 here, but I'm glad the Rangers didn't win the game off of this power-play. It would've been cheap and the Kings would've had every right to gripe. Fortunately, the Rangers would win the game after this bullshit call, thus negating any complaints the Kings could have. (Although, I guess the Kings can say they lost two minutes of even strength time.)
As you'd expect, the Kings announcers were furious here. I don't blame them. Healy also got a game misconduct here. John Tonelli and Mike Krushelnyski served Healy's penalties for him.
LaFleur, while on the power-play, (man, I've said his name a lot in this report) almost gave the Rangers the lead, but Healy made the save to his short side.
During this Rangers power-play, we got a shot of Donald Trump with Ron Greschner's wife, in Carol Alt:
The great @realDonaldTrump saw LaFleur's hat trick and Gretzky's three assists! #nyr pic.twitter.com/etK9Z2lzHQ

— BlueCollarBlueShirts (@NYCTheMiC) September 23, 2020
I'm telling you, with how successful Donald Trump is these days, I could one day see him as the President of these United States!
On the Kings PK, Duguay won a face-off and brought the puck into the Rangers zone. Then, Granato was then blatantly tripped by Duguay, but no call. I guess the refs ignored this penalty, the second time Duguay should've been boxed tonight, due to the bullshit call against Healy.
I'll tell you what – Duguay was a little dirty tonight! I hope he wasn't this dirty at "Studio 54" back in the day!
With the teams back at full strength, at the 15:17 mark of the game, Kelly Kisio would score the game winning goal:
Another forgotten captain and a forgotten 11 in #nyr history – Kelly Kisio. Kisio wins this game! What an amazing game, and a very historical one at that. pic.twitter.com/huotDN7IPE

— BlueCollarBlueShirts (@NYCTheMiC) September 23, 2020
5-4, GOOD GUYS!
On the goal, the Rangers once again capitalized after another Kings turnover. This time, it was Kisio with the sweet shot, in what would be the GWG. Great work, great shot, great finish!
One last thing on Kisio's GWG – MSG exploded more for LaFleur's hat trick goal in the second period than Kisio's GWG here, late into the thrid period. I don't blame the Rangers faithful at all! They witnessed history and greatness not only from a Hall of Famer in LaFleur, but history and greatness from one of the best NHL players of all-time!
As we approached the two minute warning, Gretzky came this-close to tying the game, as he tried to bank a shot off of Beezer, similar to the two previous goals Beezer gave up in this game. Thankfully, Beezer made the stop here.
With the Kings pressing and trying to tie the game, Healy was pulled from net, with 65 seconds remaining in regulation. Immediately, Beezer would have to make another save on #99.
The Kings, who had a few chances to tie this game, thus pushing it into overtime, saw their chances go up in smoke, as Kelly Kisio scored the final goal of the game, the empty net insurance goal, with 35 ticks remaining. 6-4 GOOD GUYS! More importantly, 6-4 GOOD GUYS, YOUR FINAL! And hey, on that final goal of the game, the tenth goal of the game, Brian Mullen made a hell of a pass to make things easy for Kisio.
What a game, what a win!
---
All, in all, tonight's a game that will be remembered for some time. Hell, I think even thirty years from now, when I'm uncontrollably crapping into my diaper, I think people will still be talking about this game! I hope to have my newsletter still going in those days. Man, after those "Back to the Future" movies, I can't wait to see what the world will be like in thirty years. Heck, how about a round number like 2020? I'm sure that year will be awesome.
<Sniff, sniff, cough, cough.> Guys, I think I'm coming down with something, so I need to wrap this up and go to bed. I feel like I got the flu. With the way I feel right now, I think that anyone that's been around me right now should go to a doctor too. I might have to wear one of those dentist masks tomorrow at work, to make sure I don't spread my germs!
Great win for the Rangers tonight! I'll be back on Wednesday night, recapping the Original Six tilt between the Leafs and the Rangers. Hopefully, Ron Greschner and Jan Erixon will both be back by then.
As always here, on the BlueCollarBlueShirts Newsletter, thanks for reading! Let's Go Rangers & Let's Go "Macho Man" Randy Savage at WrestleMania V!
Sean McCaffrey
PO BOX #1940, NY, NY
---
Before closing out this montrosity of a blog, as far as the next DeLorean blog goes, I have a bunch of old games on DVD, courtesy of Mike J. However, time permitting, I'd love to jump right into next season, the 1989-1990 season, as there were so many changes going on in Rangerstown, USA at the time. Not only did the Rangers have a new coach, a new GM and a new roster (LaFleur moved on to the Quebec Nordiques), the Rangers & the NHL were heading into a new decade too.
As far as a game to pick from that season, when recapping that 1989-1990 campaign, I'm eyeing the October 19th, 1989 game, between the New York Rangers and Hartford Whalers. What's the significance of that game? Mike Richter picked up his first win, in his first NHL regular season start. In addition, of the 13 DeLorean blogs I've done, I've never looked at the Hartford Whalers. For historic purposes, it would be fun to look at the Whalers of that era too.
Then again, looking back to 2005 and Henrik Lundqvist's first win as a Ranger may be more timely right now. We'll see!
If you haven't already, subscribe to this blog for the next update: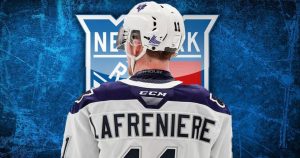 After spending most of this blog in the past, the next blog on this site will be all about the future. I'll be back late Tuesday night, after the 2020 NHL Draft.
While it's a given the Rangers will take Alexis LaFreniere with their first pick of the draft, it remains to be seen if the Rangers deal their #22 overall pick of the draft for roster depth, as the Rangers look to bolster their center and LD positions. And who knows, maybe the Rangers aren't done making cap space moves either, with all eyes on Brendan Smith and his cap hit.
In addition, the Rangers are also looking to make deals with several of their restricted free agents, so we might get more news on that on Tuesday. Of the RFA's, I think you'll see Tony DeAngelo, Brendan Lemieux and Alexandar Georgiev retained first. Ryan Strome may take some time. I don't see Philipp DiGiuseppe coming back. Again, we'll see and go through all of this after the draft.
As always here, thanks for reading and…
LET'S GO RANGERS!
Sean McCaffrey
BULLSMC@aol.com
@NYCTHEMIC on Tweeter and on Parler