Greetings and salutations everyone and welcome to another blog here on BlueCollarBlueShirts.com.
Off puck drop here, we are going super-long tonight, so buckle up and get a beverage, because there's a ton to get into. As always, I'm giving you the most bang for your one click!
The busiest off-season week in NHL history continued this past Friday, as on October 9th, the free agency period officially opened up at 12PM. When it comes to the Rangers, similar to the NHL Draft from this past Tuesday & Wednesday, the Rangers game-plan during free agency was made transparent. As I'll soon get into, when I get into all of the moves the Rangers made on Friday, you could see what both Jeff Gorton and John Davidson were thinking. In addition, what the Rangers did on Friday goes hand-in-hand with what John Davidson said when he first got here – he wants to build from the bottom up.
In the Rangers biggest move in day one of free agency, the Rangers signed defenseman Jack Johnson. The amount of buckets cried by these chart humping basement bozos on social media over this signing was priceless. It just seems that for certain sections of this Rangers fan base, they can never be happy, nor do they understand the concepts of team building and how the salary cap works. Really, I guess with Marc Staal gone, rather than being happy about the future, these disgusting ogres have to find a new whipping boy. Jack Johnson hasn't even played one game for the Rangers, yet these cretins are already trying to go all Salem here, in their efforts to burn Johnson at the stake.
Seriously, while I'm trying to be funny a bit here, the Rangers have a bright-as-ever future, yet you got these mooks crying about Jack Johnson. It's like the Lafreniere pick never happened!
My thoughts on these petty pissants aside, I'll have a full breakdown of the Johnson signing, and give you the real truth about this signing as we move along tonight. Very rarely do I disparage other bloggers or podcasters on this website, but seriously, the stuff I read from these people about Johnson was out-right sickening.
Away from the current Rangers, when it comes to ex-Rangers on the move, Cam Talbot signing with the Minnesota Wild was the top story of the day. Okay, okay, okay – I'm breaking your balls here! But no joke, as I'll get into when I get into the Talbot segment, if I was an active NHLer, I would want Cam Talbot's agent. More on this later.
As has been rumored for a week, the Washington Capitals and Henrik Lundqvist made it official on Friday, as Lundqvist joins the Capitals on a one-year and team-friendly deal. Both parties released a ton of information and comments about the move on Friday, and I'll get into all of this after I recap all of the Rangers news. After all, this is a Rangers blog and the Rangers come first here! Lundqvist isn't a Ranger anymore! It's been ten days now and every time I write about Lundqvist as a Ranger in the past tense, I just can't prevent myself from smiling ear-to-ear! Bright times ahead!
There's a lot to get into tonight, as I'll give you complete breakdowns and thoughts on the news stories mentioned above. Elsewhere, I got comments from current Rangers on some of the moves today, the NYR RFA's, other major NHL free agent signings, a personal story on one of the newest Rangers & much more.
However, before rocking and rolling here, as usual, the PLUGS segment.
Here are my last few blogs in case you missed them:
(And not for nothing, it doesn't seem like many of you are missing them anymore. In this month alone, this site is doing an absurd amount of record traffic. I should also mention, just based on my social media browsing, I'm seeing postings from names I haven't seen in years. The rebuild is over and the casual fans are back. Oh, and as always, thanks for reading!)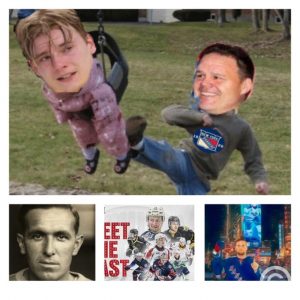 ---
---
---
---
---
The Rangers made a flurry of signings on Friday, with Jack Johnson being the biggest name signed. For the purpose of this blog, I'll look at Johnson first, and everyone else afterwards.
As I always like to do whenever the Rangers break a story, let me share with you what the Rangers are saying about Johnson. After the PR, I'll give you my thoughts.
The following press release from the Rangers comes from: https://www.nhl.com/rangers/news/rangers-agree-to-terms-with-free-agent-defenseman-jack-johnson/c-319403980
The New York Rangers announced today that the team has agreed to terms with free agent defenseman Jack Johnson.
Johnson, 33, has skated in 937 career NHL games over parts of 14 seasons (2006-07 – 2019-20) with the Los Angeles Kings, Columbus Blue Jackets, and Pittsburgh Penguins, registering 70 goals and 232 assists for 302 points, along with 521 penalty minutes. He has averaged at least 19:00 of ice time per game in each of his 13 full seasons in the NHL, as well as 20:00 or more of ice time per game in 10 of those 13 seasons. Johnson has tallied at least 20 assists and 30 points in five different seasons throughout his career. In addition, he has registered 100 or more blocked shots in nine different seasons and 100 or more hits in seven different seasons in the NHL. Johnson ranked fifth among NHL defensemen in hits in 2018-19 (233), establishing a career-high in hits during the season. He served as an alternate captain for several seasons during his tenure with the Blue Jackets.
The 6-1, 227-pounder skated in 67 games with Pittsburgh this past season, registering three goals and eight assists for 11 points, along with 26 penalty minutes. Johnson ranked second among Penguins defensemen in games played in 2019-20, and he averaged 19:28 of ice time per game during the season. He led the Penguins in blocked shots (97) and ranked second on the team (led team defensemen) in hits (183) this past season. Johnson tied for second on the Penguins (tied for first among team defensemen) in average shorthanded ice time in 2019-20 (2:12) while helping Pittsburgh rank tied for eighth in the NHL in penalty kill efficiency this past season (82.1%).
Internationally, the Indianapolis, Indiana native has represented the United States in numerous tournaments throughout his career. Johnson helped the United States earn a silver medal at the 2010 Winter Olympics. He has represented the United States at the IIHF World Championship five times in his career (2007, 2009, 2010, 2011, and 2012), serving as the team's captain twice (2010 and 2012), and he also represented the United States at the 2016 World Cup of Hockey.
Johnson was originally selected by Carolina in the first round, third overall, of the 2005 NHL Entry Draft.
---
Just seconds after the Rangers tweeted out the news, of the signing of Jack Johnson on Friday afternoon, the basement bozos of this NYR fan base went berserk. While I'm not going to share all of the reaction, because it would take me forever to do so, trust me when I say this – according to these morons, Johnson is as bad as a pedophile, a terrorist and a urinary tract infection, all lumped together and combined. No joke, if you're to scour through all of this negative bullshit, you would think Johnson was a Lego that you just stepped on repeatedly while barefoot.
Unlike other writers, bloggers, podcasters, fans or whatever group you want to lump me in with, I don't hide my biases on this site. With that in mind, let me be upfront with you here – I have a soft spot for Jack Johnson and want to see him do well.
If you don't recall what happened with Johnson, back in 2014, Jack Johnson's parents bankrupted him. Johnson's mother had power of attorney over his finances and in time, ran up $10M of debt. While Johnson would never go after his parents for the losses, (the money was gone anyway) Johnson would be forced to sell off a ton of his assets, including his two homes & automobiles. When all the dust was clear, Johnson would become the "lowest paid player" in the NHL, as he was only entitled to $246,000 of his $5M annual salary.
For more on Johnson, you can google "Jack Johnson + Bankruptcy." You can also read this link from 2014, when the story first broke: https://www.sportsnet.ca/hockey/nhl/columbus-blue-jackets-jack-johnson-bankrupt-parents/
While Johnson is financially secure now, and has been able to put all of this major misfortune in his rear-view mirror, the damage remains. His relationship with his parents will never be the same again. He'll never get back all of that lost money. And let's face it, while most hockey players are better off financially than us common folk, the fact of the matter is that they have short careers. They have to maximize their earnings in every year. No matter how you shake it, this was a major blow to Johnson, to Johnson's wife and for Johnson's children.
When I first read the story about Johnson in 2014, and as I continued to follow the story, I felt bad and sympathetic for him. Here he is trying to do the right thing, and he gets burnt by his parents. And talk about irony here. The Ranger fans that are currently burying Jack Johnson on Twitter right now, all live with their parents; great parents that let their grown adult children live with them rent-free. For Johnson, it was his parents going the other way here, forcing him into bankruptcy.
While receiving sympathy isn't a trait that makes an NHL player, I have always wanted to see Johnson do well.
Jack Johnson wasn't always hated by hockey fans. Originally selected by the Carolina Hurricanes, Johnson was traded to Los Angeles, where he would eventually make his NHL debut. Johnson had a good run in LA, although in his last year with LA, he had a subpar season, where he was ultimately traded to Columbus during the trade deadline of the 2011-2012 season. Unfortunately for him, the Kings would go on to win the Stanley Cup that year.
Johnson would go on to have a solid run in Columbus, where not only did he become an alternate captain for the club, but where he was also considered one of the team's leaders of the locker room. Of course, John Tortorella would eventually join the Blue Jackets, and Johnson would be forced to block more shots than usual.
As Johnson crossed north of the age of 30, and with his financial troubles, Johnson found a more than favorable contract offered to him, when he signed with the Pittsburgh Penguins, back on July 1st of 2018. Not only would Johnson be joining a Stanley Cup contender, but he received a contract of five years, worth $16,250,000 overall. This contract would right Johnson's finances and would also give him a chance at a Cup.
At the time of his signing with Pittsburgh, many Penguin fans groaned and many people across the league thought the contract was too high, from both a term and AAV perspective. These people would be proven right, as with three years remaining on his deal, the Penguins bought out Johnson earlier this week, on October 5th. Johnson, who has a salary cap hit of $3,250,000 per year, for the next three years, due to his performance and cost, it just wasn't worth it for the black and yellow anymore. Ultimately, the Penguins will now pay Johnson $250,000 shy of $10M, over the course of the next three years. On the bright side for Penguins fans – at least this buy-out isn't as bad as the buy-out the Rangers are currently incurring with Stanley Cup Champion Kevin Shattenkirk.
---
Here's a fact that everyone seems to be ignoring right now – THE NEW YORK RANGERS 2021 ROSTER ISN'T 100% ASSEMBLED YET. Right now, I see mass hysteria from Ranger fans, as if Jack Johnson was the Stay Puft Marshmallow Man from "Ghostbusters". While Johnson will get a shot to make the team, it's not like the Rangers signed a 30 year mortgage on the guy either.
Similar to Marc Staal, if there was no salary cap, the Penguins would've retained Johnson, just as the Rangers would've retained Staal if there was no salary cap. After all, who wants to pay someone to play for another team, much less a team in your own division? (We'll talk about Lundqvist later!)
The Rangers gave Johnson a one-year deal worth $1.15M on Friday. The money is small potatoes for a guy with Johnson's experience. And while we don't know if there will be an AHL next season, in the event there is, the Rangers can just send Johnson to the Wolfpack if the deal doesn't work out. (And if there is no AHL, I'm sure some sort of cap rule will be created to make up for the fact. For what it's worth, and as you'll soon see, the Rangers are operating as if the AHL will play games in 2021.)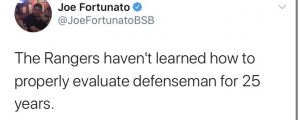 As of this writing, the Rangers front office haven't addressed the media. However, from an outsider-looking-in perspective, to me, I think this deal screams of John Davidson, Jeff Gorton and Jacques Martin.
Going into this off-season, as recapped on previous blogs on this site, the Rangers needed to add depth to their center and left defensemen positions. Of course, the Rangers also needed to fill these gaps under a salary cap, a salary cap that I think many fans ignore while moaning and groaning.
Is Johnson, who will be 34 years old at the start of next season, the Rangers long-term solution at LD? Of course not! That's why I don't get why fans are pulling a Frankie Five Angels in their parent's bath tubs right now. If anything, Johnson will be the team's seventh defenseman and perhaps a cheap insurance policy, in case anyone gets injured and/or K'Andre Miller isn't ready right away.
In addition, as I talked about last blog, in their latest interview with the media, both JD & Jeff Gorton said that there have been talks about flipping either Tony DeAngelo or Adam Fox to the left side. What that tells you, is that this Johnson signing isn't the Rangers throwing all of their eggs into the Johnson basket. The Rangers are taking a chance on a guy that has a history with the decision makers of this team. The Rangers are giving Johnson a low risk/high reward type of a deal, with the hopes that Johnson, like many veterans across the league on a cheap deal, will come in extra-motivated & succeed. (See Kevin Shattenkirk and the deal he got today. More on this to come.)
When it comes to Johnson, John Davidson is obviously very familiar with him, as John Davidson presided in Columbus during Johnson's prime years there. Johnson also played the last two years underneath Jacques Martin. And with Jeff Gorton embracing grit and toughness right now, Johnson seems to fit the mold a bit. (Re-read that NYR press release on Johnson, where the PR focuses on Johnson and his hits & blocked shots.)
As I have been saying for a while, the Rangers future is bright. Trust in Gorton. Plus, as I said earlier, we don't know what this roster will be yet, come opening night. At a $1.15M cap hit, if Johnson doesn't work out, it won't be the end of the world. The Rangers have plenty of options if things don't go well with Johnson. However, to shun Johnson before he even steps on the ice for his first Rangers practice ,well that all seems silly to me.
I'm here to embrace Jack Johnson, wish him the best and hope he can contribute. Hell, I hope he wins the Norris Trophy too, just to stick it up the holes of these little maggots on social media!
Lastly on Johnson, who while I admit hasn't been great lately, but could use his current status to kick some ass next year, I give you this – no NHL GM, when building a Stanley Cup contender, spends a bulk of their time worrying about their 7th defenseman or 13th forward. The Rangers have the horses now and to worry like a jackass is just idiotic.
Good luck Double J! NEXT!
---
Away from Jack Johnson, the Rangers signed six other players today, six players that will most likely fill roles for the Rangers minor league clubs. I got a lot to say about these guys, but as usual, let me give you the Rangers press release and take on the story, then give you all of my thoughts after.
The following information and photos come from: https://www.nhl.com/rangers/news/rangers-announce-six-free-agent-signings/c-319405248
The New York Rangers announced today that the team has agreed to terms with six free agents:
Kevin Rooney (Forward)
Rooney, 27, skated in 49 games with the New Jersey Devils this past season, registering four goals and five assists for nine points, along with a plus-eight rating and 20 penalty minutes. He established career-highs in several categories in 2019-20, including games played and plus/minus rating, and he led New Jersey in plus/minus rating during the season. Rooney posted a plus/minus rating of even or better in 43 of 49 games he played this past season, and he was on the ice for only 10 even strength goals against in 470:43 of even strength ice time. He had an on-ice even strength goals for percentage of 60.0% this past season (15 even strength goals for and 10 even strength goals against), which was tied for the 25th-best among NHL forwards (min. 40 games played).
The 6-2, 190-pounder ranked third among Devils forwards in average shorthanded ice time in 2019-20 (2:06) while helping New Jersey rank seventh in the NHL in penalty kill efficiency during the season (82.4%), and he was only on the ice for 11 power play goals against in 102:51 of shorthanded ice time (6.42 power play goals against per 60 minutes of shorthanded ice time). Rooney tied for second on New Jersey in shorthanded goals (two) and tied for third on the team in shorthanded points (three) this past season. He registered 64 hits in 49 games in 2019-20, and he ranked fifth on the Devils (min. 10 games played) in hits per 60 minutes of ice time (6.68). Rooney ranked third on the Devils in penalties drawn per 60 minutes of ice time (min. 10 games played – 1.32) and net penalties per 60 minutes of ice time (0.52) this past season (he drew 12 penalties and took seven penalties in 2019-20).
Rooney has skated in 95 career NHL games over parts of four seasons (2016-17 – 2019-20), all with New Jersey, registering 10 goals and nine assists for 19 points, along with a plus-one rating and 39 penalty minutes. He established career-highs in goals (six) and points (10) in 41 games with the Devils in 2018-19.
The Canton, Massachusetts native was originally signed by the Albany Devils of the American Hockey League (AHL) to an Amateur Tryout (ATO) on March 29, 2016 following his collegiate career at Providence College. Rooney signed his first NHL contract with New Jersey on February 27, 2017.
---
Anthony Bitetto (Defenseman)
Bitetto, 30, skated in 51 games with the Winnipeg Jets this past season, registering eight assists, a plus-three rating, and 32 penalty minutes. He established career-highs in several categories in 2019-20, including games played, assists, points, plus/minus rating, and average ice time (15:10). Bitetto ranked second on Winnipeg in hits this past season (145), and he led the Jets in hits per game (2.84). He ranked 23rd in the NHL, as well as fifth among NHL defensemen, (min. 30 games played) in hits per game in 2019-20. In addition, Bitetto ranked fourth on the Jets (and ranked second among Jets defensemen) in average shorthanded ice time this past season (2:11).
The 6-1, 210-pounder has skated in 183 career NHL games over parts of six seasons (2014-15 – 2019-20) with Nashville, Minnesota, and Winnipeg, registering two goals and 25 assists for 27 points, along with 122 penalty minutes. Bitetto also skated in each of Nashville's 14 games during the 2016 Stanley Cup Playoffs. He has recorded 379 hits in his 183 career NHL games. Bitetto has averaged 9.48 hits per 60 minutes of ice time in his NHL career; since the start of the 2014-15 season, he ranks 10th among NHL defensemen (min. 100 games played) in hits per 60 minutes of ice time.
The Island Park, New York native was originally selected by Nashville in the sixth round, 168th overall, of the 2010 NHL Entry Draft.
---
Keith Kinkaid (Goaltender)
Kinkaid, 31, has appeared in 157 career NHL games over parts of seven seasons (2012-13; 2014-15 – 2019-20) with New Jersey and Montreal, posting a 65-56-20 record, along with a 2.95 GAA, a .905 SV%, and 7 SO. He appeared in 41 games and made 38 starts in each of his last two full seasons in the NHL (2017-18 and 2018-19), establishing career-highs in both categories. Kinkaid established a career-high in wins with 26 in 2017-18, helping the Devils advance to the 2018 Stanley Cup Playoffs, and he posted a 2.77 GAA and a .913 SV% during the season.
The 6-3, 186-pounder split this past season between the NHL and the American Hockey League (AHL) while in the Montreal Canadiens organization. Kinkaid appeared in 17 AHL games with the Laval Rocket and Charlotte Checkers in 2019-20, posting a 3.15 GAA and a .888 SV%. Kinkaid also appeared in six NHL games with Montreal during the past season.
Internationally, the Farmingville, New York native has represented the United States in several tournaments. Kinkaid helped the United States earn a bronze medal at the 2018 IIHF World Championship and was named one of the Top Three Players on his Team in the tournament, as he posted a 7-2-0 record, along with a 2.29 GAA, a .912 SV%, and 2 SO. In addition, Kinkaid represented the United States at the 2016 IIHF World Championship.
Kinkaid was originally signed by New Jersey as an undrafted free agent on April 18, 2011.
---
Colin Blackwell (Forward)
Blackwell, 27, split this past season between the Nashville Predators in the NHL and the Milwaukee Admirals in the American Hockey League (AHL). He skated in 27 NHL games with the Predators in 2019-20, registering three goals and seven assists for 10 points, along with a plus-seven rating and 10 penalty minutes. Blackwell, who recorded all of his 10 points this past season at 5-on-5, ranked fifth on Nashville in points per 60 minutes of ice time at 5-on-5 (2.07) and ranked third in assists per 60 minutes of ice time at 5-on-5 (1.45) during the season. He also ranked sixth on the Predators in plus/minus rating this past season, and he was on the ice for only 10 even strength goals against in 293:22 of even strength ice time in 2019-20.
The 5-9, 190-pounder also skated in 26 AHL games with Milwaukee this past season, registering six goals and 17 assists for 23 points, along with a plus-14 rating and 21 penalty minutes. Blackwell ranked third on the Admirals in points per game in 2019-20 (0.88) and posted a nine-game point streak during the season.
Blackwell has skated in 33 career NHL games over parts of two seasons (2018-19 and 2019-20), both with Nashville, registering three goals and seven assists for 10 points, along with a plus-six rating and 12 penalty minutes. He has also skated in 187 career AHL games over parts of four seasons (2016-17 – 2019-20), recording 41 goals and 64 assists for 105 points, along with a plus-10 rating and 90 penalty minutes. Blackwell also helped his team advance to the Calder Cup Playoffs in three consecutive seasons from 2016-17 – 2018-19 (the 2020 Calder Cup Playoffs were cancelled), and he has tallied seven points (five goals, two assists) in 23 career Calder Cup Playoff games.
The Lawrence, Massachusetts native was originally selected by San Jose in the seventh round, 194th overall, of the 2011 NHL Entry Draft.
---
Anthony Greco (Forward)
Greco, 27, split this past season between the Springfield Thunderbirds, the Syracuse Crunch, and the San Jose Barracuda of the American Hockey League (AHL), registering 11 goals and 13 assists for 24 points, along with 14 penalty minutes. He tallied 19 points (10 goals, nine assists) in 37 games with Springfield, and he registered 118 shots on goal in those 37 games (3.19 shots on goal per game). Greco also notched four points (one goal, three assists) in his seven games with San Jose and posted a three-game assist/point streak over the final three games of the season.
The 5-10, 174-pounder has skated in 271 career regular season AHL games over four seasons (2016-17 – 2019-20), registering 86 goals and 76 assists for 162 points, along with 106 penalty minutes. Greco established AHL career-highs in goals (30), assists (29), and points (59) with Springfield in 2018-19, and he also tallied 29 goals in 75 games with Springfield in 2017-18. He was one of only three AHL players who registered at least 29 goals in both 2017-18 and 2018-19, and his 59 goals over the two seasons were the third-most in the AHL. Greco led the AHL in shots on goal in both 2017-18 and 2018-19 (252 shots on goal in 2017-18; 267 shots on goal in 2018-19), and he also led the AHL in shorthanded goals in 2017-18 (six). He has skated in one career Calder Cup Playoff game, making his AHL debut with Bridgeport during the 2016 Calder Cup Playoffs.
The Queens, New York native has also skated in one career NHL game, making his NHL debut on December 13, 2018 as a member of the Florida Panthers. Greco is the only player in NHL history whose listed birthplace is Queens, New York. He signed his first NHL contract with the Panthers on November 20, 2017.
---
Jonny Brodzinski (Forward)
Brodzinski, 27, skated in 44 games with the San Jose Barracuda of the American Hockey League (AHL) this past season, registering 14 goals and 16 assists for 30 points, along with 26 penalty minutes. He tied for third on the team in goals, tied for fourth on the team in assists and points, and ranked second on the team in shots on goal (136) in 2019-20. Brodzinski also skated in three NHL games with the San Jose Sharks this past season, recording one assist.
The 6-1, 215-pounder has skated in 200 career AHL games over parts of five seasons (2015-16 – 2019-20), registering 70 goals and 68 assists for 138 points, along with a plus-19 rating and 74 penalty minutes. Brodzinski established AHL career-highs in goals (27), assists (22), points (49), and shots on goal (184) with the Ontario Reign in 2016-17, and he was selected to play in the 2017 AHL All-Star Classic. He has helped his team advance to the Calder Cup Playoffs three times, and he has registered 10 points (five goals, five assists) and a plus-five rating in 13 career Calder Cup Playoff games. Brodzinski has also skated in 57 career NHL games over parts of four seasons (2016-17 – 2019-20) with Los Angeles and San Jose, recording six goals and six assists for 12 points, along with a plus-six rating and 10 penalty minutes.
The Ham Lake, Minnesota native was originally selected by Los Angeles in the fifth round, 148th overall, of the 2013 NHL Entry Draft.
Again, all of the above information on these signings came from NYRangers.com
---
There's quite a bit to unpack here, so let's run it all down.
The easiest thing to talk about and get out of the way here, is the signing of goaltender Keith Kinkaid. As I've been talking about during the past few blogs on the site, the Rangers needed to sign some cheap veteran goalie, in order to expose to Seattle during the Seattle Kraken expansion draft, currently scheduled for June of 2021. (I'm sure that date might get pushed back, especially if the playoffs spill into July.)
I'll say this, and nothing against the local hometown kid, but if Keith Kinkaid plays one game for the Rangers this season, then something bad happened, whether it was an injury or a horrendous slump by either Georgiev or Shestyorkin.
Make no bones about it – Kinkaid is here for one reason and that's to be exposed to Seattle/protect Georgiev. This is why the Rangers gave him a two-year deal, as opposed to a one year deal.
That said, if the AHL does have a season this year, and if Kinkaid plays well for Hartford, maybe he could parlay that into an NHL return in the 2021-2022 season. However, his future isn't with the Rangers. And he knows this too.
---
In a signing I didn't see coming but was happy to see it, Anthony Bitetto, the pride of Island Park, NY, is now a Ranger. I mention Island Park because I have several friends from there, friends who all know Bitetto and his family personally. From all reports, Bitetto is a nice guy and from a great family.
As far as any interaction I've ever had with Bitetto, I ran into him at a local bar twice, before he played in the NHL. My extent of my conversation with him was "How you doing?" "Good". Then after ordering our beers, we went off to our separate group of friends. (Of note, I'm 8 years older than him.)
I can tell you this – Bitetto and his family grew up as Ranger fans. I was told by one of my friends that the Bitetto family is ecstatic about this news. After an up and down career, which has admittedly declined a tad since leaving Nashville, if Bitetto is to ever make a roaring comeback and become a regular game-in, game-out NHLer, Bitetto would love to do it with his childhood team. And really, who doesn't love a hometown/homegrown story? I hope it pans out.
Bitetto, like Johnson, is a left-handed defenseman. I know I've said this twice already on this blog, but I'll say it again – as of this writing, we don't know what the Rangers roster will look like on opening night.
It's most likely that Bitetto is slotted for Hartford, but that's not to say he can't make the Rangers either. Like Johnson, he could be an insurance policy if K'Andre Miller needs time/seasoning. If Johnson flames out, Bitetto could leap-frog Johnson on the depth chart. Really, as we all know, when you look at the left defense on the Rangers, only Ryan Lindgren is guaranteed a spot right now. We don't know where Smith will turn up, whether he remains with the Rangers, gets traded, plays LD or is the team's 13th forward.
Libor Hajek, another player trying to make his way back onto the roster, will also be competition for Bitetto. However, just like Johnson, Bitetto will get a chance to determine his own fate, especially if he has a great training camp and preseason. In addition, unlike the other Long Islander signed by the Rangers on Friday, in Keith Kinkaid, Bitetto has a much better chance of playing inside of MSG for the Rangers than Kinkaid does.
In any event, all the best to Bitetto. We should all be as lucky as he is. Imagine being paid to play for your favorite team? At least someone is having a good 2020!
---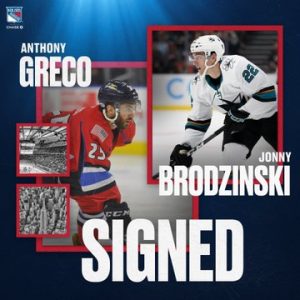 If you look at all the players the Rangers signed today, outside of Jack Johnson, you could see the mission was to fill out the ranks in Hartford. While some of these players may be considered/get a shot at the main roster, it's more likely that all of them, in 2021, will call Hartford home. (Again, if there is an AHL season. As talked about last blog, the AHL can't sustain itself financially if they aren't allowed to have fans inside of the arena.)
When you look at the seven players the Rangers signed today, just like the draft, the Rangers focused on grit and sandpaper types. There were no "Ice Capades" or a Brian Boitano type of signing today. The Rangers have made it clear that they want heart and soul players, rather than flashy Euros, Euros who are sometimes scared of contact and physicality.
Furthermore, when you look at the signings of these seven Americans, you have to wonder how much this pandemic weighed into these signings.
If you look at the seven guys the Rangers signed today, you have three guys from New York, two guys from Massachusetts, one guy from Minnesota and Johnson, who up until this past week, called Pittsburgh home. Outside of Brodzinski, who is from Minnesota, all of these players are within driving distance of both New York & Hartford.
With questions about the AHL season lingering, the Rangers have a collection of local talent to fill out that Hartford team. If the AHL season doesn't happen, the Rangers have local players for practice. The Rangers also won't have to worry about border restrictions or quarantine issues with these players either.
During the draft, the Rangers, by selecting more Americans & Canadians than they've ever selected before in this century, told us what they're investing in. By honing and zoning in on Americans exclusively on Friday, the Rangers doubled-down on this new agenda. And hell, they also got a goalie to expose to Seattle too!
Next!
---
Whenever the Rangers make a move, Tony DeAngelo is the first Ranger to comment. Responding to the Rangers twitter account, DeAngelo welcomed all of the newest Rangers to the club. DeAngelo also said, "Welcome aboard fellas. Happy to see a nice Italian in there too. Now we have 3!"
Of course, TDA remains an unsigned restricted free agent, but based on what Gorton & JD have told the press recently, it does seem likely that TDA returns. That said, the money has to be right.
When it comes to the other RFA's, the Rangers did not make a deal with any of them today. The Rangers have until October 18th to do so. After the draft from this week and fleshing out the Hartford roster on Friday, I'm sure the next step is to hammer down deals with all of their RFA's. I guess that will give us something to talk about next week!
With all of the Rangers news now covered, let's take a look at the ex-Rangers who were on the move on Friday.
---
On Friday, it was made official. Henrik Lundqvist is now a Washington Capital. For a man known as "The King", how long before Cap fans will want to impeach this new President? (Yes, that joke was forced.)
In another joke, although I wish it happened, it's too bad the NY Post didn't trade Larry Brooks to the Washington Post for "future considerations." After reading the last few tear-soaked columns from Brooks, I'm absolutely nauseous. I'm surprised Mr. Brooks hasn't retired yet, as every column he writes on Lundqvist feels like a cry for help.
Okay, let's talk serious, because really, this news does effect the Rangers a bit, since the Caps are a division rival. In addition, I want to cover this story only once. Hopefully, this is the last time Lundqvist's name is in the news for the remainder of 2020. It is my goal, that outside of a DeLorean blog, the next time I talk about Lundqvist on this site is during a Rangers/Capitals game review blog.
---
Before giving you all of the stuff from both the Capitals and Lundqvist today, I got to say this – the Capitals and Lundqvist handled this perfectly. While sure, they had several days to prepare, I thought both parties knocked it out of the park today. Each party was complimentary of each other, had all the media ready to go and unlike the Rangers with Lafreniere, even had Lundqvist's newest jersey available for sale. (Lundqvist will go back to wearing #35, a number he never could've wore with the Rangers. It's amazing how many NYR fans weren't aware of that. Then again, nothing surprises me anymore.)
At this time, let me give you all of the official news and pleasantries.
Up first, the Capitals press release from https://www.nhl.com/capitals/news/capitals-sign-goaltender-henrik-lundqvist/c-319400286:
The Washington Capitals have signed goaltender Henrik Lundqvist to a one-year, $1.5 million contract, senior vice president and general manager Brian MacLellan announced today.
"Henrik is one of the greatest goaltenders in NHL history, and we are pleased to have him join our organization," said MacLellan. "Henrik has the competitive drive and the ability to help our team compete for a championship. We feel he will be an excellent fit for our team and provide leadership to our organization and our young goaltenders.

"We want to thank Braden Holtby for his many contributions to the Washington Capitals. Braden has built a legacy both on and off the ice that will have a lasting impact on our organization and on our community. Winning the Vezina Trophy in 2016, the Jennings Trophy in 2017 and helping the team win the Stanley Cup with his stellar play in 2018 cements his position as one of the best goalies of his era. Off the ice, he led by example and consistently made a positive impact across several important initiatives. We wish him and his family all the best moving forward."

Lundqvist, 38, is 459-310-96 with a 2.43 goals-against average, a .918 save percentage and 64 shutouts in 887 NHL games over 15 seasons, all with the New York Rangers. In 130 career playoff games, Lundqvist is 61-67 with a 2.30 goals-against average, a .921 save percentage and 10 shutouts.

During the 2019-20 season, the 6'1″, 182-pound goaltender registered a record of 10-12-3, a 3.16 goals against average and a .905 save percentage. 

The Are, Sweden, native ranks sixth on the NHL's all-time wins list, eighth on the NHL's all-time appearances list, and 16th on the league's all-time shutouts list. Lundqvist's 459 career wins and 887 career appearances with the Rangers are the second-most a goaltender has recorded with one franchise in NHL history (trailing only Martin Brodeur with New Jersey). Lundqvist has earned more career NHL wins than any other non-North American born goaltender, and he also reached the 400-win plateau faster than any other goaltender in league history (727 appearances).

Lundqvist led the Rangers to the playoffs 11 times in a 12-season span from 2005-06 through 2016-17. The Rangers were not eliminated from playoff contention entering a game in 880 of Lundqvist's 887 career regular season appearances with the team. Lundqvist helped the Rangers reach the Stanley Cup Final in 2014, when he went 13-11 with a 2.14 GAA, a .927 save percentage and one shutout in the Stanley Cup Playoffs. In NHL postseason history, Lundqvist ranks seventh in saves (3,567), seventh in starts (130), eighth in time on ice (7,935:25), 10th in games (130), tied for 11th in shutouts and tied for 14th in wins.

Internationally, Lundqvist won a gold medal with Sweden at the 2006 Torino Olympics and a silver medal at the 2014 Sochi Olympics. He also helped Sweden win gold in the 2017 IIHF World Championship and silver in 2003 and 2004 IIHF World Championship.

Lundqvist was originally selected by the Rangers in the seventh round, 205th overall, of the 2000 NHL Entry Draft.

---
After sending out their press release confirming the Lundqvist signing, the Capitals released a ten minute interview with Lundqvist. You can watch the video of the interview below:
If there was any quote that may draw daggers to the hearts of the Cult of Lundqvist, it's this:
"I want to see myself lift that Cup and I want to do it in Washington."
At this time, let me give you all of my opinions on this deal and then never talk about it again!
---
For starters, we all knew the Rangers were moving on from Lundqvist this year. It was just a matter of when. It's all done now.
When originally trying to predict where I saw Lundqvist going, I thought Calgary, Colorado and Carolina all made sense. However, because of the salary cap and an emerging goaltender in Ilya Samsonov, the Capitals said goodbye to their former Vezina winner and Stanley Cup champion goaltender, in Braden Holtby. (Holtby landed with Vancouver today. More on this at the end of this blog.)
With a one year deal, which will pay Lundqvist $1.5M this season (plus the money owed to him by the Rangers) this is a win-win deal for both Lundqvist & the Capitals. Lundqvist joins a contender, a contender where he has three friends on the team, in Alex Ovechkin, former teammate Carl Hagelin and fellow countryman Nicklas Backstrom. It's being reported that both Backstrom and Ovechkin lobbied the Capitals to make this deal happen, once it was known that the team was moving on from Holtby.
Right now, things are all peachy keen between the Capitals and Lundqvist, with both parties issuing out several public pleasant pleasantries on Friday. However, how long will the good vibes last? Will this marriage work, or will it go up in flames? Only time will tell.
---
During the playoffs, and after their upset loss to the Islanders, I talked about how the Caps really loused things up with Barry Trotz. Rather than paying Trotz, the Caps lost two years and two chances of Ovechkin's prime, by going cheap behind the bench with now former coach Todd Reirden. Two years later, the Caps are now paying Peter Laviolette big money, money bigger than what they've would've spent, had they retained Trotz after the Cup win in 2018.
When the Caps signed Laviolette, I told you on this site that this automatically made the Caps a strong contender again. Good coaching wins playoff games. Now, with Lundqvist there, I'm not so sure, as I'll soon explain.
Before getting deep into Lundqvist on the Capitals, I want to make mention of this – on the NHL Network & on social media, I saw reporters questioning Lundqvist going to the Capitals, citing how winning the Stanley Cup was Lundqvist's goal. Most people thought Colorado would've been a better fit. In none of those stories or comments, was Lundqvist's family brought up.
Say whatever you want about that horrible contract Lundqvist had with the Rangers, you can't deny that he's a great family man and always puts his family first. It's why I think he chose Washington over Colorado. Washington is a quick flight/easy Amtrak ride away from Lundqvist's family in New York. Plus, in a shortened season, Lundqvist's kids can still attend school/live in NY, while Lundqvist chases a Cup. If Lundqvist went to Colorado, he wouldn't have the chance to see his family as much. Washington is a great fit, especially considering the friendships Lundqvist has with several of the players on that roster.
Away from his family, and with Holtby out of the picture, Lundqvist's signing with the Caps makes all the sense in the world. As I said last blog, and to repeat something Linda Cohn said, EVERY ATHLETE SHIPPED OFF BY THEIR EX TEAM ALWAYS WANTS TO STICK IT TO THEIR FORMER TEAM. While Lundqvist is baby-facing everyone right now, you know that deep down, he wants to beat the Rangers. He wants the Rangers to feel regret.
Today, I saw some Lundqvist haters say, "Lundqvist will duck the Rangers and will never play them." I feel the opposite. I think Lundqvist will beg for every start against the Rangers and I think Laviolette will give it to him too. Lundqvist will have his family at those games at M$G and he will be hellbent to show up the Rangers. Whether or not Lundqvist dominates the Rangers next season is another story. However, the fact of the matter is that Lundqvist will come to play. You know he will want those wins against the Rangers.
Moving forward, it's going to be weird and much different for Lundqvist.  In New York, because of his tenure and contract, he was always the focus of the team. He had the media in his pocket. In fact, it was so hard for Lundqvist to pass gas, because he always had the heads of Larry Brooks and Steve Valiquette wedged up into his royal road. In Washington, he's not going to have a media that will bail him out after every bad game.
In New York, Lundqvist was always the elder statesman. The team revolved around him. That's not going to be the case in Washington. Lundqvist won't always be placated there as he was in NY.
If there's any relief for Lundqvist, it's the fact that while he'll put the pressure on himself, he won't have the pressure of being the go-to guy after every win or loss. This Caps team will always be Ovi's team, until Ovi moves on.
As far as the fictional "mentor" stuff, that's all malarkey. Just like when he was with the Rangers, Lundqvist will do his best to steal time from an emerging goalie, this time, in Ilya Samsonov. While Samsonov is expected to be the Caps goalie of the future, Lundqvist knows that if he plays well, he can steal the starter's job there, even if it's only for one season/post-season. Lundqvist is not going to the Capitals to groom and blow smoke up Samsonov's ass. Lundqvist is there to play and wants to be in net for a Caps playoff run. And really, can you blame Lundqvist?
As mentioned previously on this site, teams will need two goalies to be successful in the regular season, due to the expected condensed schedule. Lundqvist and Samsonov could have a 50/50 split for all we know, but you know Lundqvist will be determined to be the man come playoff time. Truth be told, that's a good problem for the Capitals, providing Lundqvist doesn't continue to drastically regress.
---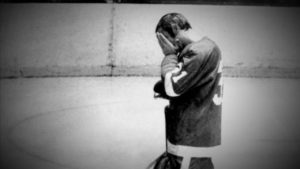 Across social media, I saw fans say stuff like, "this is Eddie Giacomin all over again." Far from it.
When the Rangers moved on from Eddie Giacomin, the Rangers WAIVED Giacomin, as in they said goodbye to him for free. Giacomin then played against the Rangers a few days later, as a member of the Red Wings. The timing of Giacomin's departure was also raw when he signed with Detroit. For Lundqvist, he's still making millions from the Rangers and now collects a salary from Washington too.
And let's face it – if someone like a Rick Nash, Ryan McDonagh, Dan Girardi or Marc Staal got a buy-out, and then signed with a divisional rival, the Cult of Lundqvist would scream foul. However, because it's Lundqvist, it's a-ok!
Giacomin may be the most beloved Ranger of all-time, even if the Cult of Lundqvist are actually in love with Lundqvist. However, the difference between the two, is that during Giacomin's day, diehard and hardcore fans were at every home game. Due to the astronomical prices for Ranger tickets today, the Cult does most of their cheering through their phones in their parents basement.
When Giacomin returned to MSG, it was three days after the Rangers waived him for nothing. As it stands right now, we don't even know if Lundqvist will return to MSG, as no one can predict what the world will be like, when the NHL plans to kick off their 2021 season on January 1st.
As mentioned on past blogs, there's talk of a hybrid bubble season, where early into the season, games will be held in empty arenas, and then as the season progresses, allowing fans to attend games. And here in NY, with an asshole like Mayor Deblasio in charge, who knows if MSG will even be allowed to host fans at all in 2021? (Plus, in the event that a Lundqvist return to MSG does happen, how many fans will attend that game? There will be plenty of people waiting for a true and proven vaccine, before attending any sort of large public gathering.)
When Emile Francis tore it all down in 1975, he didn't send out a letter. At a whim, Ranger fans of the time had to say goodbye to many long-time favorites. Here in 2020, we've known about this rebuild for two years now and knew that Lundqvist's time was done. The emotional impact just isn't the same as it was during 1975. Plus, even if Lundqvist plays inside of MSG as a Capital, it could be a year's time in-between games at M$G for Lundqvist. Again, for Giacomin, it was three days.
---
At the end of the day, Lundqvist and the Capitals are a perfect fit. Lundqvist knows the Metro division after all, which will also help the Caps; especially if teams are forced to play more games against their division in 2021 than usual. At the same time, Lundqvist is known to be torched by ex-teammates, so this could work out for the Rangers too!
The Capitals really do have a strong shot at the Cup in 2021, providing everyone can stay healthy. You can argue that injuries, aside from the bad head coach, played part in the Caps pair of first round losses of the last two seasons.
I know I said this when this Caps/Lundqvist rumor first became a thing, and I'll say it again here – I love the drama of this. This is good for TV ratings and for story telling. For the Caps, they'll make their money several times over on Lundqvist, just on jersey sales alone. (I would expect Lundqvist's Capitals jersey to be a Top 10 selling jersey in the weeks and months to come.)
Maybe with the pressure of being "the man" off of him a bit, Lundqvist will thrive with the Caps. Then again, maybe he continues to slip. What won't happen in Washington, is everyone bending over backwards to protect him. It will be interesting to see how he performs without that safety net.
At the end of the day, as always, I want the RANGERS to win the Cup. However, come the playoffs, and if the Rangers are out and Lundqvist & the Caps are alive? In a shocker for some of you, under that scenario, I hope he and the Caps win the Cup. I'm always for Rangers making the Hall of Fame, and a Stanley Cup victory would 100% cement Lundqvist's status as a future Hall of Famer. However, if the Rangers and the Caps find themselves in a playoff series in 2021? I hope Jack Johnson lights him up!
I know this is going way long, so let me rapid-fire through everything else before closing out here.
---
As the biggest non-relative fan of Cam Talbot in the world today, you can only imagine my shock, that in a flooded goalie market, that Cam Talbot was officially the first domino to fall during free agency on Friday. (While Lundqvist to Washington was rumored for a week, Minnesota announced their transaction first.)
Here's the press release from the Minnesota Wild, courtesy of https://www.nhl.com/wild/news/cam-talbot-three-year-contract-100920/c-319398266:
ST. PAUL — Minnesota Wild General Manager Bill Guerin today announced the National Hockey League (NHL) club has signed goaltender Cam Talbot to a three-year, $11 million contract ($3.67 million AAV).
Talbot, 33, went 12-10-1 with a 2.63 goals-against average (GAA), a .919 save percentage (SV%) and two shutouts in 26 games (22 starts) with the Calgary Flames last season. The 6-foot-4, 200-pound native of Caledonia, Ont., started all 10 Stanley Cup Playoff games for the Flames and went 5-4 with a 2.42 GAA, a .924 SV% and two shutouts. He ranked T-2nd in the NHL in playoff shutouts. Talbot stopped all 31 shots faced in a 4-0 series-clinching win against Winnipeg on August 6 and made 35 saves in a 2-0 victory in Game 3 of the Western Conference First Round series against Dallas on August 14. He started his 300th career NHL game and earned his 150th career NHL win vs. Arizona on March 6. Talbot recorded the most saves in a shutout in Calgary Flames franchise history when he stopped all 44 shots faced in a 6-0 win at Anaheim on Feb. 13.

He went 42-22-8 with a 2.39 GAA, a .919 SV% and seven shutouts in 73 games with Edmonton in 2016-17. Talbot led the NHL in games played, minutes played (4,294) and saves (1,946), ranked T-1st in wins and T-3rd in saves and finished fourth in Vezina Trophy voting. He was originally signed as a free agent by the New York Rangers on March 30, 2010. Talbot made his NHL debut at Philadelphia on Oct. 24, 2013, and earned his first NHL win at Detroit on Oct. 26, 2013.

He owns a record of 150-122-25 with a 2.61 GAA, a .915 SV% and 22 shutouts in 314 career NHL games during seven seasons with the New York Rangers, Edmonton Oilers, Philadelphia Flyers and Calgary. Talbot is 12-11-2 with a 2.46 GAA, a .923 SV% and two shutouts in 25 career Stanley Cup Playoff matches.

He won a gold medal with Team Canada at the 2016 IIHF World Championship, posting a 7-1-0 record with a 1.25 GAA, a .940 SV% and four shutouts in eight games. Talbot played three seasons of collegiate hockey at the University of Alabama-Huntsville (2007-10).

---
Listen, there's not one blogger, fan, whatever term you want to use here, that's a bigger fan of Cam Talbot than me. I'll save you all of my "greatest hits" on Talbot here, and just hope you take me at my word & know about my past writings on the GOALBUSTER! That said, not only was I floored when Talbot was the first goalie off the market, I was stunned to see the type of contract he got.
As the Wild's press release states, Cam Talbot was signed to a three-year, $11 million contract ($3.67 million AAV). To me, not only is this AAV very high for a rebuilding team, but the term makes no sense to me either. If anything, Cam Talbot's agent is the greatest agent in all of hockey today. When I look at the term, maybe the Wild are hoping that Talbot will accept a mentor or back-up role, in the last year of his contract.
Due to the contract, I am speculating that Talbot goes into next season as the Wild's #1 goalie, with Alex Stalock as the back up in Minnesota. For more on the Wild and Talbot's reaction to his new home, check out: https://www.startribune.com/cam-talbot-will-step-in-as-new-wild-goaltender/572689282/
While Cam Talbot provided media quotes to the Wild, it was his wife Kelly Talbot (who is a fun follow on Twitter) making the first social media posting from the Talbot family, when she said the following on Twitter:
So thankful for the @NHLFlames for the opportunity to play in Calgary! Our family loved the city and the chance to watch the Flames! We are forever grateful for experience we had while living in Alberta! I'm so proud of @ctalbot33 and can't wait for our next adventure!💚♥️

— Kelly Talbot (@kellytrain) October 10, 2020
With a three year deal, I assume the Talbot's will now leave Canada and make a new home in Minnesota.
I'll say this – I get Cam Talbot going "Minny Money" here, but it's hard to envision the Wild winning the Stanley Cup in the next three years. In either event, good luck to him and his family. I'll be rooting him on, except whenever the Wild play the Rangers!
Let's hit the rest of the goalie market, the other ex-Rangers on the move and then put a wrap on this.
---
In other goaltender news, the carousel found other moves during its rotation. Here's what we got:
— Braden Holtby replaces Jacob Markstrom in Vancouver, with a two year deal worth $8.6M. I'm surprised about the AAV, especially with Demko looking solid in the playoffs.
— Jacob Markstrom replaces Talbot in Calgary, with a whopping six-year deal worth $36M overall. This deal is insane to me.
— Matt Murray, who was traded to Ottawa during the NHL draft, got a four year deal worth $25M overall. Since Murray is 26, as opposed to Markstrom being 30, this deal isn't as outrageous to me. Plus, Ottawa, because they suck, will have to overpay players anyway.
— Anton Khudobin is staying with Dallas, signing a three year deal worth $10M overall. Where does this leave Ben Bishop? Once again, Dallas is committed to two high priced goaltenders.
— Malcom Subban may be the starter in Chicago, signing a two year deal worth $1.7M overall. The Blackhawks moved on from Robin Lehner and Corey Crawford for Malcom Subban?
— Speaking of Corey Crawford, he's now with NJ, signing with the Devils for two years and for $7.8M overall. Seems kind of high for a goalie no longer in his prime.
— There's no update on Marc-Andre Fleury in Vegas. Vegas has to move him somehow, because they have too much money wrapped up with their goaltenders. However, for Vegas to move MAF, not only will MAF have to agree, but Vegas will have to add one or two sweetners as well. One possible trading partner? Edmonton, who desperately needs a real starting goaltender right now.
One last segment on the ex-Rangers and I'm done, I promise!
---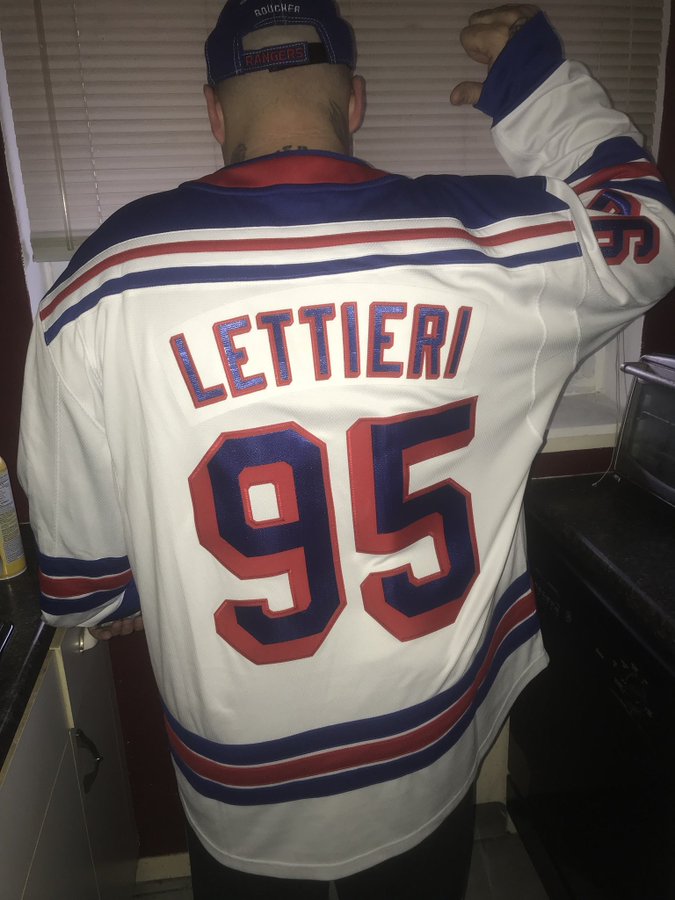 Vinni Lettieri is now on the Anaheim Ducks:
The #LetsGoDucks signed 25 y/o F Vinni Lettieri to 1 year deal:

NHL $750K
Minors $425K

-25G 47P in 61 AHL GP
-Rep'd by Wade Arnott @TheHockeyAgency https://t.co/R618OghYIa

— PuckPedia (@PuckPedia) October 10, 2020
While I'm sad to see Lettieri go, the fact of the matter is that because he wasn't a Rangers draft pick, or a key piece acquired through a trade, the Rangers never had plans for him. Even last season, the Rangers went out of their way to call up everyone not named Lettieri, despite Lettieri representing the Wolfpack at the AHL All-Star Game. With Anaheim, at least Lettieri will have a chance to play in the NHL. At his age of 25, it's starting to be now or never for Lettieri. A fresh start & new team will at least give Lettieri a chance to become a regular day NHLer.
Ironically, joining Lettieri with the Ducks is this guy: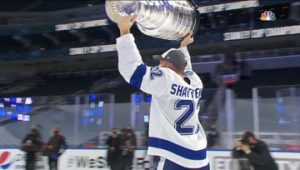 After turning down an offer from the cash-strapped Tampa Bay Lightning, Kevin Shattenkirk is moving from the east coast beaches to the west coast beaches, as he signed with the Ducks on Friday, in a deal that will pay him $11.7M over three years.
I don't blame Shattenkirk for cashing out here. After all, he left $25M+ in guaranteed money when he signed with his hometown Rangers. We saw how that loyalty was rewarded.
Shattenkirk has his Cup. He has accomplished his goal and his dream. For the New Rochelle, NY native, Shattenkirk pads his bank account with the Ducks, as he sets up himself and his family for life. You can't hate on that. That said, I don't see Shattenkirk ever winning the Cup in Anaheim.
In a deal that averages out to $3.9M per season (the contract is back-loaded, as Shattenkirk will earn $2.5M in 2020-21, $4.25M in 2021-22, and $4.95M in 2022-2023) I'm kind of surprised to see Shattenkirk leave Tampa. Even if the Tampa offer was less, there's no state income tax in Florida, as opposed to the heavy taxes in California. Maybe I'm being too much of a "mark" and a fan here, but I rather make $500,000-$1M less and have a shot at winning the Cup every year, than being out of it by Christmas. However, after being burnt by the Rangers, I get his thinking. That said, I don't think Shattenkirk will match his stats from last season, with Tampa, as a member of the Ducks.
Either way, Shattenkirk is a good guy. As I get older, I find myself rooting for players who do a lot of good in this world. Shattenkirk is one of those guys.
---
Finally, in a quick note before I sign off, the Senators are moving on from Anthony Duclair, the 25 year old, who just came off the best season of his career. As I've said in the past, Duclair has been accused of not being "coachable" and of having attitude issues.  I have no way of confirming that, but that's what I've been told. And really, after all, you can't be that young, and at a cheap cap hit, and be looking for your sixth team to sign with in as many years. There has to be something to those allegations.
In any event, the best of luck to him. I really don't know where he fits, as I thought Ottawa was perfect for him. Maybe Detroit is an option?
If you haven't already, subscribe to this blog for the next update:
If you're still here, thank you. I know this was a lot, but I'll never do you dirty and make you click 76786896896968 links for three paragraphs worth of content.
I bid you adieu with the following two notes:
Once Lundqvist makes his first start as a Capital, Mike Richter becomes the games played leader for a single franchise, with 666 games played. Of note, Carey Price is at 682 games, but in this hard cap era, who knows if he finishes his career in Montreal?
While the 'rona certainly is a factor here, this tweet is worth sharing:
The #NHL's COVID-19 Crunch:

2019 #FreeAgentFrenzy: 197 signings, $600,085,000
2020 #FreeAgentFrenzy: 83 signings, $152,350,000

Deals given out: 28 one-year deals, 17 two-year deals, 5 three-year deals, no four or five-year deals, 1 six-year deal.

(through 6pm each day)

— Frank Seravalli (@frank_seravalli) October 9, 2020
Moving forward, I have book reviews and a DeLorean blog planned. However, I'll be back whenever the Rangers make their next move. I just hope it's Monday. I need a break after writing something like 60,000 words this week!
As always here, thanks for reading and…
LET'S GO RANGERS!
Sean McCaffrey
BULLSMC@aol.com
@NYCTHEMIC on Tweeter and on Parler
Follow the BlueCollarBlueShirts.com Facebook Group by clicking this link: https://www.facebook.com/groups/1564026407193056/