Greetings and salutations everyone and welcome to not only another blog here on BlueCollarBlueShirts.com, but to DAY ONE OF THE ALEXIS LAFRENIERE ERA. Assuming that you aren't living under a rock or a mole-person, by now you know the news – Alexis Lafreniere is officially a New York Ranger.
On Tuesday, October 6th, 2020, the Rangers made the news official at around 7:20PM. Jeff Gorton would say the following 23 words, 23 words that would set off celebrations throughout Rangerstown, USA: "With the first pick in the 2020 NHL draft, the New York Rangers are proud to select, from the Rimouski Oceanic, Alexis Lafreniere."
Similar to the news of the Henrik Lundqvist buy-out from last week, the Rangers selection of Alexis Lafreniere comes as no surprise. In fact, after the draft, both Jeff Gorton & John Davidson admitted to the media, that they knew they were drafting Lafreniere, the second they saw the Rangers logo on the ping-pong ball pop up the chute during the NHL Draft Lottery.
This Lafreniere news was a long time coming, (if you consider two months a long time) but nevertheless, with the news now being official, this news is truly a cause for celebration. After all, it's not every day that the Rangers have the first overall pick of an NHL draft, much less land a hopeful generational talent to boot. Every Rangers fan should be all smiles right now.
The tone of this blog is meant to be positive. This is just amazing news for the Rangers. That said, I do want to say this, before I have people saying this to me with their responses to this blog – it's not a given that Lafreniere enters the league and completely dominates in his rookie year. What I'm trying to say here, is that Ranger fans, myself included, need to keep realistic expectations. For fans who are dreaming of the Rangers winning the Stanley Cup within three years – I support all of that! However, to expect Lafreniere to win the Hart Trophy and go 16-0 in the playoffs, well that may be too much!
I've talked a lot about Alexis Lafreniere on this site, ever since this happened:
On August 10th of this year, the Rangers defied the odds and landed the first overall pick of this year's NHL entry draft. In the near two months that followed this news, Ranger fans were subjected to a lot of click-bait and bullshit stories, including scandalous and fake news headlines, such as, "THE RANGERS MUST TRADE THE #1 OVERALL PICK." Other losers, also looking for a cheap click to their website, made up rumors about the Rangers trading the pick to either LA or Ottawa. As I told you all along on this site, none of this was EVER going to happen. After all, the NHL didn't rig the draft the Rangers weren't going to throw away this rare chance of fortune. Once that ping-pong ball gave the Rangers the first overall pick of the 2020 NHL Draft, barring something insane happening, like a freaky injury or a Jared from "Subway" incident, Alexis Lafreniere was going to become a New York Ranger. And that's exactly what happened on Tuesday night. And in what should not be forgotten either, the Rangers get this talent on the cheap for three years too.
There is a TON of stuff to get into tonight. As I said a few blogs ago, there's no such thing as a slow news day anymore. By the time we get to the weekend, this week will feel like a series of "July 1st's". It's just going to be news story after news story, pick after pick, trade after trade and a bevy of free agent deals, come Friday. In the history of the NHL, there's never been a busier time than right now. NHL General Managers will certainly earn their money this week. While these GM's did get some slow days during the pause, these NHL GM's will have to start injecting Red Bull into their veins, or go on the "1986 NY Mets Diet", as they work a string of consecutive 20+ hour work days this week!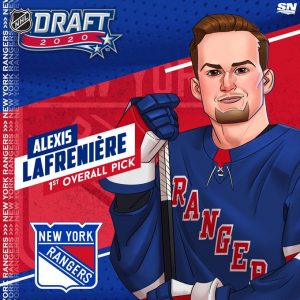 In tonight's blog, you may have guessed the following – I will be talking everything Lafrienere! Outside of Lafreniere, I'll take a look at the Rangers other pick of the first round, in defenseman Braden Schneider. I'll also have some thoughts on the NHL draft broadcast and the big NHL announcement made by Gary Bettman on Tuesday night.
After covering everything NYR & the NHL, I also have a full recap of the latest Tony DeAngelo "Watch Your Tone" podcast for you, a podcast that features an amazing interview with ex-Ranger Sean Avery. If there's anything unfortunate for TDA & his WYT crew, it's the fact that this Sean Avery interview will probably be buried deep by Rangers fans, as everyone focuses on Alexis Lafreniere. I can't blame fans for that! Sometimes, timing is everything, which is why I posted my DeLorean blog on the 1989 Rangers last night. I just feel that any non-Lafreniere story will go to the wayside this week.
Speaking of that DeLorean blog, what a perfect time to now segue-way into the PLUGS segment of this blog, before getting into all the meat and potatoes of today's news stories!
I must also say here – thanks to everyone who has visited the site this week and for all the emails. I had something like 100 emails from readers on Monday night and I have finally responded to every single one of them!
These last ten days have garnered the most traffic this site has ever done. As mentioned repeatedly on this site, increased site traffic has never been a goal of mine. If it was, I'd break up these 10,000 word manifestos into 767896786796 separate postings. That said, it's amazing how many people are now finding the site. While I knew people would want to see what I had to say about the Lundqvist buy-out, I'm more amazed by how many people read that 1989 NY Rangers blog. I'm glad to see fans have an interest in Rangers history, especially with the franchise ignoring so much of their own history to this very day.
As always here, here are my last few blogs, in case you missed them or need a refresher:
---
---
---
---
---
---
While I'm not one to try to artificially boost site traffic with this site, I can't say the same about the official website of the NY Rangers. As I usually do on these blogs after the Rangers make headlines, I check the official site of the franchise to get their take on a story. No joke, before writing this blog you're reading right now, I made five different attempts at visiting the official site of the Rangers. However, on each occasion, the site kept flashing pop-ads, ads which suggested that I put down a deposit for season tickets, a season that may not even include fans inside of the arena.
It took me six different tries at getting the Rangers site to load with no ads. When I finally got to the site, all the Lafreniere news makes you go to different pop-up links too.
Here's a suggestion for the Rangers – rather than having 767867866796 different links to click and pop-up ads for season ticket deposits, if the Rangers really wanted to generate money tonight, they should've had the red blue carpet all ready to go and rolled out for Lafreniere. Let's face it, no one is putting down a season ticket deposit right now. We don't even know where the games will be played and if fans will even be allowed to attend. Furthermore, for many people, (especially older people who can afford these extravagant prices for season tickets) people aren't going to attend mass gatherings until a successful and proven vaccine is out there.
Rather than trying to shove season tickets down everyone's throats, season tickets that no one is going to buy today, the Rangers should've had all the Lafreniere merchandise ready to go. They should've had Lafreniere's jersey number already finalized. They should've been selling enlarged Lafreniere autographed ping-pong balls. They should've had shirts with Lafreniere's number ready. They should've had photos, cards, underwear, sex toys, bobbleheads, bed-sheets, wall clocks, cologne, ass spray and whatever else you could possibly monetize, with Lafreniere's image or signature on it. Trust me when I say this – more people would've bought official Lafreniere merchandise today than people who are buying season tickets right now. Is there anyone out there that disagrees with me on that?
(And for the people who say "Lafreniere didn't sign with the Rangers yet", meaning that the Rangers couldn't capitalize/monetize, the Rangers should've had a pre-arranged meeting with Lafreniere and faxed him his contract the second after drafting him. After all, as said previously, both Gorton & JD admitted they knew they were taking Lafreniere two months ago. There was no reason for the cloak and dagger ordeal, outside of just listening to other GM's calls about Lafreniere, calls that were never going anywhere in the first place.)
Anyway, going back to the Rangers and their official take on their story, they have a series of links, links that all pop up into a new window and direct you to the NHL's website. The Rangers have this major moment in Rangers history, but you have to click links that send you to NHL.com to read about it. Interesting.
---
Here's how NHL.com covered the story. Of note, be glad I am copying and pasting this story for you here, as the NHL.com website tried to give my computer AIDS and the 'Rona.
The following comes from NHL.com:
Alexis Lafreniere was selected with the No. 1 pick by the New York Rangers in the 2020 NHL Draft on Tuesday.
"It's a big honor for me," Lafreniere said. "Obviously, the New York Rangers are a big organization with a lot of history and a lot of great players. So for me it's big honor and I'm really excited to join this team."

The left wing led the Quebec Major Junior Hockey League with 77 assists and 112 points for Rimouski and for the second straight season was voted QMJHL MVP, QMJHL Personality of the Year and Canadian Hockey League Player of the Year.

The Rangers won the No. 1 pick in the Second Phase of the NHL Draft Lottery on Aug. 10. The draft was rescheduled from June due to concerns surrounding the coronavirus.

"We've had a few [Zoom calls] with him, obviously we've done our homework on him, we've talked to a lot of people around him," New York general manager Jeff Gorton said this week. "He's a really humble kid that gives credit to everybody around him. He's a good family kid. He works really hard. He's really focused.

"Obviously, he's in a different situation where he's been considered a high pick for a very long time that's now extended into a few more months, so it's a little bit of a crazy process for him. Like a lot of the kids in the top part of this draft, they're all great kids, really focused on what they're trying to do, and we've been nothing but impressed."

The Rangers finished 18th in the NHL standings this season and are the first team to finish that high and have the No. 1 pick since the 1994 NHL Draft, when the Florida Panthers finished 16th. New York is the first team to participate in the postseason and have the No. 1 pick since the 1983 NHL Draft (Minnesota North Stars).

The Rangers were one of the eight teams with a 12.5 percent chance of winning the No. 1 pick after being eliminated from the Stanley Cup Qualifiers. The pick was assigned in the First Phase of the lottery on June 26. New York was swept by the Carolina Hurricanes in their best-of-5 Qualifier series as part of the 24-team Return to Play Plan.

This was the 19th time a team picked No. 1 and No. 2 in consecutive NHL Drafts. The Rangers selected forward Kaapo Kakko with the No. 2 pick in the 2019 NHL Draft, after the New Jersey Devils selected center Jack Hughes at No. 1.

New York had the No. 1 pick for the second time; they selected forward Andre Veilleux in the 1965 NHL Draft.

"Throwing on a Rangers jersey, it's pretty amazing," Lafreniere said. "Growing up you dream of being drafted in the NHL, and just being able to have an NHL jersey, and especially a New York jersey, it's really unreal for me."

The Rangers also traded up to pick No. 19, where they selected defenseman Braden Schneider. The Calgary Flames received pick No. 22 and a third-round pick.

Lafreniere, of Saint-Eustache, Quebec, is the first Quebec-born player selected No. 1 since goalie Marc-Andre Fleury by the Pittsburgh Penguins in the 2003 NHL Draft. The last Quebec-born skater chosen No. 1 was center Vincent Lecavalier by the Tampa Bay Lightning in the 1998 NHL Draft.

"It means a lot to me, just being able to represent Quebec City," Lafreniere said. "I think it's something really special for me, and I'm really excited to keep going and try to make them proud again."

---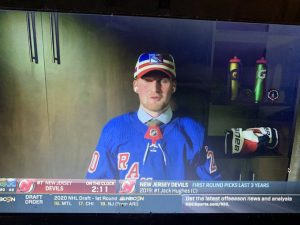 In addition here, here are some videos of Lafreniere's selection and some of his comments:
Alexis Lafrenière on why he feels ready to play in the NHL.

"My game, I can create some scoring chances a lot. That's something I'll try to bring to the next level." pic.twitter.com/ETi3Nzqdpm

— Rangers Videos (@SNYRangers) October 7, 2020
"A superstar in the making!"

Meet Alexis Lafreniere ahead of the 2020 #NHLDraft. pic.twitter.com/jWV09QNCR6

— NHL on NBC (@NHLonNBCSports) October 6, 2020
---
Lastly, when it comes to official news, here's NYR Team President John Davidson, in an interview with the M$G Networks:
— "We are 10 out of 10 with excitement, to be dead honest with you."
— "These things happen maybe once in a lifetime, to have one of those picks, it's almost dramatic, it's exciting. We've had our eyes on Alexis the whole time. The wonderful part was when he put the jersey on it, it looked like it fit him perfect. He's a very mature man for his age, a no-maintenance guy. He's a pro already in a lot of ways. He's waiting to have talks with us about what he is going to do this winter. For the franchise, for everyone that works so hard and the fans, its' a tremendously exciting time."
— All the research we've done, I haven't heard one negative thing about him. I think we will see a young man come here, he will know how to handle himself, play the right way. He may not step on the ice and be a superstar out of the chute, but he's going to be a terrific player, these things take time, but he's a part of our package that we are growing with and for Ranger fans, when we get back to normalcy and see this young man play and then get better, and better, and then become great, that is what is so special about this young player and for our fans to be part of."
---
After all of these serious statements and videos, let's do a comedy bit that may be hit or miss!
Once the Lafreniere pick became official, poor Lafreniere had to do media interviews with marble mouth Rick Carpinello, Vince Mercogliano, who sometimes squeaks like a puppy's chew toy, and Larry "Where Thou Art My Lover Lundqvist?" Brooks. (And to be clear here, I'm not saying I'm a dreamboat either. I'm just trying to be funny here.)
All of these media interviews were the same and gave you nothing of substance. I know the media has to do their job, but what do you expect Lafreniere to say here – "I'm taking over, all these mofo's better watch the eff out! Suck it, you Islander maggots!" As you'd expect, all of the quotes from Lafreniere were boring, as he said what you'd expect him to say. He said the right things. He was a true professional. That is, until now.
In my exclusive made-up interview with Alexis Lafreniere (think of those old Pro Wrestling Illustrated magazine fake interviews from the 1980's) I'm proud to report the following fake quotes from Lafreniere:
When asked about what he's most looking forward to in NY, Lafreniere said, "I can't wait to see what this asshole Bill Deblasio is all about."
---
When asked about the NYC nightlife, Lafreniere told me, "I can't wait to have a few pops and belts after a game, get wicked drunk after a bottle of bourbon, and then close down Wo-Hop on Mott Street. I may even go for a cannoli in Little Italy too."
---
When I asked Lafreniere about the other things NYC has to offer, Lafreniere said, "I'm kind of interested to see what it's like to get a handy on 42nd Street. I think I have to pay some illegal alien dressed up as Spiderman or Ironman $10 to get one, right?"
---
When I questioned Lafreniere about the transition from playing in Canada to playing in America, Lafreniere said this: "Read my lips. We will be better than the Jets, Giants, Knicks and Mets. You can bet your $2 dirty water hot dog on it!
---
Lafreniere then told me to "screw off" and that concluded my interview. (Yes, I'm aware this may not have been as funny as I thought it would be when I started this bit!)
---
With the addition of Lafreniere, the Rangers now have their final piece of their youth movement. While there may be other players to come, for all intents and purposes, Lafreniere is the end all, be all. Of course, for a soon-to-be 19 year old kid, who has never visited NYC in his life, the weight of the Rangers is now on his shoulders a bit. Is that fair? Probably not. However, that's the way it goes sometimes.
Come next season, while yes, the Rangers have guys like Artemi Panarin, Mika Zibanejad, Chris Kreider and several other NHL veterans on their roster; everyone's eyes will be on the crown jewel of the 2020 NHL draft. In a turnabout from last year, the eyes that were once trained on guys like Kaapo Kakko, Vitali Kravtsov and Lias Jessiman will now all be diverted onto Lafreniere. In other words, Lafreniere may take some pressure off of some of the newer Rangers. That's just what happens when you're the #1 overall pick of an NHL draft.
There is going to be a ton of pressure on Lafreniere in Year One and he's going to have it from all sides. Not only will Lafreniere be playing in the biggest market of the NHL and in a new country, he will be part of an abbreviated NHL season. He's playing in the mecca, even if M$G isn't as rowdy as it use to be. He's going to be featured in prime-time games. He's going to be a top name in the never-ending NHL news cycle. While I think smart Ranger fans will be patient with Lafreniere, Ranger fans can be fickle. Lafreniere is going to be thrown right into the fire (no way he goes to Hartford) and with a condensed schedule, Lafreniere won't have much of a learning curve, because there will be a game the next night and possibly 4-5 games a week. I don't think we'll have as many practices sandwiched in-between games as we would usually have.
Unlike Artemi Panarin, who came to NY as a superstar already, Lafreniere will be entering the great unknown here. However, from all reports, it seems like he's ready to handle it. Everyone in the organization is high on him. Everyone will make things as easy as possible for him. While the Rangers don't have a captain right now, and while Kreider and Zibanejad are the most likely candidates to become the next team captain in franchise history, Lafreniere is thought to be a player that has captain-like qualities. Not many rookies have that trait, but for Lafreniere, the Rangers will try to accommodate him in every which way possible.
For Lafreniere, just like the Rangers themselves, the future is bright. If there's anything you take out of this blog tonight, it's this – limit the expectations, at least in Year One. While Lafreniere should blossom into a league superstar, not everyone is a Wayne Gretzky, a Mario Lemieux, a Sidney Crosby or a Connor McDavid in their rookie year. Hell, Lafreniere may even be edged out for the Calder Trophy by his own teammate during the 2021 season, in starting goaltender CZAR IGOR Shestyorkin!
Whatever the event, the Steve McDonald badge that Gorton proudly carries around like the badge of honor that it truly is, well that badge brought home another winner. The Rangers now have their man. Things are trending upwards and onward in Rangerstown, USA, and I'm happy to be along for the ride. No joke, I've just been beaming from ear-to-ear this week. I'm loving every move!
Just two quick things before moving on from Lafreniere here. In the upcoming days/blogs, I'll have more on him, as more information becomes available. In addition, unlike other people out there, I'm not doing the "PROPOZED LINEZ" shit here, because one I think it's stupid and two we don't know what this roster will be like on January 1st, 2021, which is now the date the NHL is officially looking at for next season.
At this time, before getting into the Rangers other first round pick of the 2020 NHL Draft, let's take a look at the major announcement the NHL released today.
---
In the big NHL news of the day, news concerning next season, prior to the NHL Draft, Gary Bettman announced that January 1, 2021 is now the target date for next season. After his announcement, the following press release ran on NHL.com:
The 2020-21 NHL season is being targeted to start Jan. 1, the NHL and NHL Players' Association announced Tuesday.
The estimated timing for the start of training camp will be announced at a later date.

"We really haven't focused precisely on what we're going to be doing next season," Commissioner Gary Bettman said on NHL Network before the start of the 2020 NHL Draft. "I think it's fairly clear that while Dec. 1 has always been a notional date, we're focused on the fact that we're really looking now at Jan. 1 to start the season up. Our hope is to have a full season, full regular season, and to have fans in the building, but there are a lot of things that have to transpire, many of which if not most of which are beyond our control before we can finalize our plans."

The NHL and NHLPA previously set Dec. 1 as the tentative start date for next season, with training camp opening Nov. 17, as part of a four-year extension of the NHL/NHLPA Collective Bargaining Agreement that was ratified July 10. But Commissioner Bettman stated multiple times that the dates could be pushed back if necessary.

The NHL paused the 2019-20 season March 12 due to concerns surrounding the coronavirus. Play resumed Aug. 1 with the Stanley Cup Qualifiers, which had 12 teams from the Eastern Conference playing at Scotiabank Arena in Toronto and 12 teams from the Western Conference playing at Rogers Place in Edmonton.

Under the 24-team Return to Play Plan, seven teams did not qualify to compete in the Qualifiers based on points percentage.

The Stanley Cup Playoffs were completed Sept. 28, when the Tampa Bay Lightning defeated the Dallas Stars 2-0 in Game 6 of the best-of-7 Stanley Cup Final in Edmonton, the hub city for the Final, to win their second championship. During the 65 days after the teams entered the hub cities in Toronto and Edmonton on July 26, there were 33,174 tests administered to team personnel, and zero were positive for COVID-19.

"The key was clearly the collaboration and cooperation we got from everybody, starting with the players and the players' association, all of our clubs and particularly the owners in the NHL," Commissioner Bettman said. "We all had to work together if we were going to make this a reality, and it's something that we and the players very much wanted to do. The players wanted to complete the season they started, but most importantly, we heard from our fans that they wanted us to complete the season as well, and that's what it was all about."

The draft is being held virtually, with the first round on Tuesday and Rounds 2-7 on Wednesday (11:30 a.m. ET; NHLN, SN1). It was originally scheduled for June 26-27 at Bell Centre in Montreal but was postponed March 25.

NHL free agency opens at noon ET on Oct. 9.
Of course, this news opens up a ton of questions. Will the league be able to play 82 games? If they don't, what happens to player salaries? Teams won't want to pay players their full salaries for less games. And when these games happen, will fans be allowed to attend?
Furthermore, to expand here, will there be a divisional re-alignment for this season, due to the current Canadian-American border restrictions? Will there be hybrid bubbles? What incentive do owners have by hosting games, if they can't get fan ticket revenue?
There are a lot of factors in play here and many questions unanswered. As we all know, no one has the answers to these questions, because no one knows what the world will be like tomorrow, much less in three months time.
I've also heard people bringing up the topic of kicking off the season with the Winter Classic, but I can't see how that happens. Are you really going to get a large stadium when you know you can't sell it out and/or put fans inside of it? The only way I can see a Winter Classic/New Year's Day game being held inside of a stadium, is if the stadium offers their venue for free. Anything else short of a free venue, the game would be a huge money loser and the NHL is deeply concerned about their finances right now. (Just like anyone else or any other business.)
If there's anything you get out of this news update, it's this – at least the NHL has been fully open with their fans about their plans and what they are thinking. There is no transparency here. We also now know, that like 1995 and 2013, the NHL plans to hold all of their games for the 2021 season in just 2021 alone. (No more games in 2020.)
Let's get into the Rangers other pick of the 2020 NHL draft, in defenseman Braden Schneider.
---
Ready for a "it's a 2AM" run-on sentence? Here you go:
Elsewhere in this NHL draft, a long NHL draft at that, as the teams were forced to use their full five minutes of time before selecting their pick, just so the TV talking heads could get their shit in; right before Calgary was set to make the 19th overall pick of the draft, we got this:
Essentially, as the graphic above shows you, the Rangers moved up three spots in the draft, trading away one of their third round picks, in order to jump from #22 overall to #19 overall. At the time, I thought the Rangers were looking at a center, like Hendrix Lapierre, who was still on the board. Instead, the Rangers took another defenseman, this time in Braden Schneider.
When the Rangers took Schneider, the basement bozo chart losers on social media were hysterical and infuriated. You see, because they didn't know Schneider, they automatically called him "Dylan McIlrath 2.0". Let's be honest here, 99% of these morons on social media, that are currently whining about Schneider right now, have never seen him play before. For the 1% who have, they've probably seen clips only. And to go further here, I doubt any of these chart humping analytic mongoloids have ever seen Schneider play in person.
I don't lie to you ever here. I'm not a prospects guy. I'm not into watching teenagers play hockey. I'm into watching the best players in the world play in the NHL. When it comes to prospects and the future, I fall on the other end of the spectrum. I love history and talking about what's been done, rather than trying to predict what 76767896 teenagers are going to do.
And don't get this twisted – I'm not knocking anyone that's into the prospects. It's just not for me. I rather watch an old and classic game, than watch a bunch of 16 year olds play hockey in Europe. To each their own. I'm sure many people think that my love for history is odd too.
That all said, I fully admit to you that I don't know one thing about Schneider, outside of the fact that he's a Western Canadian farm boy whose mother was a Mountie. And in the effort of full disclosure here, I only found out these facts after he was drafted. While I do know the Rangers need center help, this draft isn't the only way the Rangers can get a center. The Rangers can use free agency for a center.
I don't know if Schneider can make the Rangers roster next year. I don't know if Hartford is the plan either. What I do know is this – he's a right handed defenseman, who can play either side of the ice. Playing the guessing game here, maybe if things don't work out for Tony DeAngelo & the Rangers, maybe Schneider is an insurance policy for next season. Then again, maybe Schneider or TDA flip to the left side of the defense and they become partners. All I'm telling you is I don't know what the Rangers plans are with Schneider. For anyone to say they know what the Rangers are going to do with Schneider, well those people are lying to you. After all, none of these draft experts predicted this trade or this Rangers selection of Schneider. While not as major as the Marc Staal trade, this move and selection came out of left field too.
If there is anything of notice that's out there about Schneider, it is that Larry Brooks is saying that the Rangers traded up here, in an effort to "cock-block" the Devils, as the Rangers thought the Devils were interested in Schneider. I'm down for trying to stick it to a rival!
When it comes to Schneider, my bottom line is this – I trust in Jeff Gorton, JD and the Rangers front office. They've been knocking it out of the park ever since JD got here, so I'm not going to second guess them on this. After all, they know way more about these prospects than I ever could. (I would beat them in a Rangers trivia/history debate though!) Good luck to Schneider and hopefully he can contribute to the organization!
Before getting into the "Watch Your Tone" podcast review, here are the final results of the first round of the 2020 NHL Draft:
On Tuesday morning, before the NHL draft, Tony DeAngelo and company released their latest episode of "Watch Your Tone". You can watch the show here:
This blog is going longer than I expected, so let's march right into the recap!
As usual, we are treated to a little of Frank Sinatra's "New York, New York", prior to starting the show.
Tony DeAngelo welcomes us to the show, introducing his co-hosts as well, in Sean The Producer, Brother Lou, Huff and Ron the Gambler. Of note, Ron is back from one of his sabbaticals. Also of note, the new "fancy" graphic in the backdrop of the YouTube version of the show: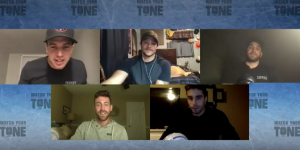 We are told this show is being filmed on Monday night, or in other words, 24 hours before the 2020 NHL Draft.
The first topic of conversation on the program is the retirement of Matt Niskanen, who last played with the Philadelphia Flyers. Since everyone on the show grew up as Flyer fans, this is a big story for them. Ron The Gambler is sad to see Niskanen go, but since Niskanen has a Cup, (with the Caps) it's easy for Ron the Gambler to understand why Niskanen is retiring now.
TDA feels that Niskanen was great for the Flyers and calls this a huge loss for the Flyers. TDA brings up the cap money the Flyers will now have, which may be ironic. (After the Niskanen retirement news broke, TDA's name was linked to the Flyers as a possible replacement. Then again, it seems like many people are throwing TDA's name around with every team in the league!)
TDA then talks about the two trades that the San Jose Sharks made with the Minnesota Wild, where Ryan Donato & Devan Dubnyk are now members of the Sharks.
When it comes to the 2020 NHL Draft, TDA jokes about the Rangers drafting someone else besides Lafreniere. TDA then makes it clear – he, like everyone else, believes the Rangers are taking Lafreniere. TDA brings up something he said last show, and how it just stinks for these draft-eligible kids, since this draft is a virtual draft. He feels some of the excitement will be lost. The WYT crew then joke about some of the stories from the 2020 NFL virtual draft. (Like TDA, I feel for these kids who didn't get their moment in the draft, just like how high school and college graduates were robbed of their proms, their graduation ceremonies and other social events. However, as we all know, things could be much worse.)
The crew then talk about Toronto re-signing Jason Spezza. Huff wonders if the Leafs would trade Tavares. (This has been a story among Canadian news outlets.) Also mentioned here, is how we always hear insane trade rumors during the NHL draft, and how many of them never wind up happening. However, the crew then mentions this is a different year than any other off-season. Huff then kids about having some boos piped in for Gary Bettman at the virtual draft. (Huff has been pretty funny lately on "Watch Your Tone". That Covid joke about the end of that Cowboys/Falcons game still has me laughing.)
TDA then talks about how he thinks we'll see some RFA trades during day two of the NHL draft. Obviously, his name will be in play here. In fact, after this podcast, and after the NHL draft on Tuesday night, TDA took to Twitter once again, to question all of the arm-chair GM's on social media. (I won't bore you with another one of my diatribes about TDA and Twitter. You know how I feel already!)
After wrapping up on the current NHL news items of the day, Tony DeAngelo brings former Rangers instigator and agitator, in Sean Avery, onto the show.
---
Before recapping this Sean Avery interview, I have to say this – can you imagine this Rangers team in 2020, assuming that Tony DeAngelo & Brendan Lemieux are retained, playing with Sean Avery? Avery would be a perfect fit for this roster right now, although he would've definitely been upset with the team for buying Lundqvist out.
One last thing before getting into this Avery interview. As mentioned in the past, Avery & Lundqvist were really close. Avery even brought up his friendship with Lundqvist in this very interview. In addition, Avery has even slammed me personally for my opinions on that Lundqvist contract! That said, I get it, you always have to defend your buddies. Avery can curse me out all he wants, because I would stick up for my friend too if some jerk-off was talking shit! (That said, I was right – that Lundqvist contract was never going to produce a Stanley Cup in this hard-salary cap era, a point I've been talking about for six years now. I'm just happy that it's all over with and I can move on! You might not think it, but no one is happier to talk the future of the Rangers than me right now. I feel a wave of serenity crashing on the soul of my Rangers fandom!)
For more on Avery, check out his book "Ice Capades", which was released three years ago. You can find my review of that book here: https://bluecollarblueshirts.com/11517/
Avery joins the show. Immediately, Huff says that he's excited about Avery being on the show. Huff mentions that his dad hated Avery, since his dad was a Bruins fan. Avery laughs it off and then asks Huff how his dad feels about Rask. Avery says he would've respected Rask more, had Rask said, "this bubble sucks, I'm out of here." (Avery said this jokingly.)
The crew and Avery mention how the Bruins aren't the Tampa Bay Lightning.
Tony DeAngelo congratulates Sean Avery on the birth of his new child. Avery asks TDA how old he is. TDA says he's turning 25. Avery says TDA has ten years to worry about having kids. Avery then mentions how Dan Girardi had three kids before the age of 28 and how wild he thought that was at the time. Avery then answers a question from Huff, saying that when he was a player in the league, he wanted to enjoy his personal life. Avery said he knew he would be a family man one day, but didn't want to be a family man in his twenties.
TDA then chimes in, saying how the Rangers are one of the youngest teams in the NHL, but how most of the team are either married or with girlfriend. TDA mentions he's one of the few guys that is currently single on the team. Avery says as a single guy, it can be tough when you have a shitty night or a shitty game and have no one to come home to. Avery then mentions how when he played, not many players had dogs, but how in today's NHL, there are many guys with dogs. Huff brings up that posting dog pics on Instagram leads to picking up chicks. Avery says he can see that.
Avery then says when you play in New York, you should enjoy it and enjoy what the city has to offer. This is his way of saying it's fun to be single and ready to mingle.
TDA then plugs Sean Avery's podcast. TDA congratulates Sean Avery on his one million downloads. Avery says he started his podcast to fight "cancel culture." Avery says with social media platforms, you only have a set limit of characters to defend yourself with. Avery feels with his podcast platform, it's a way for him to defend himself from all of his haters. Avery says he sleeps better at night, knowing that his podcast gives him a voice and an outlet. Avery mentions that he doesn't have a co-host and says that sometimes it's hard to talk 40+ minutes by yourself.
Avery says his podcast doesn't have a format, and he just goes with the flow. Avery says he doesn't like to put podcasts in the can. Avery mentions that he asked Lundqvist to come on his show, but how Lundqvist hasn't answered him back yet. Avery says he doesn't think Lundqvist plays his cards properly. Avery thinks Lundqvist should do a long format sort of interview, explaining his current thoughts right now. Avery says again he doesn't think Lundqvist is handling his current situation correctly right now and wants to talk to his old pal about other topics, outside of hockey. Avery says he's now pissed off at Lundqvist and probably won't talk to him for a year.
(Of note here, I agree with Avery. While I think, that deep down, Lundqvist is probably pissed off about this buy-out, I also know that he wants to be a true professional and doesn't want any bad blood for the organization that will one day retire his #30. That said, this is Lundqvist's time to speak. Maybe he will speak after signing with the Capitals. I'll have more on that rumor at the end of this blog.)
Avery brings up his past friendship with Lundqvist. Avery says Lundqvist was a great teammate and competitor. Avery compares Lundqvist to Dominik Hasek, a Hall of Fame Cup winning goalie that Avery played with. Avery says Lundqvist was one of the best goalies he's ever played in front of. Avery says he felt more comfortable playing in front of Lundqvist than Hasek, saying how Hasek was streaky in his opinion. (When it comes to my opinion of Hasek vs Lundqvist, I think you can figure out what that opinion is!)
TDA mentions he texted Lundqvist after the buy-out. TDA also agrees with Avery, bringing up Lundqvist's compete level and the way Lundqvist prepares for games. Avery feels Lundqvist has more left in the tank and thinks he can help a contender win.
Avery says the Lundqvist buy-out was business and how everyone had to see this coming. (Of note, Avery didn't think this way three years ago, when I said the Rangers had to move on at the time!)
TDA starts smiling and then brings up Avery's Instagram stories. TDA then asks Avery about the current Rangers. Avery uses Tampa Bay as a comparison. Avery says watching the Rangers can be frustrating. You don't say. Avery then questions David Quinn and his coaching. Avery brings up how the style of play changes when the regular season ends and when the playoffs start. He's right.
Avery says Toronto and New York are both perimeter teams, and it hurts them. Avery then mentions how New York is "blue collar" and wonders why the Rangers try to play so pretty. TDA then mentions how Avery was a blue collar player and how Avery was beloved by Ranger fans.
Avery then talks about his playing days with the Rangers, and brings up his first incident with Martin Brodeur of the Devils. Avery mentions when he was with the Rangers, the Rangers had a lot of dirty, greasy and grinding players. Avery said he embraced NYC. Avery said he loved playing in NY. Avery said he'd do anything he had to do to get the fans into the game. (Just like Nick Fotiu.)
Avery mentions how many people in the sports and entertainment world dream of plying their craft in MSG. Avery says as a Ranger, you have to treat every home game as a "fight night". Avery drops the "blue collar" term again. Maybe he will become a fan of this blog one day! (Don't bet on it!)
Avery said he lived in NYC like it was a playground, and how he took advantage of every opportunity that came his way. (He did open a restaurant/bar here in NY, with Lundqvist as one of his partners.) Avery goes back to Lundqvist here, and says how Lundqvist loved playing in MSG and how Lundqvist knew how important playing in NYC was. Avery says NY isn't a great place to play in if you're not playing well.
TDA then brings up how Avery was hated on the road. TDA says he would've loved to play with Avery, but probably would've hated playing against him. Avery mentions how he knew he was a target whenever he played against Montreal or Toronto, naming some of the fighters on those teams from that era. Avery mentions that his era, despite the short time difference, was much different than today's era of hockey.
Avery says he doesn't miss playing, because of how much the NHL has changed today. Avery mentions how careers were shorter in his era, because how the game was much tougher in his day.
Avery is asked about Dallas. Avery says he would love to live in Texas today, mentioning how he'd love to carry a gun everywhere. The WYT crew chuckle about that comment. Avery says he didn't appreciate Dallas when he was there, because he didn't want to leave NY at the time. However today, Avery said he would have no problem being in Texas and embracing Americana.
Ron the Gambler then brings up the "Sean Avery Rule". Avery brings up his feud with Brodeur. Avery says Brodeur was a smart goalie and how Brodeur would mess with him. Avery recaps the game where he got Brodeur back in the playoffs. Avery says he knew he would get a penalty if he put his back to Brodeur, which was the genesis of Avery doing what he did. (Screening Brodeur face-to-face and putting his hand in front of Brodeur's face, while screening Brodeur. Of note, this would be a good game to give the "DeLorean" treatment to.)
TDA asks Avery if Brodeur ever told Avery to go "Father Fink (my term, not the term used on the show) yourself." Avery says no, but says Brodeur wouldn't shake his hand after the series.
Brother Lou asks Avery if he loved the game after turning professional. (Great question by the way.) Avery says towards the end of his career, you say to yourself, you wonder how much you have left. Avery brings up his battles with John Tortorella and how it wore him down a bit. Avery says while he and Torts didn't get along, at least he met his wife during this time in NY. Avery says he has no regrets, because it was just meant to be and says he was lucky.
TDA asks Avery about his time in LA. Avery says NY presented more outside opportunities for him than LA did. Avery mentions how social media wasn't really a thing in his day, and how that allowed him to enjoy NYers more. Avery says LA is a hollow place to live in and how he connected with people in NY better. Avery says he doesn't feel that vibe in NY today. (Thanks Deblasio.)
Avery says he's living in NYC now, but is moving back to California soon. Avery is not a fan of the politics in NYC today. He feels that NYC has lost its character and is no longer the same. Avery mentions the changes at Knicks, Yankees and Ranger games and says these changes aren't for the better. Avery says as he gets older, he wants to interact with less people. As someone who is two years younger than Avery, I totally get that. I'm not sure if the WYT crew will, as they are 15 years younger than Avery.
Brother Lou mentions that Avery is in the new movie "Tenet". Avery said he enjoyed his time doing the movie. Avery felt that movie was like playing with the Red Wings team he was on, with so many great talents around him. Avery said he embraced both of these opportunities and how he soaked up knowledge like a sponge. Avery mentions he's 40 years old and wasn't classically trained to act. However, Avery wants to put the work in and continue to get more acting roles.
Huff jokes and asks Avery if he considered improvising on the set of "Tenet". Avery says there is no improvisation on a Chris Nolan set. Avery says that Nolan movies are strictly "stay on the page".
Sean The Producer mentions how Avery also worked with Peter Berg. (Berg did that amazing "King's Ransom" 30/30 on Gretzky.) Avery mentions some Hollywood directors that he'd like to work with. Avery brings up the similarities and differences between head coaches and directors.
Avery says that hockey opened up doors for him in Hollywood, saying that he needed to be a hockey player to have these opportunities. Brother Lou asks Avery, that since Avery is now in movies, if he watches movies differently. Avery says he does and says he now notices the different minutiae of a TV show or movie. Avery says at the same time, he still watches everything as a fan, and just wants to enjoy what he's watching.
Avery mentions how everyone is a story teller these days, whether it's through social media or elsewhere. Avery says he hates Tik-Tok and mentions how a lot of the stories there are forced. Avery says Tik-Tok is "sad". Of note, I have no clue what goes on with Tik-Tok or Instagram. I get into enough trouble on Twitter, to the point where people make up things that I've said.
TDA brings up Avery's Instagram and Avery's battle as a cyclist in NYC. Avery says everyone has frustration inside of them, and mentions at the time, that he was just playing a character too. Avery says he hates lazy slugs who park in a bike lane. Avery says how NYC, in 2020, is just poorly run and how it's a total free-for-all. Can't argue with that.
Huff mentions how people rip Avery for wearing the same shirt. Avery laughs and thanks Huff for his support of him. TDA then wraps up with Avery. This was an amazing interview.
After the interview, we got an ad for a "Hangover Prevention" drink. I guess we know who the target audience for this podcast is! Of note, no MANSCAPED ad this week. I guess Ranger fans are supposed to have a bush this week!
Up next, the fifth installment of the hockey trivia segment.
Huff gets the first question. TDA asks Huff who are the four teams that Matt Niskanen played for? Huff easily and accurately answers Washington, Pittsburgh, Philadelphia & Dallas. A win for the funny man.
Ron the Gambler is up next. Ron is asked what goalie has the most wins of all-time? Ron wrongly answers Patrick Roy. Of course, the answer is Marty Brodeur. TDA says this was a lay-up. And really, it truly was.
Huff says TDA is sitting high on his perch, and asks TDA when did Drew Doughty win his Norris Trophy? TDA says 2014. The answer was 2016.
Brother Lou is up next. TDA says Lou will never answer this following question right. TDA says who was the first goalie to score a goal in 1979? TDA gives Brother Lou this question in multiple choice format and with only two options. In other words, Lou had a 50/50 shot here. Lou accurately answers Billy Smith. (The other option being Ron Hextall.) Huff says Billy Smith sounds like a made-up name. That will make Islander fans happy.
After trivia, the WYT crew talk about the NFL and their predictions for Week 5. TDA then asks Ron the Gambler for all of his NFL opinions and bets. Ron the Gambler says Philip Rivers is too good this year. The WYT crew quickly jump on Ron and say that he should be fired as the show's NFL analyst. As if Ron the Gambler wasn't already on thin ice!
TDA brings up the new Barstool sportsbook and how like most sportsbooks, Barstool is giving out $500 to any new gambler. TDA mentions how some guy won $25,000 off a $500 bet. (Of note here, if you do sign up and get your free $500 bet, bet a huge parlay full of alternative lines. That's how you can get a big payday and you can swing lines tremendously into your favor. I know someone personally who cashed out big (5 digits) this way. Ron the Gambler should be offering up this information, and not me!)
The crew then give out their picks for Week 5. Of note here, after riding the Raiders the last few weeks, TDA talked himself into being a big Rivers fan this week. The crew then give out their NFL power rankings, where the Chiefs are number 1. TDA then mentions how they should start a new podcast, where they just focus on the NFL.
After thinking about what he just said, TDA says on Sunday, they'll do a live feed, giving out all of their picks. This is where I worry a bit about TDA, because I'm not sure if he's really supposed to be gambling as a professional athlete. (I've talked about this before. While TDA isn't Pete Rose here, and betting on his own sport, he is talking about gambling. Then again, times are different now. All of these leagues are in bed with gambling outfits after all. And really, we know that all of these players, even NFL guys, have fantasy football teams too and that's gambling. I guess Pete Rose was in the wrong era. That said, if I was TDA, I'd wait until after I signed my new contract, to talk about gambling, especially sports gambling.)
Before closing the show, TDA mentions the restaurant "Zeppoli" in NJ, saying how his uncle owns the joint. (Both TDA & Brother Lou are wearing Zeppoli shirts & WYT hats.) After this plug, TDA closes the show, with one last plug for the upcoming Sunday NFL prediction live-stream.
---
Two weeks ago, I said "Watch Your Tone" presented their best 90 consecutive minutes yet. Last week, I said the show, like this blog, was too long. While the interview with Colby Cohen was good (and Cohen is now having to defend himself from the DeAngelo haters on social media too!) I could see why some Ranger fans may not be into it. That all said, I thought this was the best interview WYT has ever done, which of course, is partly because of how Sean Avery presents himself.
I thought this episode, which ran at just over an hour, was the best episode WYT has done yet. You had good bantering among the crew and the Avery interview is definitely worth going out of your way to listen to. While it may get lost in the shuffle because of the Lafreniere news, maybe the podcast will get more downloads/views once the draft news dies down.
It's also worth mentioning here, while TDA is obviously the star and focus of the show, as time goes on, fans are now getting a feel for Tony's co-hosts. It's getting easier to feel out who they are on and enjoy some of their bickering. While I definitely wouldn't recap this podcast if TDA wasn't on it, I would listen to a podcast with these guys just shooting the shit together.
One more story and then I'll punch out Maverick.
---
In two updates on Henrik Lundqvist, on 10/4, Lundqvist tweeted out the following, after removing all Ranger references from his profile on Twitter:
If you get anything out of that tweet above, it's this – he's not retiring. I for one, am happy to see that he's not retiring, because I thought it would've been really shitty if he retired after being bought out, thus costing the Rangers $8.5M of cap space for next season. However, that looks like it won't be happening, so I'm fine with the buy-out. It's a business decision between NYR and Lundqvist and it's a decision that makes the Rangers a better hockey team.
In the next update on Lundqvist, according to Bob McKenzie, it seems that Lundqvist will sign with the Capitals on Friday. McKenzie, the most respected reporter in hockey today, tweeted this rumor/news out on Monday. Then, during the NHL Draft broadcast on Tuesday night, McKenzie doubled-down on his reporting, saying that Lundqvist to Washington was all but a done deal. (And as I'm proof-reading this blog you're reading now, NHL.com now has a story on Lundqvist joining the Caps.)
I'll wait until the news is official on Friday (if this move happens) to give out all of my opinions on this move. All I'll say here, is as I said in the Ron Duguay "Up in the Blue Seats" podcast review blog which I posted last week, when I talked about how Linda Cohn brought up this idea on the show – I love this idea of Lundqvist teaming up with Ovi.
Like Duguay, I'm all for this. I'm from the pro wrestling world. Sign me up for the drama, the stories and the big game vibes. Yes, we watch sports for the love of the game, but whether we know it or not, we also watch for the entertainment value. Lundqvist on a Rangers rival is great entertainment value.
I guess I should say this too. In the event the Rangers are out of the playoffs, I would have no problem with Lundqvist winning the Cup. If the Rangers are eliminated and Lundqvist & the Capitals are alive, it would be great to see him win the Cup. I'm all for Rangers making the Hall of Fame. I think Lundqvist needs a Cup to make the HOF, as previously mentioned 678966696 times in the past. (And I'm also a fan of Ovechkin too. The league doesn't have a better ambassador today, than "The Great 8".)
And for Ranger fans, this is great news, especially if the season is condensed and teams play more games against their rivals than usual. (There's talk about the two conferences not playing each other in the regular season, although that's just a rumor and nothing confirmed at this time.) What's one of the many things Lundqvist is known for? He always gives up goals to ex-teammates! Sign me up for this and let the Rangers light the lamp! And if the Rangers play the Caps in the playoffs? Talk about a dream for all of the NHL's TV partners and advertisers!
---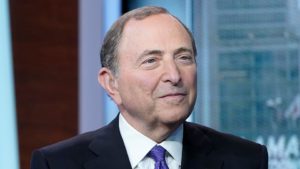 One last podcast plug here. On Monday night, the Blue Shirt Underground show released their latest episode. You can watch it here:
If you haven't already, subscribe to this blog for the next update:
Moving forward, this week is going to be nuts. The Rangers have still yet to qualify RFA Ryan Strome and that deadline is coming up tomorrow. The Rangers also have the second day of the draft tomorrow. If anything truly breaking comes out of it, I'll return tomorrow. It's 2:30 AM as I write this, so forgive me for using the word "tomorrow" so much in one paragraph!
Ron Duguay's "Up in the Blue Seats" podcast returns Thursday. I'll try to have a recap of that show this week. Then on Friday, it's day one of free agency, and I'm sure a lot of news will come out of that day. I think I'll get a bottle of Woodford Reserve and do a blog on Friday evening!
Again, thanks for the heavy site traffic this week and for the word of mouth.
As always here, thanks for reading and…
LET'S GO RANGERS!
Sean McCaffrey
BULLSMC@aol.com
@NYCTHEMIC on Tweeter and on Parler