Greetings and salutations everyone and welcome to another blog here on BlueCollarBlueShirts.com. Off puck drop here, I'm proud to relay the message that Alexis Lafreniere is OFFICIALLY a New York Ranger! And what a week for Lafreniere! He becomes a first overall draft pick, turns 19 years old a few days later (10/11) and then signs his first NHL contract. What a nice little hat trick for this young man! And wow, I just realized I'm twice as old as Lafreniere. My buddy JEFFREY is three times as old as Lafreniere. MINGA!
On the afternoon of Monday, October 12th, 2020, Lafreniere, as expected, officially put pen to paper on a contract with the New York Rangers. For fans looking to immediately purchase Lafreniere's jersey, we also got news on that front on Monday too, as both Lafreniere and the Rangers announced that Lafreniere will be wearing #13 for the club. I'll have more on both of these news items in tonight's manifesto.
These last two weeks have been a busy period of time for the Rangers. For the Rangers, all the big splashes started two weeks ago, when they traded Marc Staal and his salary cap hit to the Detroit Red Wings. A few days later, the Rangers bought out Henrik Lundqvist, which was the Rangers way of saying that CZAR IGOR is the future of this team. After breaking ties with the two longest tenured members of the franchise, the Rangers then participated in the NHL Draft, where as you know by now, the team selected Alexis Lafreniere with the number one overall selection of that draft. A few days later, the Rangers added seven Americans to the roster via free agency. Of course, you can find complete details about all of these news items in the PLUGS section of this blog, which I'll soon get into.
In tonight's blog, I'll cover the latest Rangers move, or should I say non-move here, as the Rangers have officially separated themselves from Jesper Fast. During this past weekend, after failing to find common ground with the Rangers, Jesper Fast signed a three year contract with the Carolina Hurricanes. I'll go in-depth on this subject later on in this blog.
Elsewhere in this blog, I'll talk about the official signing of Alexis Lafreniere. In addition, I have news & notes for you about the press conference the Rangers front office recently had with the media, where free agency, Jesper Fast, Alexis Lafreniere and Jack Johnson were all talked about. After talking about that news, I have an update for you on all the latest NYR restricted free agents. When I finish covering all the latest from Rangerstown, USA, I'll have some comments about this current period of NHL free agency, which just saw one of the biggest fishes of the market, in Taylor Hall, land in Buffalo.
Of course, as usual here, before getting into the meat and potatoes of tonight's tome, the PLUGS section. Here are my last few blogs in case you missed them:
---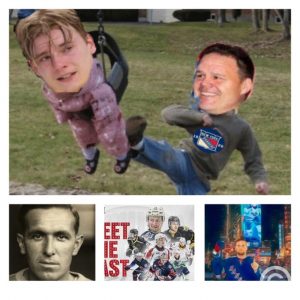 ---
---
---
---
The biggest story of today is the fact that Alexis Lafreniere is officially a New York Ranger. While obviously, this signing was expected and never was in question, it does feel nice to write it out – "ALEXIS LAFRENIERE IS A NEW YORK RANGER". Typing out that sentence is even better than typing out this – "FORMER RANGER HENRIK LUNDQVIST!"
As usual here, whenever the Rangers break a big story, let me give you their version of the story first. After that, I'll chime in with my opinion.
The following comes from the Rangers official website, which you can read from its original source here:  https://www.nhl.com/rangers/news/rangers-sign-alexis-lafreniere/c-319433296
The New York Rangers announced today that the team has agreed to terms with Alexis Lafrenière on an entry-level contract.

Lafrenière, 19 (he turned 19 years old yesterday), skated in 52 games with the Rimouski Oceanic of the Quebec Major Junior Hockey League (QMJHL) this past season, registering 35 goals and 77 assists for 112 points, along with a plus-41 rating and 50 penalty minutes.

He received several awards in 2019-20; he was named the Canadian Hockey League (CHL) Player of the Year, received the Michel Briere Trophy as the QMJHL's Most Valuable Player, received the Mike Bossy Trophy as the QMJHL's Best Professional Prospect, received the Paul Dumont Trophy as the QMJHL's Personality of the Year (which recognizes an individual who had a positive media impact and helped improve the league's image during a season), and won the Jean Beliveau Trophy as the QMJHL's leading point scorer. Lafrenière led the QMJHL in points and assists, tied for fifth in the league in shots on goal (261), ranked eighth in the QMJHL in plus/minus rating, and tied for 10th in the league in goals this past season. He averaged 2.15 points per game in 2019-20, becoming the first QMJHL player to average at least 2.15 points per game in a season (min. 20 games played) since Jonathan Drouin in 2013-14 (2.35), as well as the first player in any of the three Canadian Major Junior Hockey Leagues (Ontario Hockey League, Quebec Major Junior Hockey League, Western Hockey League) to average at least 2.15 points per game in a season (min. 20 games played) since Connor McDavid in 2014-15 (2.55).
Lafrenière was selected by the Rangers with the first overall pick of the 2020 NHL Entry Draft. He is the first player who has been selected by the Rangers with the first overall pick in the NHL Amateur/Entry Draft since the universal Draft was adopted in 1969 (in which all junior players of qualifying age were eligible for selection). Entering the 2020 NHL Entry Draft, Lafrenière was ranked No. 1 on NHL Central Scouting's final ranking of North American skaters eligible for the Draft.

---
Soon enough, as we currently have 80 or so days left, before the targeted date of the start of the 2021 season, there will come a time where all of us will be tired of hearing about Lafreniere. That's not say anyone's turning on Lafreniere or anything like that. All I'm saying here, is that the anticipation will grow so much, that soon enough, we will all be screaming – "DROP THE PUCK!" I think I can speak for most NYR fans with this comment – I can't wait to see this guy hit the ice at M$G.
I think by now, we all know the potential and high hopes Lafreniere will bring to this Rangers franchise, once he steps on the ice for his first shift. I think it's the waiting game that's going to wear on people! Seriously, wouldn't it be great if the NHL season started tomorrow? I mean really, we're in a city where the now defunct XFL team has more wins this season than the lowly and classless Giants & Jets combined! In addition, the M$G basketball team has been a laughing stock for 20 years. We're also living in a city where both baseball teams have utterly disappointed their respective fan bases. And I guess I should mention this here too – "FATHER FINK THE ISLANDERS!" (As far as the Devils go, who cares?)
Speaking for myself only here, I don't care about basketball. I'm a Yankees fan, but I couldn't give two craps about baseball this season. When it comes to football, if it wasn't for fantasy football, the gambling, the Monday Night Football boxes I have at my bar and all the pools I'm in, I wouldn't watch it. When it comes to sports, all I care about is the NHL and MMA. (Both UFC & Bellator.) I also don't mind the occasional horse race either, which ties in with my opinions on the NFL – I just love the action! That said, when it comes to just watching the purity of a sport, all I need is hockey and fighting.
With nothing good going on in the NYC sports world for the next 2-3 months, for me, all I know is that I'm eagerly awaiting Lafreniere's debut. We all know what he's capable of and what the expectations are. While it's fun to talk about the Rangers good fortune with Lafreniere and what could happen with him on this club one day, (I'm not saying the Stanley Cup in year one, although I wouldn't be opposed!) it's going to be much better to see him play, rather than talking/writing about this eventual debut!
If you get anything out of this long-winded rambling right now, it's this – DROP THE PUCK!
---
Rather than regurgitating and rewriting all about Lafreniere's hype and the expectations he brings, let's take a look at another angle of his signing today – Lafreneire will be wearing #13 with the Blueshirts.
As noted on past blogs, Lafreniere couldn't wear his normal #11, due to the fact that the Rangers have #11 retired twice, for both Mark Messier and Vic Hadfield. Also as talked about on past blogs, I was hoping Lafreniere would wear his Team Canada number of #22, just so I could've replaced the Shattenkirk nameplate on my #22 Rangers jersey! Oh well, this is no big deal. I'll just replace that Shattenkirk nameplate with a Fotiu nameplate! That said, for you Kevin Hayes fans out there, what a score for you, should you choose to rip that Hayes nameplate off of your #13 Rangers jersey!
In the 94 year history of the NY Rangers, with Lafreniere now wearing #13, nine players have worn "Unlucky 13" for the Rangers. Only one of those men have won a Stanley Cup for the Rangers while wearing #13 – Sergei Nemchinov. Let's hope Lafreniere is the second man to do so! (Can you feel my giddiness coming off of my keyboard right now?)
In fact, with Lafreniere now wearing #13, let's take a look at the former Rangers to wear this number. Here they are, courtesy of Hockey-Reference.com:
Jack Stoddard – 1951-52 to 1952-53
Bob Brooke – 1983-84 to 1986-87
Sergei Nemchinov – 1991-92 to 1996-97
Valeri Kamensky – 1999-00 to 2000-01
Richard Scott – 2001-02, 2003-04
Nikolay Zherdev – 2008-09
Daniel Carcillo – 2013-14
Kevin Hayes – 2014-15 to 2018-19
(Of note, Hockey-Reference only has jersey numbers of every player, post 1950. That said, during the pre-Original 6 era and in the Original 6 era, you didn't see many double digits on the backs of the Rangers. In addition, according to last year's NYR Media Guide, Jack Stoddard is listed as the first Ranger to ever wear #13.)
When you look at the #13 in the history of the Rangers, Sergei Nemchinov's name jumps out the most. Hands down, he's the most successful player to ever wear the #13 on his back for the Rangers. Away from Nemchinov, Kevin Hayes had a decent run with the Rangers, as a #13.
As you look at the list of #13's in NYR history, Nikolai (Nikolay) Zherdev's name pops up at you too. Despite a one year stint with the Rangers, he did win over many fans. In fact, during his one year on Broadway, I saw a bunch of people with his jersey inside of M$G. Dan "BOOM BOOM" Carcillo, in his short stint with the Rangers, also creates fond memories, as he was part of the 2013-2014 team.
As far as everyone else who wore #13 goes, none of these players were really involved in any great moment in Rangers history, and that includes Valeri Kamensky, a player, who like many of that time, was an ex-Cup champion with the Avalanche. At the turn of the century, the Rangers just seemed to gobble up ex-players from Colorado, like it was nobody's business.
While Sergei Nemchinov will always invoke great memories from Ranger fans, if things work out as planned and as hoped, Alexis Lafreniere will go down as the greatest Ranger to ever wear #13. Let's hope we see that day.
I'll have more on Lafreneire, including a funny statement from JD, when I get into the press conference the Rangers had with the media on Monday. However, before getting into that, let's cover the Jesper Fast stuff first.
---
In news that was expected, providing you have a brain and follow the recent comments of Jeff Gorton, Jesper Fast is no longer a New York Ranger. Similar to the news of Jack Johnson from Friday, this created panic and mass hysteria among certain sections of the Rangers fan base.
Seriously speaking here, isn't it hilarious that whenever you see these public bouts of insanity and rage, it always comes from the same people – the Cult of Lundqvist, the Dan Girardi/Ryan McDonagh/Marc Staal haters, the basement bozos, the chart people and the "TONY DEANGELO IS SATAN" crew? It's like these people are in their own political party of Rangers fandom, and if you say something that they don't agree with, or dare to think outside of their close-minded vacuum, you're automatically the enemy. That said, I rather be the enemy than befriend any of these losers! In Gorton We Trust!
(And if you disagree with any of my opinions, I'm cool with that too. I'm always up for a civil debate! I just don't like the people who present their opinions as fact & can't listen to someone who has an opinion that's different than theirs. I guess that's why I use the word "opinion" so much on these blogs, as I never want to come across as someone who believes my opinion is the end all, be all.)
Oh and even better, when talking about these narrow-minded nimrods – I love how if one person, of the above ideology described above, has a stance that the rest of the mongoloids don't have. When that happens, they all turn on each other, like parasites fighting with each other to get the last drop of blood. (Today, they all want the blood of Jeff Gorton, FOR HAVING THE AUDACITY TO SIGN JACK JOHNSON AND TELL JESPER FAST GOODBYE! You see, according to these dimwits, the two moves are related, even if they aren't! And when one of these people defended Jeff Gorton, that person was canceled by his peers. That part of it is funny to me!)
---
As a result of Jesper Fast now being a member of the Carolina Hurricanes (I'll have the full details in just a bit) Chris Kreider remains the only Ranger left from that 2013-2014 NY Rangers Stanley Cup Finalist team. Of note, you can even go back two years before the 2014 Stanley Cup run, and say that Kreider is also the last Ranger remaining from that 2012 Eastern Conference Finalist team too. And to expand even more here, for you trivia buffs, Kreider is also the last Ranger left from the 2014-2015 NY Rangers Presidents' Trophy winning team as well.
While we all knew that "The Letter" from Rangers management, stating that the team was going to rebuild, back in February of 2018, was going to bring significant change; as we now approach the 2021 NHL season, aside from Chris Kreider, the roster has been pretty much turned over completely. We're in a new era. That's a good thing and it had to happen, IN MY OPINION. (See what I did there?)
How about this fun fact? Can you name the four longest current tenured NY Rangers right now? I'll give you a minute.
Tick-tick-tick…
…tick-tick-tick.
The four longest current tenured NY Rangers, as of this writing, are Chris Kreider, Mika Zibanejad, Pavel Buchnevich and Brendan Smith. Of note, Zibanejad and Buchnevich debuted in the same season for the Rangers, while Brendan Smith would join the team later on in that same 2016-2017 season. Just think, Pavel Buchnevich, who at times sometimes feels like he's still a rookie, is tied with Zibanejad for the second longest tenure with the Rangers right now! Just think, if Jimmy Vesey had stayed here, he would be one of the longest tenured Rangers too! Funny how time changes things!
And for what it's worth, following those four names, for most current tenure with the Rangers, are Tony DeAngelo, Alexandar Georgiev and Filip Chytil. Talk about change and a youth movement!
---
I know I'm taking a detour to get into the Jesper Fast news, but hey, what's the difference? After all, we got a long time before the next Rangers game!
A big topic of last season, and in a topic that's being brought up again on social media by my buddy Travis Jackson, (@TravJax71 on the twitter machine and a Travis Jackson I'll soon have a blog on after his generous donation to my NYR memorabilia collection) is who should be the next Rangers captain?
For my money, when it comes to the next captain of the New York Rangers, I would go with Chris Kreider. That said, I would have no problem with Mika Zibanejad getting the "C" on his sweater either. I don't think you can go wrong with either guy here. (And let's face it, whoever NYR chooses to become the next captain, they would have more insight than any of us. We're not in that locker room – they are. Whoever they pick, I'm fine with.)
If there is anything I'm sure about, it's that Artemi Panarin, despite his accolades and performance from last season, won't be the next captain of the team. Why not? Simply put, Panarin doesn't speak English fluently, and you need an English speaking captain to deal with the English speaking referees. Can you name one captain in the NHL today that doesn't speak English? I can't.
While it makes all the sense in the world to reward Zibanejad, and allow him to succeed the departed and now Stanley Cup Champion, in Ryan McDonagh, as the next captain of the Rangers, I just feel with Kreider's tenure, Kreider's leadership (as reported by the media and as stated by the younger players on the team) and the fact that he has the new contract, CK20 should be the guy.
We all know the deal. Kreider tends to "ghost"' for many games, where you have to check the box score to see if he even played. However, when he does show up, he shows up big. What I'm trying to say here, is that I'm well aware of Kreider's inconsistency issues.  You don't have to tell me about them. That said, perhaps the pressure of being the captain would motivate Kreider and would help him stay consistent – positively consistent.
Going into next season, Lundqvist and Staal are names of the past. They won't be here for the post-game interviews or any other sort of media relation. As we saw with the Rangers ousting in Toronto, Kreider & Zibanejad dealt with the media. One of those two will be the next Rangers captain, while the other will remain as an alternate captain. In my opinion, especially with his new mega-deal, it's time for Kreider to step up, grab the brass ring and inherit a ton of responsibility. He's the senior man in the room. He's been through the wars. It's time for him to be the knight in armor for the Rangers.
Also worth mentioning here? With Fast & Staal now gone, and assuming the Rangers do go with Kreider or Zibanejad as team captain, that opens up two alternate captain spots for next season. With Kreider or Zibanejad being one of those alternate captains, we should see a new permanent alternate captain next season. Using history and the past as my guide here, usually, a defenseman wears an "A". You know where I'm going here already, don't you? Give Tony DeAngelo the "A"!
So yeah, about Jesper Fast!
---
As talked about last blog, when talking about the press conference JD & Jeff Gorton had after their seven free agent signings on Friday, it was apparently clear that the Rangers were moving on from Jesper Fast. On Saturday, October 10th, the news was made official, when Jesper Fast signed with the Carolina Hurricanes.
Here's how the Hurricanes covered the news, in their press release issued at https://www.nhl.com/hurricanes/news/canes-agree-to-terms-with-jesper-fast/c-319423076:
RALEIGH, NC – Don Waddell, President and General Manager of the National Hockey League's Carolina Hurricanes, today announced that the team has agreed to terms with right wing Jesper Fast on a three-year contract. The deal will pay Fast an average-annual value (AAV) of $2 million per season through 2022-23.
"Jesper is an intelligent, versatile player who will fits the mold of how the Hurricanes play hockey under Rod Brind'Amour," said Waddell. 

Fast, 28, completed his seventh NHL season with the New York Rangers in 2019-20, scoring 12 goals and adding 17 assists (19 points) in 69 games played. The Nassjo, Sweden, native established a career high in plus/minus (+16) and recorded more than 100 hits (125) for the third consecutive season and the fifth time in the last six years. Fast (6'1″, 191 lbs.) led all Rangers and ranked 21st among NHL forwards in shorthanded ice time (162:35) during the regular season, scoring a pair of shorthanded goals. 

Originally selected by the Rangers in the sixth round, 157th overall, of the 2010 NHL Entry Draft, Fast has totaled 147 points (55g, 92a) in 422 career games. He served as an alternate captain for New York for the second consecutive year in 2019-20, and became the first player in Rangers' history to receive the "Players' Player" award in five consecutive seasons (2015-16 to 2019-20). The award is given to the Rangers player who "best exemplifies what it means to be a team player," as voted on by his teammates.

---
In an interview with the News Observer , Jesper Fast said his friendship with Brady Skjei led Fast to his decision to join the Canes. Similar to Henrik Lundqvist, Jesper Fast now joins a Rangers divisional rival. (Assuming the divisions stay the same next season. For more on this, check out my last blog.)
When it comes to Jesper Fast, he obviously had a great run with New York. While never a flashy player, Jesper Fast played a strong defensive brand of hockey and was one of the team's best penalty killers. As noted many times on this site previously, Fast was beloved by his teammates, winning five consecutive "Player's Player" awards, including the "Player's Player" award for the 2019-2020 season.
Fast, originally drafted by the Rangers in the 2010 NHL Draft, a sixth round pick at that (157th overall), would eventually join the team during the 2013-2014 season. Despite two separate stints in Hartford during both the 2013-2014 and 2014-2015 seasons, Fast would be part of the two deep playoff runs of those seasons. By the time the 2015-2016 season came along, Hartford and the Wolfpack would be in Fast's rear-view mirror, as he officially became a full-time NHLer.
Fast, who will turn 29 years old on December 2nd, played in 422 games with the Rangers, where he scored 55 goals and picked up 92 assists, for a grand total of 147 points. However, for Fast, it was never about picking up sexy stats. It was always about being defensively minded, which helped the Rangers in crunch-time situations and on the penalty kill. If anything, it was Fast's style of hockey that helped complement the Rangers roster. That's how I'll remember his stay in NY as.
No one will ever argue about Fast's impact with the team or what he meant to the locker room. He was a solid piece for the Rangers during the last several seasons. He was well-liked and never gave the organization any headaches. Unfortunate injuries aside, Fast was reliable for the team. Of course though, there's a "but" here, because after all, if there wasn't a "but" here, why would the Rangers move on from him in the first place?
Over the weekend, Fast received a three year deal with Carolina, which will pay him $6M overall. For salary cap purposes, Fast is a $2M AAV cap hit, but his contract is back-loaded. In real money, Fast will make $1M in 2021, $2M in the 2021-2022 season and $3M in the 2022-2023 season.
When the Rangers passed on Fast, and when Fast signed with Carolina, there were reports that Fast wanted more money from the Rangers than he accepted with the Canes. This obviously makes sense, because the tax rate in New York is much higher than it is in North Carolina. In addition, the cost of living in North Carolina is much cheaper than the cost of living in NYC too. I'll save you my "greatest hits" on why the salary cap must be off-set, in order to make it a level playing field for states/provinces with high income taxes vs states with no income taxes. I know I've done that rant ten-fold already.
While the AAV may have been an issue for the Rangers, publicly, on Monday, Jeff Gorton told the media the following:
"At the end of the day, I think he made a decision that was in his best interest and we felt like term was the biggest issue for us going forward with all the young players that we have in the organization and that we'll have to take care of financially. It was a tough decision because Jesper has been a really good Ranger, very popular with his teammates, with his coaching staff, with us and management and fans certainly. Always a difficult decision when someone like that is leaving the organization and the mark he left on it. We wish him nothing but the best, but at this time, how we're going forward and what we need to do it's just the way it worked out."
While this blog on Fast's departure is belated, Gorton pretty much said what I thought about moving on from Fast, with the influx of young players the Rangers have being the most prevalent issue.
Going into the 2021 season, the Rangers currently have four players signed for the right wing position, which was formerly Fast's position with the team. Those players are Pavel Buchnevich, Kaapo Kakko, Brendan Lemieux & Julien Gauthier. In addition, the Rangers also have Vitali Kravtsov waiting in the wings. While we all know about Kravtsov's slow and turbulent time in America, it's not like he's Lias Andersson either. Kravtsov has done an about-face and has rededicated himself to making the Rangers roster. That said, of course, and as stated on past blogs, there's a chance that Kravtsov finishes up the 2020-2021 KHL season with his Traktor team, and then comes over to the Rangers at some point in the 2021 NHL season.
If one thing has been made clear by the Rangers, that even despite the recent low-risk and one-year deal given to Jack Johnson, is that the Rangers are dedicated to their youth movement.
As mentioned, Fast turns 29 years old in December. Kakko is 19 years old. Gauthier is 22 years old. Lemieux is 24 years old. Buchnevich is 25 years old. And for Vitali Kravtsov, a Top 10 pick of the 2018 NHL Draft? Kravtsov turns the American legal drinking age (21) on December 23rd. From a Rangers front-office perspective, they are going with youth and the future, rather than going with guys who will be 30+ years old.
Again, let me be clear – no one is disparaging Jesper Fast. Like other ex-NYR veterans, he just doesn't fit into the current rebuilding plans. And really, while Fast was a solid defensive player, will he really be that missed? Even when you look at things business-wise, how often do you see fans wearing Jesper Fast jerseys? Brendan Lemieux, despite his 1.25 seasons with the Rangers, had more fans wearing his #48 than people wearing Fast jerseys. In my experiences, I've also seen more fans with Buchnevich & Kakko jerseys than Fast.
While I know this talk about fans and jerseys is very low on the importance scale, business is always a factor. This is why the Rangers handled the Lundqvist situation with kid gloves too, because they knew he was a draw and what he meant to the majority of the fan base.
Just based on what we've heard and seen all season and off-season, Fast was never in the plans beyond this 2019-2020 season. The Rangers just have too many guys at the position. It should also be noted that the Rangers even signed Kevin Rooney this off-season too. While Rooney may be destined for the AHL, there is a chance he could play fourth line RW like Fast once did for the team. (Of note, my dad pegged this move as such when it was announced & on Monday, Gorton & JD confirmed this.)
And really, that's another point to consider here – Jesper Fast was a fourth line right winger. Do you really want to sacrifice your future during this rebuild for a fourth line winger? For the Rangers rebuild and youth movement, it's better to give playing time and minutes to players of this new core. Like other players of this rebuild, Fast's age (and term of the contract he was looking for) was just another casualty.
Similar to Marc Staal and Henrik Lundqvist, for Jesper Fast, there were cheaper and better alternatives at his position. That's what it all boils down to.
Lastly on Fast, let me kill all of the erroneous bullshit that's out there about how the Rangers could've paid Fast instead of signing Jack Johnson. Simply put – THEY PLAY DIFFERENT POSITIONS!
As noted, the Rangers have right wing depth and guys they want to invest in. When it comes to the left defense, the Rangers have question marks. All we know right now, with a 100% certainty, is that come opening night, Ryan Lindgren is the first pair LD. After that, who knows? It could be Tony DeAngelo or Adam Fox, two players that both Gorton & JD said they have talked about flipping to the other side. It could be K'Andre Miller, providing he's ready. It could be Anthony Bitetto, if he has a strong camp.
While Gorton today said they wouldn't mind keeping Hajek on loan, Hajek could be a contender. The Rangers also have Tarmo Reunanen, a Tarmo Reunanen who has made it clear that he wants to compete for a roster spot. And let's not forget Yegor Rykov either, who despite an injury-plagued 2019-2020 season, wants to make the roster too.
If you get anything out of this, it's that the Rangers are set at right wing and have their cast. When it comes to the left defense, it's more open-ended. Nothing is set in stone there. In other words, SIGNING JACK JOHNSON DID NOT EFFECT THE RANGERS DECISION ON SIGNING JESPER FAST.
In any event here, good luck to Jesper Fast, but I hope the Rangers kick the shit out of Carolina whenever they play them.
---
On Monday, after the official signing of Lafreniere, Jeff Gorton & John Davidson addressed the media via a Zoom call. I already covered what Gorton said about Fast, so let me talk about everything else now.
Obviously, the Rangers dynamic duo of the front office are ecstatic about Lafreniere, saying that signing Lafreniere was a piece of cake. You don't say. JD then joked, saying that he'd even let Lafreniere stay at his house, as Lafreniere gets acclimated to NY. Who knows, that could be a real possibility?!?!? What's not a possibility, is JD letting these crybaby basement chart bozos stay in JD's own basement! (I think that's where Sather is buried these days!)
If there was any big news coming out about Lafreniere, it's that the Rangers want to get him to NY by early November, providing they can. (I'm sure the governments will lift a border restriction here, as they did during the NHL playoffs.) As was obvious, Lafreniere will not be returning to his now former team, in the Rimouski Oceanic, of the QMJHL. It's the Rangers plan to get Lafreniere to NYC asap, in order to get him acclimated to his new home and environment. This all makes sense, although I wouldn't be shocked to see some basement bozo complaining about it!
Outside of that, there's not much else on Lafreniere. It's all a waiting process now, as we anticipate Lafreniere's arrival to NY and eventual NYR debut.
Speaking of NYR first round draft picks, JD & Gorton hinted that Braden Schneider will most likely remain in the WHL, playing for the Brandon Wheat Kings.
---
When it comes to the Rangers restricted free agents, the big four remain unsigned, while the Rangers got a one year deal worth $700,000 done with Phil Di Giuseppe. As of this writing, we don't know the exact date of arbitration between the Rangers and the big four, who are Tony DeAngelo, Ryan Strome, Brendan Lemieux & Alexandar Georgiev. Just to give you this information again, these four men can sign with the Rangers before arbitration. In fact, I kind of expect Lemieux & Georgiev to come to terms with the team, especially Georgiev, since the Rangers don't have any back-up depth for Shestyorkin right now. (It's not going to be Kinkaid.)
In a quote somewhat related to the big four here, Jeff Gorton said:
"The cap is something we're going to be mindful of, for sure. There are some pretty well-documented bonuses we have to consider, but I don't think we're going to have a huge signing in free agency that's going to pop up any day. But I think we'll look at everything — whether it's a trade or other scenarios — and how we can address any kind of holes we might have."
I know this stuff gets confusing, which is why I haven't talked about it too much, but due to all of the NYR ELC players and bonuses, the Rangers are currently $4M over the bonus salary cap. To simplify this, it just means that this money will be added to the Rangers salary cap for the 2021 season.
I think Frank Seravalli, of TSN, explained what's going on with the bonus money the best. Here's his tweet on the situation:
Lafreniere's signing today has pushed #NYR's ability to spend down by another $2.85 million, as explained below. Their salary cap ceiling at the moment (including dead space) is $64.55 million. https://t.co/EutdU2TJhQ

— Frank Seravalli (@frank_seravalli) October 12, 2020
---
Gorton and JD made it clear, that while they will do their due diligence and look at everyone in free agency, they are also aware of the upcoming arbitration talks between themselves and their RFA's. Providing any player goes to arbitration, the Rangers will have to take a wait-and-see approach to signing anyone else.
While the Rangers could cut someone loose, they seem to be dealing from a position of weakness when it comes to Tony DeAngelo, Ryan Strome & Alexandar Georgiev. After all, the Rangers don't have a back-up goalie right now. The center market isn't deep, which may help Strome in arbitration. When it comes to Tony DeAngelo, how can you let a guy, who in the 2019-2020 season, had the fourth most amount of points in the NHL, just walk? (And from what JD & Gorton have said, they talk as if TDA is coming back. In addition, as noted before, TDA wants to be back – providing the greenbacks are right.)
To further my point on the Rangers dealing from a point of weakness, the longer they wait on these four players, the more the free agency pool will dry up. While the Rangers could always try to replace these four players with cheaper and lesser talent, it would be a step backwards. These guys are young and entering the prime of their careers now. None of these guys are turning 30 years old anytime soon, like a Jesper Fast. And system wise, it's not like the Rangers have much better alternatives. (Save me your stuff on Nils Lundkvist – he hasn't even played an NHL game yet and I doubt he will be the fourth highest scoring defenseman in the league either.)
When it comes to the signings of Jack Johnson & Anthony Bitetto, for the left side of the Rangers defense; JD & Gorton were complimentary of both on Monday in their press conference with the media, with obviously more focus on Johnson than on Bitetto, due to the NYR lame-stream media reaction to that signing.
As talked about last blog, on Monday, JD mentioned his past with Johnson & Martin's past with Johnson. JD mentioned that both Johnson and Rooney (as mentioned earlier) were signings for the penalty kill. While it remains to be seen if they last with the Rangers all season, that's the mindset right now. JD then reiterated what I said a few days ago – Johnson has a one-year contract and the future is bright.
And I have to say this too – for all of these TWUNTS on social media, who dare whine about JD, well they should get a swift kick in the ass. In one day, JD is more transparent and talks to the fan base, more than Sather ever did in 15+ years. We should be so lucky to have a Team President that cares about the fan base as much as JD does.
For my Island Park people, JD also spoke highly of Bitetto, mentioning him as someone who could contribute. If I got anything out of this, it's that Bitetto isn't automatically going to Hartford, as he will get a chance to make the team. Again, no one knows what the LD will be like on Opening Night, or if the Rangers make any other signings, but it has to be good for Bitetto and his fans to know that he at least has a shot.
Of note, none of the lame-stream reporters asked Gorton or JD about Vinni Lettieri moving on! SAD! However, seriously speaking here, none of the reporters asked Gorton & JD about moving on from all the Swedish players either.
As mentioned last blog, there is definitely a focus on American and Canadian talent now. While the Rangers do have a Russian tandem in net & there are other Russians on the team (Panarin, Buchnevich) and let's not forget the half-Swedish Mika Zibanejad either; the Rangers, in this off-season, have put an emphasis on tough and gritty North American players. There have been no Swedish or European acquisitions during this off-season. USA! USA! USA! (Chanting CAN-A-DA, doesn't have the same effect as chanting USA, but I give much respect to our friendly neighbors up north!)
In conclusion on this Gorton & JD press conference, it seems like the next big move we'll be talking about, is whatever happens between the organization and their four restricted free agents. Don't expect a major acquisition in the near future. After all, all of the top guns have all signed elsewhere, as I'll get into now.
---
Very quickly here, while the contracts doled out by these NHL teams haven't been as big as in previous years, due to the flat salary cap wreaking havoc across the league, we've seen a lot of faces switching jerseys. You can find out about each transaction using the trade-tracker or free agent subsections over at TSN.com. For the purpose of this blog, I'm just going to run down the big ones and the ones regarding ex-Rangers.
TAYLOR HALL – There were two crown jewels of this not-so-star-studded as usual class of free agents, (Pietrangelo being the other) with Hall being one of those guys. Over the weekend, Hall signed a one-year deal worth $8M with the Sabres. Of note, the contract has a full NMC, but really, if the Sabres do their normal act, where they come out hot and then suck ass by Christmas, you have to think Hall would waive that NMC.
I think this is a win-win for both parties. The Sabres definitely placated Jack Eichel with this move. Also of note, this signing means that for all these Ranger fans putting out these Eichel to NYR trade scenarios, well all of those fans can forget about that. This signing was made for Eichel. And really, as the Sabres front office has repeatedly stated, they were never looking to deal Eichel in the first place.
By signing with the Sabres, for Hall, if the Sabres pull their usual act, he can waive his NMC and join a contender. And if the Sabres reverse their fortune? Even better. For the Sabres, they get a 1-2 punch player and as said, if they pull their disappearing from the playoffs act, the Sabres, providing Hall waives (and why wouldn't he?) they can get back a nice haul from a contender.
Also of note here, do you know who will have a ton of cap space to sign a free agent next summer? The Seattle Kraken. $8M is the second most amount of money awarded this off-season. It's nothing to sneeze at. However, by signing a one year deal, Hall is setting himself up for more cash next off-season.
---
ALEX PIETRANGELO – with St. Louis signing Torey Krug, it seemed all but a given that Pietrangelo was leaving the Blues. That news became official on Monday, when Pietrangelo signed a whopping seven year deal worth $61.6M overall ($8.8M annual cap hit) with the Vegas Golden Knights. The contract also includes a no-move clause. Sometimes, I feel that Vegas is like one of those GM's from the video games, who turns the salary cap option to "off".
When I look at Vegas and their failure in the playoffs in 2020, I don't think defense was their issue. They were eliminated by the Stars because they couldn't score goals. While Pietrangelo will help the Vegas power-play for sure, they may have been better off with Hall, especially since they traded Paul Stastny to Winnipeg.
Not only did Vegas have to trade Stastny away, Vegas then made a cap trade with Vancouver (a Vancouver team who is having a great off-season) when they unloaded Nate Schmidt for next to nothing. No one can deny how good Pietrangelo is, but I do wonder if this really improves Vegas, considering what they gave up to get him.
In other Vegas news, VGK confirmed late Monday night that Marc-Andre Fleury is now off the trade market. There are several reasons for this. For starters, no one was going to trade for MAF's contract. MAF also wanted to stay in Vegas. In addition, it's being reported that Robin Lehner had minor surgery recently and may miss some of the 2021 season. VGK is going to need a reliable puck stopper and who better than their own guy, in MAF? MAF has taken a lot of shit lately, all while wearing a smile on his face, so I'm happy to see he got what he wanted & is remaining in Vegas. And for what it is worth – VGK fans love MAF & wanted to see him stay.
---
JIMMY VESEY – Anytime I see Vesey's name in the news, I'm reminded about how all of these NYR fan celebrities begged Vesey to sign with the Rangers and how all these bars promised Vesey free drinks for life if he did sign. I wonder if he can still get a handle of Jack Daniels at any NYC bar he walks into?
Vesey signed a one-year deal worth $900k with the Leafs on Sunday. Who knows if he'll even make the team? There was so much excitement when Vesey first signed with NYR, including fans (myself included) thinking that this new dynamic duo between Vesey & Buchnevich could be special. A few years later, Vesey can't even get a $1M contract. In addition, who knows if Buchnevich even makes it with the Rangers in this off-season?
RYAN GRAVES – in one of Jeff Gorton's rare errors, (no GM bats 1.000) Ryan Graves, who the Rangers dealt to Colorado, has emerged as a top tier NHL defenseman. Over the weekend, Graves received a three year deal from the Avalanche, worth $9.48M overall, which comes out to $3.16M a year. Not shabby for a guy that was once buried in Hartford.
VLADISLAV NAMESTNIKOV – Continuing the ex-Rangers theme here, my buddy @WHALEPACK , saw his favorite player sign with the Red Wings over the weekend, with Namestnikov signing a two year deal worth $4M overall with Steve Y's club. Namestnikov, who had a short, yet decent tenure in his limited time with Colorado last season, is now in a first to worst situation. I guess he wanted the cash.
---
For more on all of the NHL transactions during free agency, check out: https://www.tsn.ca/nhl/free-agency
Before closing out here, I wanted to make a comment on a non-transaction, as in the Oilers not getting any goaltender help. It seems like the Oilers are going with their two questionable goalies next season, as they already had Mikko Koskinen signed to a terrible contract. (How then GM, in Peter Chiarelli, who was fired shortly thereafter, was allowed to make that deal, I do not know.)
The Oilers, for whatever reason, just re-signed the soon-to-be 39 year old goaltender, in a one Mike Smith, to a deal worth $1.5M for next season. The Oilers can have all the best scorers in the world, and they have two forwards as good as any (if not the best) with McDavid & Draisaitl; but if no one can stop the puck, how in the hell do they expect to advance to a dance with the Stanley Cup?
And don't get me wrong, I'm not expecting the Oilers to break the bank here. We all know my thoughts on Top 5 paid goaltenders. However, Braden Holtby could've been had. A Cam Talbot return would've been better than Koskinen or Smith. There were so many goalies available during free agency, that even a minor upgrade, such as a Thomas Greiss (DET) would've been serviceable. In my opinion, for the Oilers to contend for a Cup, Koskinen and Smith aren't the answer, and no offense to either one of those men.
---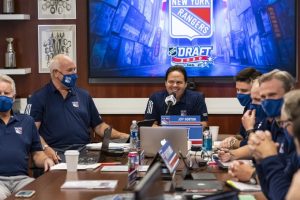 If you haven't already, subscribe to this blog for the next update:
Moving forward, I still have book reviews and a DeLorean blog planned. As far as the Rangers go, the next big news story will be whatever the Rangers do with their RFA's. I'll definitely be back whenever the Rangers give word on what they are doing on that front.
Tony DeAngelo is promising a new episode of "Watch Your Tone" this week, where he and his merry band of podcasters will talk about all of the NHL news from this week. WYT is also promising a rant on ANALytics too. That should be good, and I'll have a recap of it here once it all goes down. (I think Wednesday.)
As always here, thanks for reading and…
LET'S GO RANGERS!
Sean McCaffrey
BULLSMC@aol.com
@NYCTHEMIC on Tweeter and on Parler
Follow the BlueCollarBlueShirts.com Facebook Group by clicking this link: https://www.facebook.com/groups/1564026407193056/