Greetings and salutations everyone and welcome to another blog here on BlueCollarBlueShirts.com. This blog will be different than the usual game review for several reasons:
— I attended tonight's game and didn't get home until after midnight. As I START this blog, it's 1AM and my eyes are flickering like faulty light bulbs.
— When I go to a game live, I might post stuff to social media, but I don't check what anyone else is saying or check my replies. I don't like to be a slave to the phone. My happy medium is just to post stuff and check everything later. However, when I got home, I had something like 2000+ Twitter notifications and about 300 Facebook notifications. I can't get through all of that right now. Usually, I try to read everything and incorporate reader comments and ideas into the blog too. I don't have the time for that tonight.
— To follow up on this, if I know I'm going to do a blog after a game that I'm watching on TV, I live tweet the game, so I can refer back to my thoughts when I do the blog. At the end of the day, while many of you enjoy this blog, I'm not spending all this money to sit on the phone while at the game. I don't know how others do it. That's not fun for me. It's easy to tweet shit when laying on the couch and watching the game on television. However, while at the game, the phone stays in the pocket.
— As mentioned on prior blogs, sometimes you miss stuff live, especially when you're at a road game. For example, I had to check social media to see a replay of Tony DeAngelo's goal tonight, because the Devils wouldn't show it on their scoreboard. I was sitting right behind the goal where the Rangers shot twice, so at times, I missed little things on the other end of the ice.
— I'm also beyond furious right now, which I'll get into after sharing with you my most recent blogs! What a terrible way to segue-way into the PLUGS section of this blog!
As usual, in case you missed them, here are my most recent blogs:
---
---
---
---

---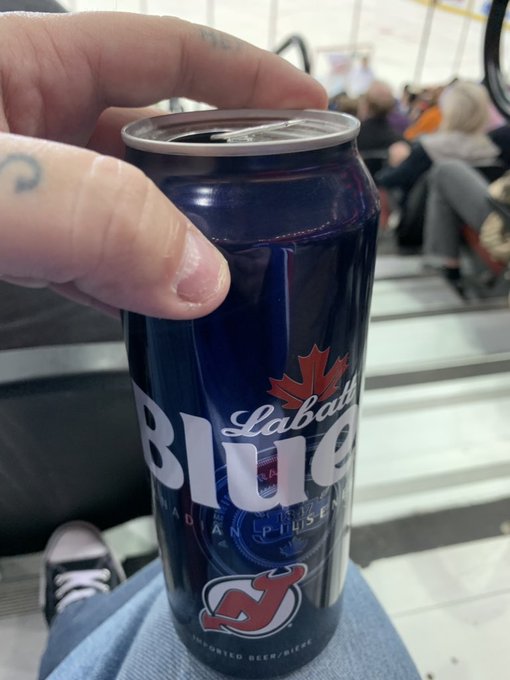 To say that I'm full of rage and anger right now would be exaggerating. After all, at the end of the day, sports are an escape. While we may take sporting events seriously, it's all just a hobby. There are bigger and more important matters in life.
That said, tonight was just a horrible night for me. Not only did the Rangers stink it up, but the Yankees also lost tonight, which now puts the Yankees in a 3-1 series hole. If that wasn't enough, my fantasy football quarterback, in Patrick Mahomes, also got injured tonight. With only 9 fantasy points, I have no shot in hell of winning my fantasy football game this week!
And I know what you may say here – "it's fantasy football, a real human got hurt here." To me, if it wasn't for fantasy football, the sucker sheets and the pools, I wouldn't even watch the NFL. I'm a big Giants fan, but I truly disdain the NFL today. The games are fixed. You can't breathe on a quarterback without a 15 yard penalty being called. The officiating is beyond terrible. Most of the players are either criminals or anti-American. The NFL is just a disgusting place.
Seriously, if it wasn't for gambling, and fantasy football is gambling, the NFL would be nowhere near as popular as it is today. In fact, I would argue that because of fantasy football and gambling, everyone turns their heads to all the murders, sex crimes, drug abuse, child beatings, tax invasions, illegal guns and all the other bad crap that surrounds the National Felony League.
Even worse, I lost money on this game tonight!
I want to share a blog with you that I wrote back in April. I urge you to read this if you haven't already:
I'm not going to rewrite what I've already written in the past. Just click the link above.
Prior to this Rangers/Devils game tonight, once I told people I was going to the game, I had multiple texts and messages from my friends in New York, who all wanted to Paypal me money, so I could place bets for them while in New Jersey. In other words, my friends, all in their 30's, when they heard I was going to NJ, the first thing on their mind was "sports betting is legal."
I attended this game with my friend, "Ten O'Clock Tommy". Prior to the game, we met up with his cousins. One of Tommy's cousins is 26 years old. Tommy's cousin, the youngest of the three of us, knew every line, every game, every prop bet and everything else that was going on, during the evening of October 17th. I should also mention that Tommy's cousin lives in New Jersey.
Talking to Tommy's cousin and knowing what I've said in the past (as is evident in the link above) it's true – a whole new generation of fans are more about gambling than the play on the field, the ice or the court. As mentioned up top, it's why the NFL is so successful. No longer are team wins or losses remembered, it's gambling wins and losses that remain on the brain.
Listen, I have no problems with gambling or if people do it. That said, as time goes on, when attending a live sporting event, gambling will be just as natural as getting a beer and a pretzel. It's weird. I support gambling and all that, but at the same time, I do see major issues with it being pushed in your face all the time. Gambling has gotten into bed with every major professional sporting league, and there will soon come a time where people forget there was ever a time without gambling being promoted non-stop.
I guess as I think about it, my real issue with gambling is this. I'm 37. Growing up, and watching sports, gambling was never on my mind. As I grew up and became an adult, I understood the risks of gambling. If I choose to gamble, it's an adult decision. Now, here in 2019, young fans are having gambling force-fed down their throat, where gambling is being ingrained into them at childhood. You have ten year olds who no longer care about players, unless these players are on their fantasy teams.
I bring this all up, because this was my first time at "The Rock"/Prudential Center, since NJ legalized sports gambling. Once I entered the building, I was plastered with gambling ads all over the place. As I walked around the main rotunda to get a beer, I had people charging at me, all trying to get me to sign up with their sports book.
I'm not going to lie. I signed up, along with Tommy and his two cousins.
I'm under the assumption that the William Hill sportsbook, which is the official sportsbook of the Prudential Center, offers different promotions at each game/event. Tonight's promotion was a free $50 bet, providing you deposited $50 of your own money into the account.
It's late and I don't want to off on too much of a tangent here, so long story short, Tommy & I bet the Rangers (his cousins are Devil fans) and we wound up losing. At least this saves me the trip of having to cash out. Even worse, I did accept money from my friends who wanted me to place bets for them. I wound up placing something like $500 worth of bets, with all the money on the Yankees. Easy come, easy go and I'm over it.
With gambling outfits firmly entrenched at sporting arenas around the country, do you know what will be next? It will be this:
No joke, because of my demographic (male, 30's) I see a lot of ads for erection pills. I listen to different podcasts, watch different TV shows, listen to different radio programs, with 90% of the content I consume being sports related. Obviously, sporting events attracts many male eyeballs and ears, which is why I see and hear all these ads.
It's only a matter of time, in the same way that gambling swept the nation, where you will see BlueChew ads all over sporting arenas. And if you don't know what I'm talking about here, BlueChew is a chewable viagra.
Screen-shot these words: it's only a matter of time before we the Rangers play the new Seattle NHL team, at the BlueChew Arena!
In a way, penis pills and gambling have a lot in common – they both give you a major rush to your head! It's just a shame the Rangers didn't have any Bluechew tonight, because they came into this game soft and flaccid. Even worse, the power-play was never able to climax.
Oh – and before going into the hockey portion of this blog, I have to mention that Tommy and I were both talking about all the Bluechew ads we see, as this above bit was a direct result of a conversation we had, in regards to seeing ads for gambling and boner steroid pills all over the place. He said it's only a matter of time before I sell out and get a sponsor for this blog. Who knows, maybe one day, the URL for this site will be BlueCollarBlueChew.com! SAD!
When it comes to the Rangers 5-2 loss tonight, there are different things you can look at. To me, the number 1 thing that led to the Rangers failure to win this game were the special teams of the Rangers.
The Rangers had six different power-plays tonight and failed on every single one of them. For as much excitement we had watching this power-play go to work in the games with Winnipeg and Ottawa, this power-play tonight caused an equal amount of depression. No joke, this power-play was fucking awful tonight.
The power-play, which is led by the first line of Zibanejad, Buchnevich and Panarin, also features Chris Kreider and Jacob Trouba. The power-play tonight was pretty much an extension of all of these players in this game. For some reason, Trouba, who has been shooting like he's part of the LA riots of 1992, wasn't shooting at will in this game. The first line kept pulling Scott Norwood's all game, and just kept shooting wide. It was maddening to watch. I just don't know how this power-play unit, against the Devils back-up goalie in MacKenzie Blackwood, could be this bad. Put a shot on net!
In my opinion, while the power-play was the number 1 reason for this loss tonight, there were other reasons why the Rangers stunk out the joint:
— Alexandar Georgiev had a so-so game. While Georgiev did make some big saves in this game, the first goal he allowed, the goal scored by Blake Coleman in the first period, was god awful. Georgiev also let another goal slip through his five-hole. I guess he really is being mentored by Lundswiss. That said, Georgiev did stop 33 out of 37 shots. If there is anything good to take out of this, it is that the expectation level for Georgiev to succeed is this high.
— Chris Kreider and Pavel Buchnevich were the absolute drizzling shits tonight. In fact, I look up and down this Rangers roster and there was no one else worse than these two sorry sack of shits tonight. I know, I know, I know – just last night, I said we can't overreact to every little thing and to have a little faith in Quinn. I'm not trying to be your typical blogger or fan and have an extreme overreaction here, but these two sucked tonight. I'm also using this kind of language to really hammer home my points here. I don't truly believe that away from the rink, that Kreider & Buchnevich are sorry sack of shits. However, the performances they put forth in this game surely was a sorry sack of shit.
Seriously speaking here, what more do we have to see? Kreider is in Casper ghost mode again. For a guy playing for the biggest contract of his life, he brings no fire and he roams around like a Walking Dead zombie. I am such a fan of Kreider that it pains me to say this. I really want him to be that player we all want him to be. However, come the 2020 playoffs, Kreider will be 29 years old. He's no longer that kid beefing with John Tortorella anymore. I think we've seen the best of Chris Kreider.
Think about it, how many players start to peak once they hit 30? I think we've seen the best of Chris Kreider and if the Rangers dealt him tomorrow, I would be fine with it, especially since this is supposed to be a rebuilding/developing year.
I'm not exaggerating here. During the last two+ seasons, rooting for Chris Kreider is like rooting for Artie Lange or another major drug addict. You want him to get better and get clean. While there are spurts of hope and clean-living, at the end of the day, an addict is going to do what an addict does – they relapse. While Kreider does play well for some stretches, when it's all said and done, he relapses to ghost mode and you're left disappointed.
I know after what I wrote in my last blog that I might sound like a hypocrite here. It's only four games. However, I've seen enough from Buchnevich. I was joking in my last blog when I said that I wanted Smith to replace Buchnevich on the first line. After seeing this train-wreck tonight, I would love to see this happen for real. Buchnevich has been that bad and let's be fair here, contract stuff aside, Smith has been good in these four games.
Seriously, what more does Captain Accountability, in David Quinn, need to see? It's time to end this Buchnevich experiment. He had his chance. Let's put Kakko on the first line and get this Buchnevich shit over with. Why are we wasting time?
I'm telling you, I was sitting right behind the goal where the Rangers shot twice at. I saw Buchnevich look lazy and flub about 78638963 chances. I also saw him get out-muscled with ease and whimper after being hit. I know it's a tough sport and the hits hurt, especially when guys are wearing body armor out there. However, I just can't take anymore of this wimp. It also looked like his skate blade was made out of rubber, as during two different rushes, he skated into his own teammate in the slot, preventing a wide open shot at the net. GET HIM OFF THIS FIRST LINE!
I can't stress this enough – Buchnevich was a huge detriment to the first line tonight and actively brought down Zibanejad and Panarin. Give him the fucking boot.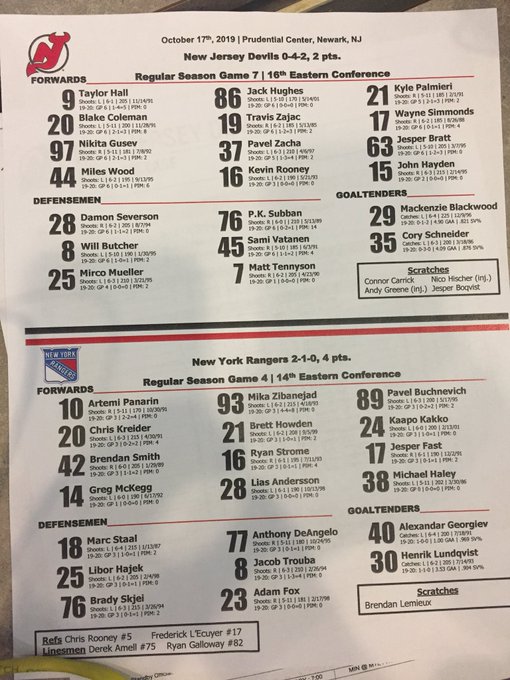 As shown above, the Rangers shook up their lines once again, as David Quinn continues to showcase his ADD. The most important line-up change tonight was that Brendan Lemieux was a healthy scratch. You would think you would play Lemieux in this game, since it's a game Lemieux would probably be up for, considering the Rangers/Devils rivalry and his father's time with the Devils. While I thought McKegg was alright tonight, I barely noticed Micheal Haley in his 5:39 of ice time.
At this time, and as I usually do during these game review blogs, here's the box score from ESPN.com:
SCORING SUMMARY: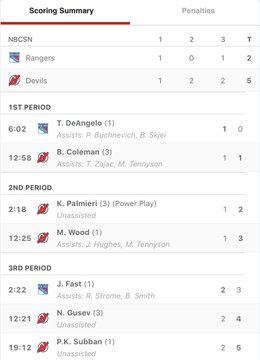 PENALTIES: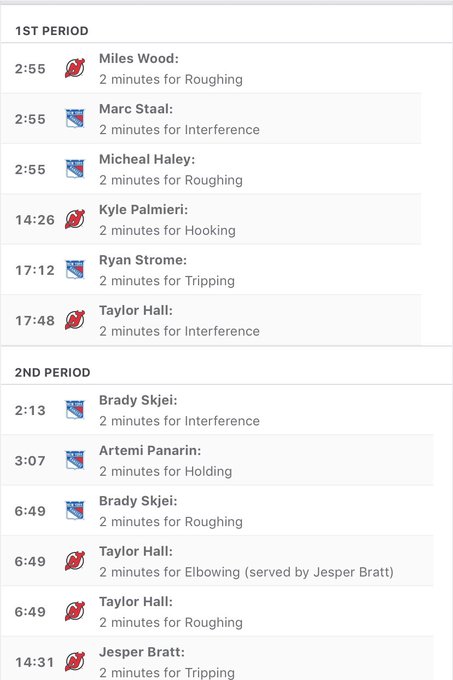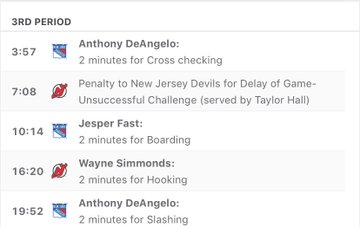 GOALIES:
| | | | | | | | | | | |
| --- | --- | --- | --- | --- | --- | --- | --- | --- | --- | --- |
| SA | GA | SV | SV% | ESSV | PPSV | SHSV | SOSA | SOS | TOI | PIM |
| 31 | 2 | 29 | .935 | 22 | 0 | 7 | 0 | 0 | 59:40 | 0 |
| | | | | | | | | | | |
| --- | --- | --- | --- | --- | --- | --- | --- | --- | --- | --- |
| SA | GA | SV | SV% | ESSV | PPSV | SHSV | SOSA | SOS | TOI | PIM |
| 37 | 4 | 33 | .892 | 19 | 2 | 12 | 0 | 0 | 57:18 | 0 |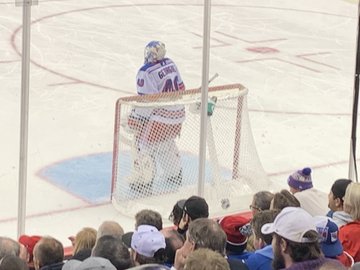 Again, it's very late, so I'm just going to do this review fast.
Tony DeAngelo got the first goal of the game, an all-hustle goal, as he stuck with the play and hammered the puck home. As I look at the box score, Buchnevich and Skjei were credited with the assists, although to me live, it looked like it was Lias Andersson who set TDA up. It's a shame that Andersson gets no credit for this goal in the box score, as he was a huge part of it. TDA is a point machine and I love seeing him succeed.
The Rangers PK were 6/7 tonight, and for the most part, played well. They even killed some 5 vs 3 time as well.
As the first period progressed, before the never-ending barrage of penalties that would be called in this game, Blake Coleman beat Georgiev on a shot that Georgiev usually saves 100/100 times. No excuses here. You gotta make the save.
Oh, and I hate doing this, but for all you people on social media who tag me after Georgiev gives up a goal, get a life. Seriously, I've explained this 592705878927584 times. Georgiev makes $8M less than Lundswiss, is part of a rebuilding team and was a better goalie last season. And it's not like Hank looks great this year either. I'll take Georgiev, Hayes & money to spare, over Lundswiss, any day of the week.
Oh and this goal allowed by Georgiev? It came after a turnover. However, unlike the Cult of Lundswiss, I understand that no team plays 100% turnover free hockey. Turnovers will happen. That said, again, Georgiev needed to stop this. It really was a back-breaking goal, because at this point in the game, it was all Rangers and this goal gave the Devils some life.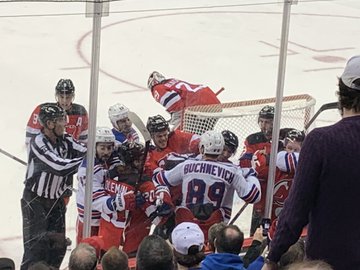 For all the talk about the team needing to get more physical, the Rangers only had 2 of their paltry game total 11 hits in this first period. Praise the Hockey Gods for Haley!
The second period was a disjointed mess, by both teams, and by the officials. There were six penalties in the period, the first being called on Brady Skjei for interference. Off the faceoff, the Devils scored, a goal from Kyle Palmieri, to make the score 2-1, bad guys.
Despite what felt like a billion penalties being called in this game, somehow, this cowardly attack from Taylor Hall only garnered a two minute minor, rather than a five minute major:
Taylor Hall takes a run at Adam Fox pic.twitter.com/LeXfgulhkw

— Brady Trettenero (@BradyTrett) October 18, 2019
I'm all for physicality and big hits. However, this wasn't that. This was an elbow with an intention of knocking someone out of the game. Fox would leave the game here, but would come back. From the reports that I've seen after the game, it seems like Fox is alright, but sometimes hits like this are felt more the next day. You just can't tell me you want to limit concussions and only call a two minute minor here.
Oh, and as you would expect, despite this egregious hit, the Rangers did nothing on the power-play. While Blackwood deserves some credit tonight, the Rangers rarely challenged him. Most shots were sent at his chest, although Blackwood did rob Zibanejad here, on this particular power-play.
Later on in the period and after the Rangers continued to choke man-advantage after man-advantage, Miles Wood put one past Georgiev to make it 3-1. I would peg the building something like 50/50 or maybe 55/45, Devil to Ranger fans. Once Wood scored here, in addition to this horrid PP, you could hear the sound of every Ranger fan slumping into their seat. Even worse, Jack Hughes got his first NHL point on this goal, with a secondary assist.
I haven't really talked much about Kakko vs Hughes tonight, which was a huge selling point of this game, at least when it comes to airing this game on national television. That said, there wasn't much to talk about. Kakko's linemates were crap and the Devils shut him down. Hughes showed some flashes out there, but aside from this forgettable assist, there's not much to write home about here.
Oh and what's with the Devil fans? Every chant they have either uses the word "suck" or they "wooo" like Ric Flair in 1982. Even worse, during a TV timeout, they played the number 1 stripper song in the world, in Def Leppard's "Pour Some Sugar on Me". During this time, the camera flashed to only young kids in the crowd. I know this team is called the Devils, but advocating stripper children? That sounds more like the Catholic Church to me.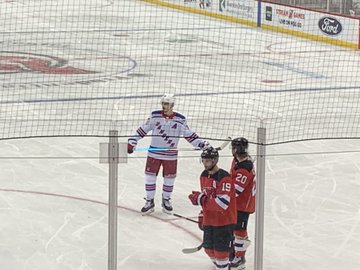 The third period was one large punch to the gut. Jesper Fast scored two minutes and change into the period, making the score 3-2. Assisting on the goal were Strome and Smith. For all the shit some Ranger fans talk about Strome and Smith, they've been eons and miles beyond better than Buchenvich and Kreider this season. It's not even an argument or something to debate.
After this goal, Taylor Hall looked to have a goal, making the score 4-2, but it was ruled that he interfered with Georgiev. Live, I was on the other side of the rink, so I couldn't really tell. On the replay, I thought the Rangers may have gotten away with one here, as I've seen goals like this stand in similar situations.
With the goal off the board, it wouldn't matter anyway, as the Rangers, who got a PP after Hall's interference, didn't do dick with the advantage. Panarin would fail to clear an easy puck and Gusev, who Devil fans love (Huge GOOOOOOOOOOSE chants) capitalized. 4-2 bad guys. The Rangers just showed no life.
Despite getting another power-play opportunity late into the third period and with Georgiev pulled, to give the Rangers a 6 vs 4 advantage, it would be PK Subban icing the game, with an empty net goal. 5-2 bad guys, your final from Hockeytown, USA, aka Newark, New Jersey.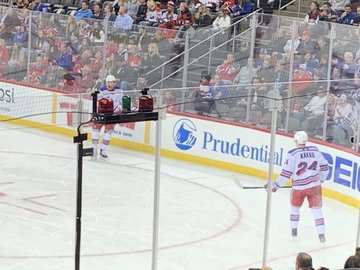 Sorry to go so short here. (Funny enough, a short blog for me is still more than what you get anywhere else!)
This was a terrible game. I don't buy the schedule excuse either. You had four full days to prepare for this and had six power-plays in this game that you couldn't score on. What happens if somehow, some way, the Rangers make the playoffs this season? What happens if they win the first round and have to wait 4-5 days to play the first game of the second round? Are you going to blame the schedule for the days off in-between rounds for a loss?
I'm interested in what Quinn's reaction is to Kreider and Buchnevich. I can't be the only fan who felt they were terrible tonight. In fact, I know I wasn't, as the limited stuff I saw on social media wasn't favorable, in regards to these two.
Oh, and because I failed to mention it yet, and since I've been tracking my over-under's all season, here's what I said about the game before puck drop:
Easy thing first – bet #NYR to win this game. #Devils are banged up & this will be a Rangers home crowd too. Keep betting against the #NJD until they win.

Over-under is tricky. Devils score & give up more. Can Georgiev keep NJD to 2 or under? I think it's a 5-3 game w/PPG's. pic.twitter.com/12rS9dV95e

— BlueCollarBlueShirts (@NYCTheMiC) October 17, 2019
While my game prediction was wrong, I was right on the over-under, putting me at 3-1 this season in that department.
The Rangers will have to forget about this game, as they head to Washington for a game with the Capitals tonight. I'll be back tomorrow night with a full game review.
Until then, as we try to get over this horrible night in sports, thanks for reading, and as always…
"LET'S GO RANGERS!"
Sean McCaffrey
BULLSMC@aol.com
@NYCTHEMIC on Twitter