Greetings and salutations everyone and welcome to another blog here on BlueCollarBlueShirts.com. What an absolute shit show.
For the life of me, and I've seen them all – I can't think of a worse loss from "The Turk Era" than the 3-2 inexcusable loss suffered by the Rangers at M$G on Thursday night.
And talk about making yours truly look like the biggest a-hole of all a-holes. If you don't know what I'm talking about, check out last night's blog (https://bluecollarblueshirts.com/101922/ ) for the explanation.
While I did add the caveat of the NHL being an "Any Given Sunday" league, which means that anyone can beat anyone (the games are played on the ice – and not on paper – and as we all saw on Thursday night), there is no excuse, ABSOLUTELY NO EXCUSE, for this game. This loss was pure dreck.
Since I have no problem telling you whenever I successfully predict something; in the same vein, I have to call myself out whenever I'm dead-wrong.
With every fiber in my being, I thought this game against the Sharks would be an absolute cakewalk for the Rangers. I expected about 896876968 Mika and Kreider hugs, video-game numbers all over the box score for the Blueshirts, another four-point game for Panarin, and by the end of it – sticks up at center ice.
Instead, this game felt like sticks up our asses. (My second anal cavity reference tonight – and hopefully my last!)
Put it this way: I was so confident in a Ranger steamroll tonight, that if I had a few drinks in me and was hanging out in a Vegas sportsbook – I would've easily not only hammered a bet on the Rangers to win this game – I would've heavily bet them to win by two or more goals.
Thankfully, I took this game in from my couch – thus sparing me of the loser's walk of shame from either a Vegas sportsbook or M$G itself.
Furthermore – prior to tonight's game, I thought the Rangers had a chance of setting their biggest margin of victory in all of franchise history. What a dick!
Call this an exaggeration, call it whatever you want (and we all know that I'm prone to exaggeration, especially whenever I do my 789566785566756785 times thing) – but seriously – this is a game where the Rangers, as an organization, should do a make-good for their paying season ticket subscribers – and offer them a full refund.
After all, the Rangers are now charging $300 for horrendously designed jerseys – they can afford it. (More on this to come.)
What Ranger fans paid to see on Thursday night wasn't Ranger hockey.
I don't know what you'd call this loss to the Sharks, but I know this much – these weren't the Rangers that I know.
And that's a statement that the head coach agrees with me on – but more on Turk's postgame interview at the end of tonight's manifesto.
---
I know that many of you may not want to relive this pathetic effort from Thursday night, but for those of you who do – let me now set the stage for you before covering everything else that needs to be discussed:
— Going into this game, and during his last three consecutive interviews, David Quinn talked about his 0-5 team, where he used the word "FRAGILE" on each occasion.
— DQ also mentioned that the Rangers were a Stanley Cup contender and how his team couldn't compete with New York's star-power.
— The Sharks, as mentioned, win-less on the season prior to tonight, have been blown out of the water in their losses, including a 5-2 defeat to the Islanders on Tuesday night.
— The Rangers, following their win over the Ducks on Monday, had the last two days off. In other words – they were well-rested and prepared. They weren't in the middle of a three games in four nights road-trip type of a slog.
— In a game featuring the league's best power-play against the league's best penalty kill (believe it or not, the Sharks entered this game without giving up a power-play goal this season – a trend that continued tonight), it were the Sharks that stifled the Rangers.
The end result? A 3-2 overtime win for the Sharks, where not only did the Rangers play their worst game during "The Turk Era" – they were also held to one shot on goal during the third period, prior to K'Andre Miller's innocent attempt with only 1:33 remaining.
The Sharks wound up out-shooting the Rangers 16-2 during that final frame. Let that sink in. 16-2!!!
---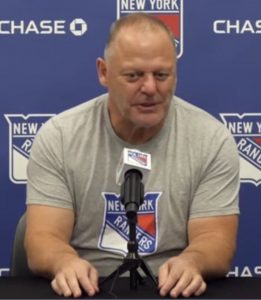 Before spiraling completely out of control (we all have to remind ourselves that this is just one game of 82, and only the fifth game of the season too); at this time, let's cover all of the pregame news from Thursday.
Up first, Dryden Hunt.
---
As talked about last night, the Rangers, and with that phrase "the salary cap accrues" in mind, waived Dryden Hunt.
Obviously, the Rangers (specifically, general manager Chris Drury), were crossing their fingers and hoping that Hunt would slip through the cracks. He didn't.
On Thursday afternoon, it was announced that the Colorado Avalanche had claimed Hunt.
Currently, the Avalanche have injury issues, following the news of team captain, Gabriel Landeskog, now expected to miss the next twelve weeks of the season, after undergoing a knee surgery procedure.
Hunt will only give the reigning and defending Stanley Cup champions some depth. It also reunites him with Alexandar Georgiev, now the starter in Denver.
It also tells that you that the Avalanche saw value in Hunt.
Prior to tonight's game, Gallant met with the media, where he said the following about Hunt's departure:
"That is part of the business and the game. There wasn't a roster spot at the time and Colorado had some injuries and called him up. Good for Hunt, he's going to stay in the NHL and get an opportunity there. We're gonna miss him, I liked him, he did a good job for us over the last year. He's a good and solid kid."
---
Obviously, losing Hunt isn't a make-or-break deal, in regards to the Rangers contending for the Stanley Cup.
And after watching tonight's game, those Stanley Cup aspirations took a hit a bit.
Great teams should never lose to putrid teams, and certainly not a team as horrendous as the Sharks, especially with all of the circumstances going into this match.
Losing Hunt hurts the Rangers' depth, especially should anyone suffer an injury. And as we all know – injuries are bound to happen. No team escapes them.
Good luck to Hunt in Colorado, who like many 12th and 13th forwards – felt the ire from the mooks of this fan base.
Furthermore – I'm sure Hunt is smiling about joining the champs – rather than spending his days with the Wolfpack.
With Hunt out of the picture, this now opens up the door for Vitali Kravtsov to receive some playing time, where I believe we'll see him return to the line-up on Sunday, due to the disgrace on M$G ice tonight.
While I don't know who Gallant would scratch should he deploy Kravtsov; the head coach pretty much has his pick of the litter. Not one skater, sans Filip Chytil, was impressive tonight.
Should an injury or two pop-up; and similar to how Hunt was recently the "next man up," Gauthier will become next in line.
(Food for thought: what does it say that Gauthier was able to clear waivers but Hunt wasn't? Hmm…)
Who knows, perhaps in the near-future, both Gauthier and Kravtsov will be wearing these:
I don't really want to go on-and-on about jerseys, because as discussed last night – I don't care what the Rangers wear. All I care about is winning and losing.
However, on Thursday, the Rangers announced their newest cash grab (and what a cash grab it is) – reverse retro jerseys.
You can visit NYRangers.com for the full information on these threads, where the club used flowery words and pretty much described these jerseys in a way where you'd think that the club had found the cure for cancer.
And when you do visit the official website – you'll find out that these jerseys are more expensive than cancer-fighting drugs. (Not that much of an exaggeration!)
Since I don't want to go on a rant about jerseys, here are the dates where you'll see the Rangers with the Liberty Head on their chests again:
Two quick hits before moving on from this topic.
First, the Rangers are charging $300 for these jerseys! Three hundred freaking dollars!
Take a look:
In what's a huge slap to the face of Ranger fans (even if we all know that this is another way for the Rangers to continue to squeeze out money from the wallets of their most ardent supporters); if you look at the other 31 "reverse retro" jerseys that are being sold – the Rangers, and as they always do, have marked-up the price of this jersey higher than any other team.
If you browse around, you'll see that some teams are charging $180-$265 for these "reverse retro" jerseys.
And it wouldn't shock me to hear that the Rangers will hit you with a "convenience charge" for anyone who wants an "A" or "C" sewn on these jerseys.
Furthermore, of all 32 NHL teams, only the Rangers are not offering blank jerseys to their fans. (No numbers or last names – which means the cost of these jerseys is less.)
As I've said many times before – if I wasn't a Rangers' fan – then I'd have a lot more money in my bank account.
However, the Rangers know how hardcore their fans are.
Not even ninety minutes into the pre-sale of these jerseys, every Igor Shesterkin jersey (all sizes) were sold out:
I don't know if this was a pure case of supply and demand (because I don't know if the Rangers were selling three jerseys of each size or three-thousand of them), but Ranger fans instantly gobbled up these jerseys.
Just like the high-cost of Ranger tickets, highest in the league – for everyone who complains about these prices – you can't blame the Rangers for charging them.
If people/fans are going to sell-out M$G and buy every piece of merchandise available, then the club will continue to boost prices until the fans say no more.
And the fans haven't said that yet, nor do I expect them to anytime soon, tonight's loss considered!
Ugh, let's now get into this 3-2 overtime loss.
---
Down to a roster of 22-players, here's what Gallant went with tonight:
FIRST LINE: Kreider/Mika/Kakko
SECOND LINE: Panarin/Trocheck/Lafreniere
THIRD LINE: Blais/Chytil/Goodrow
FOURTH LINE: Vesey/Carpenter/Reaves
Defensively, we saw this:
FIRST PAIR: Miller/Trouba
SECOND PAIR: Lindgren/Fox
THIRD PAIR: Jones/Schneider
STARTING GOALIE: CZAR IGOR
BACK-UP GOALIE: THE HALAKNESS MONSTER
---
BOX SCORE time.
The following information and graphics come courtesy of ESPN.com:
SCORING:
PENALTIES:
TEAM STATS:
GOALIES:
| | | | | | | | | | | |
| --- | --- | --- | --- | --- | --- | --- | --- | --- | --- | --- |
| SA | GA | SV | SV% | ESSV | PPSV | SHSV | SOSA | SOS | TOI | PIM |
| 23 | 2 | 21 | .913 | 18 | 3 | 0 | 0 | 0 | 60:49 | 0 |
| | | | | | | | | | | |
| --- | --- | --- | --- | --- | --- | --- | --- | --- | --- | --- |
| SA | GA | SV | SV% | ESSV | PPSV | SHSV | SOSA | SOS | TOI | PIM |
| 27 | 3 | 24 | .889 | 22 | 2 | 0 | 0 | 0 | 60:47 | 0 |
---
For as bad as Sieve Vagistat remains on these broadcasts, my pregame prediction was just as bad:
For your consideration, some of the largest margins of victory in #NYR history are:
12-1 vs Seals 11/21/71
9-0 vs Flyers 3/17/20
11-2 vs Red Wings 1/25/42

Will history be made tonight?

— BlueCollarBlueShirts (@NYCTheMiC) October 20, 2022

Ugh.
---
Surprisingly, while David Quinn was brought up throughout the broadcast – he didn't receive as much coverage and/or attention as Ryan Strome did three nights ago.
Henrik Lundqvist began the pregame show by talking up Miller. Here's #30 on #79: "He's really improving every game. You will see a better game out of him as the season progresses."
Right after praising the rearguard, Lundqvist talked about his successor, CZAR IGOR and said: "He's been great. He started where he left off. He doesn't overreact to any situation. He doesn't get caught. You want to keep the games tight, but overall he's been terrific."
No joke, and I'm not making this up, Sieve Vagistat replied with, "I disagree."
That's it for the M$GN pregame show recap for tonight.
I can't stand this seven foot jackass and this game was frustrating enough – no need to get pissed off any further by recapping the junk that spewed out of the mouth of the Clairol Clown.
---
Sam Rosen opened up the game portion of the broadcast by telling us that tonight was "Hispanic Heritage Month Night," and how the team wore special jerseys during warm-ups.
During the warm-ups, Ryan Reaves took an errant (deflected) puck to the cheek, a puck that floored him. However, and as you'd expect, Reaves personifies those two words of "HOCKEY PLAYER."
In other words – Reaves played tonight with no issue.
And as far as the rest of "Hispanic Heritage Month" goes? It's a shame that we never heard Sam Rosen, as if he was a Latino soccer announcer, belt out, "And it's a power-play goooooooooooooaaaaaaaaaaaaaaal" – despite the Rangers having five different power-plays tonight.
Perhaps a bigger shame? The stereotypical Mexican music M$GN used whenever talking about this month.
The music felt like you were dining at a third-rate Mexican restaurant, you know, one where five minutes after eating, you then have the worst case of Montezuma's Revenge of all-time.
Unfortunately, you didn't need a bad burrito tonight to have your guts ripped out. The Rangers did that for you.
Lastly while on this topic? This:
Instead of "Hispanic," perhaps this game should've been called "His Panic."
"His" could refer to either Gerard Gallant or CZAR IGOR, two men who could not have been impressed with the way the team played in front of the goaltender.
---
FIRST PERIOD:
Man I'm delusional, because just 59 seconds into the game, Luke Kunin took his first of three penalties, where once he took his seat in the sin bin – I thought the Rangers would start their blowout.
Ugh.
Following Kunin's first of two offensive zone penalties (interference on Lindgren here), the Rangers' power-play came out motoring.
Zibanejad was shooting every puck that came his way, but more times than not – he didn't hit the net.
Put it this way: Mika Selke already has two games of eight SOG or more. Tonight, he finished with three.
Vincent Trocheck, who should've had a hat trick tonight, was robbed early into this power-play, following a monster save from carousel goalie, James Reimer.
With 12 seconds remaining on the power-play, the Sharks took another penalty, after Matt Benning air-mailed a puck over the glass.
In other words, not even three minutes into the game, the Rangers, who have been scoring at will during their power-plays, had two chances to get the game's first goal.
The Rangers power-play went 0-5 for tonight, where by the end of this second man-advantage, Reimer once again robbed Trocheck with an amazing glove save.
And yep, getting "goalied" by Reimer is inexcusable – although the Rangers didn't put that theory to test during the third stanza.
As is always the case, killing off two back-to-back penalties gave the Sharks some momentum, especially when at the 5:28 mark, Sammy Blais took an ill-advised penalty when he tripped Timo Meier.
Thirty-four seconds later, Logan Couture scored an easy rebound goal. 1-0, bad guys, at just the 6:02 mark.
At the time, you thought that this goal would wake the Rangers' up. Fat chance – even with the Rangers receiving their third power-play of the period when Radim Simek tripped Alexis Lafreniere at the 7:49 mark.
The Rangers' first power-play unit stayed on for the entire two minutes, where the Sharks' PK met them at the blue line on each attempted entry.
Give it up to DQ – he knew how to stunt the best power-play in the league. He also gave a blueprint to the rest of the league.
Following a Rangers' power-play where not much was doing; it was Trouba's turn to go to the box, after he slashed Meier, as the Sharks' star had now drawn two penalties in the first 10:31 of this brutal affair.
This is when Igor came up big with two saves, thus ending the Sharks' power-play.
It was also around this time when the Rangers ran their "Thank You David Quinn" message on the scoreboard.
While M$GN didn't show this to us – according to all reports from the fans who were there – the crowd booed DQ.
Several of the beat reporters even went as far as to say that DQ looked upset about the reaction – but since M$GN decided to omit this moment for their viewers – I can't comment. I didn't see it first-hand.
All I can say is this – just read my blog from last night. I don't get why anyone would boo DQ, but everyone is entitled to their own opinions. Everyone has the right to vocalize their opinions too.
All I know is that I wouldn't have booed DQ, nor do I think that he deserved such a negative reaction.
(However, I would've been booing him after tonight's game as he left the ice!)
And after hearing about tonight? I'm sure Alexandar Georgiev will hear a few boos when Colorado comes to town next week. (And will Hunt, now as a member of the Avalanche, get a video tribute too?)
The Rangers, who seemed to average two turnovers per minute in this game, looked lost as this period wound down. There wasn't much doing at all. Maybe they were depressed about losing Hunt! (I can't think of anything else here, in order to explain this flat performance.)
Filip Chytil, the only Ranger skater who looked good tonight, drew the Rangers' fourth power-play of the period when Kunin slashed him with 48 seconds remaining.
Nico Sturm, the most successful Shark of this season, blocked two Trouba bombs at the end of the period.
1-0, bad guys, after twenty.
Here's what I said at the time:
1-0, bad guys after 20. 1P Thoughts:
— Reimer set the pace early with those two robbery saves on Trocheck.
— An out of character 0-3 #NYR PP, 1:12 to go on the 4th.
— Sharks playing them tough – at the blue line more times than not.
— SOG 8-5, Hits 11-6 NYR, FO's 10-9 SJS

— BlueCollarBlueShirts (@NYCTheMiC) October 20, 2022
---
SECOND PERIOD:
The Rangers couldn't find twine to open the period with their 1:12 of power-play time, where once again, and for the third time – Trocheck almost scored.
No matter, as 38-seconds after the power-play had expired, this happened:
What a play from Chytil! #NoQuitInNY pic.twitter.com/ldVNCspdTV

— Rangers on MSG (@RangersMSGN) October 21, 2022
---
1-1, as Filip Chytil, who looks like a completely different player when compared to the version of #72 we saw last season, took over.
While Chris Kreider was given an assist here – this was all Chytil.
Chytil won a puck battle near the benches at center ice, took the puck, skated like a mad-man, and boom, ripped a wrist shot past Reimer. What an individual effort.
However, this is a team game – and not a game of twenty individuals. That was most certainly the case during the third, or should I say "turd," period.
The Rangers, now showing a little life, then saw Kreider ring one off of the crossbar with 16:05 remaining. Who knew how big this miss would later become?
On his next shift following his goal, Chytil almost scored again on a rebound, but was denied. He wasn't done yet, as during his next shift after that one – he had a one-timer stopped by Reimer.
With 10:55 to go, the tide had seemingly turned, following this:
BREAD GIVES US THE LEAD! pic.twitter.com/9d5pyAgHYt

— Rangers on MSG (@RangersMSGN) October 21, 2022
---
2-1, GOOD GUYS, following some amazing passing from Fox and Panarin, which led to the Breadman baking.
With the goal, Panarin now has more points scored in his first five games played than any other Ranger in all of franchise history.
While that's a nice little stat – I'm sure #10 would've preferred a win tonight instead.
Unless you want to talk about all of the saves that CZAR IGOR made during the third period (sixteen in all) – this was pretty much the beginning of the end for the Rangers.
With 6:50 remaining, Radim "WHO?" Simek tied the game.
As my buddy Mike The Esquire said – this was a pure "grunt and groan" goal. It was also disgusting to watch.
Simek is now in his fifth NHL season, where during his time in "The Show," he's never scored more than two goals in a single-season. Leave it to the slump-buster Rangers.
On this play, Simek, a defenseman and who will never be confused for Bobby Orr; skated around five Rangers, including Fox, Schneider and the entire fourth line. He then put the puck past Igor with ease.
And while on Fox – and we'll get more into him once we hit the overtime – I thought this was one of the worst games I've ever seen him play – at least from a defensive aspect. (He did pick up that sweet assist on Panarin's goal.)
Now tied, the Rangers had their chances, but Reimer stopped all-comers, including Zibanejad, Trocheck, Goodrow, Chytil and the entire fourth line, who all had a strong shift with just 2:30 remaining.
The Sharks, who only totaled nine shots on goal during the first forty minutes, saw two of them go off of Igor's mask as the period was set to expire.
2-2 after forty minutes. Here's what I said at the time:
2-2 after 2. 2P Thoughts:
— #NYR have had chances, Reimer has been good.
— PP won't be lights out every night, but 0-4 meh
— Igor has made some big saves, but his numbers are taking a hit.
— SOG 21-9, Hits 24-13 NYR; FO's 22-16
— Losing to these guys won't be good.

— BlueCollarBlueShirts (@NYCTheMiC) October 21, 2022
---
THIRD PERIOD:
We can blow by this period, as there's no reason to prolong the pain.
Here's a summary of how these twenty minutes went:
Icing, turnover, icing, turnover, offside, icing, turnover, turnover, turnover, turnover, turnover and by the end of it – sixteen saves for CZAR IGOR and two saves for Reimer, where as mentioned – Reimer's second save of the period took place with only 1:33 remaining. (Reimer's first save saw him stop a harmless shot from Jimmy Vesey.)
Also worth mentioning? Early into the period, and before the malaise began, Panarin perfectly set-up Trouba for a backdoor open-look. With a net that must've looked like the size of a soccer net – Trouba smashed the post.
That's what kind of a night it was, as everything that could go wrong did go wrong – but that doesn't excuse the Rangers from looking like they've never played hockey before during these twenty minutes.
As we hit the FOXWOODS FINAL FIVE mark, Sam Rosen gave us this insightful remark, "the Rangers need a goal to get going."
Again, there were only five minutes remaining in the game.
Two seconds later (4:58 remaining), you thought that the Rangers would finally get that goal, as Kunin high-sticked Chytil.
Now on their fifth power-play of the contest, and in a game that was becoming "next goal wins;" it only took seventeen seconds for Panarin to take his third penalty of the season while the team was on the power-play.
Once the two teams returned to full-strength, Trouba made back-to-back turnovers with only thirty seconds to go. CZAR IGOR bailed him out both times – which as a result – gave the Rangers a point in the standings.
We remained tied at two after sixty minutes.
Here's what I said at the time:
2-2 after 60. 3P Thoughts:
— #NYR outshot 16-2
— Rangers give the Sharks their first point of the season
— There are 5-7 times a year you steal a point when playing like shit – tonight wasn't the time for that
— If Rangers win, Igor stole this game.
— Turk can't be glad

— BlueCollarBlueShirts (@NYCTheMiC) October 21, 2022
---
OVERTIME:
Trocheck, Fox and Panarin started the overtime. Not even ten seconds into it, Fox made a god-awful turnover, where thankfully, CZAR IGOR made a tremendous save on Hertl after it.
Following the save, Trouba took over for Fox. No matter.
At just the 49 second mark of the bonus frame, Karlsson blew by Panarin, Trouba got caught behind the net, Meier got the puck, saw Karlsson wide-open with Panarin behind him – and boom – 3-2, bad guys – as Erik Karlsson, perhaps the biggest disappointment of the salary cap era, scored the game winning goal.
Pathetic.
Here's a pissed-off Gallant following the game, and a head coach who was not going to let any weasel beat reporter suggest a narrative that his team falters during third periods – especially not after only five games played:
---
<RECORD SCRATCH>
As I was writing these words and watching this interview back, I noticed the following – for the fourth or fifth time during Gallant's run on Broadway – the Rangers have edited out several of his comments.
If you notice at around the 1:35 mark, there is a jump cut.
I know I've mentioned this about 8967896767678968967896 times before, but it remains true – Gallant has no time for the inexperienced and clueless reporters of the beat, especially ones trying to sell a false narrative.
Conversely, and as always is the case – Gallant always speaks in a different tone to Larry Brooks, a respectful tone, as you can tell that Brooks is the only one that Gallant respects.
We've seen Gallant snap before at both Vince Mercogliano and "GIVE THE KID A BREAK" Mollie Walker, where after doing so live on the M$GN – the Rangers' social media channels then edits these comments out.
In real-time, and as my jaw was on the floor after this loss – I left my television on, just to see what Gallant would have to say.
While I was 100% dead-wrong in my pregame prediction regarding the final score; I felt that "The Turk" was due to lash out. That's why sometimes, you have to watch these post-game interviews in real-time – even if it means suffering through Vagistat.
Fortunately, the M$GN website has yet to edit out Gallant's comments.
You can view the "UNCENSORED" and unedited Turk post-game interview here:
---
While you should watch the videos above to hear the tone of Gallant's voice for yourself (and then come to your own conclusions), here's the transcript, courtesy of Adam Rotter, who posted what Gallant said verbatim here: https://nyrangersnews.com/2022/10/20/what-gerard-gallant-said-after-the-loss-to-the-sharks/#more-194833
On the game, "I was pretty happy with the first two periods, to be honest with you. We didn't execute as well as we usually do on our PP and got frustrated a little bit, but we still well pretty dominated the play. I think they had nine shots after two, we were in good shape and played well, but that third period, I have no idea where that came from."

On the third period, "I just said, I have no idea where that came from. I have no idea what went wrong, it was just a total collapse, embarrassing, actually…. One guy is standing in front of your net banging in four rebounds and Shesterkin has to make four saves in that one spot. That doesn't happen with our team and with any team in the NHL. It was just, I don't know. It wasn't one line or one player, it was a total collapse of the whole team and that is what's disappointing….but we'll get by it."

On recent third period issues, "I didn't mention….this is completely different, totally different, so don't start saying we're not a good third period team. It was a complete different, we were in control of the game the other night, I told you that three times in the last couple of days. Tonight is completely different, a 2-2 hockey game and we laid an egg, but the other game, we were in control of the game and we made a couple of bad plays that turned into goals. Completely different."

Trouba said…, "I don't care what Jacob said or any other player said. You are asking me, so I'm telling you what my concern is."
And while you know what I think of Sieve Vagistat's work as a broadcaster, I have to give him credit, as he basically summed up what many were thinking (and I'm paraphrasing him here, as I'm not going to go back and transcribe what he exactly said) – "Gallant seems like a scary guy! You don't want to mess with him."
Since this game, in a word, "SUCKED;" I needed something entertaining in order to forget this loss and then move on.
While I don't want to see Gallant snap again (because that would mean the Rangers would have lost a game); I'd be lying if I said that I'm not amused whenever he can't restrain himself from the birdbrains on the beat.
Also amusing? The social media generation of reporters are all so quick to post tweets of lines, quotes, and stuff of that ilk  – stuff that you can find out yourself, just by watching these team uploaded interviews.
Whenever Gallant puts them in their place? You never hear about that!
A lesson the "I just ate a chicken parm, let me post it on Twitter" reporters should take out of this?
Look at the Hall of Fame scribe next to them, Larry Brooks.
Whenever Brooks was beefing with John Tortorella – neither party backed down – and Brooks was never shy to go toe-to-toe with the coach, nor write about it either.
And whenever Gallant proverbially puts one of these kids over his lap and scolds them? You never hear about it, as they take this punishment like a kid being sent to his/her room with no supper!
Without a shadow of a doubt – Brooks had a backbone and never relented. I can't say the same about this new crop of reporters.
And yep, when that's the only entertaining thing from tonight's game – then you know that the Rangers had a bad night at the office – the absolute worst night at the office since Gallant took over.
---
The Rangers now have two days off and will try to get their shit together, before hosting the Columbus Blue Jackets on Sunday at 5:00PM.
This should be a cheap ticket.
The after-work white collar crowd won't be there. And not only do the Giants (1PM) and the Jets (4PM) have games – the Yankees will be hosting Game Four of the ALCS in the Bronx too.
I'm not 100% on this, but Gallant did infer this – the Rangers are off on Friday and will then practice on Saturday. Maybe a day off is needed.
I'd like to tell you that the Rangers should smack Columbus around and win in style (for what it's worth – and more times than not – this team ALWAYS responds after bad losses) – but after tonight – I have no clue.
I also don't want to assume anything either.
After all, I don't want Gallant finding my words and then scolding me as if I was a chickenshit member of the Rangers' beat!
If I'm not back before Sunday night, I'll see you then.
PLUGS TIME!
---
My first plug of tonight's blog – the mandatory plug for my book, "The New York Rangers Rink of Honor and the Rafters of Madison Square Garden."
As mentioned previously, the book is now available in hardcover, in paperback and in Kindle formats. To purchase a copy of the book, visit this link:
https://www.amazon.com/Rangers-Rafters-Madison-Square-Garden-ebook/dp/B09CM5N2WD
For those still looking for signed paperback versions of the book, I have re-ordered more copies. I now have a few signed copies for sale at $25 a pop (includes shipping price) through me directly. Here is all the information on that:
---
My four-volume set of books, "One Game at a Time – A Season to Remember," is a game-by-game recount of the Rangers 2021-22 campaign.
My second title as an author, "One Game at a Time – A Season to Remember," is now available in eBook, paperback and hardcover formats.
To obtain signed copies, visit: https://bluecollarblueshirts.com/onegamebook/
To purchase all four volumes on Amazon, visit: Amazon.com – "One Game at a Time."
---
Here are my last few blogs, in case you missed them:
---
---
---
If you haven't already, subscribe to this blog for the next update:
---
Don't forget to pre-order my new four-volume set of books, "Tricks of the Trade!"
If you don't pre-order through me, all four volumes will also be on sale over at Amazon.com
For more details, check out: https://bluecollarblueshirts.com/tricksofthetrade/
See ya Sunday.
Thanks for reading.
LET'S GO RANGERS!
Sean McCaffrey
BULLSMC@aol.com
@NYCTHEMIC on the Tweeter machine