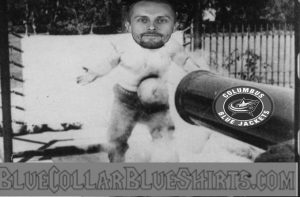 Greetings and salutations everyone and welcome to another blog here on BlueCollarBlueShirts.com. Well – at least the Giants won on Sunday. (And if you're a Jets' fan – they won too.)
So there's that.
Continuing with the theme of the local sports teams; on Sunday, on home ice, the Rangers looked even more baffled than the New York Yankees whenever the Houston Astros come into town.
And on this night – Gerard Gallant looked more like Aaron Boone than Brian Daboll.
That's how bad the Rangers have been during their last 120 minutes of play, where need I remind you – Stanley Cup contenders handle their business against cellar-dwellers – especially under the fortunate circumstances that the Rangers had found both the Sharks and Blue Jackets in.
Instead of enjoying a few "on-paper" wins over the "patsies" of the league – it are the Rangers who have been lambasted – embarrassingly so at that.
Some of you questioned me after I posted my Rangers/Sharks game review blog and wondered if I was overreacting to one loss. How do you feel now?
One loss can be written off. Two losses are concerning. One more loss and it's now a trend/three-game losing streak.
Let's face it – had these two losses to two bad teams had taken place in late March/early April – then there would be a lot more negative reaction than some of the nonchalant shrug of the shoulders that you currently see in the streets of Rangerstown, USA.
And yes, while this is an "Any Given Sunday" league; there is no excuse to give a "fragile" team (as David Quinn described his Sharks' squad – and how he described them in three separate interviews before Thursday night) their first win of the season. There's also no excuse in giving some no name third-string back-up goalie the first win of their career either.
(And then there were all of the first goals of the season scored by the Blue Jackets too. Ugh.)
Just like David Quinn on Thursday – Columbus' goaltender, Daniil "WHO?" Tarasov, is all smiles after leaving M$G – following his first win during his new chapter in life.
---
On Thursday night, I shared Gallant's post-game interview with you – where the head coach was beyond pissed. "The Turk" even used the word "embarrassing" when describing the loss to the Sharks.
Following the upset loss to the Sharks, the Rangers took a break from the ice on Friday – where you were to assume that they wanted to let the bad feelings subside – and then get back to business.
On Saturday morning, the team reconvened for practice, where following it, Gallant held his daily "Turk Talk":
---
As Gallant said himself on Saturday – he was in a much better mood following the day off.
After all – time is supposed to heal all wounds.
Instead, on Sunday, the wound not only received salt on it – but it was torn open too. More on this once we get to the GAME REVIEW segment.
In any event, Gallant was upset after the Rangers' loss on Thursday. He also said it wouldn't happen again. (He meant that his team would play better – and obviously – not go undefeated during the rest of the campaign.)
Then again, maybe he was half-right – because this loss was much worse than the one against the Sharks.
Prior to tonight's game, Gallant held his pregame "TURK TALK." Here it is:
---
Once again, Gallant reiterated that Thursday night was over with and it was time to move on. Wise words – there's no use in harping over a loss – especially one that took place during the fifth game of the season.
(And had the Rangers won tonight – everyone would've said that Thursday night was a one-off aberration.)
In the same vein, it was obvious that Gallant knew what the stakes were on Sunday and how his team had to play better. That's not what happened. One could argue that they played even worse.
Going into this game, and based on the lines that Gallant used at Saturday's practice, it was expected that Vitali Kravtsov would return to the line-up.
As noted on Thursday night on this site – I expected #74 to return to the line-up. I just didn't know who would join Libor Hajek in the press box. Come pregame warm-ups, we found out – Jimmy Vesey.
As far as Vesey's scratch goes, I wouldn't really look too much into it. (Even if the Rangers are now 0-2 without Dryden Hunt – yes, I went there!)
Someone had to sit and since #26 is the lowest-paid forward on the team – it made sense to sit the former Hobey Baker winner, rather than sitting one of your millionaires.
If there was anything peculiar (and I said this before the game, during the game and I'll have more on this after the GAME REVIEW segment too), it was that Jaroslav Halak, and not CZAR IGOR, got the nod in net tonight.
---
For the life of me, unless CZAR IGOR had some sort of injury (and from what we know, the 2022 Vezina Trophy winner is 100% healthy), then there was no reason for him to wear a cap tonight, rather than his familiar mask.
Let me be crystal clear – I AM NOT BLAMING GOALTENDING FOR THIS LOSS – despite whatever junk Sieve Vagistat was spewing during the M$GN post-game show. (I only watched the post-game show to see Gallant's interview – but more on that at the end of tonight's manifesto.)
It's my opinion that the Rangers needed this win and the two points tonight. They had to rid themselves of the bad taste of Thursday's loss from their mouths.
Furthermore, with the schedule picking up and three tough opponents next on the docket (and you can argue a fourth – give me a second), again, IN MY OPINION, it made no sense to start Halak tonight.
After tonight's game, on Tuesday, the Rangers will host OLD FRIEND, Alexandar Georgiev, and the reigning-and-defending Stanley Cup champions, the Colorado Avalanche. 24 hours later, in what's essentially another home game, the Rangers will take on the Islanders at M$G Belmont.
(And that game at the IBS will be huge, considering the losing streaks that both teams are currently on.)
In other words – the Rangers have a back-to-back set coming up – and based on what Gallant has said in the past and from his history too – he won't play a goalie on back-to-back nights.
According to Gallant (he had previously said this at the start of the 2021-22 season), he'll only play a goalie on back-to-back nights should the team find themselves in the thick of a playoff race towards the end of the season.
This theory hasn't been put to the test yet, since the Rangers easily clinched a playoff spot last season.
Rather than worrying about exhausting his goalies last season – instead, Gallant was able to rest his skaters/regulars/starters.
So, should we take "The Turk" at face value here – then we can deduce that Halak is starting two of the next three games. (And you thought that Georgiev wanted more playing time!)
But wait K-Mart shoppers, there's more!
Following the games against the Avalanche and the Islanders; the Rangers then head out west, where they will play another back-to-back set on Saturday and Sunday.
The Rangers will see the red-hot Stars on Saturday, before playing on college ice on Sunday, against the Coyotes.
The Stars will most certainly present a challenge – especially since they are holding a Hall of Fame ceremony prior to the game – an event that should only pump up the club and their fans.
And for as lowly as the Coyotes are (the game that I expect Halak to start) – don't forget – this poor team pushed the Rangers to the brink during their pair of matches from last season.
Long story short – and again, should Gallant abide by his words – Halak, and not CZAR IGOR, will start three games in seven days. CZAR IGOR will start two.
One last time – how does that make sense?
---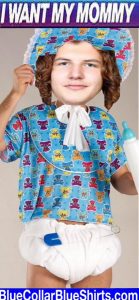 Here's who didn't show up on Sunday night (where I'm being half-truthful – both Kakko and Lindgren played well):
FIRST LINE: Kreider/Mika/Kakko
SECOND LINE: Panarin/Trocheck/Lafreniere
THIRD LINE: Goodrow/Chytil/Kravtsov
FOURTH LINE: Blais/Carpenter/Reaves
Defensively, we saw this:
FIRST PAIR: Miller/Trouba
SECOND PAIR: Lindgren/Fox
THIRD PAIR: Jones/Schneider
STARTING GOALIE: THE HALAKNESS MONSTER
BACK-UP GOALIE: CZAR IGOR
---
BOX SCORE TIME.
The following information and graphics come courtesy of ESPN.com:
SCORING:
PENALTIES:

TEAM STATS:
GOALIES:
| | | | | | | | | | | |
| --- | --- | --- | --- | --- | --- | --- | --- | --- | --- | --- |
| SA | GA | SV | SV% | ESSV | PPSV | SHSV | SOSA | SOS | TOI | PIM |
| 31 | 1 | 30 | .968 | 23 | 7 | 0 | 0 | 0 | 60:00 | 0 |
| | | | | | | | | | | |
| --- | --- | --- | --- | --- | --- | --- | --- | --- | --- | --- |
| SA | GA | SV | SV% | ESSV | PPSV | SHSV | SOSA | SOS | TOI | PIM |
| 21 | 5 | 16 | .762 | 15 | 0 | 1 | 0 | 0 | 60:00 | 0 |
---
The M$GN broadcast/pregame show opened up the way it always does – with the first of 78678969678967896789697 gambling commercials.
At this point, I'm surprised that we haven't seen Sarah McLachlan yet, singing sad songs, about why you aren't gambling on these games.
"There are hungry kids all over the world. Won't you please gamble your life savings today?"
After our first ad/commercial for what feels like 6789678967896789678967867896789 different gambling outfits on the M$GN (Draft Kings, Fanduel, BetMGM, Caesars, Bet365, Vinny G. in the FILA tracksuit, etc), we were encouraged to bet our life savings on the Rangers.
Funny thing about tonight's line?
Prior to Columbus getting shellacked by Pittsburgh on Saturday night; the Rangers opened up as -150 favorites.
On Sunday, and prior to Gallant's announcement that Halak, and not CZAR IGOR, would be in net, the line had actually swelled to -315 (risk $315 to win $100). Once the back-up was announced in the barrel, the line then dropped to -267 – which is major respect paid to Mr. Shestyorkin.
The end result? The favorite got molly-whopped 5-1.
My advice – never lay that much juice on a favorite – unless you're putting the team in a parlay.
(And yes, I know how hypocritical this all sounds after bashing the abundance of gambling ads on these broadcasts. Sorry, they hooked me too!)
Need a recent example? Take a look at the -800 and -13.5 point favorite, the biggest chalk of the NFL slate on Sunday, the Tampa Bay Buccaneers. The soon-to-be divorced Tom Brady and company then lost 21-3 to the Carolina Panthers – an NFL team without both a starting quarterback and a running back. Heck, they have a new head coach too.
And yep – the house never loses. The rich stay richer and there's a reason why the city of Las Vegas can afford all of those high-priced electric bills for their 24/7 expensive lighting!
---
Real quick, since I had several of you guys and gals bring this up to me – I have no problem with Henrik Lundqvist pimping himself out to Caesars.
While Lundqvist made over $100M in career earnings during his playing days – if the Mannings', Peyton and Eli, both worth significantly much more than him, can take the money – then why not #30?
Plus, and I don't know this for a fact – but it wouldn't surprise me to hear that as part of Lundqvist's deal as the ambassador of M$G – he has to promote their official sponsors too. Again – just a guess.
---
Lundqvist opened the broadcast by saying that Gallant and his team couldn't worry about how Thursday night ended, and instead – focus on the first forty minutes of that game and the contests that had preceded it. So much for that.
After "The King" opined, Michelle Gingras interviewed Ryan Lindgren, where she asked this hard-hitting question, "you didn't like the way that the game had ended the other night?"
What a regular Walter Cronkite.
Just to give you proof that I thought that Igor should've started tonight (prior to the game), here's what I said at the time, as Vagistat was going on-and-on about Halak starting:
Vagistat is happy about Halak starting tonight. I would've started Igor tonight, especially with a back-to-back coming up. (Would go Igor vs COL, Halak vs NYI). #NYR

— BlueCollarBlueShirts (@NYCTheMiC) October 23, 2022
---
About two-and-a-half hours later; Vagistat was burying Halak and talking about HIGH DANGER this and EXPECTED GOALS that. Clown.
(And as mentioned, I only watched the post-game show to see Gallant's interview – especially since the Rangers' edit these interviews whenever "The Turk" snaps.)
In perhaps some telling commentary, Vagistat kind of called out Kravtsov a bit, by saying how now was Kravtsov's time to shine, where he also somewhat alluded to the fact that it could be #74 going the other way for #88 in Chicago. (Vagistat never said Kravtsov for Kane outright, but that's what he most certainly implied.)
Of course, Vagistat had to talk about his own career a bit (as always), as the seven foot Clairol King brought up how he once played in Russia.
The truth about the KHL, and a fact that Vagistat didn't mention – for NHLers – that's where their careers go to die, as the KHL is much inferior to the NHL. (Don't let Putin see this blog!)
On Kravtsov, Lundqvist said, "Kravtsov has to do the little things right. Now is not the time to take chances or become a liability."
If you haven't noticed – Kravtsov's future was a topic of debate.
As usual – Vagistat was infuriating tonight.
I just don't get it – M$GN has a future Hall of Famer on their panel, and rather than featuring him – Vagistat talks more than Bob Costas during a Yankee playoff game.
Enough stalling. GAME REVIEW time – where yes – I'm going to breeze through this.
---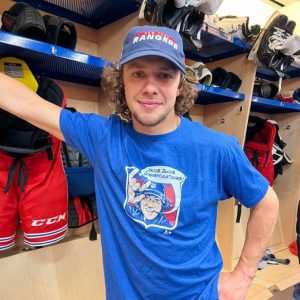 FIRST PERIOD:
Mika Zibanejad, who won six of eleven draws tonight, lost his first faceoff of the game. However, just thirty seconds later, he put his first of a team-high five shots on goal – a save for Tarasov – another third-string nobody who turned into Patrick Roy during their first start at M$G.
Just ninety seconds into the game, the Rangers lost Filip Chytil for the rest of the match:
us purpose or no ? #NYR #NHL pic.twitter.com/1KG3QNgmnw

— David 🏒 (@DaveyUpper) October 23, 2022
---
As you can tell from the video, this injury was the end result of an accidental collision between Chytil and Sillinger. It looked like #72's head also got a piece of Sillinger's shoulder – which will lead people into thinking of that dirty c-word, as in "concussion."
Whatever the injury was, Chytil didn't return to the game.
(And don't get it twisted – you can't blame Chytil's injury for this loss.)
Following the game, Gallant, who would consider a head decapitated by Michael Myers as "day-to-day;" said his three favorite words, when discussing Chytil's immediate future.
And who knew it at the time – but this injury was a harbinger of things to come.
---
This period was a tale of two halves, as the Rangers came out hot, only for Columbus to find their legs during the final ten minutes.
And by the end of the game – it were the Rangers, and not the Blue Jackets, who looked like they had played a night prior – and with a flight to boot.
Tarasov, as mentioned, was just lights-out. The Rangers made him look like a future Hall of Famer, while perhaps their future Hall of Famer one day himself, CZAR IGOR, sat and watched.
The Rangers had many chances to put the first goal on the board – but they could never execute.
Throughout the first ten minutes, Tarasov stopped Carpenter on a two vs one odd-man rush, where this save, made at the 5:30 mark, should be mentioned – as it was the only time where I noticed Kravtsov all game. (He made a great pass to set up Carpenter for this opportunity. After that? Casper.)
Following this save on #22, Tarasov then stopped all of the name-brand Rangers – Fox, Lindgren, Zibanejad, Panarin and Kreider – where "CK52" only put one SOG during these sixty minutes.
Tarasov then stopped Lafreniere (who performed a shade below Kakko) with nine minutes to go.
This is when Columbus started to take over, especially after three Fox tries that went wide – a common theme all game – but we'll get to the third period soon enough.
Tarasov, who was flashing the cow all game, as he made crisp glove save after crisp glove save; stopped Kreider's one shot on goal with 6:18 to go.
On the next Rangers' possession, Schneider badly fanned on a shot, but Lafreniere got back to break up a CBJ odd-man rush.
It was around this point in this game where I wondered if Gallant started Halak – just to put an emphasis on defense.
Rather than relying on CZAR IGOR to bail out the team after 78678968796879679689696 turnovers, I thought that maybe by going with the back-up – Gallant was trying to get his team to really focus on their defensive game instead.
Of course, since the birdbrain beat reporters didn't even bring this up to "The Turk" – we'll never know.
But hey – check out what they ate for dinner by viewing their pictures that they post! Hard hitting shit!
If only Foster Hewitt (the beat reporters who read this blog are saying "WHO?" right now – and I know that Jake Brown is) had social media!
If two Blueshirt skaters were noticeable in a positive manner during this match, then it were both Kaapo Kakko and Ryan Lindgren. Both players shot the puck, blocked shots, broke up plays, and in my opinion – were the two best players in Rangers' blue.
#24 and #55 displayed as much during the final minutes of the period, especially when CBJ was coming on while the Rangers looked gassed.
In a period where the Rangers were dominating every stat besides the one that matters, the score; with 2:06 to go, Zach Werenski scored following a bad play (turnover) from Zac Jones.
1-0, bad guys.
Of course, Sam Rosen blew this goal call too (he called it a save for Halak) – the Rosen specialty.
Seriously, there are fans of this team that will only know this version of Rosen, where he bumbles and fumbles every goal call known to man. Sad.
1-0, bad guys, after one period of play. Here's what I said at the time:
1-0, bad guys, after 20. 1P Thoughts:
— #CBJ came out flat, but took over final 8 minutes or so.
— Kind of concerning #NYR can't score against a third-string goalie, especially under these conditions.
— SOG 9-7, FO's 12-3 NYR; Hits 7-all
— Jones has been better.
LGR

— BlueCollarBlueShirts (@NYCTheMiC) October 23, 2022
---
SECOND PERIOD:
The middle stanza was another horror show.
In fact, I'm surprised that these twenty minutes weren't shown on AMC during their Halloween Horror block of programming.
Personally, I was more terrified watching this, rather than whenever watching any episode of "The Walking Dead." (Yes, I still watch "TWD" – once I start a show – I have to see how it ends.)
After Tarasov robbed Trocheck for the second time (a swooping glove save at the 1:15 mark), 27 seconds later, CBJ doubled-up their total.
Of the five goals Halak allowed tonight – I thought this was the worst one.
At the 1:42 mark, Andrew Peeke, a defenseman, took an innocent enough looking shot from the red dot at the left circle. Halak had trouble and boom – 2-0 bad guys – and of course – Peeke's first goal of the season.
Two minutes later, and with Panarin double-shifted because of the Chytil injury; "The Breadman," from Gretzky's Office, set-up "The Grim Reaver." Another glove save for the third-stringer.
On the next possession, Johnny Gaudreau, barely a factor on this night (let that sink in – and Patrik Laine was out too), went on a two-on-one odd-man rush. Kakko broke up this try.
As the life was getting sucked out of M$G; Trocheck hit the crossbar, dead-center, and with 12:46 to go. The iron hasn't been friendly to the Rangers as of late. Just ask Jacob Trouba, where there are already rumblings of "is the 'C' wearing him down?"
Right after this, Panarin tried some razzle-dazzle, but Tarasov fought off his fellow countryman. Following the save, Gaudreau went on a breakaway – one that Halak stopped – a humongous save at the time – and one that will probably be forgotten about due to the final score.
Down to eleven minutes remaining, that Gaudreau save was erased from your memory, as Yegor Chinakhov ripped a shot from the top of the left circle. Similar to Peeke – this was Chinakhov's first goal of the season.
3-0, bad guys – and with boos raining down from the Garden Faithful.
Down to 10:15 to go, Panarin drew Erik Gudbranson for holding.
Once again, Tarasov had no issues stopping both #10 and #93. The Rangers' power-play, 0-5 against the Sharks, failed to score here.
As the period started to trickle down, this is when the Rangers seemed hellbent with putting rubber marks on the board, as every shot was going high or wide. Maybe they were trying to mark up the 7696896987896 gambling ads that litter the white wood.
The Rangers got a temporary reprieve, when with 3:15 to go, Blais drew Peeke for a trip. Forty-six seconds later, Vladislav Gavrikov tripped Zibanejad, thus giving the Rangers 1:14 of a 5 x 3 power-play.
With only one second remaining on the two-man advantage, this happened:
BREAD STAYS HOT! GETS THE BOYS ON THE BOARD! pic.twitter.com/LQLAEjsbQt

— Rangers on MSG (@RangersMSGN) October 23, 2022
---
3-1, bad guys and the only Ranger goal of the game – a 5 x 3 goal.
If that's the only way they are going to score, then the Blueshirts are in trouble, as all of the barrage of goals from the first few games now seems like ages ago. The Curse of DQ!
We remained at 3-1 after two periods – and a few more saves for Tarasov too.
Here's what I said at the time:
3-1, bad guys, after 40. 2P Thoughts:
— Panarin's PPG was nice, but #NYR have to score non 5 x 3 goals against a third string goalie.
— SOG 24-14, Hits 14-10, FO's 24-13 all Rangers, but the score is the only thing that matters.
— Kakko has looked good.
— Big 3P, LGR

— BlueCollarBlueShirts (@NYCTheMiC) October 23, 2022
---
THIRD PERIOD:
I won't prolong the pain anymore than I have to.
If you took a look at the TEAM STATS, then you'll see that Columbus blocked 21 shots in this game – where it felt like all 21 blocks took place during this final frame.
Here's how the first fourteen minutes of this period went:
Blocked shot, blocked shot, Rangers' turnover, Rangers shoot high, Rangers shoot wide, blocked shot, blocked shot, blocked shot, blocked shot, turnover, shoot high, shoot wide, blocked shot, blocked shot, blocked shot, and I think I've made my point.
No joke, with all of these blocked shots – I thought that Tortorella was back behind the Columbus bench, rather than in Philadelphia.
This pattern was temporarily broken up for a span of forty-four seconds, when at the 14:13 mark, Eric Robinson scored via a tip – where yep – this was his first goal of the season too.
4-1, bad guys.
Following the goal, Sam Rosen mentioned that the next two Ranger games are on national television – so we'll get a break from Vagistat for the week.
Also mentioned – Sam said that he and Joe will be calling the games in Dallas and in Arizona from the M$GN studios. I'm surprised that they aren't traveling – as you'd think they'd like to get a look at the college campus at Arizona State University.
"OH JOE, SHE'S ASKING ME FOR BEADS JOE! I CAN SEE HER HEADLIGHTS JOE!"
"TITTIES ARE FABULOUS SAM, ABSOLUTELY FABULOUS!"
"I'M AN ASSMAN, I MEAN A LEGMAN JOE."
Ugh.
The "COVID-19 pandemic was serious and negatively impacted the lives of millions of people" disclaimer/qualifying statement aside; another bad thing about the pandemic? It's allowed all of these sports broadcasters to allow their staffs to call games from the studio – rather than at the rinks, arenas and ball fields.
I've brought this up before, but yeah – the broadcast isn't as good whenever the announcers aren't there – even with Rosen's never-ending daily follies.
And oh yeah, at the 14:57 mark, Kent Johnson scored one of the easiest tap-in goals that you'll ever see.
5-1, bad guys, 5-1 your final.
---
Here's Gallant after the game, where surprisingly, he didn't tear one of the NYR beat reporters in half, where it should also be said that the head coach wasn't really challenged – especially about his decision to start Halak (even if goaltending wasn't the issue – the lack of scoring was):
---
Talk about a tease.
After watching Turk blow a gasket after the game with the Sharks, I was hoping/expecting a fiery response out of Gallant. I just wanted some emotion and passion.
While Gallant called his team slow and tired; he didn't use the "e" word again, as in "embarrassing."
However, "The Turk" did mention that it looked like his team, and not Columbus, had played the night before.
The topic of Halak was brushed upon, but never fully explored.
As you'd expect, the head coach defended his player, where again – I wouldn't blame the goalie for this loss. You can't win if you can't score.
And unlike "The Lundqvist Era," the two goalies of this team aren't taking up 13.22% of the cap, nor are they the highest-paid players on the team either.
It's up to the Rangers' high-paid forwards to put pucks in net – and they haven't done so at all during these last two games.
Of note, and to be clear, as this isn't new either, as Gallant, from day one, has always said that Benoit Allaire controls the goalies and tells him who to start – "The Turk" said the following about starting Halak:
"We've got a busy schedule coming up. Benny sits down with us and we pick our games. If the schedule allows us, and nobody gets hurt, then we sort of go by that schedule. He's a good goalie, had a great game in Winnipeg, tonight wasn't as good, but it's all part of it. It's far from his fault."
So what am I bitching about?
I just thought a reporter should've asked a follow-up question, asking about that said schedule and all of the points that I brought up at the top of this.
But one last time, as I can't hammer this home enough – this loss wasn't on the goalie – it was on the team – a sluggish team at that.
---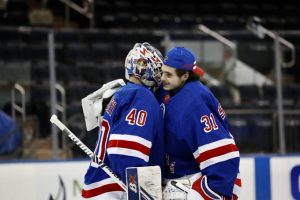 Again, while no one asked this (imagine if I had a press pass?) – maybe CZAR IGOR had Tuesday's game against Georgiev circled on his calendar.
Then again, I like the human element and story-telling – so maybe I'm looking too deep into this.
As noted, "TRICKS OF THE TRADE" should be available on Amazon.com next week and all pre-orders for signed copies should ship the week after that.
Once everything is a full go, I'll post a press release here. I'm also scheduled to do a few interviews to promote the book, and I'll share that information with you too.
For more details, check out the other side of the PLUGS SEGMENT!
Speaking of, PLUGS TIME!
---
My first plug of tonight's blog – the mandatory plug for my book, "The New York Rangers Rink of Honor and the Rafters of Madison Square Garden."
As mentioned previously, the book is now available in hardcover, in paperback and in Kindle formats. To purchase a copy of the book, visit this link:
https://www.amazon.com/Rangers-Rafters-Madison-Square-Garden-ebook/dp/B09CM5N2WD
For those still looking for signed paperback versions of the book, I have re-ordered more copies. I now have a few signed copies for sale at $25 a pop (includes shipping price) through me directly. Here is all the information on that:
---
My four-volume set of books, "One Game at a Time – A Season to Remember," is a game-by-game recount of the Rangers 2021-22 campaign.
My second title as an author, "One Game at a Time – A Season to Remember," is now available in eBook, paperback and hardcover formats.
To obtain signed copies, visit: https://bluecollarblueshirts.com/onegamebook/
To purchase all four volumes on Amazon, visit: Amazon.com – "One Game at a Time."
---
Here are my last few blogs, in case you missed them:
---
---
---
If you haven't already, subscribe to this blog for the next update:
---
Don't forget to pre-order my new four-volume set of books, "Tricks of the Trade!"
If you don't pre-order through me, all four volumes will also be on sale over at Amazon.com
For more details, check out: https://bluecollarblueshirts.com/tricksofthetrade/
See ya Tuesday night, barring something crazy happening on Monday.
Thanks for reading.
LET'S GO RANGERS!
Sean McCaffrey
BULLSMC@aol.com
@NYCTHEMIC on the Tweeter machine