Greetings and salutations everyone and welcome to another blog here on BlueCollarBlueShirts.com. There is no excuse for the Rangers on Thursday night. They have to spear the Sharks – and they have to spear them good.
And to go even further – the Rangers should win with ease when they see David Quinn's new team. The Blueshirts' stars should finish with box scores that resemble video game numbers – as they have already done in all of the team's victories from this season.
While we'll fully explore David Quinn during the main event segment of tonight's manifesto; let me put it this way for you – you know how I always bet a 4-0 Rangers' shutout victory before every game? For the first time in nearly two years – I will NOT be placing that wager on Thursday night.
Rather than betting a final score of 4-0 – instead, I will be betting that the Rangers win by four goals or more! That's how confident I am in a Rangers' blowout victory!
Call it delusional, call it cocky, call it whatever you want – but the Rangers should make mincemeat out of these baby sharks (doo, doo, doo, doo, doo, doo).
And yes, the NHL is an "Any Given Sunday" league – but now is not the time for that. The Rangers are rested and ready.
In other words – this isn't the same scenario when they went into Winnipeg last Friday, when they played their third game in four nights.
While of course, you can't consider the fifth game of the season as a "MUST WIN" game; for all intents and purposes – a loss to the residents of San Jose would be a major letdown.
"Catastrophic" wouldn't be the word, but should the Rangers not handle business, that's how the streets of Rangerstown, USA will feel come Friday morning.
However, I remain positive – the Rangers by four goals or more!
---
Aside from Quinn and the Sharks, who are next up on the schedule – we also have some Rangers news to discuss.
In addition, we have a major NHL story to talk about too – one that will most certainly benefit the Rangers should the expected result prove true.
However, before getting everything Rangers (and Quinn too); I'd like to share with you my latest for Stan Fischler.
Currently, "The Maven" is on a plane from Israel to NYC, where I know he plans to attend games at both M$G and IBS once in town. And should our schedules align – yes, I'm scheduled to share a meal with the man who wrote the foreword to my new four-volume set of books, "Tricks of the Trade – A Century-Long Journey Through Every Trade Made In New York Rangers' History."
(Of note: you can still pre-order signed copies of the books today by using this link: https://bluecollarblueshirts.com/tricksofthetrade/)
As previously mentioned, it was my goal to release these books by October 11th. However, once receiving my test/proof-reader copies, there were minor errors, errors that wouldn't have made much of a difference if I released it as is – but I want to put out the most perfect product as possible – hence the delay.
As I write these words, I believe everything will be 100% done sometime next week, and in turn, these books will be available on Amazon.com come that time. (And you know that I'll relentlessly plug these books once available!)
And yep – after talking about these books for over a year now – I can't wait to get them into your hands!
Here's my latest for Fischler, where my assignment was "write three paragraphs on four teams who you think can win the Stanley Cup in 2023." Enjoy!
---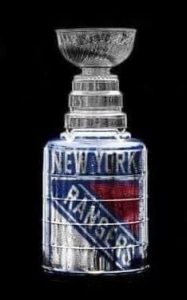 As we approach the third week of the 2022-23 season, my feelings on "The Final Four" remain the same – both short sample size and Vegas odd-makers be damned!
In a league where the hard salary cap tries to prevent repeat winners, I think the Colorado Avalanche have a strong chance of doing what the Pittsburgh Penguins and Tampa Lightning have done before them – run it back – and run it back with style.
The case for the Avalanche is obvious. After several years of second-round exits – they now know how to win – and one can't stress enough the value of championship experience.
Another reason to back the champs? Look at the rest of the Central Division. Joe Sakic's team may have an easier path of winning the division than they did last season.
There are three other teams that I peg as favorites to win the silver, where not so ironically enough (after all – this is a league of copycats), two of these teams have somewhat emulated Colorado's brand of hockey, a brand which features breakneck speed mixed with a dazzling defense. Of these two following teams, it are the New York Rangers that are most comparable to the Avalanche.
In what's blowing away every Blueshirt backer across the land, not only are the Rangers winning faceoffs this season – their power-play, once anemic for years, is now seemingly automatic. The last time Ranger fans saw their team excel in these areas? 1994.
Going into the season, Gallant's Gang had already possessed the top goalie in the league. When combined with perhaps the best starting quartet of defensemen in the league and their new ability to score on man-advantage opportunities at will – perhaps we'll see a Stanley Cup Final featuring the Rangers' goalie of today, Igor Shesterkin, and his once former back-up, Alexandar Georgiev.
Another team that features electrifying speed and power-play success are the Edmonton Oilers. The lone question mark that's hung over their head for years still remains, but as opposed to previous seasons – at least the issue of goaltending was addressed this season, in the form of Jack Campbell.
While I believe that the Avalanche will waltz their way into a consecutive Western Conference Final; the Oilers' biggest test before the NHL's penultimate round will be their "Battle of Alberta" rival, the Calgary Flames. However, it can be argued that the Flames, through no fault of their own, were weakened this off-season.
Even better for the Oilers? They knocked off the Flames in five-games during the 2022 Stanley Cup Playoffs. What's to stop them in 2023?
The fourth-and-final team that I like as a Cup favorite are the best team of the salary cap era – the Tampa Bay Lightning.
Jon Cooper's crew have won the last three Eastern Conference Finals. While I like the Rangers to finally get the Tampa monkey off of their back in 2023 – that's also easier said than done.
Obviously, and just like any other Cup winner from this era – the Bolts have been massacred by the salary cap since winning their two titles.
After losing their entire impressive third line during the summer of 2021, the team was forced to shed several members of their blue line a year later, including the heart-and-soul rearguard, Ryan McDonagh.
Thankfully for Tampa, the astute Julien BriseBois runs the show. Despite the salary cap restrictions bestowed upon him, the g.m. has worked wonders.
Until Tampa suffers a true fall from grace, they have to be considered as contenders.
And for all of the talk about the Toronto Maple Leafs, or should I say "Maple Laffs," following their losses to two squads jockeying for draft lottery positioning, the Montreal Canadiens and Arizona Coyotes? For the life of me, I'll never understand why both Vegas odd-makers and NHL "experts" pegged them as third-best in the league.
---
Let's talk about the big league news from Tuesday, then get into all of the Rangers stuff.
On October 18th, the NHL's commissioner, Gary Bettman, held a four-hour long meeting with the media.
While there were other drips and drabs of news coming out of the meeting, news that doesn't really impact the fans, nor the players (a lot of it had to do with demographics and who was watching games and when); there was one major news item to come out of the meeting, this one:
Gary Bettman after a 4-hour Board of Governors meeting tells assembled media here in NYC that the escrow balance likely will be paid off at end of season by players. And if so, the salary cap will jump this summer by around $4M. But if not fully paid, cap goes up just $1M.

— Pierre LeBrun (@PierreVLeBrun) October 18, 2022
---
Following the meeting and the tweets from NHL reporters who covered the get-together in real-time, the NHL covered this gigantic story here: https://www.nhl.com/news/nhl-salary-cap-could-increase-by-at-least-4-million-in-2023-24/c-336522332
Here's what Bettman said verbatim, in regards to the possibility of the salary cap getting a significant increase:
"We believe that there is a good probability that the escrow will be paid off this season. It may not be, but it's going to be close we think, which means the flat cap will be replaced by a bigger increase.

"Revenue is pretty vibrant. We probably did $5.4 billion in [hockey-related revenues] this past season, which is actually about a half a billion more than we projected a year ago when we were starting things up.

"The business is good, and so things are looking possible for it being paid off this year. If we miss it, it'll be close, so it'll be next year."
---
Ever since this site's existence (and you may remember my opinions about Henrik Lundqvist's old contract), the topic of the salary cap has been discussed to the point of exhaustion.
While you can check the archives of this site for my previous writings; in short, here's the number one reason why I hate the hard salary cap (and this ties into my prior opinions about "The King's" old deal too) – as fans, as reporters, as anyone else who follows/watches this league – we spend more time talking about the salary cap than talking about the stuff on ice.
Case in point? A story that will later be covered tonight – the Rangers decision to waive Dryden Hunt on Wednesday afternoon – a pure salary-cap move.
As someone who follows all of the other major sports in America (although to be fair, I don't care about the NBA, but I'm aware of what's going on), you don't see as many salary cap related stories and discussion in the other three leagues as you do with the NHL.
At times, following the NHL is like trying to follow every intricate move of the stock market – as the topic of money is always at the forefront.
Furthermore, while the MLBPA is considered as the strongest union not only in sports, but in all of America – the NHLPA is the absolute weakest union in all of sports today.
Only in the NHL, will you find full-time players making six-figures for an 82-game schedule.
I know I've said this 4589465894789378973240 times before too, but it's true – salary cap hits belong on the back of hockey trading cards.
What these players earn have now become as important as traditional stats, such as goals, assists and points.
All of this never-ending talk about club's finances is by the league's design.
While the Rangers don't do it, the majority of NHL teams disclose the salary cap hits of their players (and sometimes their cap percentage figures too) in their public press releases.
(And there's a reason why CapFriendly.com is one of the most visited hockey websites around today too.)
I know this is the product of the era, but for fans both my age and older than me – growing up, I never gave a crap about what these players were being paid. All I cared about was wins and losses.
Off the top of my head and as a young fan; the first time I can remember a player's salary becoming a topic of serious discussion is when Dave Checketts didn't want to pay Mark Messier in the Summer of 1997. (This story is covered in-detail in my upcoming "Tricks of the Trade" book.
(League-wide? My first memory of player salaries is the obvious one – the Wayne Gretzky trade to Los Angeles.)
Yes, Glen Sather, and all of his free agent debacles, would later become a topic of discussion, but since there was no salary cap (nor the loopholes "Slats" would find once the salary cap became a thing – but you can read all about Wade Redden in "Tricks of the Trade"); during these last few years, all we ever do is talk about the salary cap. I hate that, but it's unavoidable.
What's become even worse over the years (and several teams have already done so this season), teams are not only unable to carry a roster of 23-players; but they are forced to carry only nineteen players – one shy of the traditional 20-man line-up/roster.
Why is this so? Those three nasty words, "the salary cap."
Long story short – not only are we forced to obsess over the salaries of these players; today, the salary cap has now become an issue of player-safety.
Due to the cap, since some teams can't carry a full roster, they are forced to play players who may need a day or two off. How is this beneficial for any party involved?
I don't want to continue to play my "Greatest Hits" here, so let's get into how this news impacts the Rangers.
---
Obviously, should the salary cap go up by $4,000,000; while you'd like to see that number be even bigger than that – it's a start.
And of course, this news doesn't only benefit the Rangers – it benefits all 32 NHL teams, all of the players, and all of the agents too.
For the Rangers and Drury, and I'm not breaking any news here – Lafreniere and Miller HAVE to be re-signed between now and the Summer of 2023.
While you can look at other players (and their contracts) around the league for salary comparisons; either way – both #13 and #79 are due to be paid.
Should the cap go up, not only could Drury bypass the entire "bridge contract" process; but the g.m. could lock down both of these players to eight-year deals, should that be his desire.
We've talked about the Rangers' cap-issues before; but needless to say, the Rangers have most of their core nailed down and don't have much money to play around with. In turn, it was very likely that the Rangers would've had to move on from someone of significance this off-season, in order to re-sign both Lafreniere and Miller.
Now they (Drury) may not have to. Welcomed news for all!
Speaking of the club, let's talk about all of the off-day news, and then close with David Quinn.
---
The Rangers practiced on both Tuesday and Wednesday, where as expected – defense was stressed.
Furthermore, and reminiscent to the events following the 2022 NHL Trade Deadline – Gallant now has options, as all 23-men on his roster are healthy.
Vitali Kravtsov returned to practice on Tuesday in a non-contact jersey. A day later, he was back to skating in a regular (contact) jersey.
The same goes for Ryan Carpenter, who after receiving four stitches to his ear and eleven more to his neck and head areas – he too was a full go at these practices.
Carpenter, who missed Monday's game following an incident that could've been extremely serious (thankfully it wasn't), said, "I think I needed to sit out Monday's game. It was still a pretty big cut and there was some swelling. I've gotten a couple practices in and I'm ready to play."
Two words: "HOCKEY PLAYER."
Following the two days of practice, Gerard Gallant said that every player on his roster was available to play against the Sharks.
While "The Turk" wouldn't confirm his line-up, here's what we saw at Wednesday's practice:
FIRST LINE: Kreider/Mika/Kakko
SECOND LINE: Panarin/Trocheck/Lafreniere
THIRD LINE: Blais/Chytil/Goodrow
FOURTH LINE: Vesey/Carpenter/Reaves
Defensively and goaltending-wise, everything stayed the same, where the only thing that could change is Libor Hajek subbing in for Zac Jones.
And before moving on, I do want to say this – with the way the Rangers' top-six is playing, where it feels like they can score on every shift – the team may be better off with a bottom-six who can just grind, get the top-six a breather, and rinse-wash-repeat.
---
Following Wednesday's practice, it was first reported by CapFriendly.com that the Rangers had waived Dryden Hunt.
We won't know until around noon Thursday, if Hunt is bound for Hartford or elsewhere.
As talked about during the off-season, preseason and now here in the regular season, that word "accrue," as in how the salary cap accrues day-by-day, is the reason why Hunt was waived.
And until something happens with Patrick Kane, you can expect to see that "a-word," "accrue," all-season long. You won't be able to escape it!
Hunt didn't do anything wrong, but like anyone else – he's a victim of the salary cap – especially since the Rangers have to handle Vitali Kravtsov with kid gloves – a player who would most certainly benefit from a stay with the Wolfpack (but it won't happen, and for reasons previously discussed on this site).
You know how I feel. For a team in "WIN NOW" mode – I rather veterans than unproven kids, especially one who has burnt this team twice. However, Kravtsov will get a chance, merited or not, and where I'm also reminded of this age old adage:
"Fool me once, shame on you; fool me twice, shame on me."
Since Kravtsov has to be coddled and because of the salary cap; Hunt became forward number fourteen, and in turn, is now a player with an uncertain future.
Who does this news benefit, outside of Kravtsov and perhaps Jimmy Vesey too? (I never thought Vesey was in jeopardy of being waived – if that was the case, the Rangers would have never signed him in the first place.)
The answer – Julien Gauthier.
Should another team claim Hunt, that leaves Gauthier as the odds-on favorite to receive a call-up, in the event of another injury.
I'll update you on Hunt's future during tomorrow night's Sharks/Rangers game review blog – a future where he may never have to wear this:
Real quick on this, because I know this is a topic of discussion – although one I don't care about.
The Rangers will be wearing a new reverse retro jersey this season, as the league continues to find new ways to split money from the wallets of their fans.
While I really don't care about what the Rangers wear (I only care about wins and losses) – if this design is the final product – meh.
For what it's worth, the Rangers (and Adidas) just released a reverse retro jersey less than two years ago, which featured the "Liberty Head."
While it's being reported that the design depicted above may not be final – the "Liberty Head" will be on the front of this latest reverse retro jersey either way.
Again, I'd leave well enough alone, but since I understand economics and the principle of supply & demand – I'd rather see something from either the Ferguson or the Original Six era, rather than a "reverse retro retread."
But as long as the team wins – they can wear pink tutus for all I care.
Heck, they could wear phallic symbols too, which brings us to our next (and final) topic before getting into Quinn's return.
---
Similar to the Anaheim Ducks from Saturday night, the San Jose Sharks played the Islanders on Tuesday night, before playing their next game at M$G. Since the Rangers were off, and because the Sharks are the team's next opponent – I tuned into the Islanders game to see the competition.
Imagine my surprise when come 7:00PM, I turned on M$GN and then saw Islanders' host, Shannon Hogan, wearing a phallic symbol on her chest.
Her jewelry decision went viral, where to her credit, she handled it with a good sense of humor: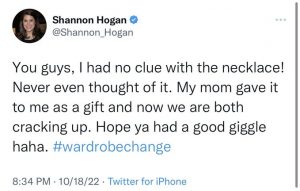 Of course, Hogan omitted what this piece of jewelry was supposed to be – and what her mother thought she bought!
End result? Come the first period intermission, when Hogan was due next on television – she had removed the necklace.
I'm just surprised that none of her producers pointed out to her, that you know, she was wearing a dong around her neck. Maybe they wanted a laugh too!
Again, she handled this funny situation in a good manner, so I give her kudos for that. Lesser people would have just ignored it, or thrown a hissy fit about it. My hats off to Miss Hogan.
Of course, since I have the maturity level of a sixth-grader, I'd like to share with you this picture, in order to forever remember the moment:
And finally, while on this puerile subject; would it surprise anyone if Sieve Vagistat wore a similar necklace one day?
This idea was first brought up to me by Shawn S., co-host of the "2 Guys, 1 Cup" podcast, when he said – "you know, Valiquette isn't Mr. Slave from "South Park!"
In turn, and I think I'll be using this picture a lot this season, especially since I won't recap the M$GN pregame show anymore whenever Lundqvist isn't around – I present to you the following:
Come on – tell me what other serious author of several books, and a contributor to several mainstream hockey websites too, has the time and energy to dive into this low-rent humor? This guy – for better or for worse!
Enough of the dick jokes. Let's now get into David Quinn's return to M$G.
---
Let me get this out of the way first before proceeding.
I'm not going to recap DQ's entire tenure tonight. These blogs go on long enough already!
You can read my synopsis of his time with the Rangers here: https://bluecollarblueshirts.com/51321/
Furthermore, as a prelude to my "One Game at a Time – A Season to Remember" four-volume set, I recapped DQ's stint in that. You can find those books here: https://bluecollarblueshirts.com/onegamebook/
And last but not least – yep – you can find all of my stuff on DQ (a trillion billion words in all), by checking out the archives of this site.
Let's roll – which speaking of, reminds me of another terrible photoshop that I made:
As previously mentioned, before getting side-tracked with the Shannon Hogan tomfoolery; I watched the Islanders vs Sharks game from Tuesday night – and man oh man – does David Quinn's team look like shit. (Of note – I've seen every Sharks game this season too.)
If you regularly read these blogs, then you're aware of what I've said numerous times before – Gerard Gallant handles the media with ease.
As opposed to DQ, who was often bullied by the media and as a result, perhaps divulged too much information – whenever Gallant talks to the Rangers' beat – you know who is leading the conversation.
Gallant is the boss – and he's never on the defensive.
(And for another comparison – very rarely do you see Gallant snap at the reporters, as former head coach, John Tortorella, once did. While Torts was always good for a fiery sound byte, you only see Gallant lose his temper whenever he's asked a dumb question by an inexperienced and clueless reporter.)
As you know, I'm a history guy. As a result, I follow the Rangers' alumni, just to see what they're up to. After all, as the mantra goes, "Once a Ranger, Always a Ranger."
I've been watching all of DQ's press conferences since he landed in San Jose, where prior to his team dropping to 0-5 on the season following their 5-2 loss to the Isles on Tuesday – he's admitted that things are a lot more slow and calm on the west coast, in comparison to his time in New York.
I know I've said this before, but one more time for the people in the back – I kind of feel bad for David Quinn.
Ever since leaving the college ranks, DQ has never really had a competitive team to coach.
At the same time, this is understandable – everyone starts at the bottom – although I'm sure that deep-down, he wishes that he landed the Bruins job instead of another college coach, a troubled one at that, Jim Montgomery.
Once being hired by the Rangers, DQ was tasked to manage the rebuild, following the dismissal of Alain Vigneault.
And as mentioned last blog, I also feel that Quinn was fired prematurely.
(I should also add – outside of Bryan Trottier – I've never been a fan of any of these firings. Maybe I'm sentimental or a sucker – but more times than not – I don't blame the coaches. I blame the players and general managers. I just thought that you should know this, just so you know where I'm coming from. You may disagree with me – and that's fine too!)
Not only did DQ coach under unprecedented times – a lot of what took place during his final season, "the season from hell" (2020-21 – somewhat as disastrous as another Rangers' season from hell – the 1979-80 season – read "Thin Ice" for more), was out of his hands.
After being canned by Drury (every general manager, especially a new one, should be able to hire their own people), DQ coached USA Hockey during the 2022 Olympics and the 2022 IIHF Worlds Championships. Once again, the pandemic hurt him, as he was forced to coach teams of non-NHLers.
Now in San Jose, DQ finds himself in a situation far worse than the one that he agreed to when he first accepted Jeff Gorton's offer to coach the Rangers.
In his second stint as an NHL bench boss, DQ is again being asked to facilitate a rebuild, where this time – there's no Artemi Panarin, Mika Zibanejad, CZAR IGOR, Chris Kreider, Adam Fox, etc.
While the Rangers eventually landed two lottery picks during DQ's tenure, including the 2020 first-overall, Alexis Lafreniere – that was never the goal. It was through sheer luck that the Rangers won the draft lottery in 2020 – a topic DQ somewhat brushed upon on Wednesday.
Today – DQ and the Sharks are "expected" to land the first-overall pick of the 2023 NHL Entry Draft (the Blackhawks and Coyotes will have something to say about that), and then hopefully draft Connor Bedard, the player who the majority project to go first-overall. (Keep in mind – this same consensus said the same thing about Shane Wright at this time last year.)
---
Following the Sharks' poor 0-5 start (along with Minnesota who are 0-3 – San Jose are one of the two teams without a point in the standings today), there are already "FIRE DQ" discussions being held by Shark fans.
While there haven't been any "FIRE DQ" chants at games, in comparison to the "FIRE LINDY" chants at Devils games – unlike Lindy Ruff – I think DQ is safe either way.
Not only is g.m. Mike Grier a pal of DQ's – optically, it would look terrible if a new g.m. fired his new h.c. just a few weeks into the season.
Furthermore, both men knew what they were signing up for. They knew this season was going to be a tough one.
After all, if the Sharks were supposed to be good – they wouldn't have needed a new general manager and a head coach to begin with.
Not helping matters? Not only are the Sharks terrible, they also have the worst contract in the league on their books, Erik Karlsson's – a Swede who still has four seasons remaining on his deal following this 2022-23 campaign, where the defenseman is on the books for $11,500,000 per season.
(If any team would love the return of amnesty clauses – it's the Sharks.)
At this time, I want to share DQ's two most recent interviews with you.
The first media session took place following the Sharks' loss to the Islanders on Tuesday night. The second interview took place on Wednesday afternoon, following the Sharks' practice at Chelsea Piers:
---
There was one eye-popping word that Quinn said in both interviews – "FRAGILE." And no – he wasn't talking about Kravtsov! <Rim Shot>
A lot of what DQ said about his new team is what we heard a lot of during his first season in New York – his team lacks SWAGGER (his favorite word), they make mistakes, they have to be in a better position to win, we're not playing honest, and you know the rest.
While the Sharks and their problems are concerns for people in the Bay; DQ also said a few interesting things about his time with the Rangers. Here's what I found most interesting:
— DQ said that he didn't think that some of his players (and he alluded to management too) handled the pandemic well. To be fair, DQ also said this was all unprecedented stuff, but said it was obvious – the Rangers before the pandemic wasn't the team that returned for the 2020 Stanley Cup Playoff bubble.
— Maybe this is me looking too much into it, but it sounded like DQ never wanted to leave, nor was happy about being fired. And again to be fair – what coach wants to be fired?
— Here's what DQ said verbatim about his time in New York: "I'd be lying to you if I said no (that returning to M$G wasn't special). Yeah, it is. I mean, I had three great years in New York. I loved my time there. I loved the players. You know, unfortunately, it didn't end the way we all wanted it to, but it'll be pretty cool."
— DQ sounded in "WHAT IF" mode, big-time at that, when reflecting how hot his team was at the start of 2020, even going as far as rattling off dates (January 6th, when the streak started) and the dates of specific games (one against Minnesota stood out). DQ repeatedly brought up the bubble and made it sound like he wished he could've seen how his team would've done had the pandemic not happened. Of course, if the pandemic didn't happen – the Rangers would have never landed Lafreniere.
— DQ's verbatim quote about the bubble? This one: "I mean, COVID affects people differently. I think we had players that were concerned about coming back and playing in a bubble. It was crazy and unique circumstances. Things that you can never plan for. There's no blue book on how to handle coming back from the pandemic and going into a bubble and playing in front of nobody. Just a lot of things that are uncontrollable and things you don't experience."
— The San Jose media (and their fans), where as DQ had previously mentioned, is a lot less intense than New York's, did seem pretty relaxed and chummy with DQ. In fact, if you watch the second video, it feels like everyone was sitting at a cafeteria table and shooting the shit together.
— Case in point – when talking about his win-less team, and how ironically, DQ's first NHL win came at the expense of the Sharks; Quinn, when asked about beating the Rangers on Thursday night, said, "I don't care if we beat the Westchester Rangers, I just want to freaking win."
Unfortunately for "The Mighty Quinn," he won't win on Thursday. I believe he'll fall to 0-6. However, I'll root for him to be 1-6 after Friday night, when the Sharks swim in Newark, NJ.
Also worth noting – both DQ and "The Turk" have been complimentary about each other whenever asked about each other.
And yep – there's no chance in hell a loss to these Sharks will be acceptable for Gallant's Gang – but as said at the top of this – I expect a Rangers' blowout on Thursday night.
PLUGS TIME!
---
On Tuesday, my two favorite Ranger-themed podcasts returned.
First up, is "2 Guys, 1 Cup," who recorded at 2PM. You can find their latest episode here:
Episode 60! Great discussion on the first 4 games, how Kakko and Laf have looked in the top 6, where do Kravtsov and Jones fit, and the National media disrespect of Mika#NYR https://t.co/CSF4LXAlDy

— 2 Guys 1 Cup Podcast (@2G1CRangers) October 18, 2022
---
At 7PM Tuesday, "The Blueshirt Underground Show" returned, where if you enjoyed the Shannon Hogan stuff from tonight's blog – then you'll really enjoy the final thirty minutes of this episode:
---
My first plug of tonight's blog – the mandatory plug for my book, "The New York Rangers Rink of Honor and the Rafters of Madison Square Garden."
As mentioned previously, the book is now available in hardcover, in paperback and in Kindle formats. To purchase a copy of the book, visit this link:
https://www.amazon.com/Rangers-Rafters-Madison-Square-Garden-ebook/dp/B09CM5N2WD
For those still looking for signed paperback versions of the book, I have re-ordered more copies. I now have a few signed copies for sale at $25 a pop (includes shipping price) through me directly. Here is all the information on that:
---
My four-volume set of books, "One Game at a Time – A Season to Remember," is a game-by-game recount of the Rangers 2021-22 campaign.
My second title as an author, "One Game at a Time – A Season to Remember," is now available in eBook, paperback and hardcover formats.
To obtain signed copies, visit: https://bluecollarblueshirts.com/onegamebook/
To purchase all four volumes on Amazon, visit: Amazon.com – "One Game at a Time."
---
Here are my last few blogs, in case you missed them:
---
---
---
If you haven't already, subscribe to this blog for the next update:
---
Don't forget to pre-order my new four-volume set of books, "Tricks of the Trade!"
If you don't pre-order through me, all four volumes will also be on sale over at Amazon.com
For more details, check out: https://bluecollarblueshirts.com/tricksofthetrade/
See ya tomorrow night, following the Rangers vs Sharks game.
Thanks for reading.
LET'S GO RANGERS!
Sean McCaffrey
BULLSMC@aol.com
@NYCTHEMIC on the Tweeter machine