Greetings and salutations everyone and welcome to another blog here on BlueCollarBlueShirts.com.  There are a few ways to approach the Rangers' latest loss, this time of the shootout variety.
Let's get the negative stuff out of the way first.
On one hand, and once again – the Rangers' top six couldn't muster up much – especially while at even-strength. Heck – they didn't even score tonight. (Kudos to Georgiev – but this is now becoming a trend.)
Not even Artemi Panarin, who had picked up a point in every game of the season prior to Tuesday, could get on the board. (However, #10 did score "The Lone Ranger" goal during the shootout – but it wasn't enough.)
Give Georgiev a ton of credit – as "The Breadman" showed a ton of effort in his 24:33 of ice time – but "The Bulgarian Beast" wasn't going to allow the bakery to open for business.
Chris Kreider is in a funk, where he's currently exhibiting a case of "if I didn't have bad luck, I'd have no luck at all."
Special teams remains as an issue, as the Rangers' power-play went 0-4.
Worse than that, they allowed a short-handed goal too – although this time, this unfortunate goal allowed falls squarely on the shoulders of CZAR IGOR.
(More on this play in the GAME REVIEW segment – as I'm not blaming Shestyorkin for the loss. And of course – had the Rangers scored on this particular power-play – then Igor wouldn't have had to make another one of his homerun passes – passes that he makes in order to jump-start the stagnant offense.)
Filip Chytil (whose injury is covered in-depth below) is out. However, to blame his absence for this loss would be foolish – after all, the Avalanche are currently without their captain, and a much more talented player than #72 in blue, Gabriel Landeskog.
Vitali Kravtsov may as well wear a Casper costume for Halloween, because he's been a ghost ever since his return – but we'll explore his efforts tonight in due time.
Turnovers remain as a prevalent issue, as at times, it feels like the Rangers can't get out of their own way.
Unless you're happy about overtime losses/a point in the standings (and the Rangers are now 0-2 during "free hockey"), Gallant's Gang have now lost four of their last five games.
Equally as concerning? The competition on the schedule is about to pick up. (That's why getting embarrassed by both San Jose and Columbus really hurt.)
After tonight, the Rangers next play the Islanders, who always play them tough. The club will then head out west to play Dallas (a Cup contender) and Arizona (who last year played the Rangers tough – twice – and who just lambasted Columbus on Tuesday – the same Blue Jackets who the Rangers couldn't figure out), followed by two of the hottest teams in the league, Philadelphia and Boston.
Let's now take a look at this game from the glass half-full perspective, the positive side of the equation.
---
As noted in tonight's blog headline title, this game was truly a mixed-bag.
For all of the negative stuff, don't lose sight of this fact – the Rangers hung in there with the reigning-and-defending Stanley Cup champions, and one of the most dominant wire-to-wire teams of the salary cap era.
I do believe that had the Rangers handled business like they were supposed to, against two of the more inferior teams of the league, the Sharks and the Blue Jackets – then you wouldn't have heard too many gripes about this one individual loss to the Avalanche.
Sure, while losing to Georgiev is part of the sting – dropping an overtime decision to the champs isn't the end of the world either.
And should you care about the standings after only seven games played – the Rangers are currently in a four-way tie for second-place. In other words, and as obvious – there's plenty of time left.
Say it with me – "it's an 82-game season."
And to pile on that? This team will only be judged based on their playoff performance – and not what they do in the regular season.
Just qualifying for the playoffs isn't acceptable anymore. Winning in the playoffs is.
---
My most positive takeaway from this game, was that after a first period where they didn't really look too hot in, the Rangers then showed their resiliency and fought back.
Tied 1-1 when heading into the final frame; CZAR IGOR then made the biggest gaffe of his career (again – more in the GAME REVIEW). In turn, the Rangers picked up their goalie and later re-tied the contest.
Does this all sound "participation trophyish," and looking for "moral victories," as all losers do?
Perhaps, but I do think that you have to keep in mind the quality of the competition too.
Often forgotten? The other team is paid to play hockey too, and no team has done it better during the last calendar year than the Colorado Avalanche.
---
Following another "oh no, not again" first period, the Rangers were the better team during the final forty five minutes of action. It took a skills competition to beat them, where yes, once again – you do feel a little salty over the fact that Georgiev had his hand raised on this night – and I say this as a rare Ranger fan who actually likes "THE BULGARIAN BEAST!"
(No one has made more dumbass photoshops, in praise of #40, than yours truly!)
I wouldn't necessarily say that the Rangers are "back on track;" but they did play much better than they did during their last two games, a pair of puzzling and downright inexcusable losses to San Jose and Columbus.
It's up to them to build off of this game, and the recent string of disappointment too.
What's a better way to do that, than sticking their sticks up the asses of the Islanders in no less than 24 hours time?
And while you have to leave the fond memories of the 2021-22 season behind; at the same time, the Rangers' ass-kicking of the Islanders, which took place late into last year's campaign, helped propel them to an Eastern Conference Finalist berth.
Despite the stupid and factually incorrect slogan that both the NHL and Adidas are running right now, in their promotion of their ugly "reverse retro retread" jerseys, "History Doesn't Repeat Itself;" these two foolish entities couldn't be more wrong.
History always repeats itself. Let's hope for another shellacking of the orange-and-blue on Wednesday night.
Turn the page and beat the Isles!
We got a ton of stuff to get into tonight, so let's get right into it.
---
Following Dr. Turk's "day-to-day" diagnosis on Sunday night; a day later, on Monday, October 24th, the Rangers announced that Filip Chytil is done for at least the rest of the week.
Chytil's injury, as talked about during Sunday night's blog, is assumed to be a concussion.
However, since this is the league that asks their fans to bet all of their money on these games, yet will never give you accurate injury information – we can only say that the dirty "c-word" is speculated – and not 100% fact.
What we do know with complete certainty is that Chytil didn't play tonight, nor will he play tomorrow night against the Islanders.
Furthermore, #72 won't be traveling for the Rangers' pair of games out west, when the Blueshirts play a back-to-back set with the Stars and the Coyotes.
After that, who knows?
I really went in-depth on this topic in my "Tricks of the Trade – A Century-Long Journey Through Every Trade Made In New York Rangers' History" four-volume set of books (WILL BE AVAILABLE ON AMAZON.COM PERHAPS BY THE TIME YOU READ THESE WORDS – FULL PRESS RELEASE TO COME), but one more time – no two concussions are alike.
Similar to snowflakes (the real ones that fall from the sky in the winter – and not the ones from the political realm), every concussion is independent of another and can't be treated the same.
Everyone has their own individual healing process. Some people can bounce right back, some people need some time to return, and in some extreme cases – some people are forced to retire.
Again, since this is all speculation, there's no way to provide an accurate timetable on Chytil's return.
What we do know is that the Rangers' have depth issues, where yep – had this injury taken place a few days prior – the Rangers would have never waived Dryden Hunt, the former #29 now wearing #22 in Colorado.
And as already repeated about 78967896969686 times during the past few weeks – yes, the salary cap accrues.
In other words, prior to tonight's game against the Avalanche, and going into tomorrow's game too – I don't expect the Rangers to call anyone up.
However, I do expect the Rangers to call someone up for their upcoming road-trip, just in case an injury is to occur.
Since Chytil is a center (although Barclay Goodrow gives the Rangers options), I wouldn't be shocked to hear that either Gustav Rydahl or Jonny Brodzinski is called up on Thursday, prior to the team's flight to Dallas. Then again, perhaps Julien Gauthier could get the nod too.
To quote Gallant, all of this stuff is "day-to-day."
There's never a good time for any player to get injured, but as is always the case, the Rangers, just like the other 31 teams in the league, will now adopt another hockey adage – "next man up."
All the best to Chytil.
Let's hope that he returns sooner than later, especially since he's now just hitting the prime years of his career.
---
As mentioned above, I'll post a full press release once "Tricks of the Trade" hits Amazon.com.
For now (and this is where you can pre-order signed copies), you can check out: https://bluecollarblueshirts.com/tricksofthetrade/
I bring up this shameless plug for one reason (outside of trying to raise beer money) – on Monday night, I had an excellent experience when meeting the man who wrote the foreword to "Tricks of the Trade," "The Maven," Stan Fischler.
If you don't know, since officially "retiring," where it's my belief that Fischler will never truly retire (he still writes 4-5 columns a week for "The Hockey News" and NHL.com – he also wrote a new book last year), "The Maven," the greatest hockey historian in the game today, is currently living in Israel.
In other words, Fischler, the native and long-time resident of Brooklyn, NY, isn't seen as much as he used to be seen at the rinks in Newark, New York City and on Long Island.
And now at 90-years old (and of course – the pandemic too), travel isn't as easy as it used to be either.
While I knew that Stan was flying to New York for several months now, I didn't know why until a few days ago.
On Monday, October 24th, the Islanders told the hockey world why Stan was in town:
https://www.nhl.com/islanders/news/islanders-to-honor-stan-fischler-with-ubs-arena-press-level-dedication/c-336751088
---
As noted in the Islanders' press release, the club will be naming their press box after "The Maven" on Wednesday night, in a pregame ceremony which will be held before the two warring teams square off.
Unlike the Rangers, new Islander ownership has really put a focus on honoring their history (just take a walk around the IBS Arena and you'll experience it), whether it be players, coaches, management, and now today, the press.
And while I don't think I'll ever see the names of Frank Boucher, the Cook brothers, Ching Johnson, Ron Greschner, Lester Patrick, Bryan Hextall and Emile Francis raised to the rafters of Madison Square Garden (I can tell you – there is currently a heavy push to get Brad Park up there – which I'm fine with – ONLY IF THE RANGERS HONOR THE EIGHT OTHER NAMES LISTED HERE TOO); I could see the Rangers taking a page from the Islanders' book one day, where in the future – they'll rename their broadcast area in tribute to Sam Rosen.
As Fischler said in the Islanders' press release, he's extremely honored and blown away.
Only Hall of Famer (Class of 1965) Foster Hewitt has had a similar tribute paid to him (Toronto).
And yep, as mentioned numerous times on this site – I'll never understand why the Hockey Hall of Fame has ignored Stan Fischler for all of these years – despite several members of the HOF pushing his case to the HOF selection committee – and on multiple occasions.
---
As you all know, ever since the release of my first book, "The New York Rangers Rink of Honor and the Rafters of Madison Square Garden," a book that Alex Shibicky Junior (son of Rangers' legend, Alex Shibicky), made Fischler aware of, I've been writing columns for "The Maven," pieces that are either featured on "The Hockey News" or NHL.com.
I can't thank Shibicky enough for opening this door to me – nor can I thank Stan enough for taking a chance on me.
And yep, as discussed before – my gig with "The Maven" allows me to wear two hats. I can be personal, funny and talk to you in a bar-room style on this blog, a blog which really boils down to as a hardcore fan site.
Conversely, when I write for Stan, I tone it down and write in a professional manner – just like I do in my books.
And as someone who does a ton of writing – who better than Fischler as an editor? No one.
Before even meeting Stan on a "peer level," I've always been a big fan of his.
Heck, my interest in hockey history first started by reading all of his books. As I've said many times, I'm surprised the Rangers/M$GN never put a camera in front of his face, and let him tell old stories, in the way the Yankees did with their "YANKEEOGRAPHIES" on the YES Network.
Thankfully, on Monday, I got that experience – although we barely scratched the surface.
There's a lot that impresses me about Stan. Not only has he brought hundreds of people into the hockey world, as his internship reads as a "who's who" of hockey writers; but he's still going strong today at 90.
Put it this way – he doesn't have to do anything for me. He does. And I'm not the only one that he looks out for either.
Also impressive? By the time I reached his hotel room for our face-to-face; he already had his laptop set-up and hooked to the hotel's WiFi, where he was writing and answering emails.
For an old school guy, he is up-to-date with new age technology – even if he doesn't have a smart phone!
As my own dad said – "I don't even know how to turn on a computer! What the hell is Wi-Fi?"
I asked Stan to sign two of his books for me, "We Are The Rangers" and "Tales Of Brooklyn." Here are the inscriptions:
Both of these books are now centered in one of my bookcases, in my collection of over 1,000 books!
Better than that, getting to know Stan more on a personal level (it's one thing to email everyday – it's another thing to sit down face-to-face) – as "The Maven" is one of the funniest guys around – despite some of his corny classic one-liners – one-liners that he's most famous for!
Let's now talk about tonight's game.
---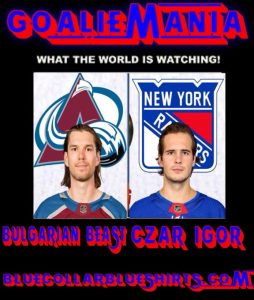 As far as any other pregame news and notes, both Alexandar Georgiev and Dryden Hunt talked to the media before puck drop.
Hunt basically said that he could see the writing on the wall, and once waived – he knew that come 2PM the next day – he'd be off somewhere. Hunt was keenly aware that the NHL is a business, and about that "a-word" too – "accrue."
Hunt was also complimentary about his time with the Rangers, but as you'd expect – now excited to play for the Stanley Cup champs.
Georgiev (who for some reason, a large portion of the fan base just absolutely detests), was honest, where once again, his candor didn't play well with Ranger fans.
Georgiev said that he wanted to be a starter, thought he should've been a starter in New York and wants a chance to prove himself as a starter.
I just don't get how you can knock him for thinking like that. At his age, and at this point of his career – HE SHOULD BE THINKING LIKE THAT.
It's not like Georgiev was Marty Biron during Biron's final season with the Rangers. Georgiev isn't a battle-tested veteran happy with just an NHL job – he wants to become a battle-tested veteran, now in the role of a starter.
And if Georgiev knows his recent Rangers' history, which I'm sure he does – he saw both Cam Talbot and Antti Raanta move on – and then become set for life with the salaries each former Ranger back-up went on to receive.
Was there ever any point in time where Georgiev should've been starting instead of CZAR IGOR? No, no and one more time for the people in the back – NO! At the same time, you can't fault Georgiev for wanting the proverbial ball.
Put yourself in his shoes – if you think you're worth more at your current job – wouldn't you want a promotion and a chance to prove yourself too?
As said many times before, and since the trade to Colorado – all the best to the "BULGARIAN BEAST" – except whenever the Rangers are his opponent!
And for the people who tried to make clickbait news out of Georgiev's comments (I saw one headline suggesting that Georgiev was pissed-off about Igor) – FOR SHAME – FOR SHAME I say!
---
With Chytil out, Hunt gone and no call-ups to be had, here's what Gallant went with on Tuesday night:
FIRST LINE: Kreider/Mika/Kakko
SECOND LINE: Panarin/Trocheck/Lafreniere
THIRD LINE: Vesey/Goodrow/Kravtsov
FOURTH LINE: Blais/Carpenter/Reaves
Defensively, we saw this:
FIRST PAIR: Miller/Trouba
SECOND PAIR: Lindgren/Fox
THIRD PAIR: Hajek/Schneider
(Of note: Jones was a healthy scratch. I thought Hajek played well – even if it's the "cool thing" to knock him – at least according to some fans.)
STARTING GOALIE: CZAR IGOR
BACK-UP GOALIE: THE HALAKNESS MONSTER
---
BOX SCORE time.
The following information and graphics come courtesy of ESPN.com:
SCORING:
SHOOTOUT: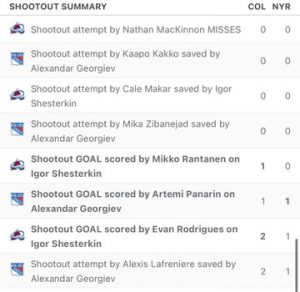 PENALTIES:
TEAM STATS: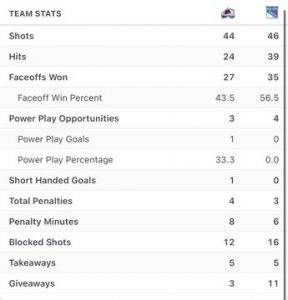 GOALIES:
| | | | | | | | | | | |
| --- | --- | --- | --- | --- | --- | --- | --- | --- | --- | --- |
| SA | GA | SV | SV% | ESSV | PPSV | SHSV | SOSA | SOS | TOI | PIM |
| 46 | 2 | 44 | .957 | 32 | 12 | 0 | 0 | 0 | 65:00 | 0 |
| | | | | | | | | | | |
| --- | --- | --- | --- | --- | --- | --- | --- | --- | --- | --- |
| SA | GA | SV | SV% | ESSV | PPSV | SHSV | SOSA | SOS | TOI | PIM |
| 44 | 2 | 42 | .955 | 36 | 5 | 1 | 0 | 0 | 64:00 | 0 |
---
FIRST PERIOD:
As mentioned, tonight's game was broadcasted on ESPN, a "world-wide leader in sports" outfit that didn't present a pregame show.
However, no pregame show is better than listening to Sieve Vagistat yammer on about analytics for thirty minutes.
In other words – I'm fine with it – although I do wonder why ESPN pays Mark Messier and Chris Chelios for three minutes of work per game. I guess it's good work if you can get it!
Instead of a pregame show, the announce team, Bob Wischusen and Ray Ferraro, worked in all of the pregame stories during the first several minutes of the game, where yep, you know it – Alexandar Georgiev was the headline.
If you gandered at the TEAM STATS graphic, then you already know that the Rangers won 56.5% of the game's faceoffs.
While Mika Zibanejad won the first draw of the game, and then went on to win eleven of twenty; it was Vincent Trocheck who was absolutely lights out tonight at the dot.
Trocheck won fifteen of nineteen faceoffs (78.9%), where his success was really noticeable in the end zones. At one point, he won something like eight in a row – all high-pressure draws to boot. Impressive.
Early into the broadcast, ESPN must've said "MONEY ON THE BOARD" about as many times as Joe Micheletti shrieks out the word "FABULOUS" during M$GN broadcasts. We get it – Georgiev wanted to win this game.
Just a blanket statement that rings true about both goalies – both men were fantastic – sans that one Igor play while the Rangers were on the power-play during the third period.
However, if it weren't for CZAR IGOR's 19 saves from this first period – the Rangers would have never had a chance to push this game to overtime in the first place.
And yep, CZAR IGOR is his own harshest critic. I haven't watched any of the post-game interviews yet, but I'm sure no one is more upset than him after this loss.
The first period was a lot of the same – Ranger turnover, Ranger turnover, long Colorado possession, Ranger turnover, long Colorado possession, Igor save, Igor save, Igor save, Ranger turnover and you get my point.
After Igor had amassed five saves, with two back-to-back stops on both MacKinnon and Rantanen (CZAR IGOR handled Colorado's studs with precision); at the 5:00 mark, Georgiev came up with a good looking save, following a puck that was deflected after a K'Andre Miller long distance shot.
It was also around this time where M$G ran a quick "Thank You" video for Georgiev. M$G applauded. I was happy to hear that – I thought they'd boo him, especially after hearing the way M$G reacted to David Quinn.
Jacob Trouba, who had a "Jekyll and Hyde" game, made his first of many turnovers with 13:25 to go, which led CZAR IGOR into making his best save of the game yet – a point-blank stop on Rantanen.
Vitali Kravtsov, who I think some fans have blinders on for, as these "Krazy for Kravtsov" people think he can do no wrong, was then muscled off of a puck, which led to another save for CZAR IGOR.
Seriously, I understand the idea of desiring every player to do good. That's what I want too. But if you're telling me that Kravtsov has shown you anything – then you're just lying to yourself. He looked like a deer in headlights for most of the game, turned over the puck a few times and was a non-factor during every puck battle.
However, and as the "Krazy for Kravtsov" people will tell you – he finished the game with a plus/minus rating of +2 – a pure passenger job if I ever saw one.
No joke, a few people asked me, "DID YOU SEE HOW KRAVTSOV WAS ON THE RIGHT SPOT OF THE ICE WHEN ADAM FOX SCORED?"
If that's what you're taking out of Kravtsov's game – then I think you're just trying to invent things.
I know I sound like a self-righteous ass right now – but I truly believe that if Kravtsov wasn't a first-round pick – then more people would agree with me on these opinions – rather than trying to find ways to justify #74's spot on the roster.
And yep – everything written above are just my OPINIONS – and not FACTS!
You're entitled to your opinions too – and we can have a civilized debate about them whenever you want to challenge me. I don't know it all, and contrary to popular belief – I've been proven wrong once or 987678696796 times over the years!
After all, I'm not a near fifty-year old blogger from Staten Island who has never moved out of his parent's house – one that will also tell you how Kravtsov is the second coming of Pavel Bure! I can flex on my opinions and see the other side too!
---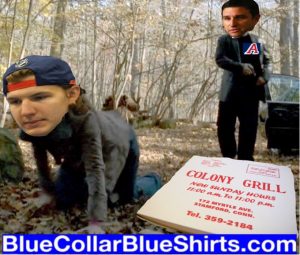 CZAR IGOR, a human highlight reel during this first period, made another pair of breath-stopping saves with 9:35 to go, when he stopped both MacKinnon and Rantanen on a two-vs-one odd-man rush – and then stopped the rebound too.
However, Kaapo Kakko was called for hooking (a dubious call), thus giving the Avalanche their first of two bullshit power-plays of this period.
The Avalanche's power-play, who entered this game tops in the league (9-17, 52.9%), scored with 8:20 remaining, when Valeri Nichushkin, with his back facing CZAR IGOR, deflected a Makar blast.
1-0, bad guys, where as has been the case lately – the Rangers' PK couldn't clear the puck. However, I can give them a pass tonight, just because of how lethal Colorado's power-play can be.
With 6:30 remaining, the SOG stat was Avalanche 15, Rangers 6. Yikes. (This also tells you how the Rangers turned it on during the final two periods.)
Down to 5:15 to go, Georgiev made his best save of the period when he denied a Mika one-timer.
For what it's worth, #93 finished with six SOG tonight. He could've hit double-digits, but many of his dialed-up shots went high or wide.
With 4:49 to go, we had a turning point of the game, when the officials nailed Lafreniere for a high-stick when driving towards Georgiev.
Upon replay, it was blatantly obvious – Lafreniere didn't catch the face of Emmy Award winning actor, Cale Makar – the stick of Makar's teammate did.
Worse than that – the officials went to video review to assess if this should've been a four-minute Colorado power-play? WHAT?
I know this blog is long, so let's quickly break this down:
— Makar, who was looking for an Oscar here, threw his head back in such a dramatic fashion that I'm surprised he didn't get whiplash. He looked as cheesy as a 1980's Ric Flair when selling this "infraction."
— The refs, DESPITE SEEING NO BLOOD ON MAKAR, thought a video review would produce blood? WHAT?
— UPON REVIEW – IT WAS FATHER FINKIN' OBVIOUS – MAKAR WAS STRUCK BY HIS TEAMMATE – AND NOT LAFRENIERE!
— For whatever reason, the NHL has some ridiculous rule (named after "Ray Todd") where officials can review penalties to see if they are a minor or a double-minor – BUT CAN'T REVERSE THE CALL IF THE PENALTY WAS ERRONEOUS? WHAT?
— Instead of just negating the penalty and saying, "MY BAD;' instead, Lafreniere sat in the box for two minutes, where need I remind you again – COLORADO HAS THE BEST POWER-PLAY IN THE LEAGUE!
As the ESPN panel said during intermission (Chelios said it first, Messier and Buccigross backed him up) – this rule should be changed by the time you read these words.
Imagine an official error as egregious as this one, an error that can be easily rectified, by changing just one sentence in the NHL rulebook, swung a playoff game?
If this isn't fixed tomorrow – then the NHL has their heads firmly wedged into their five-holes.
As M$G loudly chanted "ASSHOLE" at the zebras – officials who knew they messed up, but due to the rules, they couldn't do a damn thing about it – what an ass-backwards league – CZAR IGOR kept the Avalanche from increasing their lead.
"The Russian Rocket" (hold on – let me finish laughing), Vitali Kravtsov, then closed the period by having a wide-open look at Georgiev. However, once #74 heard the sound of Cale Makar chasing him down – Kravtsov fanned on a shot and got the hell out of dodge.
1-0, bad guys, after twenty. Here's what I said at the time:
1-0, bad guys after 20. 1P Thoughts:
— Refs suck
— #NYR don't look much better
— Both goalies have looked strong
— SOG 18-11 #goavsgo ;Hits 16-7, FO's 11-6 NY
— Kravtsov looks horrendous
— Hajek looks fine
— NYR lucky BS penalty didn't hurt them
— 5×5 goal anyone?

— BlueCollarBlueShirts (@NYCTheMiC) October 26, 2022
---
SECOND PERIOD:
It was during this middle stanza where the Rangers really turned it on.
We were told at the start of the second period that Dryden Hunt had interfered with Blais at the end of the first period, which meant that the Rangers would open this second period with a power-play.
This was a terrible power-play, one that didn't even record one shot on goal.
Following Colorado's kill; Vesey had a shot denied by Georgiev. After that, Trouba mowed over Lehkonen with a patented "TROO TROO TRAIN" hit.
CZAR IGOR continued his dominating performance, as he was soon forced to stop four Colorado point-blank chances in a row, where on all four of these shots – there wasn't a Ranger in sight.
As we neared our way towards the ten minute mark/mid-point of the game, this much was obvious – the Rangers' second line were playing great.
While they didn't score, it wasn't for a lack of trying. Lafreniere, Trocheck and Panarin were all motoring, but Georgiev was able to stall them.
Conversely, the Rangers' first line had issues. Kreider must've had 5-6 chances in this game, but as mentioned a few blogs back – I think teams are starting to swarm him quicker than ever before. He's also not getting the "puck luck" that he received last season, as during every 50-50 scoring play, he's on the wrong half of the equation – a 180 from last season.
While I don't think that anyone expected 50+ goals again; I do believe that many (myself included) expect 35+.
Down to 10:27 to go, CZAR IGOR kept doing his thing, where following a Trouba turnover and a hook on Rantanen too; Rantanen raced down the ice on a breakaway, only to be told NYET NYET by #31 in Rangers' blue.
Take a look:
IGOR WOW

(via @BR_OpenIce)pic.twitter.com/icYTtT1lHg

— Rangers Videos (@SNYRangers) October 26, 2022
---
This Trouba hook was somewhat borderline – and one that shouldn't have been called – especially since the officials owed the Rangers a call.
However, the Rangers' penalty kill stepped up big here – and didn't allow a shot on goal. This is when the tide started to turn a bit.
Down to 6:50 remaining and with tensions rising; Compher hooked Lafreniere. Trocheck and Byram also went at it, but no calls on either man were made during their meeting of the minds – a good thing.
Seven seconds into the power-play, it looked like Kreider had scored. However, with his bad luck in play, and with the horseshoe that Georgiev had up his Bulgarian behind; #40 got a fortunate bounce, and then plopped his rear-end on the puck, thus preventing a goal.
While this isn't a case of "it's better to be lucky than good," as Georgiev did play well – he most certainly got a lot of usage out of his lucky rabbit's foot tonight.
I can't hate – I always liked Georgiev (the archives of this site will tell you as much) – but damn, if he didn't have a Top Ten game of his career tonight.
Food for thought: not only do opponents always try to play their best at M$G – following the Rangers' success from last season – teams are preparing for them in a different manner too. Don't expect to see too many back-ups on the other end of the ice whenever the Rangers play.
As we got under three minutes, and as you wondered if the Rangers would ever score a five vs five goal again; with 1:54 to go, and following a Rodrigues turnover – GOODY GOT IT:
BARCLAY GOODROW TIES IT!pic.twitter.com/tRQNUq0j9H

— Rangers Videos (@SNYRangers) October 26, 2022
---
I've used the word "luck" a lot tonight – but yeah, the Rangers were a bit lucky here.
Georgiev, as opposed to Kreider's power-play shot, was in a perfect position to make this odd-man rush save. He couldn't have played this any better.
Trouba got in too deep, but did get the puck to Goodrow, who was also going too deep. However, at the last second, #21, who stuck with the play, was able to find the limited space that #40 afforded.
1-1 – a huge goal – duh.
Then, with 1:05 to go, Panarin drew Manson for a tripping penalty. With the extra skater on/Igor off, the Rangers had 30 seconds of time to go ahead, but couldn't score. They didn't score on this power-play either.
Tied at one after forty minutes.
Here's what I said at the time:
1-1 after 40. 2P Thoughts:
— Much better period
— Both goalies have been fantastic
— SOG 27-26 COL; Hits 31-16, FO's 25-11 #NYR
—- Rangers are due for a PPG – and a call from the officials too.
— Second line best line
— LGR!

— BlueCollarBlueShirts (@NYCTheMiC) October 26, 2022
---
THIRD PERIOD:
The Rangers, now on the power-play and looking to go ahead; instead, soon found themselves down by one.
After Georgiev stopped Kreider at his doorstep again; Colorado sent the puck down the ice.
As we've seen 87678968796789678678967896789678967896789689 times before; CZAR IGOR left the net in order to execute one of his 789678968967896789678967896786 homerun passes. This was the one time where it backfired.
With Andrew Cogliano streaking down the ice, he forced a rare Igor turnover and then found Logan O'Connor wide-open. Igor scurried back, but could never get set, and boom, 2-1, bad guys, at just the 59 second mark.
I saw some fans get on Igor for this play, but not me. Yeah, this play sucked, but we've seen him do this so many times before, where it's always led to positive results.
Again – it's just unfortunate that this rare gaffe took place while Georgiev was in the other net.
At the time, I said this, "CZAR IGOR won't give up another goal after that. No one criticizes themselves more than him."
And sans the shootout – that's what happened.
To fast-forward a bit, as I'm now approaching 7,000 words – the two goalies continued to excel and stopped all comers – including all of the name-brand players on each team.
As each goalie continued to rack up their save totals; enter Adam Fox to break up the successful string of stops.
With 5:57 to go, Fox, in a pure individual play, pushed MacKinnon off of the puck. Fox, who created this turnover, then went up ice, where he dished off to Barclay Goodrow. Goodrow (team-high two points) then found Vesey, and #26 picked up his first assist of the season, after a picture-perfect pass to the 2021 Norris Trophy winner.
Take a look:
ADAM FOX LEVELS US AGAIN!pic.twitter.com/qvMyRfjL5T

— Rangers Videos (@SNYRangers) October 26, 2022
---
2-2.
No joke, and yep this is 100% fandom speaking – I now thought that the Rangers had this game in the bag – despite what I saw previous to this goal.
I just didn't think Igor would be beat.
Unfortunately, I didn't know that Georgiev wouldn't be beat again either.
I've been running this site for over eight years now. In other words, I'm due for a bad take or 789678967896789678678967 of them.
Here's my most recent, one that I posted on Twitter towards the end of the game:
If #NYR cant win in regulation, I want the shootout between Igor and Georgiev lol. IGOR chants with 4:14 to go

— BlueCollarBlueShirts (@NYCTheMiC) October 26, 2022
Oops.
---
Following more back-and-forth saves from the two goalies, as both men were approaching the forty save mark, we finally got to the end of the third period. Overtime would be needed.
Here's what I said at the time:
2-2 after 60. OT is needed. 3P Thoughts:
— Don't care about Igor's error.
— Both goalies have looked good, even if Georgiev has had some luck.
— SOG 43-41, Hits 39-23, FO's 35-23 all #nyr
— Goody got it
— #GoAvsGo special teams the difference.
— FINISH THEM! LGR!

— BlueCollarBlueShirts (@NYCTheMiC) October 26, 2022
---
OVERTIME/SHOOTOUT
The Rangers had their chances to win this game during the five-minute overtime period.
After Igor robbed Rantanen (game-high seven SOG tonight), Georgiev prevented Trouba of scoring a walk-off goal.
Down to 3:26 remaining, and wanting to give his top guys a breather – Gallant took his timeout.
In what could've been it; with 1:29 on the clock, Panarin went on a breakaway. We all know his success rate on breakaways, but on this one, MacKinnon hooked him.
Now on a power-play (4 x 3) – Georgiev continued to keep this period devoid of goals.
CZAR IGOR, who didn't let his earlier gaffe deter him; almost got caught again on a similar play, but this time – made his own save.
After five minutes where the Rangers had every chance in the world of putting this to bed; instead, we went to the shootout.
You can check out the SHOOTOUT graphic that was posted earlier; but this came down to the final round.
In round three, Rantanen, who Igor had stopped all game, finally sniped one past #31.
Now down to "last licks," Panarin waited-waited-waited-waited, and boom, deked and backhanded the puck past Georgiev.
The bonus "rounds" of the shootout doesn't need to be pluralized.
In the fourth-and-final round, Rodrigues, a product of the Sidney Crosby Penguins', somehow looked like #87 in black-and-yellow himself, and deked Igor to kingdom come. For good measure, he barrelled into Igor too – after the puck had crossed the goal line.
Now with the game on his stick, Georgiev stopped Lafreniere.
2-1 in the shootout, 3-2 bad guys, your final, from "The World's Most Expensive Arena."
---
It's getting late, this blog has gone on long enough, and I have to give Amazon my final okay before hitting the publish button on "TRICKS OF THE TRADE."
If anything amazing came out of the post-game interviews, I'll recap them here tomorrow night, during the NYR/NYI game review blog.
Of note, there's a 50/50 chance I might be going to the game (I want to see the Fischler ceremony, as I'm sure TNT won't cover it). If I do, that blog will be posted later than usual.
When it comes to this loss – yeah it sucks – just because of the recent losses – but I thought the Rangers held their own with the champs.
And yep, with Igor going 65 minutes (and getting barreled over too) – I expect "THE HALAKNESS MONSTER" to start at the stables in Belmont.
PLUGS TIME!
---
My first plug of tonight's blog – the mandatory plug for my book, "The New York Rangers Rink of Honor and the Rafters of Madison Square Garden."
As mentioned previously, the book is now available in hardcover, in paperback and in Kindle formats. To purchase a copy of the book, visit this link:
https://www.amazon.com/Rangers-Rafters-Madison-Square-Garden-ebook/dp/B09CM5N2WD
For those still looking for signed paperback versions of the book, I have re-ordered more copies. I now have a few signed copies for sale at $25 a pop (includes shipping price) through me directly. Here is all the information on that:
---
My four-volume set of books, "One Game at a Time – A Season to Remember," is a game-by-game recount of the Rangers 2021-22 campaign.
My second title as an author, "One Game at a Time – A Season to Remember," is now available in eBook, paperback and hardcover formats.
To obtain signed copies, visit: https://bluecollarblueshirts.com/onegamebook/
To purchase all four volumes on Amazon, visit: Amazon.com – "One Game at a Time."
---
Here are my last few blogs, in case you missed them: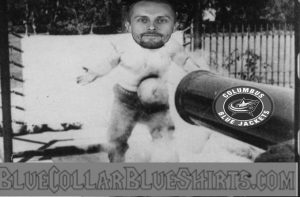 ---
---
---
If you haven't already, subscribe to this blog for the next update:
---
Don't forget to pre-order my new four-volume set of books, "Tricks of the Trade!"
If you don't pre-order through me, all four volumes will also be on sale over at Amazon.com
For more details, check out: https://bluecollarblueshirts.com/tricksofthetrade/
See ya tomorrow night, for the first-and-only game this season at the IBS Arena.
Thanks for reading.
LET'S GO RANGERS!
Sean McCaffrey
BULLSMC@aol.com
@NYCTHEMIC on the Tweeter machine