Greetings and salutations everyone and welcome to another blog here on BlueCollarBlueShirts.com. WOW!
And yep, this must be clearly stated too, and let's shout it from the rooftops:
Tonight's victory in Vancouver will get your Blueshirt blood pumping!
Yes, it's true: The Rangers "only" played their eighth game of the season (nearly 10% of the schedule) on Saturday, October 28th, but even so – tonight's 4-3 overtime win against the Vancouver Mother Canuckers was their best win of the season.
Hands down.
Sure, some may look at the blowout wins over Buffalo and Seattle and then determine that one of these two contests was the Rangers' best victory yet, but at the same time – were the Blueshirts ever really challenged during these two games?
Tonight's thrilling takedown?
With their backs against the wall, the Blueshirts pulled off their first true comeback win of the season.
Following the win tonight, where I even saw a beat reporter that I actually respect, and we all know that I don't respect many of them (Johnny Lazarus), proudly proclaim that this was a "STATEMENT GAME," and with many residents of Rangerstown, USA supporting that opinion too – I'm not so sure if I'd go that far – because after all, they beat the Canucks, one of the worst teams from last season.
(And to really make a statement – then blow out the Devils!)
So after saying that, why do I feel like tonight's game was the best win yet of this young schedule?
Easy, and for many reasons, including, but not limited to, the following:
— Historically, and where even the Rangers, from both past and present (and where this will also continue to be the case in the future too), have admitted that the Western Canadian road-trip is the toughest trio of games on the schedule – "Lavy's Lot" became the first Blueshirts' team to sweep this trip since the 2014-15 Presidents' Trophy team.
— And let's not forget, that following an unacceptable, horrific and putrid home loss to the Nashville Predators; the Rangers then darted off some 3,000 miles away to Seattle and kicked off this current five-game road-trip, the longest road-trip of the season, with a big-time blowout win, a win so big, that it knocked out the power at the Climate Pledge Arena.
— As a result, these 2023-24 Rangers are not only on a four-game winning streak, but they can also become the first team in franchise history to win a five-game road-trip where Seattle was one of the opponents!
(I talked about this fugazi stat on Thursday night – but ha-ha at the not-even-three-years-old-yet Kraken all that you want, but don't lose the main point – the Rangers swept the three teams in the middle – the hardest annual road-trip of the season.)
— As stated several times before on this site ever since this trip began; I said that this earlier-than-usual road-trip was perhaps beneficial for the Blueshirts, as it would allow them to create chemistry and could also lead to positive team bonding. Four wins later and I think that goal has been achieved.
— I also said that I'd be happy with six points and would be extremely ecstatic about seven points.
Following tonight's resilient win, the Rangers now have all eight of a possible octet of points and can make it a perfect ten of ten on Monday night in Winnipeg.
And even if the Blueshirts lose that game to the Jets one million to nothing – either way – this road-trip has been a success of epic proportions.
But alas, and in both my present state of Buffalo Trace influenced intoxication and Blueshirts' inspired euphoria, I must go back to my daily and season-long disclaimer.
Say it with me:
"WHATEVER THE RANGERS DO IN THE REGULAR SEASON DOESN'T MATTER. THEY CAN ONLY BE JUDGED BY WHATEVER THEY DO IN THE 2024 STANLEY CUP PLAYOFFS!"
---
With that disclaimer now out of the way, and if you're a regular reader, then you already know the following about me:
I was not high about this club going into this season (and where if you have no expectations then you can't be disappointed), and my glass, once overflowing the brim with optimism, was completely shattered to a billion pieces following the 2023 Stanley Cup Playoffs loss.
Akin to a dead pet (I've been through this painful process many times in my life, so I'm talking from experience and not making a joke here) – I can't let go of, nor forget about either, that tragic loss to the Devils.
The only way to exorcise those demons, or "devils," is by winning the Stanley Cup in 2024.
However, and as I continue to talk out of both sides of my mouth (but I think I'm making sense here, but what do I know, as it's now 1:40AM EST as I write these words) – I would rather experience these highs all season, instead of being in a perpetual state of "UGH."
But one thing that I won't tolerate, nor sit idle about?
Following every win, where some (and definitely not all) of you guys and gals write some version of the following:
"GERARD GALLANT WOULD HAVE LOST THIS GAME. LAVY IS GOD. SYSTEMS, SYSTEMS, SYSTEMS! I JUST LEARNED WHAT A LEFT WING LOCK WAS YESTERDAY!"
Then again, I think only Mollie & Wince said the comment about the "left wing lock!"
More on Gallant vs Laviolette below, but really – that debate is just an afterthought (sometimes media-driven too), and not even a secondary or tertiary story right now – even if some would suggest otherwise.
Plus, you can't even truly argue one side or the other at this moment in time – but I've already shared with you my daily disclaimer!
---
To go back to what I said above; in my eyes, this was the best win of the season, and what impressed me the most about the Rangers into the wee hours of Sunday morning was the EFFORT.
The fourth game of a long road-trip would be an easy excuse to make had the Blueshirts lost tonight.
Not only were the Rangers pretty much outplayed whenever at 5 x 5, but they also didn't test back-up goalie, Casey DeSmith, that much either.
But they never gave up, even if the phrase that no athlete abides by, "scheduled loss," was on the tip of your tongue.
A sign of a good team is one that can win in many different ways – an old cliche that I've used many times before on this site in the past.
However, these words still remain true.
This win didn't come easy tonight, which is why I think that both the players and the head coach will appreciate it more.
At least I know that I do!
On a night where they couldn't get much going at full-strength, the Rangers scored three power-play goals in regulation, then scored a three vs. three goal in overtime to seal the deal.
More impressive than the special teams? (Mainly because despite their three power-play goals, there were also several brain farts, including a short-handed goal allowed.)
The eighteen blocked shots, where new Ranger, Nick Bonino, led the team with five blocked shots in total – including on one shift where he blocked three shots in rapid succession.
Of note: I'm pretty sure that the Rangers are off on Sunday. However, if they were to practice, then I wouldn't be surprised to see the team's official Twitter account send out the following message:
"Nick Bonino did not participate at practice today (maintenance)."
Also of note?
I hope the Blueshirts have an ice bath on their plane too!
---
There's a lot to get into tonight, and where I'll save the rest of my thoughts from this huge two-points netted in the standings for the first place Rangers during the GAME REVIEW.
At this time, let's cover all of the news that preceded this game, and thank the hockey gods, as it's now 2:00AM as I write these very words – there's not much.
Up first, a topic that seemingly most fans/people have an opinion on these days, fashion!
But at least we're talking about team-issued jerseys – and not rainbow colored gear!
Baby steps!
---
In news that's really important (and even life-or-death) to some people, while being of no consequence to others; images of the Rangers' latest third jersey leaked on Friday.
It should also be stated that these are NOT the threads that the Blueshirts will be wearing during their novelty game against the Islanders at Giants Stadium later on this season.
Here's what the Rangers will be wearing later this season, and where it hasn't been reported yet when the team will be ditching their traditional diagonal lettered jerseys for this John Ferguson era inspired throwback:
For yours truly, I don't care what jerseys the Blueshirts wear -and I also know that this opinion isn't shared and is in the minority.
As noted about 9678569568958567896 times before in the past – the Rangers can wear pink tutus on the ice for all that I care.
The only thing that I care about is WINNING.
Plus, as someone who largely wears a t-shirt, Wrangler jeans and a hat every day – I'm not exactly what you'd call fashionista, so in other words – who am I to judge?
(But I can tell you that Sieve Vagistat wears the cheapest suits that I have ever seen!)
As you'd expect, the reaction to these jerseys was wide-ranging, featuring extreme opinions from either end – and like it always is whenever the Rangers release a new design.
While some fans claimed that this was the best third jersey that they've ever seen; others, and predictably at that, stated that this was the worst jersey that they've ever seen.
Like anything else, you just can't win and satisfy everyone!
No matter how you feel about this tribute to one of the worst eras in Blueshirts' history (but not the worst – the Post World War II years were the absolute worst times in Rangers' history), everyone can agree on the following – this is all just a money grubbing cash grab.
Not only will these jerseys fetch $200+ a pop from the team's personal ATMs, aka the fans; but other merchandise, such as hats, t-shirts, hoodies, etc, will also be sold featuring this color scheme.
And just to think – the Rangers will also be selling a fourth jersey design this season – whatever they wear against the Islanders in the outdoor game.
$omeone has to pay for that M$G $phere that went two billion buck$ over budget.
---
Following going 2-0 in Alberta on Thursday night; on Friday, the Rangers, now in Vancouver, B.C. (and boy, does that city have a lot of history with the Blueshirts – and I'm not just talking 1994, as that's where Lester Patrick and other Ranger luminaries first made their names in the hockey world) practiced.
The only news from the practice was that K'Andre Miller took a powder, as he was listed as being out for "maintenance."
Obviously, whenever you see the word "maintenance" being used, it means that the player is fine and will be good to go come game time.
And that's what happened come Saturday night in the City of Lights.
Here's the first of two "LAVY LOUNGES" prior to the Rangers' contest against the Mother Canuckers:
---
As usual – nothing of real significance was said here – and especially with Tweedle Dee and Tweedle Dumbass, Mollie & Wince, asking the questions.
A day later, game day; the Rangers held an optional practice, where even less took place when compared to Friday's skate.
Here's what Lavy said on Saturday morning (PST):
---
Again, nothing of note took place during this "LAVY LOUNGE," outside of the head coach confirming that he'd be opening up a can of Miller when making his line-up.
And with just 1:12 remaining in overtime, those MILLER TIME suds sure gave the Rangers a "high life."
This also meant that for the fifth consecutive game, the new bench boss in-town was running back the same lines and pairings – and where barring injury – you'll see this same, and now regular, line-up on Monday night against the Jets too.
---
Here was Laviolette's line-up for the eighth game of this 2023-24 season:
FIRST LINE: Kreider/Zibanejad/Kakko
SECOND LINE: Panarin/Chytil/Lafreniere
THIRD LINE: Cuylle/Trocheck/Wheeler
FOURTH LINE: Goodrow/Bonino/Vesey
FIRST PAIR: Lindgren/Fox
SECOND PAIR: Miller/Trouba
THIRD PAIR: Gustafsson/Schneider
STARTER: CZAR IGOR
BACK-UP: QUICK
HEALTHY SCRATCHES: Pitlick and Jones
---
BOX SCORE time.
The following graphics and information come from ESPN.com:
SCORING:
PENALTIES:
TEAM STATS:
GOALIES:
| | | | | | | | | | | |
| --- | --- | --- | --- | --- | --- | --- | --- | --- | --- | --- |
| SA | GA | SV | SV% | ESSV | PPSV | SHSV | SOSA | SOS | TOI | PIM |
| 24 | 4 | 20 | .833 | 11 | 6 | 3 | 0 | 0 | 63:48 | 0 |
| | | | | | | | | | | |
| --- | --- | --- | --- | --- | --- | --- | --- | --- | --- | --- |
| SA | GA | SV | SV% | ESSV | PPSV | SHSV | SOSA | SOS | TOI | PIM |
| 33 | 3 | 30 | .909 | 18 | 9 | 3 | 0 | 0 | 63:22 | 0 |
---
At 9:30:00PM EST, I tuned into the M$GN, and once there, Sieve Vagistat was flying solo again, as Henrik Lundqvist won't be back until Monday night – and he can't get back soon enough.
At 9:30:01PM EST, I flipped back to the World Series, where yes, and this is such a Mike Francesa caller thing to do – I am rooting for the Rangers.
After all, it felt nice on Friday night to write for the first time since 2014, "The Rangers are only three wins away from a championship!"
Of course, the hockey Rangers had lost three games before securing their first win in that 2014 Stanley Cup Final – but I've already told you how much PTSD I have whenever I see Jonathan Quick suit up for the club, including as recently as this past Thursday!
I have no clue what the seven-foot jackass said on the pregame show, but I'm sure that when he was promoting his bullshit fake news ANALytic company, regaling you with tales of his epic 46-game career and pushing all of his made-up EXPECTED stats on viewers too, that the following FUN FACTS weren't brought up:
— The Rangers got to see their OLD FRIENDS, Kevin Hayes, Pavel Buchnevich and Sammy Blais, at the team hotel on Saturday morning, as the Blues had played the Canucks the night before. One reader who was at the game tonight saw players from both teams having breakfast together, as the Blues were leaving the city while some Rangers were getting ready for the optional skate. (He didn't take a picture though, as he didn't want to invade their privacy, nor disrupt them while they were eating. Classy.)
— The Canucks have a few former Blueshirts on their payroll too, where outside of the well-known J.T. Miller, Phil Di Giuseppe is also part of the team – and wow – he's logging twelve plus minutes a game as an everyday player some 3,000 miles away from not only The Big Apple, but Hartford, Connecticut too – his former primary residence while under the Rangers' umbrella.
— A former Ranger not on the Canucks' payroll any longer, but who the franchise has his NHL rights? This guy: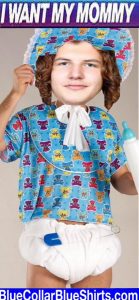 Ah, the great Vitali Kravtsov, who many people told me was the second coming of Pavel Bure, while I suggested that he was the second coming of Pavel Brendl, is no longer in North America.
Once being told over the summer by new 'Nucks bench boss Rick Tocchet that he would need to work hard during the hot months in order to earn his ice time – Kravtsov, and without wasting a second – immediately grabbed his diapers, baby bib and sippy cup – and then flew right back home to Mother Russia.
Today, and outside of wasting away in the inferior KHL – he's also safely nestled under his mother's bosom every night.
I just wish that the people who told me (and there were many of them) that Kravtsov was going to be the next big thing, would also tell me that they were wrong – dead-wrong at that – and as many times as they pumped up this loser to me.
I am to suspect that these frequent apologies won't be offered!
---
Come 10PM, I returned to the M$GN – and where I thought that I had tuned into SportsNet, the Canucks' hometown broadcast.
You see, to open the M$GN broadcast, Sam Rosen, and as if he had ingested 7896786969868 Viagras, just gushed, and at one point, openly wept in admiration, about his devotion to Quinn Hughes.
Micheletti's response?
Using the word "FABULOUS" three times.
And all of this took place before the game even began – and then only grew worse once play commenced.
Speaking of this game commencing?
GAME REVIEW time!
---
FIRST PERIOD
In a netminder rematch from the first-round of the 2022 Stanley Cup Playoffs; both CZAR IGOR and Casey DeSmith took their places on either end of the rink – and come seven goals allowed and nearly 64-minutes of action later – only one 5 x 5 goal was surrendered by the backstops.
At the 53-second mark, CZAR IGOR made his first save of the game on a tricky shot from Tyler Myers – a player that would later burn him. As this was going on, and I guess give Rosen some credit here, as he tried to thickly apply his black magic, his voodoo, his all-out REVERSE CURSES, on Mika NoGoalsejad.
And wouldn't you know it – this spell casting actually proved true – even if the goal that the Swedish DJ spun was more lucky than anything else – but hey – they all count the same – and more times than not – all it takes is one goal to get it all rolling.
---
A minute after CZAR IGOR's initial save, the 1:53 mark, Rosen proudly belted out, "GOOD PACE TO THIS GAME JOE!"
Funny enough, while this was an idiotic comment to make not even two-minutes into the game – Rosen's wizardry would prove true once again!
With 16:45 remaining, DeSmith made his first stop on a mini TROUBA BOMB from behind the circles. Then, and in a rare occurrence, Rosen actually spoke about the Rangers and mentioned that tonight marked Barclay Goodrow's 500th game in the NHL.
What a feat – especially for an undrafted player, who today, doesn't only have two Stanley Cups to his name (and arguably, he was part of one of the top ten third lines in NHL history too), but is now a multi-millionaire many times over.
Congrats to Goody – and if you're one of these idiots still complaining about his contract, then please, and I beg of you, you don't need to tell me about it – as I mute all such moronic activity on Elon Musk's app!
Down to 15:30 remaining, Elias Pettersson blew by the Rangers, most notably Filip Chytil, and where it looked like the Czech had committed an infraction (holding, hooking, roughing, whatever) upon the Swede. However, no call was made here – and the topic of officiating from this game was also a sore spot for Canuck fans – and they had every right to feel that way.
But more on the game winning goal once we get there.
Another poor display of officiating from these bozos parading around in Foot Locker employee gear?
When just nineteen seconds later, and while still on the same shift, Trouba was boxed for "roughing" Pettersson.
All that the Rangers' captain did was clear the crease, as E.P. was crowding Igor – you know, a routine hockey play – and a play that never earns anyone a penalty during the playoffs.
But again, the officials – who continued to showcase their ignorance during this Rangers' penalty kill.
During the Canucks' zone entry, one of them (I forget who, sorry it's now 2:40AM), was blatantly offside. I'm not talking about being offside by a hair – as this player was as off as the hairlines of both Sam and Joe.
No matter – play on.
While the Canucks didn't score here, where had they, it would've been overturned/reversed (then again – I can't say that with confidence either, especially after watching this game and the horrible video review that took back Will Cuylle's goal against the Oilers); this is all a moot point after the fact.
With twenty-seconds remaining on the kill, Adam Fox, a stud tonight, finally cleared the puck thus thwarting this dangerous attack.
Following the successful kill, and with 12:20 to go; Dakota Joshua cross-checked Trouba from behind and then tried to ride him as if he was a drunken sorority girl hopped up on White Claw on a mechanical bull.
I know what Joshua was going for here – and so did Trouba – as the savvy captain didn't take the bait.
Rather than calling out a pair of off-setting two-minute minors; instead, the Rangers received their first power-play of the game, as Trouba restrained himself from punching Joshua's lights out.
In the first minute of this power-play, Chris Kreider hit a post and Vincent Trocheck just missed.
Come 11:25 remaining, and with 65-seconds remaining on this power-play; Filip Hronek airmailed a puck over the glass, which then gave the Rangers a 5 x 3 power-play – and you know what I say about 5 x 3 and four-minute power-plays – if you don't score on them, then you deserve to lose.
The Rangers would receive both of these advantages tonight – and scored on both.
Now with two more skaters on the ice than their opponents – a Mika one-timer hit the post – so at least he was getting closer to the net. Then again, he took 97578678956789 one-timers in this game and where some of them landed in Canada's Northwest and Yukon territories.
One may have even hit Sarah Palin and Ron Duguay in their Alaskan digs.
But with 10:42 remaining, "THE BREADMAN," moldy no more, continued to have his yeast rise – albeit in the regular season:
I like Shaved Head Panarin. He's shooting a ton this year and making it look easy. #NYR pic.twitter.com/VyqiNkiHoY

— David 🏒 (@DaveyUpper) October 29, 2023
---
1-0, GOOD GUYS – an absolute rip from #10 in Rangers' white.
Following the goal, and with ample time still remaining on the Hronek penalty; the PP2 unit (Lafreniere/Chytil/Kakko/Gustafsson/Wheeler) came on and didn't put one shot on goal – a trend that continued throughout – and where only Gustafsson had any offensive presence.
And while I'll have some closing thoughts on Gallant vs Laviolette later, a teaser here:
Anytime Kakko (1 SOG), Chytil (0 SOG, -1) or Lafreniere (1 SOG) do anything remotely good, I'm soon bombarded by Lavy's Honeymooners, where they all say, "GALLANT DIDN'T KNOW WHAT HE WAS DOING. LAVY IS SCOTTY BOWMAN 2.0!"
Whenever this first-round draft pick triad do their "Casper The Friendly Ghost" act, and where Chytil wasn't so hot tonight either – then I never hear these Gallant vs Laviolette comparisons.
I wonder why?
Also lost in such talk?
Laviolette is getting these players, no longer kids, with more experience under their belts.
Maybe Gallant was preparing them?
But of course, anyone can use any stat and game to serve their own narrative, but my narrative remains pure and true – let me see what this team does in the playoffs – but I'm damn sure going to enjoy these big wins in the regular season!
---
The special teams, now two-for-two, swung this period in the Rangers' favor.
You could also notice the improvement from these last three road games.
In Calgary, the Rangers spent fifteen minutes chasing around the Flames before turning it on. In Edmonton, they did the same with the Oilers for the first twelve minutes.
Tonight, and once killing Trouba's penalty – it was off to the races – although what took place during the final forty minutes in Alberta was the complete opposite in British Columbia – but it did make for a more exciting game.
Now up 1-0, the Rangers then kept the home team to the yellow paint that's painted at the bottom of the boards.
Gustafsson, who again, is the best off-season signing that Drury made, fired two hard shots, where either could have been a goal, but to the credit of former Penguins' goalie, DeSmith – he made the pair of slick saves.
Come 6:35 remaining – the usual – the mandatory boneheaded penalty committed by NONNA TROCHECK'S BAMBINO, as this time – Sean Avery's favorite #16 in franchise history slashed Carson Soucy – and while the Rangers were attacking.
I swear – they must be giving out the wettest of blowjobs in the penalty box, because if not, then I can't explain what Trocheck's fascination is with committing all of these bad and unnecessary penalties.
The Rangers' PK was spectacular here – as they blocked every shot imaginable.
This was truly a team-wide effort, and on a night where CZAR IGOR didn't have his "A-Game," the Blueshirts were there for him – just as he's been there for them during the majority of his career.
After Rosen reminded us that Anthony Beauvillier once played for the Islanders, and no less than six-times during the broadcast to boot; CZAR IGOR, who stopped the former Fishstick, finished this PK with only one save.
Now returned to full-strength, Shane Pinto hit his over prop bet on how many times Rosen would praise Hughes (-89678678678967896), as the affable announcer has the most raging of erections whenever seeing a Hughes' brother with a hockey stick in his hands.
With (Austin) 3:16 remaining, Rosen also relayed to us that Braden Schneider's parents, who attended the pair of games in Alberta, needed five-and-a-half hours to return home on Thursday night, and due to their long car ride, didn't attend tonight's game.
What Rosen failed to mention when giving us this riveting information is what rest stop Papa Schneider pinched a loaf at.
"OH JOE, THOSE TIM HORTON TOILETS JOE! JUST DON'T DRINK AND DRIVE LIKE HORTON JOE!"
Down to a minute remaining, we were reminded that Kakko was playing tonight, as his lone shot on goal was stopped by DeSmith.
1-0, GOOD GUYS after twenty-minutes of spirited play.
Here's what I said at the time:
1-0, GOOD GUYS, after 20. 1P Thoughts:
— These first periods continue to improve – little erratic to start but then take over. The penalty kill kicked it all off.
— This is very impressive – considering this is taking place in Western Canada – the most grueling road trip of…

— BlueCollarBlueShirts (@NYCTheMiC) October 29, 2023
---
SECOND PERIOD
After Sam asked Joe his usual question, "SECOND PERIOD, WHAT DO YOU LOOK FOR HERE JOE?" where Joe didn't reply with, "IF I CAN SAY THE WORD FABULOUS MORE TIMES THAN YOU PRAISE HUGHES SAMMY!" – the middle frame began – but not before Rosen could jinx the Rangers – as he read off every positive Blueshirt second period stat imaginable, while also rattling off every negative second period stat on behalf of the 'Nucks.
Long story short?
The Rangers didn't score a goal in this period.
The Canucks did.
Two things that you wouldn't think would have taken place after listening to Rosen!
---
It's now 3:15AM and I sure am lollygagging and taking my time – and I need to move quicker.
After all, I have a $500 bet on the Tigers tomorrow – you know – my seven-year-old niece's Little League team – and where the BATTLE OF THE CATS, Tigers vs Jaguars, takes place at 10:30AM EST.
Minga.
But I can't short change this game, as it's a win like tonight that keeps me and this site going.
If I wanted to be lazy, then I'd just start a podcast!
(The reasons why I don't have a podcast, despite numerous offers and like how 97867896896896 others do? One, I believe in the written word, and historically, future generations aren't going to go back and search for old podcasts – but they will read old articles. Heck, I do this today, both for pleasure and whenever doing research for one of my books. Two, I just like writing, and as you can tell by these long-winded blogs! Three, I feel that I have nothing new to offer in that world, as both "The Blueshirt Underground Show" and "2 Guys, 1 Cup" are the only podcasts that any Ranger fan truly needs. No one does it better than them – and I'm a dedicated and loyal listener to both!)
---
After Mika almost took my eyes out with another one-timer that came nowhere close to DeSmith in the barrel; down to 18:24 remaining, Fox wrapped around the net and almost set up a goal, but the 'Nucks snuffed out this attempt.
As the period progressed, not only were the Rangers clogging lanes like a trucker in a NYC bicycle lane that Sean Avery is in (I was going to say my booze-filled arteries, but I'm on an Avery kick tonight); down to 15:30 remaining, and during two consecutive elongated Canuck attacks in the Rangers' zone – this is when Nick "Bela Lugosi" Bonino blocked three shots in succession.
Yeah, Ryan Lindgren will always be our ULTIMATE WARRIOR, but this was top-level stuff from Bonino – who as mentioned earlier this season – is to Laviolette as Goodrow once was to Gallant.
Come 13:20 remaining, Lafreniere had Panarin sprung and off to the races, but turned the puck over.
Gallant's fault, am I right?
As a result, CZAR IGOR stopped Beauvillier right after.
As we hit 12:55 left to play, Sam Lafferty pulled a Trocheck on Trocheck himself, as he committed an o-zone penalty, an earned interference call.
This was a sloppy power-play, and where the "highlight" of these two-minutes was when Gustafsson prevented a breakaway shorthanded goal for the home team.
Now down to 8:45 remaining; Lafreniere, leading a Rangers' 3 x 2 odd-man rush, stalled, allowed the 'Nucks to catch up, and as a result – what should've been a shot on goal, if not a score itself, wound up being a puck deflected into the stands.
That damn Gerard Gallant!
Once returned to play, the Canucks had a 3 x 2 odd-man rush themselves, where Fox made a diving block. While he didn't block the puck, he impeded and stunted Pettersson's progress, and right after that, his partner and BFF, Lindgren, blocked a shot with his back turned.
Come 6:00 remaining and with CZAR IGOR's shutout still in-tact – those infamous words:
"Too many men on the ice, Rangers."
CZAR IGOR was fantastic here, but his shutout wouldn't remain during this Canucks' man-advantage.
After a home team puck luck bounce that almost trickled in, only for #31 to kick out his left skate at the last second to prevent it from crossing the goal line, and where right after that, he then got onto his back, and unlike a cheap whore, kept his legs closed to prevent a rebound goal too; with just three-seconds remaining on the Rangers' PK, former Blueshirt, JT Miller, while screening CZAR IGOR, tipped in a puck sent his way from the point.
1-1.
There was nothing that CZAR IGOR could have done here, outside of having some luck himself.
Down to 3:37 remaining, Panarin blatantly held Pius Suter at the blue line, penalty box side.
The Rangers had a shot at scoring a short-handed goal, as the two BFF's, Kreider and Mika, had a two vs one odd-man rush. However, and once inching towards DeSmith – Zibanejad, from 36-inches away, didn't even hit the net.
What's that Foreigner song?
Oh yeah, "COLD AS ICE," and looking to sacrifice some goals!
At least the Rangers killed this 'Nucks power-play.
Down to 4.7 seconds remaining and following a Vancouver icing; I was surprised that Lavy didn't pull CZAR IGOR for an extra attacker and with no chance of the Blueshirts' opponent scoring a goal.
Who knows what would have happened had he done so, as Trocheck won this d-zone draw, which then set up Wheeler for a GOOD LOOK (Hello A.V. – who coached both of these teams and belongs in the HOF one day), but DeSmith avoided giving up the last second strike.
Tied at one goal piece after two periods.
Five goals were soon to be in our future.
Here's what I said at the time:
1-1 after 40. 2P Thoughts:
— Don't understand why people are up in arms right now. Yes, my season long disclaimer and blah-blah-blah but this is the hardest game of the trip and they are playing hard. Can't question the effort at all.
— Back in the day, NHL rookies were hazed…

— BlueCollarBlueShirts (@NYCTheMiC) October 29, 2023
---
THIRD PERIOD
In two words, this final frame was "batshit crazy" – and assuming that "batshit" is only one word too!
A one word description?
Entertaining.
---
To begin the period, our bumbling and bewildering announce booth once again read off every positive Ranger and negative Canuck stat in the world.
The Rangers, who had only given up one goal in third periods during their seven games played, gave up two in this period.
The Canucks, and as you can figure out, after having some woeful final frames, scored two goals, including a go-ahead, and later, a tying tally.
Also at this time?
Rosen said, and I quote, "OH JOE, YOU'LL HEAR THE NAME OF QUINN HUGHES MANY TIMES IN THE YEARS TO COME."
That year is already here, because as already mentioned as many times as Rosen praised the young d-man – Sam would not stop talking about Mr. Hughes tonight.
Down to 18:10 remaining, a long Rangers' attack concluded when Chytil lost the handle. A minute later, Jimmy Vesey was boxed for tripping Nils Hoglander.
Thirty-seconds into this kill, CZAR IGOR came up with a big save, while Lindgren prevented a rebound goal.
With 1:12 remaining on the man-disadvantage, we had our first and only scrum of the game, as JT "No Relation to K'Andre Joe" Miller and Lindgren went at it. Miller's pal, CK20, broke up the scrum and smiled when doing it.
No off-setting penalties were called here, which was amazing, considering the stuff that was called tonight.
As the Rangers remained on the kill, Zibanejad and Trocheck had a 2 x 2 opportunity, but the dee-jay spun another turnover.
The Rangers survived this Canucks' PP.
Now down to 13:20 left to play, CZAR IGOR made another big save, this time on Connor Garland.
As we hit 12:00 remaining, the Rangers' first line and third pair had the longest shift in the 'Nucks zone yet, which led to a penalty drawn. However, the delayed penalty attack was concluded as Panarin, in a rare miscue, skated into Kreider at the blue line.
However, this penalty, now enforced, a double-minor on Di Giuseppe for drawing Zibanejad's blood with an unintentional high-stick, led to several wild-and-crazy moments.
The first two minutes of this Rangers' power-play was the worst two-minutes of a man-advantage this season.
Just 25-seconds into this 'Nucks penalty kill, they scored a short-handed goal, as Tyler Myers beat CZAR IGOR on a shot that the Russian netminder would most likely want back. Still, it was an odd-man rush goal.
2-1, bad guys.
Following this Zibanejad/Fox flub, which led to the first Rangers' SHG allowed of the season; the PP2 came on – and then they too immediately gave up a 2 x 1 short-handed odd-man rush, where this time, CZAR IGOR saved their bacon.
As this putrid power-play continued – a break.
With 1:31 remaining on the back-end of the double-minor, the Canucks were banged for having too many men on the ice – as both teams took one of these maddening penalties tonight.
As a result, another 5 x 3 power-play for the Rangers, where once again, "THE BREADMAN" was the catalyst in the goal scored:
Adam. Fox. Is. Elite. pic.twitter.com/fAZU5Gy1kz

— Sportsnet (@Sportsnet) October 29, 2023
---
2-2, as Panarin made a perfect pass to Fox in the crease, where even I think I could've scored this goal – and no matter how much whisky was in my "system!"
However, the Rangers' remained on the power-play and had ninety-seconds remaining on the man-advantage.
They took advantage of this opportunity, as with 6:36 remaining, and in his eighth game of the season, Zibanejad, following all of his 78967575765675 one-timers to anywhere but to the back of the net, received a gift from Fox and was able to finish the job:
Guess who's back? Mika's back. Tell a friend. 🚨 pic.twitter.com/qjGUjYREgO

— Sportsnet (@Sportsnet) October 29, 2023
---
3-2, GOOD GUYS, and where at the time – I thought this would hold up as the game winner.
There's no reason to delve into Mika's troubles again, so for now, I'll just say that you hope this goal gets him going – and really – I think it will. He's always prone to these slow starts, but he's also prone to going buck-wild as the season progresses.
In other words, I think his final regular season numbers will be where most people expect them to be at – and come the playoffs?
Well you already know about my disclaimer!
Just eight-seconds after the go-ahead goal, Chytil took a penalty that even Trocheck would shake his head at, as the Czech gloved the puck.
Dumb, dumb, dumb.
The Rangers, behind a revitalized Mika and Goodrow, with the latter singlehandedly killing off a quarter of this penalty on his own; escaped these two minutes without surrendering the tying goal.
However, and no less than ten-seconds later once returned to full-strength; Carson Soucy, from the left point, scored a seeing-eye goal against CZAR IGOR and with 4:18 remaining.
This was a bad goal to give up.
3-3.
It was also the first time that the Rangers had blown a third period lead this season – which to be fair – was going to eventually happen at some point during this 2023-24 campaign.
And when that inevitable moment happened, as it did here?
It was always going to be about the Rangers' response.
Both Kreider and Fox had a chance to put away this game during regulation. Ditto Di Giuseppe.
But as the horn went off to signal the end of regulation, we remained tied with each team having a field goal on the board.
Overtime was required.
Here's what I said at the time:
3-3 after 3, first OT game of the season:
— Sure, some things sucked, but you can't question the effort and that's what counts. Fourth road game in a row and the toughest of the schedule. Be happy.
— 7 points on this road trip is a HUGE WIN. Of course, 8 would be nicer lol…

— BlueCollarBlueShirts (@NYCTheMiC) October 29, 2023
---
OVERTIME
This bonus period, the first for the Rangers this season, was just all-out insanity.
Prior to Miller saying "GAME OVER;" here's some of the fast-paced frenzy, non-stop perilous action that felt like a Lucha Libre wrestling match on crack:
— Mika/Fox/Kreider was Laviolette's first trio.
— Trocheck/Miller/Kakko was Lavy's second trio, where I, and everyone else at the time, was wondering this – "Is Panarin injured?"
After all, why wasn't the Rangers' best forward on the ice?
— But it was soon revealed why this was the case:
Laviolette was going to use two d-men on every d-zone draw – as we even saw the likes of Ryan Lindgren out there – a #55 who never plays in these situations. However, once the Rangers gained possession, out was Lindgren and in was Panarin.
— CZAR IGOR, and say what you want about the tying goal allowed, saved his best for last.
— After making three ROBBERY saves on Kuzmenko, where fliers with "WANTED FOR ROBBERY" are now being passed around in Vancouver; CZAR IGOR came up with one more, this time on Beauvillier.
— Should have this game ended in regulation?
Perhaps – but either way – it was CZAR IGOR's Vezina-level goaltending that kept the Rangers alive in overtime – and as a result, also gave us a healthy dose of MILLER TIME:
K'ANDRE MILLER CALLS GAME ‼️

After a rollercoaster of a game, the Rangers end up with the two points in Vancouver following the @SUBWAYCanada OT winner. pic.twitter.com/VcZsBluQs8

— Sportsnet (@Sportsnet) October 29, 2023
---
4-3, GOOD GUYS, your final!
What. A. Goal.
On this play, Kreider created a turnover, blazed up the ice, stalled, stalled and stalled, spun around, went towards the net – and BOOM – found Miller in the circle to the left of DeSmith for the no-doubt-about-it one-time banger!
(And yes, while Miller gets the GWG next to his name – this play was all about CK20 to me.)
And yep, this too:
Canuck fans have a gripe – as it did look like Kreider had tripped a 'Nuck when forcing said turnover.
I am fair, yet firm, which is why I mention that Kreider could have been boxed here.
At the same time, and every Ranger fan knows this – and as we have recently seen with four overturned goals this season – the referees aren't exactly the Blueshirts' best friends either.
After all, how often have you seen this graphic:
What. A. Win.
To bookend this blog – the Rangers had every excuse in the world to lose this game, yet, and via their resiliency, team effort and passion – found-a-way to win – and where "FOUND A WAY" also formerly described Gallant's 2021-22 team.
I don't want to go too long on this, because I have already brushed upon this already – but for everyone who still continues to bury Gallant for every little thing, while also praising Laviolette for anything that they can find – did you all forget about "THE TURK" and what he did here?
While I have explained all of these stats in the past (eras being the crux of the issue); Gallant's .652 points percentage ranks him third-overall all-time (Mike Keenan, .667% and Emile Francis .665%), while in addition, Gallant's .604 winning percentage ranks him second-best in franchise history too (Keenan, .604%).
Furthermore, not only did many Rangers have the best seasons of their career under "THE TURK," Gallant also became the first coach in franchise history to lead the Blueshirts to consecutive seasons of 100+ points. (And yes, this stat is also era-influenced.)
Did I mention that Gallant's Rangers also recorded the most comeback wins in a single-season?
Oh, and I almost forgot.
In 2022, Gallant was named as a Jack Adams' finalist – an award that he should have won – and a vote decided PRIOR to his upstart team working their way to the 2022 Eastern Conference Final.
Despite all of this – some fans will state, if not truly believe, that Gallant had no clue what he was doing.
And yep – while I'm not rooting for this to happen any time soon – it's only a matter of time before the same fans who were once enamored with Gallant turn on Laviolette too.
Somewhere, I still hear the faint echos of "FIRE DAVID QUINN AND HIRE THE BEST COACH AVAILABLE!"
That all said, and in the effort of full disclosure in case you don't know this already – I wasn't a fan of the Gallant firing, nor the Lavy hiring.
But I'm not rooting against him either.
And to be fair – the last coach that I wanted the team to fire was Bryan Trottier – and that's now over twenty-years ago.
As far as Lavy vs Gallant goes?
I go back to my disclaimer.
Win the Stanley Cup.
And this too – Gallant, if you need a press agent, then I'm available!
IN TURK WE TRUST!
---
Speaking of Laviolette, here's the coach that's already made some Ranger history with this sweep of Western Canada tonight – and who could also make even more history with a win over the Jets on Monday:
---
You couldn't have asked for a more exciting win – and hopefully many of you saw it live too!
Enjoy your football Sunday.
Prediction from a Big Blue fan?
Jets 16 – Giants 9
See ya Monday night, and at a more reasonable hour!
PLUGS TIME! (Buy a book and support my Rangers' induced therapy bills. After all, I don't run ads on this site!)
---
My fourth title and tenth book is now available for preorder!
"The Top 100 Villains of New York Rangers History," is now available for preorder.
For complete information, please visit: https://bluecollarblueshirts.com/rangerkillers/
---
My second plug of tonight's blog – the mandatory plug for my book, "The New York Rangers Rink of Honor and the Rafters of Madison Square Garden."
As mentioned previously, the book is now available in hardcover, in paperback and in Kindle formats. To purchase a copy of the book, visit this link:
https://www.amazon.com/Rangers-Rafters-Madison-Square-Garden-ebook/dp/B09CM5N2WD
For those still looking for signed paperback versions of the book, I have re-ordered more copies. I now have a few signed copies for sale at $25 a pop (includes shipping price) through me directly. Here is all the information on that:
---
My four-volume set of books, "One Game at a Time – A Season to Remember," is a game-by-game recount of the Rangers 2021-22 campaign.
My second title as an author, "One Game at a Time – A Season to Remember," is now available in eBook, paperback and hardcover formats.
To obtain signed copies, visit: https://bluecollarblueshirts.com/onegamebook/
To purchase all four volumes on Amazon, visit: Amazon.com – "One Game at a Time."
---
The greatest volume-set of books on Rangers' history today!
"Tricks of the Trade – A Century-Long Journey Through Every Trade Made In New York Rangers' History," a four-volume set of books that meticulously covers every trade made in franchise history, is now on sale.
All four volumes of the title can be purchased on Amazon.com and are presented in three different formats – eBook, paperback and hardcover.
To purchase Volume I: Conn Smythe (1926) – Craig Patrick (1986), visit Amazon.com
To purchase Volume II: Phil Esposito (1986) – Neil Smith (2000), visit Amazon.com
To purchase Volume III: Glen Sather (2000-2015), visit Amazon.com
To purchase Volume IV: Jeff Gorton (2015) – Chris Drury (2022), visit Amazon.com
To purchase signed copies of all four volumes, visit https://bluecollarblueshirts.com/tricksofthetrade/
---
Here are my last few blogs, in case you missed them:
---
---
---
If you haven't already, subscribe to this blog for the next update:
---
Don't forget to order my recently released four-volume set of books, "Tricks of the Trade!"
If you don't order through me, all four volumes are now available on Amazon.com
For more details, check out: https://bluecollarblueshirts.com/tricksofthetrade/
Thanks for reading.
LET'S GO RANGERS!
Sean McCaffrey
BULLSMC@aol.com
@NYCTHEMIC on the Tweeter machine