Greetings and salutations everyone and welcome to another blog here on BlueCollarBlueShirts.com. The New York Giants may have not been able to beat the Jets in overtime, but the Rangers surely did!
On Monday night, and similar to the previous four games that the Rangers had played during this trip, the Blueshirts met another team dealing with unfortunate circumstances, this time the situation surrounding Judy B., the wife of Jets' head coach Rick Bowness – who in some good news – Joe Micheletti informed us during tonight's broadcast that her health was improving.
I'm glad to hear it and the best of luck to the Bowness family. I know that every Jet fan is behind them right now.
And while it's true that of the five cities that the Rangers visited during the past two weeks, it was only the situation in Winnipeg that was most serious; either way, the Blueshirts entered tonight's game with an edge. And once again, they prevailed, and as a result, became the first team in franchise history to ever sweep a five-game road-trip.
Sure, it's easy to make mention that in the Rangers' near one-hundred years of history, there haven't been that many five-game road-trips to begin with (Mollie Walker didn't know this – and this ignorant birdbrain said as much on the Tweeter machine too), as these types of elongated "work-vacations" didn't really start until the 1980s (and especially this particular trip/loop, as the Flames and Oilers weren't around until then either – and as you may have heard – the Kraken haven't even celebrated their third birthday yet too); but either way, this is an impressive feat – and even more so when you consider that the Western Canadian teams were also part of this road-trip – where annually, this is the most grueling road-trip of the season.
(HOLY RUN ON SENTENCE BATMAN! HOLY BUFFALO TRACE WRITING BATMAN TOO!)
But whatever the case, you can only do what's available to you in your own era – and for sure – the Rangers got it done – and they got it done and then some.
But of course, and at this time, my daily season-long disclaimer for this 2023-24 campaign:
"WHATEVER THE RANGERS DO IN THE REGULAR SEASON DOESN'T MATTER. THEY CAN ONLY BE JUDGED BY WHATEVER THEY DO IN THE 2024 STANLEY CUP PLAYOFFS!"
---
As mentioned throughout this five-game road-trip – the Rangers have found different ways to win – a sign of a good team.
Another sign of a good team?
Taking advantage of teams in unfortunate situations.
While I have embraced my role as the Randy Quaid character in "Major League" this season, I also don't want to be a SNL Ranger fan version of "Debbie Downer" either.
That said, I'm just trying to give you all sides of the equation on this site, while also trying to stick true to what I said on Saturday night (https://bluecollarblueshirts.com/102823/ ) – I rather be happy than be in a perpetual state of UGH!
For right now, you have to be completely ecstatic with what you're seeing from the club at the 10% mark of the season.
Now, and with nine games under their belts – only one game of the nine was truly bad.
Following their worst loss of the season, the loss against Nashville, which took place prior to this road-trip, a defeat where the Blueshirts showed no effort whatsoever; that game is now looking more-and-more as an anomaly rather than anything else.
Since that loss (https://bluecollarblueshirts.com/101923/ ), it's like a magic wand has been waved upon them from above – as none of what we saw on that night has taken place since.
Not once during this trip (and the excuses were built-in had it happened) could you ever question the Rangers' effort.
The club, which traveled over 6,000 miles in total (which includes their flight from Winnipeg to the Big Apple), improved game-by-game – and even if the competition wasn't as high as it could've been (especially with the Connor McDavid injury in Edmonton) – they handled all challenges.
It's all that you can ask – and where again – showing effort in all five games was my biggest takeaway from this trip.
Sure, there's always going to be road weariness on a trip this long, and there's also something to be said about sleeping in your own bed too; but during the few rare points of "despair" from these past five games, the "ROAD WARRIOR RANGERS" displayed their resilient and rebounding abilities whenever pressed.
In a way, and no matter what happens next – you'll look back at these five games as the highlight of the season.
After all, these five wins were unprecedented and created franchise history!
But of course, this trip can't be the lone highlight of the season either, and I'll save you from reprinting my disclaimer one more time too – as more than anything else – this needs to be the version of the Blueshirt FAT CATS that we see come playoff time.
While there is still much to be desired from the consistently inconsistent first-round picks (Alexis Lafreniere, Kaapo Kakko and Filip Chytil, where once again, this trio was no good tonight); it's up to the BIG BUCK BLUESHIRTS to deliver – and like a mailman hauling ass during the Christmas season – deliver they did all trip.
A "new" emerging star, one who has joined the likes of Mika Zibanejad, Artemi Panarin, Adam Fox, CZAR IGOR, Chris Kreider and captain Jacob Trouba this season?
A player who also received a handsome contract over the summer, K'Andre Miller, who following his overtime game-winning strike on Saturday night, played his best game of the season 48-hours later in Winnipeg – and not just because he picked up the secondary assist on tonight's game-winner.
And while I've repeatedly mentioned on this site before that the "Three Stars of the Game" is meaningless in the grand scheme of things; Miller was absolutely robbed tonight.
(M$GN gave their three stars to Panarin, Kreider and Zibanejad. Officially, the media mooks gave their three stars to Ehlers, Panarin and Perfetti – as much like the Norris Trophy voting – defensive skills and play are never considered.)
---
As time moves on, this game, one of eighty-two, but also 20% of this five-game road-trip, will most likely be forgotten.
However, the sum of the parts, the sweep, will always be remembered.
A lot of Rangers shined during these past five games, including role-players such as Erik Gustafsson, Nick Bonino, Will Cuylle, Barclay Goodrow and Jimmy Vesey.
Sadly, the one Blueshirt who everyone thought would finally score his first point of the season tonight, Blake Wheeler – perhaps he should have been left behind in his adopted home city of Winnipeg, Manitoba.
And heck, based on his pregame and post-game interviews – it sounds like a done deal.
Once he retires, he's moving right back to Winnipeg, where I'm to assume he'll then accept a job with the organization, ala the Henrik Lundqvist deal with the Blueshirts. (And that's fine – and I support it too.)
At this time, I'll save you from another one of my rants on why the Rangers should go out and bring back Patrick Kane!
After all, it's all about tonight's win – and this five-game road-trip sweep too!
---
Last closing thought before getting into the pregame news and the GAME REVIEW?
Actually, I have two thoughts:
One, imagine being on that team plane on the flight home tonight!
Between Panarin's birthday, two days off until their next game (Thursday night against Carolina) and all of this winning – then I'm going to venture to guess that the Blueshirts may have had as many alcoholic beverages as I did when watching them play on Monday night!
Two, the Rangers have only lost one game on the road this season (6-1).
Of course, I attended the lone loss! (Columbus.)
I only bring this up, because twice during this trip, Micheletti mentioned on-air how there was a father-and-son duo attending all five-games, a fact he learned when bumping into this family at random hotels.
Man, am I jealous of these two fans!
I can't see one road win this season – they saw five – in a row!
I wonder if they have an inkling on the Powerball numbers too!
Pregame news and notes time – where in a nice change of pace – it was the Winnipeg media, and not the fools on the Blueshirts' beat, that led the way.
---
Following the Rangers' fourth consecutive win of the season on Saturday night in Vancouver; a day later, National Felony League Sunday, the team had a well-deserved day off.
Also idle on Sunday?
The New York Giants and the New York Jets, but the less said about that crime perpetrated against the sport of football, and how these two bozo teams set the sport back one-hundred years too, the better.
If anyone benefited the most from having Sunday off in Winnipeg, Manitoba, then it was the former Jet himself, Blake Wheeler.
And obviously, for the 37-year-old former captain of the club, it was Wheeler who was the center of attention leading up to this game.
On Monday morning, following a routine "RISE AND SHINE" skate, both Laviolette and Wheeler held lengthy chats with the media – and where in a new wrinkle – the line of questioning was led by the Winnipeg Jets' beat reporters – and not the birdbrain beat reporters that pollute Rangerstown, USA.
Here is the Monday morning edition of "LAVY'S LOUNGE" for you below:
---
While Lavy didn't say much, nor does he need to anyway, there were a few things that I took out of this interview – something that you rarely get from the Wince's and Mollie's of the world.
Lavy said something that I've said many times on this site before (blogs and archives don't lie) – it's tough for a player, who spent his entire career with one franchise, to turn it on right away once leaving that franchise for another.
While Wheeler began his career in Boston (three seasons), he then spent the next thirteen years of his career under the Atlanta/Winnipeg umbrella. (Wheeler is one of the last Atlanta Thrashers still playing in the league, and when the franchise moved from ATL to WPG for the 2011-12 season, so did he.)
Lavy said that while there are obviously some exceptions to this rule, for the most part, it just takes time for a player who spent so much time in one organization to get the hang of it in their new one, as they have to create new routines and new relationships.
Lavy also commented on what's been going on with his peer, Jets' head coach Rick Bowness, and how he wishes nothing but the best for him.
The Rangers' bench boss also talked about former Blueshirts' assistant, and a former "LAVYADE" too, Scott Arniel.
The Jets' beat reporters, where I can't say enough nice things about them, as unlike the garbage that we have to deal with – this group was knowledgeable, inquisitive and thought-provoking – then asked Laviolette about his team, where the head coach said that 5 x 5 play was the focus of Monday's practice – an area that needed a boost.
(For more on that, check out: https://bluecollarblueshirts.com/102823/)
Once Lavy wrapped up, the Jets' beat then flocked to Wheeler's locker.
Take a gander:
---
Again, this interview was refreshing, as it wasn't the elementary nonsense that you get from Mollie Walker and company – and where for Miss Don't Give a Shit – aka GIGGLES – she was absolutely deplorable and unprofessional during this.
Similar to a bad referee who just wants TV time and takes away from the game – that's how you can sum up Walker as a reporter.
Since she had nothing to add to this interview, the Jets' beat exclusively asked Wheeler a variety of questions, as the new Ranger talked about adjusting to New York, his kids, dealing with traffic, how happy he was with the recent extensions signed by his former club, how he was looking forward to getting this game out of the way, etc.
Also asked?
Wheeler's thoughts on Adam Johnson, the former NHLer tragically killed in a freak accident.
(While I'm sure that you've heard about this story by now, and I'll have more about it for you in the GAME REVIEW too, but in case you haven't, then check out: https://apnews.com/article/hockey-player-dies-adam-johnson-accident-nottingham-098abfe508a908cdc64bdf1b6d4f4e4e )
As the Winnipeg writers were asking their former star, captain and hero all of their questions, Walker ignored all of this – as she was talking to someone else and continued to do her diseased hyena laughing act – monstrous giggles that overshadowed the serious line of questioning from the real reporters.
Totally unprofessional.
And since dingbat Walker wasn't paying attention – her non-stop off-camera giggling was just appalling when Wheeler was being asked about Johnson.
The New York Post used to care about the product they put out.
---
Here was Laviolette's line-up for the ninth game of this 2023-24 season:
FIRST LINE: Kreider/Zibanejad/Kakko
SECOND LINE: Panarin/Chytil/Lafreniere
THIRD LINE: Cuylle/Trocheck/Wheeler
FOURTH LINE: Goodrow/Bonino/Vesey
FIRST PAIR: Lindgren/Fox
SECOND PAIR: Miller/Trouba
THIRD PAIR: Gustafsson/Schneider
STARTER: CZAR IGOR
BACK-UP: QUICK
HEALTHY SCRATCHES: Pitlick and Jones
---
BOX SCORE time.
The following graphics and information come from ESPN.com:
SCORING:
PENALTIES: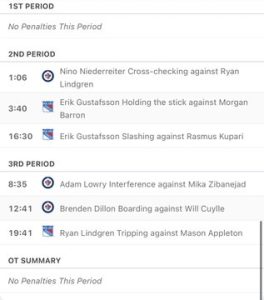 TEAM STATS:
GOALIES:
| | | | | | | | | | | |
| --- | --- | --- | --- | --- | --- | --- | --- | --- | --- | --- |
| SA | GA | SV | SV% | ESSV | PPSV | SHSV | SOSA | SOS | TOI | PIM |
| 26 | 3 | 23 | .885 | 16 | 7 | 0 | 0 | 0 | 64:34 | 0 |
| | | | | | | | | | | |
| --- | --- | --- | --- | --- | --- | --- | --- | --- | --- | --- |
| SA | GA | SV | SV% | ESSV | PPSV | SHSV | SOSA | SOS | TOI | PIM |
| 29 | 2 | 27 | .931 | 20 | 6 | 1 | 0 | 0 | 64:11 | 0 |
---
During the past four M$GN broadcasts, I was able to skip the pregame show, as there's just no way in hell that I'm going to suffer through the "Sieve Vagistat Show."
Unlike the Rangers' new winning streak, my winning streak was snapped tonight, as I'll always keep the pregame show on whenever Henrik Lundqvist is there. He's just that good.
For whatever reason, and I know that I've said some version of this 897678678689679689 times before; for the life of me, I just don't understand why Vagistat is front-and-center, and featured as the lead analyst, when you know, one of the greatest players in franchise history is there, where in addition, Lundqvist, "THE KING OF COMMENTARY," is an all-out natural in his second act.
(I'm even more impressed that Lundqvist is so strong in this role, considering the fact that English is his second language. For comparison, I couldn't hammer home this blog when trying to write in Swedish!)
Furthermore, we see how TNT uses Lundqvist, where very quickly, he's become the lead and first go-to analyst on their panel.
While I'll never understand how Vagistat acquired nefarious pictures of the M$GN bosses which he then used to get him this gig that he doesn't deserve in the first place; once Lundqvist retired and then joined the M$GN – I did understand why #30 was used as scenery.
But as we all know, Lundqvist took to his new job like a fish to water, or like Vagistat to a chart, and needing to "groom" and/or "develop" him as a strong analyst is no longer required.
Arguably, and now in Year Three of his new profession – he's already the best – and where that is clearly displayed over on the national network, TNT.
In other words, Lundqvist, who is part-time with M$GN, whenever he's there – he needs to be prominently featured as the lead guy.
Why in the world is he playing back-up and second-fiddle to the worst back-up goalie in franchise history?
It just makes no sense.
You have a Hall of Fame player on your panel and instead of going to him first, M$GN goes to the guy with the 46-game career – and where this idiot can't go one broadcast without mentioning his disgusting canker-sore groin? (And as Vagistat did once again tonight.)
For Sieve, please save the groin stories for your nights out at the Ramrod!
---
Prior to tonight's game (and this was later brought up at the end of the broadcast – and more about it below once we get there), it was announced that Lundqvist, with his heart condition and all, will be playing during the Hall of Fame game scheduled this November.
This was good news.
After all, it told us that following his major health scare, that #30 is feeling much better.
While of course, an exhibition game doesn't meet and match the rigors and high level of an NHL game, nor the league's schedule either; just to be able to play in a game like this is a step in the right direction – and can only be viewed as a big-time positive.
In addition to the picture above, Lundqvist also posted a video of himself at his practice rink:
Hank back on the ice in Rangers gear 👑

He's preparing for the Hockey Hall of Fame Legends Classic in Toronto on November 12

(via IG/hlundqvistofficial) pic.twitter.com/W38yLgtgLR

— Rangers Videos (@SNYRangers) October 30, 2023
---
After Vagistat rambled on to begin the broadcast, Lundqvist, when talking about this road-trip, poignantly stated, "it looks like these guys have played for this coach for years."
I understood what he meant, but at the same time, does that mean that these players want Laviolette fired?
After all, that's what happened to Lavy's two predecessors, David Quinn and Gerard Gallant!
And then there was Lundqvist's bout with John Tortorella too, where as mentioned several times before – their once fractured relationship has since been repaired – overwhelmingly rectified at that.
(Of course, Torts was one of the rare people who attended Lundqvist's jersey retirement ceremony. Furthermore, he was one of the "rare" people only because it took place during the COVID era, when not many people were flying across the country. I know that everyone wanted that night, the fans, the organization and Lundqvist too – but I think the night was mangled and would have easily been better had it not taken place during the pandemic.)
As Vagistat fiddled around with his made-up arts & crafts and charts & graphs; Lundqvist stated the obvious, "When you're winning, it's easy to relax and play the right way."
In a response, Vagistat then did his usual act where he pretends that he had the same career as Lundqvist and then did his whole routine of,"MOMMY, MOMMY, MOMMY, LOOK AT ME! I'M ABOUT TO DIVE OFF THE DIVING BOARD MOMMY! PLEASE TELL THE AUDIENCE AT HOME THAT YOU KNOW ME HANK!"
Ugh.
Vagistat, who many times before, has said that faceoffs aren't important, where today, an impressionable young generation, "VAGIMINIONS," actually believe this bullshit, was rebuffed by Lundqvist.
Lundqvist, when talking about the Rangers' success at the dots this season, stressed the importance of faceoffs and then talked about zone possession time.
In the final segment, the crew went to the "BUD LIGHT BAR," fitting for Vagistat, and where Lundqvist then talked about his upcoming game.
"I have to say, I never thought I'd put the equipment back on," Lundqvist said. "I thought to myself, 'why not?' It was great. I thought my body would hurt. It didn't."
In a response, this is when Vagistat mentioned his groin again.
Asshole.
Lundqvist added that he feels 100% healthy and while he's satisfied in his retirement, he was also looking forward to playing in the HOF game.
In addition, Lundqvist, and maybe this was a shot at Vagistat (at least I like to believe that it was), said, "I'm going to enjoy the weekend and if I give up ten goals…."
Lundqvist trailed off after saying that, as perhaps it quickly came to him that Vagistat once gave up ten goals to the Dallas Stars in 2009.
Once done with one of the best goalies and one of the worst goalies in franchise history; M$GN then ran a Halloween themed package, where they changed all the names of the Rangers to "SPOOKY" names.
This was funny if you were six-years-old.
GAMBLING PROMO CODE: TRICKORTREAT
Perhaps the spookiest thing of all?
The hairlines that Sam Rosen and Joe Micheletti are currently sporting these days – where I'm still fascinated by that tuft on the top of Jumpin' Joe's head!
---
The pregame show, and really, this entire broadcast too, was dedicated to Blake "The Mistake" Wheeler, as the long-time Jet was verbally fellated by our lovable duo in the booth all-game.
Despite 96789678678969786 video packages, Rosen talking up Wheeler as if was related to the Hughes' family, and Micheletti doing everything in his power to get #17 his first goal of the season – Wheeler (-1) had another off-night – and where day-by-day – you can see why the Jets stripped him of his captaincy and then bought him out of his contract – two facts that both Sam and Joe omitted from the broadcast.
I hate to sound like I'm coming down on Wheeler, because from everything that I've seen and read, he's a terrific teammate, a great human being and an even better family man – but as a New York Ranger?
Get me Patrick Kane.
GAME REVIEW time.
---
One last thing before the GAME REVIEW.
While Wheeler was the focus of Sam & Joe all game, it was only mentioned once, and late into the broadcast at that, that tonight was Panarin's 32nd birthday.
Here's what I tweeted fourteen hours ahead of puck drop:
Happy 32nd birthday to Artemi Panarin. Last year on his birthday, he picked up three points (one goal, two assists) in a #NYR 3-2 win over Arizona. A similar game tonight and it's a perfect 5 of 5, ten-point road trip sweep – a franchise first. pic.twitter.com/SWcCZMSA73

— BlueCollarBlueShirts (@NYCTheMiC) October 30, 2023
---
Tonight?
As you already know, he remained as the best Ranger this season.
And oh yeah, the following:
Just like last year, his 31st birthday, he scored a goal and picked up two assists tonight.
Another three-point game in another 3-2 Rangers' win for "The Breadman!"
But unlike last year?
He wasn't part of a historic team that swept a five-game road-trip!
Now, and I mean it this time, GAME REVIEW time!
---
FIRST PERIOD
In a game featuring two of the league's best in net, and a pair of Vezina Trophy winners at that, Connor Hellebuyck (2020) and CZAR IGOR (2022) – each netminder had recorded one save a piece at just the thirty-second mark of the game.
As these two saves were made, Sam was in a state of information overload, as outside of the Hughes' brothers, and who is and who isn't related to who (he had field day whenever talking about David and Erik "NO RELATIONS JOE" Gustafsson); Rosen also loves talking about the fringe members of the alumni too (he couldn't stop gushing over Vladislav Namestnikov tonight).
At the ninety-second mark, what I feared in regards to Alexis Lafreniere following his recent three goals scored proved true.
When all alone with Hellebuyck (I'm going to refer to the Jets' goalie as HUCKLEBUCK for the rest of this blog – as it's easier to spell and because I'm a diehard fanatic of "The Jerky Boys" too); Lafreniere, while on a breakaway, went dead center at the goalie and once arriving one foot away from him – missed the net.
This should've been 1-0, GOOD GUYS, right here.
At the very least, this should've been the second shot on goal that HUCKLEBUCK saw.
Following this, Lafreniere finished the game with no points and with only one measly SOG.
The other "KIDS?"
They were no better, and as we'll soon get into.
And oh – was this Lafreniere miscue Gallant's fault too?
Sadly, some people will lead you to believe that!
---
Following Lafreniere's flub, with 17:00 remaining, Zibanejad, who looked revitalized tonight after scoring his first goal of the season on Saturday, broke up a Jets' one-timer.
After that, Rosen did his NO RELATION stuff on the Gustafsson's, while also proudly stating, "MORGAN BARRON HAS FOUND HIS NICHE IN WINNIPEG."
Like Lafreniere, the former Rangers' draft pick (traded for Andrew Copp at the 2022 NHL Trade Deadline) finished tonight's game with only one shot on goal – and was a non-factor too.
Following a HUCKLEBUCK save on Will Cuylle, which took place after a good pass from Wheeler, where had this save not been made, then #17 would have received his first point as a Ranger; with 15:10 remaining, Panarin, and in a new-and-improved wrinkle to his game this season, busted out the defense and broke up a Jets' attack.
A minute later, Sam just started rambling on about Dave Lowry, who is the father of Jets' captain Adam Lowry.
"OH JOE, I SAW DAVE LOWRY IN SEATTLE JOE!"
What this had to do with tonight's game I do not know.
As Sam incorrectly took us to a commercial break with 13:04 to go following a save made on Schneider; the game continued and CZAR IGOR then stopped new Winnipeg star, Cole Perfetti.
Eight minutes into this game, this much was noticeable:
Following some slow starts during this road-trip, where each game, the slow start was erased a little bit game-by-game – there was no slow start tonight.
The Rangers were the aggressors early and never really needed that "feeling out"/"finding their legs" period of time.
However, and this would be the case for the majority of the match – both teams played MIKE PENCE hockey – ultra conservative – as most of the play took place near the yellow paint at the bottom of the boards – and not at the blue paint at the goalie's crease.
As Sam continued to wax poetic about Wheeler ("HE'S A GREAT RANGER JOE!"); CZAR IGOR stopped Ehlers with 9:25 remaining. Sam then excitedly told us that the Jets would be airing a tribute/welcome back video for Wheeler at this time. No less than a second later – M$GN cut out to commercial – as Jesse Pinkman telling us to gamble our life savings on this game was more important.
In other words, and after Sam promoted this video, we never saw it on the M$GN.
However, it did air on SportsNet:
The @NHLJets welcome back Blake Wheeler. 💙 pic.twitter.com/CoKHNPJ6UV

— Sportsnet (@Sportsnet) October 31, 2023
---
For the record – this wasn't just exclusive to Wheeler either, as M$GN doesn't even show the welcome back videos whenever key members of the alumni return to M$G.
As I watched Perfetti dangerously skate all around the Rangers, I was reminded of that Eminem song, "Lose Yourself," you know, the song with these lyrics:
"His palms are sweaty, knees weak, arms are heavy, mom's spaghetti, must keep on stopping Cole Perfetti!"
My suspicions on how dangerous Perfetti would become were later proven, as the center would later assist on every goal that the Jets scored tonight.
At least former Rangers, Neal Pionk and Barron, weren't included – as this negative trend where Blueshirt alum torch the team was snapped!
Baby steps!
---
As Rosen would not shut up about Wheeler, where at points, I wondered if Chris Drury mandated the announce team to talk up Wheeler for a potential trade; with 8:06 to go, Vesey took a puck to the mush.
Jim Ramsay wasn't there for repairs, nor did Vesey ever miss a shift either.
As Rosen continued to pulverize his pud into submission whenever talking about Wheeler; Micheletti said what I've said and what Lavy had said earlier in the day, "Well you know Sam, it's tough for a long-time player to get used to his new surroundings."
That didn't stop Rosen.
Following another CZAR IGOR save, this time on Ehlers, and with 6:00 to go; Rosen talked about Scott Arniel as if he was the second coming of Al Arbour.
In all seriousness, this is also when Micheletti said that Judy Bowness was doing much better. Let's hope for the full recovery.
Panarin, and where without even looking this up, must have the best passing success rate of his career this season, tried to set-up Chytil – but the Czech center couldn't handle the pass and then turned over the puck.
The second line center without a goal in nine games played this season, finished tonight's game with two shots on goal and a faceoff winning percentage of 30%.
For as good as Panarin has been (and he's been damn god), imagine how many more scoring chances that he'd have with a real second line center – and one that could actually win draws?
While Wheeler wasn't that hot tonight, he did put four shots on goal, maybe one of high quality too, but the HUCKLEBUCK stopped them all – including #17's last SOG of the game – and as he did here with 3:30 to go.
Now under three-minutes remaining, it was time for Kaapo "I GO TEN GAMES WITHOUT GOALS ALL THE TIME" Kakko to get in on the "action."
Similar to Lafreniere, the other lotto pick missed the net on a breakaway.
That damn Gallant!
And oh, I can hear it now from "The Church of Kakko."
"BUT KAKKO HAS A GREAT PERIMETER GAME. YOU DON'T NEED A SECOND OVERALL PICK TO PUT A SHOT ON GOAL DURING A BREAKAWAY. IT'S ALL TURK'S FAULT! LOOK AT THE ANALYTICS!"
The poor man's Jesper Fast, aka Kaapo Kakko, finished tonight's game with one shot on goal in total.
When it comes to Kakko, Chytil and Lafreniere – their deficiencies are being hidden by THE FAT CATS – and where you have to hope that they eventually find a way to achieve game in and game out consistency.
I just won't hold my breath on ever seeing that day.
After watching the two lotto picks miss on two breakaways – The Birthday Breadman baked:
PANARIN STAYS HOT! 🍞 pic.twitter.com/vCgJT2Pq6f

— Sportsnet (@Sportsnet) October 31, 2023
---
1-0, GOOD GUYS!
With just 96-seconds remaining, Trouba, who this season has displayed his offensive awareness from his days in Winnipeg more than ever before, put this goal together.
From his own blue line, the captain fired a pass cross ice and right to the crease of HUCKLEBUCK – where somehow and someway, Panarin got a piece of this connection deflection.
Unlike some of the easy tap-in goals scored this season, where on some of them, I think even my fat ass could have scored – this was the opposite.
This goal was purely two elite players finding twine.
But of course, up next, "THE RANGERS WAY."
Just over a minute later, and with just 28-seconds remaining; Palms Sweaty, Mom's Spaghetti, Cole Perfetti, found Gustafsson open to the circle left of CZAR IGOR.
1-1 – and on a shot that CZAR IGOR would most definitely want a do-over on.
But still, to be tied 1-1 after twenty minutes in your fifth consecutive road game?
To quote another Eminem song, "STAN" (Not Fischler) – "And it's not so bad, not so bad!"
Here's what I said at the time:
1-1 after 1. 1P Thoughts:
— Best first period of this road trip, but also the one bad goal allowed by Igor. Wouldn't be surprised to see him SO the Jets for the rest of the way.
— Told you the Birthday Bread goal was coming.
— Watch the Rangers trade Wheeler tomorrow after…

— BlueCollarBlueShirts (@NYCTheMiC) October 31, 2023
---
SECOND PERIOD
While I know that some people used the word "boring" to describe this period, I'm not one of them.
In my eyes, a better word was "EFFORT," as both teams tried to limit their opponent's chances.
Just 1:06 into this middle frame, the Jets were all over CZAR IGOR, but the Rangers received a break, when Nino Niederreiter cowardly cross-checked Lindgren from behind.
I have no clue what the former Cane was thinking here, as this was a dumbass o-zone penalty to take.
The best scoring chance during this Rangers' power-play is when a loose puck was just sitting there for the taking, but for whatever reason – DJ MIKA didn't haul ass for it.
Had he, it would've been an easy goal.
Instead, Lowry got there first, and as the puck was straddling the goal line – the Jets' captain got it out of there.
If there was anything else to note from this power-play, then it was Wheeler, who opened up the first and second periods on the ice, was now on the PP2 unit.
Both of these things would change in the final frame.
After Kakko went wide again, but only from five feet away this time, the Jets got their kill.
Once returned to full-strength – "THE RANGERS' WAY" – as they immediately took a penalty, and as Gustafsson did when he held the stick of Barron as he was attempting to enter the Rangers' zone.
This was a strong Rangers' kill, with the biggest highlight taking place when Kreider and Miller had a short-handed two-vs-one odd-man rush.
However, Miller, and looking to repay the favor, and when trying to PAY IT FORWARD too, following the events of his game-winning goal in Vancouver when CK20 served that dish on a silver platter; the rearguard didn't take his clear-as-day shot, as instead, he forced a pass to Kreider.
You can't be mad about this.
This was completely understandable, although I'm sure that the longest-tenured Ranger told Miller afterwards to shoot the puck.
Once returned to full-strength and following another Kakko turnover with 10:20 remaining; in this tight game, nearly at the half-way mark, all you could do was think about the two missed breakaways and Mika not scoring on the power-play.
These thoughts would later intensify during the third period.
---
To fast-forward a bit, as each team wasn't giving up much; with about five-minutes left or so, Rosen took a break from Wheeler and then brought up the Adam Johnson story.
I'm not trying to make a joke here, nor downplay what happened, but this was just bad timing.
I get that Sam was looking for a lull in the game to bring up this topic, but this conversation just came out of nowhere – and where after it – I felt really bad for Micheletti.
Micheletti told us that he was friends with the Johnson family, as they are from the same close-knit Minnesota town as him.
And I'm being 100% truthful with you here, and this isn't an exaggeration – you could hear it in his voice – he was completely broken and shaken up when talking about the 29-year-old's tragic accident/death.
For the next few minutes, Joe didn't say a word.
You could tell how much Johnson's death had hit him.
We all know how much that I love making fun of Micheletti, and his never-ending use of the word "FABULOUS" on this site; but as a human being, and I can personally attest to this too (although I have yet to get a puck inscribed with "FABULOUS" on it from him – but I have met him a few times over the years) – he is truly one of the nicest guys around.
That's why last week on this site, I questioned a fellow curmudgeon, Mollie Walker's peer at the New York Post, Phil Mushnick, for having the audacity to assassinate Micheletti's character.
Say what you want about whatever is going on at the top of his head these days with his hair, but NO ONE, and I mean NO ONE, has a bad word to say about JUMPIN JOE as a human, as a person, as a philanthropist and as an all-around good guy.
My condolences to Joe and to all who may be reading this who knew Johnson too.
RIP Adam Johnson – and if anything "good" can come from this tragedy – then it's a league-wide mandate on neckguards.
One hockey death should be a wake-up call. An NHL death shouldn't be required.
But of course, this is also a league that tried to fight against the inception of not only helmets – but goalie masks too.
---
Now down to 3:30 remaining, Gustafsson recorded his first four-minute PIM game of the season, as this time, he slashed Rasmus Kupari.
CZAR IGOR made two huge saves in succession and then stopped Pionk at the end of this successful penalty kill.
To close the period, Miller made another strong defensive play, where this time, he broke up a Jets' 2 x 1 odd-man rush.
The Praying Mantis is back.
Tied at 1-all after forty minutes of play.
Here's what I said at the time – and as many Ranger fans were bitching about the score, something that I clearly didn't agree with:
1-1 after 40. 2P Thoughts:
— Miller's best d-game yet.
— Not exactly a goalie's duel, as both defenses are making timely plays, but both have been good when needed.
— A fine road period, keep the game tied and win it in the third.
— Wheeler Disney GWG? #NYR

— BlueCollarBlueShirts (@NYCTheMiC) October 31, 2023
---
THIRD PERIOD
What a frantic finish to the end of regulation.
Since it's getting late (I guess I'm used to writing at this hour after all of those late night starts in Western Canada), let me pick up the pace and just hit the important stuff.
The first line, and not the Wheeler line, began the period, as Lavy was done with the pandering.
Lafreniere's first shift? He fanned on a wide-open shot when only two feet away, as both he and Kakko couldn't hid the broadside of a barn tonight.
Fox then broke up a Jets' odd-man rush, while Vesey then blocked a shot from Van Morrissey.
With 15:57 remaining, HUCKLEBUCK clearly made a save on Cuylle, but for whatever reason, the statisticians didn't record this as a SOG – nor as a save for the Jets' goalie either.
Come 14:43 remaining, and with neither side having a SOG to their ledger this period – that damn Perfetti.
Ehlers, and Eight Mile Perfetti, had a two-vs-one odd-man rush, following a Schneider miscue.
Gustafsson dove in front of Ehlers to prevent a SOG. While this first defensive attempt was successful, the second one wasn't, as Ehlers then wrapped around the net and beat CZAR IGOR on a shot that we've seen him stop 965675679675 times before.
2-1, bad guys.
This is when you started thinking again about all of the failed Ranger chances from earlier.
Down to 11:25 remaining, and with the Rangers still without a shot on goal (officially) – a chance – as Lowry interfered with ZibaneDAD.
The PP1 unit ate up all two-minutes of this power-play, where Mika's one-timer went to 0 for 786567575786556 this season, while Trocheck missed an easy rebound goal.
And had the Blueshirts lost this game, then I wonder if the TURK TROLLS, who like trolls, either live underneath bridges or worse than that – in their parents' basements, akin to where that nearly 50-year-old NO FLEX blogger currently resides – would they have blamed Gallant for not getting the PP2 unit on?
Often lost in such ridiculous discourse about Gallant favoring his PP1 unit?
THEY WERE SUCCESSFUL AND ONE OF THE BEST POWER-PLAYS IN THE LEAGUE.
It wasn't until both Vladimir Tarasenko and Patrick Kane came around in Turk's two-year tenure that the Rangers had two different units that could score.
But as the saying goes, "Never let the truth get in the way of a good story – or your own personal narratives either!"
Following the powerless play; the Lafreniere/Chytil/Kakko line, and for the first time this season, hopped over the boards – but this was only because the PP1 unit that is producing these days had just been on the ice for two-minutes.
Once the lines reverted to normal; with 7:19 remaining, Cuylle, much more active and noticeable than the three first-round picks, drew Brenden Dillon for boarding.
Down by one, the Rangers needed the old adage, "third time's a charm," to ring true.
And ring it did:
It's a power play goal!!

Tie game! https://t.co/tSZuH3NsVc

— Rangers on MSG (@RangersMSGN) October 31, 2023
---
2-2, CHRISTOPHER JAMES KREIDER, goal #271, and now one shy of tying Andy Bathgate for fourth most goals in franchise history.
And we've previously talked on this site about Kreider's chase for 406 (Rod Gilbert, who holds the all-time record) – and I think that #20 successfully chases and surpasses #7 one day too.
In a "Tony DeAngelo Who?" moment, as at the start of their careers, it was thought that DeAngelo was a better power-play quarterback than Fox (and at the time – he was), the Fox said "POINT," blasted the puck from DOWNTOWN JULIE BROWN, and as he's seemingly done 9786786757578 times before – BOOM – there was Kreider with another tip/deflection goal.
As John Davidson would say, "Mike Babcock!"
Oh wait, I mean, "OH BABY!"
Now tied, a potential turning point of the game took place with just eighteen-seconds remaining – a phantom penalty assessed to Ryan Lindgren – or perhaps a ghost penalty assessed on all Hallows Eve:
Lindgren doesn't even touch him. He loses an edge. #NYR The Jets even say it. Listen to the Jets here. pic.twitter.com/ArIH4pFbp1

— David 🏒 (@DaveyUpper) October 31, 2023
---
This call was I-N-E-X-U-S-A-B-L-E.
Down to eighteen-seconds remaining in a tied game, these inept officials, who dressed up as rigged NFL referees for Halloween, called a tripping penalty on Lindgren – despite Appleton – and CLEAR AS DAY – losing an edge and falling down on his own accord.
How do you make such a call like this?
For all of the technology that we have, surely, we can have a replay ref in Toronto who can overturn, and within seconds, erroneous calls?
We've already seen it before, yet nothing was learned and it will only happen again – horrible officiating will swing a playoff series.
At the time, you were just hoping for the regulation tie and getting out of this game with at least one point, the ninth point of this road-trip.
The Rangers wanted all ten.
2-2 after regulation and with the Jets to open the overtime bonus period with a 1:42 4 x 3 power-play.
Here's what I said at the time:
2-2 after 60. OT is needed. 3P Thoughts:
— NHL refs dressed up as NFL refs for Halloween – thank the hockey gods the Jets didn't score at the end of the 3rd.
— This road trip is a raving success. 9/10 points, and can grab the final one possible with a strong PK.
— Miller…

— BlueCollarBlueShirts (@NYCTheMiC) October 31, 2023
---
OVERTIME
While not as back-and-forth & wacky-and-crazy as the overtime played 48-hours prior, as tonight, the Rangers played defense, killed this Jets' penalty and then didn't play 3 x 3 hockey until there was only ninety seconds remaining; prior to Panarin finding Zibanejad for the game-winner – this overtime, and like all of them that involve your favorite team, was heart-attack hockey.
As was the case in Vancouver, CZAR IGOR saved his best for last again in Winnipeg.
No matter how many chances the Jets had, CZAR IGOR cooled off all of them.
As Laviolette looked like he wanted to strangle any asshole dressed in zebra colors; finally, a whistle, as Chytil shot the puck into the netting behind the Jets' net, rather than inside of the net in the goal.
This allowed the head coach to finally use a trio of 93/10/79 – and one that proved fruitful.
As you were wondering who was going to be the three shooters in the shoot-out, and with just 26-seconds remaining prior to the gimmick contest – Panarin did it again:
"They did it!"

The Rangers have won every game in a 5+ game road trip for the first time in franchise history 🔥 pic.twitter.com/87BDFeM61T

— B/R Open Ice (@BR_OpenIce) October 31, 2023
---
3-2, GOOD GUYS, as while this wasn't a true one-timer, but it was of the one-timer family, as a Mika wrister, and not a blast, was all that was needed.
Look what happens when you go for accuracy instead of power!
And if any goal, any game, deserves the JOHN STERLING TREATMENT, then it was this one, and I'm screaming this as I type it:
"THEEEEEEEEEEE RANGERS WIN! THEEEEEEEEEEEEE RANGERS WIN!"
Like Larry David, someone else who is also feeling PRETTY, PRETTY, PRETTY GOOD right now?
The head coach, which brings us to the post-game edition of "LAVY'S LOUNGE":
---
Do you know what's absolutely bat-shit crazy right now, outside from the Rangers making history tonight?
The fact that I wrote 11,253 words tonight – and I still feel like I didn't cover all of it – and where yes – this is the most detailed recap and review of this game out there on the internet too!
That's a good thing – as I'm still full to the brim with optimism – a feeling that I didn't expect to have going into this season, and most certainly, not after that loss to the Predators either!
While my disclaimer is still valid, I'm enjoying all of this.
After all, and especially as the author of "The Top 100 Villains of New York Rangers History" – not many know better than me how rare something like this feeling is!
But yet, that disclaimer, "inspired" after the results of the 2023 Stanley Cup Playoffs, still plagues me.
That said, I will do my best to enjoy this!
---
I'm off to see my nieces "Trick-Or-Treat" tomorrow, where following this diabetes and dentist sponsored time out of the house, I have a podcast scheduled, as I'm going to be a guest on "The Packaged Tourist," as hosted by hockey historian Matt Dibiase, on Tuesday night at 10PM.
Once the link is live, I'll plug it on this site.
I should be back prior to the Rangers' next game, but if not, see ya Thursday night with a Rangers/Canes review – and where in addition – the Rangers, and as you'd expect, are off for Halloween.
And yep – get me to the playoffs too!
PLUGS TIME! (Buy a book and support my Rangers' induced therapy bills. After all, I don't run ads on this site!)
---
My fourth title and tenth book is now available for preorder!
"The Top 100 Villains of New York Rangers History," is now available for preorder.
For complete information, please visit: https://bluecollarblueshirts.com/rangerkillers/
---
My second plug of tonight's blog – the mandatory plug for my book, "The New York Rangers Rink of Honor and the Rafters of Madison Square Garden."
As mentioned previously, the book is now available in hardcover, in paperback and in Kindle formats. To purchase a copy of the book, visit this link:
https://www.amazon.com/Rangers-Rafters-Madison-Square-Garden-ebook/dp/B09CM5N2WD
For those still looking for signed paperback versions of the book, I have re-ordered more copies. I now have a few signed copies for sale at $25 a pop (includes shipping price) through me directly. Here is all the information on that:
---
My four-volume set of books, "One Game at a Time – A Season to Remember," is a game-by-game recount of the Rangers 2021-22 campaign.
My second title as an author, "One Game at a Time – A Season to Remember," is now available in eBook, paperback and hardcover formats.
To obtain signed copies, visit: https://bluecollarblueshirts.com/onegamebook/
To purchase all four volumes on Amazon, visit: Amazon.com – "One Game at a Time."
---
The greatest volume-set of books on Rangers' history today!
"Tricks of the Trade – A Century-Long Journey Through Every Trade Made In New York Rangers' History," a four-volume set of books that meticulously covers every trade made in franchise history, is now on sale.
All four volumes of the title can be purchased on Amazon.com and are presented in three different formats – eBook, paperback and hardcover.
To purchase Volume I: Conn Smythe (1926) – Craig Patrick (1986), visit Amazon.com
To purchase Volume II: Phil Esposito (1986) – Neil Smith (2000), visit Amazon.com
To purchase Volume III: Glen Sather (2000-2015), visit Amazon.com
To purchase Volume IV: Jeff Gorton (2015) – Chris Drury (2022), visit Amazon.com
To purchase signed copies of all four volumes, visit https://bluecollarblueshirts.com/tricksofthetrade/
---
Here are my last few blogs, in case you missed them:
---
---
---
If you haven't already, subscribe to this blog for the next update:
---
Don't forget to order my recently released four-volume set of books, "Tricks of the Trade!"
If you don't order through me, all four volumes are now available on Amazon.com
For more details, check out: https://bluecollarblueshirts.com/tricksofthetrade/
Thanks for reading.
LET'S GO RANGERS!
Sean McCaffrey
BULLSMC@aol.com
@NYCTHEMIC on the Tweeter machine