Greetings and salutations everyone and welcome to another blog here on BlueCollarBlueShirts.com. Did anyone notice what color laces that the Rangers were wearing on their skates tonight?
Me neither.
---
For "Lavy's Lot," following their superb showing on Saturday night at the Climate Pledge To Have No Working Lights Arena (https://bluecollarblueshirts.com/102123/ ); the team followed up that "lights-out" victory with a different brand of winning hockey 72-hours later – and yes – that's a good thing.
After all, it's an asset to be versatile.
The Rangers, now 4-2 after their six games played during this young season, have blown out two teams (Buffalo and Seattle) in half of their triumphs – and where both of these wins were secured on the road too.
Tonight, in the Rangers' 3-1 victory over the Calgary Flames?
In my eyes, the Blueshirts' latest extinguish, this time in Rodeo Town, was a classic case of a perfect road win – and I say that as someone who entered this 2023-24 campaign with no expectations whatsoever – and expectations so low that I've been running this disclaimer (and will continue to run) all season on this site:
"WHATEVER THE RANGERS DO IN THE REGULAR SEASON DOESN'T MATTER. THEY CAN ONLY BE JUDGED BY WHATEVER THEY DO IN THE 2024 STANLEY CUP PLAYOFFS!"
But of course, what's done is done and we can only talk about the present – and also hope for a better future.
---
One phrase that I use often on this site is "not every win is a Picasso."
Another phrase that I also use a lot?
"Just win."
Tonight's victory in the Saddledome was a combination of both.
What really impressed me the most, and this is the sign of a good team too, is that the Rangers came out flat, disjointed and sloppy to start the game – but as the match progressed, and where this was first noticeable with about 7-8 minutes remaining in the first period – they eventually came on.
While the Blueshirts couldn't find twine in the opening twenty-minutes – you could see it was only a matter of time before they did.
(And as you'll see below in the GAME REVIEW – I thought this would be the case in real-time.)
Following an early goal surrendered to Barclay Goodrow's old two-time Stanley Cup winning teammate in Tampa Bay, Blake "Wayne Gretzky" Coleman (just 75-seconds into the contest – the end result of a Filip Chytil miscue); the Rangers, down 1-0 to start the second stanza, soon took over the game.
Backed by two power-play goals (Chris Kreider – who continues to chase Rod Gilbert's all-time record and Alexis Lafreniere – who has now been consistent for two games in a row – and much like this new two-game winning streak for the club), and a third goal, scored at even-strength (Erik Gustafsson – and more on him during the GAME REVIEW); the Blueshirts, come the final horn of this period, were now up 3-1.
Game over.
Similar to an NFL Prevent Defense, the Rangers buckled down a bit during the final frame, as they were more focused on securing two points in the standings than scoring four goals in this game – but of course – you can only do such things when CZAR IGOR is in the zone.
While the Blueshirts did their best; admittedly, #31 had to make a few more highlight reel saves in order to keep the two-goal lead in-tact. And at the same time, the other team is paid to play hockey too.
Two dumbass penalties committed by the Flames with under ninety-seconds remaining in the game sealed the deal, and as a result, the Rangers departed Calgary for Edmonton as the top seed in the Metropolitan Division – and just as we all thought going into this season!
Don't believe me? Then take a look for yourself:
There is a lot, and I mean A LOT, to cover tonight, so without further ado, let's get the ball rolling and then close with the main event, the GAME REVIEW.
Up first, an alumni update on former Blueshirt Carl Hagelin.
---
In an alumni update; on Monday, October 23rd, Carl Hagelin, aka CARLOS, appeared on "The Cam and Strick" podcast.
To listen to the show, click the links below:
🎙️Episode #261 with Carl Hagelin

⁃Crosby vs Ovechkin
⁃Tortorella in New York
⁃Career ending Eye injury
⁃BOS, VGK 📈 EDM, WSH📉
⁃Reaves vs Perry

➕ Much more

🎧Listenhttps://t.co/usZ5iG0pKG pic.twitter.com/SIoODNQNCJ

— The Cam & Strick Podcast (@CamandStrick) October 24, 2023
---
Among the stuff that caught my eye (or should I say ear?) the most was the following:
— Similar to his former teammate in New York, Derek Stepan, who also announced his retirement last month (https://bluecollarblueshirts.com/10323/ ), Hagelin announced that he too has accepted a job with Bill Guerin's Minnesota Wild.
Unlike Stepan, who presently resides in the Land of 10,000 Lakes, Hagelin is currently living in Stockholm, Sweden, where he's now serving the club as a scout (European division).
While it's easy to put two-and-two together in regards to Stepan's connection with the Wild (he's from Minnesota, Guerin is his next-door neighbor, etc); I am left to assume (this was never clearly stated on the podcast but I believe that I'm correct about this) that Hagelin's connection to the Wild is the relationship that he once had (and still has) with his former assistant general manager in Pittsburgh, Guerin himself.
If you don't know, then here it is: Guerin, then under the Penguins' GM of the time, Jim Rutherford, was also part of the 2016 and 2017 Stanley Cup winning teams that Hagelin was part of in the Steel City.
— Hagelin, and like many of his ilk – retired players who once played under John Tortorella – had nothing but nice things to say about Torts.
During the interview, Hagelin repeatedly brought up his personal conversations with the fiery head coach, but also said how Torts got the best out of him.
Among the Rangers' alumni, where Henrik Lundqvist, Dan Girardi, Ryan Callahan, Martin St. Louis, Derek Stepan, Brian Boyle and many others have also praised Torts when reflecting back on their own careers; off the top of my head, and to the best of my recollection, only former Blueshirts John Scott and Sean Avery have publicly made any sort of disparaging remarks about their former bench boss.
— Hagelin mentioned that he thrived on the east coast – and not so much on the west coast.
I've brought up Hagelin's lack of success in the Pacific Time Zone before, including in my first book, but I guess it was nice to hear him say it – as he felt that he just never had enough time to adjust to his new surroundings in California, and whether it be in Anaheim or Los Angeles.
— Hagelin, and as you'd expect, raved about playing with three faces of his generation – Henrik Lundqvist, Sidney Crosby and Alex Ovechkin.
It was also brought up around this time in the interview how #62 played in the most playoff games of any NHLer from the 2010s – and how Hagelin excelled when playing with this trio of Hall of Famers too.
— On his present state of living, Hagelin said that he still has blindness in his injured eye and how he has to take several eye drops every day in order to combat it. While doctors have told him that he'll never regain full vision ever again, he's doing what he can.
The best of luck to Hagelin in his second act, as he'll always be remembered as a beloved Blueshirt.
---
Following the Blueshirts' bounce-back win over the Kraken in dim Seattle on Saturday night; come Sunday, the team had the day off.
After a day of pigskin and more player arrests in the National Felony League (and where the NFL officials/referees are just as criminal as the thugs on the turf); on Monday, the team spent their last day in the powerless and rainy city for the year, as the team held a practice at the Kraken's training facility.
The only thing of note from the practice was that Bela Lugosi's doppelganger, fourth-line center Nick Bonino, was out with an illness – and a real affliction for that matter – and not just a case of "The Irish Flu."
As far as anything else, everything remained status-quo – a good thing.
Once the practice concluded and prior to the team's flight to the hometown of Bret "The Hitman" Hart – Calgary, Alberta Canada – Rangers' bench boss Peter Laviolette hosted his final "LAVY LOUNGE" on American soil for the month of October.
Here it is:
---
Really – not much was said outside of you know, "systems and structure" and blah-blah-blah.
Lavy's main concern was about Bonino and where it was assumed that Barclay Goodrow would slide into his spot as the team's fourth-line center in the event that the former two-time Stanley Cup champion, just like him, couldn't go.
But as you already know – Bonino was good to go for tonight's game and this hypothetical never came up – and perhaps maybe (and much) to the chagrin of Tyler Pitlick.
---
While I don't want to go too long on this, but I also do want to share this news with you since you guys and gals have been with me from day one on this topic – the day has arrived – Miss I Don't Give a Shit, government name Mollie Walker, has blocked me on Twitter – and just as the Rangers are set to play the Oilers on Thursday night.
And I don't think her timing is by accident or by coincidence either.
After all, it was just last year, when the Rangers hosted the Oilers, when she first earned the Miss Don't Give a Shit nickname!
While I'm not going to rehash all of that, nor retype the whole story again either; here are a few links from that time, where the resident birdbrain of the beat told me that "nobody gives a shit" about Edmonton's Leon Draisaitl playing Rangers' captain Jacob Touba as a fool:
NYR/EDM 11/26/22 Review: https://bluecollarblueshirts.com/112622/
Jacob Trouba Goes Viral: https://bluecollarblueshirts.com/112822/
Birdbrain Mollie says "Nobody gives a shit": https://bluecollarblueshirts.com/113022/
---
Sadly (and I never followed this batty twit to begin with – as someone just brought this to my attention on Monday night, as he tagged me in a tweet of his where he questioned her journalistic integrity), I won't be able to view her breaking news anymore – you know – when she posts pictures of what she ate at the game, while complaining that she's at a game too – and as she just did in Seattle.
Walt McPeek? Hugh Delano? Rick Carpiniello?
They must all be rolling in their graves.
And this too: Perhaps the New York Post could better use her as a food critic, as talking meals, and not puck, seems to be in her wheelhouse.
But please, and if she hasn't blocked you too yet – then feel free to forward me the photos of her meals – you know, the stuff that she does know about!
However, and as far as her "ace" reporting goes, and where you know she won't ask Trouba about what happened with Draisaitl last year?
I don't give a shit!
Moving on.
---
On Tuesday afternoon, the NHL and the NHLPA, in a joint statement, announced that they have rescinded their ban on what color tape is used by their players during pregame warm-ups – and where yep, you know it – this is all about the Pride/Rainbow colored-tape – a topic that's been beaten to death many times over.
I have written so much about this in the past that I no longer have any desire to talk about this stuff again.
Just play the games – that's all I care about.
And go figure – on a day where all 32-teams played, and on a night marketed, centered and promoted as "FROZEN FRENZY" on ESPN, as the world-wide leader gave the NHL the "Redzone Treatment" – this was the top topic that the liberal sports media wanted to shove down everyone's throats.
If I've said it once, then I've said it a million times before – it's my opinion that all of this is media-driven, as fans don't notice, nor care about such stuff.
(And if you recall, my gay and transgender readers pretty much said the same last season too: https://bluecollarblueshirts.com/pride/ and https://bluecollarblueshirts.com/12723/ )
Just win.
Again – I do not care what color tape is being used by the players, but with all of this never-ending talk about this tiring subject, can you imagine if the 1994 Rangers won the Stanley Cup today?
I can hear it now:
"OH JOE, AND THIS ONE WILL LAST A LIFETIME JOE!"
"But Sam, where is Messier's fabulous rainbow tape? And I don't see Ukrainian tape on Leetch's stick too! Now that I look closer – Richter doesn't have any tape supporting the endangered dung beetles either!"
"OH JOE, SHUT THE EFF UP JOE!"
---
Prediction?
The following:
The next NHL controversy will be centered around Israel v. Palestine tape – and what side the players are supporting.
Sadly, you know that it's coming – and where much like the rainbow tape – it will be the players not wearing supportive tape who will become victimized and made out to be villains by the media.
And to be clear so my words aren't misinterpreted – the controversy in Israel isn't about the horrible events – as everyone can agree what's going on there is horrific.
The controversy will be when the people who put politics into sports dissect something as trivial as hockey gear.
The media cares about this stuff more than the fans and you can't change my mind about that – as not once, have I ever attended a hockey game, watched a game on TV or talked puck with a soul, where we were concerned about player gear.
Just win.
One last food for thought (and not food that Walker can take a picture of and post)?
With the NHL also allowing their players to wear whatever color they want on their gear during games – who will be the first player to come up with some sort of a wacky color design in an attempt to throw off opposing goalies?
You know that's coming too.
As far as what colors the Rangers used with their gear tonight?
I didn't notice.
I was too busy watching them kick some Flame ass!
---
On Wednesday morning, and now in snowy Calgary; the team held a "RISE AND SHINE SKATE," where the only thing of note was that Nick Bonino was back on the ice and ready to go.
Following the light pump, Peter Laviolette dealt with five-minutes of moronic questioning:
---
It can't just be me who gets fed up with these clueless clowns.
Among the "highlights," the following:
— Lavy was asked what he thought about the Rangers' performances against the Flames last year. Of course, Lavy was coaching the Washington Capitals at the time. To his credit, he didn't make a fool out of this reporter, as instead, he played off the lunacy with class – aka the opposite of me!
— Wince M. asked Lavy, "do you want to stack wins?" No joke, the roving reporter, the second coming of Woodward and Bernstein himself, wanted to know if the head coach would prefer a winning streak over a losing streak.
Ugh.
---
Here was Laviolette's line-up for the sixth game of this 2023-24 season:
FIRST LINE: Kreider/Zibanejad/Kakko
SECOND LINE: Panarin/Chytil/Lafreniere
THIRD LINE: Cuylle/Trocheck/Wheeler
FOURTH LINE: Goodrow/Bonino/Vesey
FIRST PAIR: Lindgren/Fox
SECOND PAIR: Miller/Trouba
THIRD PAIR: Gustafsson/Schneider
STARTER: CZAR IGOR
BACK-UP: QUICK
HEALTHY SCRATCHES: Pitlick and Jones
---
BOX SCORE time.
The following graphics and information come from ESPN.com:
SCORING:
PENALTIES:
TEAM STATS:
GOALIES:
| | | | | | | | | | | |
| --- | --- | --- | --- | --- | --- | --- | --- | --- | --- | --- |
| SA | GA | SV | SV% | ESSV | PPSV | SHSV | SOSA | SOS | TOI | PIM |
| 20 | 3 | 17 | .850 | 13 | 4 | 0 | 0 | 0 | 59:17 | 0 |
| | | | | | | | | | | |
| --- | --- | --- | --- | --- | --- | --- | --- | --- | --- | --- |
| SA | GA | SV | SV% | ESSV | PPSV | SHSV | SOSA | SOS | TOI | PIM |
| 25 | 1 | 24 | .960 | 20 | 4 | 0 | 0 | 0 | 59:48 | 0 |
---
I know this blog is already long enough and it's getting later-and-later as I write this; but just a few words about ESPN's "Frozen Frenzy."
As regular readers know, I'm big on this motto, one that maybe I invented myself:
"If you're going to bury something or someone when they are bad, then you better praise them with an equal amount of effort and energy when they are good."
In other words, ESPN, featured as one of my one-hundred "RANGER KILLERS" in my new book, did a fantastic job with their "FROZEN FRENZY" presentation tonight.
The only "negative?"
Having to look at P.K. Slewban's mug – but even so – even he couldn't put a stain on the NHL's version of the "Redzone," and where wouldn't you know it – the host of the NFL's premier program (and that's because of gambling, between fantasy, sports betting, boxes, etc), Scott Hanson, also made a cameo in some cross-synergy.
League commish, Gary Bettman, was also on the broadcast – and where no one was going to ask him about Pride tape.
I thought that Kevin Weekes, who must sleep less than me, as he's seemingly on television on a 24/7/365 basis, did some of his best work yet – and that says a lot – as he's already excellent – and perhaps a future NHL GM one day too.
(If I was an owner of one of the league's 32-teams, then I'd hire him.)
If anything, then the NHL needs to establish their own night in America in order to grow, and since Monday, Thursday and Sunday aren't available because of the King of Television, the NFL (and college football on Saturday's too); then why not keep this as a regular feature on Tuesday nights?
For the first time in a long time – it felt like ESPN, who has brushed off the NHL so many times in the past – actually put forth a positive effort and promoted the league to the best of their abilities.
(They even took out social media advertising to market the night – and I can't remember ever seeing ESPN take out Twitter ads to push the NHL before today.)
Congrats to ESPN – as they did a heck of a job on Tuesday night – and since there was no Lundqvist around on the M$GN come 9:15PM EST – I never left their broadcast until the Rangers' game began.
GAME REVIEW time.
---
FIRST PERIOD:
Come 9:45PM, I put the "FROZEN FRENZY" on my smaller television and the M$GN on my bigger television. Once situated, Sam Rosen informed us that today was JUMPIN' JOE MICHELETTI'S 69th birthday – but unfortunately we didn't get a, "OH JOE, 69 JOE! NICE JOE! ORAL SEX JOE!" remark from the affable announcer.
For all of my (bad) jokes about Sam and Joe – please know that they come from a good place – as I really do like them.
More important than my own personal preferences?
Sam and Joe are both down-to-earth, fan-friendly and just good people – which is my way of saying that I have no clue what Phil Mushnick, Mollie Walker's inept peer at the New York Post, meant when he buried THE FABULOUS ONE in his recent column.
Make fun of Sam and Joe all that you want for comedic effect – but to make Micheletti out as he's some sort of horrible person?
That was some high-level slander from mush-mouth Mushnick.
---
While both Sam and Joe brought up the Coleman and Goodrow history (and was this prophetic); it wasn't until the second period when they realized that former Blueshirt, Dryden Hunt, was in the line-up for the home team.
It also took a while for Sam and Joe to tell us that Flames' star d-man, Rasmus Andersson, was out due to his recent suspension.
I'm sure that McDavid's injury will be brought up much sooner on Thursday night – and also the horrible situation that Rick Bowness is currently enduring with his wife (serious seizure) in Winnipeg.
And without sounding cruel or heinous, as that's not my intent – the Rangers really caught the Flames, Oilers and Jets at the right time – and for different reasons. (I'm just stating the facts.)
As far as anything else Sam and Joe related – both were itching for a Jacob Trouba fight tonight (but going into this game, I was hoping that he would save it for Leon Draisaitl on Thursday – and that might happen); as unlike the moron who asked Laviolette about the Rangers' pair of games with the Flames last season – both Rosen and Micheletti DID see what happened!
---
As mentioned earlier – this first period was sloppy – and for both teams – but especially on behalf of the visitors.
Just 75-seconds into the contest, Filip Chytil was out of position and got caught watching as Blake Coleman, from the little white space afforded in-between the crease and to the circle left of CZAR IGOR, was all alone and boom, and just like that, 1-0, bad guys.
And this is why I retired my 4-0 shutout bets – as it's always something, whether it's a skater having a momentary lapse or CZAR IGOR allowing a bad goal while also making 78967867896896789 jaw-dropping saves, that stalls his shutout totals.
But of course:
Just win.
---
No less than a minute after allowing the Flames to score, and their last score of the game for that matter too; the home team had a 2 x 1 odd-man rush, but they whiffed as they were closing in.
Crisis averted, as allowing this fragile Flames team to take a quick 2-0 lead, thus boosting their confidence, would have been disastrous.
As CZAR IGOR made big save after big save, it was apparent that the stereotype of Canadians always being friendly was just that – a stereotype – and also untrue as well – as Adam Fox, who once spurned these cowboys before, heard boos all game – and akin to the boos that Artemi Panarin recently heard in Columbus.
The jeering got so loud that even Sam Rosen heard it – and commented about it too!
To fast-forward a bit, as it is getting late, most of this period saw the Rangers play a riveting game of horseshoes – as they came close to connecting – but could never find a "ringer."
For whatever reason, Coleman channeled his inner Mario Lemieux tonight, as the traditional fourth-line center was SUPER tonight.
Seriously, without him, this game would've been a Rangers' bell-to-bell beat-down of the Flames.
However, and for as good as he was, he also showed us that he wasn't Jean Béliveau (look him up Mollie) all of the time either – as he missed on several scoring chances, chances that had they converted, would've put the Rangers in a deep hole.
Down to 11:20 remaining, Nazem Kadri and his big contract blew into the Rangers' zone, beat the third pair and once all alone with CZAR IGOR – missed the net on a backhander – and a carbon-copy replica of the backhander that Cale Makar used to beat Ilya Sorokin in the Avalanche's win over the Islanders on Tuesday night. (Had to get that in!)
And yep, this too – every time that I watch Makar, and as I did tonight, I always think about that old Harry Howell (his number three is in the rafters Mollie) quote following his Norris Trophy win:
"I'm glad that I won the [Norris Trophy] now, because I expect it's going to belong to Bobby Orr from now on."
And that's what happened.
My point?
I'm just glad that Adam Fox won his Norris Trophy in 2021 – and won't have the same fate as Brad Park.
But alas, I'm digressing – and you can read about all of this in my books.
---
Down to 10:51 remaining and with Kadri still out there on the ice – the Flames were once again on a 2 x 1 odd-man rush – but this time, CZAR IGOR robbed the 2022 Stanley Cup champion. It was then mentioned that money bags Kadri is currently a minus eight – the worst plus/minus stat in the league.
Ouch.
As we hit the halfway mark of the period, Micheletti talked about all of the systems and structure in Cow Town, as the new bench boss in Calgary, Ryan Huska, is doing the same thing some 3,000 miles away as Laviolette is doing in the Big Apple.
For whatever reason, these two words, "systems" and "structure," are all of the rage in Rangerstown, USA – and as if these two new buzzwords are ground-breaking, visionary and innovative.
I don't want to get into this again tonight – but do some fans really believe that Gerard Gallant had no systems or structure installed?
And let's face it – and even for the loudest "TURK TRUTHER" out there (usually 50-year-old men who live with their parents – and just like that wacky and deranged NO FLEX character) – the topic of Gallant's systems and structure was never a thing last season. Not once.
It only became a thing after his players choked in the playoffs – and I don't even think that the ghost of Lester Patrick (Mollie – he was the first GM and HC in franchise history) could have saved that core.
But alas, I'm digressing again and have written about this subject many times before!
Moving on!
---
Down to 6:45 remaining, one thing became crystal-clear, outside of the Rangers' sloppy start – Erik Gustafsson looks to be the real deal – and the best Blueshirts' 3LD since the waning days of Marc Staal on Broadway.
Not only was he playing stellar defense, where he was forcing turnovers and clearing pucks out of the zone – but he'd later score an offensively-alert rebound goal in the second period too.
I wish I had more time to rave about him tonight – but let this sentence be it – damn he's been good!
Blake Wheelchair? (Nickname credit: Paul S.)
Not so much – and where the Blueshirts should leave him in Winnipeg next week – and then sign Patrick Kane.
(I have to stop with all of these tangents!)
---
Following a bad turnover from Wheeler; with 3:58 remaining, Trocheck almost scored, but a borderline RANGER KILLER, Jacob Markstrom, had made the save – but he wasn't so sure about it – as he had to look into his net to make sure that the rubber wasn't there – and I won't make a prostitution joke about rubbers right now. Time is of the essence after all!
As we hit 3:05 remaining, my prediction about Mika Zibanejad this season, and much like my previous stuff about Wheeler, continued to play out – he can't buy a goal.
Whether it's his new role as ZIBANEDAD or how he's always prone to slow starts – he left Calgary without a goal on his 2023-24 ledger.
But it wasn't for a lack of trying, as at this point in the game, he missed the net on a mini-breakaway and was then denied by Markstrom on a 2 x 1 odd-man rush with his BFF, Chris Kreider.
With 1:28 remaining, this is when Vesey took out Ruzicka with a clean hit – and where for the second time in as many games – a big Ranger hit ended the night of an opponent. (Trouba's clean hit on Andre Burakovsky from Saturday night will keep the Krakhead out of action for several weeks.)
The Rangers, who picked up their pace as the period progressed, had a little flurry to close the frame, as Chytil missed the net on a breakaway and Schneider hit the post.
For as sloppy and messy as the Rangers were – I was fine with it – or at the very least – understood it.
What I am getting at here is this:
Unlike the game/loss with the Predators (https://bluecollarblueshirts.com/101923/ ) – NOT ONCE did I ever question the effort.
No one goes 82-0 – duh.
Losses will happen. Duh times two.
But to not show up, especially for the prices that the Rangers charge for tickets?
I can't, and won't, accept that – and as is evident with the link shared above.
But tonight, and one more time – effort was never a topic of concern – and that's why I felt like the Rangers would ultimately pull it out.
1-0, bad guys, after twenty.
Here's what I said at the time:
1-0, bad guys, after 20. 1P Thoughts:
— Sloppy & disjointed period – but at least there isn't an effort issue as it was against Nashville.
— Mika new baby at home syndrome?
— Always one brainfart that costs CZAR IGOR a shutout, tonight it was Chytil's head gas.
— Rangers…

— BlueCollarBlueShirts (@NYCTheMiC) October 25, 2023
---
SECOND PERIOD:
This was arguably the best twenty minutes of hockey that the Rangers have played this season.
While some will talk about the win over Buffalo – this was a win where they overcame a pigsty start – and then just beat the Flames into submission.
And it all started in this second period, as the Rangers showed off their resiliency.
And yikes – I'm going to be a mess at work tomorrow – so let me just hit the highlights.
With 19:08 remaining, the Rangers took one of their lovely too many men on the ice penalties.
Officially, the Rangers' special teams went 2-5 on the power-play and 4-4 on the penalty kill.
But these are box score stats that don't tell the full story.
The eye test does.
The Blueshirts' special teams were 100% perfect tonight – NO IFS, ANDS OR BUTS ABOUT IT.
Led by Captain Trouba, who made three stellar plays during these two-minutes; the Rangers' PK proved successful here.
Down to 14:45 remaining, the CZAR IGOR SHOW continued:
INCREDIBLE toe save by Igor Shesterkin #NYR pic.twitter.com/GhQl8UAYKA

— Jonny Lazarus (@JLazzy23) October 25, 2023
---
This save kept the game as a one-goal deficit. Better than that, and only down by a goal, the Rangers then got a chance to tie it with 13:54 to go, as Matt Coronato held "THE GREAT EIGHT," Trouba himself.
Going into this game, the Flames' PK was ranked second-best in the league, having gone 21 of 22 (95.5% success rate).
They gave up two power-play goals tonight – and where their three kills were completely FAKE NEWS and FUGAZI.
Following a decent outing from the Rangers' first power-play unit, the PP2 quintet soon came on, and BOOM – Gustafsson, the new quarterback of this unit, and looking like a 2019-20 Tony DeAngelo at the point – set up the equalizer:
Goals in back-to-back games for Alexis Lafreniere #NYR pic.twitter.com/7Ppdgyil0W

— Jonny Lazarus (@JLazzy23) October 25, 2023
---
1-1 – a "Kreideresque" deflection/screen goal for Alexis Lafreniere.
Maybe I'm onto something with my "ROSEN REVERSE CURSES" bestowed upon him.
Here's another "ROSEN REVERSE CURSE" that I'd like to see come to the light – Mika Zibanejad will never score again, and certainly not against Edmonton!
This was a hell of a play from the best off-season signing this season, as if Gustafsson wasn't going to score, and if Lafreniere wasn't going to tip it in, then Will Cuylle was also there to pot this puck.
We'll see where this all goes – and let's not forget that during these opening six games – the Rangers have yet to play a postseason/playoff team from last season either, outside of the expansion Kraken who over-achieved (and don't lose sight of that) – but should the Blueshirts have two capable power-play units (to be fair – they had this after the 2023 NHL Trade Deadline last season) – then they are cooking with fire – where ironically – they took the fire out of the Flames tonight.
Right after the goal, Trocheck took his traditional bad penalty with 11:23 remaining, as his ass must have a magnet with the sin bin.
CZAR IGOR starred on this PK, and at the end of it, the Rangers had now killed off two Flames' power-plays.
Once returned to the ice, NONNA TROCHECK'S BAMBINO drew a penalty himself with 7:42 remaining, when Zadorov held him.
The PP2 unit began this man-advantage, but failed to replicate the goal they had scored earlier. However, it was the PP1's unit turn, as with ten-seconds remaining, CHRISTOPHER JAMES KREIDER:
A gorgeous PP goal by Chris Kreider. #NYR Panarin's point streak extends to 6 games. pic.twitter.com/ffvnnFeYen

— Jonny Lazarus (@JLazzy23) October 25, 2023
---
2-1, GOOD GUYS – and another game-winning goal for the longest-tenured Blueshirt.
Similar to the first goal that Markstrom allowed – there was nothing that he could do here – as Panarin made a perfect pass and all Kreider had to do was make contact with it.
At the time, the special teams were now a perfect 4-4.
As CZAR IGOR continued to prove his brilliance; with 4:38 to go, the penalty box, like a siren mermaid with a horny sailor, wooed Trocheck again. However, just 23-seconds later, Weegar tripped an aggressive Kreider, thus negating the man-advantage.
In other words, the special teams were now a perfect 5-5.
During the 1:37 worth of foreplay, this happened, and with 3:07 remaining in the period:
Great heads up play by Erik Gustafsson and he cleans up the Chytil rebound. #NYR cooking in the 2nd.

5 assists in last 2 games for Chytil. pic.twitter.com/s8Go8eQo2z

— Jonny Lazarus (@JLazzy23) October 25, 2023
---
3-1, GOOD GUYS, as Gustafsson banged home a Chytil rebound.
If there was anything that I didn't like about this game, and this is trivial, then it's the fact that Chytil was named as the first star because of his two assists. (CZAR IGOR finished second, Coleman third.)
In my eyes, CZAR IGOR was first, Gustafsson second and Coleman third.
Furthermore, and I guess it's because morons like Mollie are allowed to vote on this – Chytil's defensive gaffe, which ruined CZAR IGOR's shutout, was ignored by this voting panel.
But my point is this – Gustafsson had another stellar showing tonight.
Following the goal, the Rangers had a short power-play (26-seconds), where when it began, the Flames had the puck.
In other words, while this goes down as a kill for the Flames (which is why these stats don't tell you shit – the eye test does), this also wasn't a power-play failure either.
With 24.1-seconds remaining, Cuylle, and for the second consecutive game, took an emotional penalty when he let his anger get the best of him and boarded Coleman.
In my eyes, this wasn't boarding at all – but it was a cross-check.
As the clock hit triple-zeroes, we remained at 3-1, GOOD GUYS.
Here's what I said at the time:
3-1, GOOD GUYS, after 40. 2P Thoughts:
— #NYR Special Teams have been perfect.
— Gustafsson is the best 3LD in a while.
— CZAR IGOR is like Seattle – lights out.
— Rangers have blown out the Flames' candle.
—- When did Blake Coleman turn into 99?
— Felt at the end of…

— BlueCollarBlueShirts (@NYCTheMiC) October 25, 2023
---
THIRD PERIOD:
Okay, I really have to blow through this final frame.
The short of this period?
The Rangers tried to play keep-away, rarely looked to score and relied on CZAR IGOR.
We kind of saw this style of period in the previous three wins – as once with the lead – it was all about limiting chances for the Blueshirts' opponent.
At one point, the Rangers seemed content to just ice the puck whenever Trocheck or Bonino was out there – as they weren't losing any faceoffs in this final frame.
After killing off the remainder of Cuylle's penalty, the Flames were a team without an answer.
In some BUFFALO WILD WINGS/NFL REFEREES action – the bozos in stripes ignored two Flame penalties.
The first time was when Cuylle was tackled while on a breakaway and the other was when Zadorov clearly charged (and tried to bait) Goodrow.
But since the Rangers had a two-goal lead, and because these officials wanted to keep this game close – these penalties were never called.
Put it this way, and this isn't a conspiracy theory, this is a fact: Had the Rangers been trailing, then these penalties would have been called.
No matter, as the Flames couldn't help themselves – and committed two more penalties that were assessed during the final ninety-seconds, as Tanev was boxed for interference for playing CZAR IGOR's stick that was dropped on the ice, while Coleman was nailed for hooking Fox.
As a result, the Rangers had a late 5 x 3 power-play with a two goal lead – but they weren't taking any chances.
In other words, they went 0-2 on the power-play here – which only puts more credence into my EYE TEST mentality – as these final ticks were about closing out – and not going for goal #4.
But for good measure – Zibanejad (team-high five shots on goal) had two chances here – but unlike his successful work with his wife 11-12 months ago – couldn't score.
Let's hope he cums comes again soon.
Where else will you get such bad comedy?
That is, intentional comedy – and not the drivel from the spaghetti-stained fingers of Miss Don't Give a Shit – who in all of her infinite ignorance – will try to ignore the Trouba/Draisaitl stuff for the next 48-hours.
Great win tonight!
Here's Lavy after the two-points – and first-place standing – netted:
Oops – the Rangers have pulled the video from YouTube for whatever reason!
But by the time that you read these words, it may be back up again here: https://www.youtube.com/@nyrangers/videos
---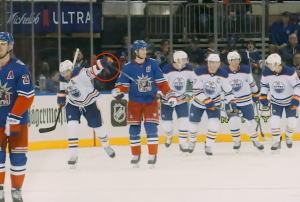 Bed time for me – as that early alarm clock is unfortunately in my future.
Back at it Thursday night, with a Rangers/Oilers (McDavidless) review.
Final words?
You had to like what you saw tonight.
PLUGS TIME! (Buy a book and support my Rangers' induced therapy bills. After all, I don't run ads on this site!)
---
My fourth title and tenth book is now available for preorder!
"The Top 100 Villains of New York Rangers History," is now available for preorder.
For complete information, please visit: https://bluecollarblueshirts.com/rangerkillers/
---
My second plug of tonight's blog – the mandatory plug for my book, "The New York Rangers Rink of Honor and the Rafters of Madison Square Garden."
As mentioned previously, the book is now available in hardcover, in paperback and in Kindle formats. To purchase a copy of the book, visit this link:
https://www.amazon.com/Rangers-Rafters-Madison-Square-Garden-ebook/dp/B09CM5N2WD
For those still looking for signed paperback versions of the book, I have re-ordered more copies. I now have a few signed copies for sale at $25 a pop (includes shipping price) through me directly. Here is all the information on that:
---
My four-volume set of books, "One Game at a Time – A Season to Remember," is a game-by-game recount of the Rangers 2021-22 campaign.
My second title as an author, "One Game at a Time – A Season to Remember," is now available in eBook, paperback and hardcover formats.
To obtain signed copies, visit: https://bluecollarblueshirts.com/onegamebook/
To purchase all four volumes on Amazon, visit: Amazon.com – "One Game at a Time."
---
The greatest volume-set of books on Rangers' history today!
"Tricks of the Trade – A Century-Long Journey Through Every Trade Made In New York Rangers' History," a four-volume set of books that meticulously covers every trade made in franchise history, is now on sale.
All four volumes of the title can be purchased on Amazon.com and are presented in three different formats – eBook, paperback and hardcover.
To purchase Volume I: Conn Smythe (1926) – Craig Patrick (1986), visit Amazon.com
To purchase Volume II: Phil Esposito (1986) – Neil Smith (2000), visit Amazon.com
To purchase Volume III: Glen Sather (2000-2015), visit Amazon.com
To purchase Volume IV: Jeff Gorton (2015) – Chris Drury (2022), visit Amazon.com
To purchase signed copies of all four volumes, visit https://bluecollarblueshirts.com/tricksofthetrade/
---
Here are my last few blogs, in case you missed them:
---
---
---
If you haven't already, subscribe to this blog for the next update:
---
Don't forget to order my recently released four-volume set of books, "Tricks of the Trade!"
If you don't order through me, all four volumes are now available on Amazon.com
For more details, check out: https://bluecollarblueshirts.com/tricksofthetrade/
Thanks for reading.
LET'S GO RANGERS!
Sean McCaffrey
BULLSMC@aol.com
@NYCTHEMIC on the Tweeter machine