Greetings and salutations everyone and welcome to another blog here on BlueCollarBlueShirts.com. By the time that you read these words, there are only eight days remaining prior to the start of the 2023-24 season for our beloved Blueshirts.
While I've previewed this season for some time now (my complete 2023-24 Season Preview is here: https://bluecollarblueshirts.com/2324nhlp/ ), while also giving you every nook-and-cranny from my Blueshirts' brain this summer; I do think this much is true – Ranger fans are out of patience.
At the very least – I know that I am!
As stated many times before – the tragic memories of that 2023 Stanley Cup Playoff loss can only be erased by a championship won in 2024 – and even in the event of such a miracle occurring – those two ugly little words, "Akira Schmid," will never truly go away.
And as repeated many times on this site too, that 2023 Stanley Cup Playoff loss to the Devils was the biggest motivator in getting my newest book across the finish line this summer. (You can buy it here: "The Top 100 Villains of New York Rangers History." )
For older fans who can remember when "19-40" used to be a derisive chant and painfully endured part of the franchise's previous 54-year Stanley Cup drought (and for their sake – I hope not all 54-years of it); it's starting to feel a little bit too close to home again, akin to deja vu – as should the Rangers not have a parade this June – then their new Cup drought will have hit thirty-years and counting.
Not even tears from Alexis Lafreniere fans will end that drought.
---
Currently, and while there is a minor demographic of Ranger fans that exclusively dedicate all of their free time to hockey – and do not suffer through the other sports franchises in New York; for the most part, Ranger fans also follow the city's NFL, MLB and NBA teams too.
And what does it say in 2023, when the New York Liberty (ironically, no longer owned by James Dolan anymore), has the best shot of bringing a championship to the Big Apple?
Should the Liberty finish the job (they are in the WNBA Finals right now) – then they would end a long drought, a drought devoid of any type of winning, in the migrant city.
Say what you want about professional womens' basketball, which has never been profitable and this includes dating all the way back to its 1997 inception (the NBA subsidizes the league and it's a tax write-off for them too – and it's also a reason why the NHL, who doesn't have the deep pockets as the NBA has, hasn't done the same with a professional womens' hockey league); but the Liberty are the only women ballers in-town.
Conversely, there are two football teams (Giants and Jets), two baseball teams (Yankees and Mets), two mens' basketball teams (Nets and Knicks) and if you count the Devils, three hockey teams (Rangers and Islanders), that all play in or near NYC.
(And sorry soccer fans – I'm your typical red-blooded American – and have no clue what's going on in that world. I think there is a team that plays at Yankee Stadium though and another nearby in Jersey, a franchise named after an energy drink.)
None of these teams, in their present state, nor in recent years either, have been any good – or at least not good enough to win a championship. (The Rangers and Islanders reached the penultimate round of the Stanley Cup playoffs in three consecutive years, from 2020-22, but once there, couldn't get the Tampa Bay monkey off of their backs.)
And if you singularly focus on 2023 – you could also argue that this is one of the worst years in all of NYC sports, between the mega payroll baseball teams that couldn't make the playoffs, two NBA teams on a proverbial hamster wheel to nowhere and the two NFL teams both sporting a 1-3 record – and where it's arguable that both the Giants and the Jets are the two worst teams in all of football too.
Take all of that into account, and unless you're a diehard fan of the Liberty (maybe there are one or two of you out there that are part of the hardcore NHL/WNBA fan demographic) – then it's been nothing but pure cruelty, agony, brutality and all-out pain whenever watching your favorite team play on game day.
This is also why I feel that there is more pressure on the Rangers when compared to years' past (at least from the perspective of the Blueshirts' fan base) to succeed.
There's no escaping it – that 2023 playoff loss hurt as much as losing a pet – and I say that as someone who has had to make that tough, humane and painful choice many times over – and just like many of you.
Watching the other teams in New York isn't much better.
---
In a statement that I probably should begin every blog with, and one that I have probably written 78967896786789697867896789678969 times this off-season too; the following:
"WHATEVER THE RANGERS DO IN THE REGULAR SEASON DOESN'T MATTER. THEY CAN ONLY BE JUDGED BY WHATEVER THEY DO IN THE 2024 STANLEY CUP PLAYOFFS!"
Seriously, the Rangers could win the Presidents' Trophy and the players could win every individual award/trophy in the league too – but if they don't have that ticker-tape parade at the end of it – then this season is a failure – no ifs, ands, or buts about it.
And in a way, and without having 100% confirmation on this – it's how I suspect that team owner James Dolan feels too – a man who as he gets older – desperately wants a championship win to put on his future epitaph, and in all his obituaries too, when that day inevitably comes.
No owner (or person for that matter) wants to be known as the person who couldn't win a championship – especially when as an owner of two different franchises for over fifty seasons.
While it's hard to imagine Dolan ever reaching the "grandfatherly," and more importantly than that, "championship," status that former Yankees' owner George Steinbrenner had later in his life; one championship, one Stanley Cup, would at least erase some of the many black marks on his tenure and time as owner of both the Rangers and the Knicks – and where let's face it – the Knicks aren't going to win an NBA title any time soon.
Heck, we've seen Dolan, who never got involved with his hockey club ever since first acquiring it in the fall of 1994, start to pay more attention to his Blueshirts recently, as in 2021, just two-years ago – he fired a whole regime of Rangers' management – including boffo fan-favorite, John Davidson.
(And in hindsight – I can't say that he was wrong in doing so either. But the whole love-affair with "Senile Sather" is something that I'll never understand – but I've said this trillions of times before.)
And while we'll get into the overreactions and facts in our main event segment tonight (this was just a teaser – a long one at that); I don't think that it's out of line to believe that both general manager Chris Drury and head coach Peter Laviolette are feeling this pressure.
At least Glen Sather is safe.
---
At this time, let's cover all of Rangers' news from the past few days, talk about Derek Stepan's retirement and then get into the "23 Concerns For the 2023-24 New York Rangers."
Let's roll.
---
Following that disgrace from Saturday night, the Rangers' 5-3 loss to the Islanders at the IBS Arena in Belmont – the Blueshirts had Sunday off.
Once NFL Sunday came to a close, the Blueshirts then returned for a pair of lengthy practices on Monday and Tuesday.
Since I know that this blog is already long, and that I'll have all of the "LAVY LOUNGES" for you below – there's no good reason to recap all of the lines and pairings – because after all, and as reiterated many times over by the head coach himself – nothing is final during this experimental period.
But of course, Alexis Lafreniere, perhaps the Vitali Kravtsov of this season (whipping boy), drew attention when he was slotted at left-wing, rather than at the right-wing, his off-wing, where he has struggled in his three preseason showings thus far.
More on this following the "LAVY'S LOUNGE" segments.
In roster news, and as the Rangers continue to get down to either a 22- or 23-man roster (most likely 22 – for salary cap reasons, including cap accrual for the trade deadline), the Blueshirts assigned Brett Berard, Dylan Garand, Adam Edstrom, Jake Leschyshyn (who cleared waivers as we all predicted), Matt Rempe, Matthew Robertson and Brandon Scanlin to the Hartford Wolf Pack.
While I was sad to see Rempe go – that was always the plan – but I also believe that we'll see him make his NHL debut this season at some point.
In more developments pertaining to the roster, both Louis Domingue and Mac Hollowell were placed on waivers – and then cleared – and then assigned to Hartford 24-hours later.
In our final piece of roster news for the time being; the Rangers recalled "The Grand Garand" from Hartford one day after assigning him to their AHL affiliate.
For whatever reason, many Blueshirt backers (perhaps the dummies) believed that this had something to do with Jonathan Quick – but the call-up was unrelated to the struggling future Hall of Famer.
Instead, due to the Rangers' back-to-back upcoming preseason games (Wednesday and Thursday nights); Garand was called-up as a back-up, as the plan is to let Quick start on Wednesday (at Devils) and CZAR IGOR on Thursday (vs. Boston).
Whether Garand gets into either game or not is unknown, as usually, NHL teams allow their two goalies to play a full sixty-minute contest prior to the commencement of the regular season.
As they say, "we'll see."
And oh, when talking about the roster – Filip Brittle Chytil still remains day-to-day, where as previously speculated, but not confirmed on this site on Sunday – it's sounding like he's battling another concussion.
That's the impression that Laviolette gave too, especially when he said on Monday [in regards to #72 being available for the first game of the season], "I think he'll be there, but I can never be sure about these things."
Chytil, with the "upper-body injury" designation; had he had a broken finger, a busted nose, or something else of the sort – then I think that the head coach would "be sure about these things."
And that's my story – and I'm sticking to it!
---
Here was Monday's edition of "LAVY'S LOUNGE," where of note, the team practiced their special team units for the first time  (including their 0-12 preseason power-play) – which took place after a lengthy 5 x 5 practice and scrape of the ice:
---
Here was Tuesday's edition of "LAVY'S LOUNGE," where something caught my eye from it too:
---
One thing has been made clear this preseason, whether it be from me, fellow fans, media members or even the M$GN itself – all eyes are on Lafreniere – and where one more time – his slow start will only continue to fuel the talk and speculation in regards to his off-season training.
In fact, most of Tuesday's "LAVY'S LOUNGE" was centered on Lafreniere – a player that's not only creating questions among New York residents – but in all of the league – and in Canada too.
For his sake, the Rangers' sake, and most importantly, the sake of Blueshirt backers too – let's hope that it all comes together for him.
I'm rooting for it.
I know that I have been beating the drum harder than most in regards to this story – but admittedly, I'm sick of the negativity too – but you can only work with the material that you're given.
Let's hope for better material – and play!
---
As far as anything else from Laviolette, it was the same: All questions were answered with a disclaimer/qualifying statement, don't put anything into his lines, guaranteed contracts will affect roster decisions, "SYSTEMS, SYSTEMS, OH MY SYSTEMS," and etc.
At this time, let's talk about the Rangers' alum, specifically Derek Stepan, and then get into our main event segment, "The 23 Concerns For the 2023-24 New York Rangers."
---
I brought up former Rangers' center Derek Stepan on this site a few weeks back, when it was first reported that he had accepted a front office job with Bill Guerin's Minnesota Wild.
(Of note: It's now being reported that Stepan may even shadow Guerin, as the wise former Blueshirt is looking to be groomed for a future general manager position.)
On Tuesday, 10/3, Stepan confirmed all of the speculation – at only the age of 33-years-old, and arguably, with some mileage still left in the tank – he announced his retirement via a statement released by both the NHL Alumni Association and NHL.com:
Derek Stepan retired from the NHL on Tuesday after 13 seasons.

The 33-year-old forward had 11 points (five goals, six assists) in 73 regular-season games for the Carolina Hurricanes last season and one assist in 11 Stanley Cup Playoff games.

Selected by the New York Rangers in the second round (No. 51) of the 2008 NHL Draft, Stepan had 515 points (182 goals, 333 assists) in 890 regular-season games for the Rangers, Arizona Coyotes, Ottawa Senators and Hurricanes. He had at least 50 points five times and played all 82 games in a season four times.

Stepan had 55 points (20 goals, 35 assists) in 120 playoff games and his teams qualified for the postseason in 10 of his 13 seasons.

"After 13 years in the NHL I've decided to retire," Stepan told the NHL Players' Association. "I want to thank my family and friends for always supporting me and allowing me to live my dreams. I want to thank the four organizations I had the privilege of playing for, and to my teammates for allowing me to be part of their family. Finally, I want to thank the fans, it was an honor to play in front of you. I'm forever grateful for this game and I look forward to the next chapter."

Stepan helped the United Sates win a gold medal at the 2010 IIHF World Junior Championship, where he had 14 points (four goal, 10 assists) as team captain. He also represented the United States at the 2011 World Championship, 2014 Sochi Olympics and World Cup of Hockey 2016.
---
While the news of Stepan's retirement was expected; now that he's retired, I think he will always be remembered as a beloved Blueshirt.
(And if it wasn't for his new role in his home state of Minnesota – as a well-spoken player – I think he would've been a heck of a candidate to work alongside of Henrik Lundqvist on M$GN broadcasts – as I have to think that the failure known as the 2017 Stanley Cup Playoffs are long behind them.)
And as said many times before on this site – I also think that Stepan will be remembered as the first player traded away during the Rangers' most recent rebuild – even if his trade to Arizona predated "The Letter" by eight months.
Since I wrote so much about Stepan in my first book, "The New York Rangers Rink of Honor and the Rafters of Madison Square Garden;" rather than rewriting everything that I've previously written about him – instead, and at this time – I'm going to share the complete Stepan chapter from the book for you below.
Enjoy.
---
— Derek Stepan: (2010-2017)
Just like many of the more recent Ranger names on this list, Derek Stepan had a phenomenal career with the Rangers – a Blueshirts' career that only came to an end because of the NHL's hard salary cap system.
Stepan was born on June 18th, 1990 in Hastings, Minnesota. After Stepan graduated from high school, the Rangers selected him with their second-round pick in the 2008 NHL Entry Draft.
Of note: Stepan, who was selected 51st-overall in the draft, watched the Rangers select Michael Del Zotto with their first-round pick (20th overall). Needless to say, Stepan made more of an impact in the Big Apple than "MDZ" ever did.
(UPDATE FOR THIS SITE: Go figure, both Stepan and MDZ also exited the league together, as both men retired in 2023, and relatively young at that, each at the age of 33-years-old.)
Upon being drafted, Stepan attended the University of Wisconsin where he played for two seasons. On July 1st, 2010, and now at the age of 20-years-old – Stepan decided to pass on his junior and senior years of college and as a result, then made the jump from the collegiate ranks and straight into the NHL.
Come opening night of the 2010-11 season, Stepan was now a New York Ranger, having bypassed the entire AHL (the Connecticut Whale/Hartford Wolfpack) experience.
Stepan began his NHL career with a bang.
On October 9th, 2010, Stepan scored three goals, a hat trick, against Ryan Miller and the Buffalo Sabres, en route to a Rangers' 6-3 win. As a result, and to this very day – Stepan is the only rookie in Rangers' history to ever accomplish this feat.
In addition, and as of this 2021 writing, Stepan is only one of five players to score three or more goals in their NHL debut. The players who accomplished this feat before Stepan are the following:
Alex Smart of the Montreal Canadiens (January 14, 1943), Réal Cloutier of the Quebec Nordiques (October 10, 1979) and Fabian Brunnström of the Dallas Stars (October 15, 2008).
The last person to accomplish this feat was Auston Matthews of the Toronto Maple Leafs, who scored four goals in his NHL debut (October 12, 2016).
The tremendous rookie season for Stepan continued as he was also selected to the 2011 NHL All-Star team. In his rookie season, which was also the Rangers' 85th season, Stepan's 21 goals and 45 points were fourth-best on the team – and in each respective scoring category to boot. The right-handed centerman also finished 13th-place in the Calder Trophy race that season, which Jeff Skinner of the Carolina Hurricanes won.
However, and unfortunately, in Stepan's playoff debut, the Rangers were soon eliminated by the Washington Capitals in the first-round.
In Stepan's second season with the Rangers, both he and the Rangers improved. Stepan finished the campaign with 17 goals and 34 assists – good for a grand total of 51 points. These stats saw Stepan place top-four on the team in each respective scoring category. Even better, Stepan would also get a taste of his first deep playoff run, as the Rangers made it all the way to the Eastern Conference Final in the 2012 Stanley Cup Playoffs. However, an Adam Henrique goal would close the Rangers' season in the sixth-and-deciding game of the series. (The less said about Henrique the better!)
The 2012-13 lockout-shortened season was a banner year for Stepan. His 26 assists and 44 points made him the team leader in these categories. In addition, Stepan's 18 goals left him three goals shy of the team leader from that season, Rick Nash (21 goals). However, in the 2013 Stanley Cup Playoffs, the Rangers played a depressing second-round against the Boston Bruins, where it felt like the Rangers were 0 for 1,000 on the power play. As a result, the Bruins bounced out the Rangers in five games. Shortly following the series loss, then head coach John Tortorella was fired.
The 2013-14 New York Rangers were also the team that went on a Cinderella run during the 2014 Stanley Cup Playoffs. Stepan once again led the team in assists, with 40 in all (Mats Zuccarello also finished with 40 assists). Stepan's 57 points also saw him finish second-overall on the team with only Zuccarello having more points (59).
Stepan played well during the 2014 Stanley Cup Playoffs, where the Rangers ultimately fell to the Los Angeles Kings in the final round. However, by this time, Stepan had long won the fans over. Now with more years under his belt, Stepan had become a team leader, a role which he flourished in.
In the season that followed, 2014-15, the campaign where the Rangers won the Presidents' Trophy – Stepan, noted for his leadership presence, was named as an alternate captain of the team.
Not only was Stepan becoming a go-to guy for the media before and after games, but he was also a leader at the rink. You could see Stepan talking to his teammates both on the ice and at the bench during any given game. #21 of the New York Rangers had arrived.
The 2015-16 season saw Stepan pick up a career-high in goals, 22 strikes in total. Along with his 31 assists, he finished with 53 points for the season. At this point in Stepan's career, people around the league had noticed that he had become a year-in and year-out 50+ point player. Stepan also had a knack for face-offs and was often called upon as the team's number one center.
Unfortunately, the 2016-17 season would be Stepan's last as a Ranger, despite his ability to produce at a high and consistent level.
In his final season with the Rangers, Stepan finished with 17 goals and 38 assists for a grand total of 55 points. Once again, Stepan was not only a team leader – but a team scoring leader as well. Stepan's 38 assists placed him second only to Mats Zuccarello, who finished with 44 assists that season. In addition, Stepan's 55 points only put him four points shy from Zuccarello, who finished that season with 59 points.
While Ryan McDonagh may have been wearing the "C" on his sweater during this time, it was Stepan who was always the more vocal of the two.
Yes, Stepan could be intense on the ice, but he would also show a comedic side of himself in the locker room, where he did light-hearted video interviews for the Rangers' social media channels and team website.
The 2017 Stanley Cup Playoffs were not only the beginning of the end for the Henrik Lundqvist Era of Rangers, but for Stepan himself.
Following a first-round six-game ousting of the Montreal Canadiens, the Rangers then imploded against the Ottawa Senators in the second-round. During this series, Rangers' goaltender Henrik Lundqvist blew every lead imaginable and was routinely beaten on shots that he so easily swatted away in the past – and where no one inflicted more damage against "The King" than Jean-Gabriel Pageau – who as a result, became another "Ranger Killer" in franchise history.
During one of Lundqvist's meltdowns, Stepan skated to his goalie and told him to "calm down." At that moment, most Ranger fans knew that Stepan was doomed, as in the eyes of Rangers' management, Lundqvist, the face of a franchise and the top draw for Garden patrons, could do no wrong.
While "The Letter" from Rangers' management, where Jeff Gorton and Glen Sather announced their intentions to rebuild the team, would officially come in February of 2018 – in hindsight, the trade of Derek Stepan unofficially jump-started the Rangers most recent rebuild.
As it would come to be in this new era, salary cap hits are now as important as any other stat on the back of a trading card. Stepan is not exempt from this.
On July 27th, 2015, and prior to Stepan's contract arbitration date, he signed a six-year deal with the Rangers worth $39M overall. The deal would pay Stepan $6.5M per season and would conclude at the end of the 2020-21 season.
Less than two years later after putting pen-to-paper – the Rangers traded away Stepan.
In a trade executed during the 2017 NHL Entry Draft; on June 23rd, the Rangers dealt Derek Stepan and goaltender Antti Raanta to the Arizona Coyotes in exchange for Tony DeAngelo and the seventh-overall pick of the 2017 NHL Entry Draft. The Rangers would later select Lias "Jessiman" Andersson with the prized pick.
In hindsight, if it weren't for the acquisition of Tony DeAngelo, then this trade would've been a total bust for the Rangers.
After all, at least the Rangers got some solid production and great games out of DeAngelo before his own ordeal with the team.
During Stepan's days with the Rangers, the #1 center bled blue and always showed his desire to win.
The biggest display of Stepan's rugged toughness took place during the 2014 Eastern Conference Final against the Montreal Canadiens.
In Game 3 of the series, and after a run-in with former Blueshirt Brandon Prust, Stepan suffered a broken jaw, thus requiring surgery – and a straw to eat with. It was originally thought that the Rangers would lose Stepan for the rest of the playoffs. That wouldn't be the case.
Stepan would miss Game 4, but miraculously, made his return for Game 5. Stepan, now sporting an unusual yellow face mask, scored two goals in the game. However, the Rangers lost this potential close-out game by a final score of 7-4.
With the series now 3-2 in favor of the Rangers, Stepan and his yellow mask were out there for Game 6, where the Rangers closed out the Canadiens by a final of 1-0. While Dominic Moore and Henrik Lundqvist were the stars of that game – Stepan's bravery and toughness also garnered headlines.
When the Rangers traded away Stepan, they lost a true leader. However, Rangers' management, with the thinking of that they had peaked and that Stepan may have been overpaid too – finally decided to move their veteran in an attempt to embrace a new youth movement.
After the 2017 trade to Arizona, Stepan remained with the Coyotes until December 26th, 2020, when he was then traded to the Ottawa Senators.
During Stepan's time with the Coyotes, he served as the team's alternate captain. Stepan's point production had also dipped during his time with the Coyotes – but to be fair, their roster wasn't like the Rangers' roster from the early 2010's either.
With Stepan playing a featured role, the Arizona Coyotes would qualify for the playoffs for the first time since he arrived during the 2020 Stanley Cup Playoffs. As an underdog, Stepan and the Coyotes upset the Nashville Predators in four games and were then eliminated in the second-round, by the much more dominant Colorado Avalanche, in five-games.
When you look at Rangers' history starting from the Great Expansion of 1967 and moving forward; the two brightest eras were the Emile Francis and Henrik Lundqvist eras. (1994 was one year – and not exactly an "era".)
While both eras failed to attain their goal, despite advancing to the Stanley Cup Final – players from both of these eras are always remembered in a positive fashion. Stepan is one of those players.
In the present day, after limited action with the Senators, Stepan had season-ending surgery on his shoulder on March 2nd, 2021. On July 31st, 2021, Derek Stepan signed with the Carolina Hurricanes for the 2021-22 campaign.
Of note, by signing with Carolina, Stepan became the sixth member of the Rangers' alumni to join the Hurricanes for the 2021-2022 season. (Brady Skjei, Jesper Fast, Antti Raanta, Tony DeAngelo and Brendan Smith being the others.)
While Stepan may be skating with a Rangers' rival today, he'll always have a special place in Blueshirts' history – and in the heart of New York fans too.
---
You can purchase "The New York Rangers Rink of Honor and the Rafters of Madison Square Garden" here: Amazon.com
For people looking for signed copies (paperback only), I still have a few left in stock for $9 (cheaper than Amazon). Just email me (BULLSMC@aol.com) for info, where unlike Amazon – you will have to pay the shipping costs! (I'm just being upfront with ya!)
---
"The 23 Concerns For the 2023-24 New York Rangers"
Well, I gave you the preamble for this segment at the top of tonight's blog – and really – have been bringing up these questions and concerns all summer too.
However, to put it all together, and as we inch closer-and-closer to the start of the 2023-24 season, I present to you, "The 23 Concerns For the 2023-24 New York Rangers."
---
1. Can CZAR IGOR stay healthy?
Ever since CZAR IGOR's January 2020 arrival, he's only been full-time and devoid of any injury in one season – last season – the 2022-23 campaign.
Between a late in-season call-up, a pandemic that cut into two seasons and multiple groin injuries; the 2022-23 season marked the first time where the 2022 Vezina Trophy winner was available in every game.
The birth of his son may have affected his slow start last season (our excellent beat reporters never asked him about it so we don't know for sure), but that won't be an excuse this time around – where let's be fair – CZAR IGOR bounced right back following his early struggles.
Also true? He wasn't able to repeat his 2022 Vezina performance, nor qualified for a top three vote either.
Many have said, and just like his predecessor, Henrik Lundqvist – that this team will only go as far as the goaltender takes them.
However, I'm not so sure how true that is – as after all, sans Lundqvist's early years, when he had the likes of Jaromir Jagr and Brendan Shanahan around – ON PAPER (and we all know how that goes) – the Rangers have put more firepower in front of #31 than they had previously done for #30.
(But of course, Lundqvist also took up 13.22% of the team's salary cap – CZAR IGOR takes up half of that figure – but I'm sure that you're sick of this redundant talk by now, so I'll dead it here!)
When we look at Rangers' goaltending since the inception of the salary cap era (2005-06 season), it's been dominated by Lundqvist and CZAR IGOR.
However, and for the first time since the 2013-14 season – a period of ten-years – the Rangers don't really have a quality back-up goalie this season.
Whether it was Cam Talbot, Antti Raanta, Alexandar Georgiev or Jaroslav Halak; the Rangers could always rely on their back-up goalies, where towards the end of the Lundqvist Era – Talbot, Raanta and Georgiev actually posted better stats than the aging "King."
Even Halak, who was better than his win-loss record last year would suggest (he got no goal support in his first six games – and where the team was shutout in three of those contests), was both serviceable and reliable.
Jonathan Quick? Egads man – and you already know how I feel about him – I don't think that he makes it through this season.
Here's a FACT – and not an OVERREACTION – if CZAR IGOR's chronic groin injuries painfully pop-up again, then the Blueshirts are left to the devices of the over-the-hill Quick, a Louie Domingue who pretty much allowed the Rangers to make their deep 2022 Stanley Cup Playoff run, and the untested Dylan Garand.
Not exactly a murderer's row of back-up goalies – but who knows – maybe Garand, like former ex-Ranger back-ups, Talbot, Raanta and Georgiev, could become a future starter.
Then again, he could become the next Sieve Vagistat too.
With the Metro division being so tough, and where missing the playoffs is a real possibility too due to the rise in the Atlantic; it feels like it will be a slippery slope in determining how many starts CZAR IGOR gets this year – and with the intention of keeping him fresh and rested for (god-willing) a playoff run.
---
2. Will the Rangers stay true to Peter Laviolette?
Already, there is some chatter that the new head coach in town is pushing his players too hard – which is the end result of some injuries received (Zibanejad, Kreider, Panarin, Jones, Chytil, etc).
However, I think that's an overreaction to some of the unfortunate sequences of events, rather than Lavy running these guys into the ground ala Herb Brooks.
But as we saw on this past Monday, following the "Saturday Smackdown" that the Rangers received from the Islanders – and where the Blueshirts had more black eyes than Jerry Seinfeld going scuba diving – Lavy will take it out on his team when warranted.
Let's just hope that these grueling practices aren't warranted all-season.
This is a Rangers' core that has now run two coaches out of town, David Quinn and Gerard Gallant – and two bench bosses who couldn't be any more different in both style and experience.
Is a third time a charm under Laviolette?
You better hope so, because while most of these players have guaranteed deals – how can three different coaches be wrong?
These players begged for a head coach like Lavy during their exit interviews from last season – and let's just hope it's not a tale as old as time of "being careful what you wish for."
---
3. Can Artemi Panarin ever turn his regular season success into playoff success?
One of the reasons that Mike Keenan jettisoned off the Hall of Famer Mike Gartner, a pure goal scorer, for another Hall of Famer, albeit a role-player, Glenn Anderson in 1994, was because "Iron Mike" didn't view Gartner as a playoff performer.
And had the Rangers not won the Cup in 1994 – then this would've went down as one of the worst trades in all of franchise history – and with all due respect to both Ken Hodge and Rick Middleton.
So I ask, is Panarin a 2023 version of Gartner – a guy who can rack up the points in the regular season – but vanishes when the games mean the most?
There's been nothing to suggest that Panarin can get it going come the postseason – but damn it – the Rangers love insanity – and they are damned to defy the textbook definition of that word.
---
4. Are Filip Chytil's injuries something to worry about?

The Czech center, now in his seventh NHL season if you can believe it, has never been healthy and played in all 82 games during a league campaign in his career – not once.
However, it was promising that he played in 75 games last season, following seasons of 67, 42 and 60 GP.
As mentioned earlier, it's being speculated, if not 100% believed, that he's suffering through another concussion – and you know what they say about concussions – once you get one, then you're more apt to receive another.
However, both his teammate, Mika Zibanejad, and his foe too, Sidney Crosby, were also once concussion prone, but have been relatively healthy ever since their last unfortunate diagnosis.
But it is something to think about.
---
5. Speaking of Chytil, can he ever win a damn faceoff?
At several points during Chytil's career, it was suggested that he convert to a wing position.
After all, he's routinely placed in the league's bottom 5% in faceoff winning percentage ever since his entry into the NHL – and where among all centers who qualified last season – finished dead-last in this pertinent department.
Career-wise, Chytil, who finished 39.8% at the circles last season, has a 40.3% success rate – and where in five of his seven seasons – has finished below 40% too. (His career-high is 43.4%, which took place during that magical 2021-22 season where not much went wrong for the Rangers – aside from the Lightning.)
For a new head coach who has preached the importance of face-offs during training camp; Chytil, now on the first-year of a four-year deal worth $17,750,000 in total ($4,437,500 AAV), has to win more draws.
And for the money that he's being paid – he needs to crack 60+ points too – after setting his career-high in this scoring category last season (45).
---
6. Is it worth ping-ponging Garand around?
Assuming that Quick's regression sinks into a deeper hole this season, and knowing that he has a guaranteed NHL contract too – should the former three-time Stanley Cup champion not have it this year – then is it worth it to allow Garand to get starts in Hartford, in order to increase his ice-time and to keep him active – and then call him up for spot starts on the nights where CZAR IGOR needs a timeout?
Put it this way, and yes, I'm not that high on Quick to begin with: If you're going to lose with Quick anyway, then would it be a bad idea to employ this strategy and see what you have with Garand – who potentially – could be the back-up goalie of the future?
(And the Rangers would love it if Garand can work out as a back-up goalie – especially since he has two more seasons left on his contract that annually pays him $828,333 – which opens up money to address other holes on the roster.)
---
7. Does Andy Hosler make a difference?
As first broken by our roving reporter Ricky Otazu, one of the factors in the firing of former Rangers' trainer, who served the club for 29-years, Jim Ramsay – was because Chris Drury wants his own people – a game plan that he's executed ever since day one on the job.
Whether it was overhauling the coaching staffs, scouting teams, the roster or something else; Drury wants full control – although he'll never get rid of Sather from this organization – something that he has no control over.
Andy Hosler, Laviolette's pal from his Predator days, replaces one of the greatest trainers in the league (and where of no irony – then immediately landed with Jeff Gorton and Martin St. Louis in Montreal), Rammer himself.
While I'm not suggesting that trainers make-or-break a Stanley Cup winning team; at the same time, they are important.
Also important?
Knowing your players and their histories – two things that Hosler will have to fast-track and attain this season.
---
8. Will Mika Zibanejad have another slow start?
Ever since his 2016-17 season arrival (and in one of the greatest trades that former GM Jeff Gorton ever made, when he sent Derick Brassard to the Senators for DJ MIKA), Zibanejad has been prone to slow starts – where in every season except one – it's been a struggle for the Swedish-Iranian during the first 25% of the season.
Last year, he sat on two goals scored at the one-quarter mark.
This year, he has a new baby in tow – and whether you give credence to this theory or not – the late night wails from Timofey Shesterkin didn't do CZAR IGOR many favors last season.
(And to be clear – I AM NOT SUGGESTING THAT THESE PLAYERS REMAIN STERILE AND CELIBATE DURING THEIR PLAYING DAYS! THEY ARE HUMANS AND LIVE NORMAL LIVES LIKE ANY OF US!)
What I am saying is that Zibanejad has had some poor starts to NHL seasons, and I wonder if his new child will only exacerbate this negative trend.
---
9. Speaking of slow starts, would a slow start derail the Rangers' season?
In a word, NO.
After all, just look at this team last year, a club that struggled out of the gate, then got help from Jordan Binnington in early December, and by New Years' Day – never looked back.
Even if the Rangers open the season at 0-10, in this three-point league, and with so much parity in it too – while I'd be pissed – I wouldn't throw in the white towel either.
Again, it's all about making the playoffs and what they do once there.
And much like this preseason – no one will remember the start of the season should the Rangers qualify for the postseason.
Furthermore, and no matter what nonsense that spews out of Vagistat's mouth – the idea of "Thanksgiving Tent Poles" are no longer a valid thing either – something I've said on this site for some time now.
Instead, and because of this being a three-point league – it's New Years' Day where you first truly get a feel for what a team is.
Plus, the trade deadline then changes everything anyway.
---
10. Does Patrick Kane return to the Rangers?
Until Kane's 2023-24 fate is determined and locked-in, then you'll hear all about him in regards to being linked to the Rangers – and especially if Alexis Lafreniere continues to struggle.
And if Blake Wheeler, stripped-of-his-captaincy-and-then-bought-out-in-Winnipeg (a story no Ranger beat reporter will touch) struggles too?
Then how can you not consider "Cain," now "Abel," following his successful hip-resurfacing surgery?
---
11. Will the M$GN finally make changes to their old-and-horrible staff?
We already know the answer to this one – NO – but man-oh-man – it is sad watching Sam Rosen become a parody of himself.
Sometimes, I have to pop in old games and remember why he's an iconic institution.
And as brought up 78678678968967967 times before – Henrik Lundqvist, who is phenomenal in his second act (and he's great on national TV too for TNT), needs a skater to work with in-studio – and not his coffee boy/former back-up/worst back-up goalie in Rangers' history.
Hello Carl Hagelin?
After all, this fan base sure loves their Swedes!
---
12. Ugh, Alexis Lafreniere
You're probably bored by now too of the first-overall pick of the 2020 NHL Entry Draft; but while the Rangers' fate isn't predominated by whatever he does – needless to say – it only benefits him, the team and the fans if he can take the next step.
We all know his story – he had the most unorthodox entry into the league amongst any other first-overall pick in NHL history, between the pandemic, three different coaches in four-years, and what breaks all first-overall pick tradition – had two players, both making box office bucks – and who play the same position as him (Kreider and Panarin).
Still, what has he done to even suggest bumping either Kreider or Panarin away from their spots? (And especially for a franchise pushing the "WIN NOW" mantra.)
I do want to say, and after talking about Lafreniere's off-season last blog – I received some questions – where some made it out to be that perhaps he's the second coming of Don Murdoch.
Let me be clear and say it now – I'm not suggesting that Lafreniere is doing coke and binge-drinking – as if he were hanging out at Studio 54 in the 1970s.
He's just a kid, a 21-year-old, and young men of his age do enjoy their belts and pops. Heck, I did the same and look at me now! (Then again – maybe don't look at me!)
However, and unlike me or you, we also weren't the first-overall pick of an NHL Entry Draft, a consensus pick at that.
In other words, he's held to higher standards – fair or unfair – but let's speak some truth – once you're a multi-millionaire athlete in this town – then everyone expects the best from you.
Can anyone say that they've seen Lafreniere at his best?
Sure, he's had some flashes of brilliance, but these few plays feel as rare as seeing Haley's Comet – as they are not a daily game-in and game-out occurrence.
I honestly don't know if a trade is in his future, but I do know that both the rises of Will Cuylle and Brennan Othmann (to be fair – who aren't proven at the NHL level – but neither is Lafreniere) doesn't help matters – nor does the lingering scent of Patrick Kane still being available either.
Lafreniere can shut-up all of this talk by producing.
---
13. and 14. Speaking of Othmann and Cuylle, do they have any shot of playing for the varsity club this season?
Cuylle and Othmann present different things, where most notably, it's the former who has some professional experience under his belt, having played for the Hartford Wolf Pack last season.
Furthermore, if Rangers' history is any indicator, then it should be a no-brainer – both players should start the season in the AHL – and due to the guaranteed contracts at the varsity level – that's most likely the case too.
While Cuylle feels like your prototypical fourth-line grinder (although he did score 25 goals for the 'Pack last season); for Othmann, there is a belief that he can be "The Real Deal Holyfield."
I know this all sounds insane, blasphemous and goes against all Ranger tradition too – but what if Othmann is that rare diamond in the rough, a needle-in-the-haystack if you will – and like many other rookies around the league – can be that guy for the Blueshirts?
Bottom line – Should Othmann pay for the sins of Rangers' past – or should he be given a shot from day one?
(Othmann has earned it – but again Lafreniere has a guaranteed contract and would have to clear waivers – although I'm not so sure how many teams would change around their salary cap in order to afford/accommodate him. After all, no one came knocking with an offer-sheet for him this season – and it wouldn't have cost too much to pry away #13 from New York.)
To that same affect, is Tyler Pitlick really an upgrade over Cuylle?
"PLAY THE KIDS" has been a rallying cry for some time now in the streets of Rangerstown, USA – and perhaps the Blueshirts finally have the right YOUTS to back up that war-cry.
---
15. Will any of the Blueshirt senior citizens make a huge impact this year?
We all know that due to the salary cap, Rangers' GM Chris Drury was forced to raid a proverbial senior citizen home of NHL veterans this off-season, where to go along with their six-figure deals – "The Pizza Man" also gave these players a slice of his famous "Colony" hot-oil pizza – and maybe some butterscotch candy and Depends too.
Of the bevy and boatload of "Grumpy Old Men" who received deals that the NHLPA should be ashamed of; include Blake Wheeler, Jonathan Quick, Tyler Pitlick, Nick Bonino, Riley Nash, Alex Belzile, Turner Elson, and perhaps the best of the lot, the spry 31-year-old, Laviolette's former rearguard in D.C., Erik Gustafsson.
Collectively (but not all individually), this group has won a bunch of Stanley Cups and have also created several memorable moments in the league – where of course – perhaps the two biggest "catches," Quick and Bonino – had their greatest moments at the expense of the Blueshirts.
Of course.
At this rate, I'm surprised that Drury didn't pop a blue-chew and sign Adam Henrique too.
In a perfect world, all of these players experience a renaissance season; but in reality, it feels like Gustafsson, expected to start the season on the third pair alongside Braden Schneider (who has gone through a rigmarole of partners since debuting in January of 2022), has the best shot of doing so.
That brings us to our next item on this list.
---
16. What Ranger rookie gets a chance – and then steps up for the club this season?
We've covered Garand, Cuylle and Othmann already, so you probably know where I'm going here:
Should some of these Ranger senior citizens need a timeout for a denture change (and what an asshole I am – as at 41-years-old, I'm older than all of these players – so yes, I'm being a dick!), then, and to quote a famous phrase, "WHO IS THE NEXT MAN UP?"
In my eyes, Matt Rempe has all of the makings of becoming a player that can give the team a spark in-season – and I wouldn't be surprised should he be called-up during a game against Washington (Lavy's former players haven't been too kind), the Islanders (they have a ton of "goonery" between Mayfield and Johnston) or Toronto (a team full of face-punchers these days, including former Blueshirt, Ryan Reaves).
Perhaps harder hitting than former first-round pick Dylan McIlrath (ugh, and I don't need to give you a history lesson on Vladimir Tarasenko right now), but definitely more skilled than "The Undertaker" – Rempe could be that missing piece – an enforcer in an age where the role has been diminished – but for a team that can most certainly use a physical presence.
---
17. and 18. What happens to the "FRINGE" players?
When I look at this organization, there are two players that have the word "FRINGE," or perhaps "FOUR-A" written all over them – forward Jonny "HOCKEY" Brodzinski, and defenseman, the heart of Mollie "I Don't Give a Shit, I'll Remain Ignorant" Walker's eyes, Zac Jones.
(And Walker is really going overboard when trying to push Jones for a roster spot – as she never tries to hide her bias for her fellow college alum – despite you know – the fact that all beat reporters are supposed to be unbiased. Perhaps she has a future in blogging? Welcome to the club, ya silly bleach-blonde dingbat!)
For Brodzinski, and of the two, he's most likely to clear waivers – but after the San Jose pick-up of Ty Emberson – I'm not so sure of that now.
In a way, Mr. Hockey reminds me of the heart of my eyes, you know, this guy: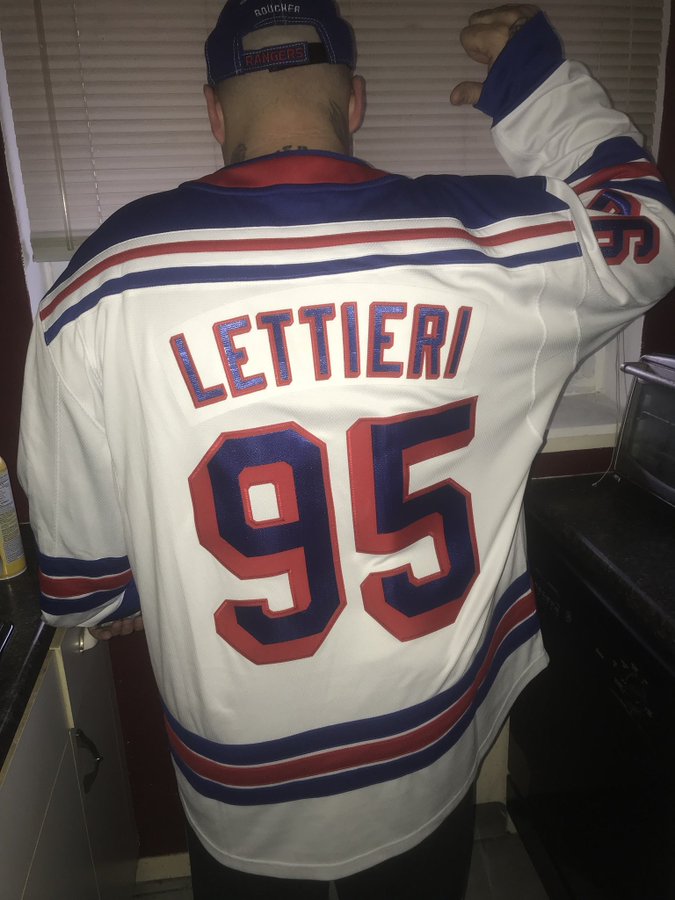 In a weaker organization, such as the previously aforementioned Sharks, I think that Brodzinski would become a full-time NHLer. With the Rangers, I just don't see who he's bumping – and especially at his age (thirty-years-old) – and with plenty of other options available for Lavy's deployment to boot.
Of course, injuries would change everything (and that goes for everyone mentioned in these 23 concerns); but to start the season – I just don't see where Brodzinski fits in.
Ditto Jones – where unlike Brodzinski – I don't think he'd clear waivers that easily.
I can't say that I was ever high on Jones, and as explained many times in the past (he didn't even think he was ready for the NHL, but obviously, took the Rangers' money when the offer was presented – despite publicly telling Ron Duguay on his old podcast that he thought that the best thing for his career was to finish out his years at the collegiate level – and no, I don't blame him for doing so – I would've taken the life-altering cash too); but he has Libor Hajek and/or Nils Lundkvist written all over him.
Granted, an injury to the Rangers' defense corps. would change everything for him – and in a way – deep down, that's probably what he's rooting for (and that's only human nature – so don't take this opinion/comment to be negative); but without an injury sustained – it feels like it's the press box or bust for him.
It could also mean a trade too.
Brodzinski, who served the Wolf Pack as their captain last season, is most likely to return to that role, due to the depth on the club.
Jones, who played under "CAPTAIN HOCKEY" last season, won't be able to return to Hartford – that is – unless the other 31 teams have an aneurysm when the daily waiver wire is released.
I just see Hajek 2.0 all over him – too valuable to be sent down, but not valuable enough to break into the varsity roster.
I also see Lundkvist 2.0 all over him – and where I think that a trade happens soon enough.
---
19. How many game winning goals does Libor Hajek score against the Rangers this season?
Hajek, whose ass indents still remain in the chairs in the Rangers' press box, is currently on a PTO contract in Pittsburgh – and where the word out in the Steel City is that he will be offered a deal soon enough.
So I ask, because we all know it will happen, and as it's always been the case with other fringe Blueshirts in the past, including the newly minted 2023 Stanley Cup champion Brett Howden – how many heartbreak moments will Hajek induce as a member of the black-and-yellow at the Rangers' expense?
Since these two teams play four times, I'll go with four.
---
20. Is this the year where Kaapo Kakko finally breaks out?
If you can believe it, then the second-overall pick of the 2019 NHL Entry Draft is really entering his fifth NHL season.
And his last campaign, the 2022-23 season, was his best, having set career-highs in every stat possible – games played (82), goals (18), assists (22) and points (40).
And I'm not trying to be cruel or shame anyone here (I hate that I even have to use this disclaimer – but as we know – my detractors love to twist my words around) – last season was the first time where Kakko's Celiac Disease didn't hurt him – and as the 82 GP stat would suggest.
While Kakko's NHL/Rangers' tenure has been more disappointing than a roaring success; what I like about him the most, and much like Miss Birdbrain Walker – he doesn't give a shit.
I have no way of confirming this, but if anyone buried Gallant the most on his way out, then it had to be the Finn himself.
After all, just watch any of Kakko's interviews – he wants top-six and power-play play minutes – minutes that weren't always there under "THE TURK" – which to be fair – were also minutes that Kakko didn't earn at times.
While further ahead than Lafreniere, and most certainly defensively as well; I like that Kakko cares and wants more.
Whether he deserves it or not is a separate issue; but by default – he should be the Rangers' first-line right-winger to start the season – and as he was last year until all of the trade deadline acquisitions.
It's up to him to go balls-to-the-wall, and produce at a high-level too; where should he do so – then Blueshirt fans will be asking, "Patrick Kane who?"
---
21. and 22. Will the top four Rangers' defensive pairings remain set in stone?
In what seems like peanut butter and jelly & beer and whisky (a "BOILER MAKER" – but not a Larry Brooks' Dan BOYLE interview); the top four at the blue line should remain as Ryan Lindgren and Adam Fox as the first pair and K'Andre Miller and Jacob Trouba as the second-pair.
While Lateralette has fooled around with the pairings at times; there should be no Father Finkin' around come the regular season.
Not only do these players have relationships and positive chemistry amongst each other – they also know each other's tendencies too.
What worries me the most about the defense is #55, the 2023 Steven McDonald Award winner, Ryan Lindgren.
The biggest "Ultimate Warrior" in the Big Apple turns 26-years-old this season – and will become a restricted free agent at the end of the season too – where most certainly – he has deserved a raise from the $3,000,000 he'll earn this year.
For all of the accolades and accomplishments that Fox has earned and received; I also wonder – how many of them have come his way because Lindgren is his partner and complements him so greatly?
In other words – Fox is at his best with Lindgren by his side – a point that can't be debated otherwise.
I also wonder, is Lindgren, even if he is still young, is going down the career path of a Dan Girardi – where all of the abuse will hamper him in later years – especially if garnering a long-time contract is his goal?
I think it would be a travesty if the Rangers don't re-sign Lindgren – because after all – who's going to replace him? Zac Jones? Matt Robertson? Ben Harpur? Brandon Scanlin?
We all know that Miller is locked up through the 2025-26 season, but what becomes of Captain Jacob Trouba, who will have to submit his list of teams that he's willing be traded to, following this season?
While Trouba has overcome his horrible beginning in New York (two seasons – and at a staggering rate of $8M-per-season); it does feel like the organization is hoping that "BABY TROUBA," Braden Schneider, can become his replacement.
However, what Schneider doesn't have (at least not yet), and what Trouba has, is the ability to lead – and as we've also seen ever since he arrived – an ability to attract other big-name players to New York, such as Andrew Copp, Frank Vatrano and now, Blake Wheeler.
Hello Mark Scheifele at the deadline?
I'm also wondering that if the NHL, and similar to when they amended their rules during the 2008 Stanley Cup Playoffs ("The Avery Rule"), will do the same for Trouba?
After all, and as discussed last blog (https://bluecollarblueshirts.com/93023/ ) – all of these fights that result following big, yet legal and clean, hits, is getting too ridiculous.
A "TROO TROO TRAIN" hit shouldn't mean a five-minute timeout in the penalty box – and perhaps this is the biggest on-ice issue that the NHL needs to address this season.
---
23. Will this team win the Stanley Cup in 2024?
No – and I hope to be proven wrong.
---
Thanks for sticking with me tonight – as I know this blog was never-ending.
But hey – no ads – as I continue to adhere to my "10,000 words, no ads, one click" motto!
Who else does that? (And if you feel inclined – buy a book – if not – donations are always accepted. After all, I have a beer and whisky issue to support!)
Back at it tomorrow night, with a Rangers vs Devils, preseason Game #5, review.
PLUGS TIME! (Buy a book and support my Rangers' induced therapy bills. After all, I don't run ads on this site!
---
"The Top 100 Villains of New York Rangers History," is now available for preorder.
For complete information, please visit: https://bluecollarblueshirts.com/rangerkillers/
---
My second plug of tonight's blog – the mandatory plug for my book, "The New York Rangers Rink of Honor and the Rafters of Madison Square Garden."
As mentioned previously, the book is now available in hardcover, in paperback and in Kindle formats. To purchase a copy of the book, visit this link:
https://www.amazon.com/Rangers-Rafters-Madison-Square-Garden-ebook/dp/B09CM5N2WD
For those still looking for signed paperback versions of the book, I have re-ordered more copies. I now have a few signed copies for sale at $25 a pop (includes shipping price) through me directly. Here is all the information on that:
---
My four-volume set of books, "One Game at a Time – A Season to Remember," is a game-by-game recount of the Rangers 2021-22 campaign.
My second title as an author, "One Game at a Time – A Season to Remember," is now available in eBook, paperback and hardcover formats.
To obtain signed copies, visit: https://bluecollarblueshirts.com/onegamebook/
To purchase all four volumes on Amazon, visit: Amazon.com – "One Game at a Time."
---
The greatest volume-set of books on Rangers' history today!
"Tricks of the Trade – A Century-Long Journey Through Every Trade Made In New York Rangers' History," a four-volume set of books that meticulously covers every trade made in franchise history, is now on sale.
All four volumes of the title can be purchased on Amazon.com and are presented in three different formats – eBook, paperback and hardcover.
To purchase Volume I: Conn Smythe (1926) – Craig Patrick (1986), visit Amazon.com
To purchase Volume II: Phil Esposito (1986) – Neil Smith (2000), visit Amazon.com
To purchase Volume III: Glen Sather (2000-2015), visit Amazon.com
To purchase Volume IV: Jeff Gorton (2015) – Chris Drury (2022), visit Amazon.com
To purchase signed copies of all four volumes, visit https://bluecollarblueshirts.com/tricksofthetrade/
---
Here are my last few blogs, in case you missed them:
---
---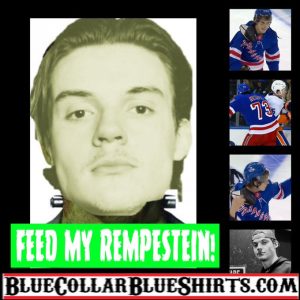 ---
If you haven't already, subscribe to this blog for the next update:
---
Don't forget to order my recently released four-volume set of books, "Tricks of the Trade!"
If you don't order through me, all four volumes are now available on Amazon.com
For more details, check out: https://bluecollarblueshirts.com/tricksofthetrade/
Thanks for reading.
LET'S GO RANGERS!
Sean McCaffrey
BULLSMC@aol.com
@NYCTHEMIC on the Tweeter machine